We wanted to create a wine bottle wedding guest book that we could celebrate (and savor) for the years to come!
A wine bottle guest book consists of bottles of wine your guests sign that you open on future anniversaries.
In order to create this DIY guest book, you need a strategy on wine selections and a little patience with a printer and blank labels.
We were married at a small wedding in Paris, France, but had a big cocktail style party one month later back in our home of Austin, Texas.
We did not have a guest book in France, so we wanted an extra special guest book for our Austin post-wedding celebration.
How Many Bottles of Wine do you Need for a Wine Wedding Guest Book?
Determine how many years you'd like to feature for the wine bottle guest book.
You may want to celebrate milestone anniversaries like 1, 5, 10, 15, 20, and 25.
Since we love wine (and it's easier to find wines that don't require a long duration for aging) we decided to have a bottle for years 1-5, as well as the milestone years.
Consider the number of guests at your celebration when determining how many bottles are needed for your guest book so there is room for everyone to sign.
Select your Anniversary Wines: Best Wines to Age
What types of wine get better with age? Usually big, full bodied wines are the best types of wine to age.
Select lighter wines for the more recent anniversaries and work your way to big, bold reds.
Wines for a Wedding Guest Book Anniversary Bottle Collection
We're such big fans of wine that we bought a vacation home in Texas wine country that we have listed as a Fredericksburg Bed and Breakfast.
We have been tasting our way through all the vineyards (don't miss our Ultimate Guide to Fredericksburg Wineries).
One of our favorite wineries that we have been wine club members for over a year is Cross Mountain Vineyards.
They are located right on Main Street, make their wines in Italy, and import them to Fredericksburg.
The reason why we wanted to use their wines for our wine bottle guest book was because they have such a vast selection of wines!
From bubbles and whites, to big bold red wines. Their selection made it very easy to get a variety of wines for our wine bottle wedding guest book.
We partnered with their winemaker to get advice on which wines to select based on the amount of aging.
Year 1 – Bubbles, 2020 Serprino
Year 2 – White wine, 2020 Trebbiano
Year 3 – Sweet red bubbles, 2020 Lambrusco
Year 4 – Dry rosé sparkling, 2020 Brut Rose "Amore Rosa"
Year 5 – Light Red, 2020 Dolcetto
Year 10 – Medium Red, 2020 Negroamaro Salento
Year 15 – Medium Red, 2018 Rosso di Montalcino
Year 20 – Big red, 2017 Barolo
Year 25 – Even Bigger Red, 2013 Brunello Riserva
Don't forget a Wedding guest book sign!
Guests might end up drinking the wine if you don't let them know it's a guest book.
Make a custom sign explaining how a wine bottle guest book works.
Also, don't forget some good pens that will write easily on the labels. We picked up fine point sharpies.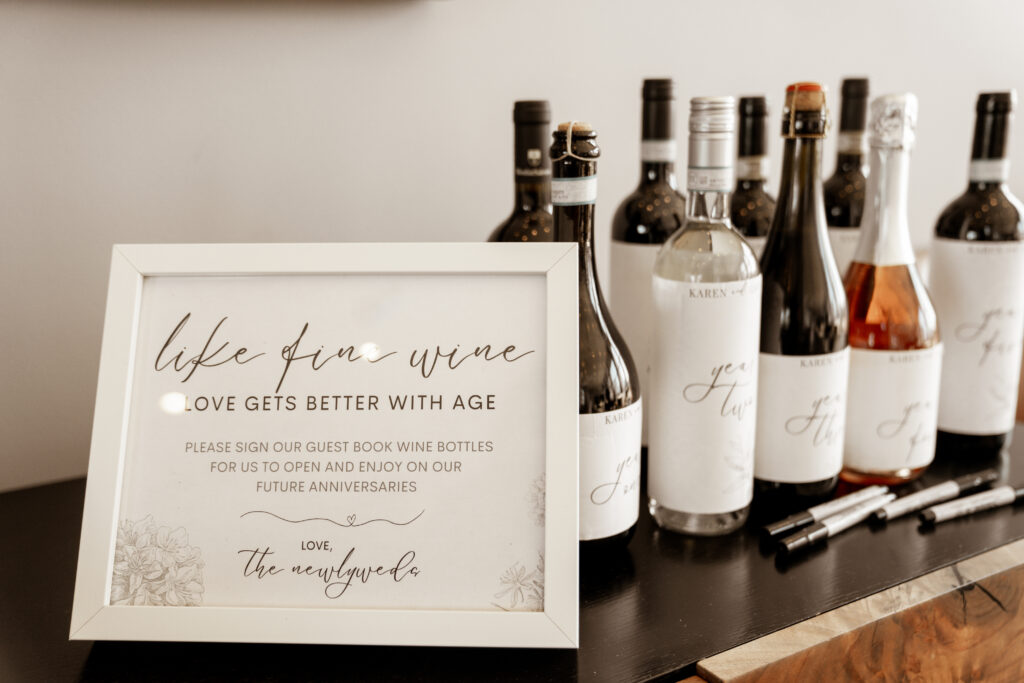 How to Make a Wine Wedding Guest Book
Supplied needed:
Steps:
Determine what years you will be celebrating for your anniversary wines.
Select and buy your wines.
Design a template for your labels that matches your wedding style (you can access our template here.) Keep in mind that bottles have different shapes and you will likely need to trim some labels.
Export your designs, set your printer settings to speciality paper, 8×10 photo size, and "shrink to fit".
Print your labels. Our printer required that we loaded the labels in upside down to print on the correct side.
Hold the label to the bottle, and use a paper cutter to trim any access. We recommend making the label at least a half inch more narrow than you think you need. Any curves at the top of the bottle will wrinkle if your label is too big.
Carefully place the label on the wine bottles.
Display the bottles at your wedding celebration with pens and a sign!
Additional Wine Bottle Guest Book Tips
Buy more labels than you think you need. Between printer problems, label mess ups and bubbles in the label that need to be redone, you will go through a number of extra labels. We bought a 25 pack.
For short, fatter, champagne style bottles, there will be a little gap where the bottle will show in the back, we made it so this open area was on the unlabeled part.
Different bottles have different curvatures, it's best to cut the labels at least ½ inch more narrow than you think.
Don't freak out if you get bubbles, it happens.
You can take the existing wine labels off by soaking them in soapy warm water, but we just put our labels over the existing wine bottle labels and it wasn't too distracting.
Plan on a safe place to store these bottles for the years to come. We are planning on buying this wine fridge. What a great thing to register for!
Other unique wedding guest book ideas:
Make a custom photo book with photos from your courtship for guests to sign.
Traveler? Have guests sign a globe!
Leave a polaroid camera out to have a photo guest book.
We were really close to booking FeteFone, which is a telephone where guests can leave audio messages.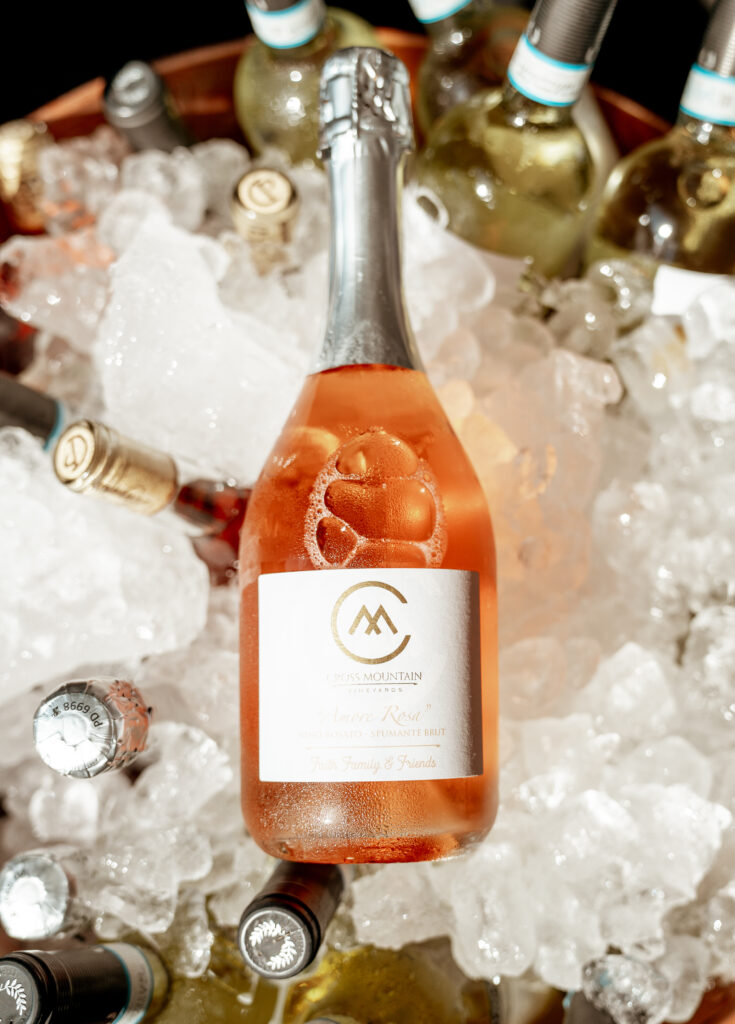 Interested in learning more about our wedding? Check out these other posts:
Click this link to pin this information on how to make a wine bottle wedding guest book for your wedding on pinterest. 
Also, don't forget to follow us on instagram and facebook for more recipes and recommendations, we love to see when you visit our favorite places!