If you know how to make a charcuterie board, you can build a grazing table if you just put in a little more planning.
The beauty of charcuterie is you can get creative and build anything from a simple grazing table to something more elaborate like we did for our wedding charcuterie grazing table.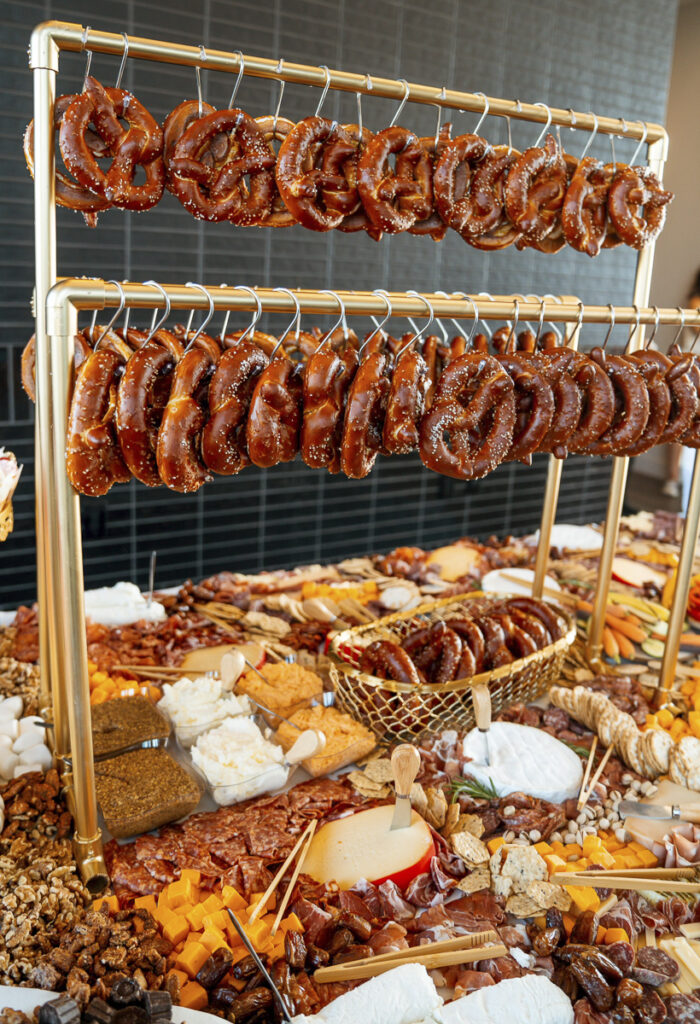 What is a Grazing Table?
A grazing table is basically a charcuterie board that covers an entire table.
Gazing tables are great for parties because your guests can snack as they please, choosing the specific bites that they prefer.
For our wedding grazing table, we covered an entire 11 foot long table with treats for our guests.
We started the table with traditional meats and cheese, transitioned over to a pretzel station, then the last part of the table was a big fruit charcuterie board with a chocolate fountain and wedding desserts on display.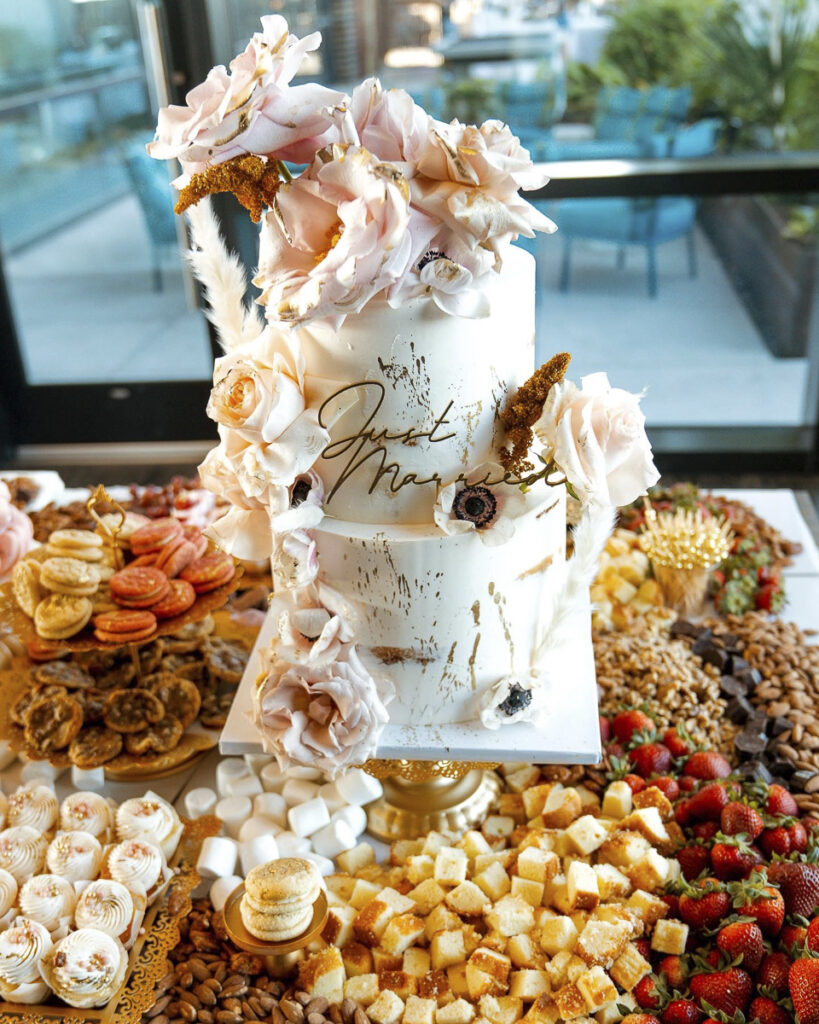 Grazing Table Ideas
For our wedding grazing table, we covered an entire 11 foot long table with treats for our guests.
We started the table with traditional meats and cheese, transitioned over to a pretzel station, then the last part of the table was a big fruit charcuterie board with wedding desserts on display.
We ordered our pretzels from local spot, Easy Tiger, but if you make them homemade you could try making Homemade Pretzels.
You can bring in whatever snack food you think will display beautifully.
Here are some ideas to take your grazing table to the next level:
Charcuterie meats and sliced cheeses – serve these on a board or consider individual charcuterie cups.
A cheese "cake" – make a wedding cake out of cheese wheels!
Nuts, jams, pickles, and mustards.
Pretzels displayed in a vertical display with various pretzel dips.
Pretty crudite veggies with dips and hummus.
Various crackers and breads that pair with the charcuterie.
Fruits, chocolates, and sweets – we added in a chocolate fountain!
Decorated cookies, mini cupcakes, and macarons.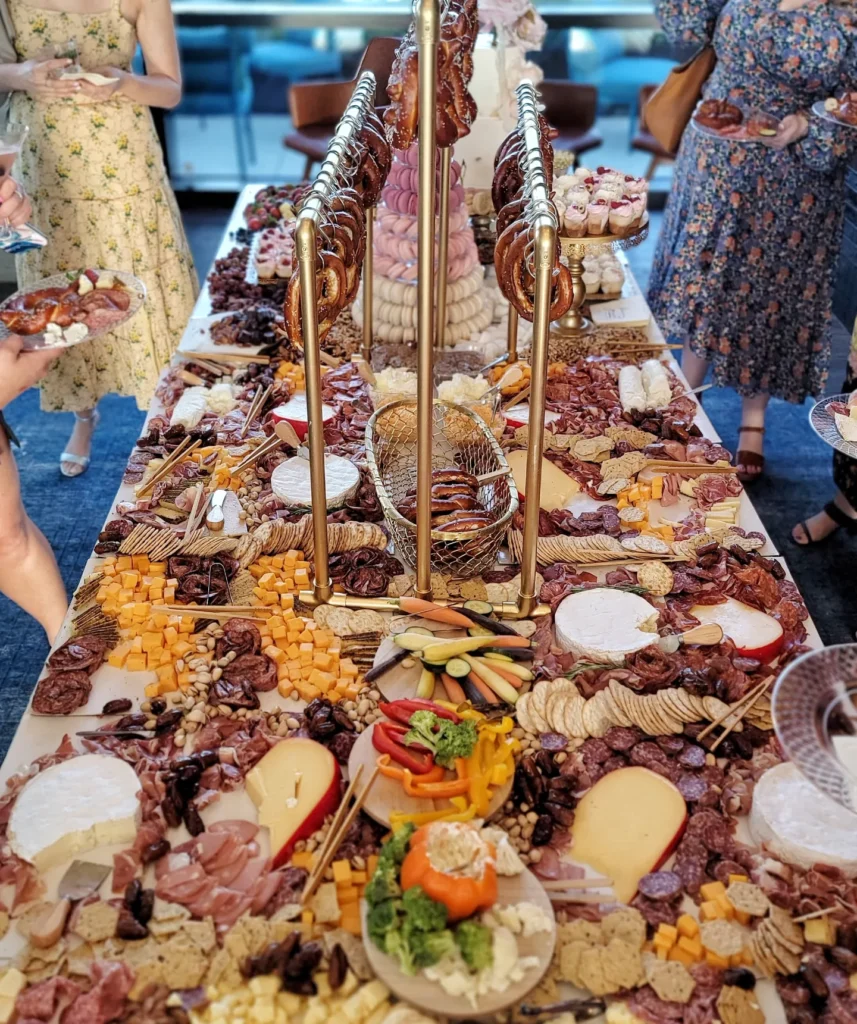 How to Build a Grazing Table
Karen is a little bit crazy and known for taking on big projects.
Yes, this was her Austin wedding reception after getting married at the wedding in Paris, but she still wanted to build the grazing table herself.
You can hire caterers to make a grazing table, but the quote would have been $5000!
We both are huge fans of making charcuterie boards so we knew it was something we could tackle.
We wanted to be mindful of not having to spend 8 hours the day of our reception prepping this table, so we came up with a strategy to save time building the grazing table.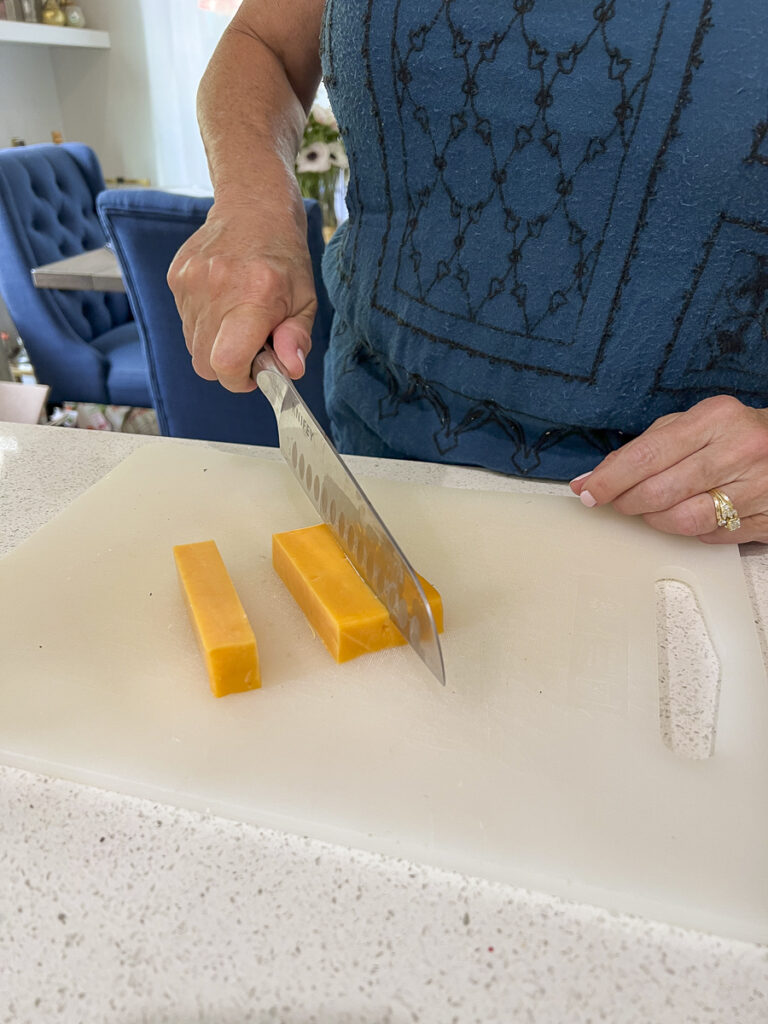 1. Slice the grazing table cheese beforehand
The day before the event, slice your cheese. We had a variety of amazing cheeses from Cello Cheese.
We think Cello has the best charcuterie board cheese because they have some really inventive cheese flavors that bring depth and color to your board.
You can purchase cheese flight packs that have a variety of cheese types (they're at most Costcos too!).
The cheeses we featured were the Ultra Bold Pack (with Asiago, Cabot Clothbound Cheddar, and Dijon Herb Rubbed Fontal), The Everyday Pack (with Smoked Gouda, Dijon Rubbed Fontal, and Irish Cheddar) and Farm Fresh Pack (with their famous Copper Kettle Parmesan, Pepper Jack Goat, and Dill Rubbed Fontal) .
We sliced each variety a different way to help distinguish the types of cheese, from cubes, to triangles, to rectangles.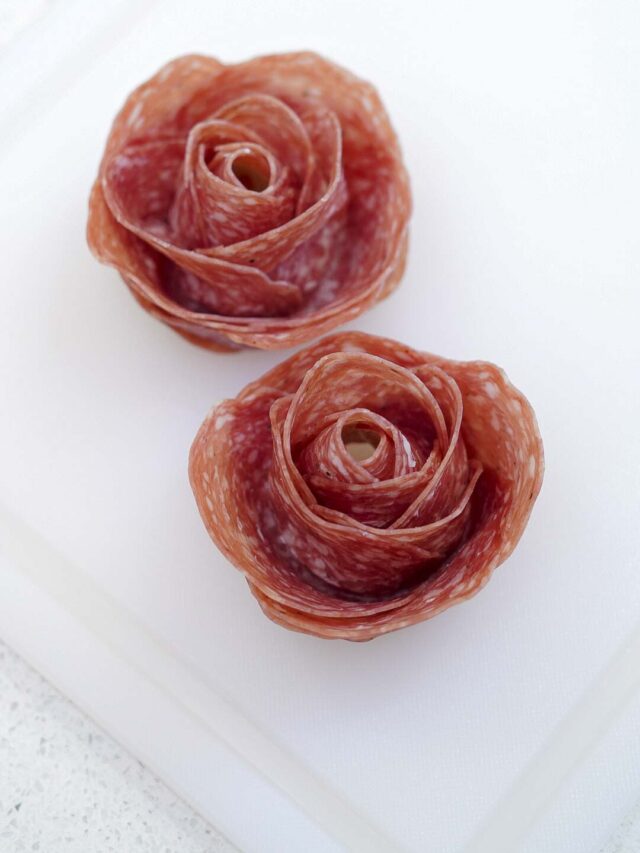 2. Fold your charcuterie meats ahead of time as well
Also on the day before the event, we start folding our charcuterie meats.
We're huge fans of Volpi meats and have been using them for years for our boards.
Gavin and Karen's mom worked on creating meat roses (check out this post on how to make a salami rose) because roses really give a good wedding charcuterie board theme.
We also prepared the charcuterie by folding the meat in an interesting way to display it on the board.
The Volpi meats we used on the grazing table were Cacciatore Salami that we sliced into pieces, the Trio Pack which contains Mortadella, Coppa, and Genoa Salmo, the Spicy Trio which contains Spicy Coppa, Spicy Sopressata, and Peppered Salami, and also their traditional prosciutto.
If you have extra time and access to a meat slicer, consider ordering their bulk meats for even more cost savings.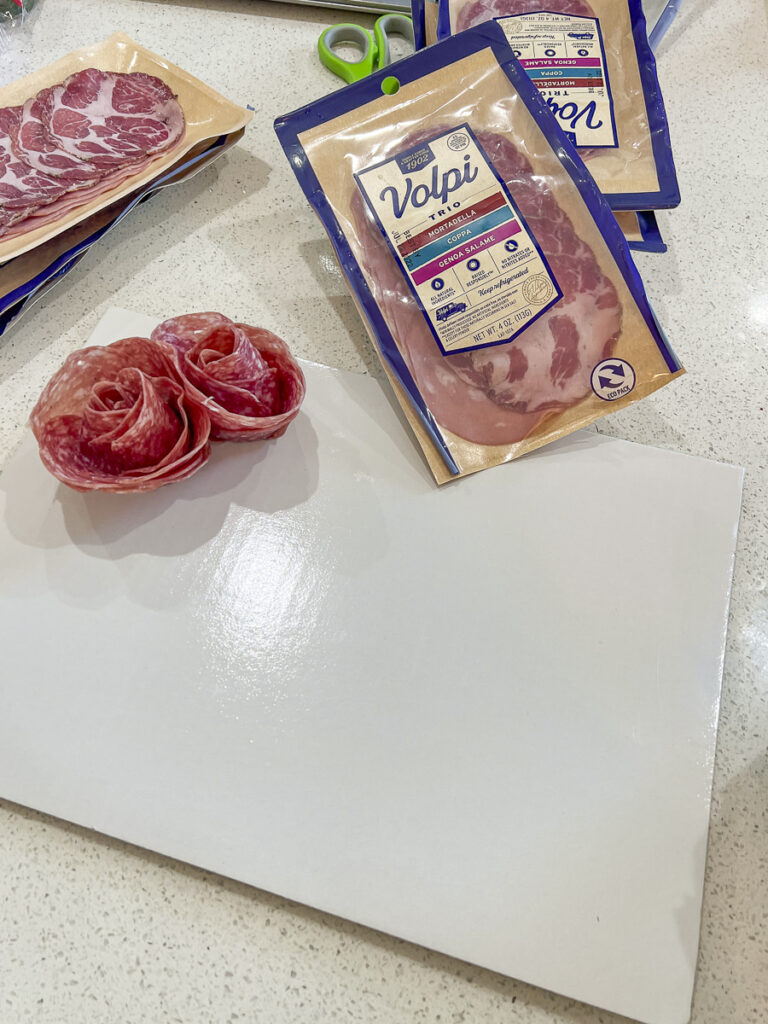 3. Utilize cakeboards to build your grazing table panels
The secret to our fast grazing table set up is leveraging cardboard cake sheets.
We assembled the meats and cheese on these cakeboards. They are food safe and disposable! Measure out how many will fit on your grazing table beforehand.
We used these as panels to prepare 32 mini premade charcuterie boards. 26 were traditional meat and cheese and the other 8 were dessert focused.
The meat and cheese was all prepared and we numbered and seran wrapped each section that was needed to cover the grazing table.
We were mindful of leaving some gaps for items that needed to be added just before the event start time to ensure freshness (crackers, breads, nuts).
Keep these panels refrigerated. You may want to ask some friends and family about taking over some of their fridge space. We also transported all of the premade boards in coolers with ice packs in them.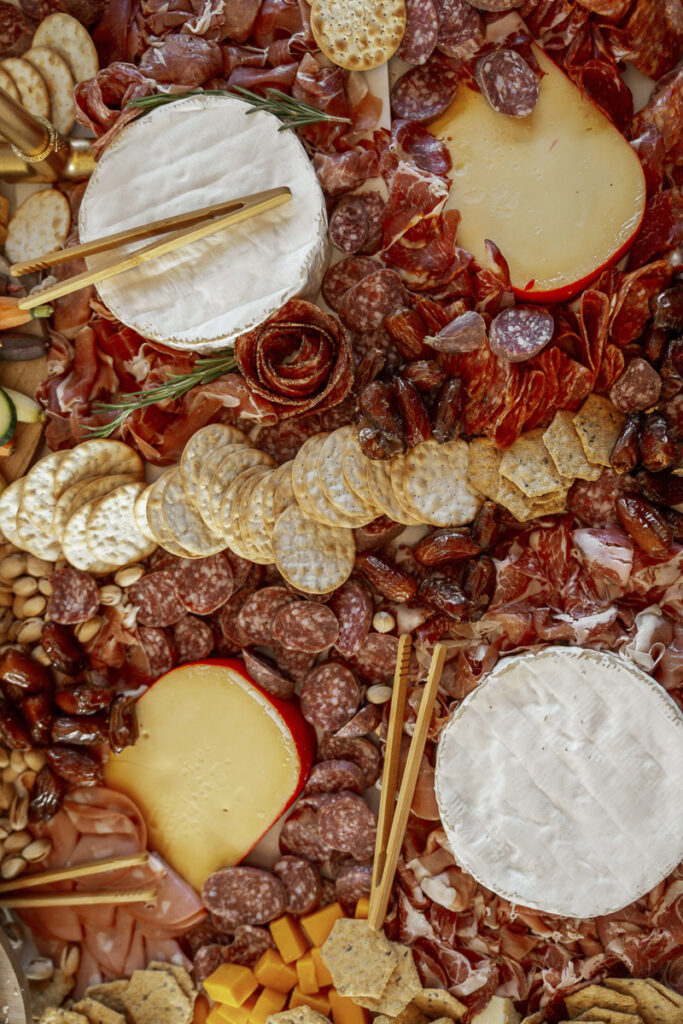 4. Assemble your grazing table by disguising the cake board seams with filler items
On the day of the event, we laid out each premade panel and added fruits and nuts to cover the "seams" between the grazing table panels.
Try to assemble everything as close to the event start time as possible so that you can keep the charcuterie panels in the fridge as long as possible.
It really helps if you have a lot of hands to help with this set up.
We were close to start time and tossed our helpers packs of nuts and crackers and asked them to pour it on the seams.
Be mindful of picking a variety of the best crackers for charcuterie boards and put them out just prior to serving so they don't get stale.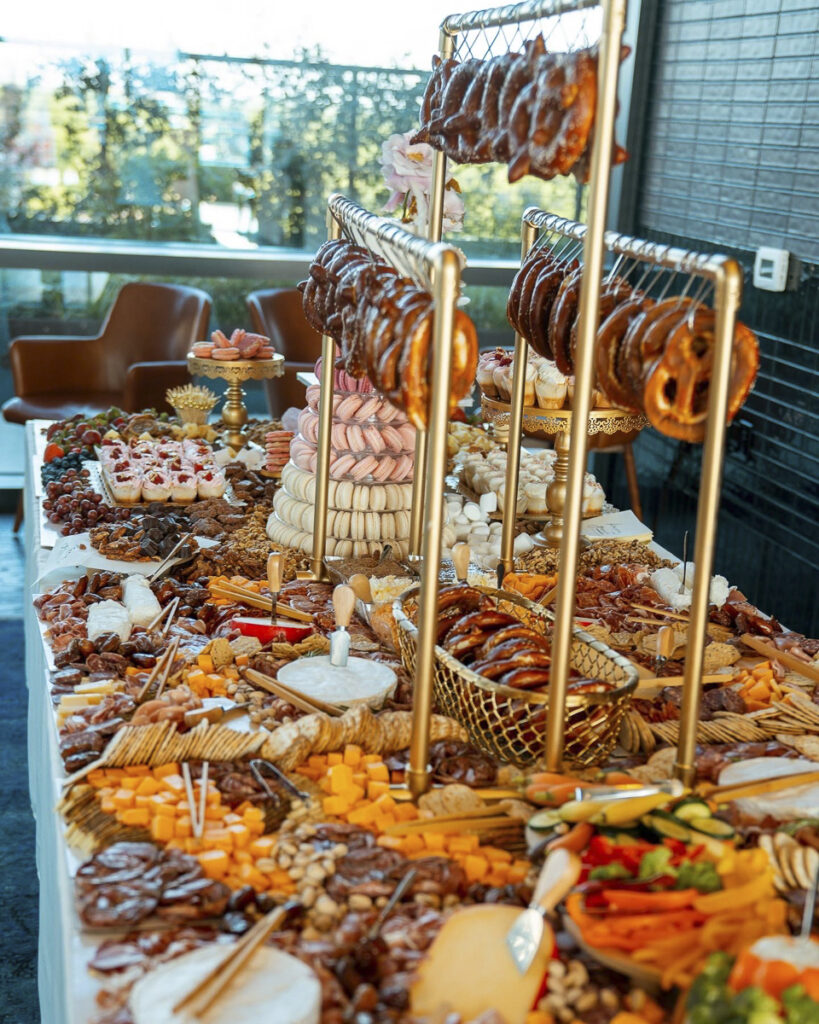 5. Add the finishing touches
Be sure to add greenery, flowers, and serving utensils to help finish off the table.
Now you're ready to have your guests start munching on your grazing table!
How Much Meat and Cheese do you Need for a Grazing Table?
First think about if the grazing board is the only food available at the party or not.
In addition to this grazing table, we also had passed appetizers, a pasta station where cacio e pepe was prepared in a parmesan wheel from a favorite restaurant, Asti, and a fresh stroopwaffel station from the Stroop Club.
Thus, we could go lighter on charcuterie quantities since there was other food.
If you are only serving the grazing table, you may want to err on the side of having more meat and cheese than what we recommend.
A good rule of thumb is to have 10-20 ounces of food per person, but keep in mind the length of your table as well.
3-5 ounces of meat
3-6 ounces ounces of cheese
2-3 ounces of fruit and veggies
2 ounces of dips and spreads
½ cup of filler foods nuts, olives, dried fruits
3-5 crackers/bread pieces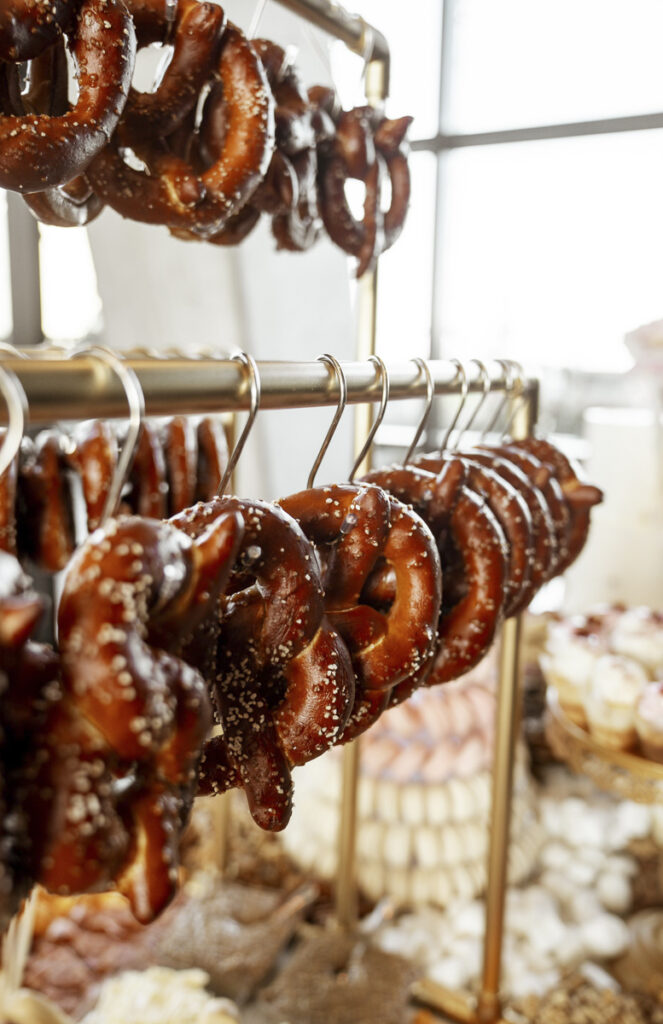 How Long Does it Take to Build a Grazing Table
To create our wedding grazing table, which fed about 150 people, it took about 3-4 hours of prep work the day beforehand.
When it was time to assemble the panels, it took another 45 minutes on the day of the event, but we had a more complicated set up with a hanging pretzel display, macaron tower, dessert stands, and a chocolate fountain.
Using our grazing table panel hack saved so much time on the even day, most companies require hours to build the grazing table on the day of the event.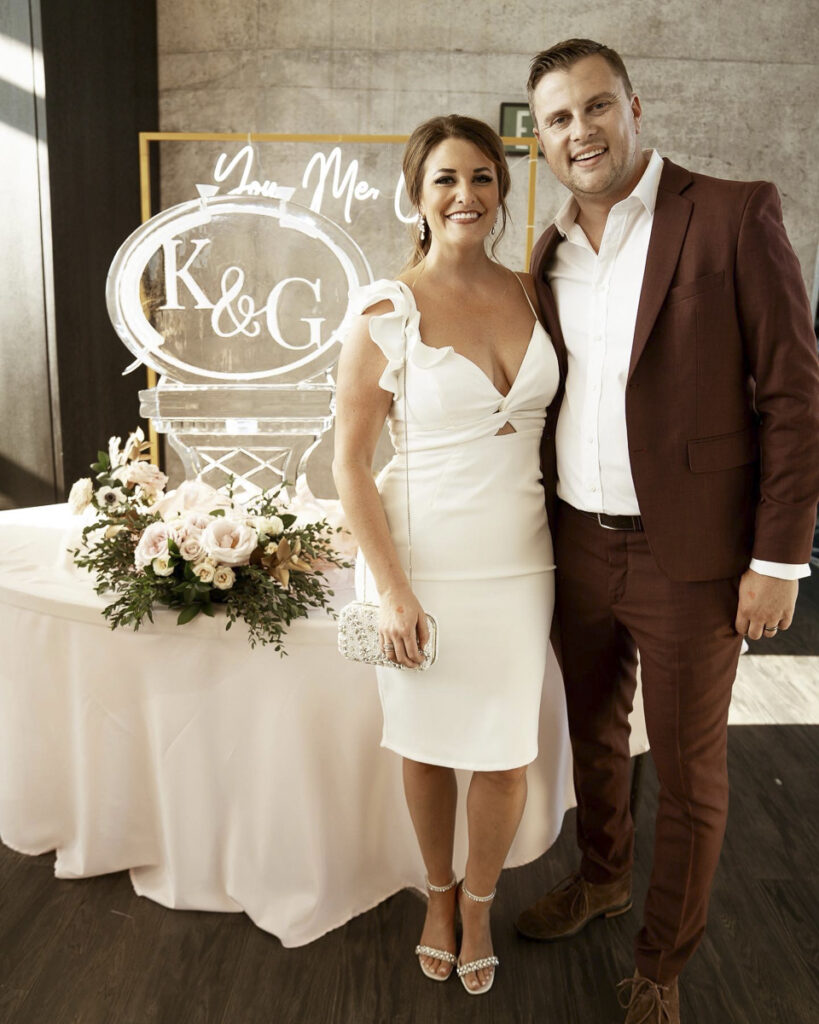 Interested in learning more about our wedding? Check out these other posts:
How to Make a Wine Bottle Wedding Guest Book (coming soon)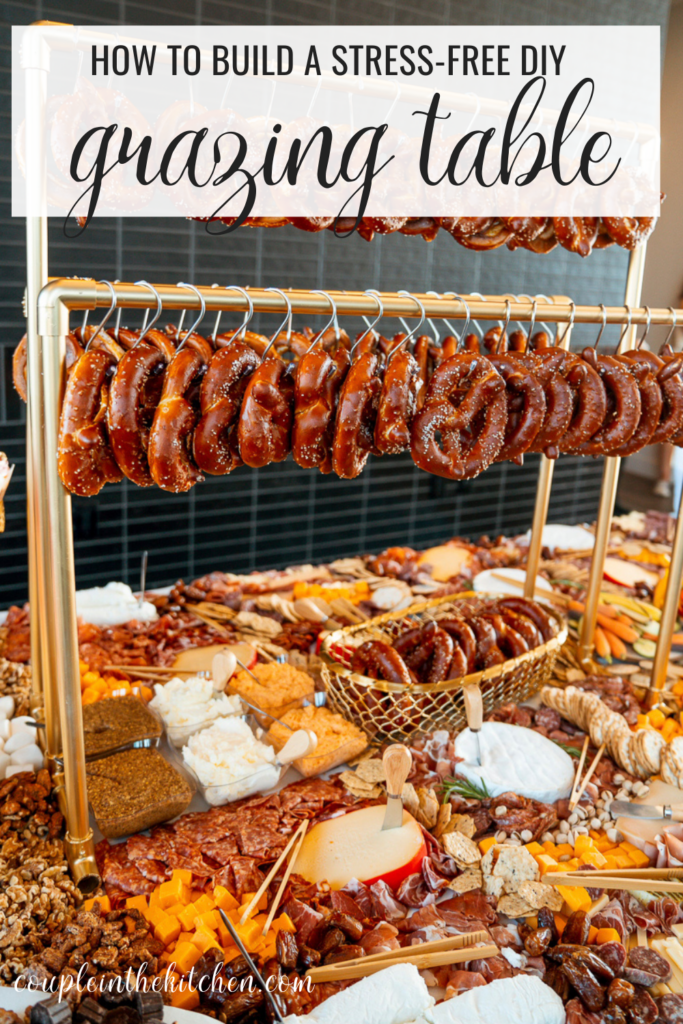 Click this link to pin this guide on how to build a grazing table on pinterest.
Also, don't forget to follow us on instagram and facebook for more recipes and recommendations, we love to see when you visit our favorite places!