It's official: we're married and Gavin is sporting his new dinosaur bone ring!
We didn't even know this was a thing, but Gavin knew he wanted a cool men's wedding band instead of going the traditional route.
He was searching online men's wedding bands retailers and stumbled upon Jewelry by Johan.
This was a jeweler that we never heard of before, but Gavin's noticed they were based in Minnesota, Karen's home state.
Upon further research, we found that Jewelry by Johan was based in Karen's hometown, literally a mile down the road from her high school!
We knew it was kismet, and decided to create a custom designed ring for Gavin while we were back in Oakdale, Minnesota visiting Karen's family over Christmas.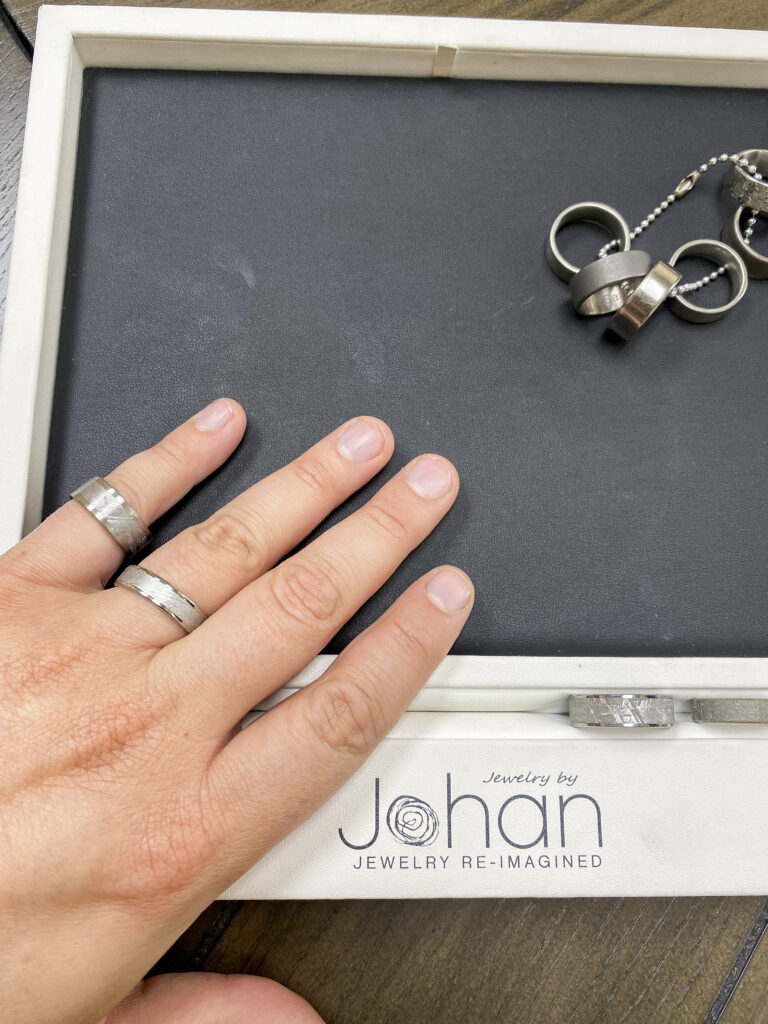 Custom Men's Wedding Band
We arrived at Jewelry by Johan to dream up Gavin's custom designed ring.
Originally, Gavin really wanted a meteorite men's wedding band, and so we also looked at some of the men's two-tone wedding bands which were a combo of both dinosaur meteorite ring.
We realized that meteorite is very high in iron which means you need to be careful to not expose it to a lot of liquids or it could rust.
With the amount of cooking we do, we knew that meteorite wasn't a realistic option even though it was really cool.
Thus, we started to design a dinosaur bone ring, one of the most truly unique wedding bands for men.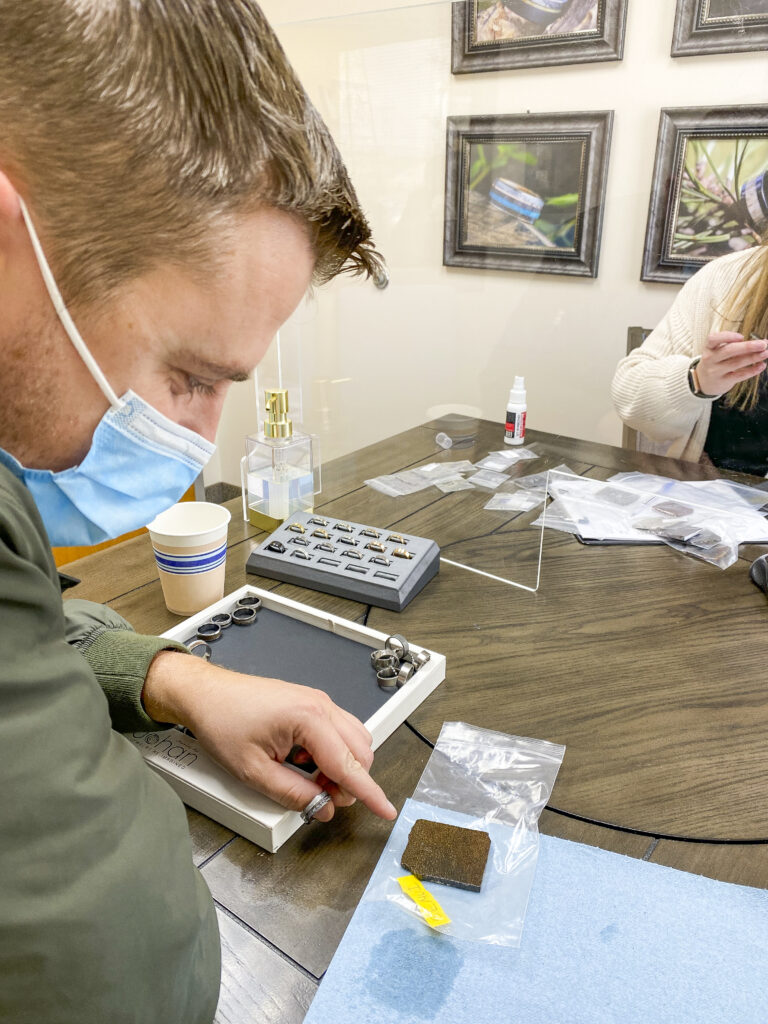 Dinosaur Bone Ring
Yes, you can make jewelry out of dinosaur bones!
To be clear, this is not just one big piece of bone.
You'll start by selecting your favorite piece from plates of dinosaur bone fossils.
These are certified and trace back to the specific area where the fossils were uncovered (Gavin's is from a reserve in Utah).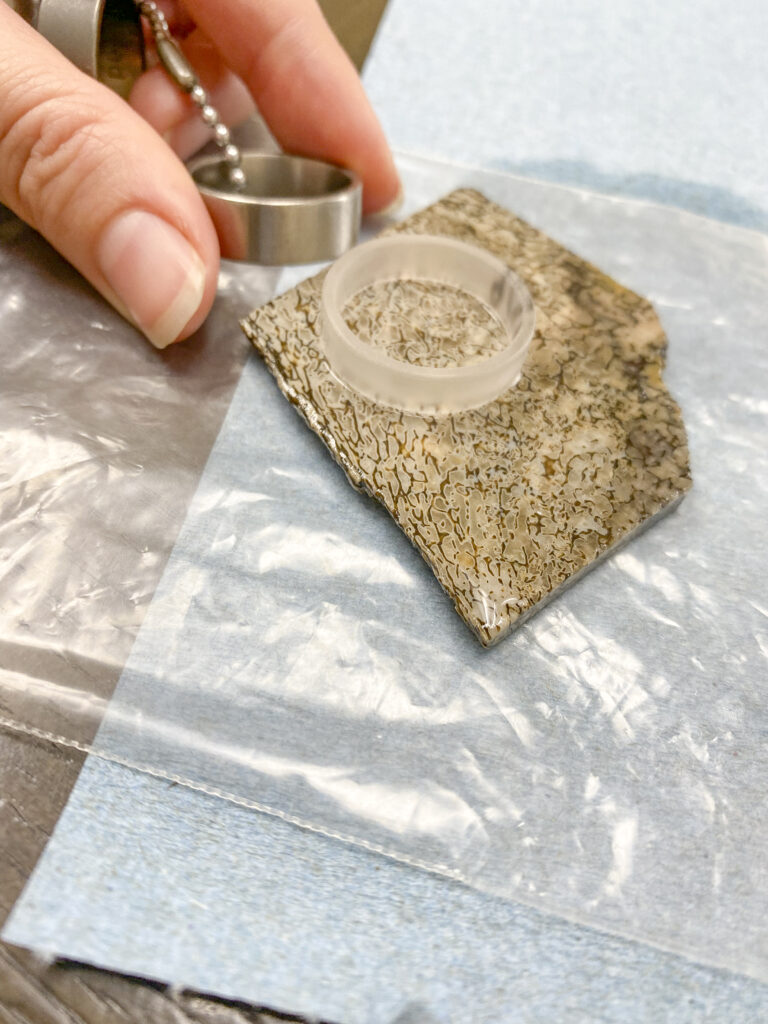 The colors can vary based on the fossilized rock around the dino bone fragments.
We opted for a more gray colored bone, but you can find colors that look blue or even red!
Once we selected the exact dinosaur bone fossil plate, we planned the corresponding metal type and thickness of the metal.
You can also choose if you want the bone polished and shiny or more natural.
Even though these dinosaur bones are millions of years old, it still feels like a modern mens wedding band since it is such a unique material.
What's awesome is that the dinosaur bone fossil plate was large enough to even make matching cufflinks!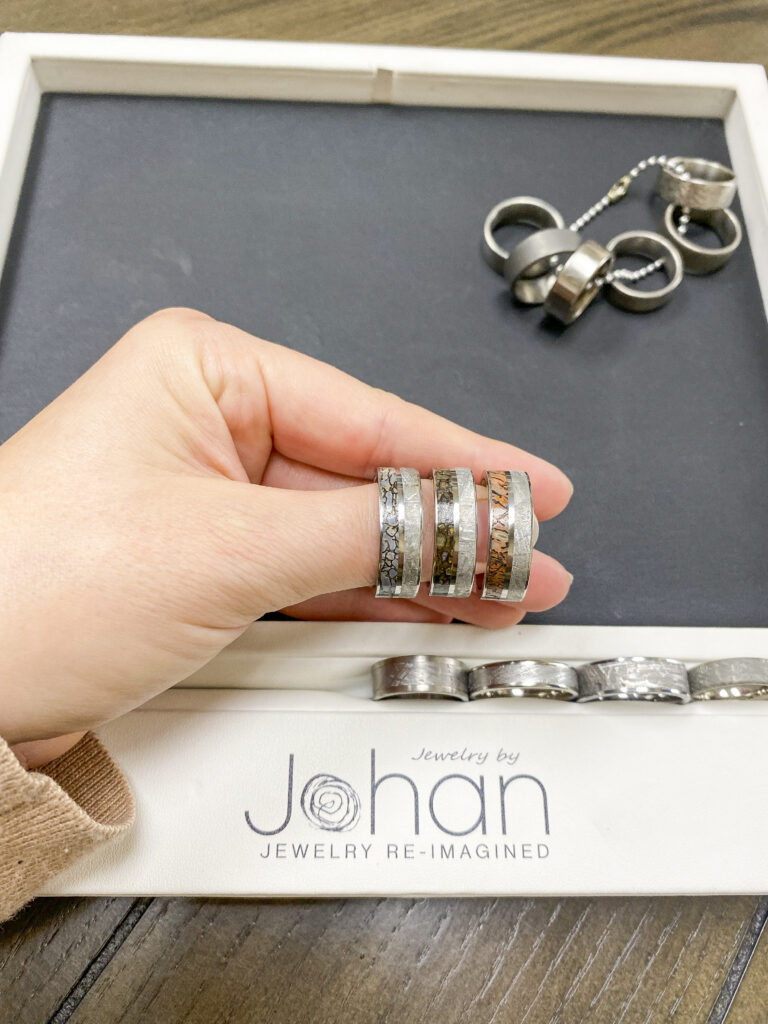 Unique mens wedding bands
If you don't go the custom route, Jewelry by Johan has a huge selection of Men's unique wedding bands on their website available for purchase.
In addition to meteorite and dinosaur bone rings, Jewelry by Johan offers antler, wood, and camo designs in addition to a number of various metal options.
What do you think?! Are you a wedding band traditionalist or would you be open to going a more creative route?
Gavin loves his ring, and we think the process of designing the ring was a fun memory that we will cherish forever.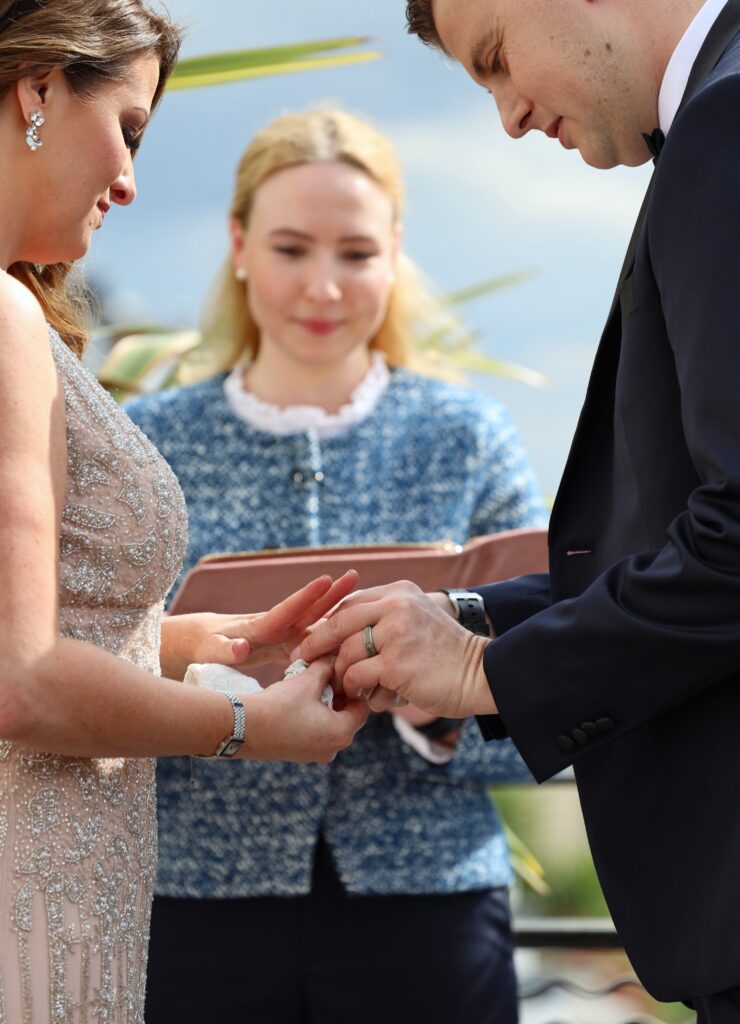 Interested in learning more about our wedding? Check out these other posts:
Our fairytale wedding in Paris
How to make a wedding wine guest book (coming soon!)
Click this link to pin this information on dinosaur bone wedding bands on your destination wedding on pinterest.
Also, don't forget to follow us on instagram and facebook for more recipes and recommendations, we love to see when you visit our favorite places!