This is a sponsored post written by me on behalf of Dairy MAX, your local dairy council. All opinions are 100% mine.
We've crafted a delicious, unscale, dairy-centric dinner party menu that is perfect for special occasions or a romantic date night at home.
Dairy products are some of our favorite foods. You'll often find us at home with a wheel of brie, a sourdough baguette, and a bottle of wine. Sometimes we even call that "dinner"! 🙂
Whether it's an ooey gooey cheese or cream in our favorite morning latte, dairy is real comfort food that we can all get behind, with health benefits that pack a nutritional punch.
Dairy not only helps make every dish delicious, it has superfood nutrition powers that do the body good. Milk contains nine essential nutrients including protein, calcium, phosphorus, vitamins A and D, and vitamin B2, B3, B5 and B12.
Plus, studies show that dairy foods, when eaten as part of a healthy eating pattern, improve overall diet quality and may help reduce the risk of osteoporosis, cardiovascular disease, high blood pressure and Type 2 diabetes.
Whether you love it for its nutrient richness and simple ingredient list, or its taste and versatility, dairy offers something for everyone to enjoy.
It's recommended that adults get three servings of dairy a day, so we have you covered with this scrumptious three-course meal featuring some of our favorite dairy items.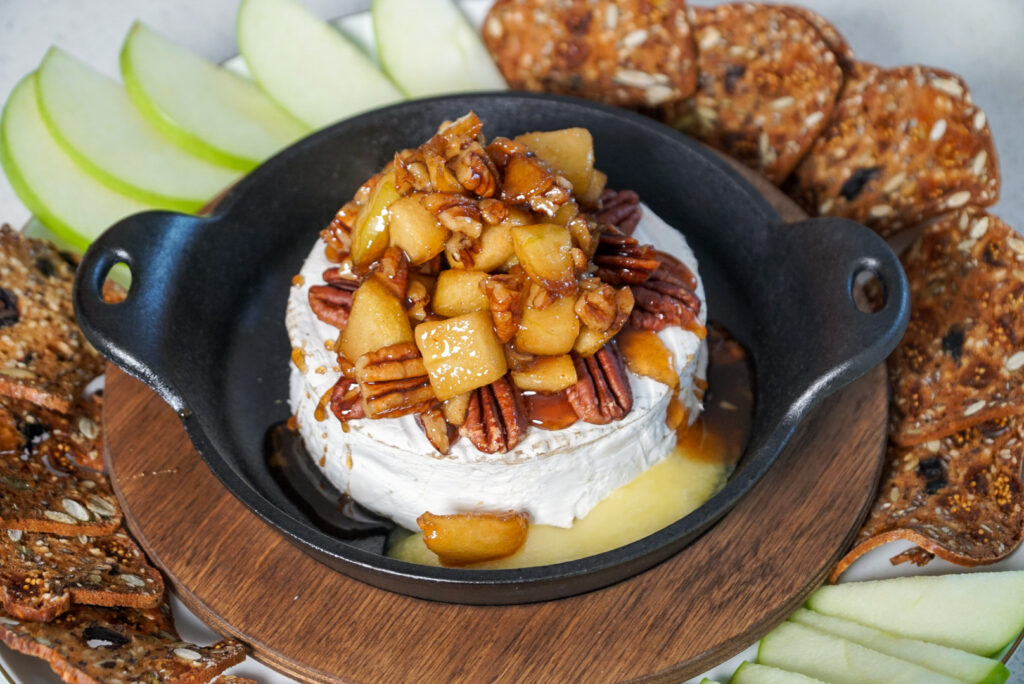 Course 1: Baked Brie with Apples and Pecans
We start the meal off with one of our favorite cheeses, brie!
Especially around the holidays, we love to bake brie in the oven. Baked brie appetizers always looks festive, the cheese is perfectly melty, and it's customizable with a lot of different toppings.
We opted to use seasonal apples and local Texas pecans as a topper on our brie. Get the full recipe for our Baked Brie with Apples and Pecans.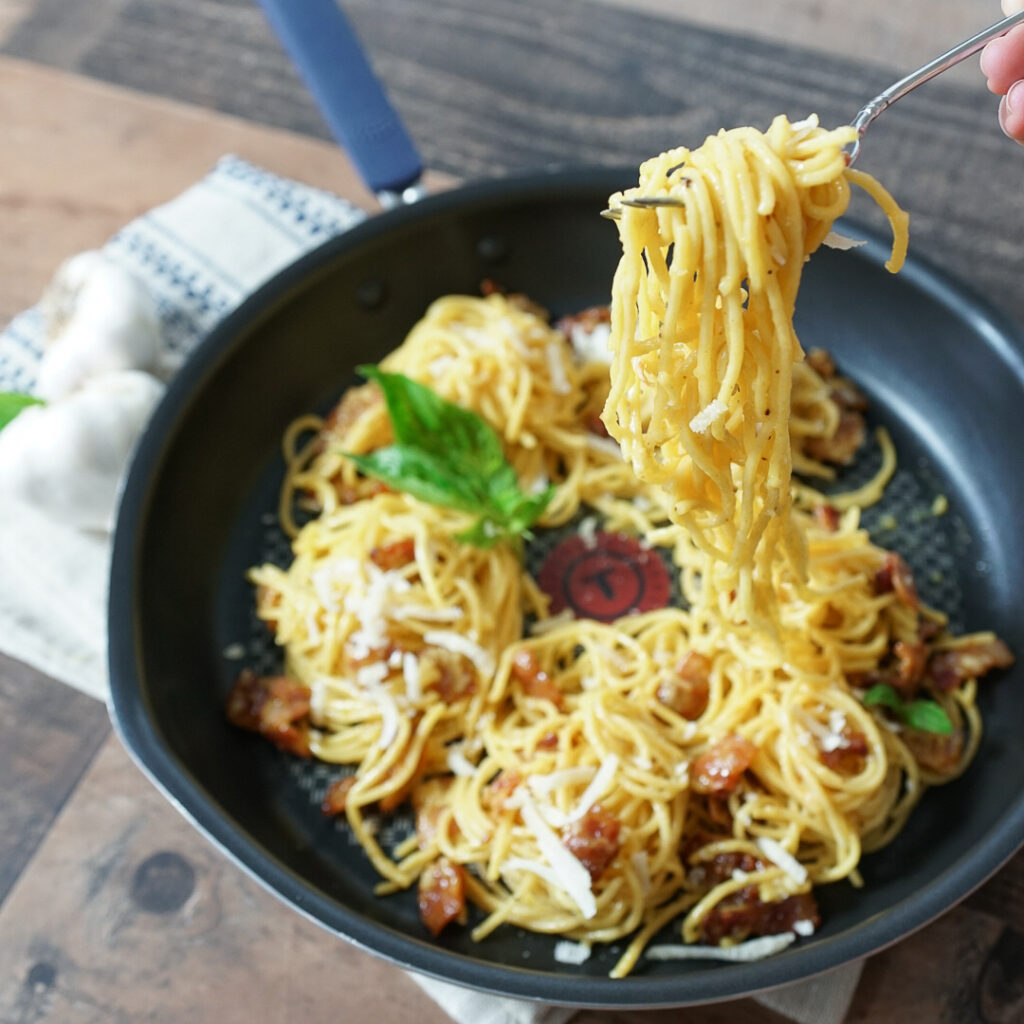 Course 2: Cheesy Carbonara Pasta
The main course of our dinner party is as our favorite go-to pasta: carbonara.
We love how the nutty flavors of parmigiano reggiano is the star of this simple pasta recipe.
We often make this for friends as a late night snack, even when it's not in a formal dinner party setting, it's THAT good. Don't miss the full recipe for this pasta carbonara featuring parmigiano reggiano cheese.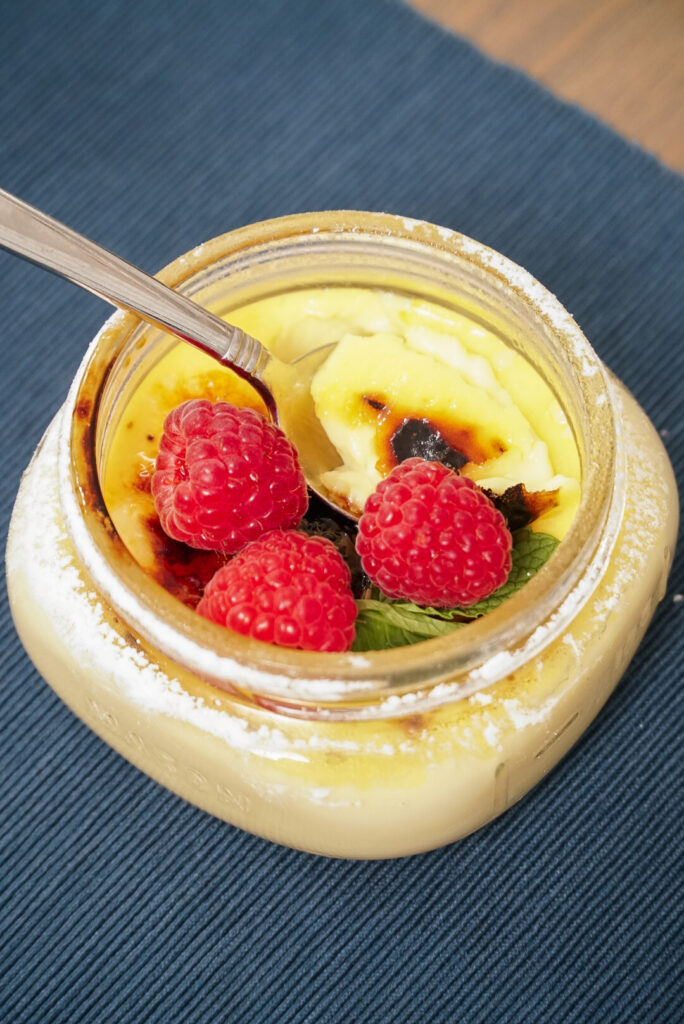 Course 3: Sous Vide Creme Brulee
For dessert, we whipped up Gavin's favorite sweet treat, creme brulee.
We're obsessed with cooking with our sous vide and using this kitchen tool makes cooking creme brulee even easier!
Creme Brulee is great for a dinner party because you can make your rich and luscious creme brulee ahead of time, then simply finish the dish by caramelized the sugar with a torch right before serving. Get the full recipe for our Sous Vide Creme Brulee.
This three course meal was an elegant way showcase some of our favorite dairy picks and was a memorable date night at home.
This post was brought to you by Dairy MAX, your local dairy council. Be sure to access their list of more delicious recipes showcasing dairy as well!