The past year has been a crazy roller coaster with a lot of highlights, but also WAY too many challenges due to Karen's injuries.
18 months ago, Karen was in a Vespa accident and broke her collarbone.
Six months later while traveling in Italy, she severely broke her ankle, resulting in extensive surgery, 10 screws being implanted in her foot and being wheelchair-bound for almost three months.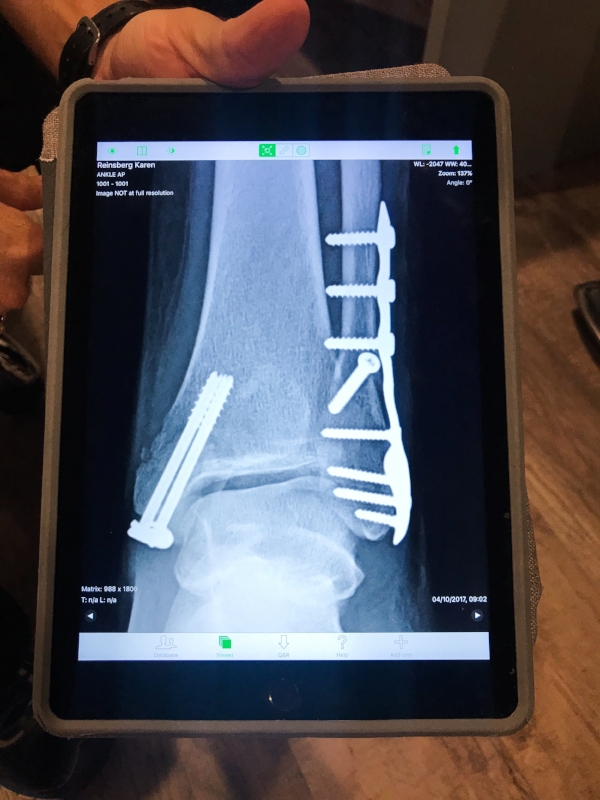 With our non-stop lifestyle and need for recovery, we've tested and searched for Austin's best recovery and wellness options.
Karen has tried classic physical therapy, new-age electroshock therapy, dry needling, cupping, and cryotherapy.
What we found with cryotherapy is that it's not only great for Karen's recovery journey to reduce her swelling and inflammation, but it also helped Gavin with minor body kinks and provided relief before and after travel.
In Austin there are a ton of cryotherapy options, but after research and personal experience, there's really only one spot that truly stood out: US Cryotherapy Austin.
Most of the Austin cryotherapy market is filled with shops that use nitrogen-based cryotherapy, whereas US Cryotherapy does not use hazardous materials to reach sub-zero temperatures.
This allows for complete head-to-toe immersion. This results in a safer and more effective response in your nervous system to reduce pain, inflammation, and muscle soreness as well as release powerful endorphins responsible for your elevating mood, improving sleep, and reducing stress.
Their cryo chamber is also the largest in town with 4-person capacity.
It is nice to be able to go in together, and we have even gotten friends to join us as well. Talk about a group freeze!
On top of all of the benefits listed above, the owner, UT grad Chase McKinzie, is super knowledgeable about both healing and athletics and his whole team is very friendly and well trained.
A lot of people have seen us doing cryo on social media and had a number of questions, so we thought we would explain the process to you all.
What to Expect with Whole Body Cryotherapy
You'll start by changing into shorts and a tank. Feel free to wear your own shorts and sports bra if you'd like as well.
Then you put on their thick socks and slippers, headband, and mittens to cover your extremities.
Next is the hardest part, picking out a song you want to listen to in the chamber. We usually always go for upbeat dance music to get our blood pumping.
An employee will take your initial skin temperature and you'll head into the first chamber for about 20 seconds or so. It is cool, but not nearly as cold as the main cryotherapy chamber.
Next, you'll open up the door to the main chamber where you will spend around 2 minutes hanging out in temps that can get as cold as -190 degrees Fahrenheit.
You'll start to get goosebumps and your eyelashes will even get a little frosty.
The team will signal when it's time to leave the chamber and they will temp your skin once again. Expect to have a 30-40 degree drop in skin temperature.
To warm back up, head to a stationary bike or vibration plate for a few minutes.
The experience is a shock to your system that comes with a lot of health benefits!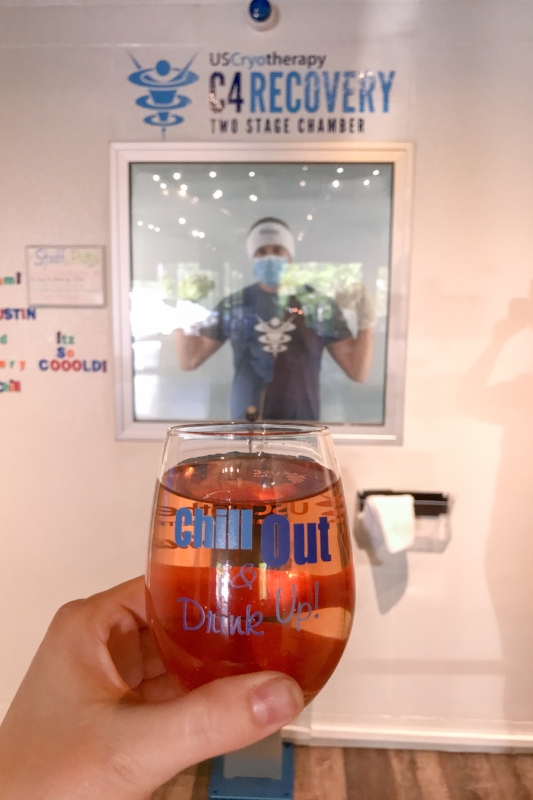 What is Local Cryotherapy?
This has been a life saver for Karen's ankle.
Even though her surgery was over 11 months ago, she still gets substantial swelling and pain.
Localized cryotherapy is a concentrated burst of cold air used to treat an area with pain and inflammation.
It makes an immediate impact to Karen's foot and relieves Gavin's back pain.  It also helps provide her injured ankle with increased range of motion.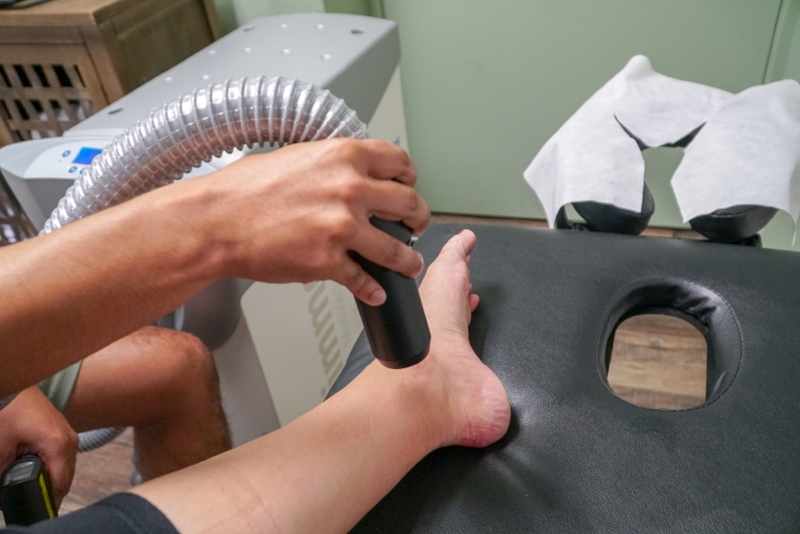 NormaTec Compression Relieves Sore Legs and Feet
When treating an injury, doctors constantly preach the need for ice and compression.
The cryotherapy has the cold covered, and the normatach takes care of the compression needs.
Hang out for 10 minutes, inverted, while the thigh-high boots create an air chamber around your feet and legs.
It's great for athletes looking for recovery on their legs and sore feet, because it enhances circulation while flushing out inflammation.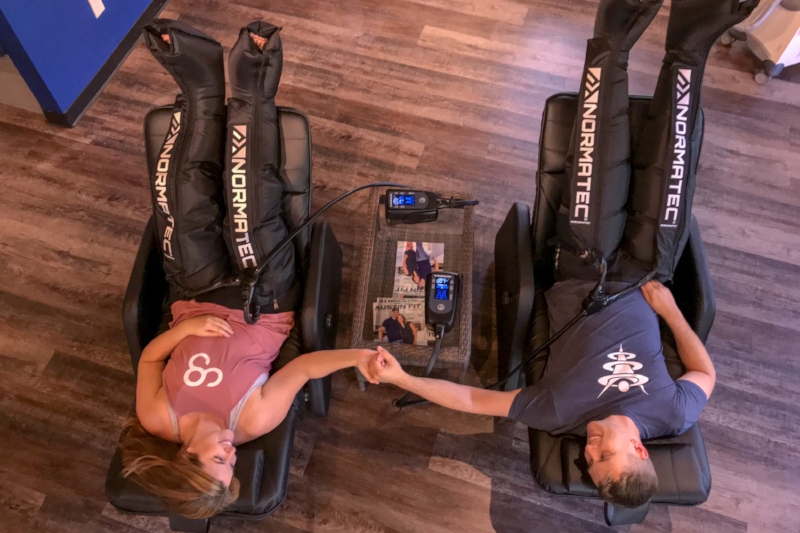 How to Lose Inches of Fat with Cryoskin 3.0
This is potentially a major food blogger game changer y'all!!!
Cryoskin 3.0 is a new, cutting-edge contouring device from Paris, France, which has slimming and toning features like CoolSculpting, but it's way more affordable.
We've been researching CoolSculpting a ton, but outside of the high price, the biggest reason why we haven't tried it is because we've heard too many horror stories of the painful process and un-uniform results.
After both of us went through one session, we can truthfully say that the process was totally tolerable, we lost an inch plus off our waistline, and there's no dimpled post-treatment effect.
Cryoskin Slimming uses 3-phase thermal shock to lose 0.5"-2" off the waistline in one treatment, and remove up to 38% of fat in a targeted area over 5 sessions.
Cryoskin Toning and Lifting is a direct cold treatment, which eliminates cellulite and lifts the skin naturally with potent collagen production.
Ultimately, your lymphatic system gets rid of your fat cells when you pee!  Who knew you could pee out your fat?!
Cryoskin Sculpting is a method for getting rid of those stubborn fat areas like love handles or even getting rid of unwanted cellulite on the legs.
The Cryoskin Toning facial is comparable to botox-like results over 5 sessions and is a big-time collagen producer, which gets rid of fine lines & wrinkles while improving skin tone and texture.
We've only gone through one session each so we can't tell you what it's like after going through 5 sessions, but we both were extremely happy with our results after the single session.
Right now if y'all are interested in trying Cryoskin (and we know a TON of you are, since we received a ton of questions after posting our experience on our instastories) you can stop in now and get 15% off a package.
When we go through all 5 sessions we will post a full recap of the experience so you can learn about our final results!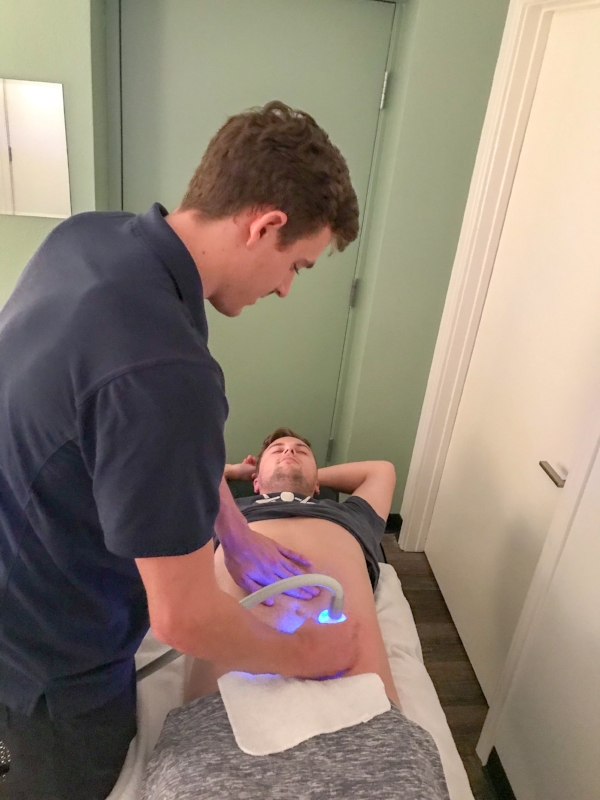 Red Light Therapy Room
US Cryotherapy is always looking for ways that will truly benefit their clients health for the better.
When they discovered and tested red light therapy, they completely remodeled their dressing rooms to add this amazing new treatment.
Red light therapy is a powerful light therapy treatment that uses red and near-infrared light to improve cellular function, increase metabolism, accelerate wound healing, increase muscle growth, enhance athletic performance, provide natural pain relief, and many more benefits.
After using it once we both said our alertness was raised, and we experienced a jolt of energy.
Chase said this instant boost is standard, and continued use leads to even more benefits.
We're also hoping this helps to fade all of Karen's scars from surgery.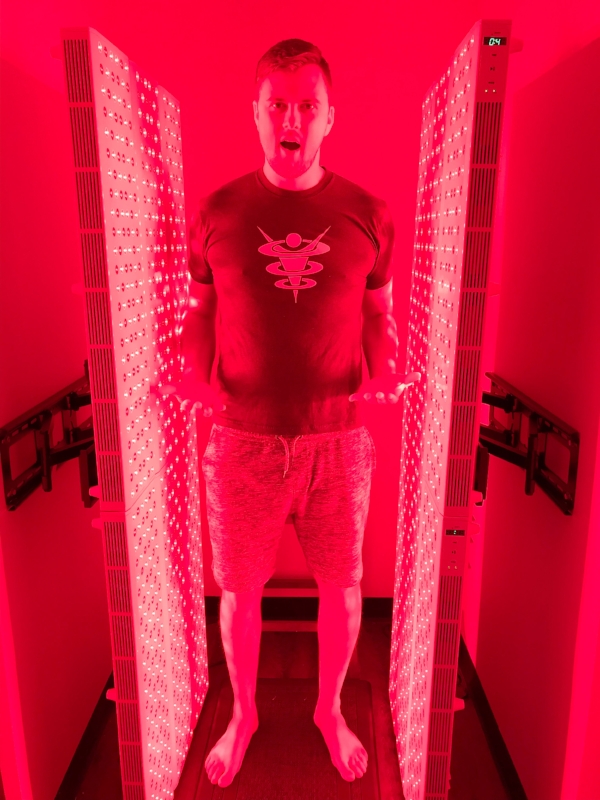 Hydromassage Beds
If you're looking to really relax and soothe any sore muscles, take a break on this 10-min warm water massage bed that pulsates a firm, but gentle water jet up at the body.
Don't worry, you won't get wet!
We don't get a hydromassage every visit, but we love adding on this service at the end of a crazy week.
CryoFacial Rejuvenation
There is also room for a few beauty treatments.
A cryofacial is a concentrated stream of -22 degree cold air that a technician concentrates on your face. It stimulates cellular turnover which leads to clearer complexion and tighter skin.
We like to get our cryofacials while lying on the hydromassage bed.
Both us and a few of our friends are now long-term, happy customers of US Cryotherapy Austin, and whether you're in need for a quick fix after a tough workout or just getting off a surgery table, we couldn't recommend them more.
If y'all want to try it for the first time, mention Couple in the Kitchen to get discounts on services, your first cryo plus additional add-on treatment will only cost $29.
If you try something based on our recommendations, let us know by tagging @coupleinthekitchen on social media!