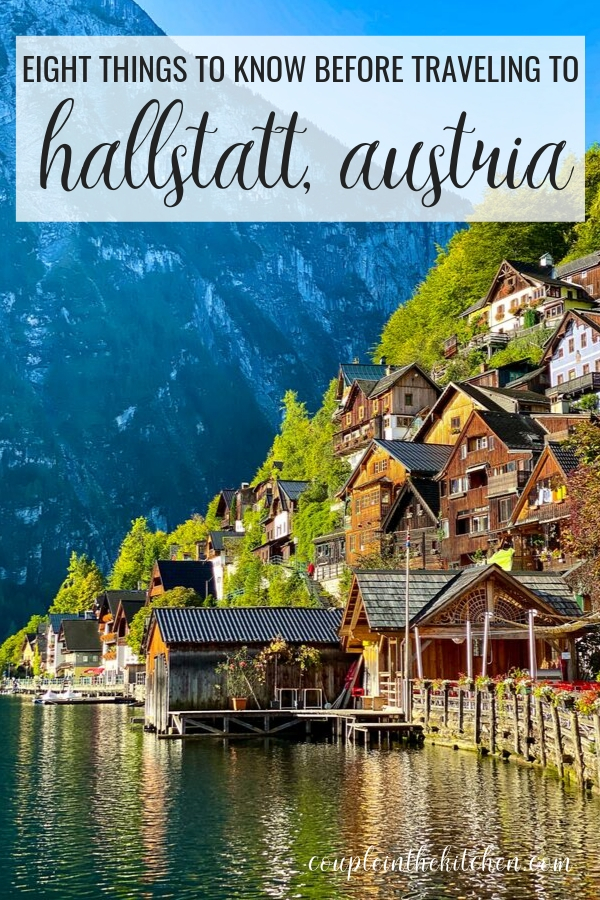 Hallstatt, you've stolen our heart.
Hallstatt features picturesque homes nestled in the Austrian Alps, overlooking a glistening lake. The town is quaint and unique. These tips will ensure you have an amazing time while visiting Hallstatt.
Hallstatt Austria Hotels and Lodging are Limited
There are not a ton of Hallstatt Austria hotels and online bookings are not typically available. We were able to secure a few rooms at Braugasthof Hallstatt, a 700-year-old brewery overlooking the lake.
We secured our reservation by emailing them and asking about availability. A number of bed and breakfasts never even emailed us back, so be sure to reach out to a few options.
The views from the Braugasthof Hallstatt were insane from both our room window and the small balcony off of our cozy abode. WiFi and breakfast were included.
Additionally, the bottom level of the Braugasthof features a restaurant and patio dining next to the lake. If you decide to dine there, be sure to order the kasenodelsuppe soup. This is a simple broth soup, but the star is the cheese dumpling that floats inside.
Bring Plenty of Euros
Many Hallstatt restaurants do not accept credit cards. Ensure you bring plenty of Euros for your trip. If you run out, no worries, there is an ATM available, but why risk it if the machine is down?
Reservations are Not Available for Electric Boat Rentals on Lake Hallstatt
We were MOST excited about the electric boats in Hallstatt. This adorable city is also a protected UNESCO world heritage site so boats with a motor are not permitted on the lake.
Electric boats have two speed settings and only propel forward. Operating one is as simple as flipping a switch and steering the wheel.
At 15 Euros for 30 minutes, we made the most of our time by bringing along a bottle of wine. We sipped some gruner veltliner wine while trolling along the charming coast (be sure to head across the lake to scope out the massive private castle while you're at it!)
Renting an electric boat in Hallstatt was on the top of our list and we were so paranoid that they would be booked up one the only day we were visiting.
We tried finding online reservation information online with no luck, so we decided to stop by early in the morning to pop our name on the list. There is no sign up list. It is first-come, first-served.
Even through the city gets PACKED with tourists throughout the day, we were still able to get a two electric boat rentals for our group with almost no wait in the afternoon. Don't worry about not having a reservation, just allocate some time to wait, which was minimal for our trip. You can also rent swan-shaped paddle boats or a "Fuhren", a traditional wooden salt boat.
Hallstatt Parking is Located Outside of the Town Center
When visiting Hallstatt, keep in mind that parking is located outside of the city.
You will need to park at one of the four Hallstatt parking lots and walk into the town center. It was only about a ten minute walk with our luggage from the lot we parked in, which was the closest lot.
When arriving in the area, you'll see the specific number of parking spots available in each lot on an electronic sign. Pretty modern technology for a parking lot that is surrounded by grazing cattle! Parking for about 24 hours costs 14 Euros.
The Town of Hallstatt Shuts Down Pretty Early
Unlike other European cities (like Italy) where dinner time is usually around 10pm, Austrians eat dinner earlier in the evening. In fact, most restaurants were closed up by around 8pm.
Even finding a spot for an after-dinner drink were few and far between.
We bellied up to the outdoor bar on the street that overlooks the water for a cup or two of gluhwein, Austrian hot wine. You can even ask for a to-go cup. We enjoyed our hot wine as we strolled along the cobblestones, hand-in-hand, in the moonlight.
Head to the Hallstatt Skywalk Early
Hallstatt is known for their views! There is no better vantage point that the Skywalk. Take the funicular up the mountain or if you're looking exercise, hike it! The funicular opens at 9am and we found that going early will beat out all the tour buses that come in on Hallstatt day trips.
Keep in mind that the cafe and restaurant on the peak doesn't open until 10:30am. We found that waiting around was well worth it!
We cheersed over coffee, beers, and cocktails and took in the remarkable view.
Take Home Some Hallstatt Salt, but not too Much
In early days, Hallstatt's main industry was salt mining. In fact, you can even take a tour of the salt mine at the same place where you head to the Hallstatt skywalk.
You'll notice gift shops all around town selling the city's famous export, raw pink salt crystals. As avid cooks, we opted to purchase the largest pack of salt to bring home. HUGE MISTAKE!
Upon boarding our flight to the USA, we had to go through another round of screening and our salt was confiscated.
Apparently, America constitutes salt as a material that can be ground into a powder and only limited amounts can be brought in a carry on. So purchase a small pack if you are traveling with only a carry on OR put it in your checked luggage.
We literally kissed it goodbye as we had to toss $39 in premium salt in the Munich Airport's garbage.
Eat a Schaumrolle!
While visiting Hallstatt, you can't miss a stop to Taglich Frisch Gebacken. This bakery stall whips up the traditional Austrians schuamrolle pastry.
A schmuerolle is a freshly made flaky cone, filled with a marshmallow-like cream. We ate about three pastries in one day!
Hallstatt, Austria was one of our favorite European cities to visit. It is the perfect little town to stroll, admire the architecture, and relax while you breathe in the freshest mountain air that you'll probably ever experience. (They even sell Hallstatt air in a can!)
If you book a trip to Hallstatt, let us know by reaching out to @coupleinthekitchen on social media!