One thing that is unique about our state is all the drive thru zoos in Texas.
From camels, to giraffes, to zebras, you can find all types of wild animals living at ranches in the lone star state.
We adore animal-based activities when we travel.
We saw some incredibly rare species of Amazon River Animals (including pink dolphins!) while in Peru, we went on a pretty cool safari experience when searching for the Best Things to Do in Sonoma County, and even (accidently) snorkeled with sharks while staying on a Private Island in Fiji.
If you're Texas-based, you don't have to spend hours on an airplane to get into some amazing animal experiences.
We've had some pretty amazing animal encounters at Texas drive thru zoos and wanted to share them with you!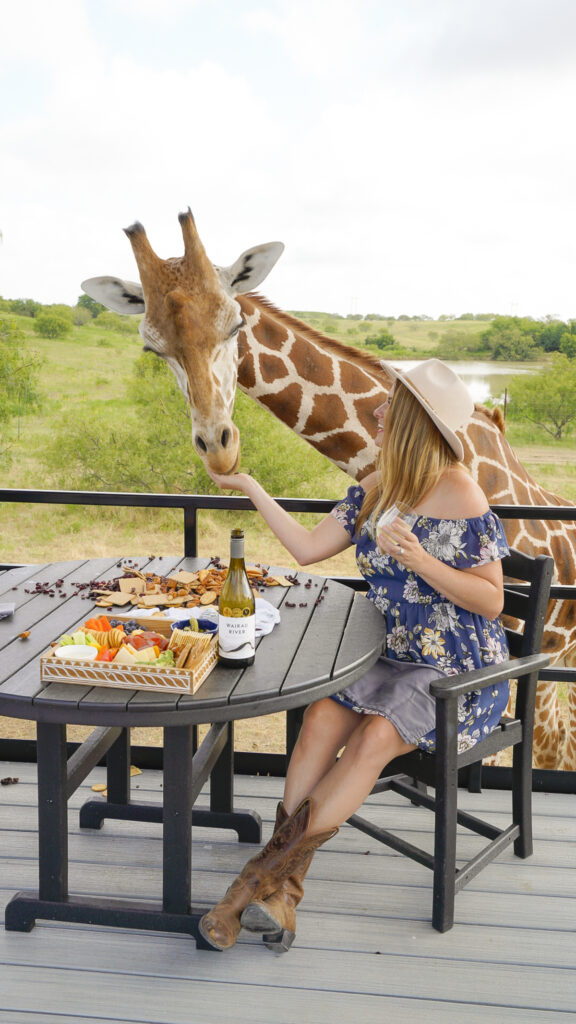 Drive Thru Zoos Close to Austin, Texas
Blue Hills Ranch
Blue Hills Ranch is located 30 minutes from Waco, and an hour and a half from Austin. It's a giraffe and wild animal sanctuary that has a ton of offerings.
At the ranch they have probably the coolest experience options in all of Texas.
They feature a giraffe dining experience, an otter experience where you can swim with otters, and a driving safari.
We started our day with a dining experience with giraffes. After loading into a dune buggy, we traveled to the part of the ranch where there is a platform amongst the giraffes.
We enjoyed our charcuterie board while Blue and Google the giraffes ate their snacks right from our hands.
Once Blue was out of his own grapes, he started eating the grapes off of our platter!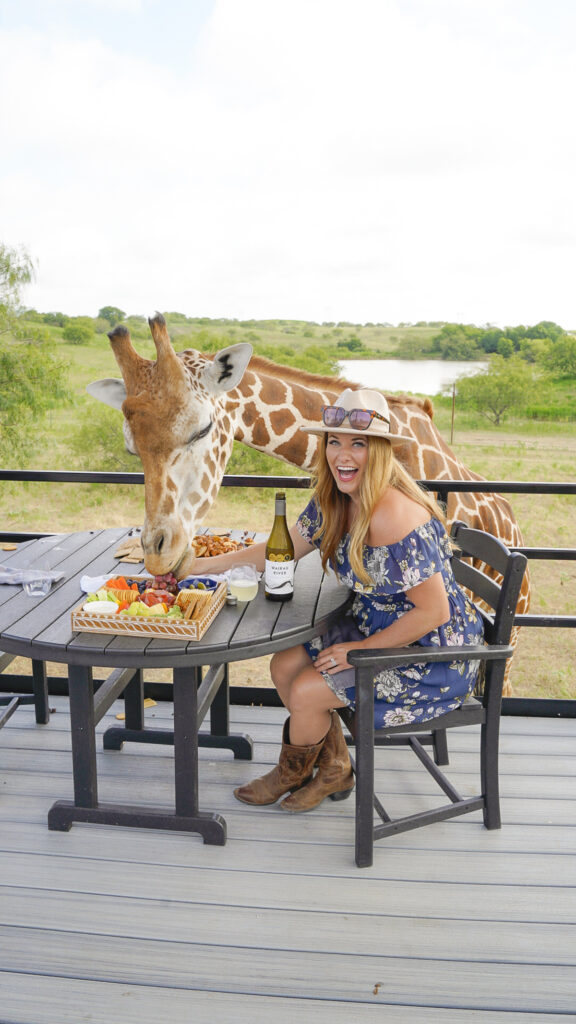 It was a very intimate and sweet experience to share with the gentle giants.
After the giraffe dining experience we took a ride in the dune buggy to see zebras, camels, kangaroos, emus, bison, goats, donkeys, and deer.
You can not drive through in your own car, but can ask for a tour in the open air ranch vehicles.
If any of the wildlife centers on this list were a date on the show the Bachelor it would be held at Blue Hills Ranch. This spot is perfect for an anniversary date night, birthday celebration, or even a romantic proposal!
On the private tour and experience side, we've truly never seen a place like Blue Hills Ranch in the United States, you can only find something as special as this in South Africa and a few other countries in Africa.
Book a stay at their cabins for an immersive experience with animals.
For a full property buy out you could even have your wedding here!
https://www.bluehillsranch.com/ 2032 Blue Cut Rd N, McGregor, TX 76657
The Exotic Resort Zoo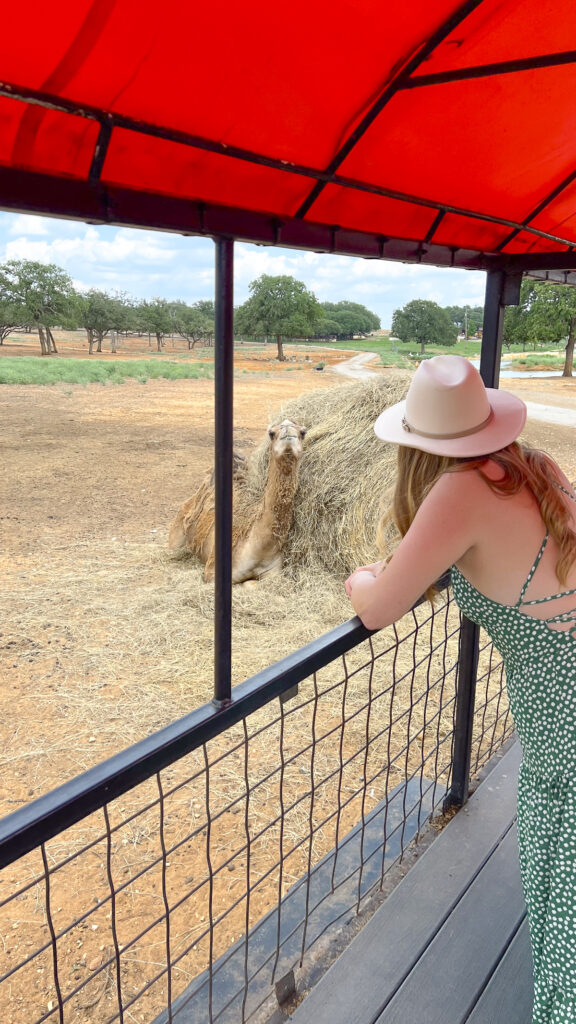 Probably the most notable drive thru zoo in Texas is The Exotic Resort Zoo.
This exotic zoo is in Johnson city which is an hour drive from Austin, and a 30 minute drive to Fredericksburg where you can hit the Texas wine region or stay at our Fredericksburg Bed and Breakfast.
At the Exotic Resort Zoo you have many ways to experience over 700 species of wildlife from baby giraffes, to zebras, to ostriches, to ring-tailed lemurs.
They offer drive-thru tickets where you can use your own vehicle. Before entering the drive thru zoo be sure to buy a bucket of feed so you can hand feed animals from your own vehicle.
If you don't want to drive through in your own car you can join a guided tractor ride tour.
The main benefits of the guided tour are that you have an educated guide, and in the tractor they can go off-roading so you get even close to animals if they're not on the normal car path.
It was so much fun because the animals come in extra close in the open-air tractor experience.
Do note that for the drive through option they don't allow RV's, and you're not allowed to ride in your truck bed.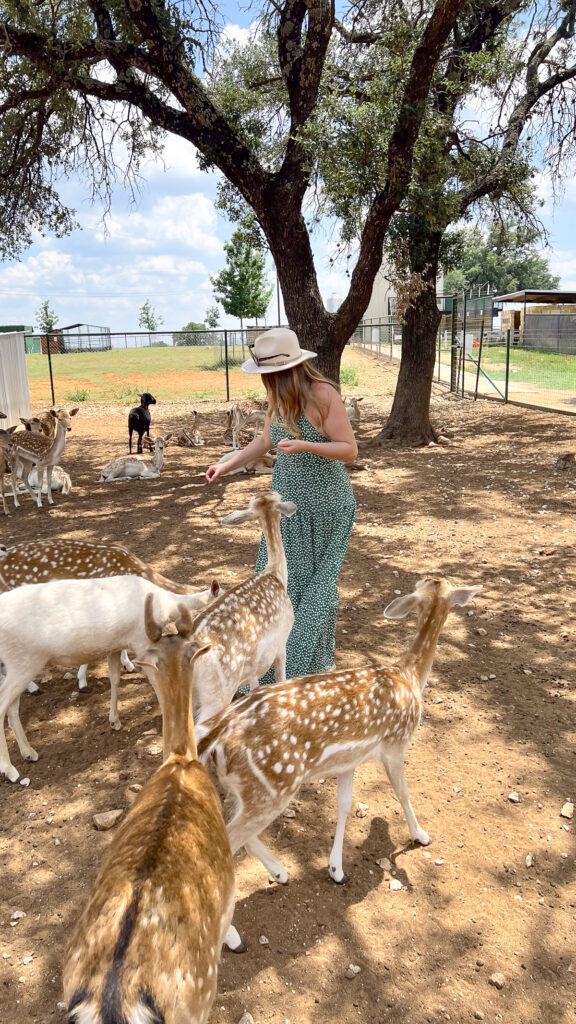 Outside of the guided safari and drive-thru safari, they also have a petting zoo and safari cabins.
The petting zoo is included in your ticket price. There are a range of animals like kangaroos, antelope, and deer to pet.
Karen made the mistake of wearing a green dress with flowers on it and the deer at the petting zoo started to eat the bottom of her dress!
They also give you the option of buying lettuce to feed their giraffe from the feeding platform.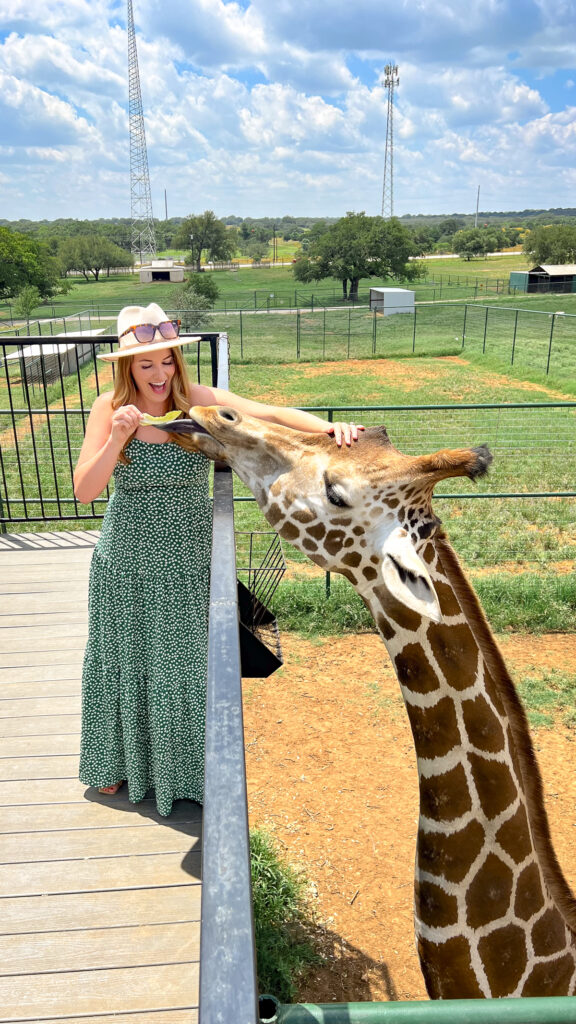 If you want to stay at the zoo, they offer 8 cabins of different sizes.
The benefits of staying in their cabins is that your tour and petting zoo is included in the price of the rental. They also have a pool, and bbq area to get the feeling of cooking in the outback.
From the comfort of your own vehicle or their trailers you can drive through the animals open habitat which they try to make close to their natural environment for their enjoyment.
This is definitely one of the best drive-thru safaris near Austin.
https://www.zooexotics.com/ 235 Zoo Trail, Johnson City, TX 78636
Topsey Exotic Ranch & Park
Topsey Exotic Ranch & Park is an hour and a half north of Austin.
The Topsey Park is split into three sections: the drive thru safari, a walkaround area, and a petting zoo.
The drive thru zoo is the main portion of the park. You can expect this part of the adventure to take around an hour, but if you want to do it a second time you can do so at no additional charge.
On the safari you can buy food at their gift shop to feed the animals, and you will most likely run into zebras, camels, and a ton of other exotics.
For the walking area they have kangaroos, monkeys, lemurs, and more.
For the petting zoo it's nice that they have more activities, but the animals are mainly sheep and goats.
https://www.topseyranch.com/ 945 Co Rd 118, Copperas Cove, TX 76522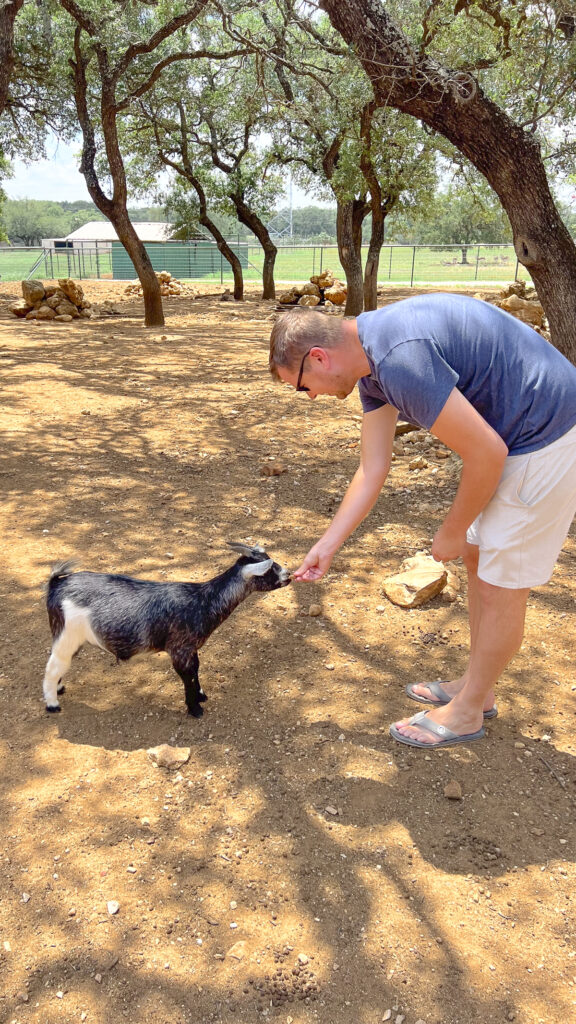 Buena Vista Wildlife Safari and RV Park
The Buena Vista Wildlife Safari and RV Park is located in between Austin and the Dallas/Fort Worth metros.
If you're road tripping through Texas this is a great destination to break up driving because they offer both overnight cabins and they have an RV park.
This wildlife safari park is packed with items for your entire family.
They have their drive thru safari that has over 250 animals, there's a petting zoo, a pool, a fishing pond, and a sports game area.
They even have a petting zoo cam so you can see this area of their animals online.
https://buenavistawildlifesafari.com/ 1830 S, S Hwy 281, Evant, TX 76525
Aggieland Wild Animal Safari
Aggieland Wild Animal Safari is a zoo chain that has a few locations in the US, and this location is a great east Texas zoo.
At their 250-acre safari land they have the standard drive thru zoo, they have a safari bus you can join, they have a normal zoo that you walk around, and they have close animal encounters.
The animal encounters are very different from others in Texas.
They have reptile encounters, but the special ticket is the cute tamanduas experience.
If you haven't heard of tamanduas before, you've definitely heard of their bigger cousin the anteater. If in the area do not skip Aggieland Safari.
https://animalsafari.com/aggieland-home-about-us/ 18075 FM974, Bryan, TX 77808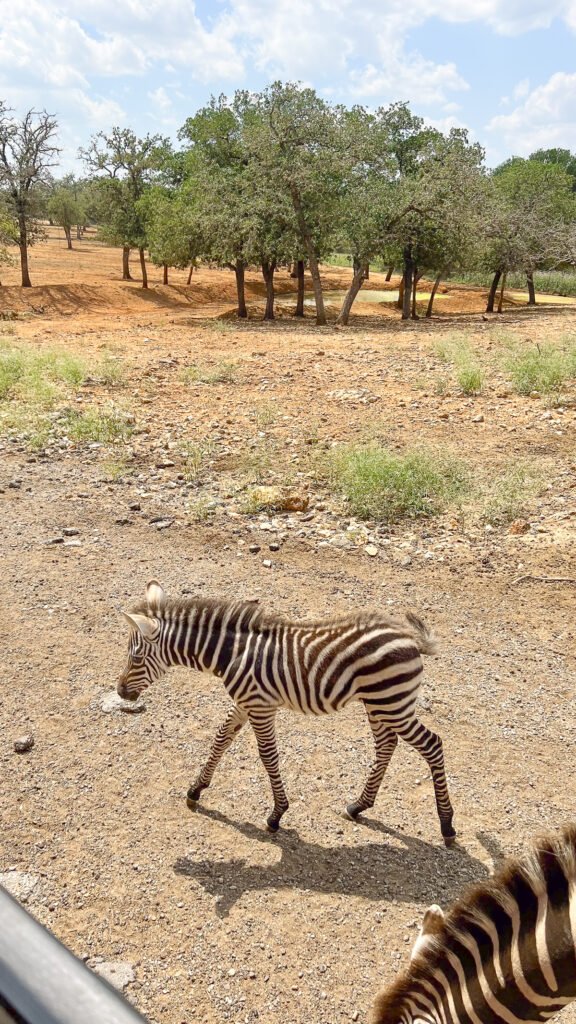 Drive Thru Zoos Close to San Antonio, Texas
Natural Bridge Wildlife Ranch
The Natural Bridge Wildlife Ranch is a top 10 rated safari park in the nation by USA Today.
There are multiple things that make this wildlife ranch special.
The top of the list has to be the fact that they have and are preserving extinct animals in the wild as well as critically endangered animals. Outside of that, they have most of the general public's favorite exotic animals.
Special animals to be on the lookout for are a female cheetah, giraffes, monkeys, zebras, rhinos, and other endangered species.
After you've had an amazing experience at the wildlife ranch you can dine at their restaurant the Safari Camp Grill or bring your own picnic.
You will truly enjoy your zoo experience at this San Antonio zoo.
https://www.wildliferanchtexas.com/ 26515 Natural Bridge Caverns Rd, San Antonio, TX 78266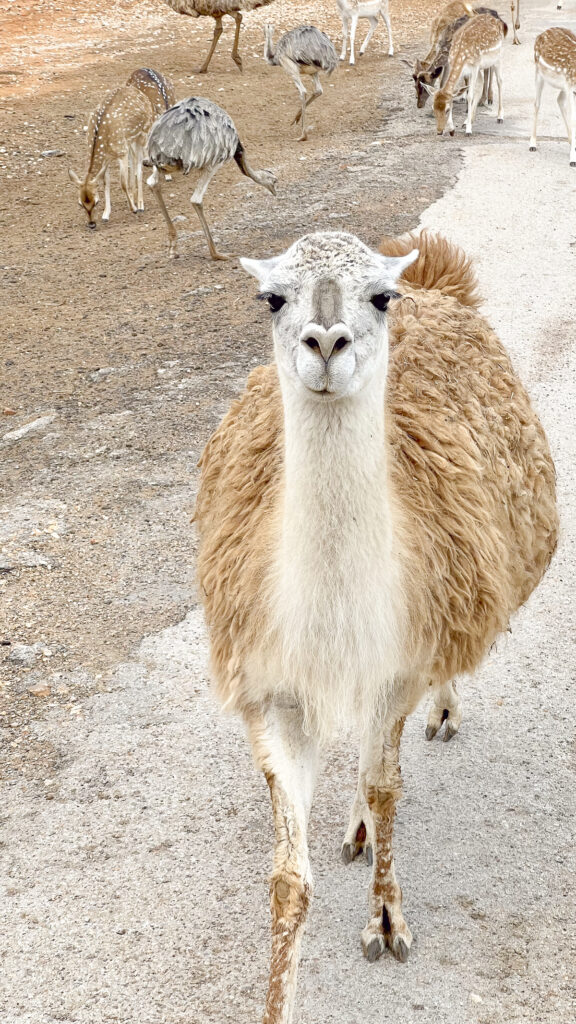 Drive Thru Zoos Close to Dallas, Texas (and Fort Worth)
Fossil Rim Wildlife Center
Fossil Rim Wildlife Center is a non-profit conservation center that is an hour drive from Fort Worth. The center is well over 1,800 acres of land, and this wildlife preserve houses over 1,000 animals.
They specialize in captive breeding specifically for endangered species, and even participate in projects to release them back into the wild.
One noteworthy recent example is with the Mexican Gray Wolf which only had an estimated 700 left in the wild.
This wildlife center is packed with family fun. They have the standard self-guided drive through safari trek, but they also offer behind the scenes tours, and really special "T.W.A.N.G." photo tours with a professional wildlife photographer.
To finish off the night they have night tours with a campfire, and they also have lodging.
https://fossilrim.org/ 2299 Co Rd 2008, Glen Rose, TX 76043
Sharkarosa Zoo
Sharkarosa Zoo located north of Dallas is a 126 acre park.
This spot features lions, tigers, and bears!
They also have unique private animal experiences.
You can pay for the opportunity to get up-close-and-personal with sloths, ruffed lemurs, and even a skunk that won't spray you.
It's a stink free way to learn about more animals!
https://sharkarosa.com/ 11670 Massey Rd, Pilot Point, TX 76258
Drive Thru Zoos Close to Houston, Texas
Bayou Wildlife Zoo
Bayou Wildlife Zoo is the closest you'll get to a drive thru zoo close to Houston.
This zoo is located 30 minutes south of Houston towards Galveston.
It is home to over 60 species of animals, and you can visit them via their tram ride or through their barnyard encounter experience.
There are not a lot of drive through zoos near Houston, so consider making a road trip through Texas to visit some of the larger zoos!
https://www.bayouwildlifezoo.com/ 5050 FM517, Alvin, TX 77511
Drive Thru Zoos Close to College Station, Texas
Franklin Drive Thru Safari
Franklin Drive Thru Safari is a 45 minute drive from College Station.
They have cabins, a drive thru self-guided drive safari, a baby room for newborn animals, and a reptile house.
If you're a fan of cute baby animals, you can buy a specific ticket for it, and get an up close experience with the cute new animals.
Every time you visit there will be different species of animals since animals are only babies for a short period of time before they're fully grown.
The reptile house features snakes of both venomous and non-venomous varieties in their animal enclosures, as well as other reptiles (if you're brave enough to enter!)
https://www.franklinsafari.com/ 4324 W Hwy 79, Franklin, TX 77856
Grapeland Safari
Grapeland Safari is a super affordable drive-thru safari. It's under $10 bucks for this animal experience!
This is a smaller park, but it features beefalo's which is a cross between a cow and a bison. They also feature kangaroos, zebra, and more.
This is a good affordable break from a road trip because it's not that close to a major city.
https://www.grapelandsafari.net/ 13440 US-287, Grapeland, TX 75844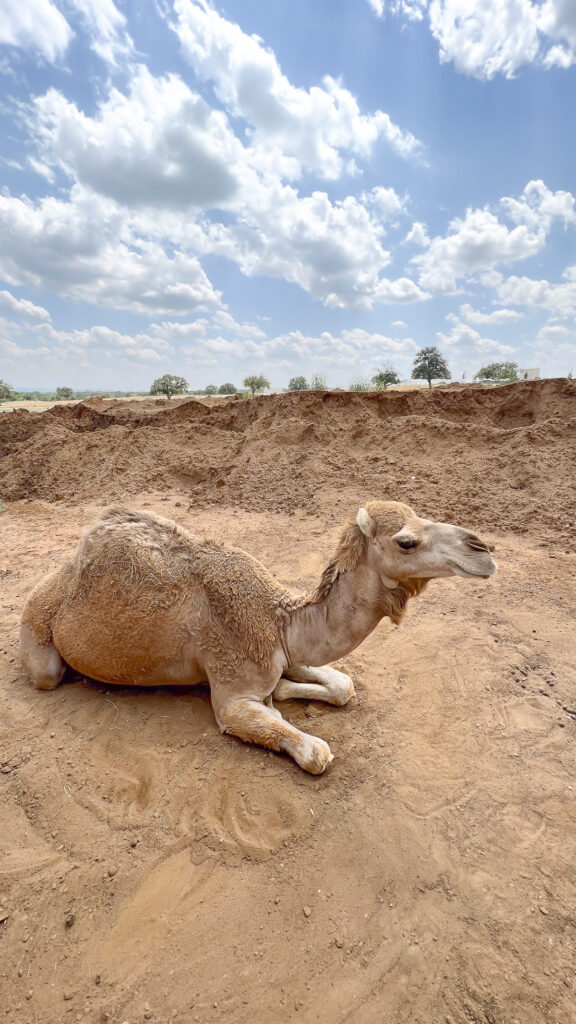 Drive Thru Zoo FAQs:
Are Dogs Allowed at Drive Thru Zoos in Texas?
Although you're enjoying these from the comfort of your vehicle, dogs are not allowed at drive thru zoos as they can disrupt wild animals.
It also puts your dog at risk. Dogs could be viewed as a predator or prey, and both of those situations aren't worth bringing your dog to.
So keep fido at home for everyone's safety.
What are the Big Five Safari Animals?
The term "Big Five" was originally coined by big-game hunters and refers to the five most challenging animals to hunt on foot in Africa. We were lucky enough to see all of them live in the wild on our Luxury African Safari prior to visiting the Best Things to do in Cape Town.
Today, the term is widely used in the context of wildlife tourism and conservation.
The Big Five safari animals are:
African Elephant: The African elephant is the largest land mammal and one of the most iconic animals in Africa. It is known for its impressive size, long tusks, and distinctive trunk.
African Lion: Lions are majestic and powerful big cats that inhabit the grasslands and savannas of Africa. They are highly social animals, living in prides led by a dominant male known as the "king of the jungle."
African Leopard: Leopards are elusive and solitary cats known for their agility and camouflage abilities. They are excellent climbers and often retreat to trees with their prey to avoid competition from other predators.
African Buffalo: Also known as the Cape buffalo, African buffaloes are large bovines that live in herds and can be quite aggressive when threatened. They are formidable creatures with strong horns and are known for their resilience and toughness.
African Rhinoceros: Both the black rhinoceros and white rhinoceros are part of the Big Five. Rhinos are large, herbivorous mammals with prehistoric origins. They are heavily poached for their valuable horns and are critically endangered.
These five animals are highly sought-after by safari enthusiasts due to their size, beauty, and significance in African wildlife. However, it's important to note that the term "Big Five" does not necessarily reflect the ecological importance or conservation status of these species.
There are so many drive-thru zoos with different animals in areas that the parks try to keep close to their natural setting with Texas having a similar climate to parts of Africa. We were shocked at the wide variety of animals you will find at each pack. So, no matter where you are in Texas you'll most likely have a safari drive-thru near you.
It's amazing that you don't have to book a flight to Africa to see many of these exotic animals in an open habitat, all you have to do is take a drive through Texas.
So hop in a car, take a road trip, and have fun!
Looking for More Texas Travel Inspiration?
Here are amazing adventures and food guides for places all across the lone star state!
Click this link to pin this guide on Drive Thru Zoos in Texas on Pinterest.
Also, don't forget to follow us on instagram and facebook for more recipes and foodie recommendations.
If you'd like to automatically receive our posts in your email, register here.