All the hip, healthy kids are eating chia seeds these days. It's no wonder why, as chia seeds have been named one of the healthiest foods on the planet. They are low in calories, high in fiber, rich in antioxidants, and full of protein. We're only going to eat them if they taste fantastic and this dish is a winner.
This chia seed pudding is perfect for a make-ahead nutritional breakfast. It is also so yummy that you can make this for a light dessert, as well! (We'll opt to do both)!
If you like this recipe, you'd also love cinnamon roll overnight oats.
Serves 4
Ingredients:
1/2 cup chia seeds
2 cups almond milk
1/2 teaspoon vanilla extract
1/2 teaspoon cinnamon
1 tablespoon honey
Fresh fruit
Nuts of your choice
Prep Time: 5 minutes
Chill Time: 5 hours – overnight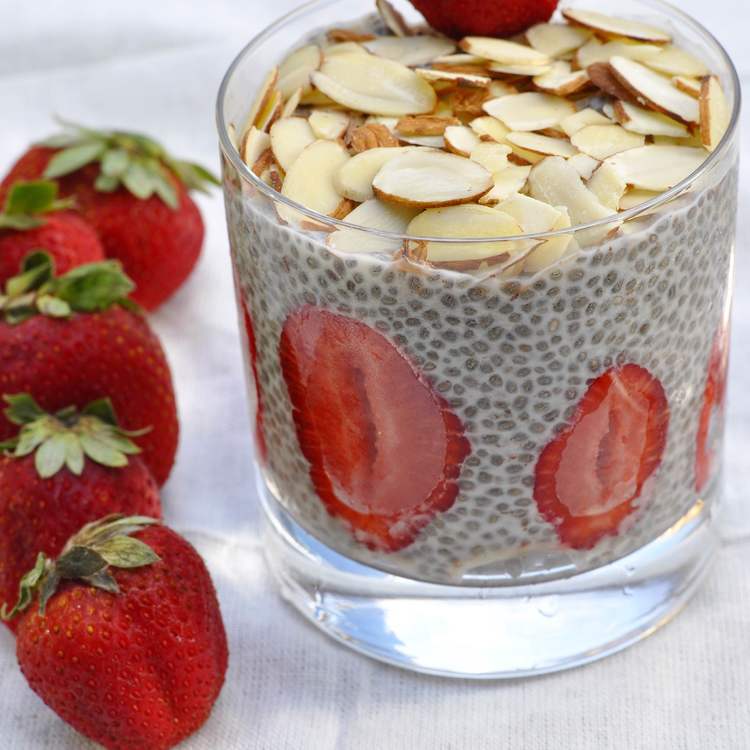 This recipe is super simple to make, it just requires some time for the pudding to chill. Start by mixing together the chia seeds, milk, vanilla, and cinnamon in a large bowl. Cover and let it chill for a minimum of 5 hours. We prefer to make it at night so it is ready for breakfast in the morning.
To serve, spoon into a cup, jar, or bowl. Add sliced fruit, nuts and drizzle with honey.
Enjoy a unique delicious breakfast (or dessert) that is super healthy!