A red, white, and blue pie resembling the Texas flag? What is it with Texans and our obsession with everything Texas? Not sure, but we're into it.
Exhibit A: Our blog post this summer on Texas shaped steaks.
There are a few things that we absolutely love about this pie recipe.
First of all, it's adorable. Even if you're not in Texas, this pie is perfect for a 4th of July holiday cookout (don't forget to also make our red, white, and blue jello shots while you're at it)!
Leave it as is, or add more stars and stripes with your crust decorations.
Secondly, you get to enjoy TWO pie flavors! That is literally a win/win dessert situation!
We received this brilliant metal pie dish from Chicago Metallic. Their Split Decision Pie Pan makes pulling off this red, white, and blue pie a breeze. Additionally, the pie divider can be removed so that you can also use it as a traditional metal pie plate.
How cool is that?
To make this creative blueberry and cherry pie, you'll need to start by gathering some equipment.
Order a split decision pie pan, a star cookie cutter, white decorating sugar (in case your grocer doesn't carry it), and be sure to have a rolling pin handy.
We're huge fans of our heavy-duty marble rolling pin.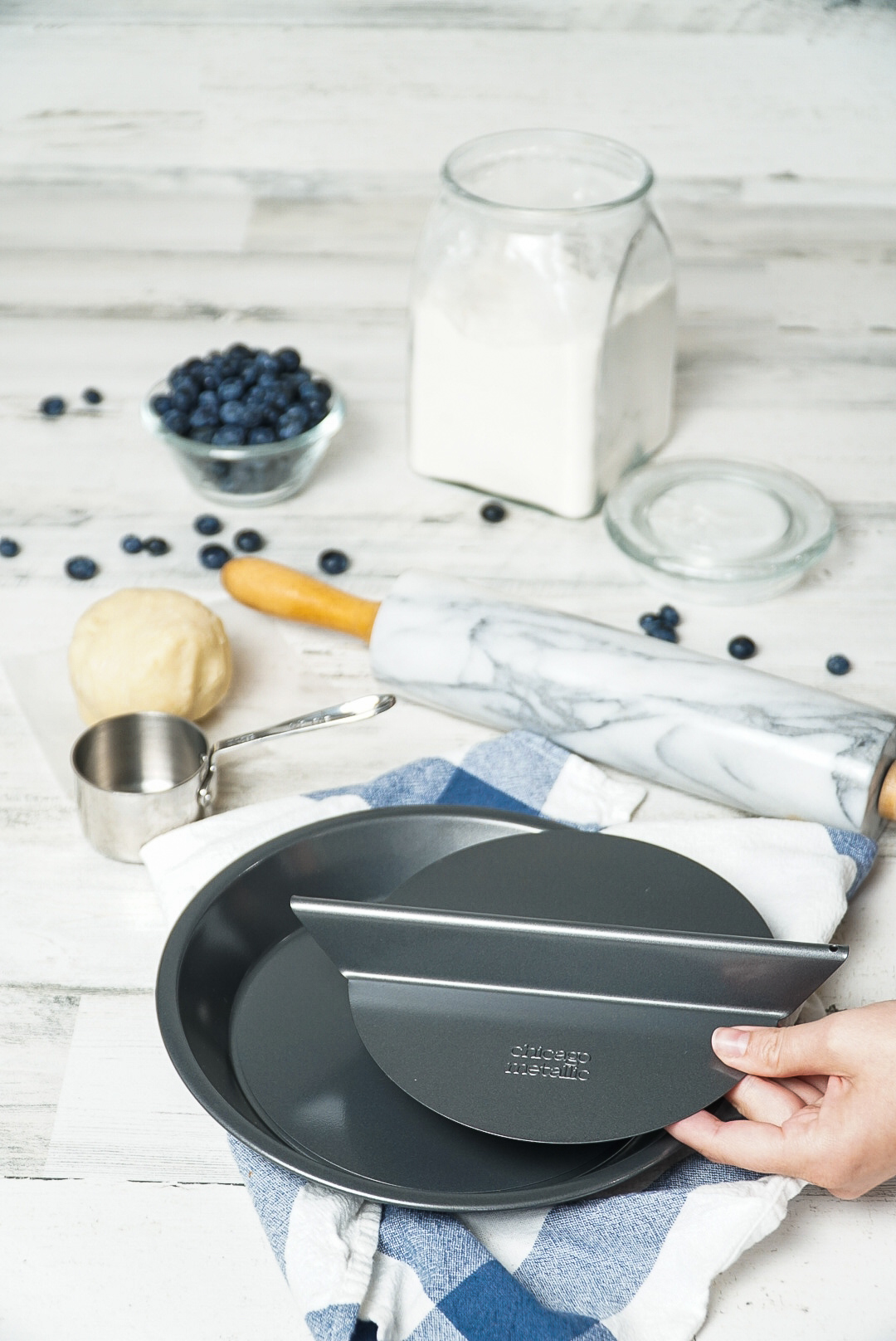 You'll start by making your blueberry pie filling and cherry pie filling.
Blueberry pie filling
Cook time: about 10 minutes
Ingredients:
2 cups blueberries

½ cup sugar

4 tsp cornstarch

Dash of cinnamon

1 tsp of lemon juice
Add your blueberries to a medium saucepan on medium heat.
In a separate bowl, combine your sugar and cornstarch. Once the blueberries release their juices, add the sugar mixture to the saucepan and stir to combine.
Let the mixture simmer until the blueberry pie filling starts to thicken. Then, add the lemon juice and a sprinkle of cinnamon. Completely remove from heat and let your pie filling cool.
Cherry pie filling recipe
Cook time: about 10 minutes
Ingredients:
2 cups of cherries, pits removed (or sub for frozen cherries or canned cherries in water)

½ cup sugar

4 tsp cornstarch

Dash of cinnamon

1 tsp of lemon juice
Follow the same process as the blueberry pie filling, using a separate saucepan on your cooktop.
Making your red, white, and blue pie
Start with your pie dough. You can either make it from scratch or buy it from the store.
We typically make our homemade pie dough, but our recipe calls for some advance prep work. It was a busy weeknight so we opted to try Texas Pie Company dough.
After thawing the Texas Pie Company dough puck, we laid out two sheets of wax paper. Putting the dough between the wax paper sheets, use a rolling pin to roll out your pie dough.
Once you have a slightly larger than normal circle crust, for a 9 inch pie pan, roughly an 11 inch diameter, use a knife to slice to dough in half. This will be used to fill each side of the divided pie pan.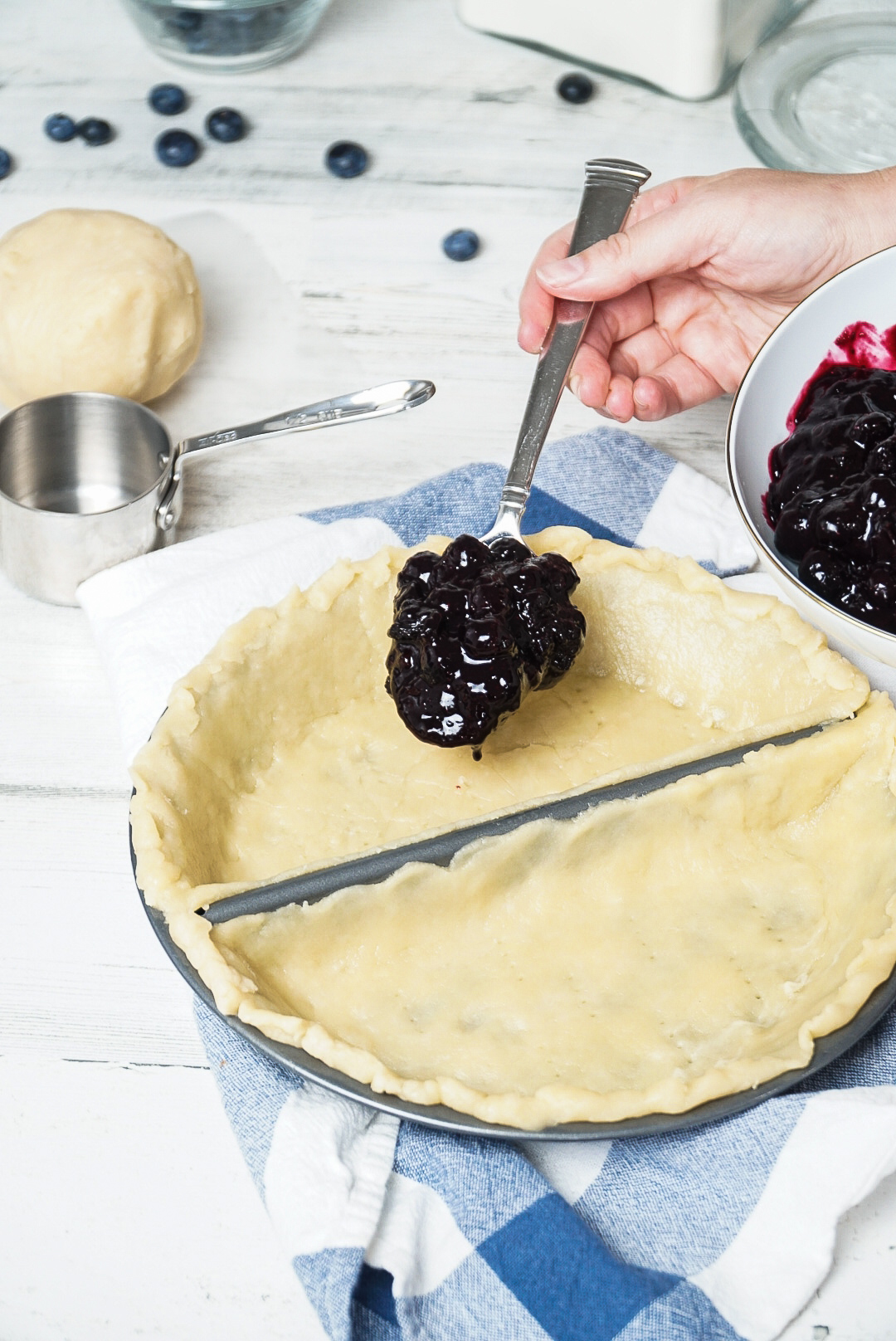 Butter or spray your pan with non-stick spray, then gently lay the semi-circle of dough on the first divided pie pan section. The dough should also cover the side of the divider.
Next, do the same process for the other pie crust. Use a fork to pierce the dough on the bottom of the pie pan to prevent bubbles in your crust.
Next add your blueberry mixture to one section of the pie pan.
Repeat the same process with the cherry pie filling.
Use a star cookie cutter to cut out the star shape from the remaining dough. Place it on the blueberry pie.
Roll out another sheet of pie dough. This time you will use a knife to cut a one-quarter section of dough. Place it on the top half of the cherry section, while the cherry pie is on your right side.
Crimp the sides of your pie crust. Next, melt 2 tbsps of butter and use a brush to coat the star and crust topper with butter.
Now sprinkle the crust with the white sparkling sugar.
Put the pie in a 375 degree oven for 40-50 minutes, or until the crust looks lightly golden.
Your red, white, and blue pie will come out picture perfect!
Click this link to pin this recipe on pinterest. Also, don't forget to follow us on instagram and facebook for more recipes and foodie recommendations. If you'd like to automatically receive our posts in your email, register here.
Whip up this recipe? Be sure to tag us on social media as @coupleinthekitchen and we'll share it with our foodie followers!
This recipe was made in sponsorship with Chicago Metallics, thanks for supporting the brands that we love.