Let's talk about the best spas in Austin.
What makes a good spa day?
Maybe it's the quality of the massage treatments, the tranquility of the relaxation lounge, or the ability to book an overnight stay for an elongated blissful retreat.
We're both avid spa fans, so we usually book a couples massage whenever we are on the road writing our travel guides.
But what about spa days when we're back home in Austin, Texas?!
Since we both have lived in Austin for nearly a decade, we've had the opportunity to visit a number of spas throughout the years.
Some were pure bliss, while others left us feeling unfulfilled.
Without further ado, here is a round up of the best Austin spas that we've experienced over the years that are totally worth a visit.
Consider surprising your sweetie with a couple's spa getaway, purchasing a gift card for a loved one to celebrate a special occasion, or simply treat 'yo self! 
We personally are not fans of traditional gift cards for presents, but for some reason if we happen to get a spa gift card we truly appreciate it because it leads to us feeling amazing and relaxed after. 
Best Massage in Austin
Without question, our favorite massage in town is the Viva Signature Massage from Viva Day Spa.
This is a cross between a Swedish massage and a deep tissue massage, that's exclusive to Viva.
On top of their perfect full body massages it also comes with a special scalp massage complete with peppermint aromatherapy oils!
No matter what massage therapist we see at Viva Day Spa, the massage is consistent, relaxing, and pure bliss.
That's why it's always one of our favorite spas when we're craving deep relaxation for sore muscles.
It's one of the best massages you'll find, not only in Austin, but across the country.
Although we always go to Viva Day Spa specifically for massages, it is also worth noting that they offer a wide range of beauty services like complete skin care, botox, and lip filler.
You'll also find body wraps, hair removal, and body contouring med spa treatments.
Three Austin locations: Domain Northside, Downtown/South Lamar, and Central Austin.
Best Spa with a Golf Resort
We love making a day of it at the Mokara Spa at the Omni Barton Creek Resort and Spa.
If you are looking for a family friendly getaway, the Omni Barton Creek has something for everyone.
The Omni Barton Creek Resort is a huge facility. You'll find golf courses, many pools, hiking trails, a putt putt course and kids activities.
You can book a room and stay the night or just head to the resort for a day at the spa.
What we adore about this spa is it is a terrific, full day spa.
There is a full, exclusive spa sanctuary area. Once you pass the locker room, you'll find hot tubs, steam rooms, and a European dry heat sauna.
Booking a service gets you access to the facilities for the day.
Come early to relax in the separate women and men's solariums, then enjoy the coed relaxing waiting rooms.
Finally, spa guests can head out to the spa's private rooftop pool that overlooks expansive Texas hill country.
You can order food, drinks, and cocktails while relaxing in the adult's only pool, a perfect day spa escape, especially in the summer.
The spa service that we booked at the Omni Barton Creek were massages.
The massage included aromatherapy hot towels for your neck and back, which was a luxurious touch.
If you're looking for a couple's massage, the dedicated couple's massage room even has a soaking tub if you want to add on that service as well.
We loved that the massage table was able to incline, which meant we ended the massage at an incline, which was quite comfortable.
Gratuity is included in the price of the spa services. You can even book a day pass for the spa facilities for a fee if you don't want a full treatment.
8212 Barton Club Dr, Austin, TX 78735
Best Spa for Fun and Relaxation
We were floored by how much we loved the spa at the Kalahari Resort spa.
The Kalahari is a MASSIVE waterpark resort. In fact, it is America's largest indoor waterpark.
It should come to no surprise that the same detail that went into a record-breaking waterpark was also cared for in their spa offerings.
We started at the waterpark, then escaped to the relaxing spa on the other side of the resort. You'd have no idea that there were hundreds of guests laughing with glee on the other side of the building.
The spa was tranquil and quiet.
We started off in the locker rooms which had everything you need to shower and prep after your services.
Then we enjoyed some healthy snacks and tea in the tranquility lounge.
Once it was time for our massages, we wandered through long hallways of treatment rooms until we arrived at our couple's massage room.
We loved how the high-tech massage tables in the treatment rooms inclined, declined and added extra massage right through the massage table!
The massages had the perfect amount of pressure to melt stress away.
We were also treated to hot towels and a period of a hot stone massage to help premiate the massage even deeper.
After a seriously blissful massage, we headed to the hydro therapy room.
This oasis was complete with a hot tub, outdoor pool, sauna and steam room.
After your treatment you can enjoy this space as long as you'd like.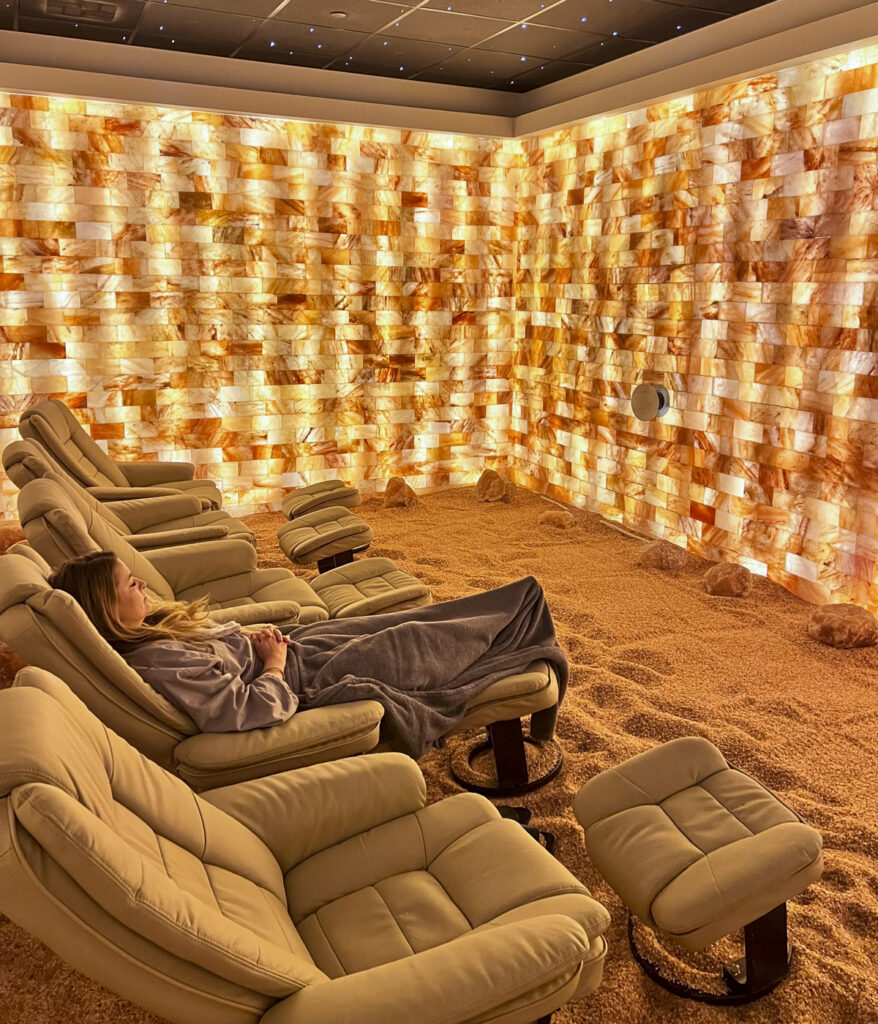 Finally, we headed to Kalahari's halo therapy salt room.
This is a room filled with pink Himalayan salt blocks on the wall and pieces of pink salt on the ground, acting like gravel.
The benefit of halo therapy is beneficial to those with respiratory illness, allergy problems, and skin issues.
It is anti-inflammatory, anti-bacterial, immunity-boosting and can even help to reduce mucus.
It's also really relaxing in general, so it was a nice add on to our spa day.
In addition to relaxing at the spa and exploring both the indoor and outdoor waterparks, there is a ton to do at the resort.
Play at the 80,000 square foot Tom Foolery's Adventure Park, get a strike while bowling at B-Lux, solve an escape room, or listen to live music in their speakeasy bar.
If you make a night of it, why not plan on booking a hotel room to elongate your stay?
3001 Kalahari Blvd, Round Rock, TX 78665
Best Central Austin Spa
Milk and Honey Spa is a very prominent spa with five locations across Austin, and eight in Texas and additional locations in LA, Chicago, and Miami.
While there are four Austin spa locations to choose from, we were so happy that we visited the arboretum location.
We spent additional relaxation time drinking hot tea while being engulfed in the womb chairs in the tranquility lounge (we are seriously considering buying that chair for our home!).
We also loved enjoying the steam showers in the locker room following our couple's massage.
Milk and Honey also offers med spa treatments, provides a wide range of beauty treatments, and is attached to their full hair salon.
There are also a lot of great beauty products in the gift shop. From at home facial devices, to deliciously scented candles, to high end skin care lines, there is something for everyone.
Five Austin Locations.
Best Downtown Austin Spa
The most recent spa that we visited was the Four Seasons Austin Spa
We enjoyed the Himalyaian salt wall in the relaxation lounge.
Comfy chairs overlooked the lawn at the Four Seasons which is nestled next to Austin's iconic Ladybird Lake.
Inside the tranquility lounge you'll also find crystal infused water and homemade energy bites.
Karen tried the signature body treatment. It was a full body experience. The massage portion wasn't that long but the combination of the dry brushing, reflexology, essential oils, scalp treatment, hot towel and hot stones was a combination that was super relaxing.
Gavin experienced a hydrafacial. This 50 minute treatment used a special device that sprayed water deep into his pores and then sucked out the moisture.
The treatment also included a hand and arm massage as well as a neck and shoulder massage.
Gavin hasn't had a facial in years so he was impressed to be able to see the junk that came out of his pores.
We were both treated to a glass of champagne following our treatments.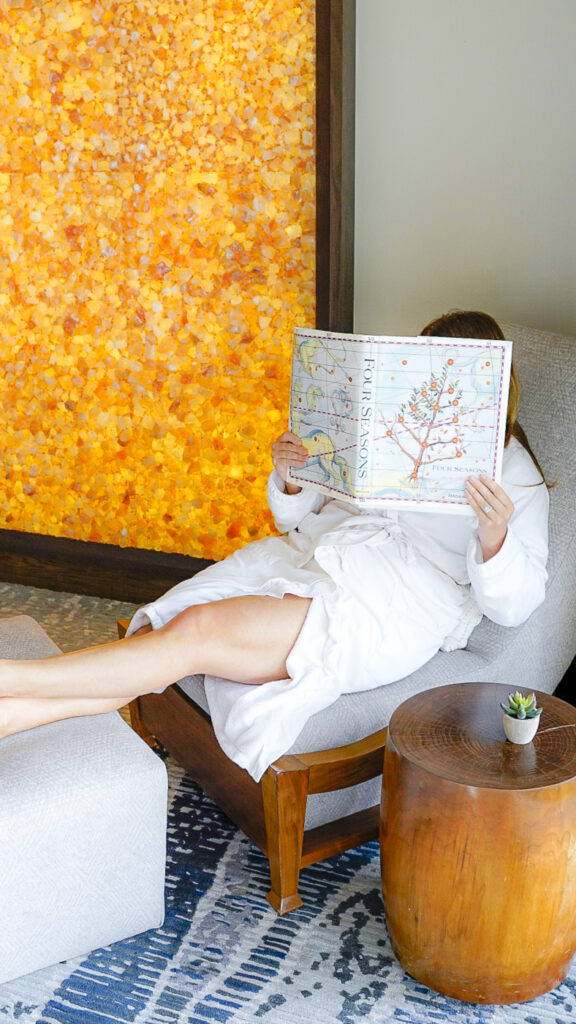 Another notable treatment that the Four Season's Austin Spa Sway offers is the herbal apothecary allergy relief massage.
So many locals develop "cedar fever" after living in Austin for a few years, so this might just be the massage to help you find relief.
Once we wrapped up our treatments we spent some time in the eucalyptus steam rooms located in the locker rooms.
The aroma was incredibly relaxing and it was the perfect way to wrap up our spa day.
98 San Jacinto Blvd, Austin, TX 78701
Best Spa for the Party Animal
For a spa treatment with an after party, head to the W Hotel's Away Spa.
Some of the most fun pool parties we've been to in Austin were at the W Hotel's Wet Deck. Right on that same level you'll find the spa.
The Away Spa is definitely the edgiest of all the spas in Austin offering a number of modern spa treatments.
The aptly named "Higher Ground" and "High & Dry" feature a CBD oil massage to help you relax even further.
Another unique offering from the spa at the W Hotel is they also offer a cupping massage if that is a treatment you'd like to explore.
In the past we've had a couple's massage at the Away Spa for our anniversary and we even had a private lounge area to enjoy chocolate covered strawberries and champagne in our spa robes prior to our massages.
200 Lavaca St, Austin, TX 78701
Other notable spas that create a lot of buzz in Austin that are true destination spas are the Hyatt Lost Pines, Miraval, and Lake Austin Spa Resort. We've never been to these spas so we can't personally weigh in to endorse them, but if we visit in the future we will add our thoughts to this guide. 
If we're missing any Austin spa, send us a direct message on social media or shoot us an email, and we will try to add that spa to our guide as well. 
There you have it! From cool amenities, to unique treatments, to our favorite places to experience pure bliss we shared details of the Best Spas in Austin.
We want to ensure you have the best experience when investing in a spa getaway whether it's for yourself, a gift, your significant other, or a girls spa day.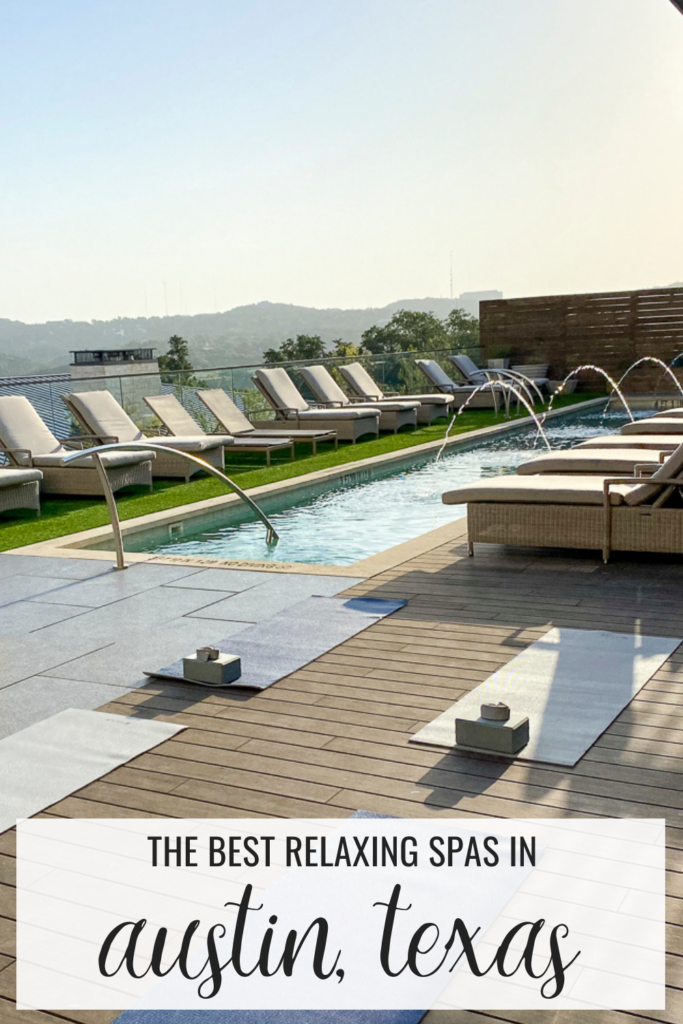 Looking for more romantic travel ideas? Access our list of detailed travel guides to explore romantic and foodie travel recommendations from around the world, all organized by continent.
Click this link to pin this guide of The Best Austin Spas.
Are you planning a trip to an Austin Spa? If so, tag @coupleinthekitchen on Instagram or Facebook and let us know what you thought!