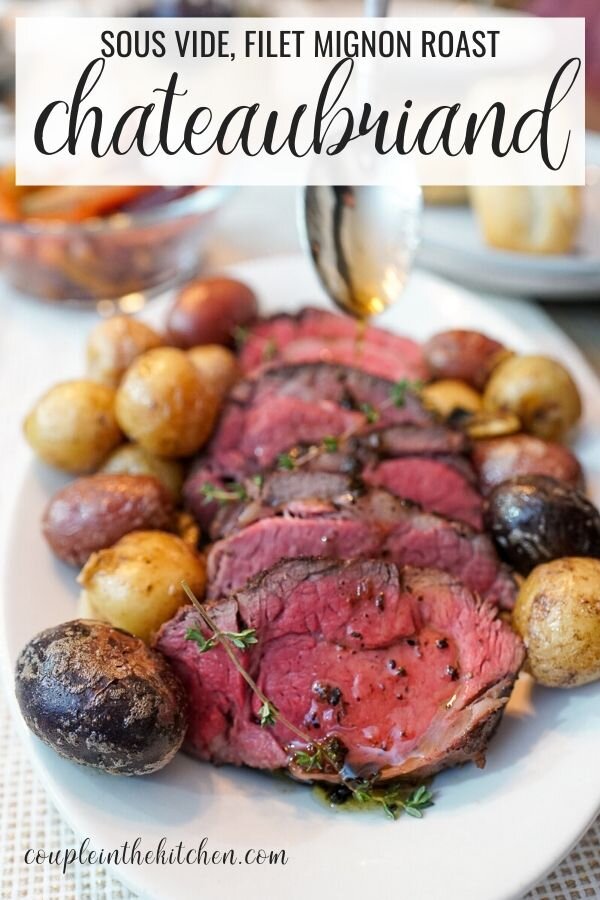 Let's talk about the relatively unknown beef roast called chateaubriand.
Do you love filet mignon, but have to cook for a dinner party?  
Look no further than Omaha Steaks chateaubriand steak, which is otherwise known as a filet mignon roast.  
This roast is our new favorite secret weapon for any dinner party because it's so tasty, easy to sous vide, and saying the word chateaubriand just makes you feel fancy!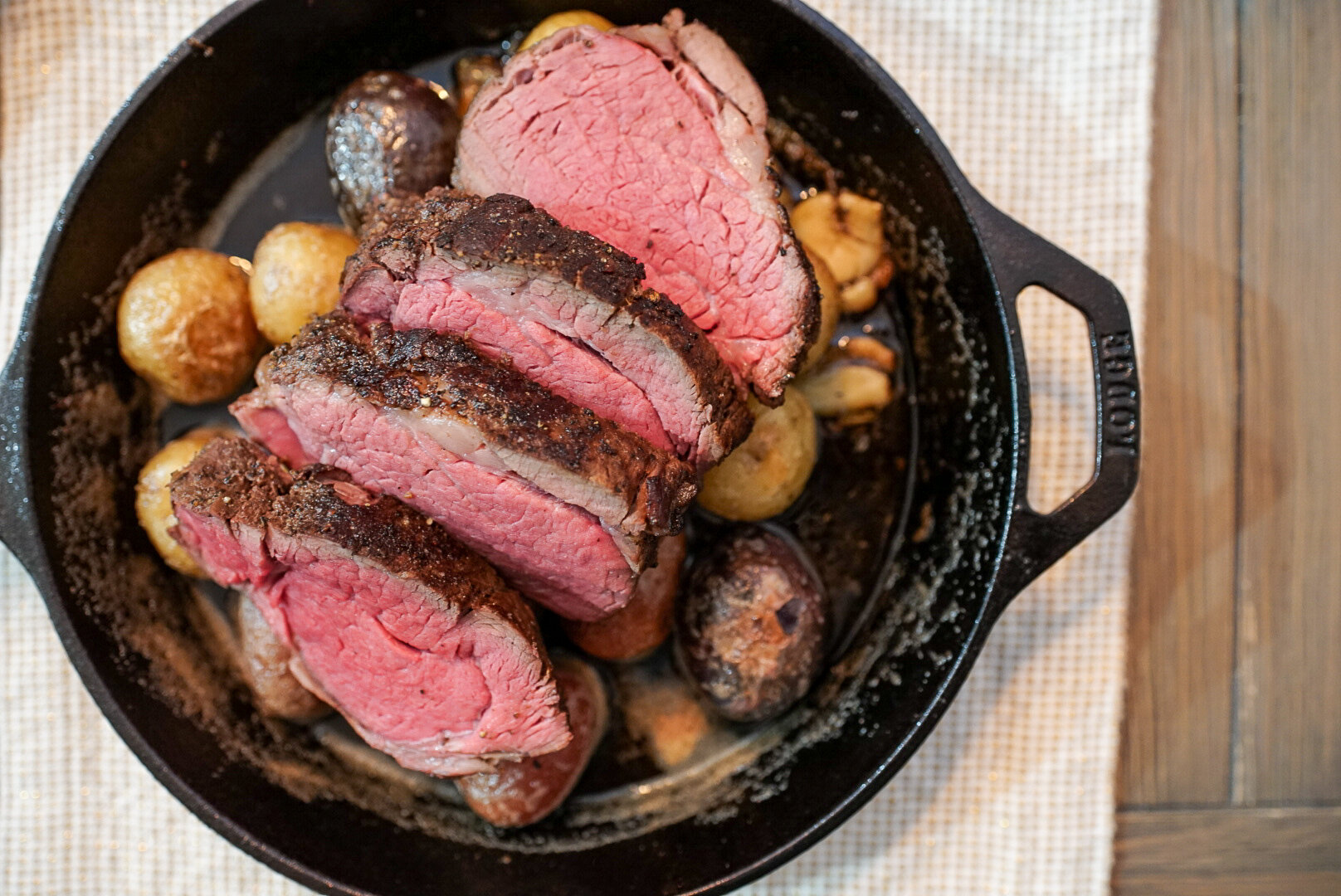 What is chateaubriand?
Chateaubriand is a special super-tender beef roast.  To put it simply, or to explain to your guests that will want to make it after trying your dish, it is a filet mignon roast/beef tenderloin.  
This cut of meat is incredibly tender because it comes from the tenderloin, like your classic filet mignon, and is a part of the cow that is non-weight bearing. 
To learn more specific detail around this amazing cut of meat check out Omaha Steaks' chateaubriand information page.
Chateaubriand vs filet mignon:
A chateaubriand is a the entire filet mignon tenderloin served in a large roast cut. 
A filet mignon is just a chateaubriand that a butcher has hand cut into individual servings.
Choose a chateaubriand if you prefer less of the char on the outside of the meat and want more of that perfectly cooked medium rare center.
How to cook chateaubriand:
Cooking your chateaubriand via sous vide is a no-fail and easy way to cook this premium cut of beef perfectly every single time, no matter how busy you are entertaining a party or taking care of your family.  
All it takes is a sous vide (they're very affordable), a water bath, an hour and a half, and a few simple ingredients. We're a fan of a perfect medium rare or chateaubriand, and if you'd like that result set your sous vide to 130-131°F (54°C), and after the hour and a half you will have these perfect results every time.
If you're a fan of sous vide, don't miss our other sous vide recipes.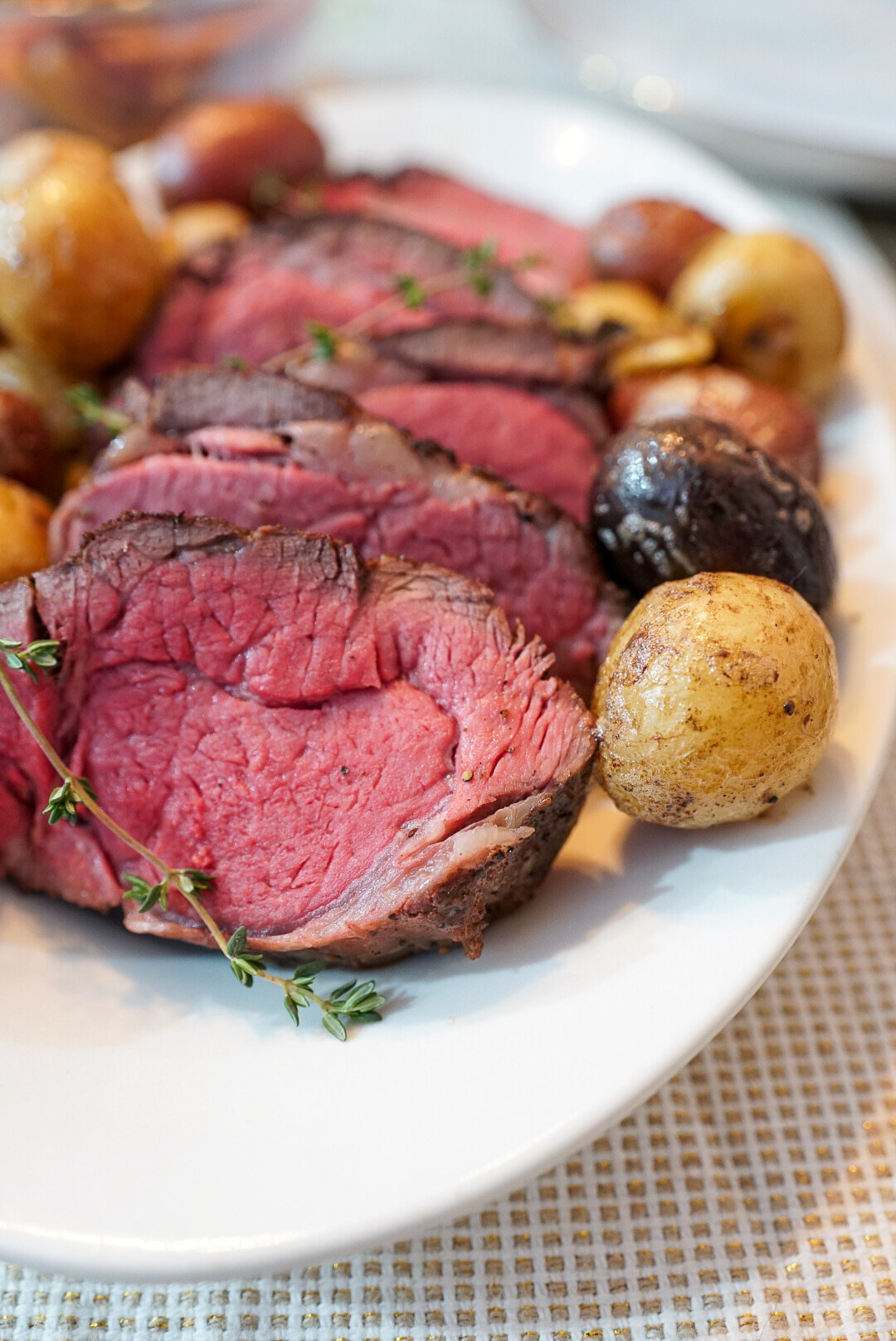 How to cut and serve chateaubriand:
After letting your chateaubriand rest for at least 5 minutes, it's time to cut and serve this roast for your guests.  
Because the chateaubriand is a filet mignon roast, we cut them about ¾ of an inch thick to allow our guests to enjoy a luxurious steak experience. Feel free to also slice it thinly because it will come out delicious no matter how it's sliced.  
We served our chateaubriand feast with two new favorite Omaha Steaks sides!  
Specifically our favorite was the multi colored carrots which a delicious natural sweetness.  To top it all off, we made Omaha Steaks roasted potatoes, and finished them in our cast iron pan that we used to sear the chateaubriand to pick up all those delicious pan drippings.
Roasts are never anything you should be afraid of, and they definitely are not the bland or boring piece of meat that you may have experienced growing up.  
Chateaubriand aka filet mignon roast is our new favorite way to make a large amount of beef for all of our upcoming dinner parties, and you should try it too! It is a sure way to wow everyone. 
Click this link to pin this recipe on pinterest. Also, don't forget to follow us on instagram and facebook for more recipes and foodie recommendations. If you'd like to automatically receive our posts in your email, register here.
Whip up this recipe? Be sure to tag us on social media as @coupleinthekitchen and we'll share it with our foodie followers!
This recipe was created in partnership with Omaha Steaks, thanks for supporting the brands we love!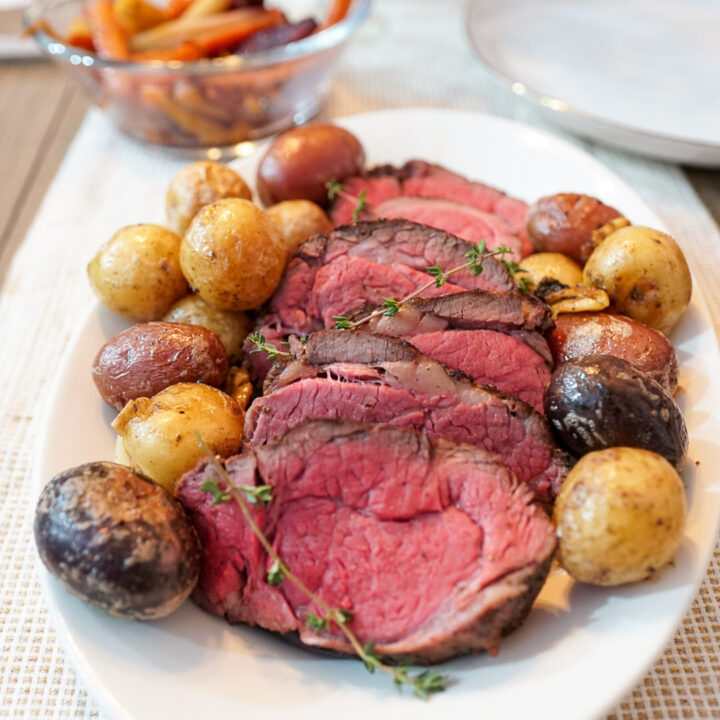 SOUS VIDE CHATEAUBRIAND RECIPE
Cook Time:
1 hour
30 minutes
Additional Time:
5 minutes
Total Time:
1 hour
40 minutes
If you like filet mignon, you'll love a chateaubriand roast! Here's how to sous vide a chateaubriand tenderloin.
Ingredients
Salt and pepper
2 tbsp of butter
3 sprigs of thyme 
4 cloves of garlic, smashed
Instructions
Set your sous vide to 130-131°F (54°C) for a medium rare chateaubriand.
Season your chateaubriand thoroughly with salt and pepper, and place in a ziplock bag.
Cut ¼ stick of butter into four pieces and place two on each side of the chateaubriand.
Finally, add in the garlic and the three sprigs of thyme. This herb will add a great flavor infusion into the chateaubriand while in the sous vide water bath.
Place the ziplock bag in the water bath using the easy water displacement method to take the air out of the bag and let it cook for an hour and a half.
Once your chateaubriand has taken an hour and a half sous vide bath, take it out of the bag and let it rest for 5 minutes.
While it's resting, preheat your pan on high heat and pat your chateaubriand dry. Add butter or an oil with a high smoke point, like grapeseed oil, to your pan and quickly sear your chateaubriand on each side.
It's important to remind you that your chateaubriand is already perfectly cooked from the sous vide. Your only goal is to add a nice crust to the outside of the roast.
Once seared, take the roast out of the pan and let it rest for at least 5 minutes.
Recommended Products
As an Amazon Associate and member of other affiliate programs, I earn from qualifying purchases.