It's eggnog season and we're whipping up an eggnog milkshake with a boozy twist because ice cream is always in season!
Let's face it, 2020 was a tough year. Now more than ever, we need to curl up with our favorite sweet treat (and a boozy kick can't hurt!).
Ice cream can make the most wonderful time of year sweeter and more special when you're sharing a scoop with someone you love.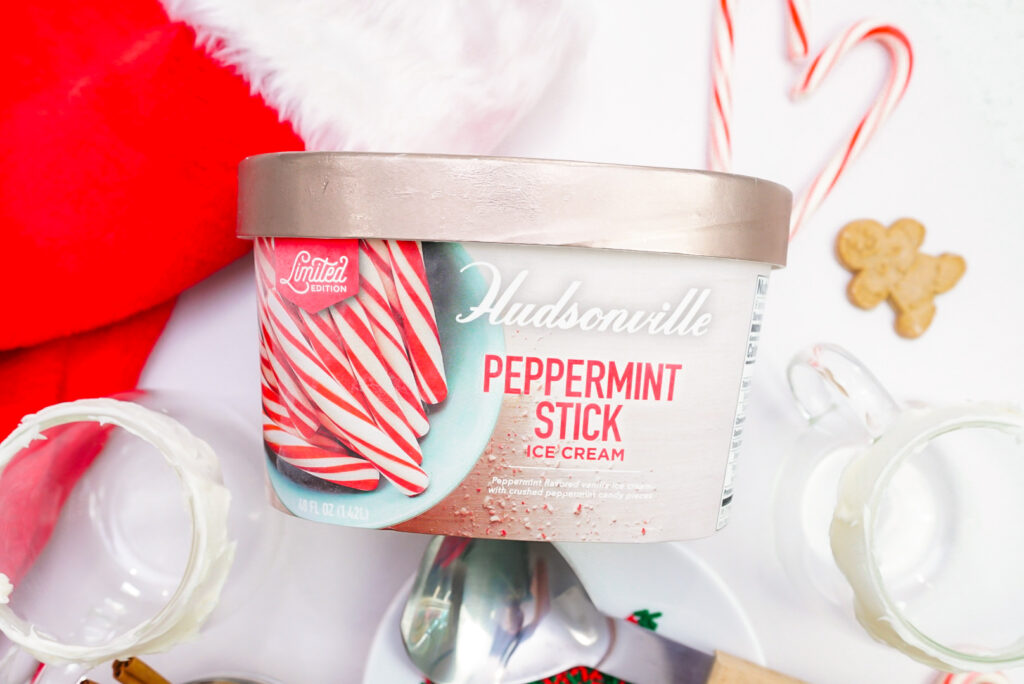 Holiday Ice Cream
Sometimes the sweetest packages aren't under the tree, but in the freezer.
While there are a lot of wonderful flavors of Hudsonville Ice Cream to choose from, Gavin's all-time favorite is Hudsonville Ice Cream's Limited Edition Peppermint Stick.
Throughout the season, you'll also find delicious holiday ice cream flavors – another seasonal option this year was their Cinnamon Sugar Cookie flavor (you can get both of these flavors online in their holiday bundle!).
We used Hudsonville Ice Cream's Creamery Blend Vanilla to take a regular vanilla milkshake and give it a holiday twist!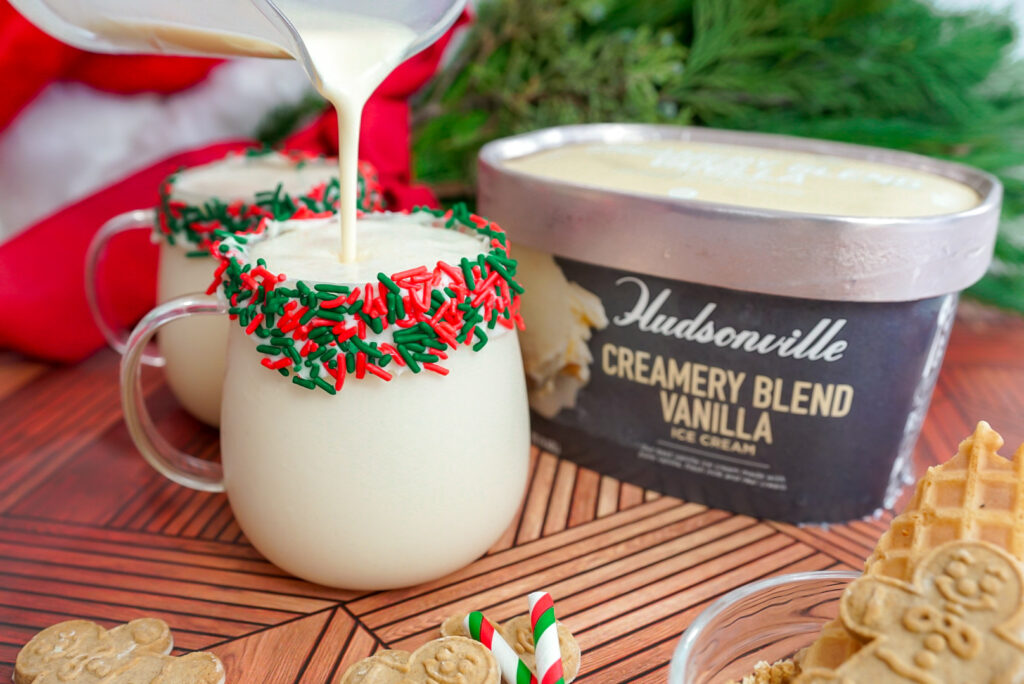 Boozy Milkshakes
After discovering the concept of boozy milkshakes from our favorite movie theater, we've been obsessed with making them ever since.
Last summer we hosted a modern ice cream sundae bar for grownups and featured boozy milkshakes.
Check out the recap from that ice cream party for a peek at our tropical pineapple rum milkshake and a chocolate whiskey shake.
For this holiday boozy milkshake, we paired traditional eggnog with a rye whiskey and it was a match made in heaven.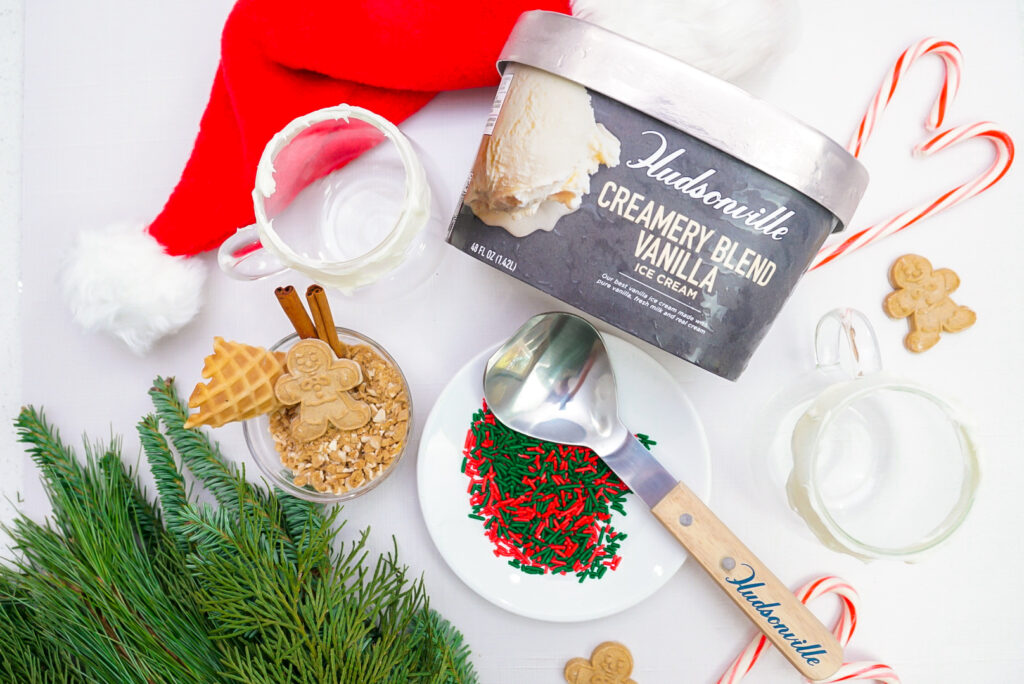 Milkshake Bar Garnishes
Make your eggnog shake even more festive by taking a tip from the oh-so-popular milkshake bars across the country.
Start by spreading frosting around the rim of your glasses.
Roll the frosting-lined rim in fun holiday sprinkles.
Cover your milkshake in whipped cream and sprinkle the egg nog shake with pieces of gingersnap cookies.
Feel free to add a gingerbread man as a garnish as well!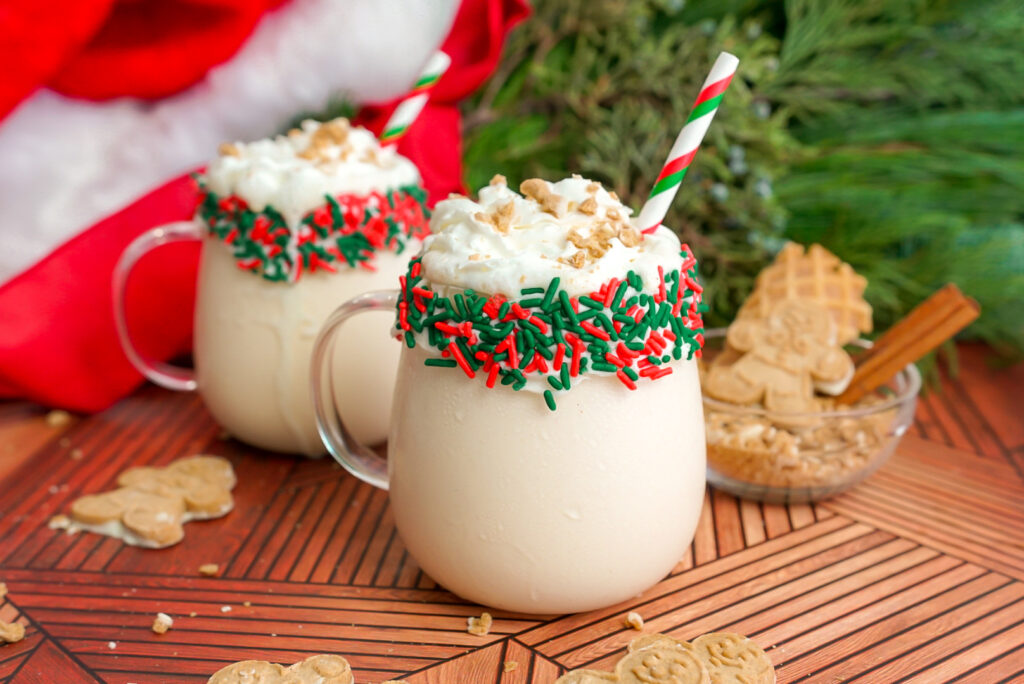 EggNog Milkshake Recipe
Makes 2 milkshakes
Cook time: 5 minutes
Add all ingredients to a blender and blend for about a minute or until smooth.
Top with whipped cream and ginger snap crumbles as a garnish.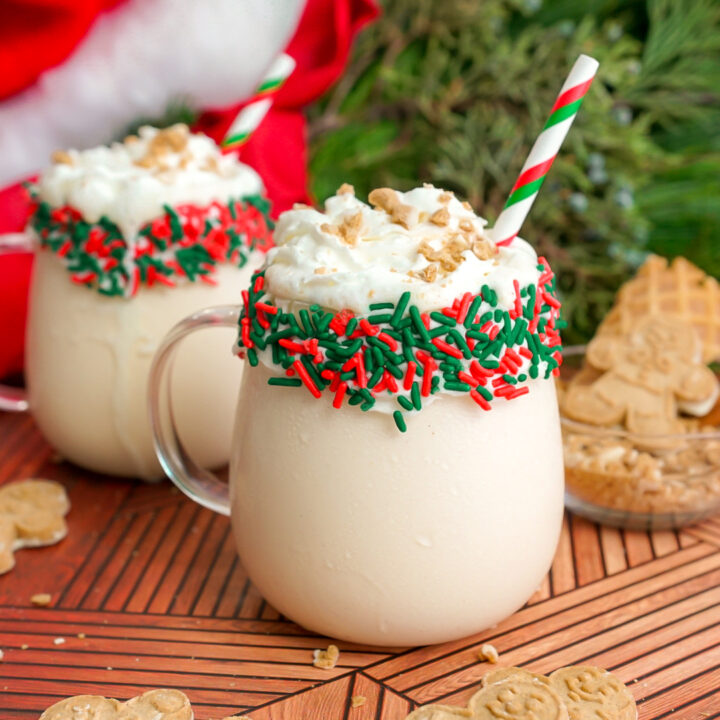 Eggnog Milkshake Recipe
An easy holiday treat with a boozy kick - whiskey eggnog milkshakes!
Ingredients
3 cups Hudsonville Creamery Blend Vanilla Ice Cream (half of the ½ gallon)
½ cup eggnog
1.5 oz rye whiskey
¼ teaspoon cinnamon
Instructions
Add all ingredients to a blender and blend for about a minute or until smooth.
Top with whipped cream and ginger snap crumbles as a garnish.
Notes
For a festive glass, spread frosting on the rim and roll in sprinkles.
Recommended Products
As an Amazon Associate and member of other affiliate programs, I earn from qualifying purchases.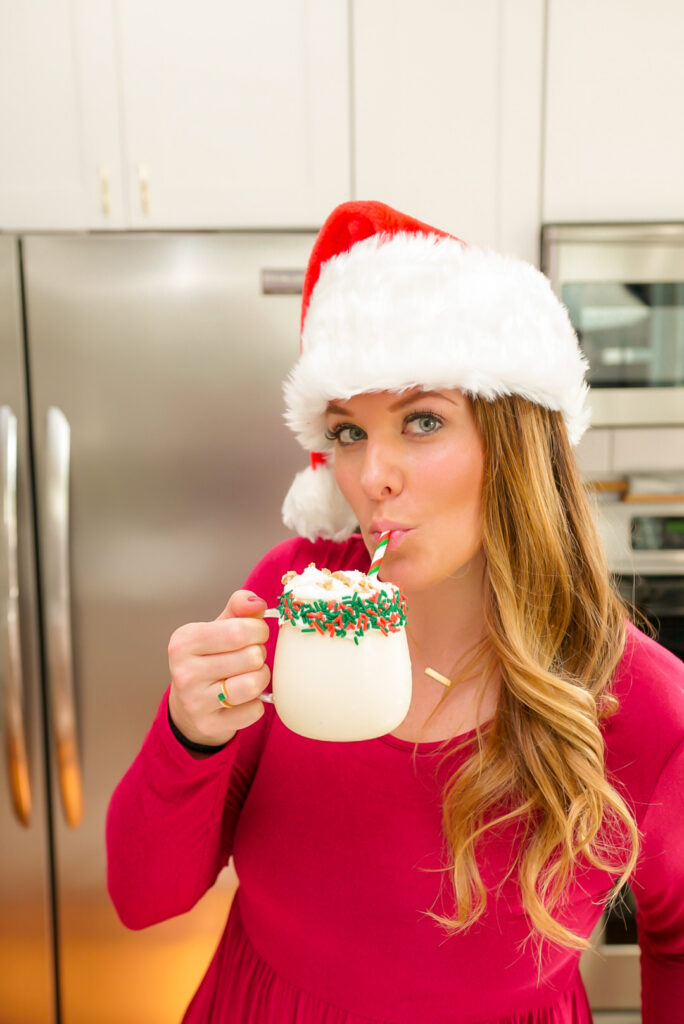 This is one of our favorite no bake holiday desserts!
If you're someone who loves easy ice cream desserts, you'll be obsessed with our holiday peppermint mocha affogato recipe.
Find Midwest-made Hudsonville Ice Cream near you with their scoop locator, or have your favorites sent directly to your home from their online store.
Here's our holiday gift for you – claim your holiday coupon (valid in grocery stores where Hudsonville is sold) and a recipe ebook filled with ice cream recipes!
Click this link to pin this boozy eggnog shake recipe on pinterest. Also, don't forget to follow us on instagram and facebook for more recipes and recommendations, we love to see when you make our recipes!
If you'd like to automatically receive our posts in your email, register here.
This recipe was made in partnership with Hudsonville Ice Cream. Thanks for supporting the brands that we love!