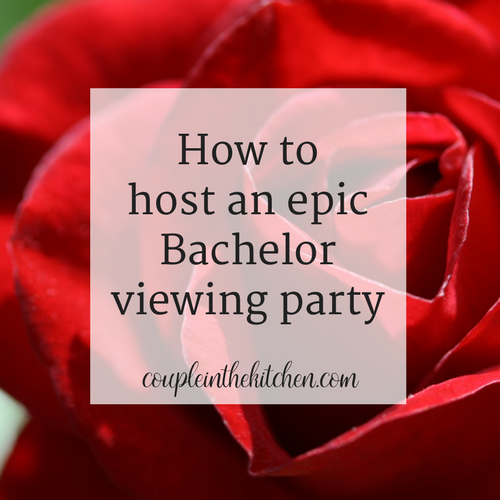 It has officially been one week since The Bachelorette finale reality show. Now that our wine hangover has officially subsided, we wanted to share our finale party with you! Every Monday, we invite some friends over, open a bottle (or three) of wine, and watch the suspense of The Bachelor and The Bachelorette.
This season was especially entertaining as Gavin's college roommate was a contestant on the show. Adam may not have won the girl at the end of the series, but we did pull together a bachelorette finale viewing party that was a true winner.
Bachelor Viewing Party Decor –
First things first, you need to buy roses of course! For a fun twist, we bought enough roses so that every guest received a rose. Prior to the show starting, our friends picked who they wanted to win by placing the rose in the vase next to the bachelor's photo.
The photo frames were super cheap from the dollar store (as were the vases), and we just used the photos from ABC's website to have kinkos print off cardstock images.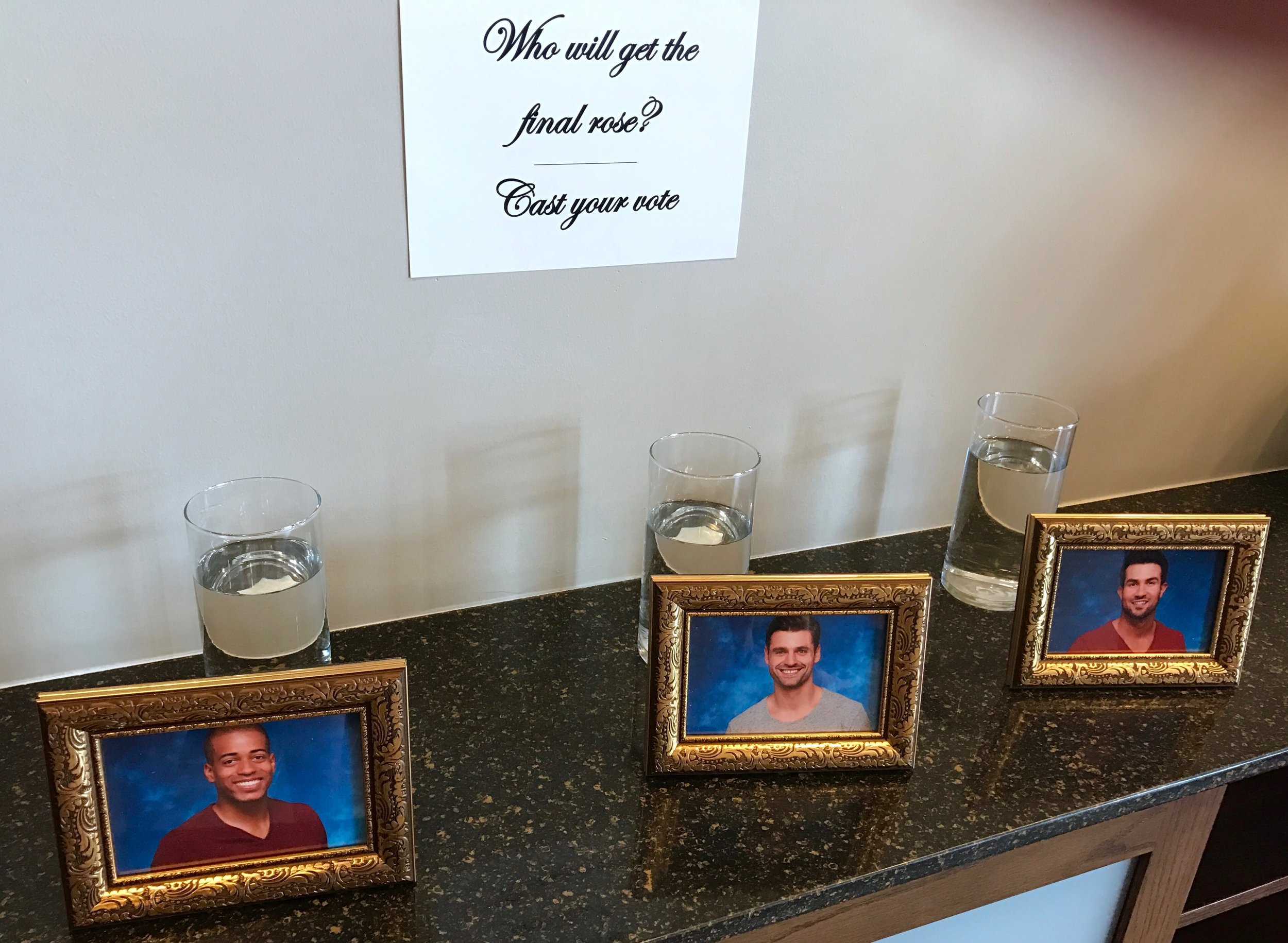 Food for The Bachelor Finale –
As true foodies, you know we wanted to have fun with the menu. We opted to go punny with stud muffins and a love you lox bagel bar from Rosen's Bagel Co (our fav bagels in Austin). The spread included lots of bagel flavors, countless types of shmear, marinated veggies, capers and handmade lox. Making stud muffins were easy, we printed small photos of the bachelors on cardstock and simply glued them together with a toothpick in between.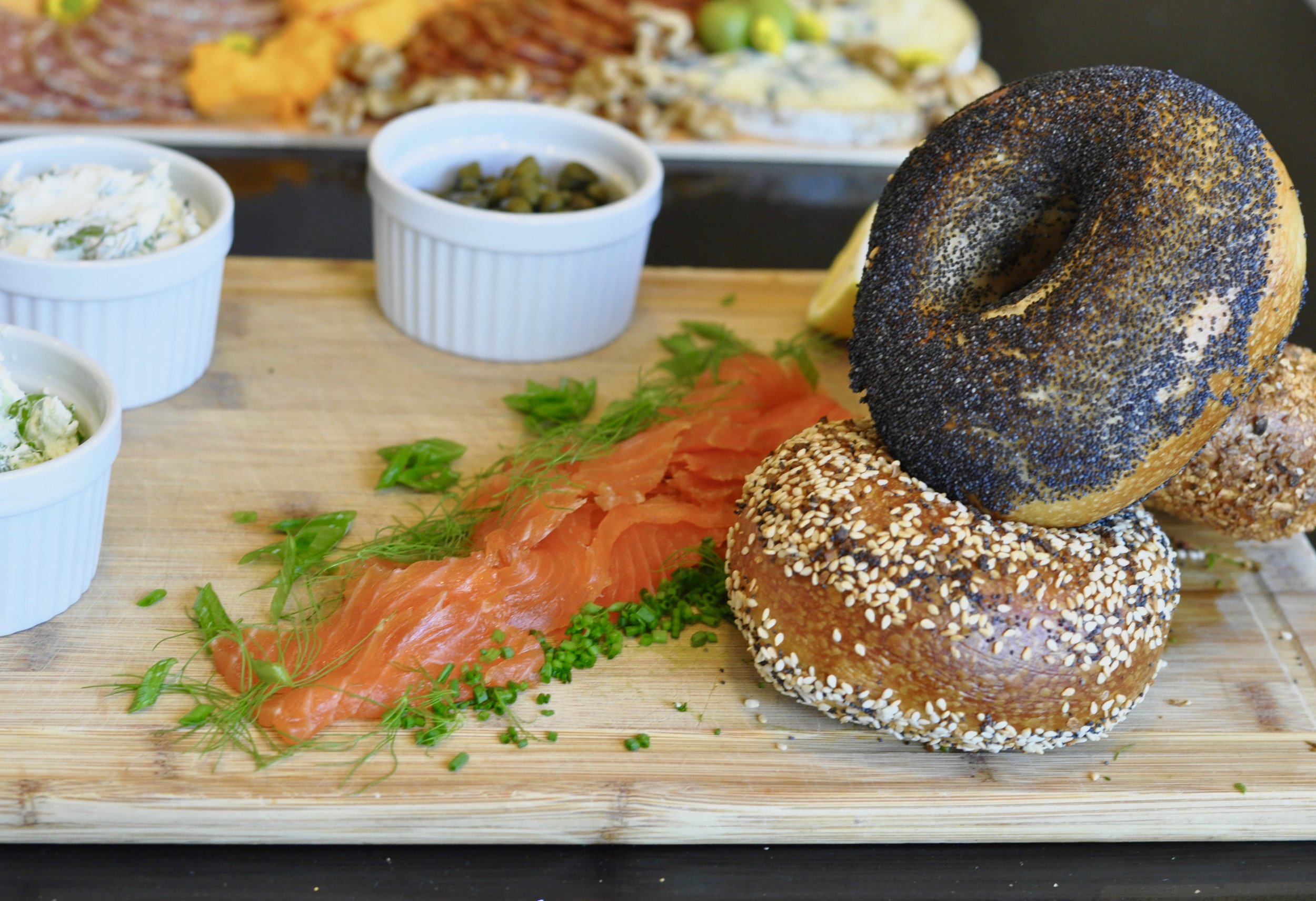 Many of our friends are low-carb eaters so we knew we needed to be mindful of that. We ordered a gorgeous charcuterie plate from Spread and Co and it even came with prosciutto roses!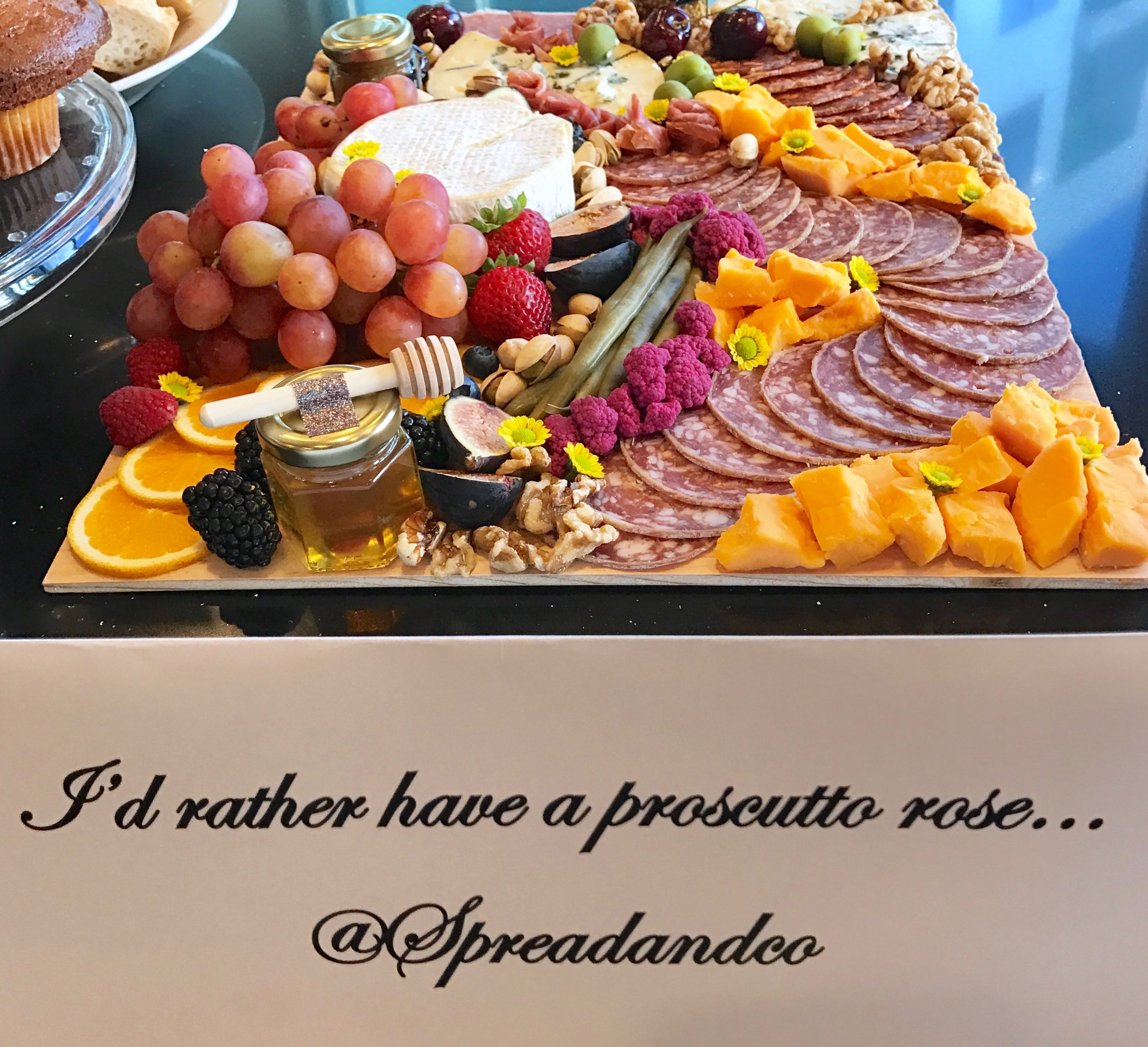 Wine, Lots of Wine –
Wine is probably more important than anything else. It is the perfect way to drink away all those awkward reality television moments. We used the Buttery liquor delivery app to pick out 10 bottles varying from Rosé to Reds and for only $5, Buttery delivers it to your door. When you're planning a party, this is waaaaay easier than making a special trip to the store and having to lug a case of wine around.
Event space for a Viewing Party –
Make sure you have an event space large enough for the viewing party. Nobody wants to go to a viewing party where it is crowded and they can't see the show. Initially, we planned on hosting it at our house. As the guest list grew, we knew that space was going to be an issue so… Guild Austin to the rescue! The Guild offers short term, hotel-like rentals in luxury apartments with super chic decor. We rented a room and also arranged to use the property's community room. It was the perfect set up for our 20 guests! Get 15% off your stay at The Guild with the code "kitchen".
Gift Bags –
Any party that comes with a gift bag is a win! The Guild hooked us up with gift bags that included free drink coupons for a nearby bar, Advil (for any wine hangovers), and other fun items. We also sent the guest home with a rose if they so wanted. But let's be honest, who wouldn't want the final rose?!?
We had such a fun time and it was a great way to have some fun on a Monday evening. We hope that our party inspired you to host a bachelor premier or finale party as well!
Be sure to Pin and Share this post if you are looking to throw your own viewing party!