This past weekend we had the opportunity to head to Alcomar, a neighborhood coastal-inspired seafood spot here in Austin. They have been featuring various events centered around food and art and this session was called Micheladas & Mariscos. We watched as their two head chefs led cooking demonstrations and learned how to make three of their signature dishes. We were also treated to a three-course dinner complete with micheladas, of course.
One of the dishes prepared for us in the demonstration was their Mango Chipotle Campechana. This seafood cocktail was light and refreshing dish that was perfect for the 100 degree heat (just add in Micheladas!). The dish had a nice mix of sweet, savory, and spicy and was served with homemade yucca chips. It is a perfect summer appetizer that was more filling than expected! Alcomar was kind enough to let us share the recipe with you! Pick up some yucca chips at your market or sub it out for tostadas.
Mango Chipotle Campechana, Seafood Mango-Chipotle Cocktail
Shared from Alcomar Restaurant, Austin TX
Ingredients:
1 cup mango puree

½ cup orange juice, freshly squeezed

¼ lime juice, freshly squeezed

1 ½ tablespoons of chipotle puree from chipotles in adobo

3 tablespoons extra virgin olive oil

1 large mango, diced

1 teaspoon kosher salt

½ cups red onion, diced

½ cup jicama, diced

12 peeled and deveined medium shrimp (one pound)

½ pound bay scallops

½ pound lump crab meat

1 cup lettuce, julienned

1 avocado to garnish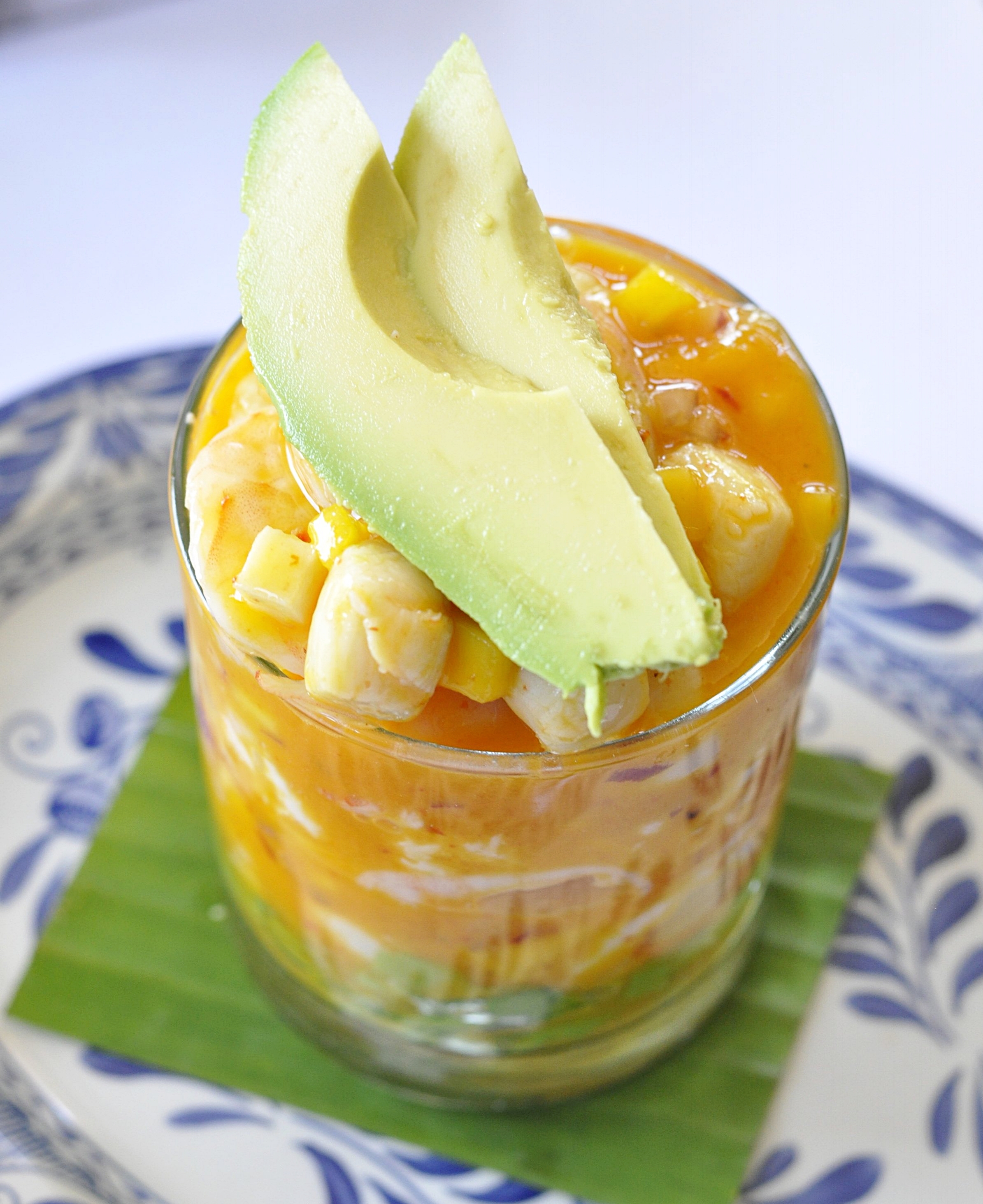 In a medium glass bowl, marinate the diced red onion in half of the lime juice and the salt.
In a covered saucepan, poach the shrimp. Alcomar's recipe recommends poaching the shrimp in veggie stock seasoned with onion, bay leaf, salt, lemon, and celery. Once cooked through, drain and save the poaching stock. Add the bay scallops to the saved poaching stock and cook lightly. Refrigerate until cold and ready to use.
In a blender, mix the mango puree, remaining lime juice, orange juice, and chipotle puree; with the blender running add the olive oil.
Transfer into the bowl with the marinated onions, add the diced mango, jicama, shrimp and scallops. Add more salt if needed.
Set 6 serving cups with lettuce on the bottom. Spoon half of the cocktail mix evenly then add the crab. Top with the rest of the mix and garnish with avocado slices. Serve with tostadas or yucca chips.
A special thanks to Alcomar for inviting us to this event and sharing this delicious recipe!
Pin this recipe to save it for a future meal!