We're a huge fan of crositinis as appetizers.
They are our go-to starter for dinner parties because they are so versatile.
Last year we created Five Amazing Crostini Recipes and now we have a sixth party-perfected crostini appetizer recipe in our massive recipe collection!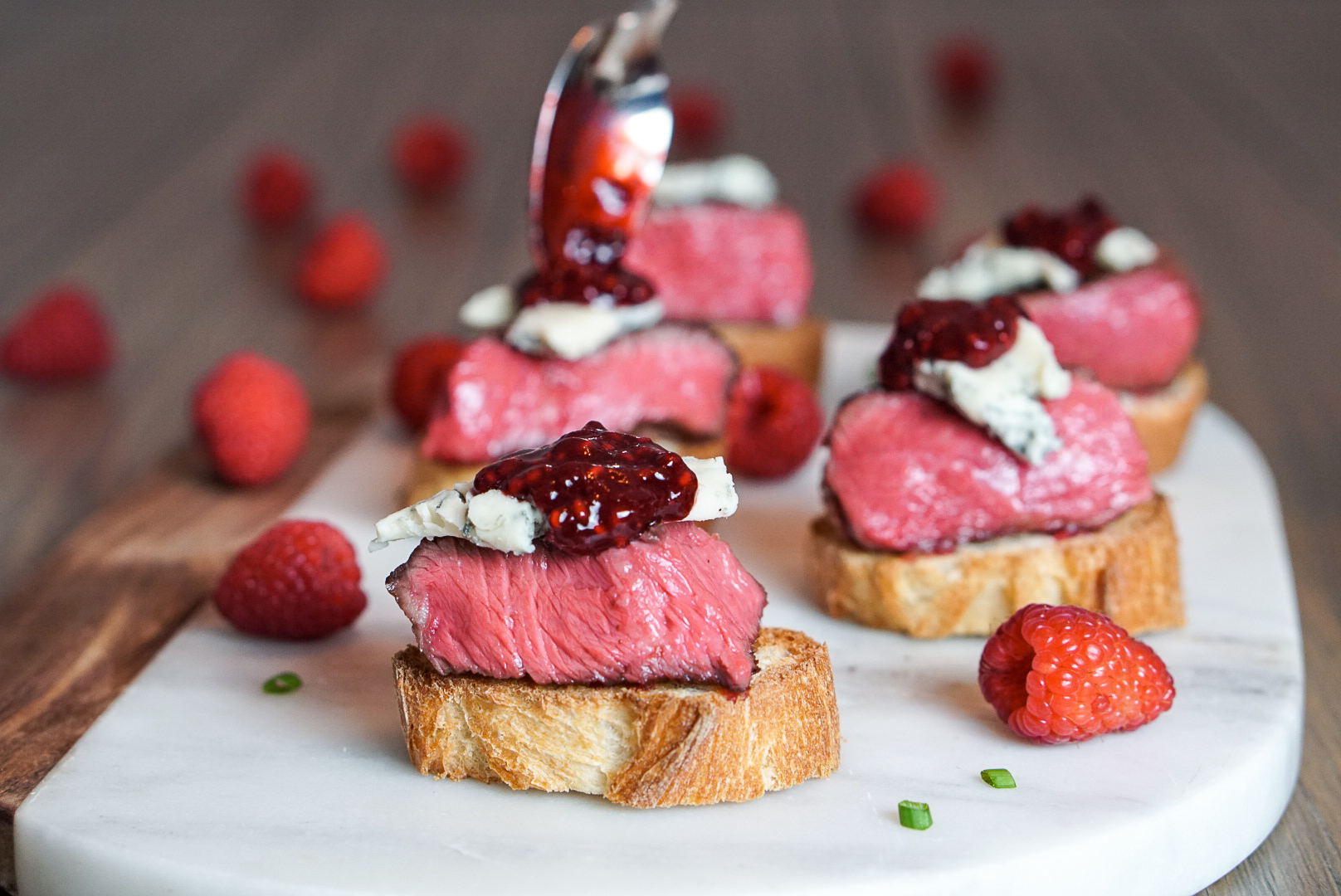 While making this recipe, we reminisced about our time in Oregon this past fall.
We ate so many amazing dishes while at the Feast Food Festival and while in Willamette Valley.
One of the things that stuck out to us the most, was Oregon's vast bounty of delicious berries!!
We went to Oregon hunting for their famous marionberries, which are a variety of blackberries that are born and bred in Oregon. They are so popular with locals that Oregon's state pie was named to be marionberry pie!
We enjoyed marionberries in a few specialty dishes while we were in Oregon, but we left Oregon with a huge appreciation for all of the tasty berries they have to offer.
Oregon produces many fantastic berries, in addition to marionberries, and we wanted to highlight those sweet, but tart flavors in this recipe.
We decided to use frozen berries because they are easy to portion out the exact amount you need.
Plus, they are flash frozen at the perfect point of ripeness!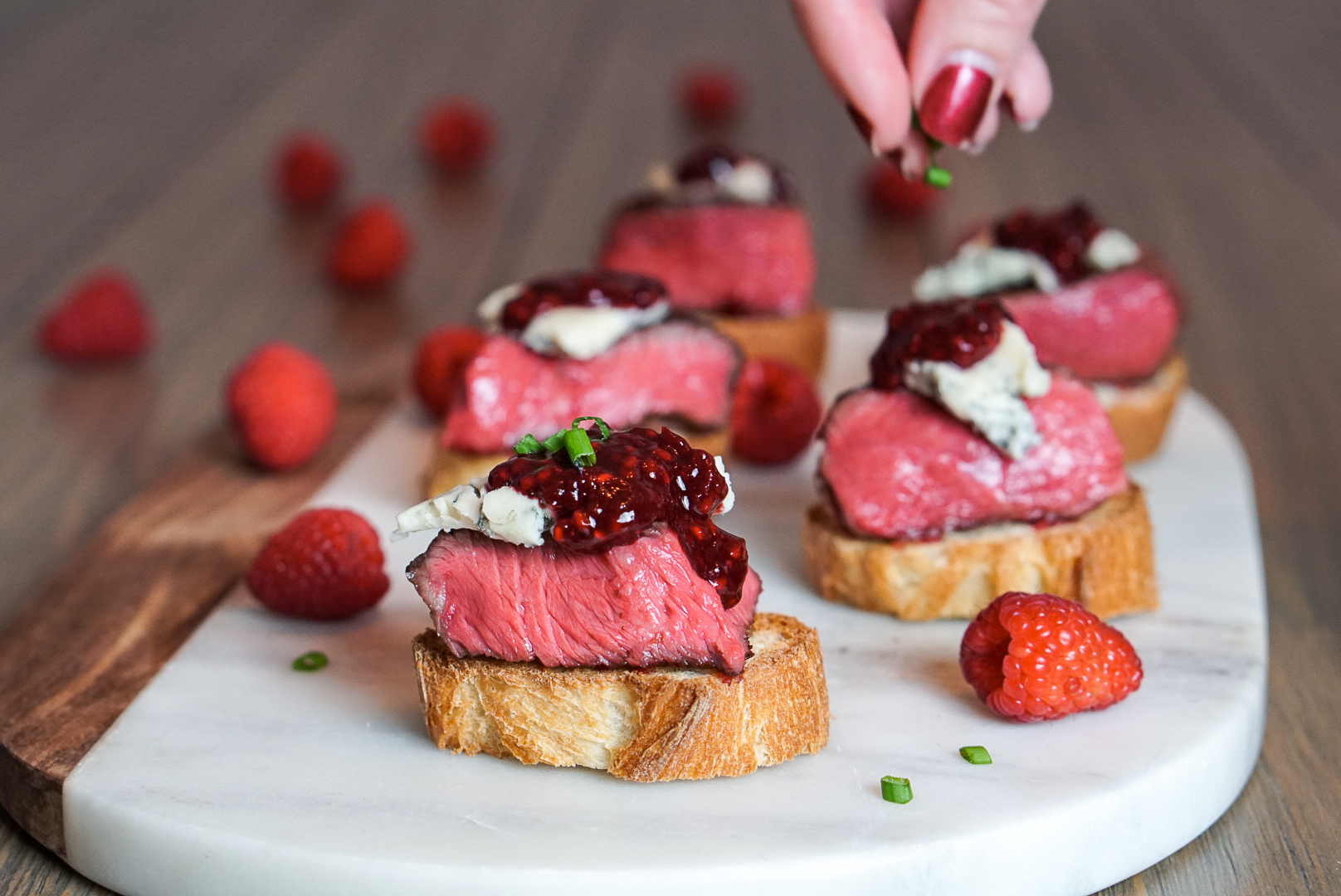 These steak bites are one of the best appetizer recipes because they are so filling, guests only need one or two in order to feel satisfied.
We always have Omaha Steaks in our freezer which makes this appetizer easy to whip up.
That makes them perfect for a cocktail party!
The raspberry balsamic sauce compliments the blue cheese perfectly in this appetizer.
It might be the be the king of all cube steak recipes.
We know that you'll love the flavors of this meaty, yet elevated appetizer.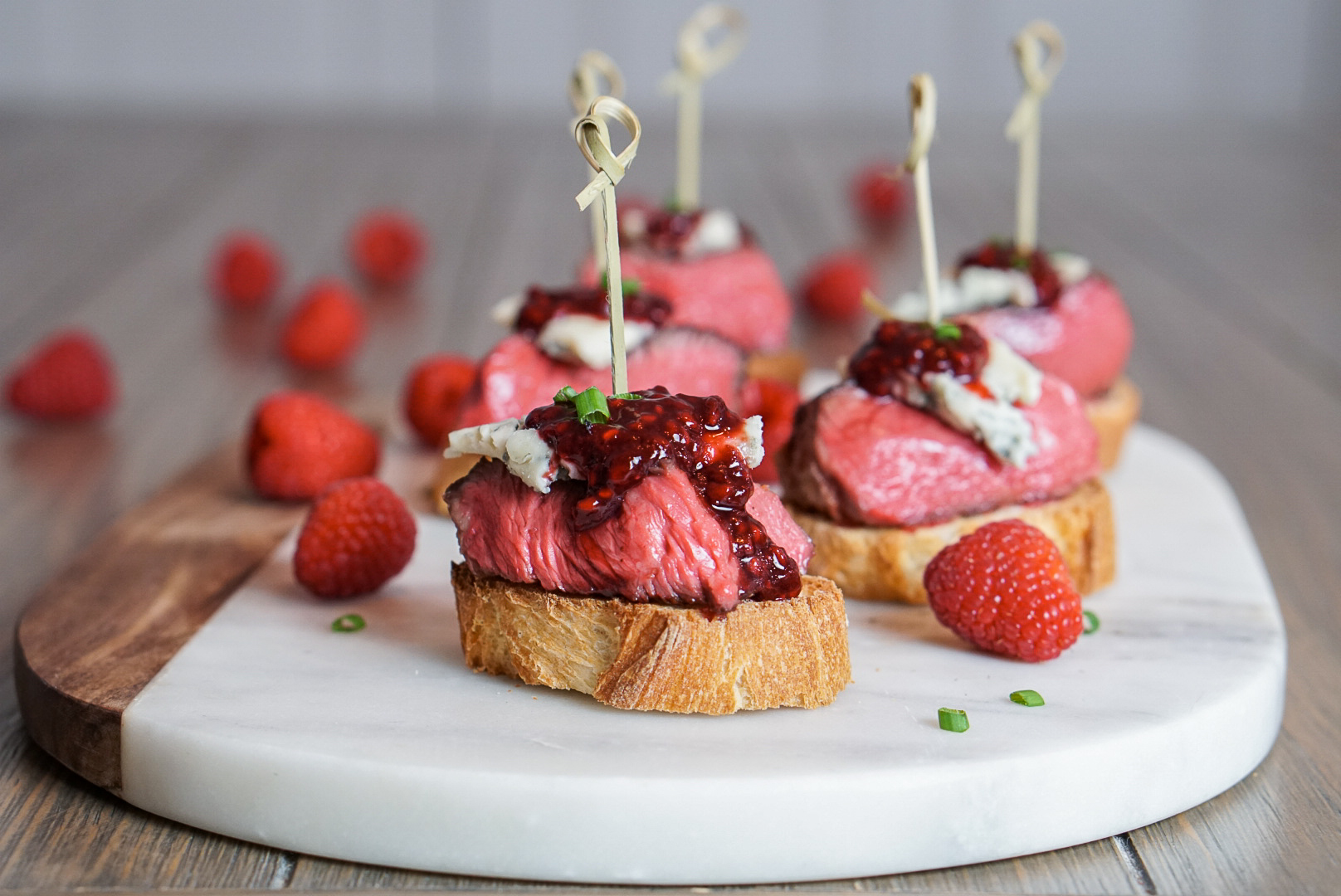 Steak Bites with Blue Cheese and Raspberry Balsamic Sauce
Makes 20-24 Steak Bites
1 ¼ cups of frozen Oregon raspberries
2 tablespoons balsamic vinegar
1/8 teaspoon salt
1/8 teaspoon pepper
1 baguette, sliced and toasted into crostinis
1 pound of Omaha Steaks meat, cut of choice
3 oz. blue cheese, sliced
Chopped chives, for garnish
To make the raspberry balsamic sauce, start by adding add the frozen raspberries to a saucepan on medium-low heat. Heat the berries until thawed.
Next, add the balsamic vinegar, salt and pepper.
Cook at a simmer for 8 minutes then remove from heat.
Meanwhile, slice your baguette on a bias about ½ inch thick.
Toast your crostinis on broil for 3-5 minutes, until lightly golden brown.
Generously season your steak with salt and pepper and sear until medium rare.
Be sure you let the meat rest for at least 10 minutes prior to slicing the steak into cubes. You don't want steak juices leaking all over your bread!
Top your crostini with seared steak, raspberry balsamic sauce and a sliver of blue cheese. Garnish with chopped chives.
To serve, spear crostinis with an appetizer toothpick, if desired.
Enjoy this filling and easy steak appetizer!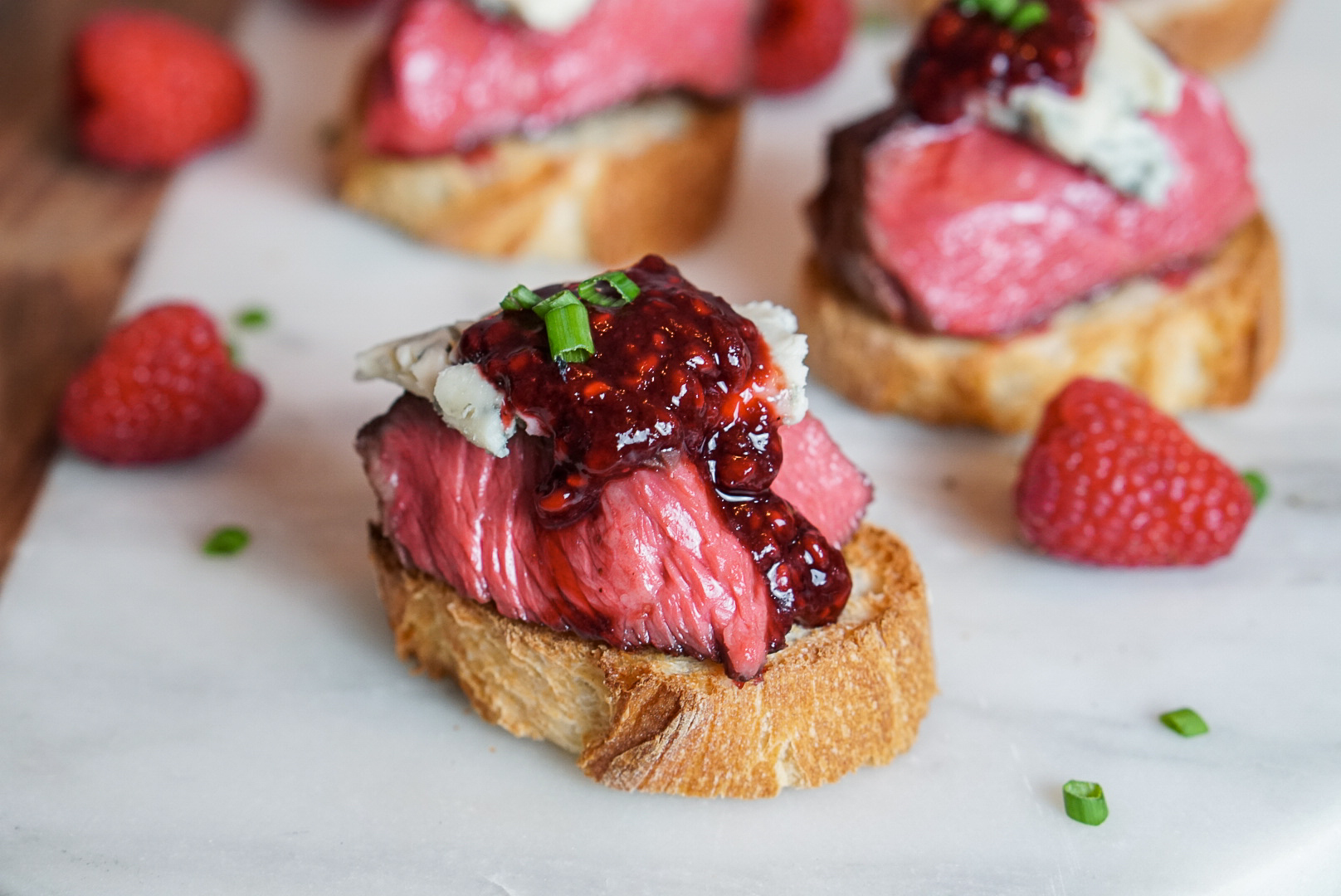 This recipe was created in sponsorship with Oregon Berries. Thanks for supporting companies that we love!
Click this link to pin this recipe on Pinterest. Also, don't forget to follow us on Instagram and Facebook for more recipes and foodie recommendations. If you'd like to automatically receive our posts in your email, register here.
Whip up this recipe? Be sure to tag us on social media as @coupleinthekitchen and we'll share it with our foodie followers!