Staying at the Palazzo Manfredi was by far the most incredible hotel accommodations we have ever experienced. We were partnering with the restaurant to plan out our dinner recommendations for this blog and they so graciously offered to accommodate us in one of their apartments. We were beyond stunned when we arrived at check in only to realize that they actually arranged a stay in one of their luxury hotel rooms for us, with a view directly facing the Colosseum.
We were initially escorted to their rooftop terrace for a complimentary welcome drink, an Italian glass of Valdo Prosecco. Their rooftop overlooks the breathtaking Colosseum as well as the ruins of the gladiator training facility. The basement of this iconic hotel is actually situated on top of these ruins too! With lush fabrics, an in-mirror television, and both a massive spa tub (Gavin was obsessed) and rain shower overlooking the Colosseum, our hotel room was the epitome of modern luxury.
The Palazzo Manfredi also offered nightly chocolates on our pillows, designer spa products from Acqua Di Parma, lush robes and slippers, and even a "pillow menu" with four varieties to choose from. Breakfast on their rooftop terrace was equally as incredible and it was included in the stay. The restaurant offered eggs cooked-to-order as well as a buffet with gourmet Italian charcuterie, fresh buffalo mozzarella, fancy pastries, and even a juicer station with fresh pressed concoctions.
Additionally, the hotel was home to Aroma, an amazing Michelin star restaurant. The thing about traveling is that sometimes you find a restaurant with an amazing view, but the food is subpar (and vice-versa). Aroma was not one of these restaurants. The rooftop is actually quite small with only 40 seats available; this made the dining experience all that more intimate. The tables were lit with nothing more than candlelight, meaning guests could bask in the romantic glow of the lights of the Colosseum. Diners are able to order ala cart off of the menu, or go for the tasting menu.
Our tasting menu included about 10 courses complete with drink pairings from Executive Chef, Giuseppe Di Iorio. Typically, most restaurants would pair each dish with a specifically curated wine. One thing that was refreshingly unique about Aroma, was that the pairings also included expert cocktails, craft beer and special liquors, in addition to some of the most wonderful Italian wine that we savored.
Our tasting menu started with a trio of amuse bouche bites, centered around fish. Appetizers included Tomato "Tempura" shrimp on sweet carrot cream and a lemon grass foam. There were two pasta courses which featured handmade "Busiate" pasta with king prawns, tomato confit and almond pesto as well the lightest and fluffiest stuffed pasta that we have ever tasted. We continued on to enjoy a perfectly buttery scallop and another favorite dish of ours: a tender veal cheek with potato "Pressatina" and a duo of Jerusalem artichoke (aka Sunchoke) puree and crispy skin. Chef then went on to spoil us with three dessert courses.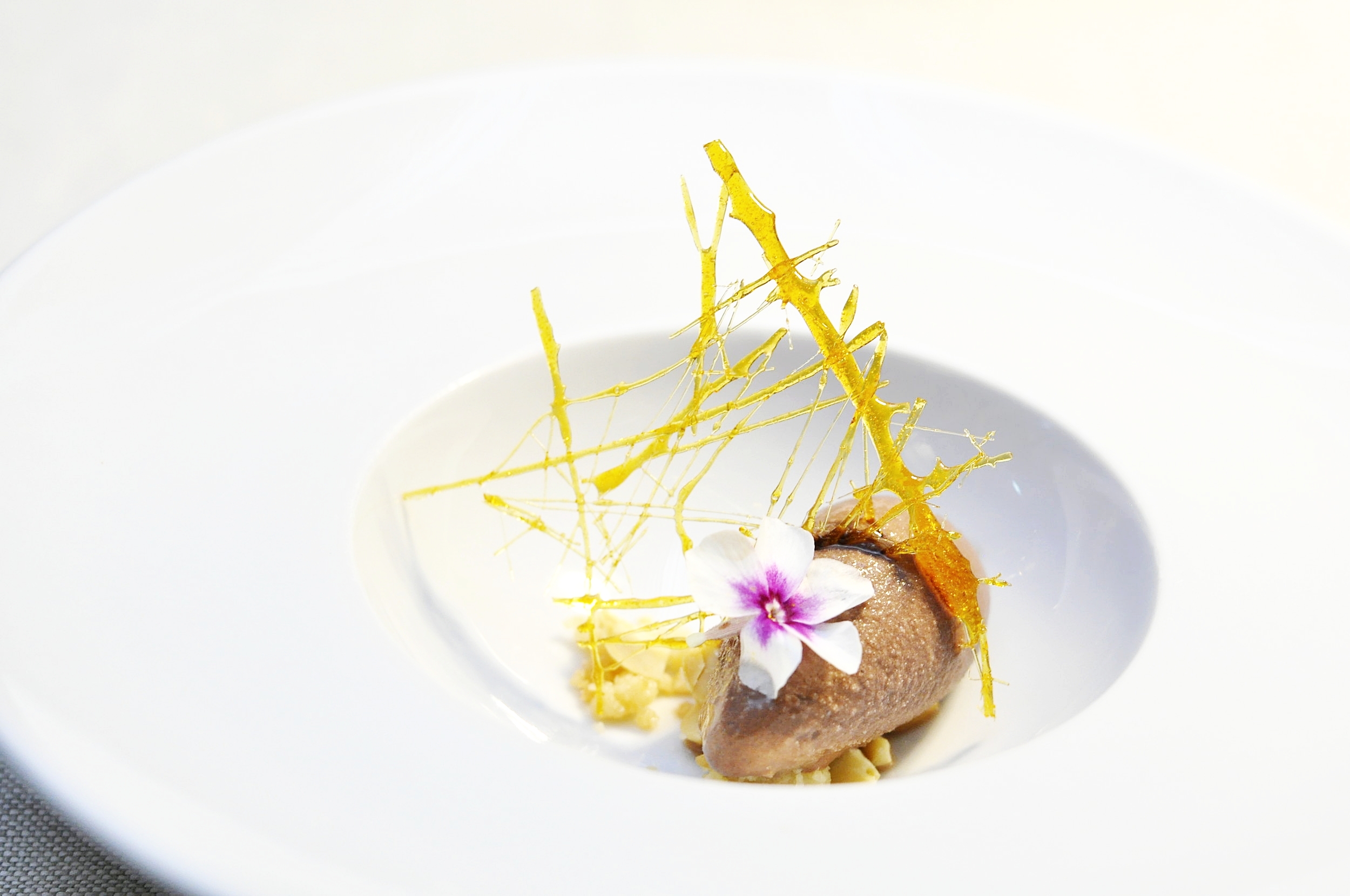 We highly recommend the Amore Restaurant. If you are looking for a fine dining experience in Rome, this is the trifecta: it is the most beautiful view in Rome, superb food and drinks, and top-notch service. Even if you can't swing for their dinner pricing you can stop in for lunch to enjoy homemade pasta and their unforgettable view. It is a meal of a lifetime, following the hotel stay of a lifetime!