There's more to filet mignon than just the traditional premium cut of steak.
Omaha Steaks offer a TON of filet mignon options.
We've recently tried their filet mignon burgers and dumplings, which were super tender and delicious. I mean, take a peek at how tender and juicy that burger is!
Ground filet mignon is also available, talk about a perfect choice for some incredible meatballs!
We used their filet mignon tips for this new recipe.
Check out all the filet options at Omaha Steaks.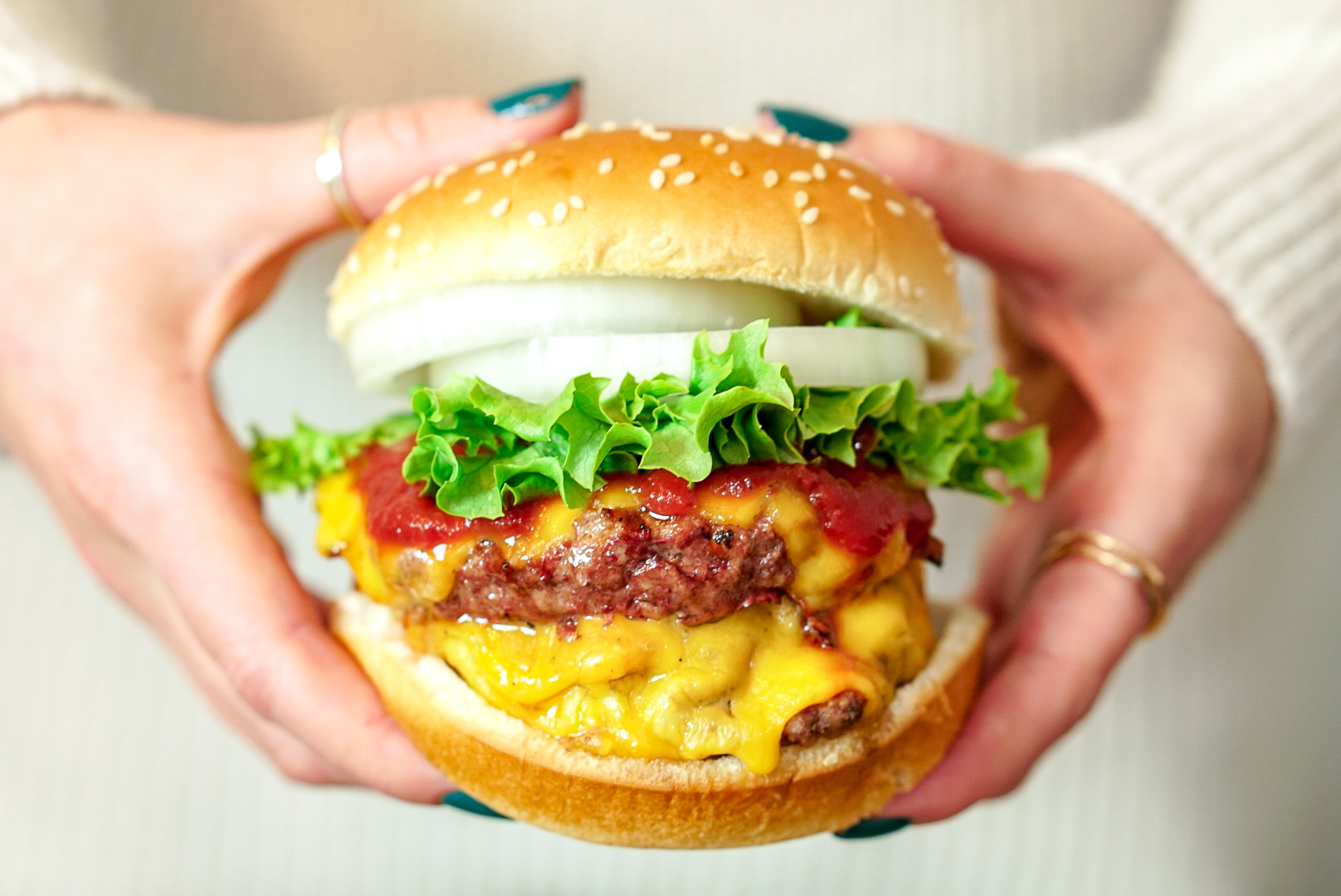 So many of our friends are on the keto diet.
We all get together every Monday to indulge in reality television, specifically The Bachelor.
This week, we made our newest dip creation. Those on the keto diet used veggies for dunking, while we toasted crostinis for a carb-filled vessel for dipping.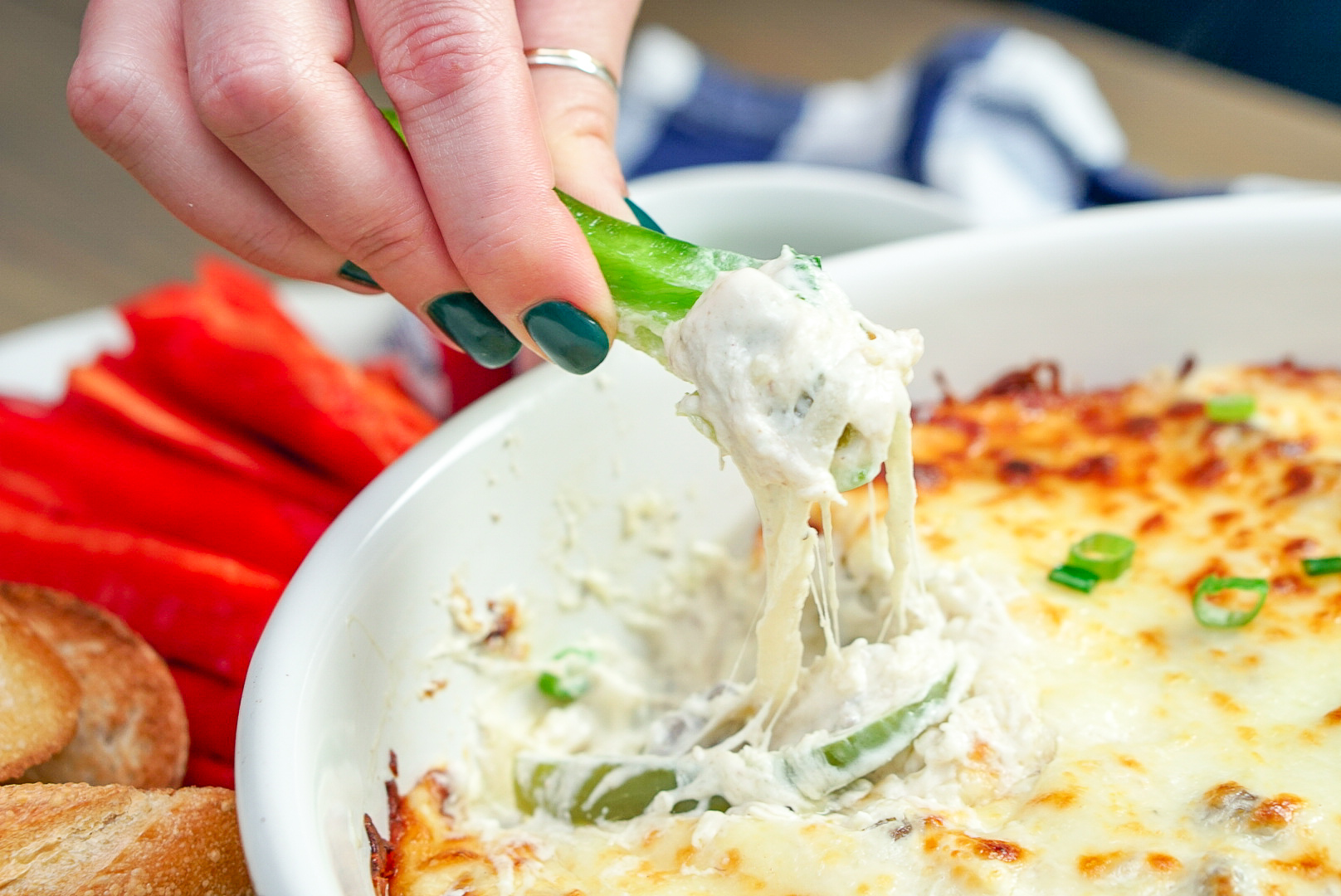 This hot and bubbly dip packs in a full pound of steak so we think we can classify it as a meal.
We'll even call all the green bell peppers our daily serving of veggies!
We know you'll enjoy this recipe that gives you all the flavors of Philadelphia in an ooey, gooey dip.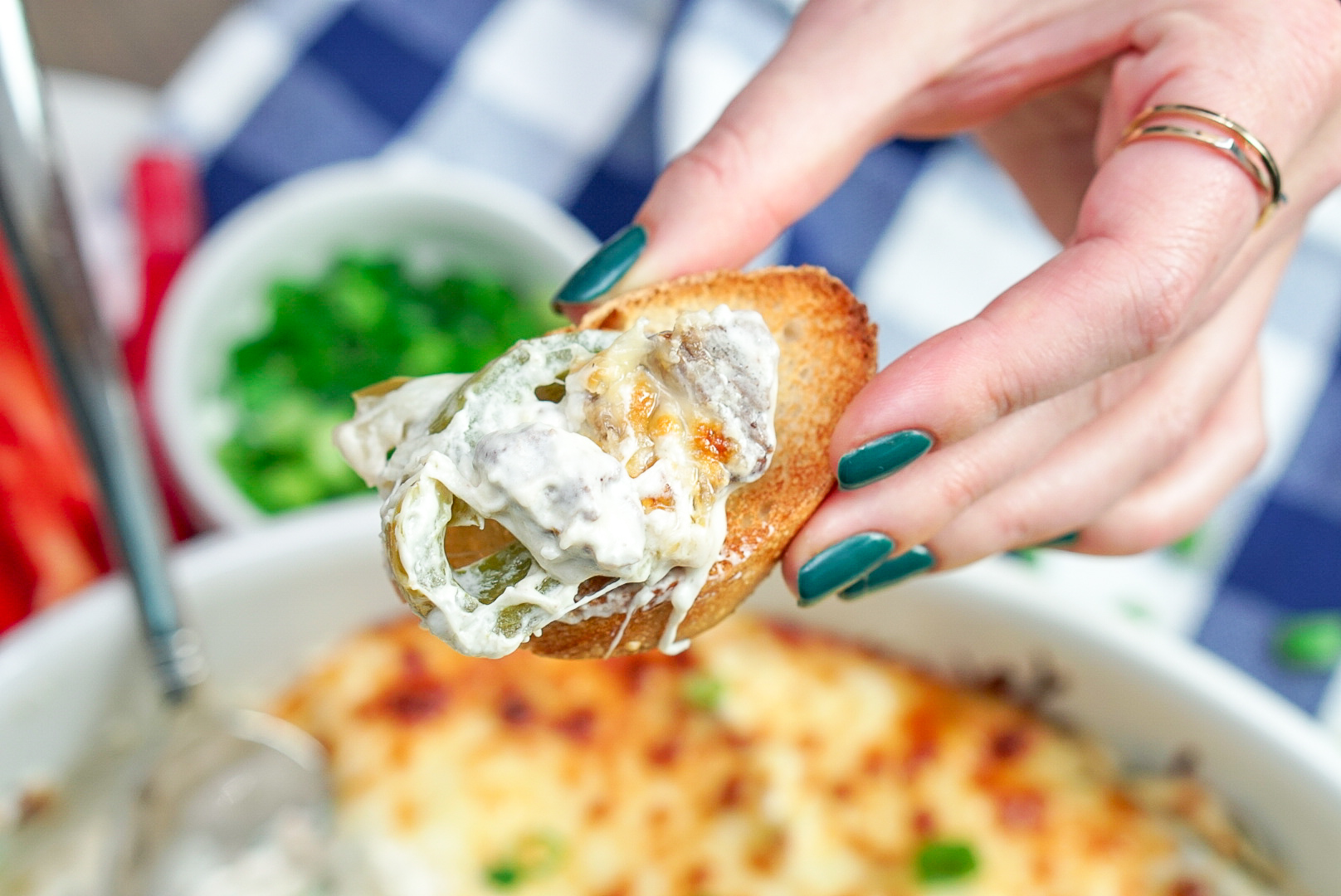 Philly Cheesesteak Dip with Filet Mignon Tips
Ingredients:
2 tbsp butter, divided

1 lb. package of Omaha Steak Filet Mignon Tips

1 onion, sliced into thin strips

2 green bell peppers, sliced into thin strips

3 cloves of garlic, minced

2 1/2 cups of shredded provolone cheese, divided

2 packages of light cream cheese

⅓ cup of mayonnaise

1 tbsp red wine vinegar

Salt and pepper

Green onion for garnish

2-3 bell peppers for dipping

1 baguette, sliced and toasted into crostinis
Preheat your oven to 375 degrees.
Start by thawing your Omaha Steaks Filet Mignon Tips. Season generously with salt and pepper and cut into 1 cm cubes, if desired.
In a large skillet, heat the pan to medium and add the 1 tbsp of butter to the pan with the onions and peppers.
Cook until soft and add minced garlic. Saute for one minute or until fragrant.
Remove the veggies from the head and add the garlic, peppers and onions to the casserole pan.
Turn the heat to medium/high and add the filet mignon tips to the skillet with 1 tbsp of butter.
Saute for  4-5 minutes, until the meat is seared, being careful not to overcook the meat.
Remove the steak from the fry pan and drain the drippings. Transfer the meat to the casserole pan.
Next mix together the cooked onions and peppers and steak along with the cream cheese, 2 cups of the shredded cheese, mayo, vinegar, and salt and pepper.
Top the dip with the remaining cheese.
Cook the dip for 15-20 minutes until toasted and bubbly.
Serve with pepper slices or toasted baguette.
Enjoy!
This post was created in sponsorship with Omaha Steaks, all opinions and recipes are our own. Thanks for supporting brands we love!
Click this link to pin this recipe on Pinterest. Also, don't forget to follow us on Instagram and Facebook for more recipes and foodie recommendations. If you'd like to automatically receive our posts in your email, register here.
Whip up this recipe? Be sure to tag us on social media as @coupleinthekitchen and we'll share it with our foodie followers!