You don't have to be an expert to make dishes from your favorite sushi restaurant at home. This Salmon Poke recipe is fresh, light and a cinch to make. We've made this a healthier version by pairing it with brown rice instead of traditional sushi rice to save you the extra sugar. This can also be made by omitting the rice altogether.
While on the 21 day fix program, this was by far our favorite recipe. We often make poke at home for a simple, unique dinner or fun date night at home. Feel free to swap the salmon out for tuna if your heart so desires.
You can buy sushi-grade fish at almost any grocery store in the frozen fish section. Per government regulation, all sushi-grade fish must be sold frozen. Follow the defrosting instructions listed on the packaging.
This recipe serves 2 and counts as 1 red, 1 yellow, 1 blue container and 1 teaspoon on the 21 day fix program.
Ingredients:
1/2 pound sushi grade frozen salmon, cut into bite sized squares
1/2 avocado, cubed
Carrots, cut into matchsticks
One green onion, sliced
1 teaspoon chili oil
1 teaspoon sesame oil
1 teaspoon low sodium soy sauce
2 teaspoons rice wine vinegar
Sesame seeds (optional) for garnish
Serves 2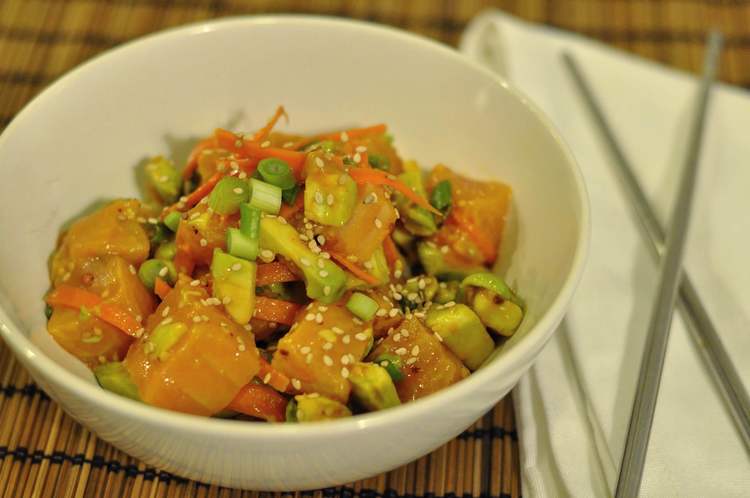 Cook your brown rice in a rice cooker or on the stovetop, as directed.
In a large bowl, mix the chili oil, sesame oil, low sodium soy sauce, and 2 teaspoon rice wine vinegar. Once combined, toss all remaining ingredients in the sauce.
Serve over brown short grain rice and sprinkle a few sesame seeds if desired. Serve immediately and pretend you're at a sushi restaurant.