We've had a cauliflower pizza crust recipe pinned forever on our pinterest board and starting our 21 day fix was the perfect excuse to try it out! This was our very first attempt to make the crust. A few weeks earlier, our food processor went on the fritz and went to food processor-heaven. We didn't get a chance to buy a replacement yet, so we used the cheese grater method for ricing the cauliflower. Note: this made a total mess and cauliflower went EVERYWHERE. Do yourself a favor and be sure to use a food processor for this one, trust us!
Amidst the fact that we had pieces of cauliflower in a 5 foot radius around our kitchen, this turned out really good! You can't compare it to your favorite pizza place, but we would most definitely make this recipe again (even when we are off our diet)!
21 day fix containers per serving: 2 green, 1/4 red, 1 blue and 1 teaspoon of oil.
Ingredients:
1 head cauliflower
1 egg
1/4 cup parmesan cheese
Italian herb seasoning
Tomato sauce (we mixed in half greek yogurt, half tomato for extra protein)
Mozzerella cheese
1 cup sliced red onion
3 cloves garlic
1 cup sliced baby bella mushrooms
Serves 2-3
Preheat oven to 450 degrees.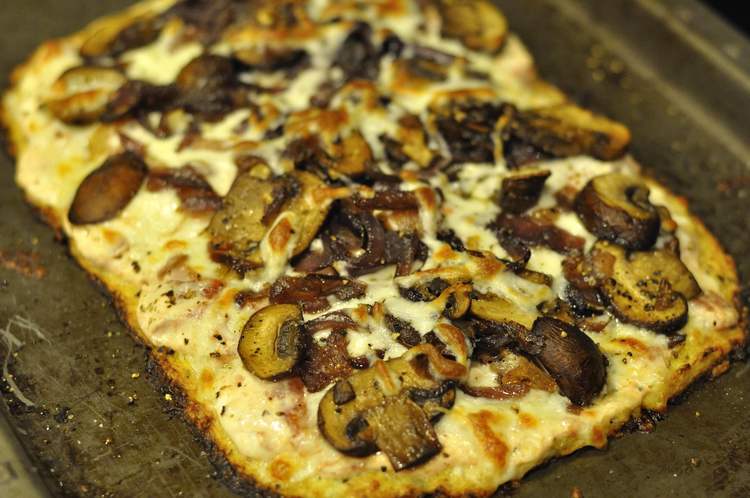 Start by cooking your toppings. For this pizza, you want to ensure you toppings are fully cooked prior to making your pie. Add a small amount of olive oil to 2 saucepans. Use one to caramelize your onions on medium low heat. Use the other to sauté your mushrooms. One the mushrooms are soft, add in the sliced garlic. Remove from heat.
Cut florets off of the head of cauliflower and pulse in food processor to rice the veggies. If you do not have food processor, you can also use a cheese grater to grate it into small pieces.
Microwave the cauliflower for 6-7 minutes. Pour cooked cauliflower onto a clean dishtowel and squeeze out the towel to remove excess moisture. Once the moisture is removed, add the beaten egg, Italian spices, and the grated parmesan cheese. Spread this dough mixture out on a greased baking sheet and cook for 15 minutes.
You'll know the dough has cooked when the edges are golden brown and the center appears cooked. Remove the crust, top with your tomato sauce, onions, mushrooms, and your mozzarella cheese.
Turn the oven to broil. Place pizza back in the oven for 2-5 minutes until the cheese is golden brown.
If you used a cheese grater like we did, you'll likely find little morsels of cauliflower hidden in your kitchen for the next few days after cleaning up!