We're sharing a plethora of low carb rotisserie chicken recipes!
Whether you are following a keto diet to a tee, or you're just looking to make some simple changes to incorporate a low-carb recipe to your rotation, these recipes will inspire you.
Grocery store rotisserie chicken is such a fast, easy, and low cost option.
You can also make your own homemade rotisserie chicken on your BBQ or even in many models of air fryer.
Store bought rotisserie chicken can last 3-4 days in an airtight container, which makes it a perfect solution for healthy meals throughout busy weeknights.
The same old meal prep batch recipes can get boring, so we've gathered 25 easy recipes to add a twist on a whole chicken or leftover rotisserie chicken breast.
Click each recipe for the full recipe card. Many of these recipes also provide net carbs, calories, and other nutritional information once you click on the specific recipe.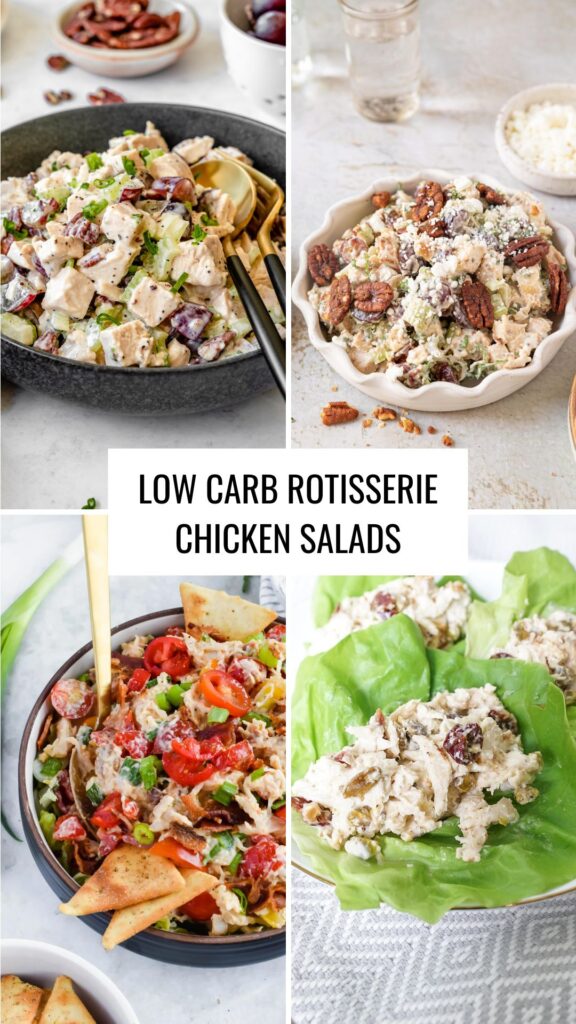 Rotisserie Chicken Salad Recipes
Talk about a great way to use store-bought rotisserie chicken.
A bit of sour cream, greek yogurt, avocado oil, or mayonnaise can add a lot of flavor to your cooked rotisserie chicken.
Add in extra veggies like bell peppers or celery, plus fruits and nuts and you've got a great meal.
Chicken salad can be eaten on its own or you can serve it in a lettuce wrap for an easy keto sandwich.
Here are some fun rotisserie chicken salad recipes to try: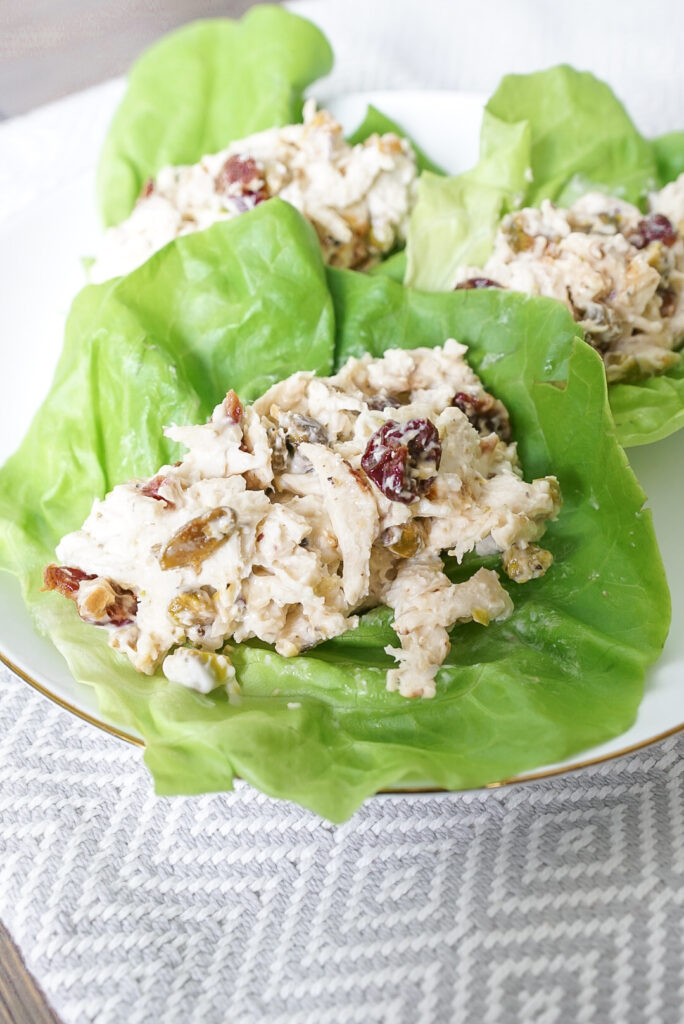 Cherry Pistachio Chicken Salad
Our Cherry Pistachio Chicken Salad Recipe is a crowd favorite. Sweet but tart cherries add a lot of flavor and the tender chicken is perfectly complemented with the texture of the crushed pistachios.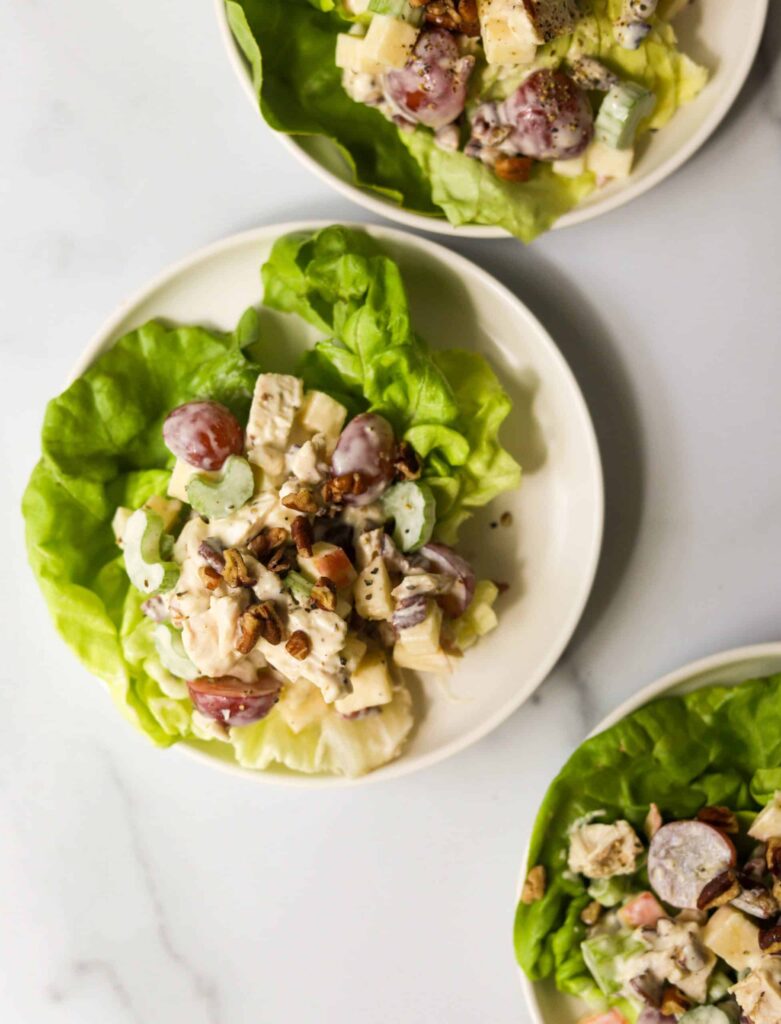 Apple Walnut Chicken Salad
You'll fall in love with this Apple Walnut Chicken Salad recipe.
It's basically waldorf chicken salad with rotisserie chicken, celery, grapes, honeycrisp apples and walnuts tossed in a creamy yogurt dressing. It'll be a new favorite.
Southwest Guacamole Chicken Salad
Creamy avocado is a great substitute for mayo, which is the base in most chicken salads. The crunchy jalapeno and onion add great texture and flavor to this Guacamole Chicken Salad. Make sure you add enough lime juice– it totally brings this dish to life!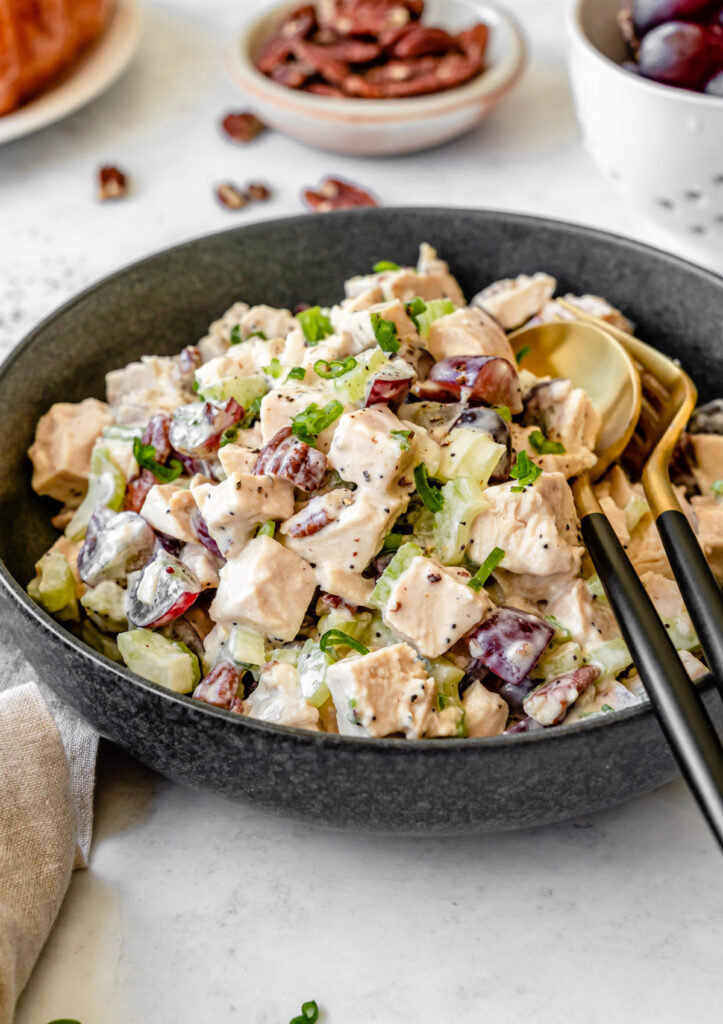 California Chicken Salad
This easy California Chicken Salad Recipe is a healthy copycat of Whole Food's Sonoma Chicken Salad. It's made with cubed chicken, celery, grapes, and pecans and tossed in a creamy Greek yogurt and poppy seed dressing. Great on its own or as a filling for sandwiches!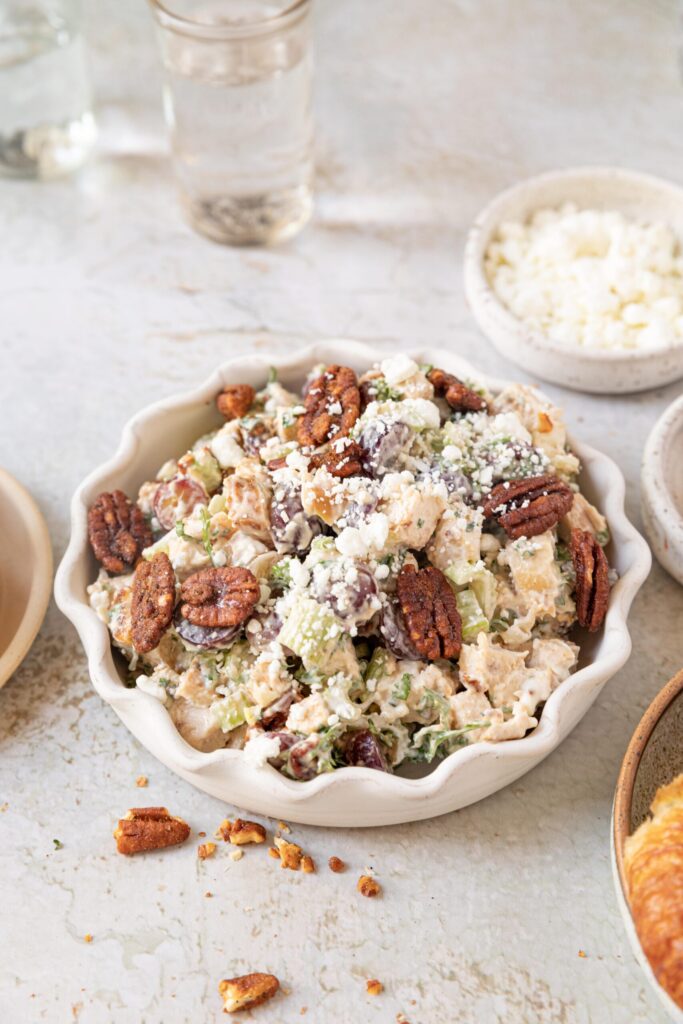 Chicken Salad with Grapes and Goat Cheese
Another twist is this Chicken Salad with Grapes and Goat Cheese recipe. Shredded chicken, crunchy nuts, earthy celery, creamy goat cheese, and juicy grapes are tossed in a mustardy mayo dressing for a delightfully grown-up spin on the diner classic.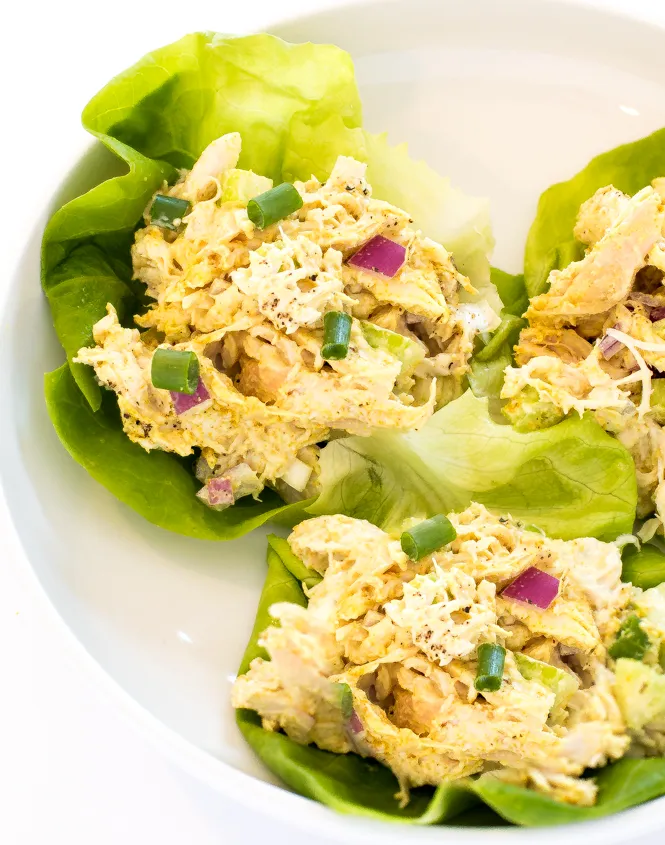 Curry Chicken Salad
Chicken Salad just got a makeover! This Curry Chicken Salad Recipe is a mouthwatering flavor bomb. Loaded with curry powder, creamy mayo, crunchy celery, and onion, this recipe will be on repeat for make-ahead lunches!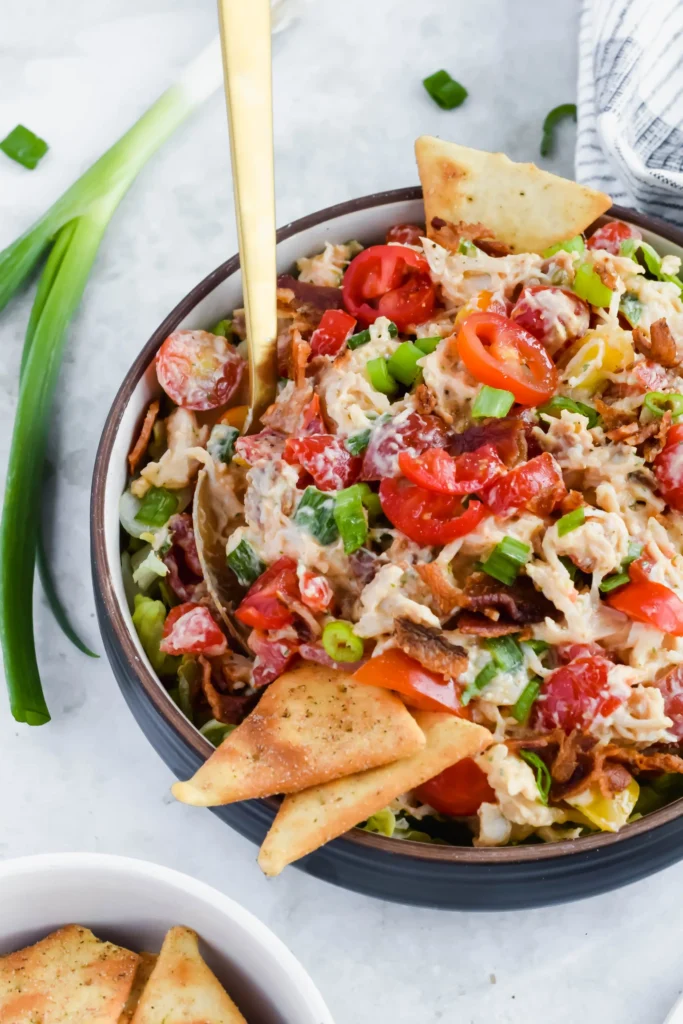 Bacon Ranch Chicken Salad
Say goodbye to the days of lunch that look like sliced turkey and American cheese slapped between two pieces of wonder bread. Instead try this Bacon Ranch Chicken Salad that turns plain shredded chicken into the lunch of your dreams.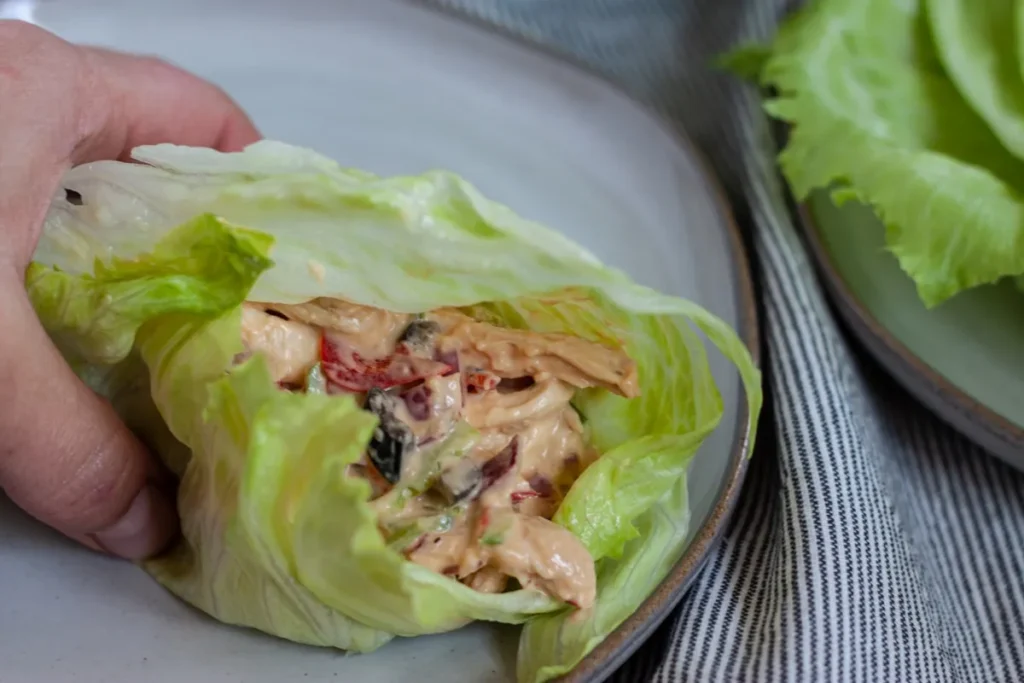 Chipotle Chicken Salad
Forget every boring chicken salad you've ever eaten because this Chipotle Chicken Salad sets the flavor bar, bringing bold flavors thanks to Chipotle and Roasted Garlic Mayo. Wrap with lettuce to keep it low carb!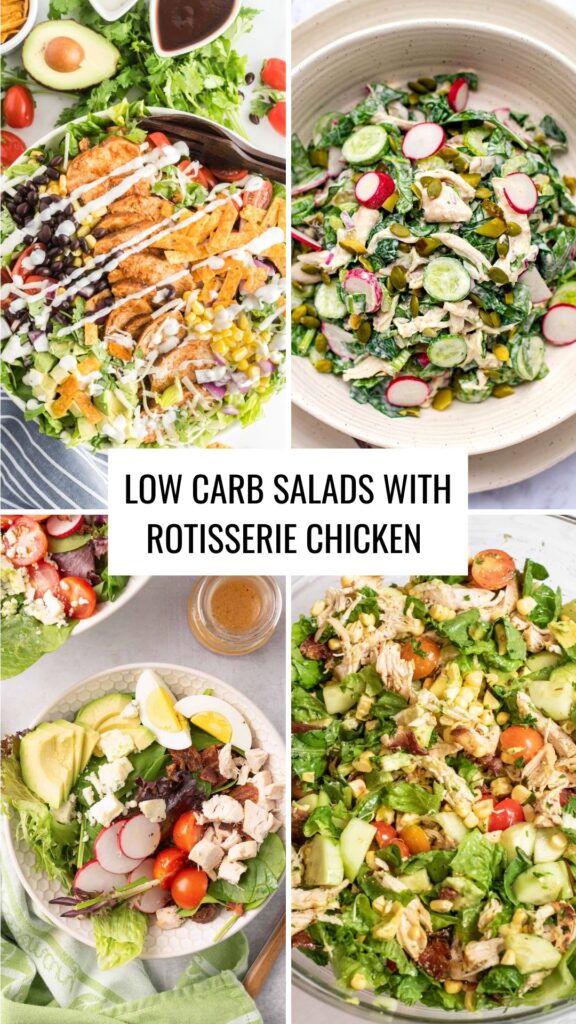 Green Salad Recipes using Rotisserie Chicken
Some basic ingredients can really make a plain old green salad shine.
Use your leftover rotisserie chicken with these add ons and homemade dressings for a veggie-packed low carb meal with these salad recipes: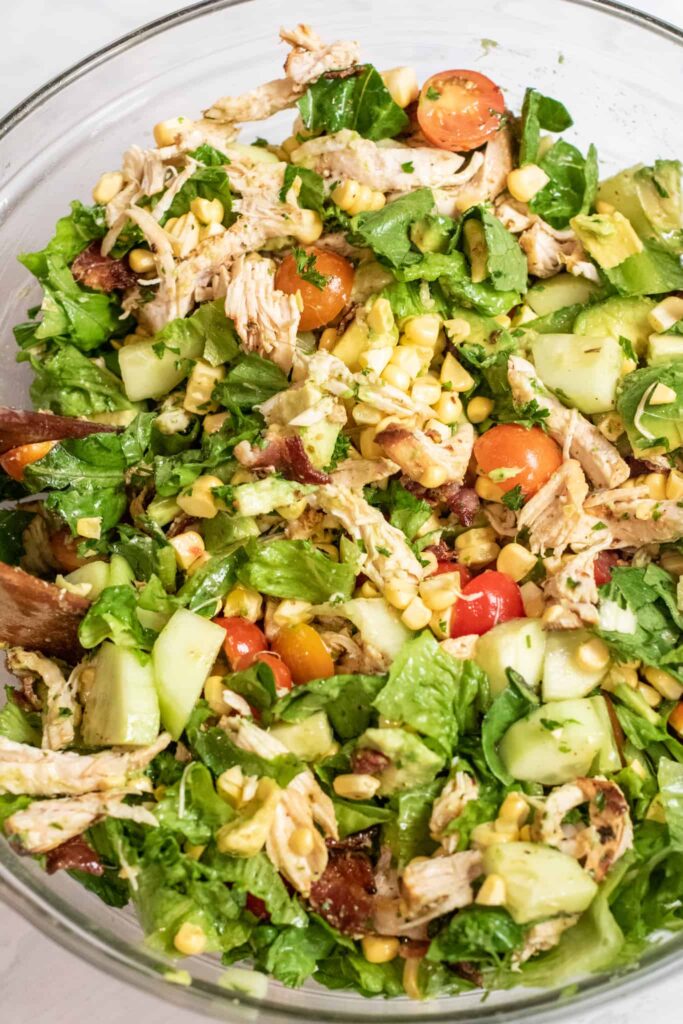 Avocado Chicken Chopped Salad
This Avocado Chicken Chopped Salad is a favorite green salad. It's easy to make, fresh, healthy, and is the perfect light salad dinner that's full of flavor! 
Spicy Thai Salad
The Panera Spicy Thai Salad is now called "Asian Sesame Salad with Chicken." Yes, Panera discontinued its famous spicy Thai salad. But no sweat, all is good. I took a close look at this new variation and combined the two to create a third. The best!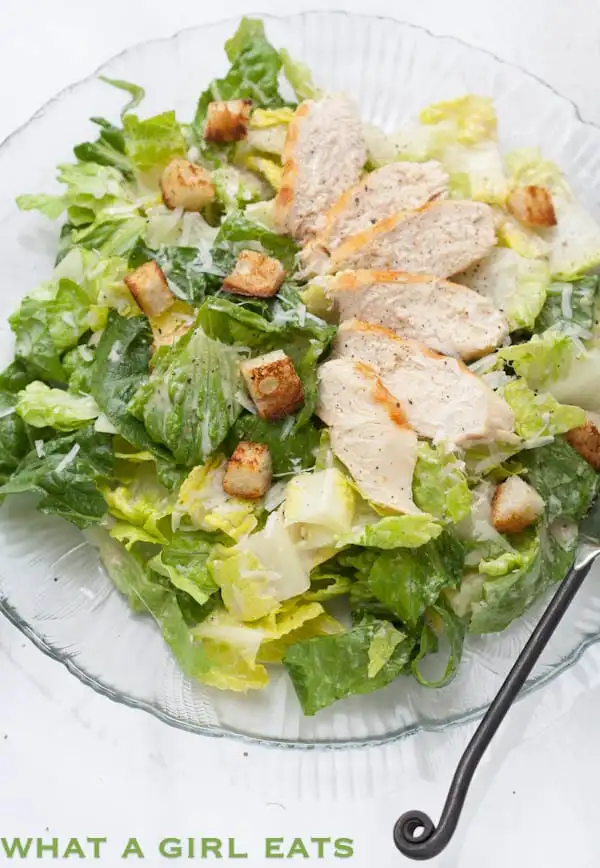 Classic Caesar Salad
Whip up a homemade Caesar Salad Dressing to prepare a classic Caesar salad. What a delicious way to use up leftover rotisserie chicken.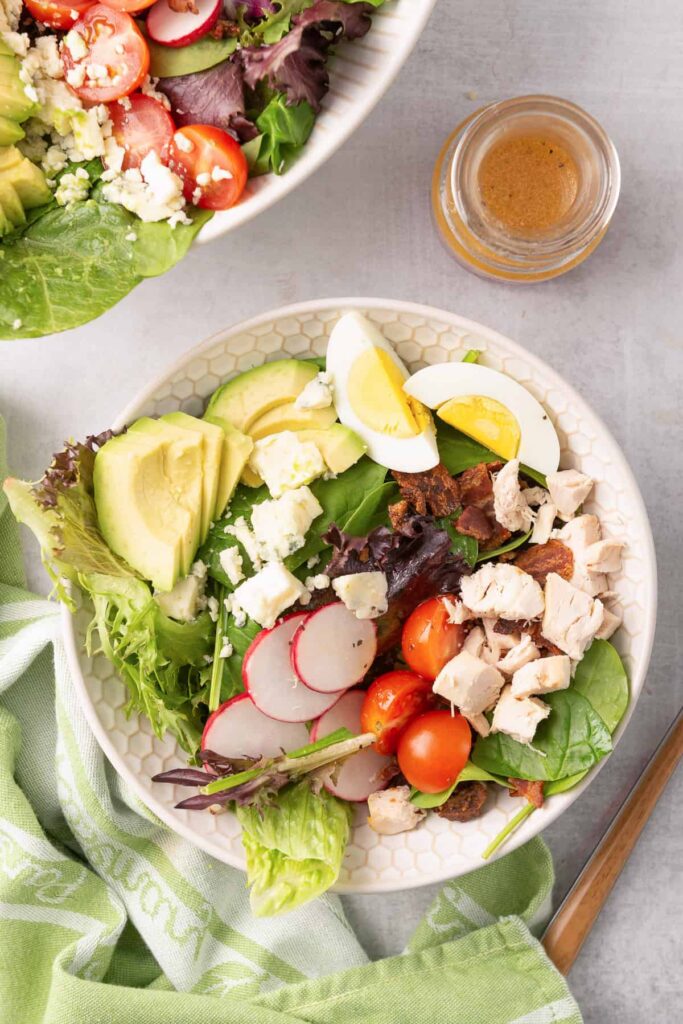 Chicken Cobb Salad
Fresh ingredients and a made from scratch dressing combine to make this Easy Chicken Cobb Salad. Crispy bacon and cheddar cheese makes this a restaurant quality salad you can easily make at home in under 30 minutes.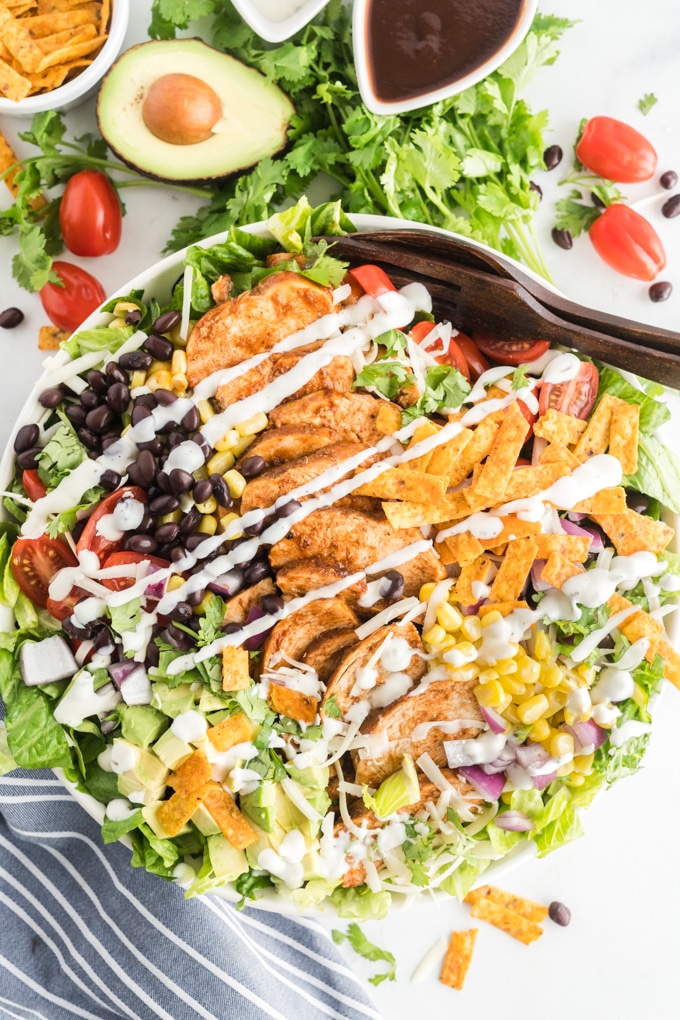 BBQ Chicken Salad
BBQ Chicken, juicy tomatoes, sweet corn, creamy avocado, black beans, onions, shredded cheese and crispy tortilla strips are all tossed with delicious Ranch dressing in this BBQ Chicken Salad.
Rotisserie Chicken Spinach Salad
This delicious and healthy Rotisserie Chicken Salad recipe with Spinach and Creamy Dressing makes for a speedy lunch or light dinner with little prep and no cooking. Gluten-free, low-carb, and keto-friendly. 
Summer Berry Salad
This Summer Berry Salad is a low carb dish with all the good things. Your leftover grilled chicken or rotisserie chicken is being put to good use here! 
Soups Featuring Rotisserie Chicken
Use your leftover bones from your roast chicken to make some homemade bone broth! It's a great way to add extra flavor to these warm and easy soup recipes.
During colder months, we are all about comfort food.
Luckily these soup recipes provide low carb meals that warm your soul without being overly indulgent: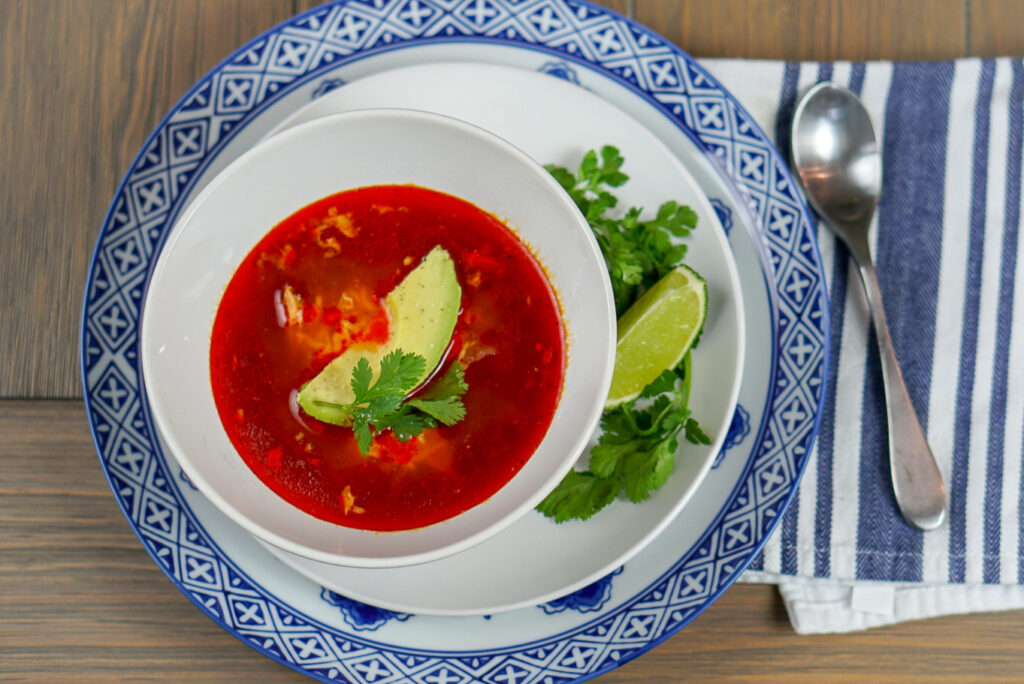 Chicken Enchilada Soup
All the flavors of chicken enchiladas without the extra carbs. This Chicken Enchilada Soup is full of flavor. Make your own bone broth or use store bought stock with enchilada sauce.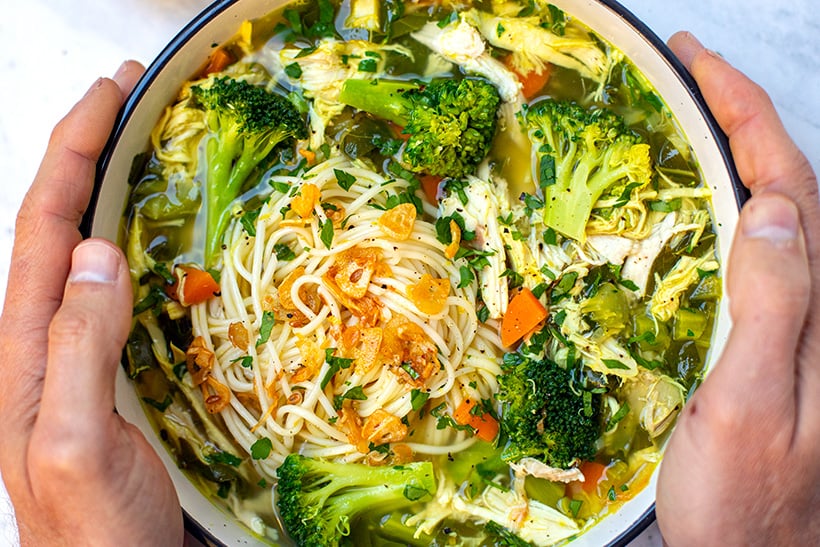 Garlic Chicken Soup
Quick and easy Garlic Chicken Soup recipe made with shredded rotisserie chicken (or any leftover cooked chicken) and green vegetables. Topped with mellow garlic sauteed in butter and sesame oil, which adds rich flavor, this soup can be finished with noodles or served as a low-carb version.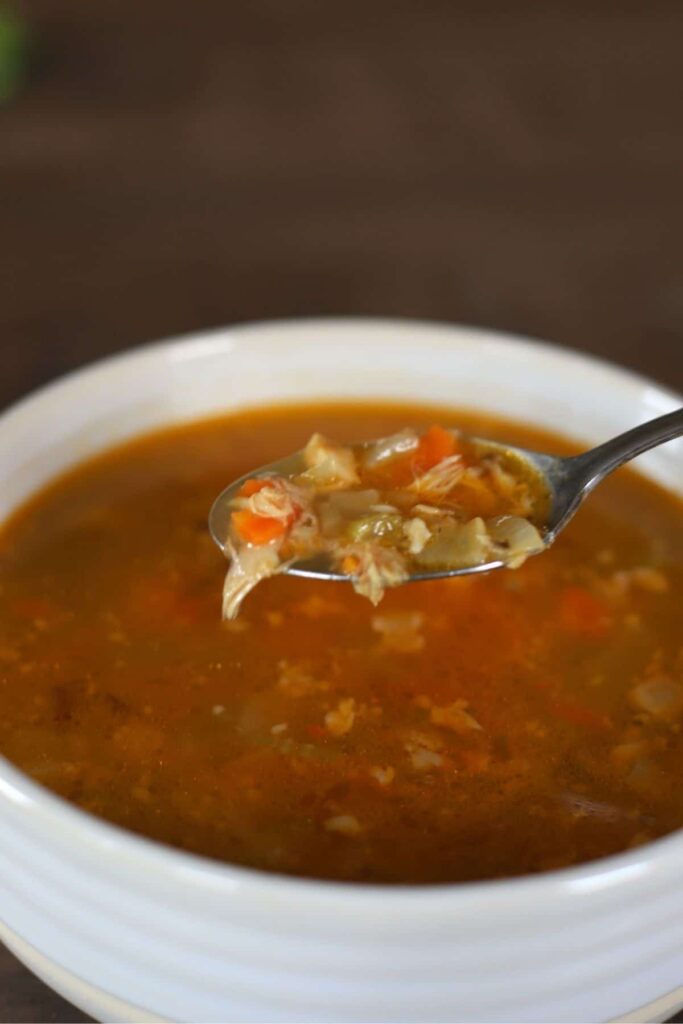 Homemade Keto Instant Pot Rotisserie Chicken Soup
This Keto Instant Pot Rotisserie Chicken Soup is made with rotisserie chicken carcass and leftover meat. Pressure cooked to make a chicken stock and then quickly warmed up with some tasty veggies. 
Rotisserie Chicken Casseroles and Entrees
For a low carb dish that eats like a meal, here are some favorite entrees and casseroles that use rotisserie chicken: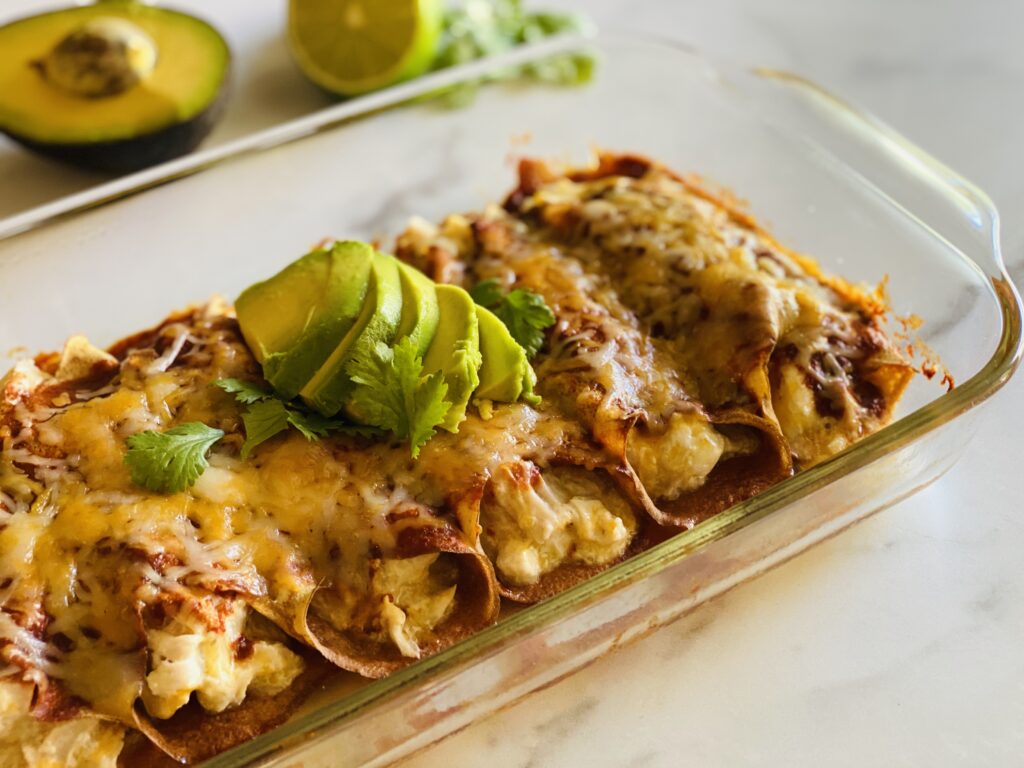 Keto Chicken Enchiladas
The best Low Carb Chicken Enchiladas are stuffed with shredded rotisserie chicken & melty cheese. No one will guess these fantastic enchiladas are only 3.5 net carbs each.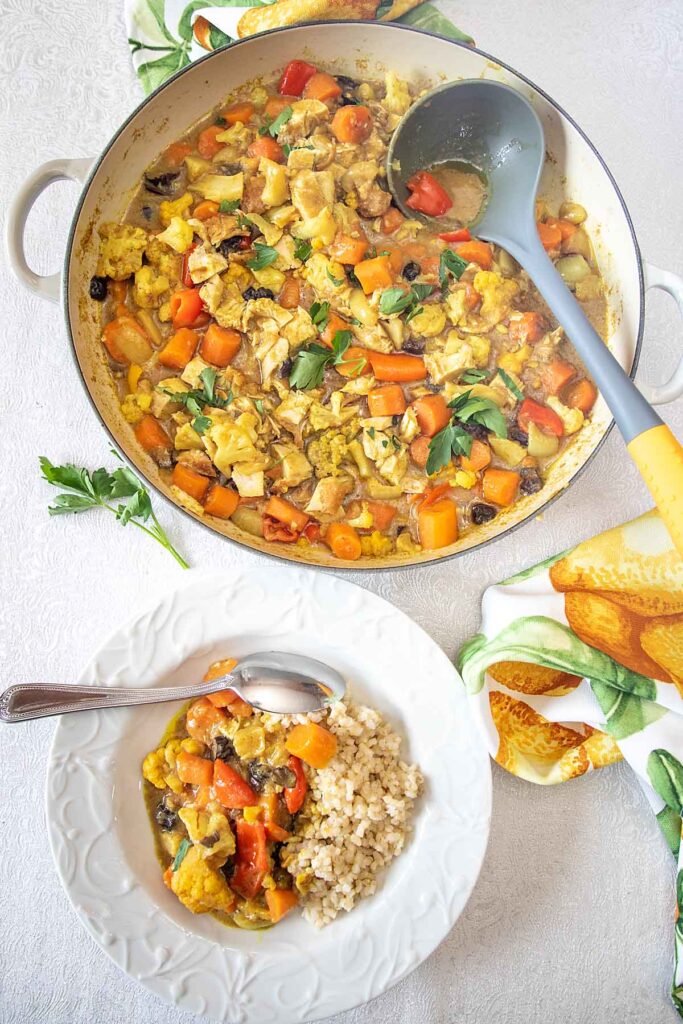 Rotisserie Chicken Curry and Vegetables
Leftover Chicken Curry and Vegetables is a versatile dish that can clean out the fridge while making dinner a snap! Serve it on its own or with cauliflower rice.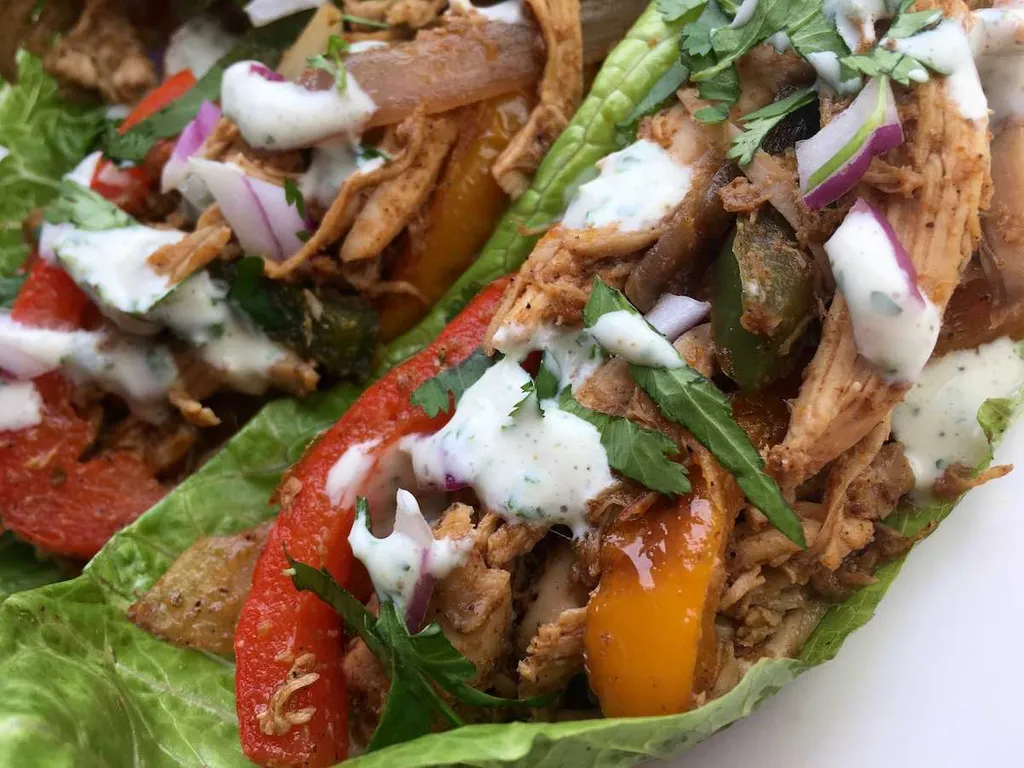 Chicken Fajita Lettuce Wraps
Fajitas are usually eaten on a tortilla, but these Chicken Fajita Lettuce Wraps are a low-carb version of the classic dish with tons of flavor that's perfect to put together at the last minute. Paired with a creamy cilantro lime sauce, it's a dish you'll want to make over and over again!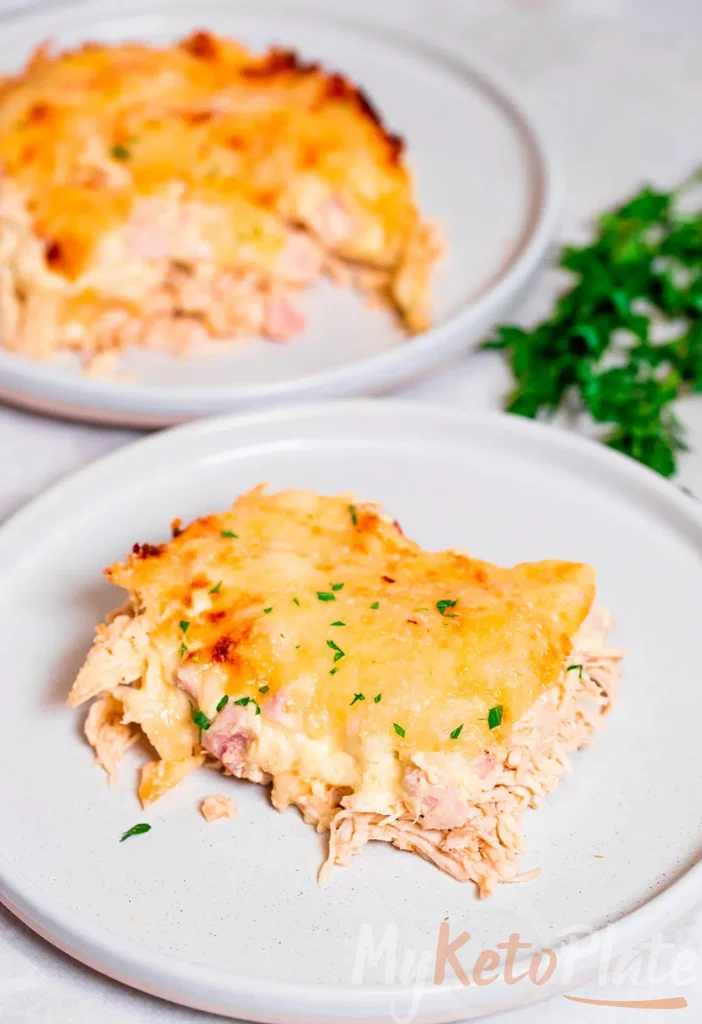 Chicken Cordon Bleu Casserole
This Chicken Cordon Bleu Casserole has all the traditional flavors of cordon bleu but in a different presentation: a casserole dish! Everyone loves this easy dinner recipe that's loaded with shredded chicken, ham, and a creamy cheese sauce. It's a delicious casserole without the extra carbs.  
Chicken and Ham Pie
Both filling and delicious, this Chicken and Ham Pie is a low carb take on the classic version. Leftover chicken can easily be used in this pie to turn your leftovers into a whole new meal.
Low Carb Rotisserie Chicken Appetizers and Snacks
Maybe it's game day and you're looking for a guilt free low carb appetizer.
These recipes will be a fan favorite, whether your guests are keto or not!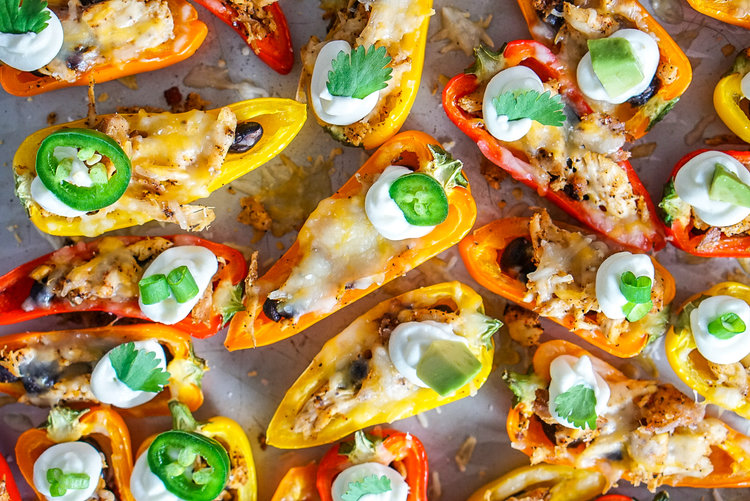 Mini Pepper Nachos with Rotisserie Chicken
Low Carb Veggie Nachos are a cross between a stuffed pepper and a plate of nachos. Seasoned rotisserie chicken stuffed inside mini peppers with cheese spices, and fresh herbs brings you all the flavors of chicken nachos but without the extra carbs.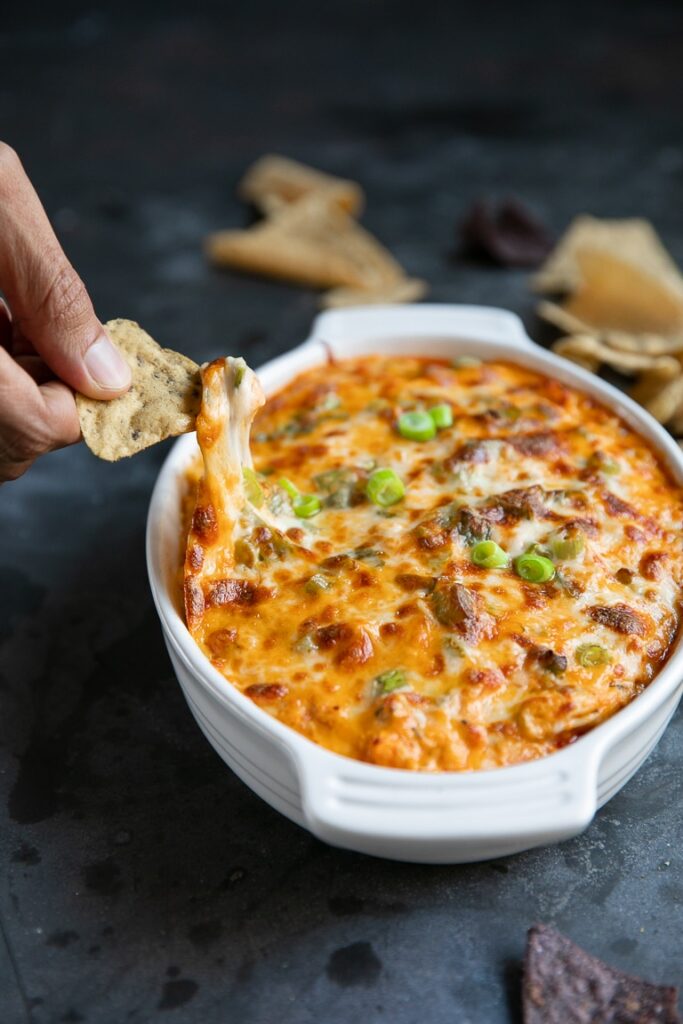 Buffalo Chicken Dip
This Buffalo Chicken Dip Recipe is everyone's favorite game day or party appetizer! Made with leftover shredded rotisserie chicken, creamy ranch dressing, cream cheese, hot sauce, and loads of cheese, this easy and delicious Buffalo Chicken Dip is then baked until golden, bubbly, and perfect for dipping. 
There you have it! We hope these 25 low carb rotisserie chicken recipes leave both your belly and your wallet stuffed!
Click this link to save this list of low carb rotisserie chicken recipes on Pinterest.
Also, don't forget to follow us on instagram and facebook for more recipes and foodie recommendations.
If you'd like to automatically receive our posts in your email, register here.
Did you whip up one of our recipes? Be sure to tag us on social media as @coupleinthekitchen and we'll share it with our foodie followers!