We're heading to a beach getaway to Fiji in a few weeks so we are really being mindful of eating lighter meals.
We've been eating more salads, drinking sparkling water over cocktails (well… sometimes), and cycling each day on our new Proform Studio Pro home spin bike.
When it came to dinner, we decided to make a power bowl by making sesame-crusted yellowfin tuna that came in our shipment from Omaha Steaks this month.
Most people assume that Omaha Steaks only offers beef.
In reality, they offer a huge selection of fish, poultry, sides, and seafood.
You need to check out our surf and turf recipe on how to sous vide lobster – it's amazing!
Ordering fish fits perfectly with our mission of eating healthier this spring. Our freezer is stocked with Chilean seabass, wild salmon, and Icelandic cod in homage to our past travels to Reykjavik.
These buddha bowls are loaded with veggies, creamy avocado, brown rice, and delicious slices of gently seared tuna.
When seared rare, these remind us of an easy, homemade sushi night, right at home. So much so, that we even put on some music and popped a bottle of sparkling wine to enjoy this beautiful meal in our dining room.
It felt like we were at a fancy sushi spot.
We know you'll love it too.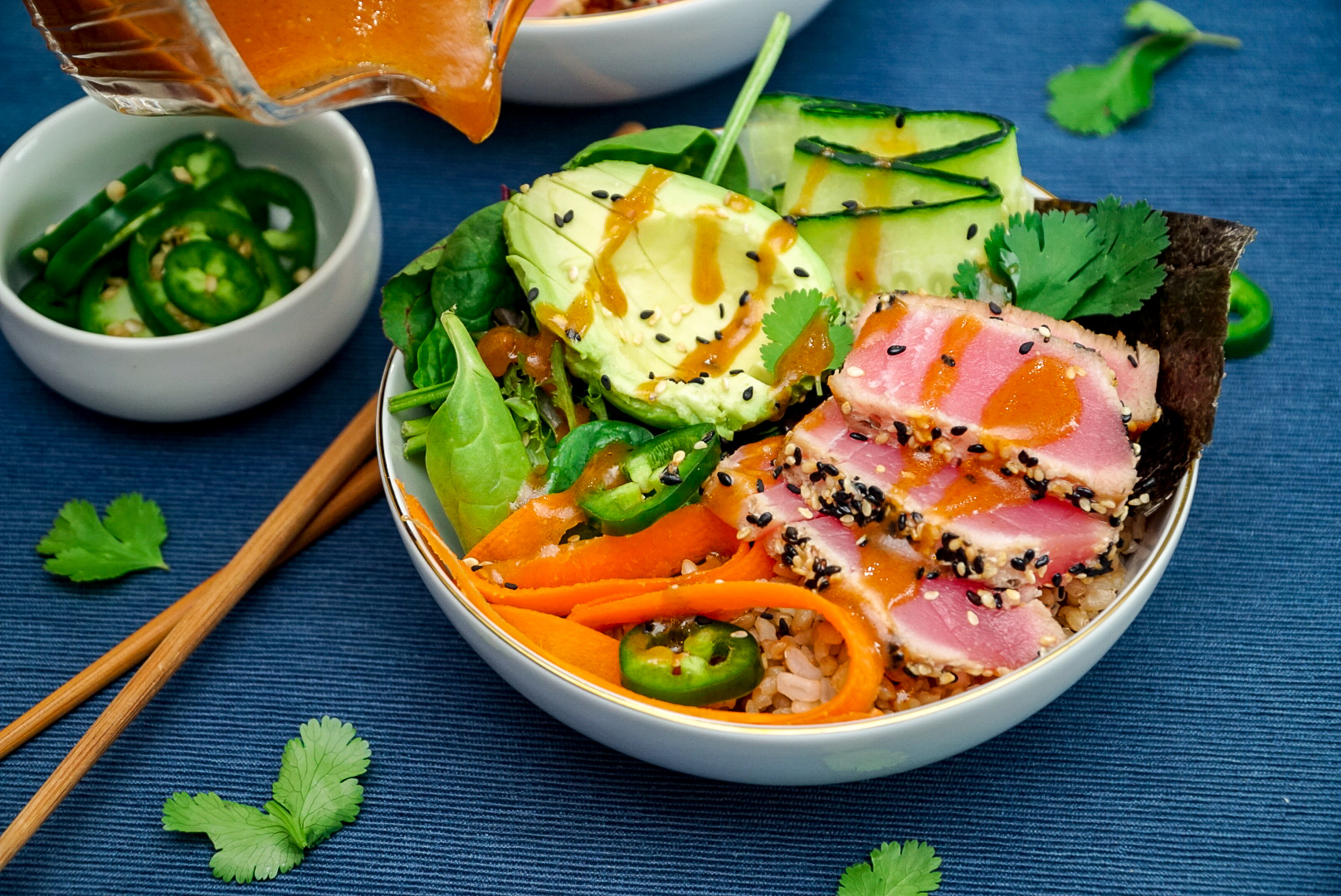 Sesame Crusted Tuna Buddha Bowl Recipe
Serves 2
Ingredients:
2 tbsp sesame oil

2 tbsp soy sauce

2 Omaha Steaks yellowfin tuna filets

2 tbsp white sesame seeds

2 tbsp black sesame seeds

2 tbsp vegetable oil, for cooking

1 carrot, cut into long, thin strips

1 avocado, peeled and sliced in half

1 cucumber, cut into long, thin strips

2 cups of brown rice

2 cups of salad greens

4 tbsp Japanese miso salad dressing

Cilantro, for garnish

Nori, for garnish
Start by cooking your brown rice and preparing your vegetables. Use a vegetable peeler to cut long strips of your carrots and cucumbers.
In a bowl, mix together your sesame oil and the soy sauce.
In a different bowl, mix together the white and black sesame seeds until well combined. Dip the yellowfin tuna filet into the soy-sesame sauce until fully coated. Then gently add the filet to the bowl of the sesame seeds. Pressing the seeds onto the tuna until fully coated.
In a large skillet, heat the vegetable oil over medium-high heat.
Sear the tuna filets for about one minute on each side in order to achieve a rare tuna steak. Remove from heat and slice into thin strips for the power bowl.
Add 1 cup of brown rice and salad greens into 2 bowls.
Add the carrot, cucumber, and avocado then top with the seared tuna. Garnish with cilantro, nori, and sesame seeds.
Drizzle a miso salad dressing over the top and enjoy!
This recipe was created in sponsorship with Omaha Steaks, thanks for supporting brands we love!
Click this link to pin this recipe on pinterest. Also, don't forget to follow us on instagram and facebook for more recipes and foodie recommendations. If you'd like to automatically receive our posts in your email, register here.
Whip up this recipe? Be sure to tag us on social media as @coupleinthekitchen and we'll share it with our foodie followers!
Looking for more fish recipes: Don't miss these tasty dishes: