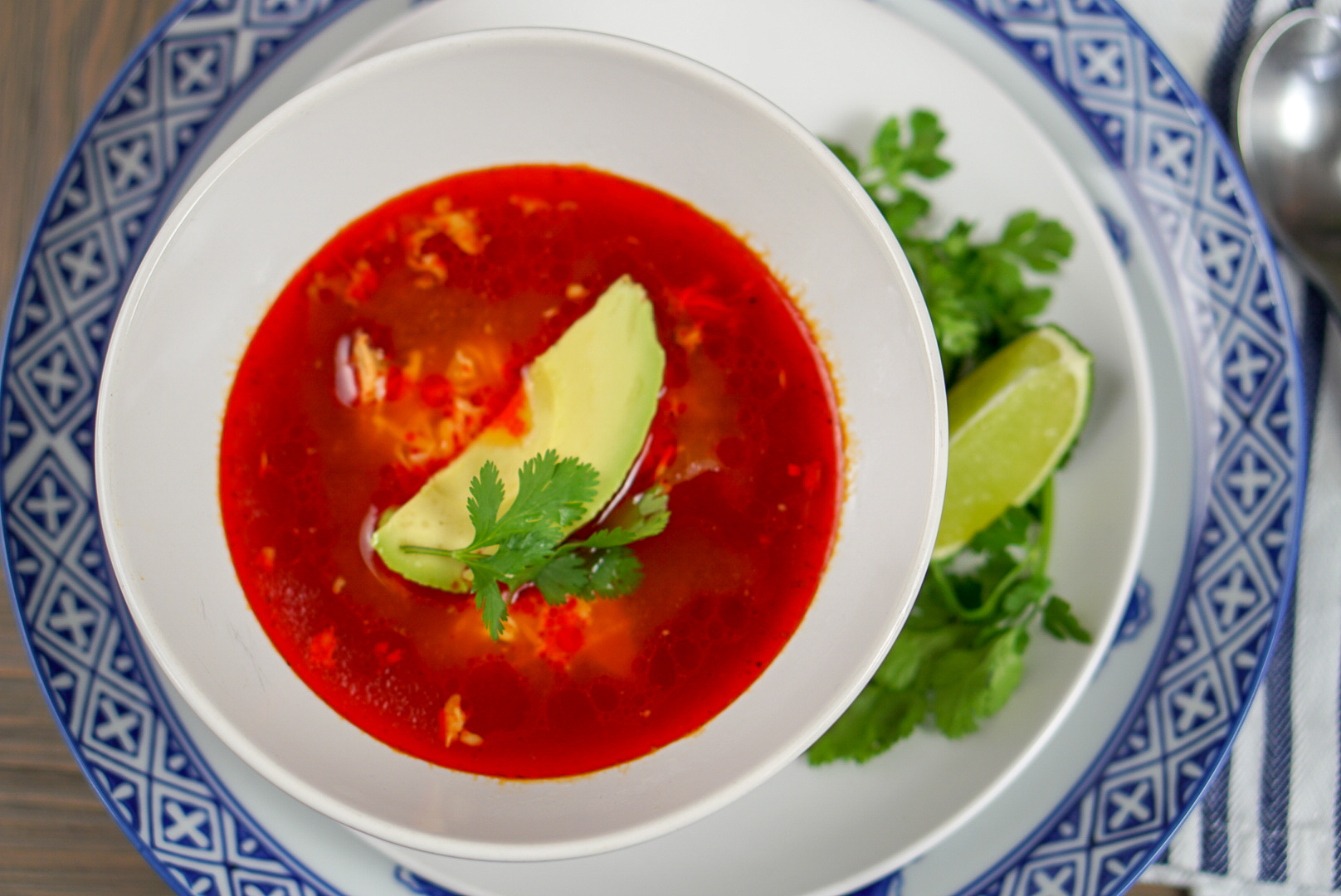 A week or so ago, we went on an RV road trip to Florida with a group of friends. We had such a blast stopping at random pit stops along the journey. On the way home back to Austin, we stopped in Houston for some authentic Mexican home cooking at our friend G's family home. We were stuffed to the gills with homemade pozole, street tacos, and enchiladas. His mom made her enchiladas a bit differently than a typical Tex Mex spot. They were fried tortillas, dipped in enchilada sauce and topped with tomatoes, cheese, crema, avocado, and hot sauce. They were amazing!
Even though G's mom didn't speak much English and we spoke limited Spanish, she knew we were HUGE fans. So much so, that she filled up a massive bottle with her homemade enchilada sauce so we could whip these up at home.
We made homemade enchiladas, just like she taught us, and it barely made a dent in the container of sauce. Next, we decided to roast a whole chicken at home in our June oven (our favorite kitchen gadget that we use every single day) and used the enchilada sauce as a marinade. This was also delish, but yet again, we still had a lot of that sauce left! Finally, as the enchilada sauce was nearing the end of its shelf life, we came up with the idea to create chicken enchilada soup. It made perfect sense because we had all that leftover chicken to make a homemade chicken stock.
Making soup from scratch is something we do often on lazy Sundays, and something we always do after roasting a chicken. This easy soup recipe has a lot of flavor in a light broth and is a very healthy soup. We frequently make chicken tortilla soup, so this is a fun twist on that recipe. We know you'll love it!
If you're an enchilada fan you'll also love our recipe for our Breakfast Enchiladas and these White Chicken Enchiladas.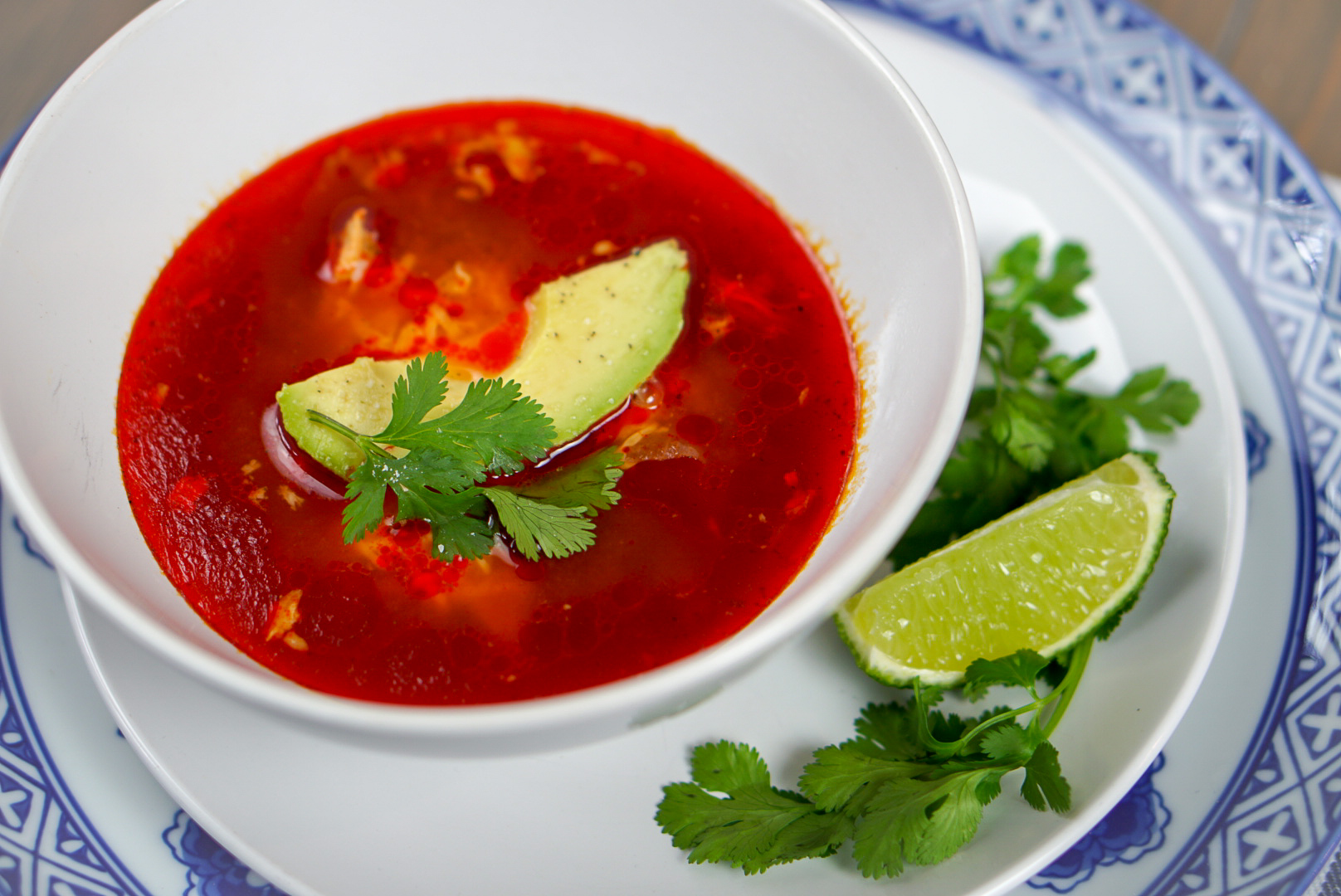 Cheesy, chicken enchilada soup recipe
Serves 6-8
Ingredients :
28 oz. can of enchilada sauce or 3 cups homemade sauce

1 roasted or rotisserie chicken, meat sliced off and reserved (skip if using stock)

2 cups chopped chicken meat

8 cups of water (or chicken stock if you are not making your broth from scratch)

4 whole cloves garlic

1 white onion sliced

1 bag of frozen rice
Garnishes:
Lime

Mexican shredded cheese

Cilantro

Avocado

Tortilla chips
Put the chicken bones and enchilada sauce in a pot. Fill with water until the liquid reached the top of the chicken, the amount will vary based on the size of your chicken and the size of the pot. Bring the pot to a boil then add the onion and garlic and reduce to a simmer. Let the broth simmer for 3-4 hours until it is at your desired consistency and a bit of meat falls off of the chicken bones. If you're not into making broth from scratch, simply use 8 cups of chicken stock instead of using the chicken bones with water. Using tongs or a strainer, remove the chicken bones. Add the rice and the additional 2 cups of chopped chicken and simmer until the rice is cooked. Season generously with salt and pepper.
Ladle the soup into bowls and squeeze a segment of fresh lime juice on top of each. Add shredded cheese, sliced avocado, and cilantro. We even like to add crushed tortilla chips for additional texture. Enjoy!
Share or pin this post if you think others will enjoy it as well. Be sure to tag us on social media whenever you make our recipes – we'll highlight your dish on our instastory!
Don't miss our other delicious soup recipes: