We live in Austin, Texas aka "The Land of Breakfast Tacos". Breakfast tacos are everything in our city. They are cheap, satisfying, and work wonders cleaning up any sign of a hangover from staying out too late on 6th street.
We already put our spin breakfast tacos by constructing a shell out of bacon, but now we have yet another fun, breakfast idea.
This breakfast enchilada recipe was the brainchild of our love of cheese enchiladas and breakfast tacos. It is super simple to make, really filling, and is a great make-ahead breakfast solution for the whole week (leftovers taste even better the next day!)
This recipe also rocks because similar to a breakfast casserole, it is fully customizable. If you're feeding someone with dietary restrictions, also check out this Dairy Free Egg Casserole.
We're sure adding in chorizo, breakfast sausage or peppers would also taste frickin' amazing.
We opted to keep the fillings simple so that there was more room for extra cheese (winning!).
We were already working on some recipe development for Andrew and Everett Cheese, so stuffing it full of their Mexican shredded cheese seemed like a no-brainer. Not only is their cheese delish, but we love how it is non-GMO, organic, and from cows not treated with growth hormones.
Keep reading to also learn how to master making enchiladas where the tortillas don't fall apart.
Gavin learned this trick a number of years ago and we haven't had a broken or crumbly enchilada shell since! It is a great tip not only for this breakfast enchilada recipe but also for your regular enchiladas as well.
Easy Breakfast Enchiladas
Makes 10 breakfast enchiladas
10 corn tortillas
10 eggs
½ onion, diced
1 can (8oz) of enchilada sauce
1 pound of Andrew & Everett Mexican shredded cheese
1/3 cup vegetable oil
Fresh cilantro, for garnish
Salt and Pepper, to taste
Preheat your oven to 350 degrees.
Start by adding a little oil into a skillet. Once warm, add your diced onions. Cook them until the onion softens and start to turn translucent. In a bowl, add your eggs and salt and pepper. Using a whisk, scramble the eggs. Add them to the pan with the onions and stir occasionally until cooked. Remove from heat.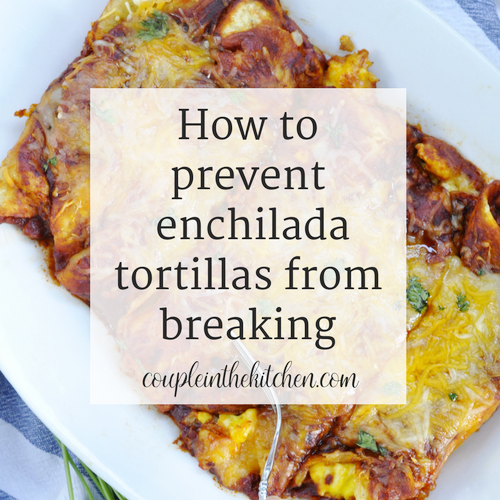 And now for your enchilada hack… always quickly fry your corn tortillas prior to rolling to rolling your enchiladas.
It makes a HUGE difference in the consistency and texture of the tortillas and prevents your 'ladas from falling apart! Add about ½ of an inch of vegetable oil to your skillet, and fry your corn tortillas, one at a time, for about 10 seconds on each side.
Transfer them to a paper towel once you're done frying them.
Now it is assembly time! Feel free to spray your casserole dish with nonstick spray. We've found that the oil from frying the tortillas also helps to naturally prevent sticking.
Divide your cheese into two. Half will be used for inside the enchiladas and half will go on top. Grab your fried tortilla, fill it with the scrambled egg filling and cheese, then roll and place in the casserole dish. Continue this for all 10 enchiladas (or however many fits in your baking dish).
Next, pour the can of enchilada sauce on top. We usually make our own enchilada sauce – it is really easy! One day we will get to posting our secret recipe and will share it with you all!
Finally, top the breakfast enchilada bake with the remaining cheese. Feel free to add more if you want, you can never go wrong with more cheese, right?!
Cook the enchiladas for about 15-20 minutes, until heated through and the cheese is melted. Top your meal with fresh cilantro and enjoy this easy and unique breakfast dish!
Looking for other fun breakfast ideas? You need to check out our smores pancake recipe or our healthy chia seed pudding recipe.
If you love cheese, be sure to pin this recipe and share it with your friends!