Let's talk shakshuka! We recently got back from a 2 week trip to Morocco and London.
It was a fantastic trip, but any time we travel we find ourselves craving healthy food upon our return. Usually, we need to shed a few vacay pounds so we center our cooking around the 21 day fix eating plan.
Shakshuka is loaded with veggies which makes it quite filling and hearty. If you are on the 21 day fix plan, one serving is the equivalent of 1 green, 1 blue, and 0.5 red containers.
Shakshuka eggs originated in Northern Africa, but somehow we didn't run across it on a menu while in Morocco. The obvious solution was to whip it up at home!
Red Gold Tomatoes now makes a sriracha diced tomato, so we thought it would be a perfect way to add a lot of flavor to a traditional shakshuka recipe.
You can use the store locator to find the sriracha tomatoes here. If you can't get your hands on them, you can simply use regular canned diced tomatoes and add sriracha sauce when adding the other spices.
We love this recipe and it can be made for breakfast, lunch or dinner!
Serve it with a chunk of baguette or naan bread to sop up all that veggie goodness.
Sriracha Shakshuka
Serves 4
2 tablespoons of olive oil

½ medium white onion, diced

1 red pepper, diced

4 cloves of garlic, minced

1 teaspoon paprika

1 teaspoon cumin

2 cans of Red Gold Sriracha diced tomatoes (14 oz. cans)

1 cup of crumbled feta cheese

4 large eggs

Salt and pepper, to taste

Fresh cilantro, for garnish
Preheat the oven to 375 degrees.
Heat up the olive oil in a large, oven-safe skillet. Add the onions and peppers and saute for 15 minutes, until softened. Add the minced garlic and saute for another 1-2 minutes. Add the canned tomatoes with its juice, cumin and paprika. Cook for 10 minutes, to thicken, and then stir in the feta cheese.
Crack the eggs on top of the tomatoes. Transfer to the oven and bake for 8-10 minutes until egg whites are set. Note that the eggs will continue to cook a bit more after removing from the oven. Season with salt and pepper and sprinkle with cilantro. Serve with additional sriracha sauce, if desired.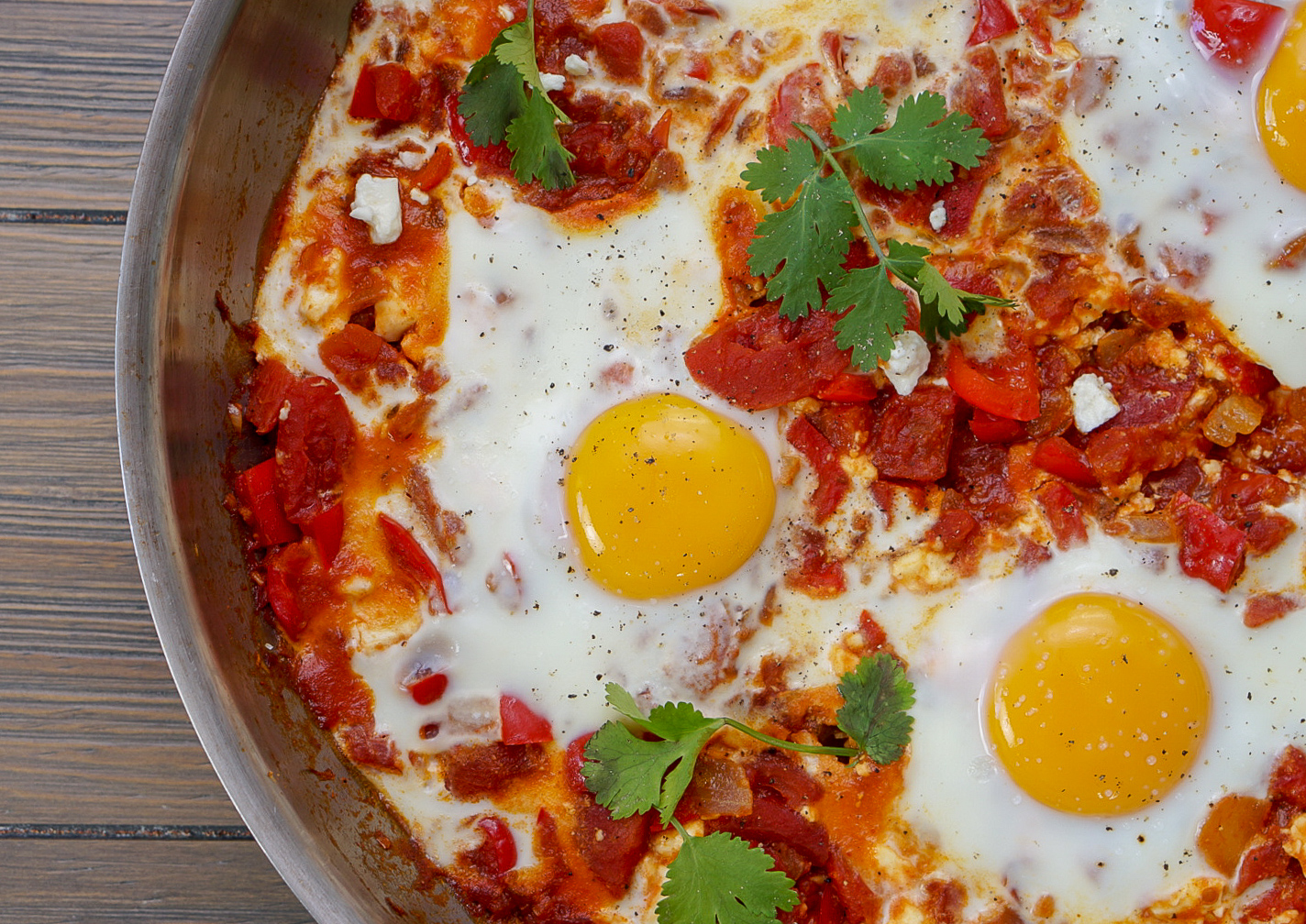 Sound tasty? Please share or pin this recipe. As also, be sure to tag us on social media when you make any of our recipes.