This stuffed pepper recipe is one of our favorites while on 21 day fix because 1) It is smothered in cheese! and 2) it is really filling. This recipe counts as 2 green containers, 1 yellow, and 1/2 of a blue container.
Even if you are not on 21 day fix, it is a deliciously healthy meal that is super versatile. The recipe is vegetarian, but feel free to add in whatever meat floats your boat!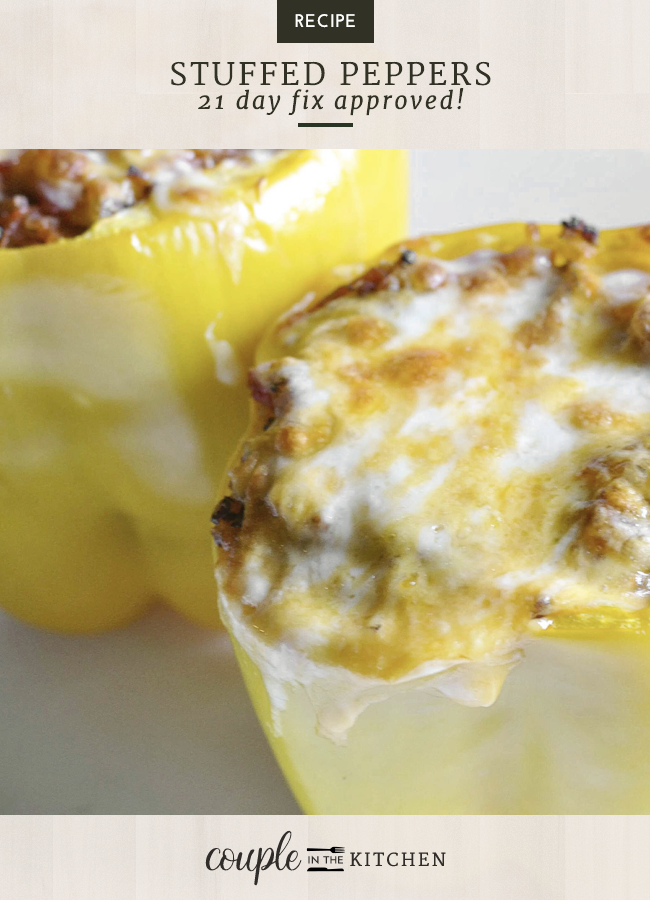 Serves 4
Ingredients:
2 cups quinoa, cooked

1 cup sliced mushrooms

1 cup whole, peeled canned tomatoes

1 clove garlic

Herbs of your choice (we usedHerbs de Provance and oregeno)

4 bell peppers, tops cut off and insides removed

2/3 cups shredded cheese
To start, preheat your oven to 400 degrees and also start to make up your quinoa. Upon cooking, it usually doubles in size so keep that in mind while making your quinoa. Once cooked, remove from heat. In a saucepan, sautee sliced mushrooms until soft. Add garlic until fragrant then add the can of tomatoes. Use your spoon to break them up a bit. Mix in quinoa and your herbs.
Scoop filling into each bell pepper. Pop them into a 400 degree oven for about 20 minutes. Remove from the oven and sprinkle with shredded cheese. Put your oven on broil and place the peppers back in for about 3 minutes or until the cheese is toasted and bubbly.
If you are making additional peppers for leftovers, avoid adding the cheese at the end. These can be reheated in the microwave and topped with cheese for the final 30 seconds in the microwave.
Enjoy!