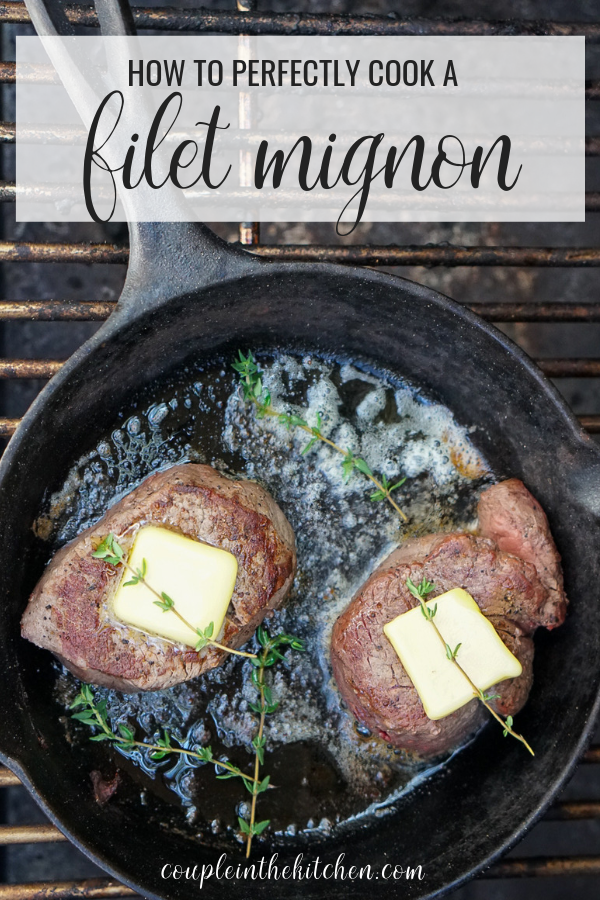 Happy pre-Valentines y'all! When you work with a truly good food product it can be best (and easiest) to get out of your own way and keep your recipe simple to let the product shine. In this case, we partnered with PRE Brands to highlight their gorgeous grass-fed filet for a classic valentines or date night dish of filet mignon, smashed red potatoes, asparagus, and a reduced red wine sauce for the potatoes. Growing up in the US you probably are not as familiar with grass-fed meats as it's not the standard, but Gavin experienced it a ton living in Australia and is happy to see it catching on both for its flavor and health benefits. Another bonus: compared to other beef, PRE contains up to 38% fewer calories* and up to 63% less fat* (*vs. USDA choice version for the same cut of beef), higher omega 3s, and higher CLA's, plus no added antibiotics or added hormones.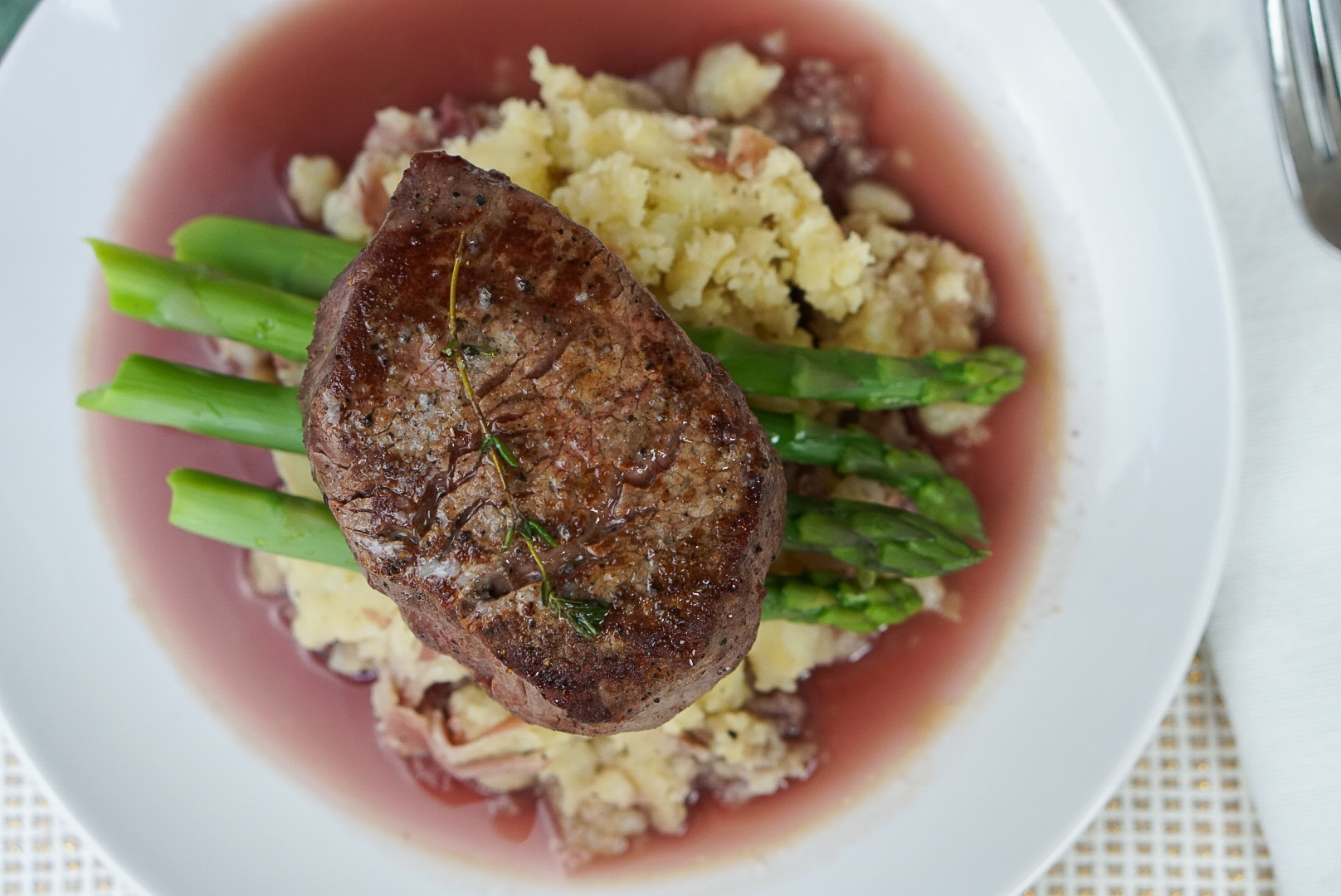 To cook the filet and get the most potential flavor, we cooked it over our Traeger wood pellet grill/smoker in a cast iron with just butter, salt, pepper, and a few pieces of thyme for finishing. We cannot express enough, when you use a good piece of meat, keep it simple and let the grill, salt, and pepper bring the natural flavor out of the steak.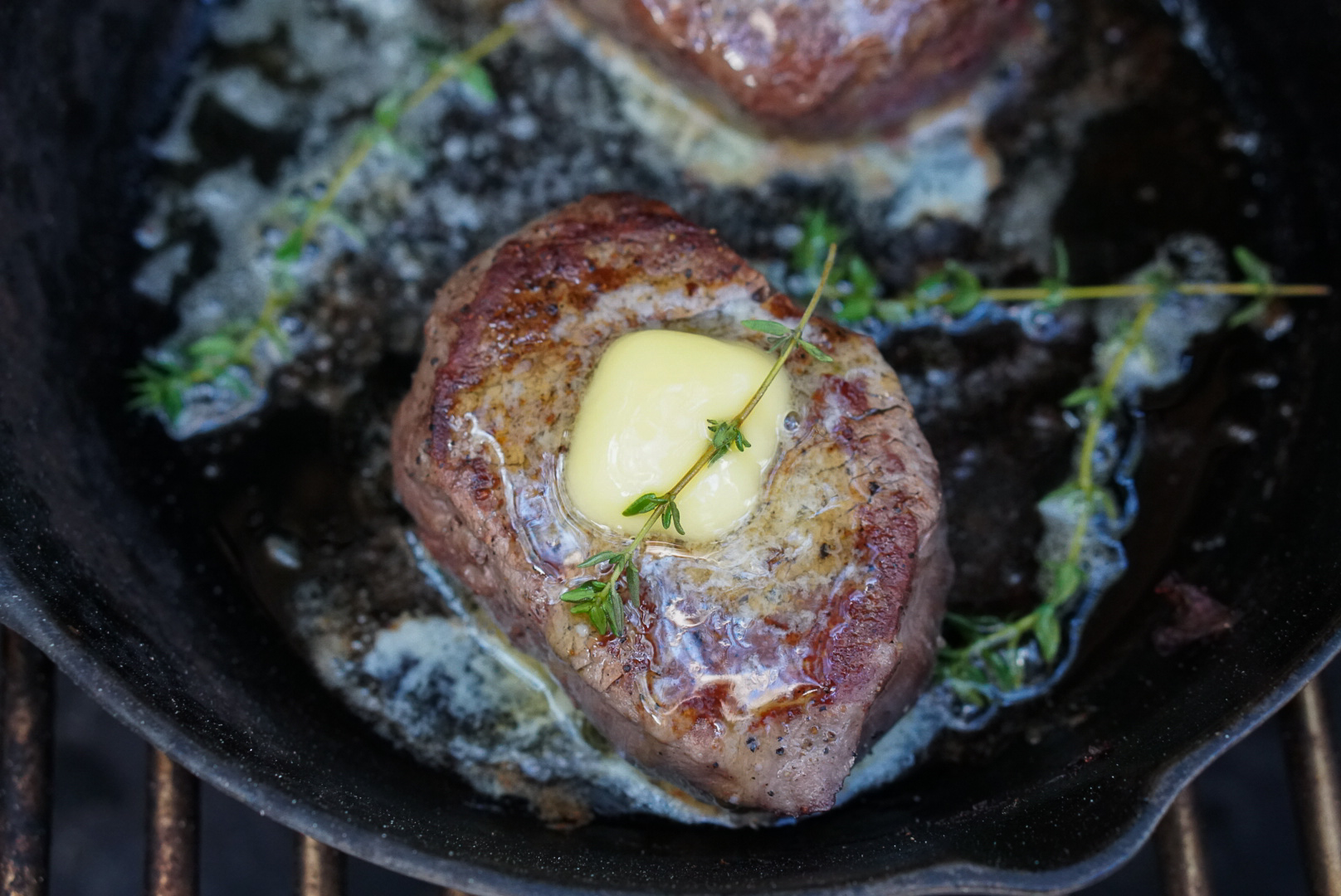 If you haven't seen any of our other Traeger posts or recipes know that you can do anything on this grill/smoker, and the wood pellets provide so much flavor to whatever your cooking, whether it's an amazing steak or something much more complex like a smoked fruit cobbler. What's also amazing about their newest model is that it can get HOT, which was necessary for how we like to sear our meats. You can order PRE steaks and ground beef and have them delivered to your door at eatpre.com. Our Valentines Day gift for you? Get $15 off your order of $100 or more with the code "COUPLEINTHEKITCHEN". (Expires 3/31/18).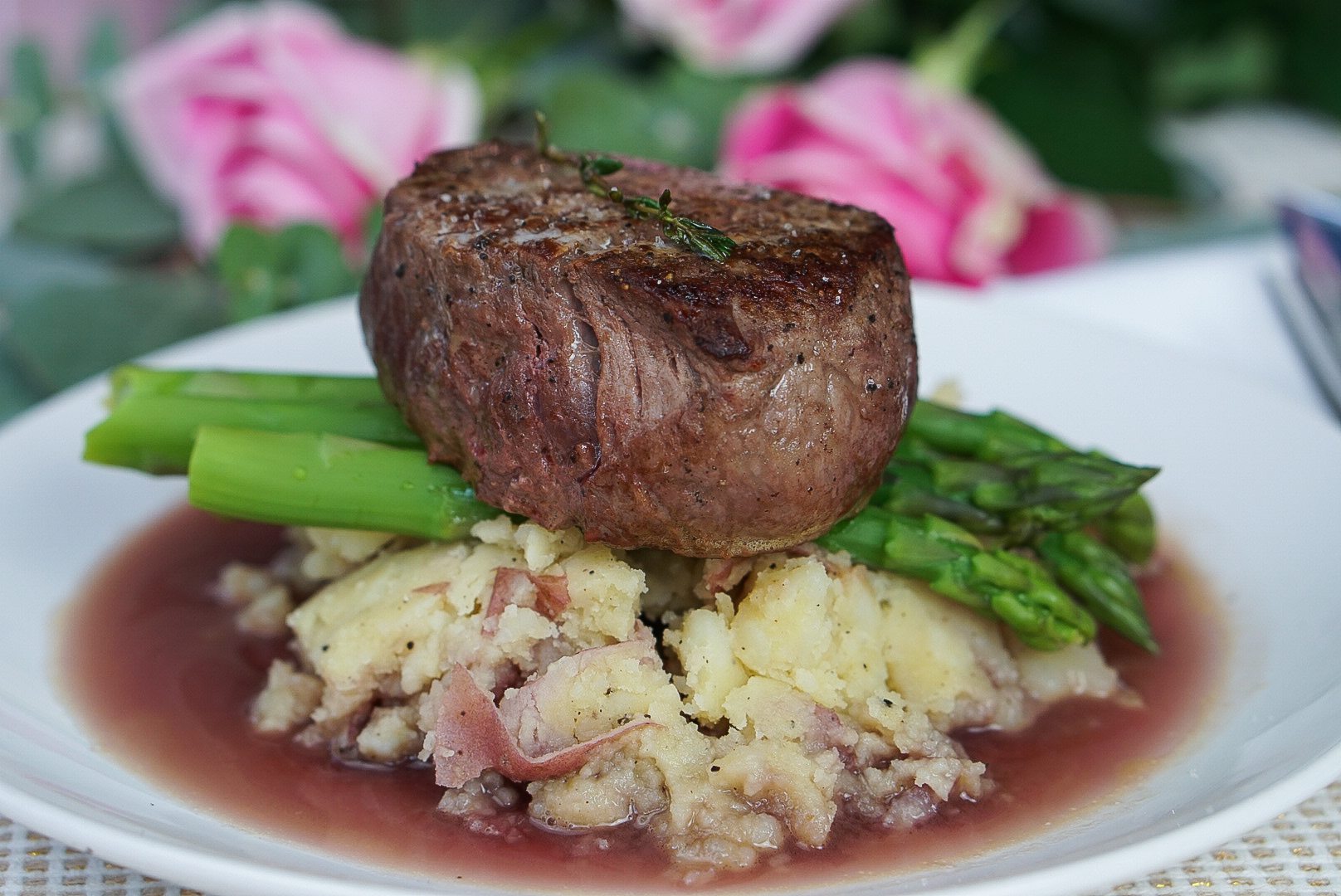 Perfect Filet Mignon Recipe with Asparagus, Potatoes and a Red Wine Pan Sauce
Serves 2
Ingredients:
2 PRE Brand filet mignon steaks

Olive oil

Salt and pepper

8-10 asparagus stalks

5 tablespoons butter, divided

Fresh thyme

½ pound baby red potatoes

1 sweet onion, sliced

5 cloves garlic, smashed

1 cup red wine

1 cup chicken stock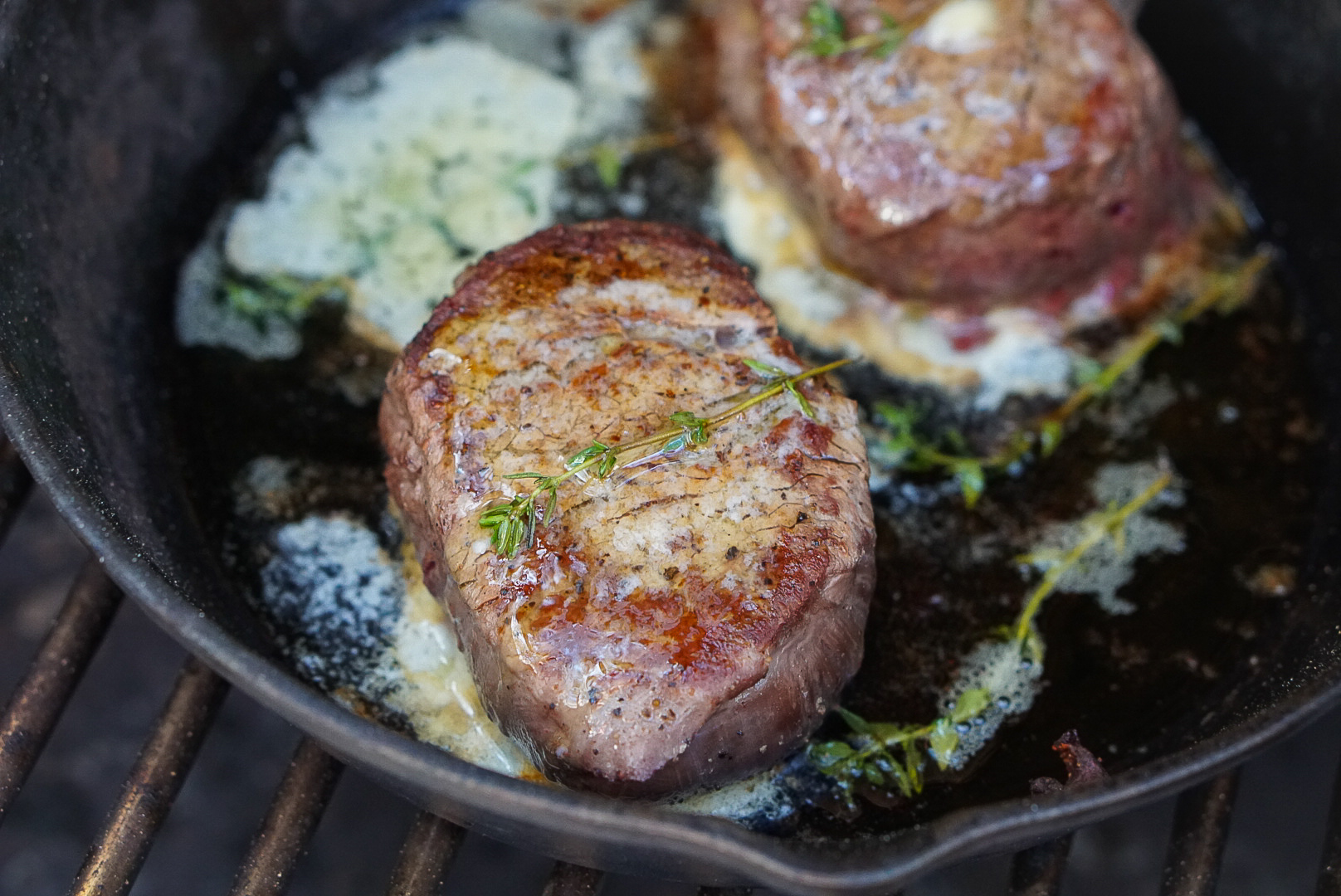 Start by removing your PRE Brand steak from the refrigerator to bring them to room temperature. Never sear a cold steak or it will make the meat tough. Season the fillets generously with salt and pepper. To cook the steak, we got our Traeger scorching hot to around 500 degrees to give a quick two-minute sear on each side. We used a cast iron pan, but feel free to place them right on the grill if you would like. After that, we pulled the steaks, cooled the grill down to 350 degrees, and added the steaks back on to finish and baste them with the butter and thyme for an additional 3-4 minutes to keep it medium rare. Next, pull the steaks and let them rest for 5-7 minutes. This is so the juices won't rush out of the steak when you cut into it, this is known as resting the steak.
While the steaks were cooking, we stuck with the basics and did a super simple mashed potato recipe by boiling small red potatoes for 12-15 minutes to a point where a fork can poke smoothly through. Drain your spuds and mash them (skin and all) with salt, pepper, butter, and a touch of olive oil. The asparagus was even easier, as all that required was a quick flash boil for 3 minutes, then a rinse in cold water because we like them crunchy.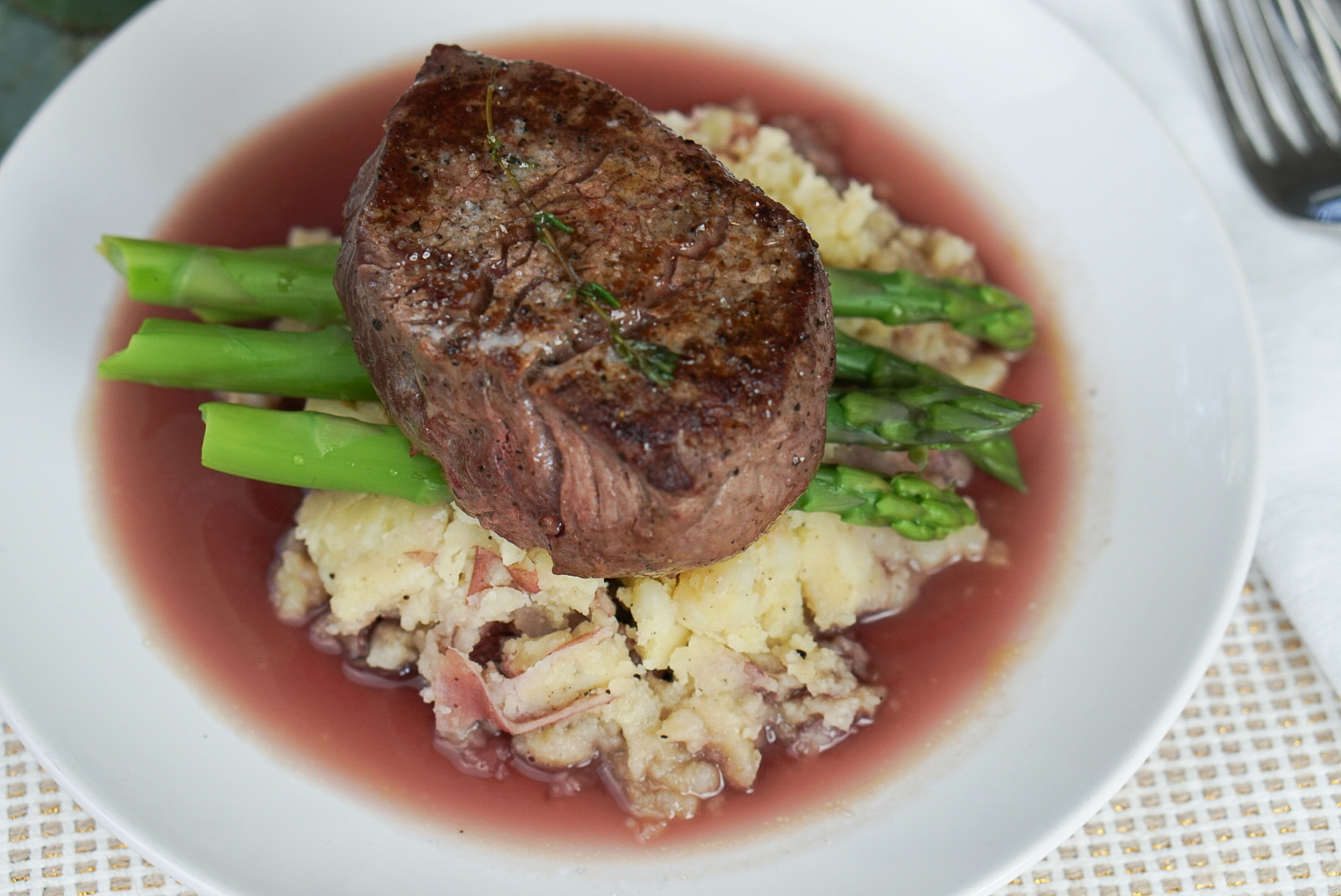 For the sauce, we started by cooking one sliced sweet onion in butter for 7-10 minutes until soft. Then we added 5 smashed cloves of garlic and sautéed them for about a minute. Next, we used a one cup portion of one of our favorite red wines from William Chris Vineyards in Texas with one cup of chicken stock and reduce it over medium heat for 20-30 minutes, until reduced to half. We cook a ton with wine, and although we don't recommend cooking with an extremely expensive bottle we do recommend cooking with a wine that you'd personally drink because if it's trash wine the flavor will go into the food.
To plate your romantic steak dinner, start by spooning sauce on the plate, top with the mashed potatoes, then the asparagus, and finally your perfectly cooked filets. Finish the dish with some salt and pepper and enjoy!
Are you a steak fanatic? Don't miss these other beefy recipes: