We love eggs. I mean we reaaaally love eggs. But after having eggs for so many days in a row as part of the 21 day fix, we needed a changeup. We've always been curious about flourless pancakes, so we decided it was the perfect time to try them out.
This recipe is nice because each serving makes 3-4 pancakes per person and it only counts for 1 purple, 1 yellow, and 1 red. If you add on our berry sauce it accounts for another ½ of a purple container.
Note – these pancakes are not as good as the buttery, fluffy flapjacks you're used to. They are, however, a good breakfast alternative when you need something other than eggs!
Pancake Ingredients:
½ banana, overripe
1/3 cup rolled oats
2 eggs
Sprinkle of cinnamon
Vanilla extract, to taste
Blueberry Sauce Ingredients:
½ cup frozen blueberries
Vanilla extract, to taste
Serves 1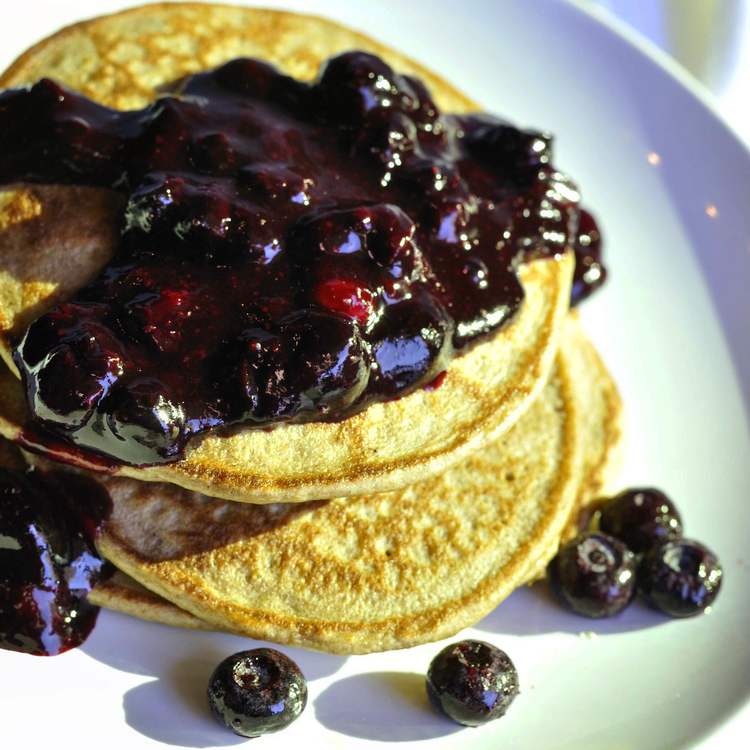 Pulse rolled oats in a food processor (we used a nutribullet!) until it is fine and resembles flour. Then, blend in the ½ banana, eggs, cinnamon and vanilla. If you want sweet pancakes, feel free to add some Stevia. This is your pancake batter. Ladle scoopfuls of batter onto a lightly oiled skillet. Once the pancake starts to show small bubbles, it is your sign to flip!
To make the sauce, simply microwave the frozen blueberries for about 1-2 minutes until they are thawed and it develops into a slight sauce. Add vanilla extract and mush with a fork to create a jam-like consistency. In our professional food-blogging opinion, the berry sauce is the best part of this recipe. It's a must!