We have owned brands of multiple pizza ovens, and without a doubt we can say that you will have so much fun with one of your own, but to start, we will help you evaluate the Bertello Pizza Oven vs. Ooni pizza oven.
Below is our list of the absolute best outdoor pizza ovens.
In this mix, all of the pizza ovens hit high temperatures allowing you to cook your pizzas in minutes among many other foods like steak, chicken, pork, and veggies on a cast iron.
Personally we lean towards the multi-fuel pizza oven options, but we've also included our favorite wood-fired oven only option as well. All of these pizza ovens but one are for outdoor use only.
Let's start by discussing important considerations when selecting your pizza oven.
Considerations When Selecting an Outdoor Pizza Oven
Think about the following considerations when determining which pizza oven is right for you and your family:
Fuel Source: Pizza ovens can use a number of fuel sources. Gas powered pizza ovens can be attached to a propane tank or be affixed to a natural gas line. Wood fueled pizza ovens use pieces of wood or even wood pellets to get the oven up to your desired temperature. While charcoal fueled pizza ovens are fueled with charcoal, giving a slightly different taste to the pizza crust. Consider what time of flame you prefer taste wise, as well as what fuel you'd prefer to work with as a chef. We love the hassle free convenience of using the propane tank from our grill.
Transportability: Will your pizza oven stay in your outdoor kitchen? Or will you be traveling with it to friends' houses and camping adventures. We actually packed our pizza oven when we drove from Texas to Minnesota to see family. Having a lightweight, easier to transport pizza oven was a huge benefit.
Price: Is budget a concern for you? Typically larger pizza ovens are more expensive. However, being able to cook a 16 inch pizza instead of a 12 inch pizza might be worth it if you have a large family or plan many large social gatherings.
Next, we are going to share the pros and cons of the Ooni Karu, Ooni Koda, Ooni Frya, and Bertello Pizza oven. We will even talk about a Roccbox option as well.
Then we will provide you our recommendation of which pizza oven reigns supreme: the Bertello Pizza Oven vs Ooni.
Ooni Karu Pizza Oven:
If you want to start your portable pizza oven journey off with the cream-of-the-crop, look no further than the Ooni Karu.  
The Ooni Karu is the newest outdoor pizza oven in the Ooni line, and sells for $799 on its own if there's no discounts or specials in place.  
When Ooni first came out the Koda 12 was our first oven and it is to this day a great starter oven, but when the Karu came out we knew we had to have it.  The Karu is special because its extremely versatile due to its size and ability (with adapters) to fuel, wood, or charcoal.
The View Flame window is a new feature that we haven't seen on any pizza oven anywhere. Essentially it is a window that keeps the heat consistent no matter what the weather is outside, and you can keep a watchful eye on whatever you're cooking.
The only Ooni with a fully insulated oven body that's attached to a digital thermometer.
Ooni has also listened to their customers and have even improved the oven's insulation, airflow, and weather resistance. This is the best option for all Ooni pro's out there who want to hit the extreme temperatures, make great pizza, large pizzas, and also use it as a regular oven for other cooking needs.
Ooni Karu Pros:
Multi-fuel options – being able to cook with wood, charcoal, propane gas, and natural gas gives you a ton of flexibility to cook things well beyond pizza in the oven and give the food a ton of different flavors from the heat source
It's the only portable pizza oven with an oven door that also features Ooni's ViewFlame™ technology
It's the only pizza oven with an attached digital thermometer (aka built-in thermometer) when you opt for the Karu 12G model.
Largest oven space to make 12-inch pizzas to extra large Neapolitan pizza
Optimized airflow compared to older Ooni models for the most consistent cooking especially for dishes beyond pizza
Higher temperatures than Bertello
Ooni Karu Cons:
Really the only con of the Ooni Karu is the price, but you are truly paying for quality here, so unless you are coming from a professional pizzeria oven you'll love this oven.
The Karu16 is on the heavier side for a portable pizza oven with the larger size coming in weighing 62.5 pounds, so you definitely get a workout when moving this oven around.
Due to the size of the oven it does go through a bit more fuel consumption than smaller ovens
Ooni Koda Pizza Oven:
Ooni Koda aka our OG pizza oven. The Ooni Koda is incredibly easy to set up and use. Simply attach the gas tank, turn the knob, and the oven heats up in just 15 minutes.
Just like the other ovens on this list, because of the high temperature potential you can cook a perfect Neapolitan-style pizza in just 60 seconds.
The Koda is not just limited to pizza, it can also be used to cook other dishes like meat, fish, and vegetables. We love using our cast iron pan to cook a ton of things in pizza ovens.
The most important thing about the Koda is that for an Ooni it is the most affordable entry into this space.
Ooni Koda Pros:
Affordable quality
Super light, 20 pound unit that anyone can carry
Less than an pound (.9 lbs) of fuel consumption for 10 pizzas
High heat potential of 950 degrees F for a tiny unit
No major learning curve to make homemade pizza
Retractable legs for easy storage
Ooni Koda Cons:
Propane gas is the only fuel source
Smaller pizza stone size compared to bigger units, so your pizzas can only reach around 12 inches
Small oven opening height
The Ooni Frya Wood Pellet Pizza Oven:
Ooni Fyra is the wood only option for Ooni. Unlike other wood fired pizza ovens, Ooni took the fire pellet route versus mini wood chips, logs, and chunks. Like our favorite wood pellet grill Traeger we love the versatility, flavor, and consistency of cooking with wood pellets.
Cooking with wood pellets allows you to get technical with your wood flavor and can easily find good flavored woods like oak, cherry, and more.
Also, on the Ooni Fyra one 3kg bag of pellets would last for around 2-3 hours of cooking. That's a TON of pizza with one bag.
Ooni Frya Pros:
Portable and only 22 pounds
The pellets can add a smoky and aromatic woody flavor to food.
The pellets burn clean and efficiently keeping a constant heat
The pellets are easy to clean-up when the oven has cooled down
Ooni Frya Cons:
Wood pellets are the only source of fuel for this pizza oven, so you can't even use wood logs.
Small oven opening height.
The same small pizza stone like the Ooni Koda model.
The Bertello Pizza Oven:
Outside of Ooni, we were excited to test out a Bertello outdoor pizza oven after seeing them on Shark Tank. Bertello pizza ovens start as a charcoal and wood fired outdoor pizza oven, but for a cheap addition you can get their optional gas burner attachment.
The bertello oven gets almost as hot as Ooni with a max temperature of 930 degrees fahrenheit. This oven is also on the lighter end coming in slightly above 35 pounds, so a single person could carry it around. The pizza oven door is 3 & 1/8 inches tall, and it's just over 12.5 inches wide.
Bertello Pizza Oven Pros:
Fantastic starting price point
Support a former Shark Tank contestant
Comes with it's base pizza stone
Removable cooking wood tray
Similar design to Ooni Koda for smaller easy storage
Bertello Pizza Oven Cons:
Doesn't get as hot as Ooni
Only a 2 year warranty compared to Ooni's 3 year warranty
The Most Affordable Pizza Oven Bundle:
The Bertello Everything Bundle is packed with value and such a reasonable price!
For only $489 you get their multi fuel source pizza oven, a wood burning tray for a gas burner, their pizza peel, a tray for Wood/Charcoal/Pellet, a pizza stone, an infrared laser beam thermometer, and a weatherproof cover.
For as much as we love Ooni, if your budget is tight this everything packed bundle is hard to beat if you're just getting started on your homemade pizza journey and need a lot of accessories.
Another Pizza Oven Option: Gozney Roccbox
Good choice for a Neapolitan-style pizza oven not named Ooni or Bertello: Gozney Roccbox
This pizza oven is manufactured by Gozney, a company that specializes in producing high-quality pizza ovens and other cooking equipment.
The Roccbox is made with premium materials, including stainless steel and ceramic fiber, and is insulated with a unique heat-resistant material that helps to maintain consistent temperatures.
The oven can reach temperatures of up to 950°F, which allows for quick and even cooking like the other pizza ovens on this list.
The Gozney Roccbox is a high-quality outdoor pizza oven that is versatile, portable, and easy to use. It's a solid pizza oven, but we'd easily recommend Ooni ovens or Bertello over it.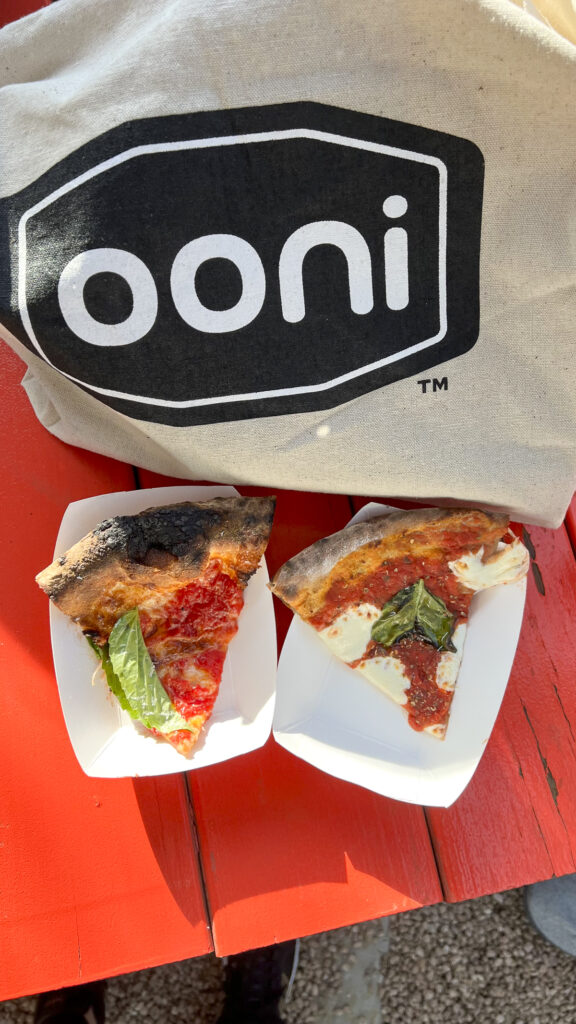 Ooni Volt Indoor Pizza Oven:
As we noted at the beginning, there is one indoor pizza oven option made by Ooni, and that option is the Ooni Volt.
The Ooni Volt is a plug-and-play all-electric pizza oven.
The max temperature is 850 degrees which is slightly below the outdoor pizza ovens. This doesn't seem like a major difference to the ovens that hit 950, but we could notice a slight difference.
Although we don't own the Ooni Volt, we have tried pizza that comes out of it. If you want a second pizza oven for the indoors, get it, but without the added multi fuel flavors and higher temperature we prefer the outdoor options.
Ooni Volt Pros:
It's the only portable pizza oven with an oven door that also features Ooni's ViewFlame™ technology
Fully electric
Heat retaining glass cooking door
Ooni Volt Cons:
Lower max temperature of 850 degrees, and that's pushing it.
Lack of multi fuel options for added cooking flavors
Price, it's $999
Given all of this, we honestly wouldn't recommend this Ooni unless you really want an indoor option.
Which is a Better Outdoor Pizza Oven: Ooni or Bertello?
Ooni Karu
Ooni Koda
Ooni Frya
Bertello
RocBoxx
Gas
Powered
X
X
X
Wood
Powered
X
X
X
Add On $100
Additional
Charcoal
Powered
X
X
Weight
in Pounds
26.5 lbs. (12″ model)
34.17 lbs.
62.6 lbs. (14″ model)
20.4 lbs. (12″ model)
40.1 lbs. (14″ model)
22 lbs.
27.8 lbs.
44 lbs.
Highest Temp
in Degrees
950 Degrees
950 Degrees
950 Degrees
930 Degrees
950 Degrees
Average Price
$299 for 12"
$429 for 12"
$799 for 16"
$399 for 12"
$599 for for 16"
$349 for 12"
$289 for 12′
$549 for 16"
(incl gas burner)
$499
Now that we have evaluated all of the differences between three Ooni ovens, the Bertello pizza oven as well as the Roccbox, we hope we have provided clarity on the pros and cons of each of the manufacturers.
You'll need to determine what is most important to you when selecting what pizza oven is the best for your home.
Based on our experience, we can share that personally our pick for the best pizza oven is an Ooni.
Ooni provides you the highest temperatures, with the lightest weight, at a more competitive price.
We also have personally used both the Bertello pizza and the Ooni, and we preferred the pizza results from the Ooni, which tells us that it really does make a difference on taste, beyond the benefits of quality, portability, and the price.
You may want to consider the type of fuel that works for you and your home before selecting the type of Ooni pizza oven to buy, but in our opinion, you can't go wrong with an Ooni Karu since it has the ability to cook pizzas with gas, wood, and charcoal.
The Best Pizza Oven Accessories to go with your New Pizza Oven:
By this point, you've considered all the aspects of buying a Bertello Pizza Oven vs. Ooni and shouldhave an idea on which oven is right for you.
Now let's talk accessories! There are a variety of pizza accessories that can be useful for home cooks and pizza enthusiasts.
Infrared Thermometer – Unless you buy the Ooni Karu that comes with a built in thermometer you should not buy your pizza oven without an infrared thermometer. This infrared thermometer is affordable, accurate, and will protect you from getting burned by traditional thermometers. An infrared thermometer is essentially a laser pointer gun, and when the laser hits the pizza stone or any oil it will give you an accurate temperature read on the screen so you know when it's the perfect time to throw your pizza in the oven.
Pizza Peel – From the pizza design to the pizza oven, the easiest way to transport it and design it is with either a flat or a perforated pizza peel. We personally prefer the flat non-perforated design because on occasion with the perforated your dough can get stuck in the slots prior to hitting the oven.
Turning Peel – A turning peel will make you feel like a professional pizza chef because you'll be able to turn your pie with ease while its in the oven. The turning peel is light and long making it easy to navigate the pie throughout the oven. Without a turning peel you'll most likely need a really long metal spatula, but from experience the peel is just so much better.
Wood Tray – When the pizza is cooked we pull it out of the oven, and onto a wood tray for finishing, cooling, and slicing.
Cast Iron Pans – The cool part about pizza ovens is that you can easily cook way more than just pizza in your oven. Using a cast iron pan you can almost cook anything like, steak, fish, chicken, vegetables, and more in the oven as you can regulate the heat.
Modular Pizza Oven Table – The good thing about a portable pizza oven is that you can bring it with you and use it everywhere. With that being said, if you're mainly going to use your pizza oven at home, having a table or area for the oven is great. We like this modular pizza oven table because you can cook on it, store other items, it's easy to move, and it has add-ons for toppings and more that you can customize it with.
Dough Docker – Most people just use a fork, but professional pizza makers use a pizza dough docker to evenly pierce pizza dough. Doing this it prevents over rising or blistering and also aerates the dough.
Pizza Scissors – Everyone has a pair of scissors at home, but these aren't your everyday scissors. Pizza scissors are part spatula and part scissor to perfectly cut your slices while lifting your pizza up without sticking and breakage.
Pizza Rocker Blade – Using an old school pizza cutter can cause you to have uneven pizza slice lines. The solution for that is a pizza rocker blade that will cut through the whole pizza pie in large even cuts. It's also just a fun tool to use on pizza rocking back and forth.
Pizza Oven Brush – Every pizza oven will get dirty with use, and when it does turn to a pizza oven brush once it's cooled down.
Heat Resistant Gloves – If you don't use a pizza turning peel and are going with the smaller spatula route you definitely will need heat resistant gloves because these pizza ovens omit a ton of blazing heat.
Pizza Oven Cover – If you're planning on storing your pizza oven or keeping it outside you should definitely get yourself a pizza oven cover to help protect it from natural elements and the sun.
Viking Axe Pizza Cutter – Have someone looking to get medieval with their pizza? We found this really fun Viking pizza cutter online for any fan of vikings or anyone that likes to put on a show while cooking.
Detroit Style Pizza Pan – Have you ever had Detroit style pizza? If your answer is no, stop what you're doing right after you order your pizza oven and find the closest pizza shop cooking up Detroit style. Detroit-style pizza is a thick crispy edge crust rectangle pizza. The crispy edges come from butter on the pan, and crispy cheese that goes to the edge. You'll need a special Detroit style pizza pan to make this type of pie.
Rolling Pin – A rolling pin is an essential cooking tool that every home should have. It is needed for pizza dough, homemade pasta, and most homemade baked goods.
Non-stick Baking Mat for Rolling Dough – Until you're a pizza pro that can sling your dough throughout the air you will most likely start by rolling your dough out. If you've done this before you know the importance of having a quality non-stick surface to maneuver the pizza dough without it sticking.
Pizza Firewood – If you go with the Ooni Fyra or any pizza oven that cooks with firewood here's an easy, quality flavored wood package that will get delivered to your door. When it comes to cooking with wood, you definitely need to consider the flavors you want to pull out of the wood onto your food because different tree woods will give your food very different tastes.
Pizza Stone – Most pizza ovens like Ooni come with a pizza stone, but if your current one doesn't or if your pizza stone breaks here's a quality replacement.
Dough Scraper – A dough scraper is a rectangular tool used to scrape dough off work surfaces and divide it into portions. It can also be used to clean up flour and other debris.
These are just a few examples of pizza accessories that can enhance your pizza-making experience. There are many other options available, depending on your preferences, expertise, and cooking style.
If you do buy one of these pizza ovens we'd love to hear your thoughts on it, because you're an official pizza cook now and with any of these you'll cook amazing pizza for your family and friends.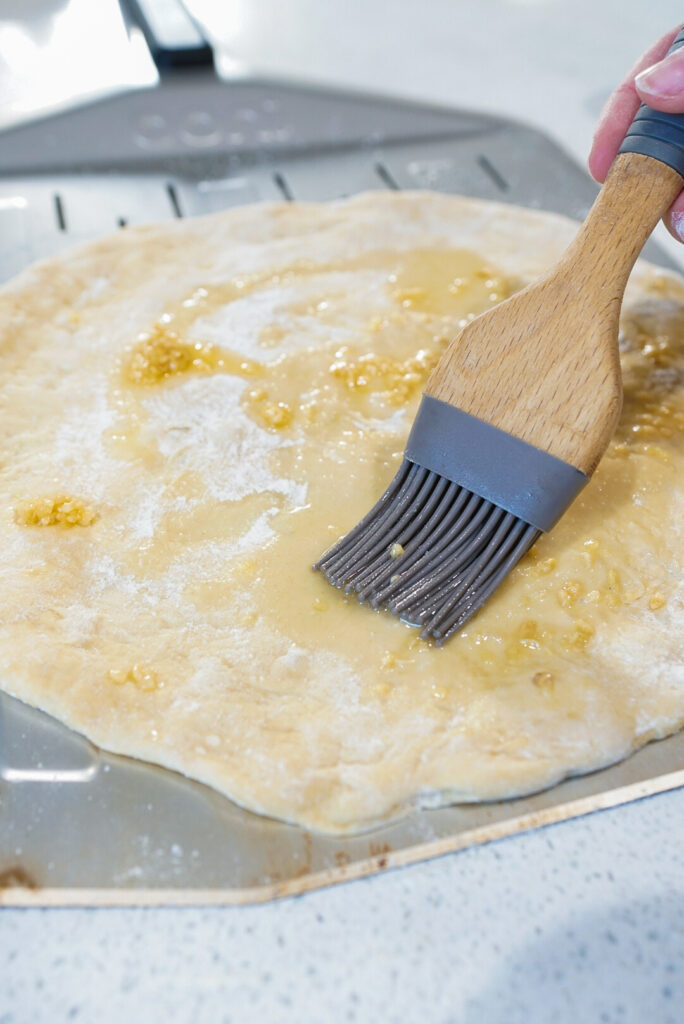 The Next step is Making your Pizza!
Preheat your pizza oven.
Roll out the dough on a floured surface to your desired thickness and shape.
Transfer the dough to a pizza peel or sheet.
Spread pizza sauce over the dough (or do a sauceless pizza), leaving about 1/2 inch of space around the edges.
Add cheese and toppings of your choice.
Place the pizza in the oven and cook for around 60 seconds if it's at temp, or until the crust is golden brown and the cheese is melted and bubbly. Rotate the pizza in the oven if needed.
Remove the pizza from the oven and let it cool for a few minutes before slicing and serving.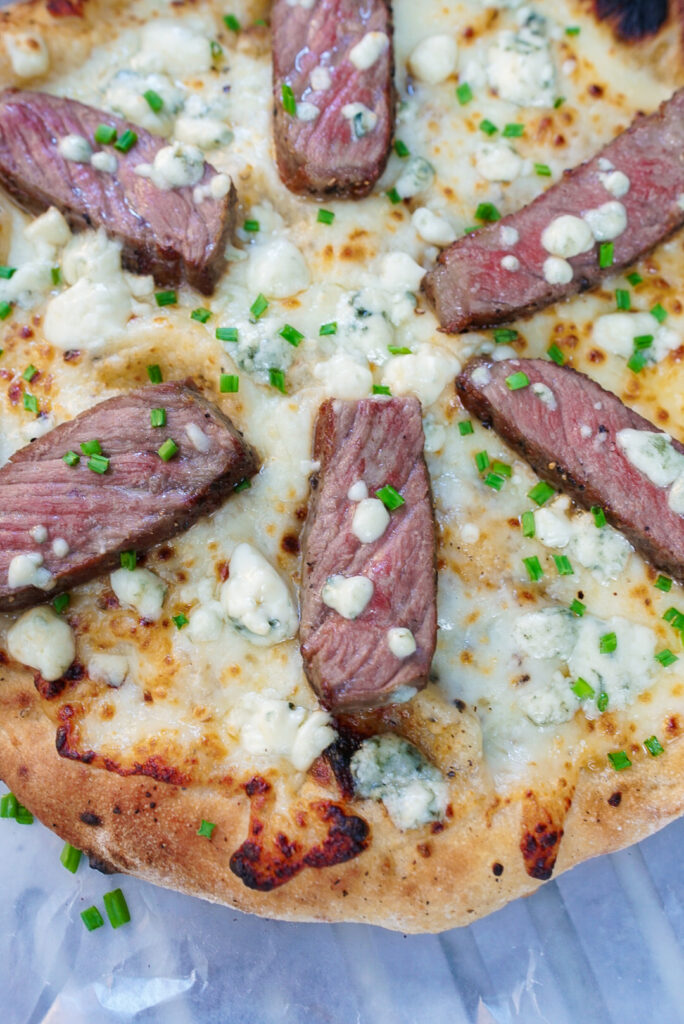 Great Pizza Recipes to Make:
Now you know all about the differences in a Bertello Pizza Oven vs. Ooni.
If you need some pizza recipe inspirations you should make one our flavorful pizza recipes:
The best of both worlds! Our cheeseburger pizza recipe includes ground beef, pickles, onions, and even a drizzle of special sauce!
For a pizza that's perfect for date night, try our black and blue steak pizza. It comes complete with steak and blue cheese crumbles.
For something a little different but totally irresistible, try this pear with bacon pizza the balance of sweet and salty can't be topped..
Have fun with your oven, and be ready to have so many requests for pizza night with family and friends because they will be obsessed with your better than restaurant-quality pizza.
Be sure to tag us on social media as @coupleinthekitchen and we'll share it with our foodie followers!
Also, don't forget to follow us on instagram and facebook for more recipes, travel guides, and foodie recommendations, we add a ton to our instagram stories on a daily basis.
If you'd like to automatically receive our posts in your email, register here.