Everyone knows about Omaha Steaks for their beef, but they also carry poultry, side dishes, fish and seafood! We were floored to learn that you can have fresh kumamoto oysters delivered right to your door. These itty, bitty West Coast oysters are known as the "Chardonnay of Oysters" and are regarded as some of the best oysters in the world. These "Kumies" are iced and packaged within two hours of harvest and are shipped overnight to your door.
Omaha Steaks also has other varieties of oysters and clams and mussels available for delivery. We're a sucker (or should we say, shucker) for crab claws, so we couldn't resist ordering the snow crab claws too. They made for quite an impressive cocktail platter.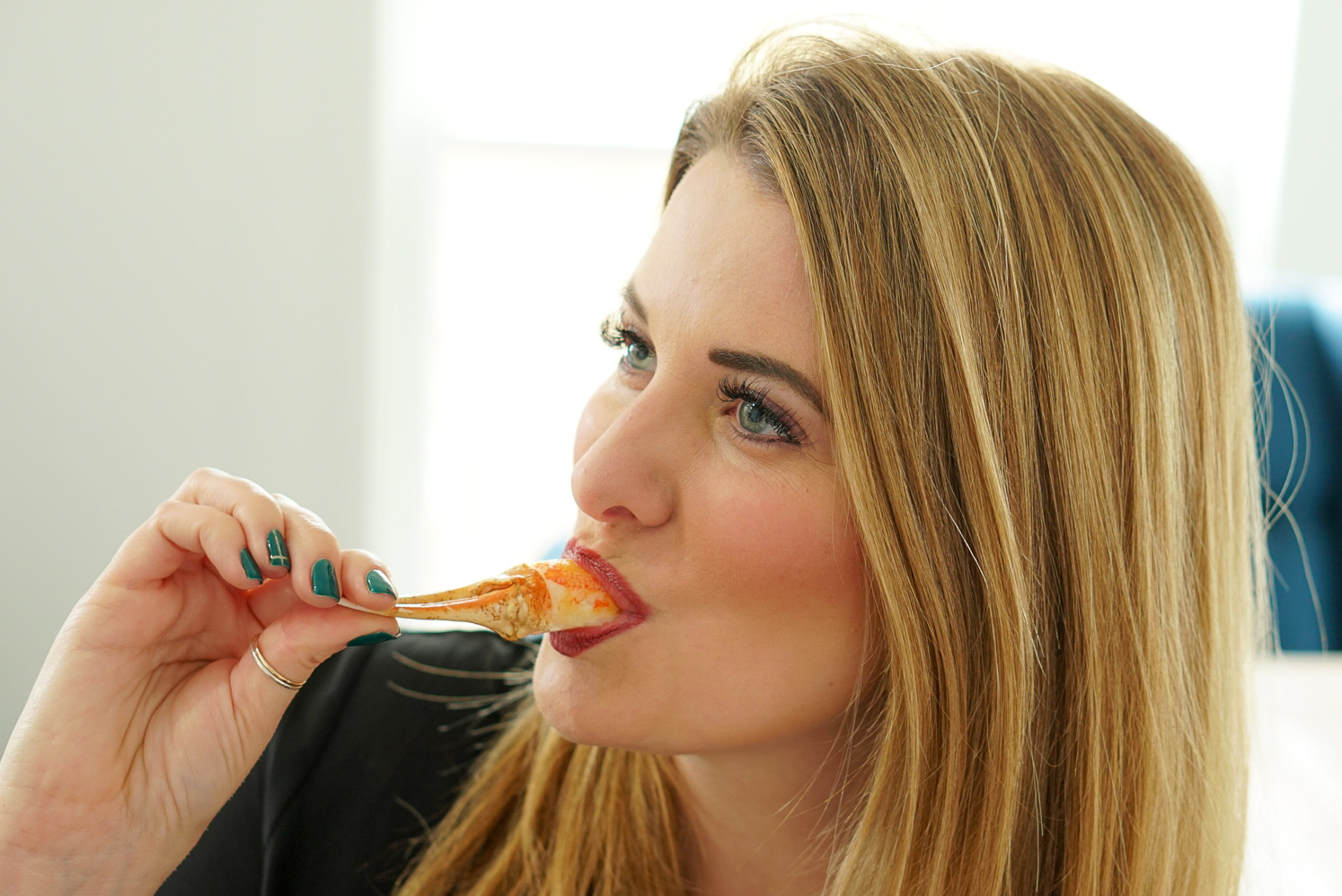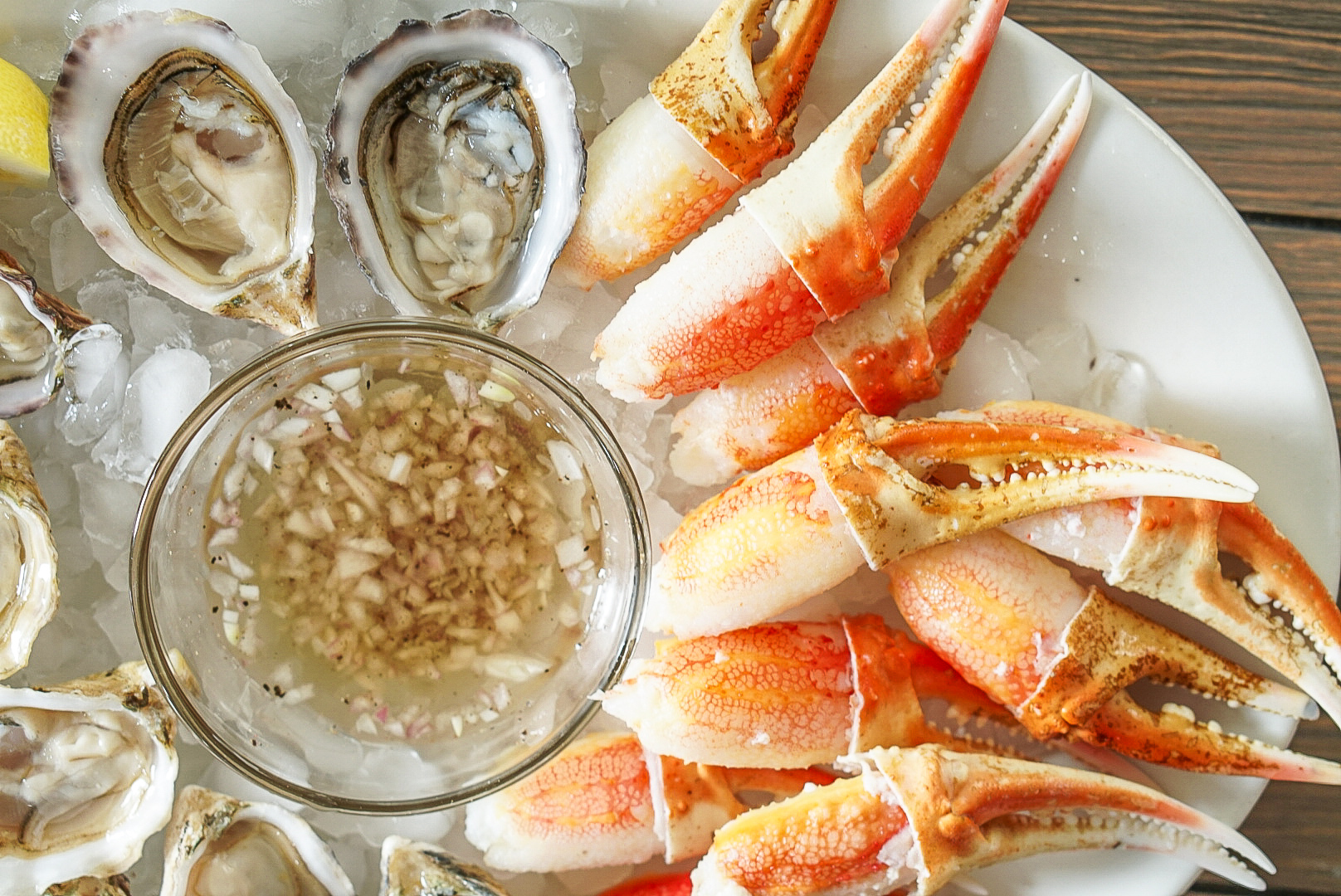 Karen is a huge fan of fresh oysters. She was even in an oyster eating competition a number of years ago, devouring 29 oysters in 60 seconds. Here is a little throwback photo of her short, competitive oyster eating career (circa 2014):
Upon serving oysters at home, it is critical to be aware of how to store them. Learning how to shuck oysters is also a culinary skill that any cook should add to their repertoire. Finally, we will share a simple mignonette recipe to make for when you serve your oysters. Are you ready for Oyster Basics 101?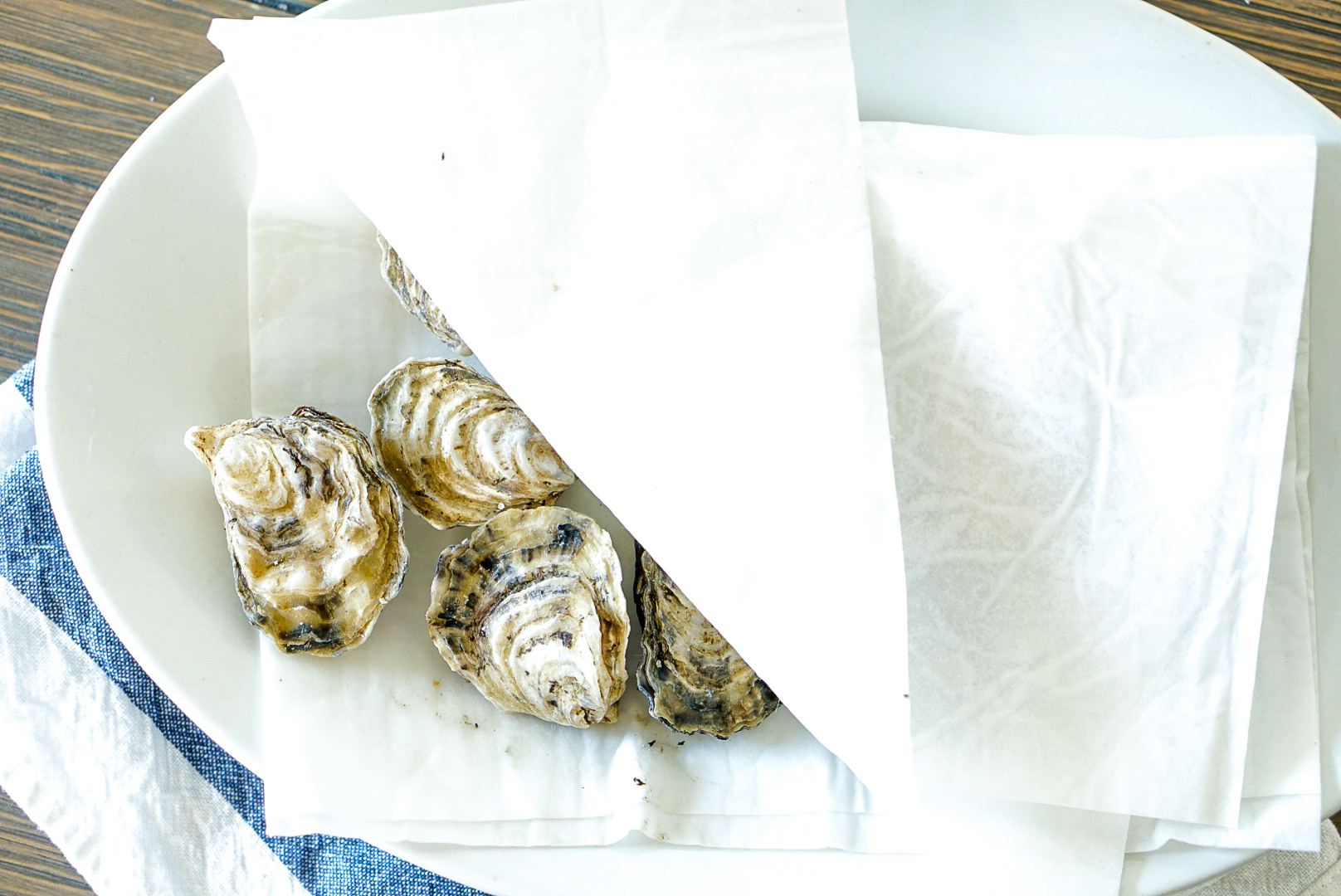 How to Store Oysters
Oysters can last between 5 and 7 days while being stored in a refrigerator at 40 degrees F. Place them cupped side down in a shallow container with damp paper towels on top.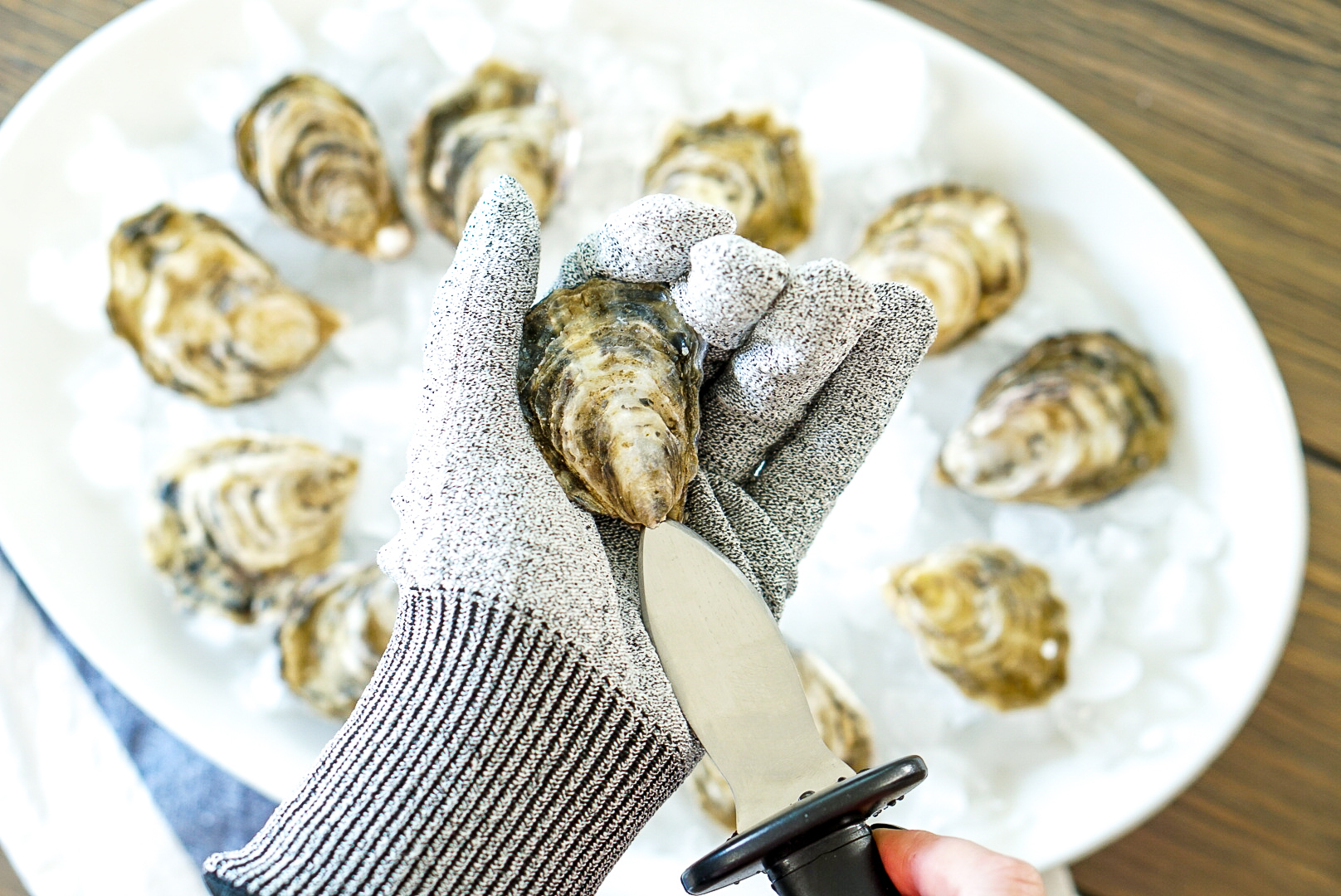 How to Shuck Oysters
If you're a rookie shucker, we recommend that you start by investing in a protective mit and oyster shucking knife.
Hold the oyster with the cupped side facing downward, that will help to catch the oyster's liquor once you open it. Firmly press your oyster knife in the hinge that connects the two shells. While pressing forward, turn the oyster knife like you would a doorknob until you hear a "pop". Clean your knife and slide it back between the shells to cut the muscle that connects the shells. Remove the top shell and steadily run the oyster knife under the meat to release it from the bottom shell.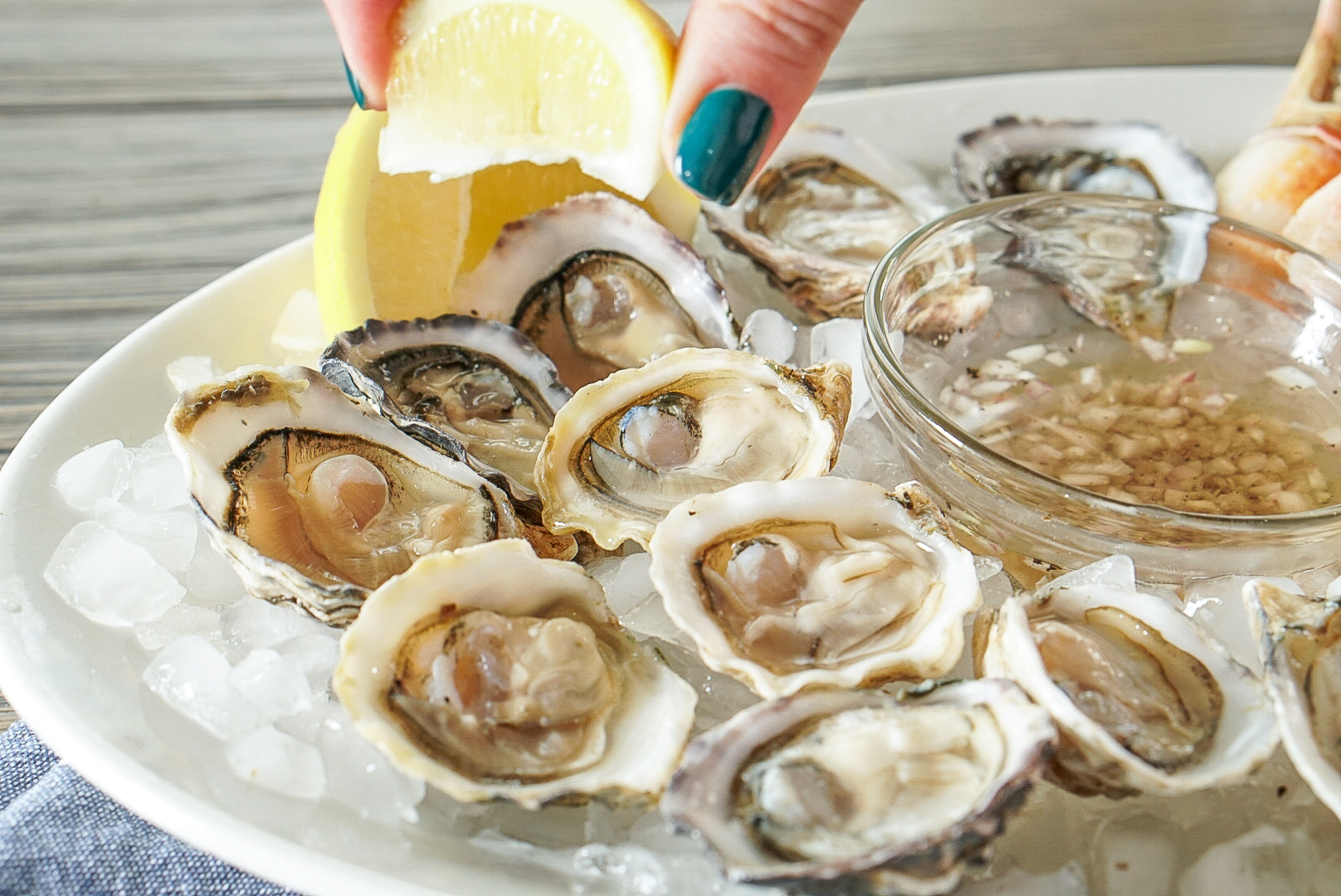 How to Serve Oysters
Oysters are best served on a bed of crushed ice with lemon wedges and mignonette sauce. You guests may also want Tabasco and saltine crackers. Here is our simple recipe for a mignonette:
Easy Mignonette:
1 tbsp fresh shallot, diced

¼ cup of prosecco wine vinegar (or red wine vinegar)

Fresh cracked black pepper
Mix together and serve in a small bowl on the oyster platter. Top oysters with the mignonette prior to eating.
This post was created in sponsorship with Omaha Steaks. Thank you for supporting the brands that we love!
Are you a sucker for seafood? Check out these other recipes: