This recipe was sponsored by Omaha Steaks, thanks for supporting the brands that we love!
Flat iron steak is the cut of beef you need to add to your list of favorites!
This filet of meat is tender and flavorful.
A flat iron steak is the perfect addition to beef fajitas, a steak stir fry, or whatever creative recipe you're looking to use steak for.
When choosing a flat iron, look to Omaha Steaks for an expertly trimmed steak that has been aged at least 21 days.
Omaha Steaks are all individually packaged and flash frozen which makes it easy to cook for one or many!
We're here to teach you the ins and outs of this cut of beef while we whip up our Thai crying tiger beef recipe!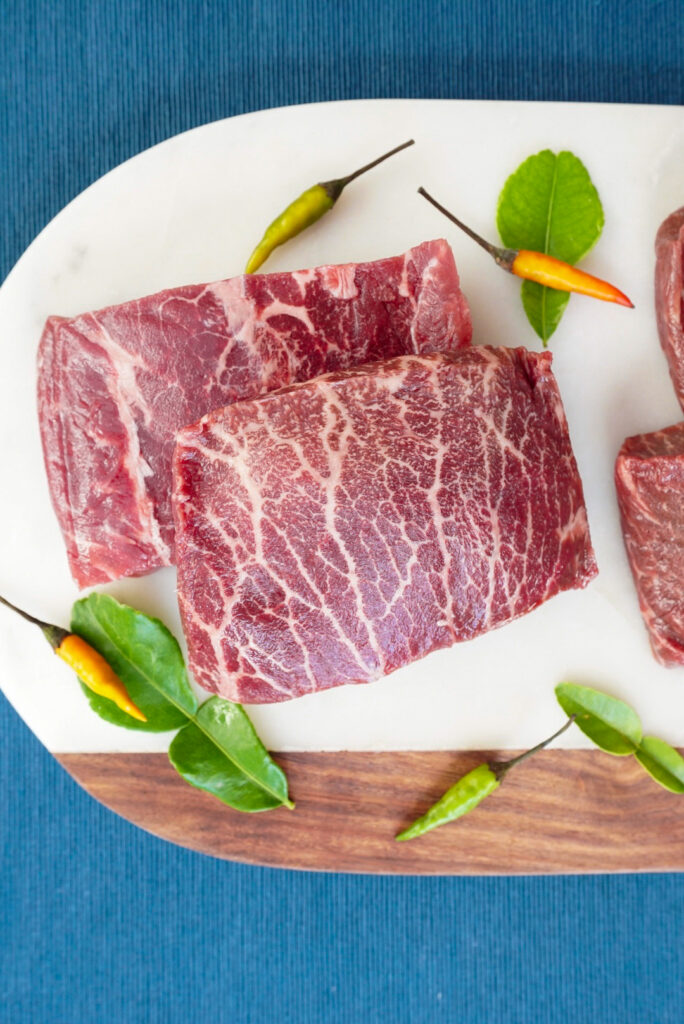 What is flat iron steak?
A flat iron steak is not as well known as some other more popular beef cuts, but it will soon be a quick favorite of yours.
The flat iron is the second most tender cut of beef, coming right behind the filet mignon.
A flat iron steak is carved from the chunk so it has a bolder flavor, similar to a New York Strip.
It's the best of both worlds – incredibly tender, yet also flavorful!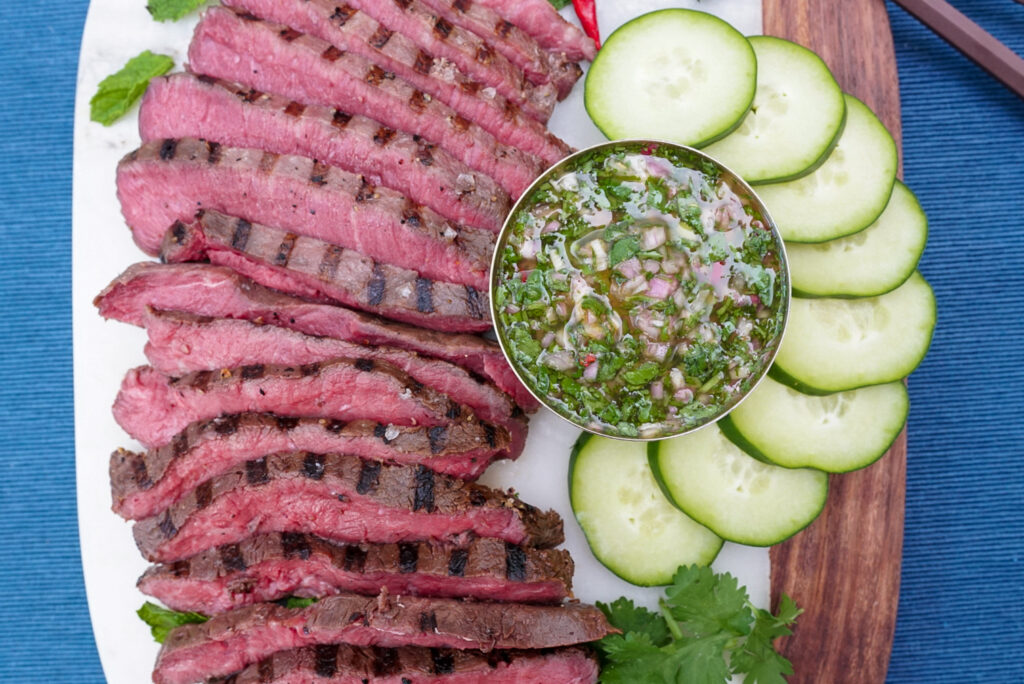 How to cook flat iron steak
The best way to cook flat iron steak is to cook the meat to medium rare doneness.
This piece of meat can be pan seared on a skillet, cooked on the grill, or cooked using our favorite cooking method for steaks, by making a sous vide steak.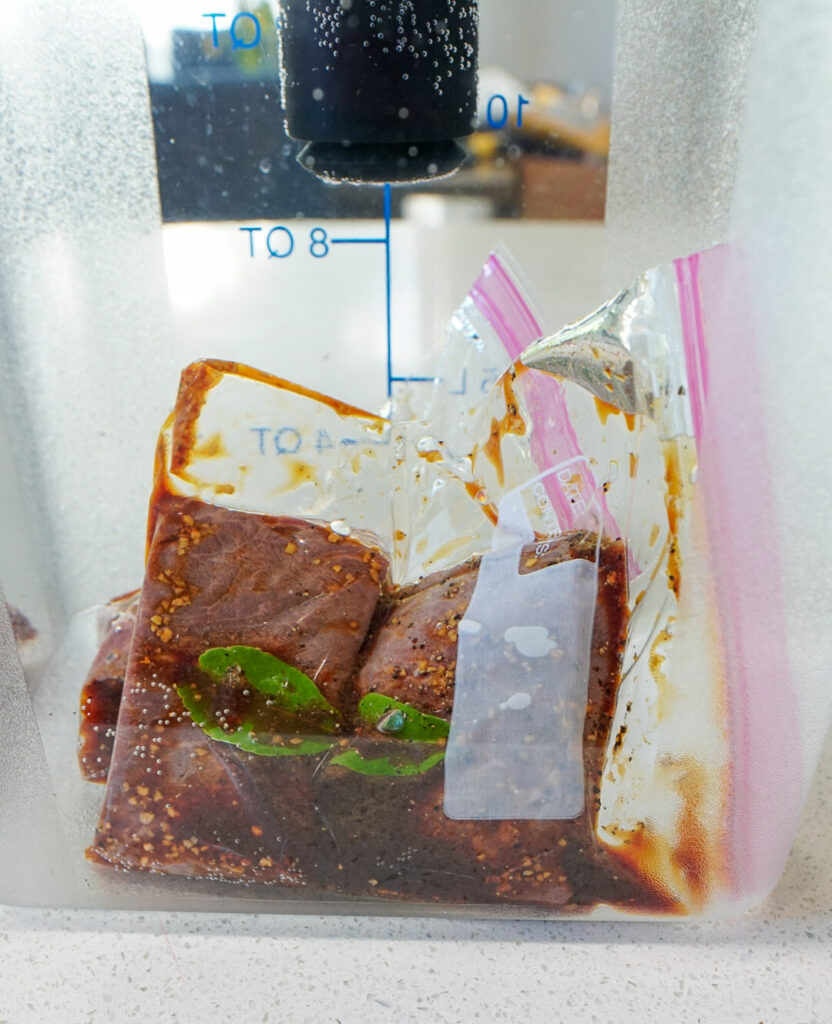 Sous vide flat iron steak
We're huge fans of sous vide cooking.
This cooking method sounds fancy, but it is a simple method for ensuring a perfectly cooked steak, every time.
Read about how to sous vide steak on our previous post for a full video tutorial.
To sous vide flat iron steak, simply season your steak, add your marinade to your sous vide bag, and cook at 125 degrees for 2 hours.
Then, give the meat a quick one minute sear in a piping hot pan with some oil to add some texture.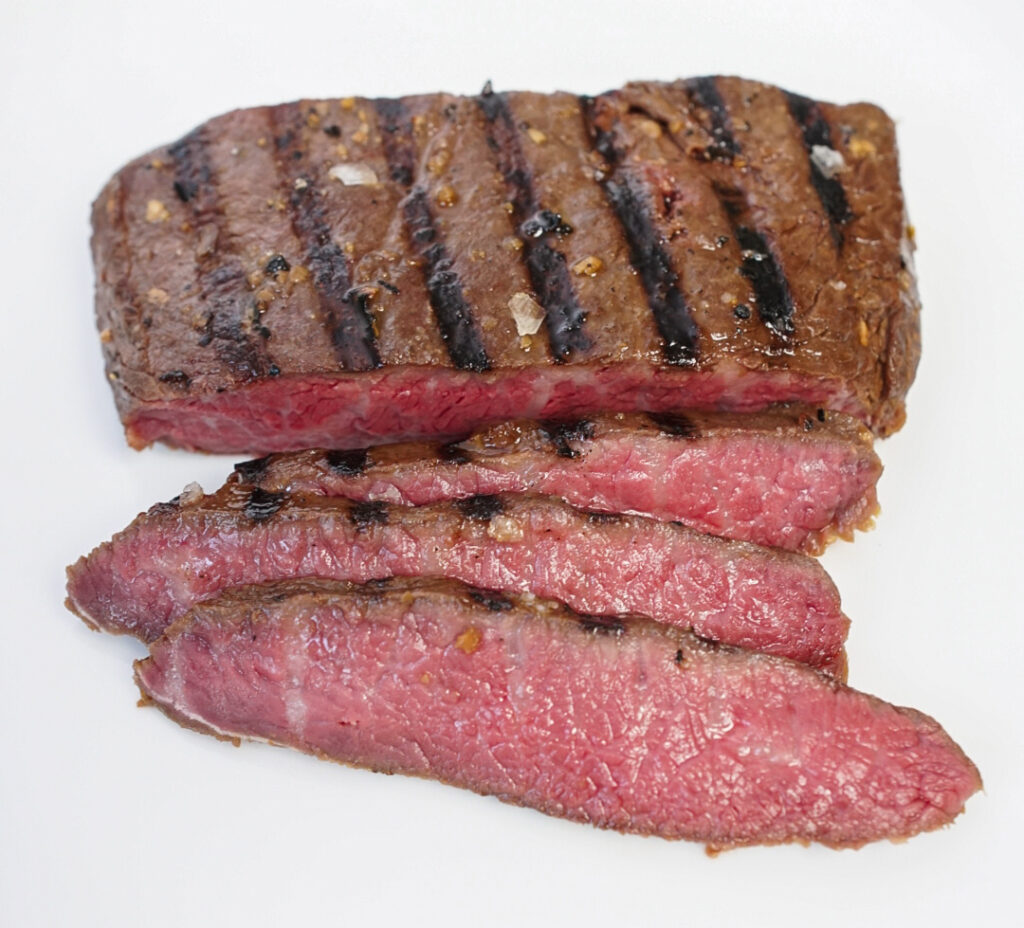 How to grill flat iron steak
No sous vide? No problem.
A flat iron steak is a thinner cut compared to other cuts of meat.
Taking this into account, you'll need less cook time to achieve that medium rare doneness of 130 degrees F.
Start by seasoning your flat iron with pepper and a coarse salt or you may choose to marinade your steak like we have for this crying tiger beef recipe.
Leave your steaks out at room temperature while you clean your grill grates, preheat your grill to high heat, and coat the grates with oil.
Next, place the meat on the grates for 3-4 minutes on the first side, then flip and cook it another 2 minutes on the other side or until the internal temperature reaches 125 degrees F.
Remove the flat iron steak from heat and let rest for at least 5 minutes, this will cause the temperature to rise to your desired internal temperature of 130 degrees F.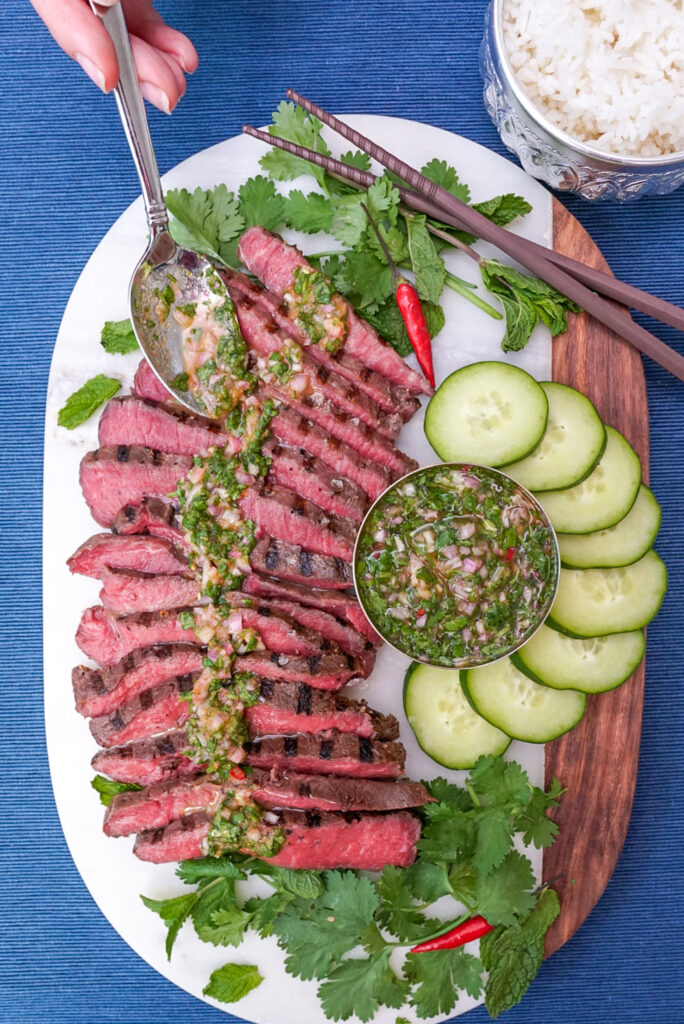 Flat iron steak marinade
For this recipe pictured, we are dusting off what we learned while at a cooking school in Chiang Mai, Thailand.
(You also can read more about the cooking school and get their Thai Tom Kaa Gai soup recipe!).
To make crying tiger beef, we marinaded our flat iron steak in a simple Thai steak marinade.
Crying tiger steak is known to be spicy. Not from the actual marinade, but from the spicy jaew sauce.
The marinade on its own is flavorful and delicious which makes it a perfect flat iron steak recipe!
Ingredients:
2 Omaha Steaks flat iron steak filets
1 tablespoon brown sugar
3 tbsp soy sauce
2 tbsp fish sauce
1 tbsp lime juice, freshly squeezed
1 tbsp vegetable oil
1 clove garlic, minced
1/4 tsp black pepper
Serve with our spicy jaew sauce recipe.
Mix all marinade ingredients together and cover steaks in a shallow bowl or ziploc bag with the marinade.
Marinade for at least 1 hour prior to cooking.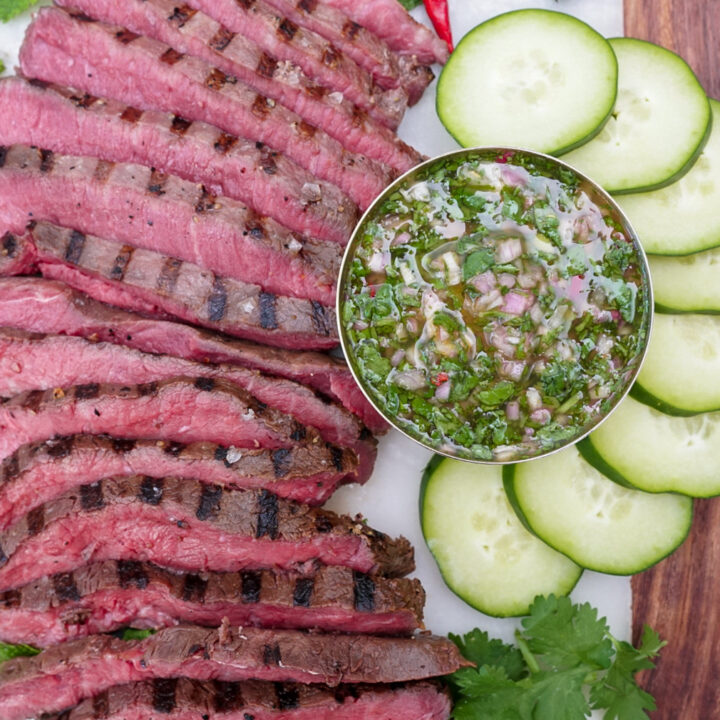 Flat Iron Steak Marinade
Additional Time:
5 minutes
Ingredients
2 flat iron steaks
1 tablespoon brown sugar
3 tbsp soy sauce
2 tbsp fish sauce
1 tbsp lime juice, freshly squeezed
1 tbsp vegetable oil
1 clove garlic, minced
1/4 tsp black pepper
Instructions
Mix together all marinade ingredients and let the beef marinade for at least one hour.
Click this link to pin this flat iron steak guide on pinterest. Also, don't forget to follow us on instagram and facebook for more recipes and recommendations, we love to see when you make our recipes!
If you'd like to automatically receive our posts in your email, register here.