Making a marinade is super weird.
You mix a bunch of stuff together, add meat and hope for the best.
We were planning on making this marinade the night before family was coming over to celebrate Gavin's birthday.
Well, that night was also our friend's engagement party, which turned into us getting home buzzed up at midnight.
Karen set her alarm bright and early, woke up in a haze and started creating the marinade.
We're surprised that she even remembered to write down the recipe, and were SHOCKED when tasted the finished product and it… was… awesome.
This is a super simple marinade where you should have the majority of the ingredients sitting around in your kitchen.
We opted to cube some sirloin steaks for kebabs and popped them into a Ziploc with this concoction.
8 hours later, we removed the meat, impaled them with a metal skewer and sandwiched them between bright peppers and onions.
We even reserved part of the marinade to glaze the veggies too.
The great thing about kebabs are that they are so versatile. Eat 'em as is, pop them on a salad, add them to a tortilla, lay them on rice bed, the possibilities are endless.
If we were unsuccessful at convincing you to make kebabs, it's fine, this marinade would be great on a steak the old-fashioned way too.
Ingredients
4 cloves garlic, smashed

½ cup soy sauce

4 tbsp wostershire sauce

2 tbsp brown sugar

¼ cup vegetable oil

2 cups Coca Cola

Juice of one lemon

Salt

Pepper
Mix all ingredients together and marinate your steak for at least 8 hours or overnight. We get our meat from Omaha Steaks!
The longer you marinate the meat, the more tender it becomes (we're thinking the carbonation of the soda had a bit to do with that!)
Click this link to pin this recipe on pinterest. Also, don't forget to follow us on instagram and facebook for more recipes and foodie recommendations. If you'd like to automatically receive our posts in your email, register here.
Whip up this recipe? Be sure to tag us on social media as @coupleinthekitchen and we'll share it with our foodie followers!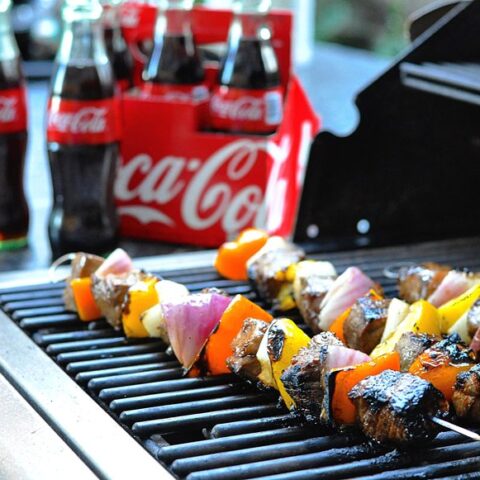 Select Coca Cola Steak Marinade
a flavorful marinade recipe for all your steak needs made with coca cola
Ingredients
4 cloves garlic, smashed
½ cup soy sauce
4 tbsp wostershire sauce
2 tbsp brown sugar
¼ cup vegetable oil
2 cups Coca Cola
Juice of one lemon
Salt
Pepper
Instructions
Mix all ingredients together and marinate for at least 8 hours or overnight. The longer you marinate the meat, the more tender it becomes (we're thinking the carbonation of the soda had a bit to do with that!)