This post was sponsored by Omaha Steaks, thanks for supporting the brands that we love.
Who is ready for our pork katsu with a Japanese curry recipe!?
Since we had to cancel our trip to Japan this week (for the second time), we decided to bring a taste of Japan to our own kitchen.
Pork katsu is a Japanese dish that consists of deep-fried pork cutlets.
Traditional pork katsu is served with tonkatsu sauce or Japanese curry, vegetables, and rice. 
This Japanese comfort food is near and dear to Gavin because one of his best friends growing up was Japanese.
Gavin grew up going over to his house always excited to eat his mom's cooking, and his favorite dish was pork katsu.
This dish with Japanese curry tonkatsu sauce opened Gavin's eyes to a whole new cuisine and was the start of a love of a new culture.
What is Pork Katsu?
Pork Katsu is simply a fried pork cutlet.
Pork cutlets are traditionally made from tenderloin or loin, but we're using the Omaha Steaks well-marbled and super flavorful pork steaks.
The pork cutlet is pounded flat to create thin pieces of meat, and then those thin pieces are dipped into flour, then egg, and finished in panko breadcrumbs.
The batter should be light enough so they don't break when you try to turn them over during cooking!
Katsu Pork Steak
Even though traditionally pork katsu isn't made with pork steak, we were inspired to make it with Omaha Steaks pork steak because it's full of flavourful marbling.
We also love the Omaha Steaks pork steak because it comes perfectly sliced thin to provide even cooking when fried.
This is important because we didn't even need to pound out the cutlet, and the end result was juicy and tender.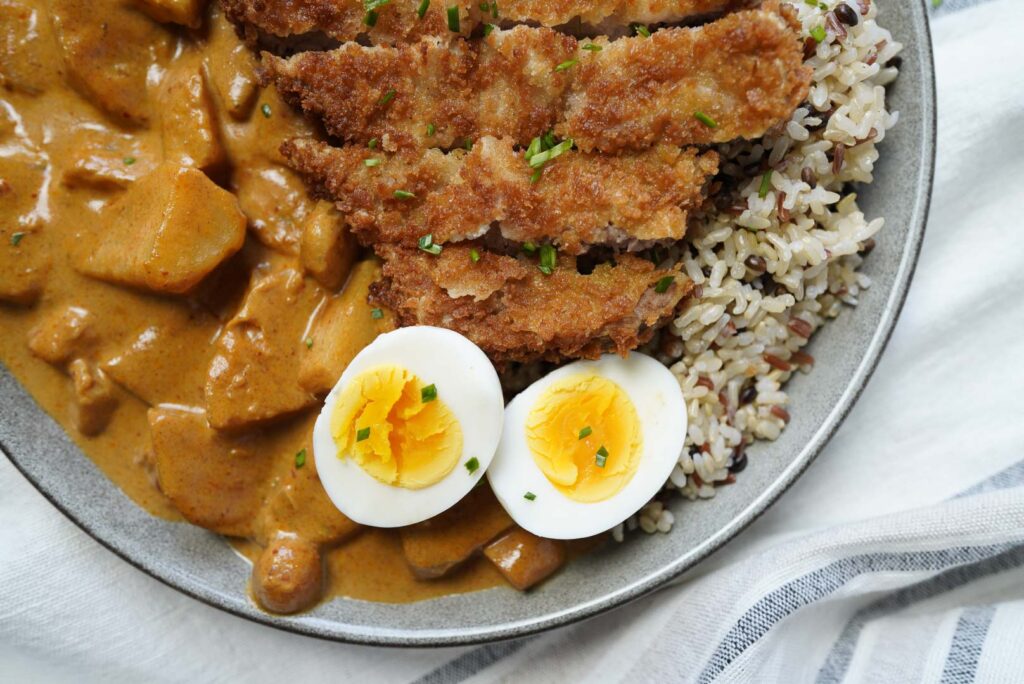 Pork Katsu Curry
You can totally make a homemade Japanese curry from scratch with a ton of spices, but we always start with a simple instant Japanese curry roux.
You can find this Japanese curry roux mix or curry cubes in almost any grocery store.  
To make it, all you need to do is boil water, add the curry roux, and mix it together while simmering.
From there we keep the Japanese curry traditional by adding in sauteed carrots and potatoes.
How to Make Pork Katsu
Making pork katsu is as easy as breading your pork cutlet and then frying it in oil. 
We made our pork katsu the traditional way, by frying the pork, but feel free to experiment with other cooking methods.
After mastering breaded food in the air fryer like our air fryer boneless wings, our air fryer chicken fried steak, and our air fryer coconut shrimp, we're certain that you could crisp up our pork katsu in an air fryer.
Looking to reduce the pork katsu calories? Another lower calorie option would be to make baked pork katsu.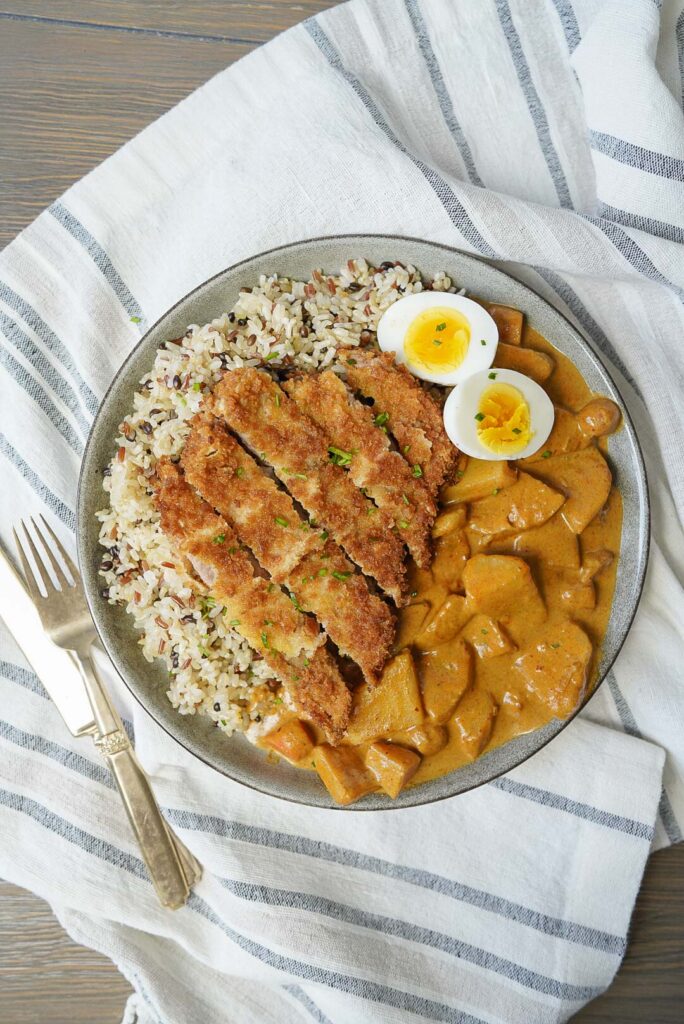 Pork Katsu Recipe
Cook Time: 20 minutes
Serves: 2
Ingredients:
2 Omaha Steaks Pork Steak
½ cup Panko bread crumbs
½ cup flour
1 tsp garlic powder
1 tsp salt
1 tsp pepper
1 egg, scrambled
1 cup cooking oil, for frying
Directions:
Start by getting your flour, egg, and panko stations together with three plates or this breading station tool. The first plate should be your flour plate with the garlic powder, salt, and pepper mixed into it. The second plate should be an uncooked egg, scrambled.The third plate should be the panko bread crumbs.
Take the defrosted Omaha Steaks pork steaks out of their package and dry them off with a paper towel.
Start by dipping the pork steak into the flour mixture on both sides so it's fully covered in flour.
Using the same hand, dip the pork steak into the scrambled egg until well coated. Shake off any excess egg.
Then place the cutlet into the panko so it's fully covered in the bread crumbs.
While you're repeating those steps with the second pork steak, start pre-heating your pan with enough oil so that the pork steak will be fully immersed, about an inch to an inch and a half of oil in the pan.
When your oil is hot, cook one pork steak at a time by slowing placing the cutlet into the oil with tongs.
Cook the pork katsu on each side until golden brown, depending on your oil temperature this should take around 3 minutes per side, then repeat with the other cutlet.
Note: Serve with jasmine rice, sautéed potatoes and carrots, and prepared Japanese curry roux. Adding a perfect soft boiled egg is another great addition.
Pork Katsu Recipe
Add flavor up your dinner table with this easy, pork katsu recipe that is ready in 20 minutes!
Looking for other Asian-inspired recipes? Don't miss these dishes: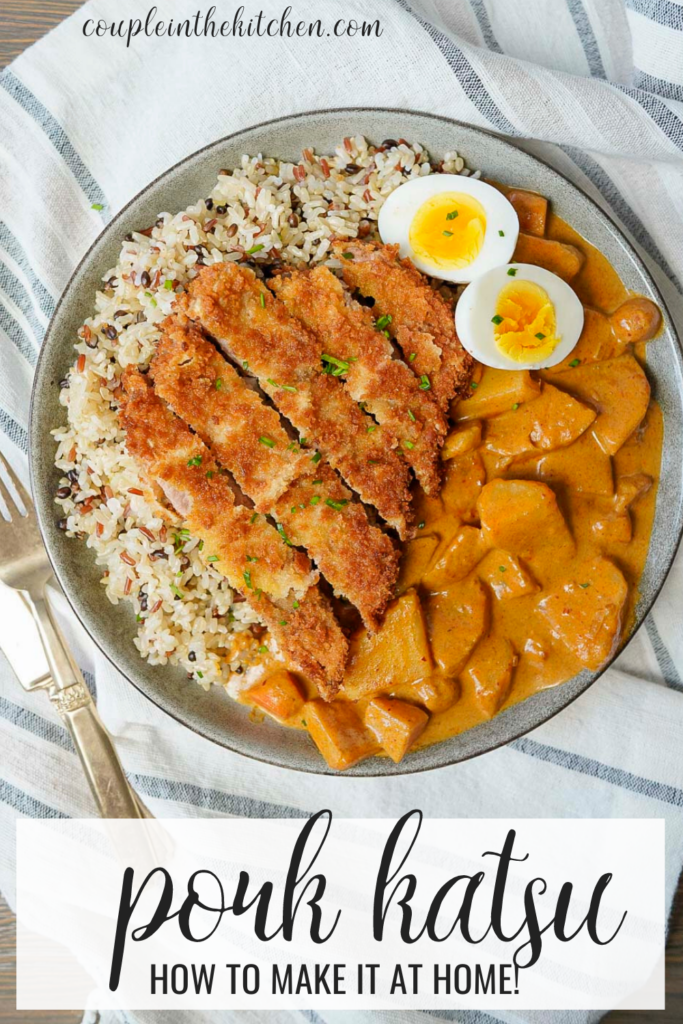 Click this link to pin this pork Katsu recipe on pinterest.
Also, don't forget to follow us on instagram and facebook for more recipes and foodie recommendations.
If you'd like to automatically receive our posts in your email, register here.