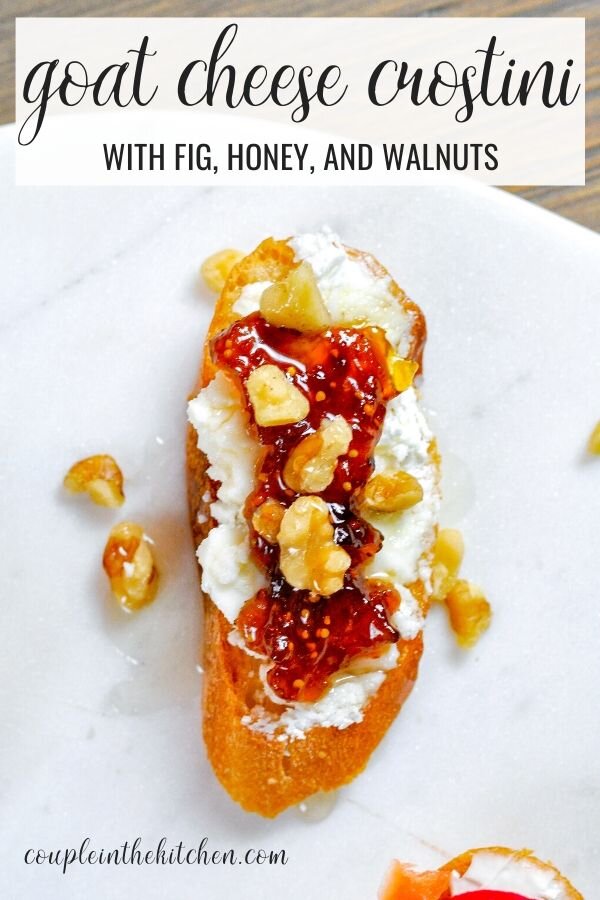 You can tell that crostinis are favorite appetizer of ours because we have whipped up smoked salmon crostinis, crab dip crostinis, pear and brie crostinis, pimento cheese crostinis, even a french onion soup crostini!
See?! We are basically the crostini queen and king of the world!
We love how these bread-based appetizers are bite-sized vessels for delivering big flavor.
Whether you are looking for something sweet or savory, a crostini has you covered!
This appetizer is lovely for entertaining since it is perfectly portable and easy to eat.
What is the best goat cheese to use in an appetizer?
This crostini recipe features flavorful goat cheese which is complemented with some sweet notes of honey and fig and chopped walnuts for texture.
The goat milk adds an interesting note that other cheeses just can't match. You can find an array of goat cheeses at your local market, but search for a softer goat cheese that is more easily spreadable.
The grocery associate or cheese monger should be able to recommend a soft goat cheese that is spreadable, similar to a crumbly cream cheese. We find that trying to spread it is the best way to crumble goat cheese
Goat cheese flavors can also range from mild to funky. Pick a cheese that you enjoy. We usually opt for a milder goat cheese.
While you can purchase store-bought crostinis that are already toasted, we love to make our own crostinis at home.
How to make crostini bread
To make the base of the crostini appetizers, start by slicing a sourdough or french bread baguette on a bias so that the slices are about ½ inch thick.
Spread the bread out on a baking sheet and lightly brush (or spray) each side with olive oil.
Broil the bread slices on high until lightly toasted and golden brown. This only takes a few minutes, be sure to keep a close eye on them. The bread can burn quickly while on broil.
If you are making them ahead of time, store the homemade crostinis in an air-tight container or ziplock bag.
Goat Cheese Crostini Recipe
Makes 16-20 Crostini Appetizers
Ingredients:
1 loaf of baguette bread, sliced and toasted

4 tbsp of olive oil

½ pound of soft, spreadable goat cheese

4-6 tbsp of fig preserve spread

¼ cup of walnuts, chopped

Drizzle of honey
After toasting up your crostinis in the oven, let them cool briefly.
Using a cheese spreader, top the bread with a soft goat cheese.
Next, spoon on some fig preserves. If fresh figs are available for the season, feel free to add a slice on top as well!
Sprinkle of the crostini appetizers with chopped walnuts.
Finally, drizzle your creation with some sweet honey.
It's as simple as that!
This recipe can also be found in our roundup of five crostini appetizers perfect for the holidays.
Click this link to pin this recipe on pinterest. Also, don't forget to follow us on instagram and facebook for more recipes and foodie recommendations. If you'd like to automatically receive our posts in your email, register here.
Whip up this recipe? Be sure to tag us on social media as @coupleinthekitchen and we'll share it with our foodie followers!