Hot, melty, gooey sammies are where it's at, and to be honest, who even really likes cold cut sandwiches?? Somehow when you heat things up, a sandwich gets magical. When you're looking for a lunch idea, take an extra few minutes to take your sandwich from meh to extraordinary with our hot hoagie recipe.
The thing that sets this recipe apart is the giardiniera!
We are huge fans of Austin-based Hat Creek Provisions and they served as our inspiration to take the Italian-ness up a few notches on our Italian hoagie.
The secret? We used the giardiniera juice as the base of our vinaigrette!
Hat Creek naturally ferments all their provisions. This means instead of using plain old vinegar we're super-charging our dressing with a tasty, natural, and probiotic-packed outcome, which has been known to be good for your metabolism, is packed with antioxidants and is a known hangover helper. Score!
Use your own Italian dressing if you may, but we recommend trying our recipe as well.
Also, in the case that you're looking for a new healthy snack we HIGHLY recommend all of Hat Creek's pickles the owner's family has been making award winning pickles for years and you can truly taste his mastery in every batch.
Makes 2 Hoagies
Ingredients:
2 hoagie rolls
1/4 pound genoa salami
1/4 pound soppressata
4 slices of provolone cheese (or 6 if you're feelin' crazy)
Arugula or other lettuce
1/2 cup Hat Creek Giardiniera, chopped
Sliced red onion
Italian dressing (check our recipe out below)
Oregano
Our "Special" Italian dressing:
Juice from a giardiniera jar
2/3 cups extra virgin olive oil
1 tbsp Water
1/2 packet Italian dressing seasoning (we used Good Seasons brand)
Mix all the above ingredients in a shaker or a mason jar.  Bada-bing you just made homemade-ish dressing.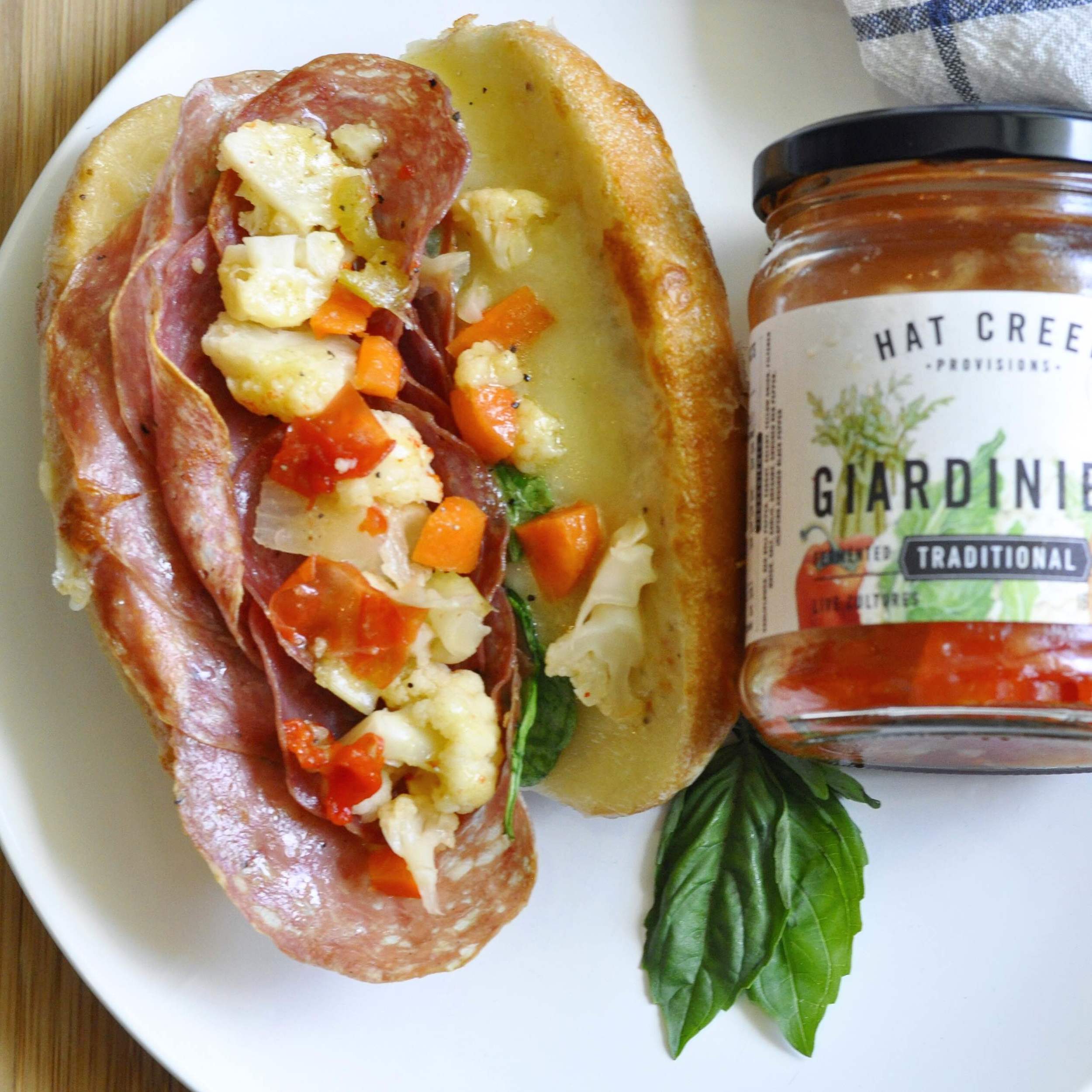 To turn the hoagie into a work of art, turn your oven on to broil.
Slice hoagie rolls in half and place open-side up in a baking container. Drizzle bread with some Italian dressing.
Add all the layer of cheese (we prefer provolone or mozzarella). Place arugula and red onion on the cheese.
Layer on all the meats, possibly sneak a slice or two of meat to eat during assembly. Pop it in the broiler for 4-5 minutes. Cooking time will vary based on how close it is to the top rack, so keep a close eye on it.
Remove from oven and top with the chopped giardiniera, oregano, salt, pepper and drizzle additional Italian dressing on the top. Enjoy while it is hot and melty!