With recent airfare deals from Fiji Airways out of SFO and LAX to Fiji International Airport, there hasn't been a better time to book a trip to Fiji. You can find flights for $199 each way, a total bargain for a ticket to an exotic paradise.
Fiji is a country comprised of 333 islands, so picking an island, let alone a resort that is the best place to stay in Fiji, can be overwhelming. We initially thought we wanted to stay in the overwater bungalows Fiji had to offer, but soon realized that there are only four hotels that offered overwater bures in the whole country. It's not the same as Bora Bora or Tahiti. We also looked into the Fiji underwater hotel, but it looks like that has been "in construction" for over 10 years and there haven't been many updates on the progress, yet alone if the project is still underway. Luckily, we found that Fiji has some incredibly beautiful resorts and bures (traditional Fijian huts) to choose from.
We flew into Fiji International Airport in Nadi and checked out two areas: Yasawa Islands and the Mamanuca Islands. While Fiji transportation costs from hopping from island to island can add up, it is well worth it. The smaller islands offer clearer, turquoise waters compared to the big island. There are three ways to get around the islands of Fiji: a private water taxi, the catamaran cruise, or a private seaplane. Our journey started by taking a 30 minute cab ride from the airport to Port Denarau (this is should cost you about 35 Fijian dollars) to catch the catamaran to Malolo island for our stay at Tropica Island Resort. It was around a two-hour boat ride as a result of needing to stop at neighboring islands on the way to drop off passengers. While on the boat, we took in the view and drank a few Fiji Gold beers on the roof deck while chatting with a local Fijian who was on his way to the island where Survivor is being filmed as he is a security guard on set. He pointed out various islands, including the famous Castaway Island where Tom Hanks filmed the movie Castaway. Truth bomb: it's not in the middle of nowhere, it's actually in swimming distance to a number of other islands. Once we made it to our stop, we hopped on a smaller boat in the middle of the sea and cruised towards the dock of Tropica Island Resort.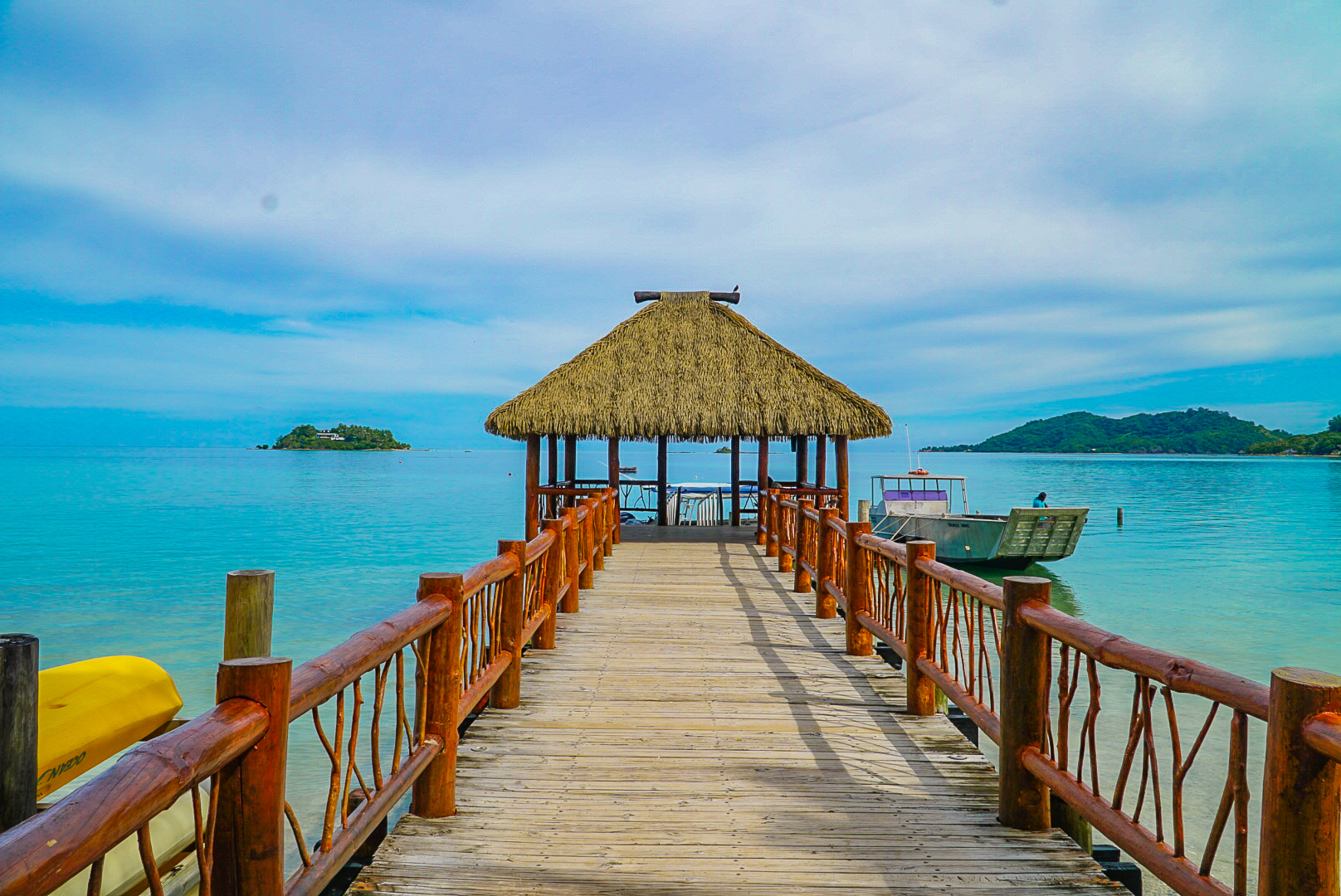 Our arrival was comprised of a warm welcome of the staff singing traditional Fijian songs with bright smiles. We learned we were assigned a young man named Cookie as our personal butler during our stay. He carried our bags, welcomed us to our room, and offered us activities to make our stay the most memorable. Cookie surprised us with a relaxing foot soak, scrub and massage on the beach overlooking the turquoise waters. After a long day of traveling, you can imagine that this was such a special treat. The next thing we knew, Cookie climbed up the palm tree and grabbed us a coconut for a refreshing drink of fresh coconut water. Once they were sucked dry the staff split the coconut for us to scoop out the fruit.
We took a nap on the relaxing bean bag loungers then we were whisked away to help prepare the lovo, a traditional Fijian dinner typically used to celebrate special occasions. We wove cooking baskets from palms and shredded coconuts to make coconut milk for local delicacies. The baskets were filled with fruits and veggies and meat was cooked in an earth oven.
While the food was cooking for an hour or two, we enjoyed a couple's massage on the beach. The warm Fijian breeze acted as the soundtrack as we relaxed, inhaling the mix of salty air scented with the roasting meat of the lovo down the beach.
While uncovering the banana leaves from our feast that was cooking while we were getting pampered, we watched locals play rugby in the fields. Tropica Island Resort's nightly happy hour brought us free drinks as we chatted with the other guests.
Our dinner was the traditional lovo feast. We indulged in the five course meal of local eats like kokoda, a marinated fish of lime and coconut, similar to ceviche, and the pork, fish, chicken and lamb that was cooking in the lovo. Our Fijian night was followed by singing and dancing. Next, we sat under the stars in a circle for the kava ceremony. Kava is a traditional Fijian drink that looks (and tastes) like muddy water but makes your mouth tingle and your body feel relaxed. It's not alcohol, it's not really like a hallucinogen, but it is something you need to experience while traveling to Fiji.
We woke up and had breakfast then watched a smoked fish demo near the beach. This would be one ingredient for a special meal we'd have in the afternoon. Later we went on a boat ride to go snorkeling where we foraged sea grapes called nama for the meal that night. The team demonstrated how to cook our appetizer of smoked fish, sea grapes, chili peppers, and coconut milk during the resort's nightly happy hour. It was one of the most delicious things we tasted all trip. We're not sure if it was all the effort of foraging those sea grapes ourselves or just the uniquely briney pop of the sea grapes in our mouths that was unlike anything we've tasted.
After happy hour, we were shuffled away to yet another surprise. Tropica escorted us to a boat and brought us to a floating platform that they outfitted with bean bag recliners, lanterns, and some beers and wine. We floated, chatted and watched the sunset over the beautiful Fiji waters.
When the Tropica team came to pick us up in the boat we were brought to yet another surprise, private candlelit dining on the dock, complete with a private guitar performance. Talk about romantic! Eating a delicious meal, drinking champagne, and dancing to our private serenade.
The next day, after some time lounging at our private pool at our bure, we took a boat trip to Castaway Island Reef wall. Fiji has some amazing snorkeling! We definitely worked up an appetite, so we headed back to Tropic Resort for a quick lunch before taking our seaplane north to the Yasawa islands area.
Tropic Island Resort exceeded our expectations in every way possible, from the private infinity pools attached to our bure that were overlooking a tropical paradise, to all the special surprises they planned for us throughout the trip. The service was some of the best we've experienced in the hospitality industry, no matter where we went, every member of the staff greeted us with a warm smile and a welcoming "Bula!". If you're looking to be spoiled on a honeymoon or romantic getaway, this intimate, adults-only resort is a dream come true.
Planning a honeymoon or romantic getaway? Check out some of our favorite romantic travel destinations: