We were on a mission to find cool bars in Sydney, including the best secret bars Sydney has to offer.
For this mission, we needed to bring in some Aussie experts.
We went on a tour with Culture Scouts in Sydney and our guide brought us to secret laneways, showing us street art and pieces of Sydney's history. Culture Scouts offer a number of tours all across Sydney, scope out their website to see all their tour offerings.
Our guide also helped guide us to unique cocktail bars and fun speakeasies in Sydney.
Of course, we scouted out almost all of their speakeasy Sydney recommendations!
In addition to finding some cool Sydney cocktail bars based on recommendations of locals and friends, we've compiled a list of six amazing spots for the best cocktails in Sydney that are all within walking distance of each other.
Get your bar crawl shoes ready!
Bulletin Place Bar
This is known as one of the best bars in Sydney. Bulletin Place Bar is highly acclaimed being named one of the top 50 bars in the world.
You know this cocktail bar means business when they provide you a complimentary palate cleanser before you get your drink in order to ensure you taste the drink the way it was designed.
As one of the top bars in Sydney, its featured drinks change daily. While we visited, it was Matthew McConaughey's 50th birthday so all of their featured drinks were puns from all of his hits movies. Karen couldn't resist ordering one and it was more than just alright, alright, alright! Gavin ordered one of the special indigenous drinks that change monthly and feature native Australian influence.
While you're visiting Bulletin Place, be sure to order a snack. The meat and cheese plate featured wagyu charcuterie, a rare buffalo blue cheese and irresistible cashew dip. https://bulletinplace.com/ Level 1/10-14 Bulletin Pl, Sydney NSW 2000
Maybe Sammy
When looking for the top Sydney cocktail bars, Maybe Sammy perhaps takes the top spot currently. Located in the Rocks area, this cocktail lounge was recently awarded top 50 cocktail bars in the world, coming in at number 43.
The pink and green palm wallpaper is very instagrammable and we couldn't get enough of the soft velvet couches and brass touches.
The decor paired with the old school music was reminiscent of Miami Vice, but during the 1950's perhaps?
If money is of no concern, choose from high roller cocktails made with rare, vintage liquors.
If you're not quite in the high roller status as of yet, opt for their smaller, lower-cost mini cocktails.
We were floored by the amusement of the Circus Circus cocktail which was "mixed at the table" with a magic trick surprise. We don't want to spoil the surprise, so get there to see it for yourselves.  https://www.maybesammy.com/115 Harrington St, The Rocks NSW 2000
Stitch Bar
To access this underground waterhole, head through the western style doors past the wall of sewing machines at the entrance.
Upon stepping to this Sydney cocktail speakeasy, be immersed in curated antiques and inventive cocktails (including one with PB and honey).
Stitch Bar also offers beer, wine, and light bites. We curiously ordered the halloumi fries but found they were most like mozzarella sticks served with bbq sauce.
This Aussie cocktail bar offers happy hour if you're looking for a reprise from the spendier cocktail prices around town. http://www.houseofpocket.com.au/bars/stitch-bar-sydney-cbd/venue-details/ 61 York St, Sydney NSW 2000
Employees Only Sydney
This top cocktail bar in Sydney comes from the New York brainchild of the bar under the same namesake.
It's Australia's first bar from the Employees Only family. Regarded as having two of the top bartenders in the world, Christine Lam & Lou Dare, this lounge will give you all the retro vibes.
You'll find the Employees Only by following the "psychic sign" from the street. Head downstairs and pass an actual psychic giving readings at the entrance.
The bartenders at Employees Only Sydney are super informative in an approachable, non-stuffy way as they explain the complex cocktails on the menu.
Sip on a specialty cocktail in dim candlelit while nestled in velvet booths and listen to music from the 50s/60's.
We ordered the gin-based Quivino cocktail and the Stay Clean cocktail which featured a coconut coasted ice block in a modern take on a tiki drink. https://employeesonlysyd.com/  9a Barrack St, Sydney NSW 2000
Mojo Record Bar
This record store is also one of the more casual secret bars Sydney offers.
If you're a music lover you can't miss this Aussie speakeasy bar.
The walls of Mojo Record Bar are adorned with album artwork and it acts as an actual record store, that turns into a bar at 4pm.
Browse through the bins of vinyl while sipping on a cocktail or a beer from their robust beer list.
If that isn't entertaining enough, they also have video games and a jukebox.
http://www.mojorecordbar.com/ 73 York St, Sydney NSW 2000
The Barber Shop
Who can resist a Sydney speakeasy with a hidden entrance?
Pass through an actual old-school barbershop through the stairs to access a Sydney secret bar showcasing a huge gin menu.
We're talking 100 different gins from around the world.
We love a bar showboating an extensive gin selection, as you may have found in our Johannesburg cocktail bar guide.
The Barber Shop bar showcases a library-style ladder to access all the booze amongst dark, tufted leather couches and nailhead armchairs.
We opted for a specialty cocktail and a unique spin on a gin and tonic featuring grapefruit, coriander, and star anise.
Nestled inside Sydney's best gin bar, we chilled, sipped, and enjoyed the old school hip hop jams.
All cocktails feature gin but can be swapped out for your preferred poison if gin isn't your thing.
They also feature gin fights based on the countries of ori-gin. Ha, did you see what we did there?! https://thisisthebarbershop.com/ 89 York St, Sydney NSW 2000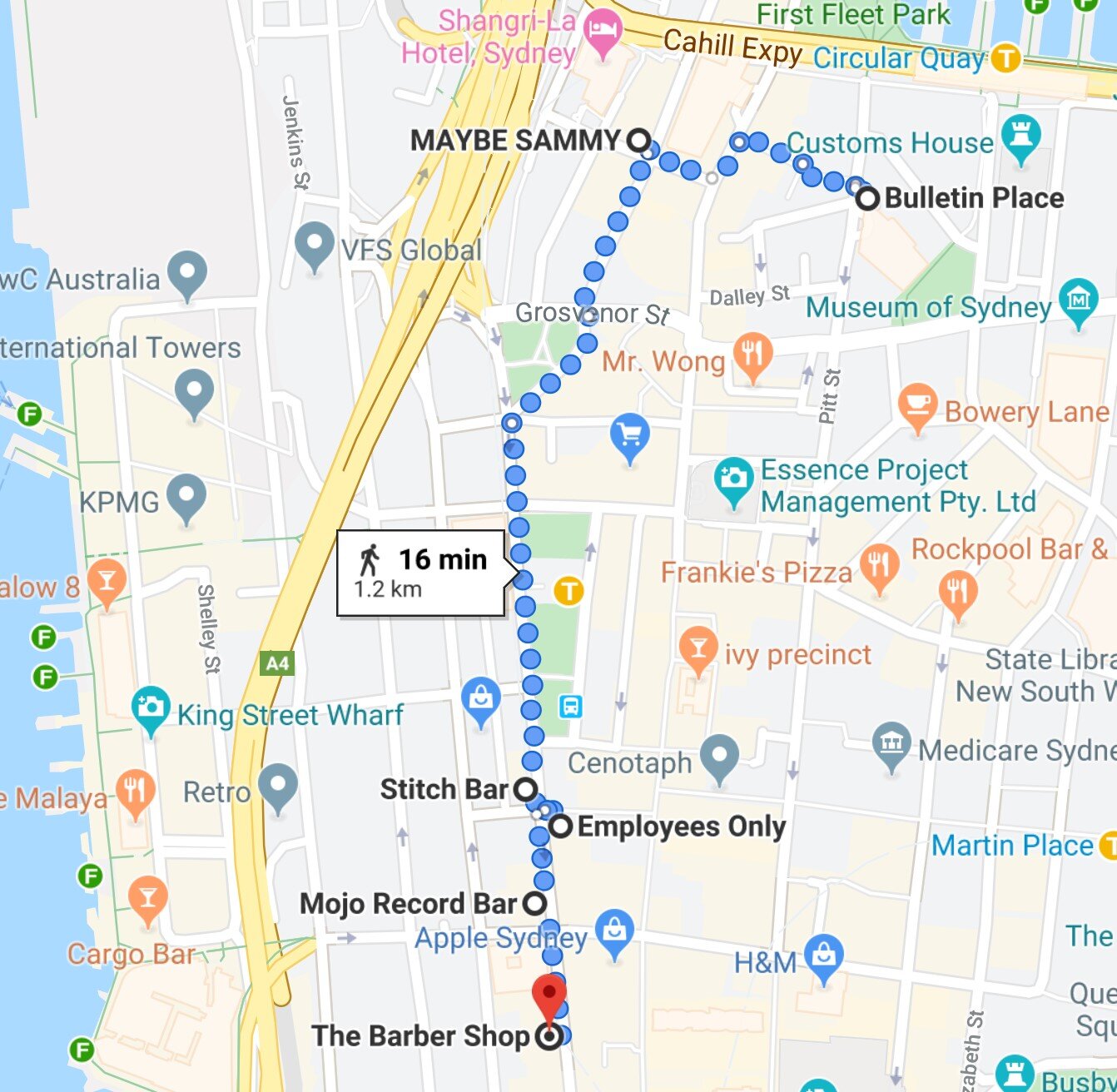 These bars are listed in order of walking distance. Most are just a block or so down the road. In fact, to travel from the first bar to the sixth, it is only 16-minute walk total. We think it's the perfect cocktail bar crawl.
Note that most cocktails in Sydney are quite pricey compared to other parts of the world. This is mainly attributed to the high tax on alcohol in Australia.
If you're going to pay a pretty penny for a drink, it might as well be damn good.
This guide will ensure you're in the hands of a good bartender while exploring Sydney's top cocktail bars. Cheers!
Click this link to pin this post for future reference. If you visit one of these bars based on our recommendations, let us know by tagging @coupleinthekitchen on social media!