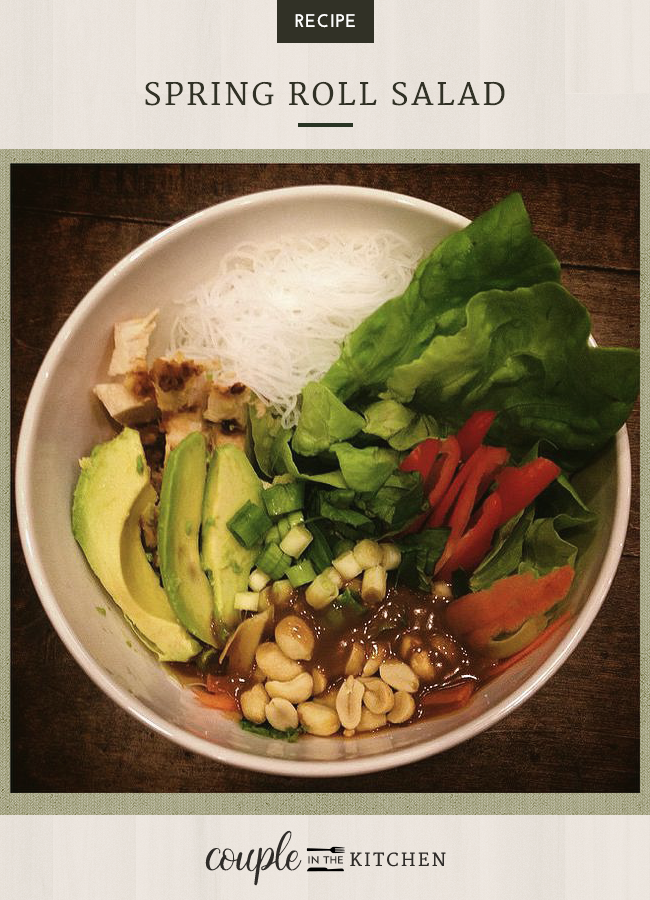 Eating healthy does not need to be boring! This is our all-time favorite salad recipe. Image enjoying a refreshing spring roll in a big 'ol bowl! The peanuts and fresh herbs are what make this salad extra special. Enjoy!
cook time: 15 minutes
prep time: 15 Minutes
total time: 20 minutes
serving size: 4
Ingredients
-1/2 pound boneless skinless chicken breast or tenders or swap in shrimp
-1 1/2 cups cooked vermicelli noodles, chopped
-1 1/2 large avocados, sliced thin
-1 large carrot, thin julienne cuts (like match sticks)
-1 red bell pepper, sliced into small sticks
-1 large head butter lettuce, chopped
-4 green onions, sliced
-1/4 cup each fresh basil, mint and cilantro – roughly chopped
-4 stalks lemongrass, sliced
-2 tablespoons toasted sesame seeds
-1/4 cup roasted peanuts
-4 teaspoons Peanut Dressing
Cook chicken breasts, slice and mix in a bowl with all ingredients. Enjoy immediately.