Yes, you can get steaks cut in the shape of Texas!
Or in the shape of a football, or a heart, whatever you can dream up, Omaha Steak's custom butcher services will do it.
Do you want a steak dry-aged 40 days to celebrate a 40th birthday? Done. Want a specific cut of meat that's hard to find? Done.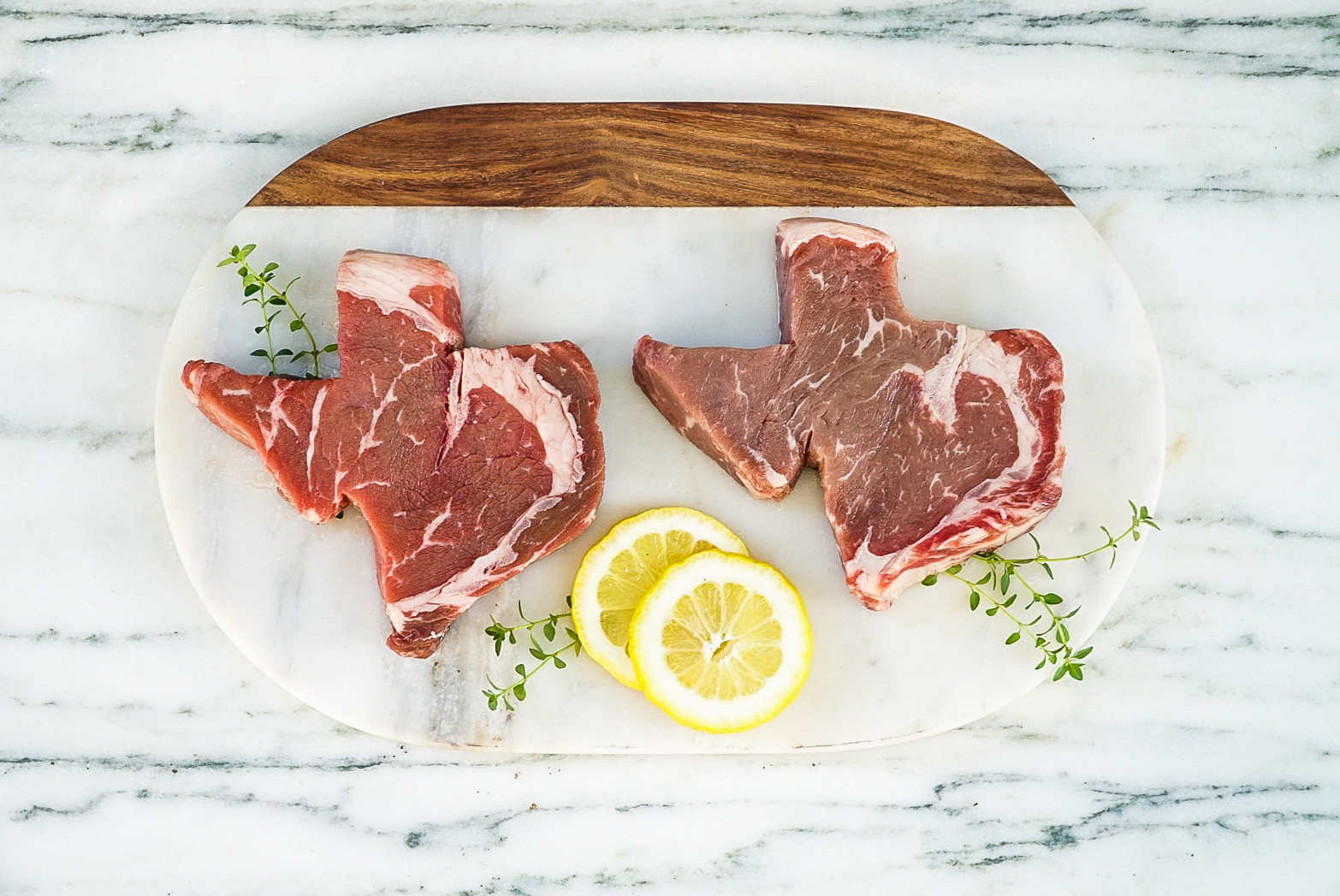 Texans loooove Texas shaped items, from the Texas shaped lazy river in Houston, to Texas shaped cast iron skillets.
To celebrate Gavin's stepdad's birthday, we surprised him by whipping up these lonestar state shaped beauties.
First, we called Omaha Steak's Custom Butcher Services at 1-800-984-7455.
We talked to a customer service representative who asked us exactly what we wanted. Be prepared to share the shape that you're looking for, the type of cut, the size of the steaks, and the quantity.
We went with Texas-shaped ribeye steaks and they were about 10 oz. each, which were super filling!
Omaha Steaks prepared our custom quote, we paid for our order, and they arrived on dry ice about a week or so later.
Keep in mind, if you are requesting a custom dry aged item, leave plenty of lead time in your order for the aging process.
To cook our steaks, we started by seasoning them with some course salt and pepper, but feel free to also order Omaha Steaks' Signature Steak Rub while you're at it.
We opted to sous vide these treasures of beef. Check out our blog post on how to sous vide surf and turf for a full low down on our sous vide process.
Then, we gave them a quick sear on the grill. Usually we sear our sous vide steaks in a cast iron pan, but something about these Texas-shaped steaks told us they were deserving of some grill lines from our grill.
Look how beautiful did these steaks turned out! It was such a fun way to celebrate a special day.
What shaped steak are you wanting to feature at your dinner table? We think our Valentines Day won't be complete without a heart shaped steak next year.
This post was made in sponsorship with Omaha Steaks, thanks for supporting brands that we love.
Click this link to pin this recipe on pinterest. Also, don't forget to follow us on instagram and facebook for more recipes and foodie recommendations. If you'd like to automatically receive our posts in your email, register here.
Whip up this recipe? Be sure to tag us on social media as @coupleinthekitchen and we'll share it with our foodie followers!