The holiday season calls for making spirits bright, so we rounded up 35 amazing whiskey Christmas drinks to whip up during your holiday parties.
Gavin is a big whiskey collector so we always have a variety on hand.
From rye whiskey, to bourbon, to irish whiskey, we've included a variety of delicious holiday cocktails, no matter your whiskey of choice.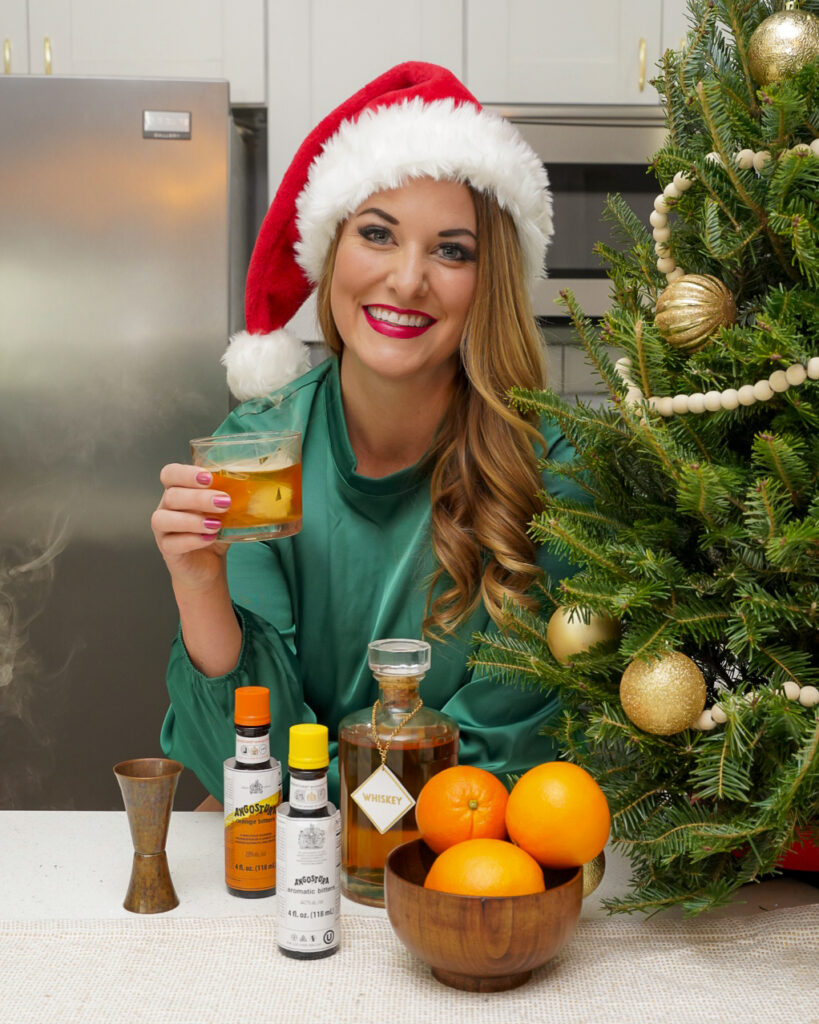 When we aren't exploring all the Best Austin Christmas Bars, we're making holiday cocktails at home!
The cocktail recipes are organized in a number of categories from hot whiskey drinks, to twists on old fashioned cocktails, to lighter fruity whiskey libations, to batch cocktails and punches.
So break out the cocktail shaker. It's the time of the year to mix up your favorite festive cocktail.
A Twist on Classic Whiskey Christmas Drinks: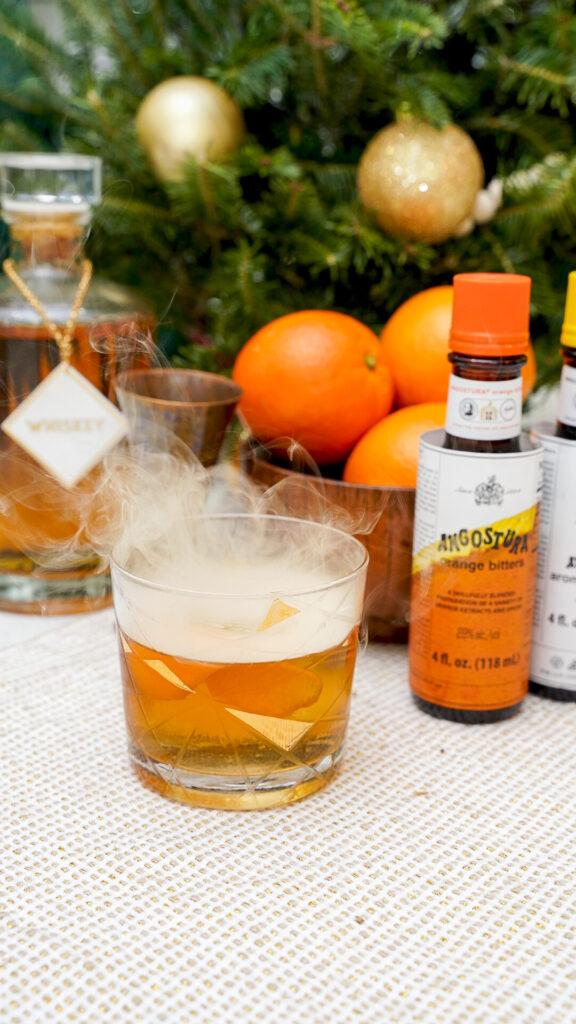 Smoked Old Fashioned
Our Smoked Old Fashioned Recipe looks super impressive but it is simple to make at home thanks to this affordable cocktail smoker. Add orange bitters, angostura bitters, and sugar for a simple syrup with 2 ounces from your favorite bottle of whiskey. Then, just pop the smoker on top of your rocks glass and you'll have a show stopping whiskey drink in minutes. (Psst, this cocktail smoker makes a great hostess gift idea too).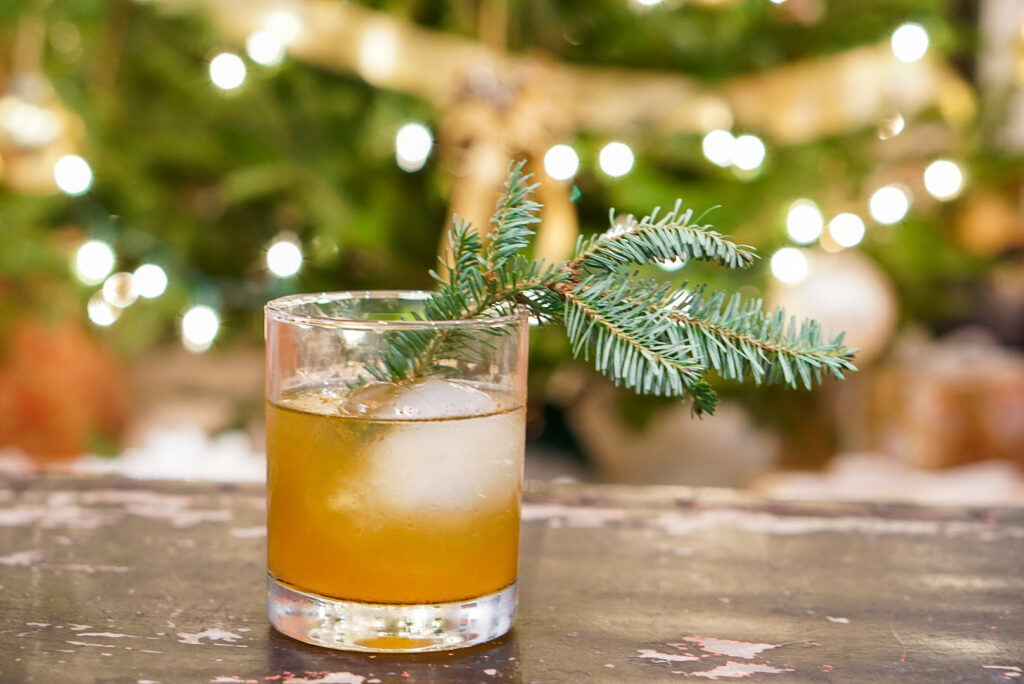 Christmas Old Fashioned
Perhaps the most authentically festive of the Christmas bourbon cocktails, this Christmas Old Fashioned Recipe actually uses a branch from your holiday tree to make a pine-infused homemade simple syrup for extra flavor in a traditional old fashioned cocktail.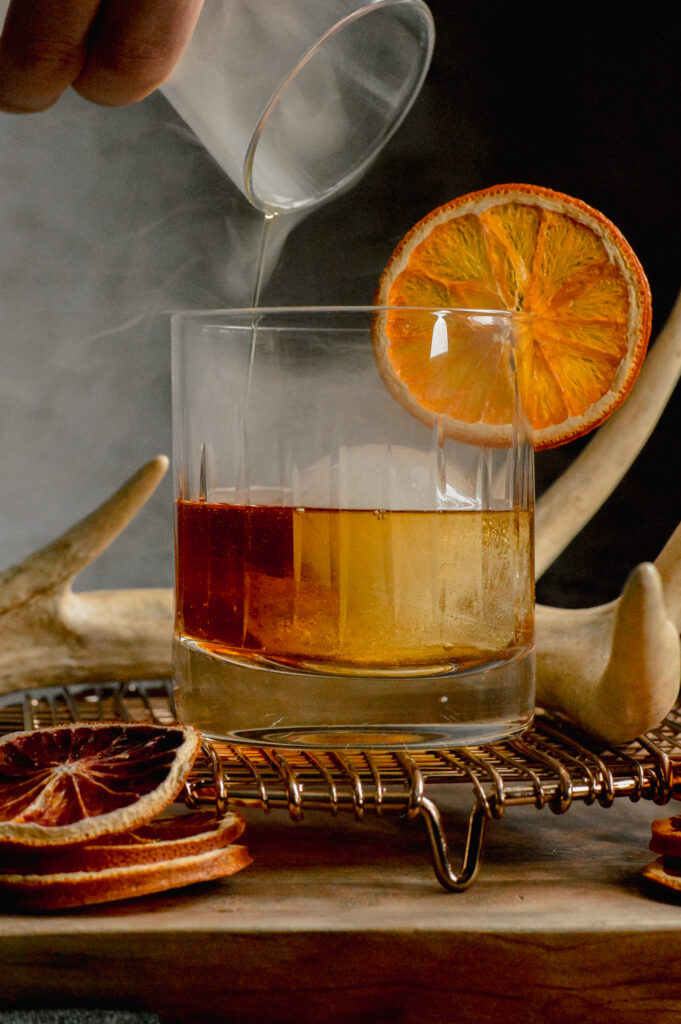 Maple Old Fashioned
Nothing tastes cozier than this Maple Old Fashioned. It's super easy, whiskey based, and goes perfectly while sitting beside a crackling fire.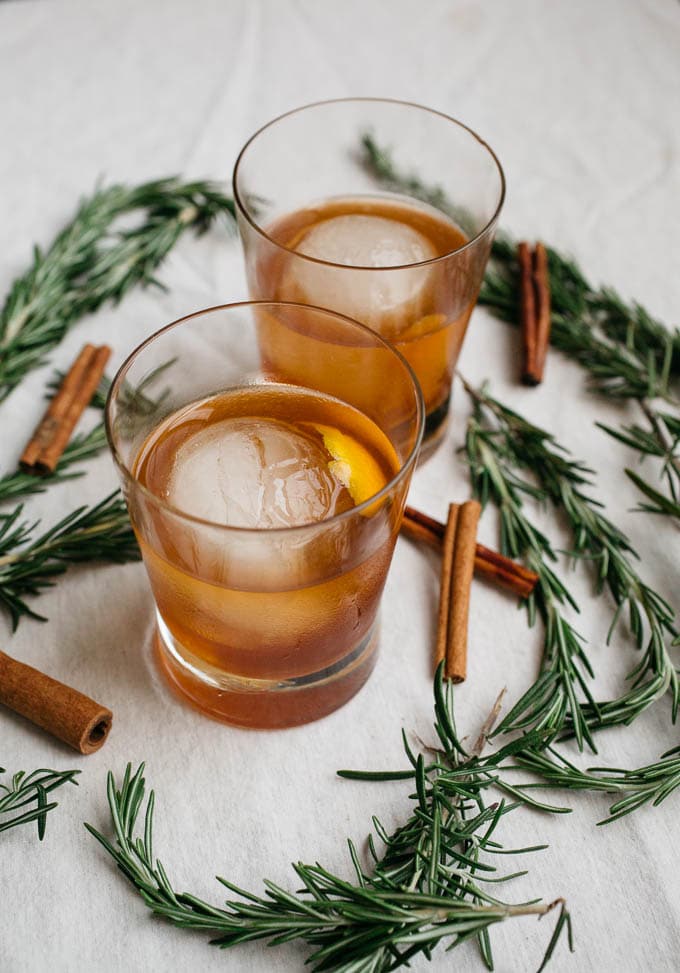 Cinnamon Rosemary Old Fashioned
This Cinnamon Rosemary Old Fashioned is a warming cocktail made with a honey-based simple syrup that features seasonal flavors but is also perfect anytime.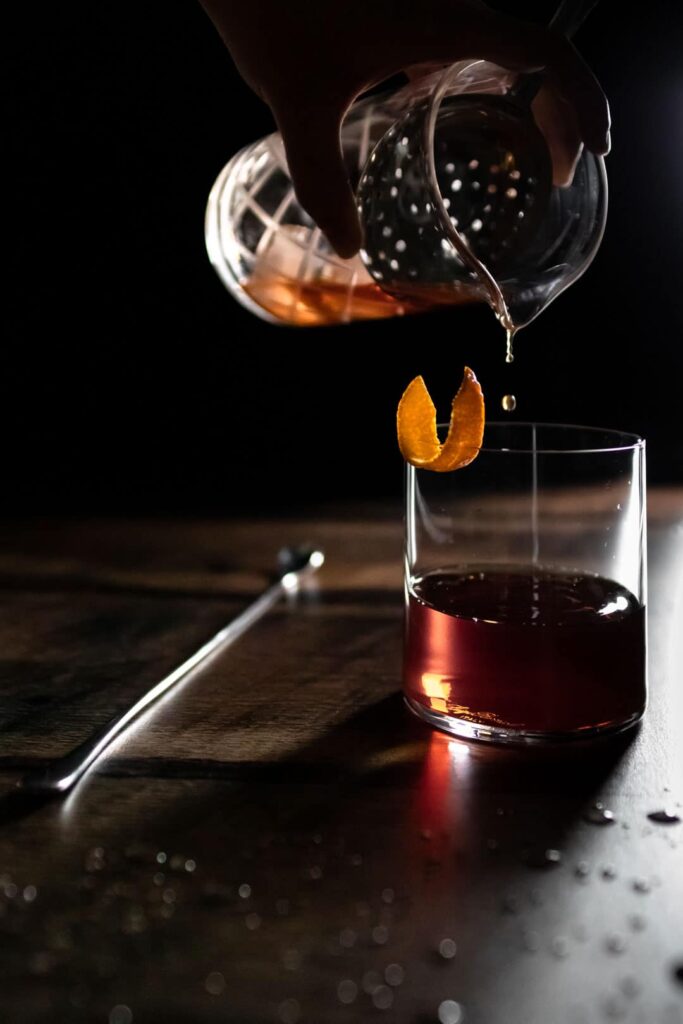 Cynar Toronto Cocktail
This Cynar Toronto is an old-fashioned style cocktail made with an Italian amaro. This stirred drink is a perfectly balanced sweet and bitter sipper! Adding Cynar to this classic cocktail preparation lends another layer of complexity and is versatile enough to enjoy as a before-meal apéritif or as an after-dinner nightcap.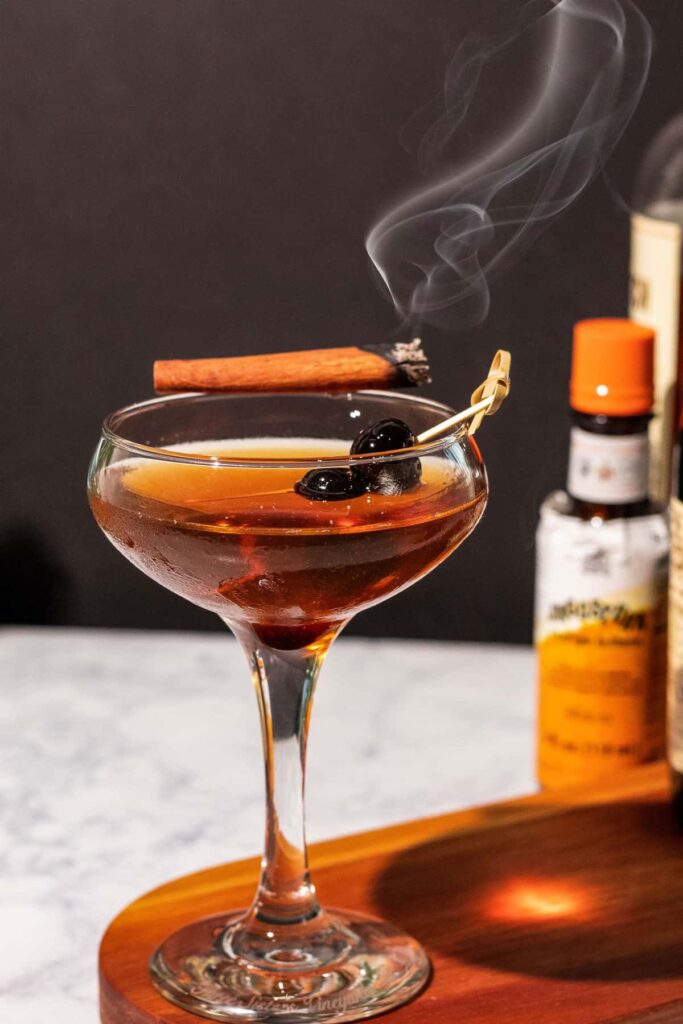 Smoked Manhattan with Cinnamon
Bourbon is combined with sweet vermouth, bitters, maraschino cherry syrup, and the added smoky flavor of smoked cinnamon for a real treat that is perfect for the holidays! Check out this Smoked Manhattan with Cinnamon Cocktail.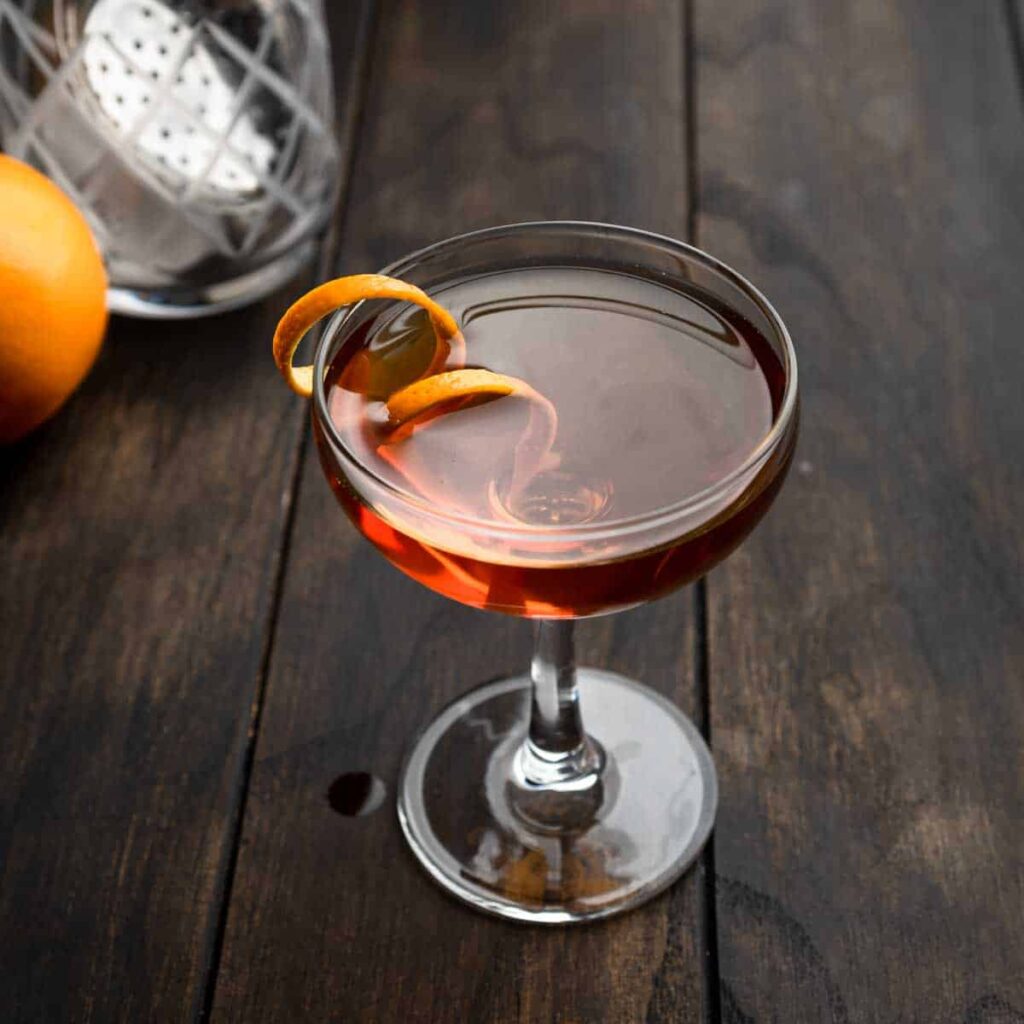 Amontillado Sherry Manhattan
This Amontillado Sherry Manhattan substitutes a sherry wine in place of a manhattans' usual vermouth. The swap lends a yummy nutty flavor and a mild oxidized caramel note. It's a delicious play that will be loved by old fashioned and Manhattan drinkers.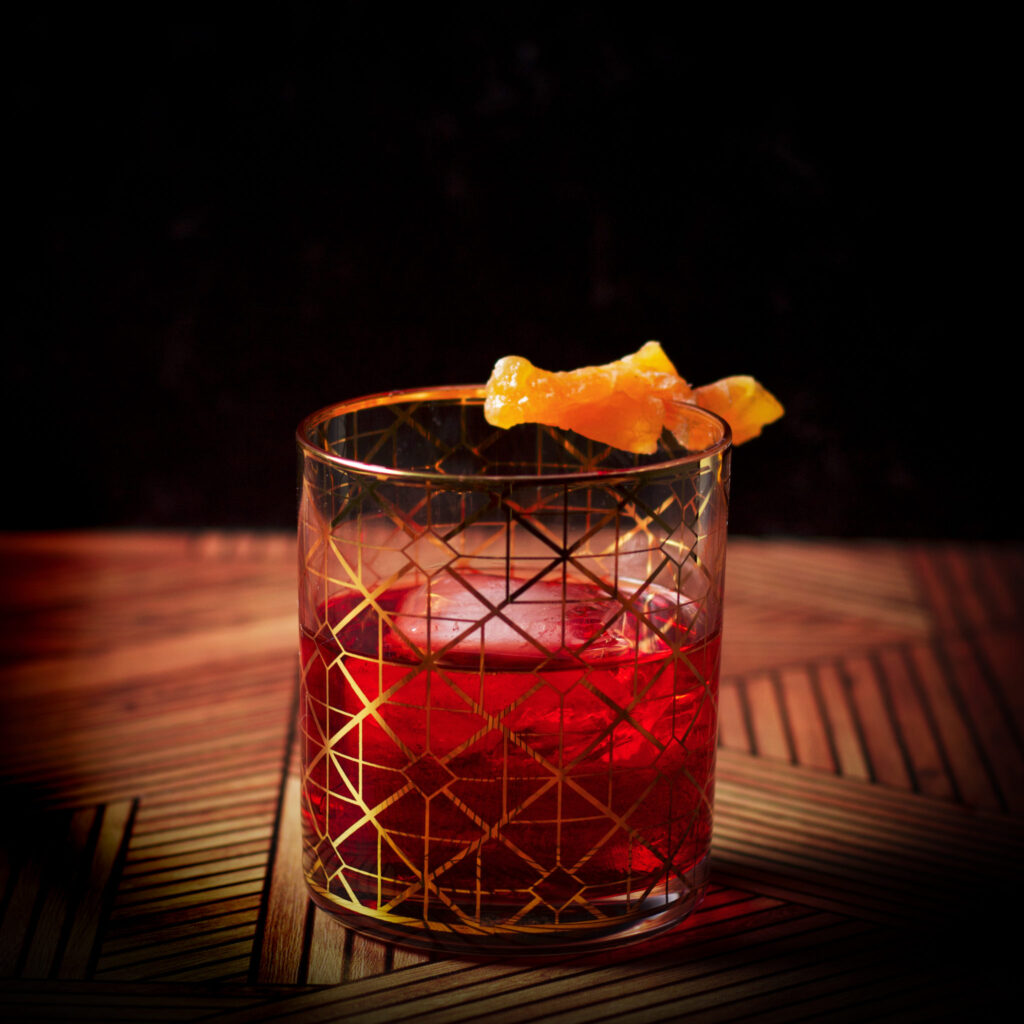 Boulevardier
The Boulevardier, also called the French Negroni, is a simple, elegant cocktail made from just three ingredients: Whiskey, Sweet vermouth, and Campari. It's a dangerously drinkable cocktail that's loved for its perfect balance of bitter, sour, and sweet.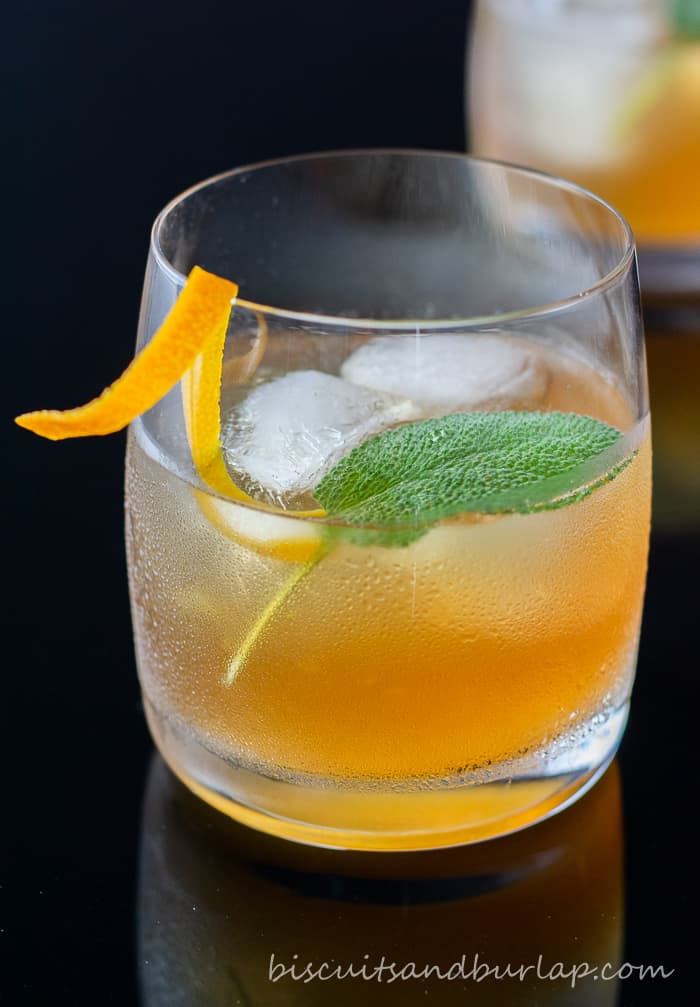 Bourbon with Honey and Sage
Make this homemade simple syrup ahead of time, then shake with bourbon to create this Bourbon Cocktail with Honey and Sage. Garnish with an orange slice and your cocktail is ready to enjoy!
Whiskey Hot Cocktails: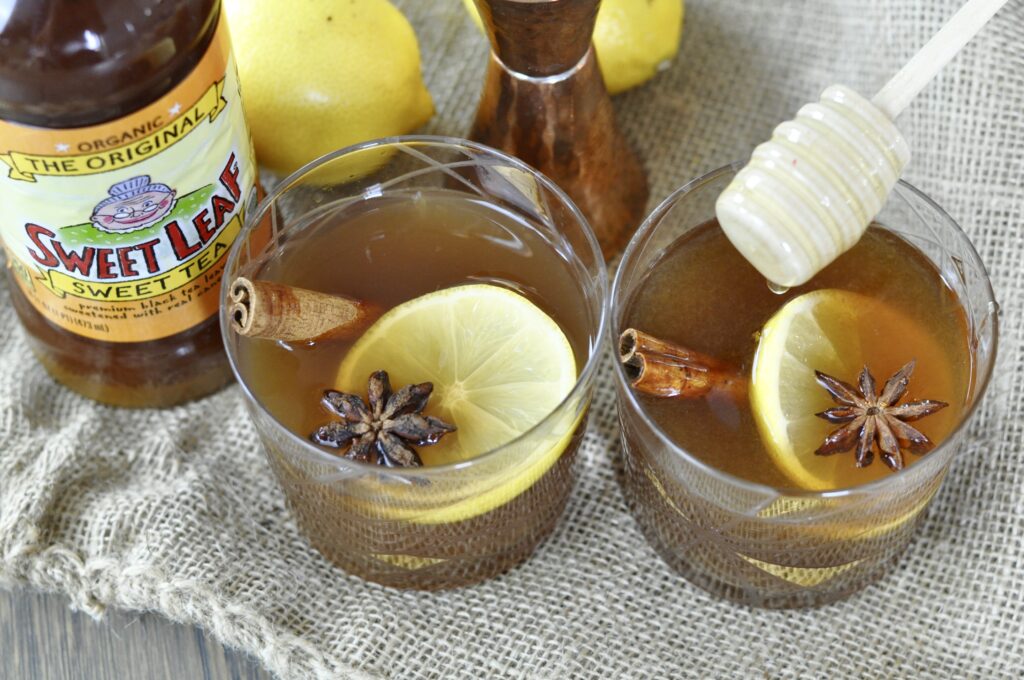 Tea-Infused Hot Toddy
Hot toddies are one of our favorite winter drinks. We like to add iced tea to our Tea-Infused Hot Toddy Recipe for a bit more depth of flavor. The tea really helps to complement the whiskey.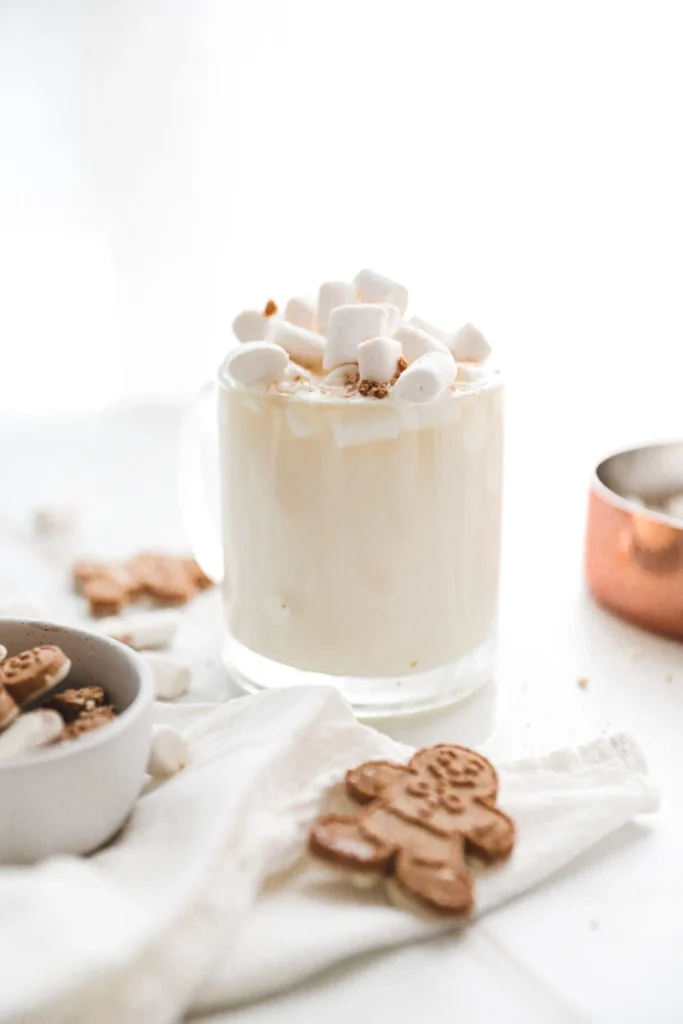 Gingerbread White Hot Chocolate Cocktail
A hot chocolate that has sugar, spice, and BOOZE! This Gingerbread White Hot Chocolate Cocktail is a cozy blend of creamy white hot chocolate, bourbon, and spicy gingerbread.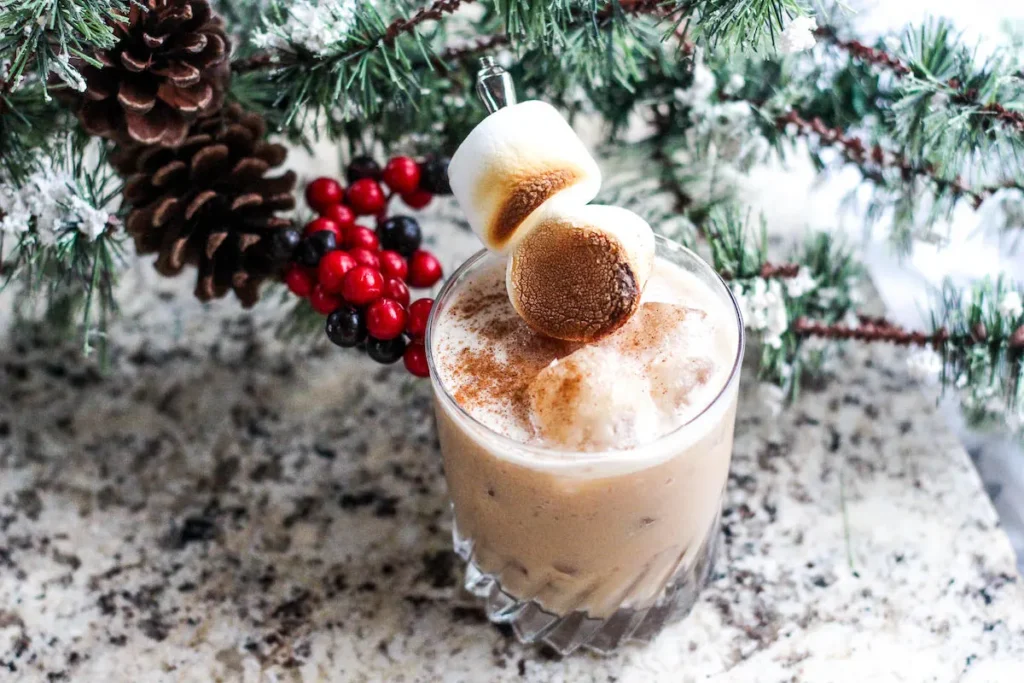 Spiked Hot Chocolate Whiskey
Spiked Hot Chocolate Whiskey is your cocktail staple for winter! This recipe features Irish Whiskey, dark chocolate, and marshmallows. It is perfectly creamy and delicious.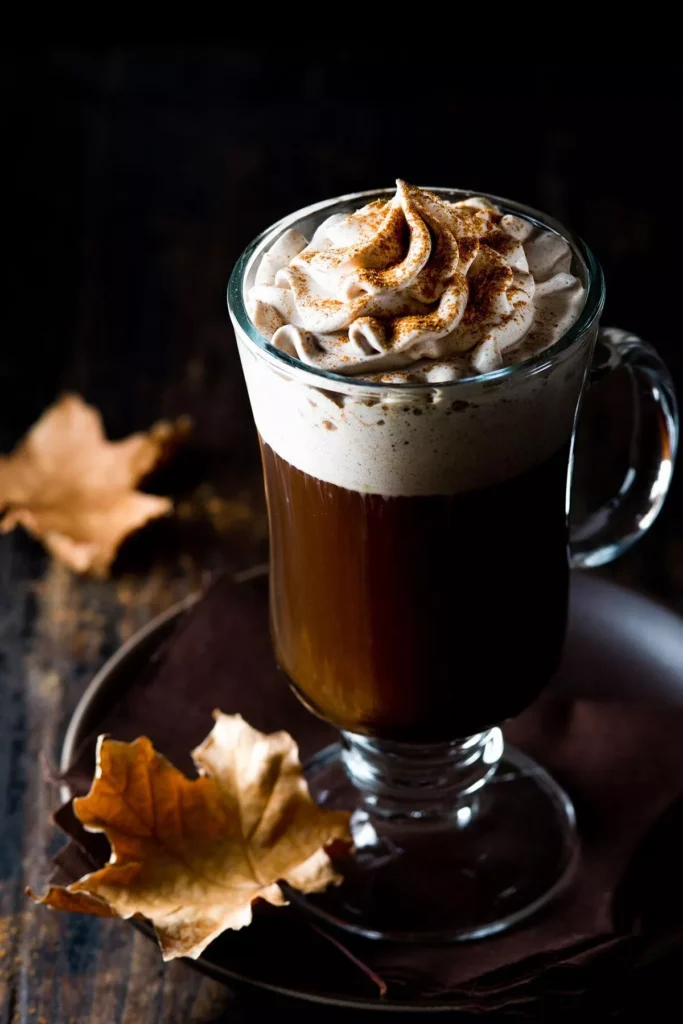 Spiced Irish Coffee
Spiced AND Spiked! This warm and delicious Spiced Irish Coffee is infused with pumpkin spice flavors and makes the perfect Christmas drink. Talk about a great way to get cozy during the holidays!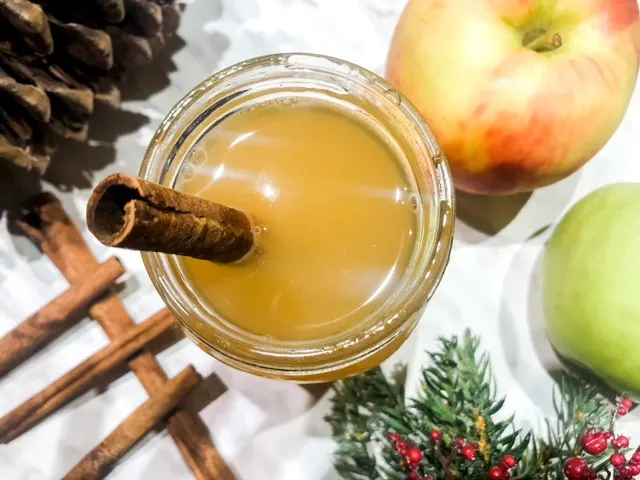 Whiskey Christmas Apple Cider
This Whiskey Christmas Apple Cider is a comforting and warming treat to sip fireside during the holidays. The whiskey adds a wonderful note to the classic fall and winter flavor of apple cider.
Fruity Whiskey Christmas Drinks: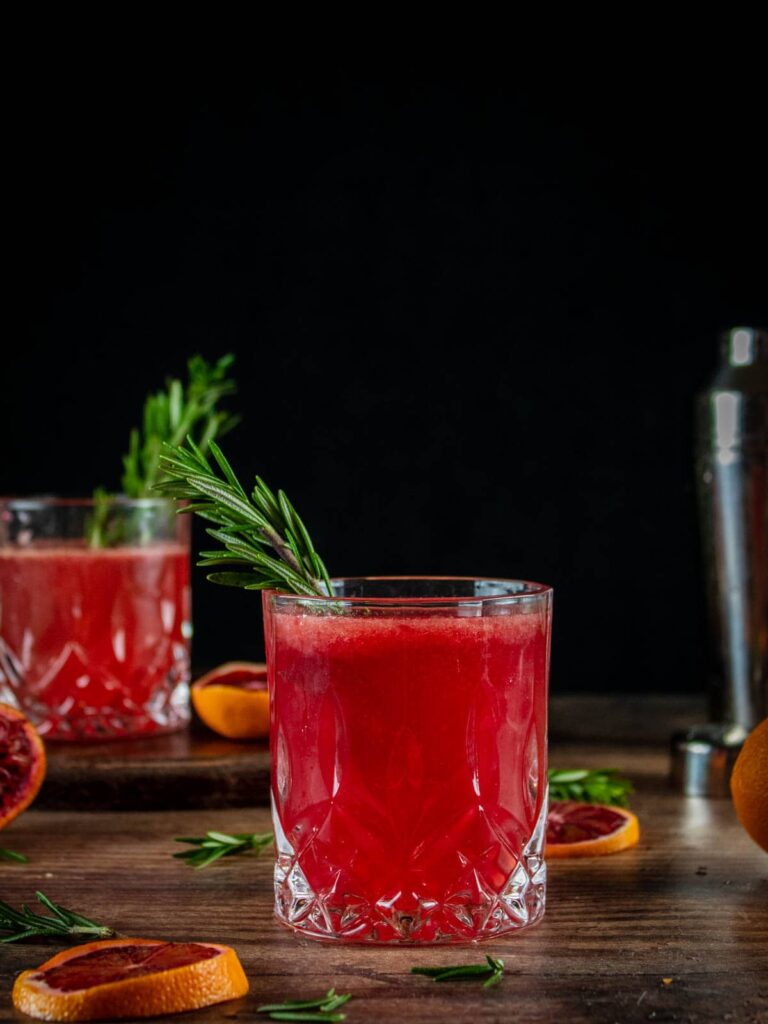 Whiskey Blood Orange Smash
This Whiskey Blood Orange Smash is one of the best winter cocktails. Fresh blood orange juice is mixed with rosemary infused simple syrup and whiskey, then topped off with fizzy ginger beer.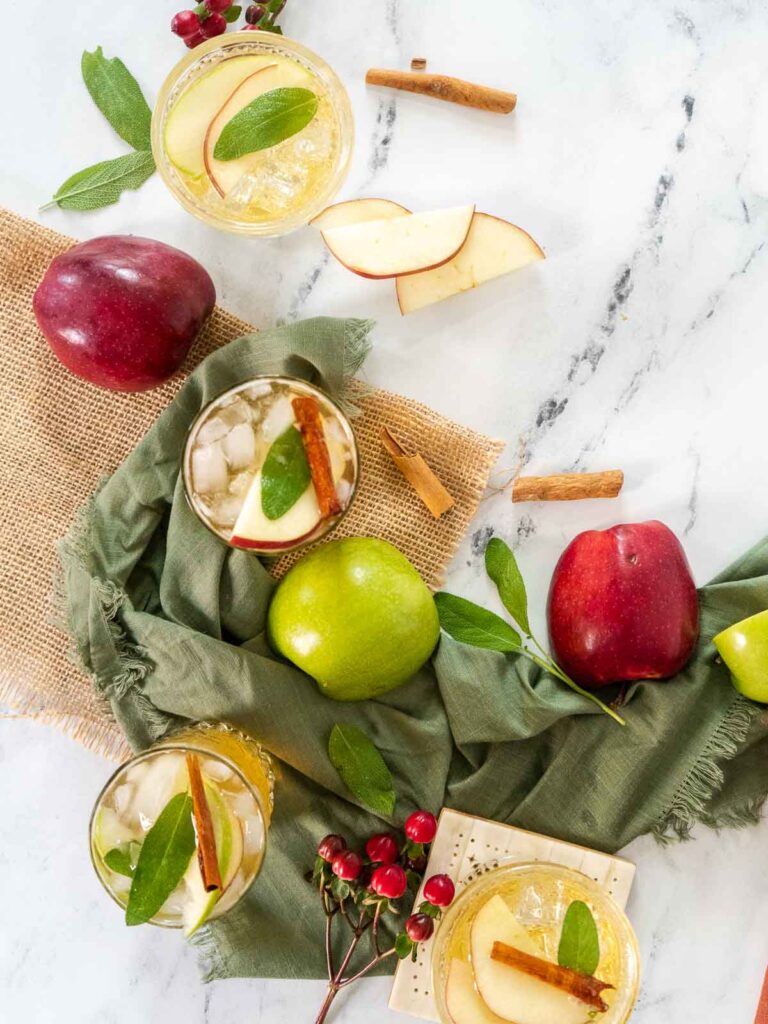 Apple Whiskey Smash
It is the perfect season for apple whiskey cocktails. This Apple Whiskey Smash has a touch of bourbon and cinnamon, but it's also simple and refreshing.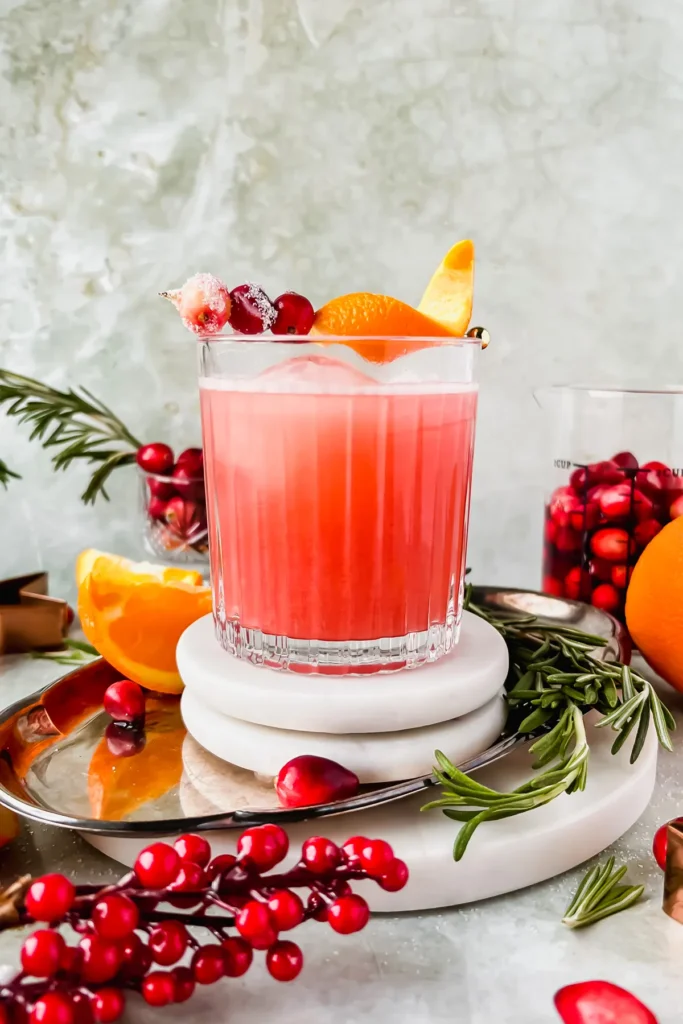 Cranberry Whiskey Sour
The perfect festive twist on a classic cocktail. This Cranberry Whiskey Sour is easy enough for any home mixologist to craft up and will impress your guests.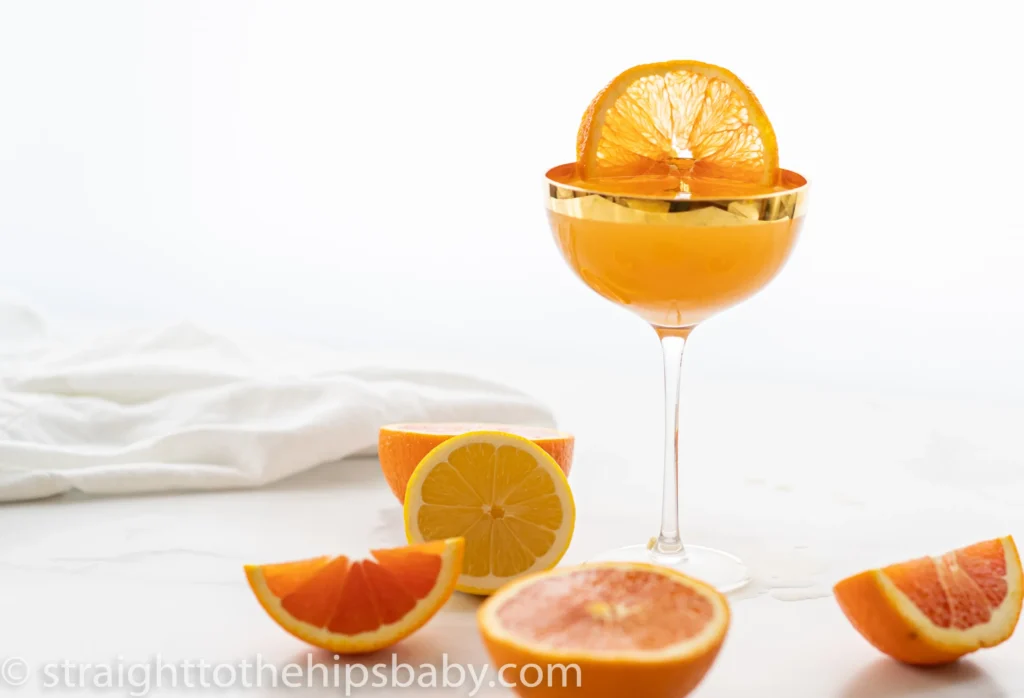 Whisky & Cara Cara Orange Cocktail
Wintertime is prime citrus season, that's why oranges are commonly added to stockings! Take advantage of all of that orange goodness with a beautiful Cara Cara Orange and Whisky Cocktail, brightly known as Liquid Sunshine.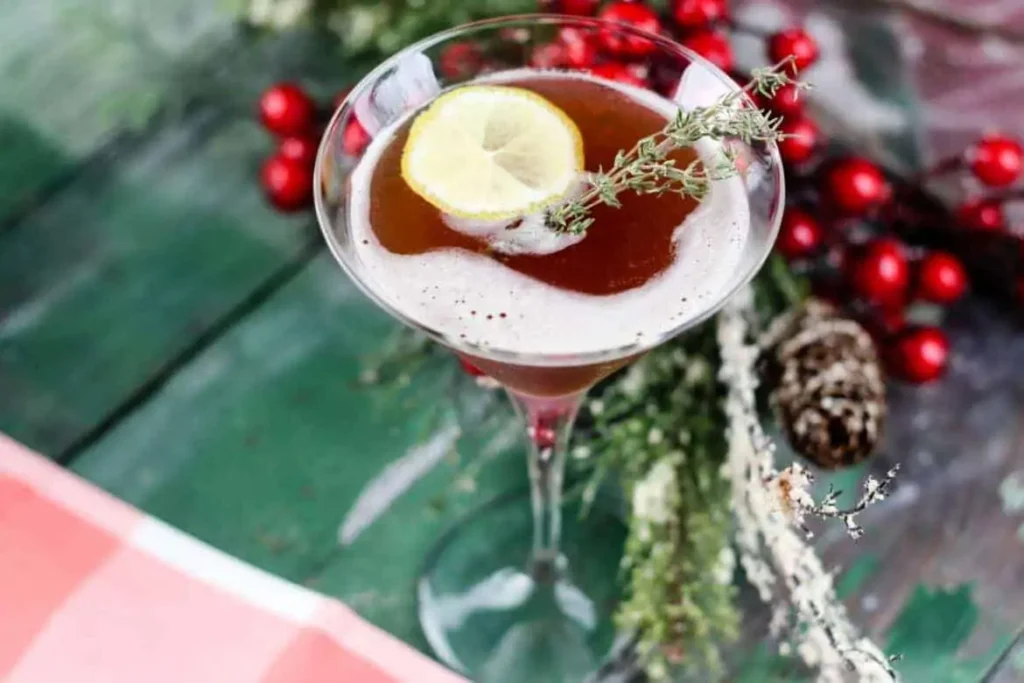 Hard Black Current and Apple Cocktail
For those that like sweet and tart, this Hard Black Currant and Apple Cocktail Recipe is for you! It's served up in a martini glass, a fancy cocktail presentation!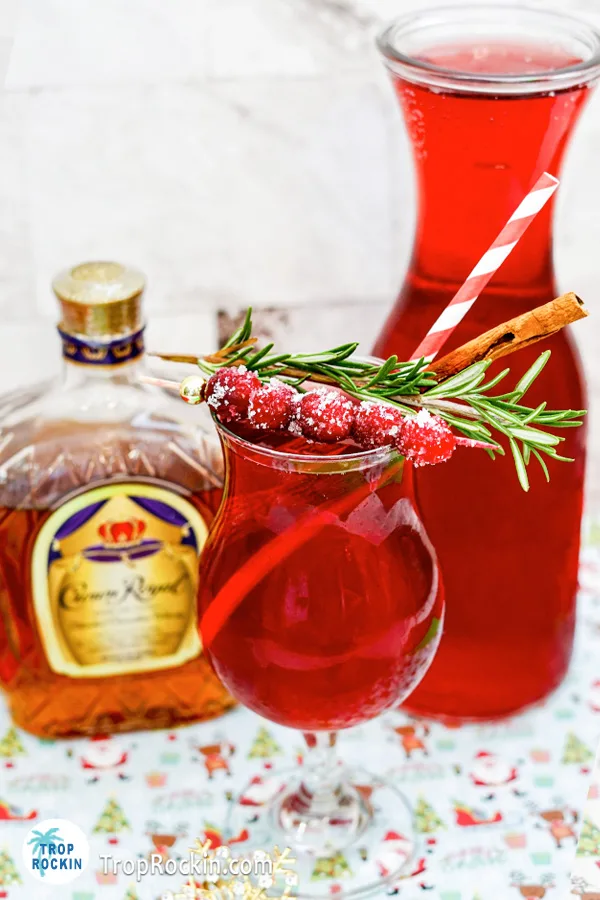 Cranberry Rosemary Cocktail
This Cranberry Rosemary Cocktail Recipe is sure to be a hit at your next party! Not only does it have the sweetness and tartness of cranberries, the warmth of whiskey, and earthy rosemary syrup, but it's also incredibly easy to make. The perfect balance of flavors means your friends and family will love it!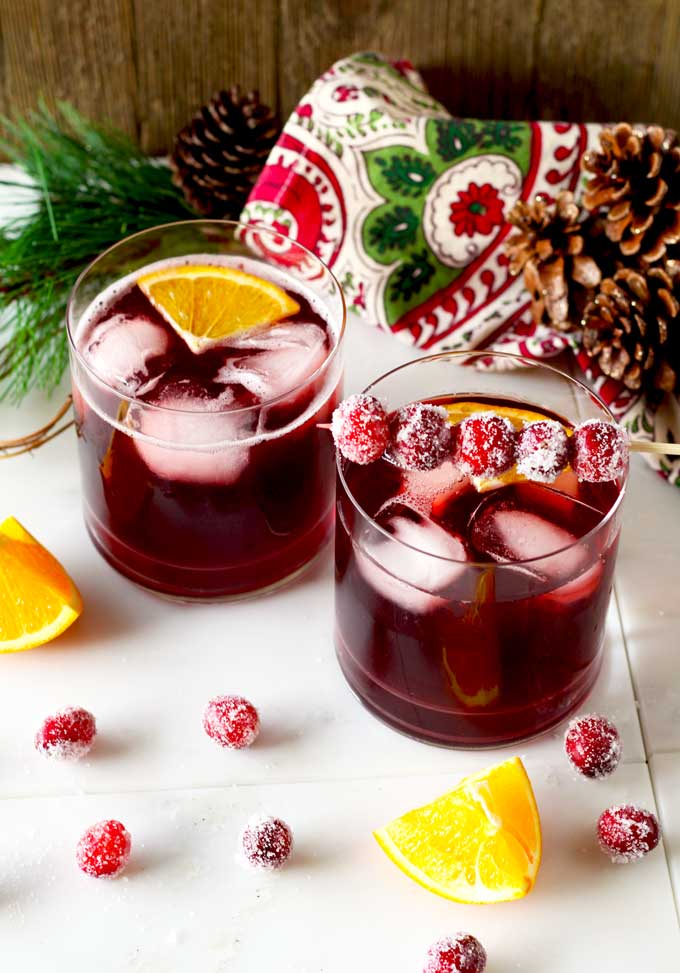 Cranberry Maple Bourbon Cocktail
This Cranberry Maple Bourbon Cocktail has the right balance of sweet and tart, with the warmth of bourbon and subtle orange tones. It is bright, delicious, and perfect for the holiday season (or any time you want the best bourbon mixed drink!)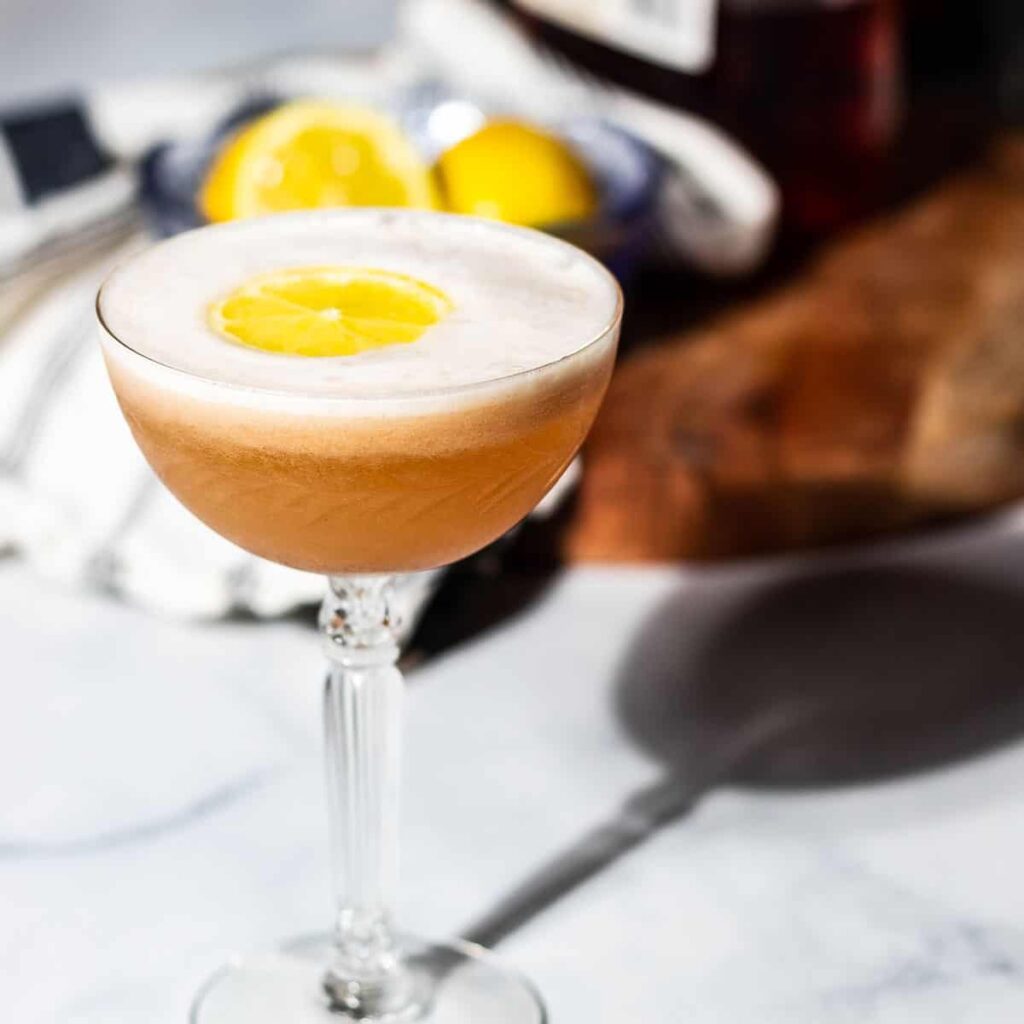 Pomegranate Sour Cocktail
This Pomegranate Sour is made with pomegranate liqueur, whiskey, simple syrup, lemon juice, and egg whites. It's the perfect holiday spin on the classic whiskey sour.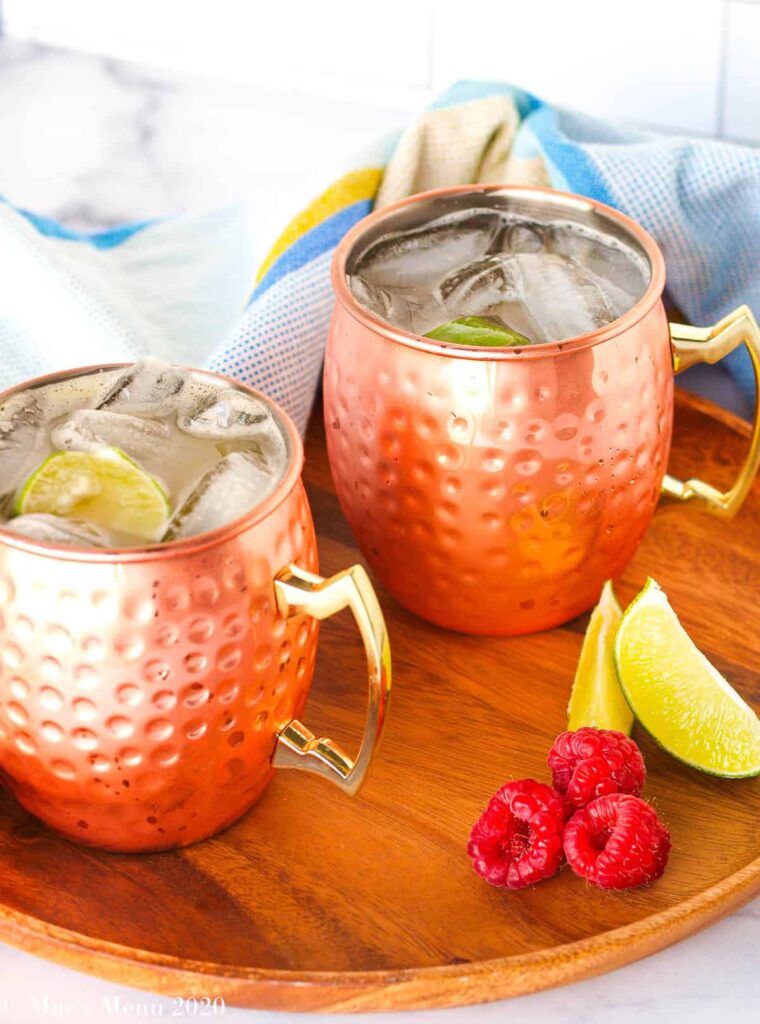 Kombucha Whiskey Sour
Gavin owns Greenbelt Kombucha and now we're inspired to make a Kombucha Sour Cocktail this holiday with his 'booch! It's a 3-ingredient cocktail that's lower in sugar than the classic moscow mule. Grab a copper mug because these kombucha whiskey sour cocktails are refreshing, light, and 100% perfect.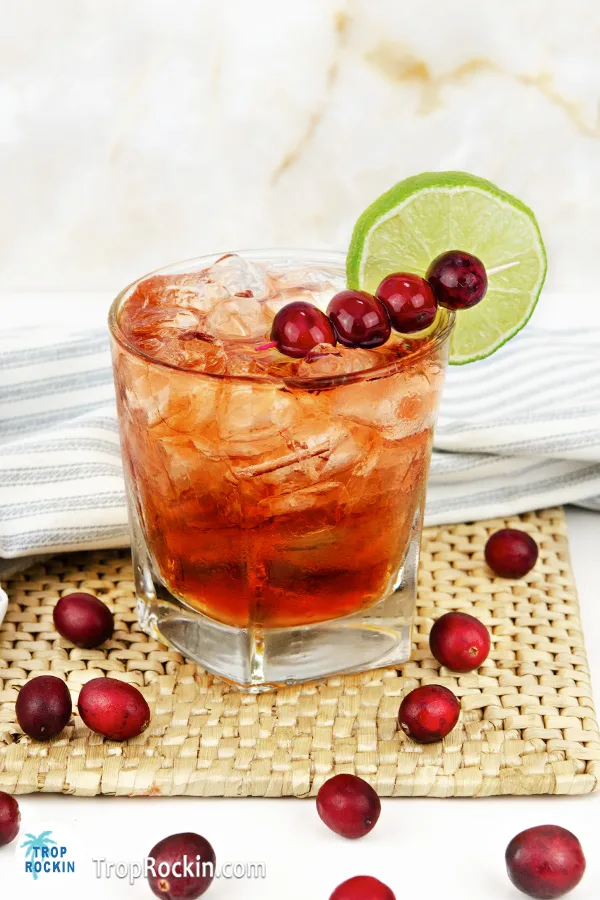 Crown and Cranberry
The classic combination of Crown Royal and cranberry juice is a timeless pairing of rich whiskey and tart-sweet cranberry juice. Each sip of a Crown and Cranberry Cocktail feels like the holiday season with its festive flavor that will brighten up any holiday gathering.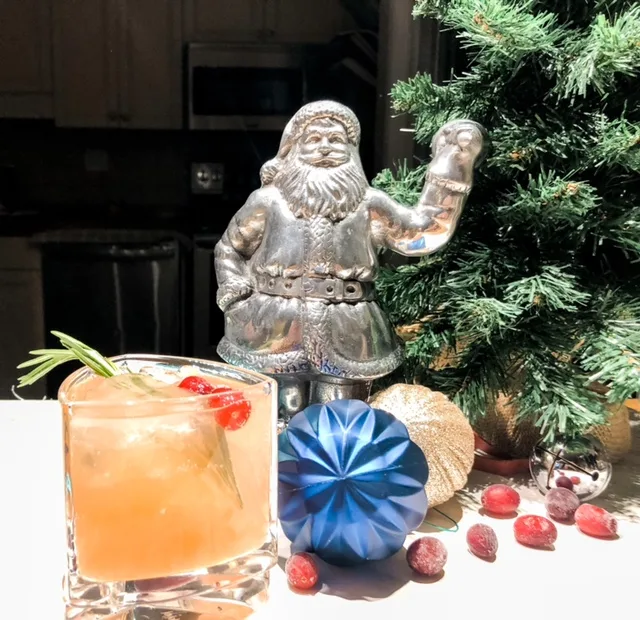 Whiskey Fizz
This delicious Whiskey Fizz Recipe is perfect for the holidays. It's easy to make and always a hit when it comes for fun whiskey drinks for your Christmas drinks menu.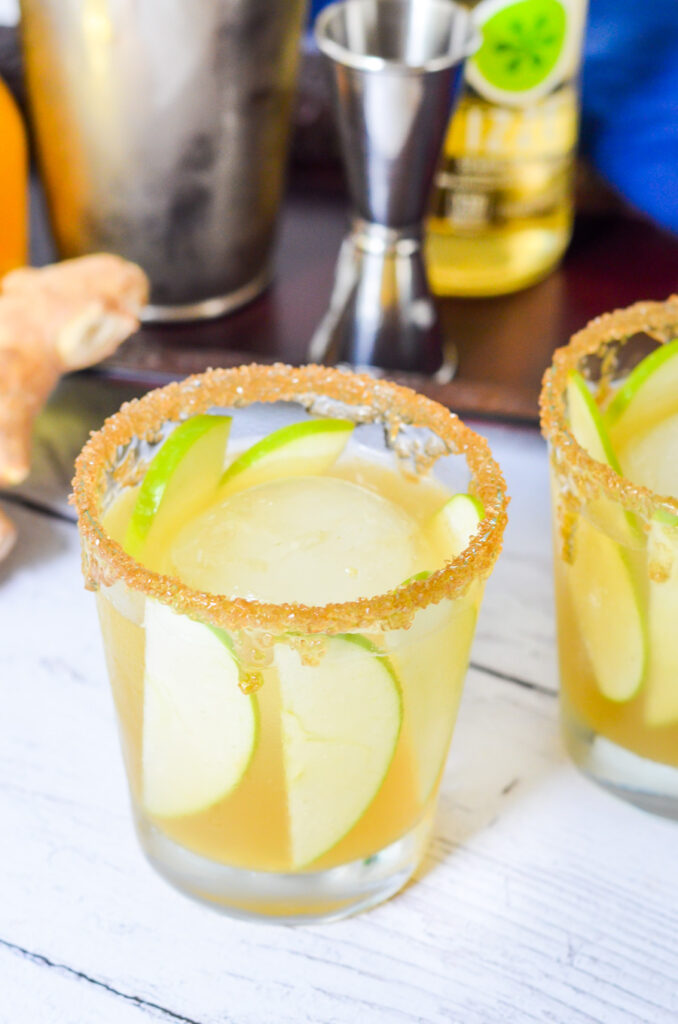 Apple Ginger Whiskey Cocktail
Irish whiskey that is infused with fresh ginger is used in this Apple Ginger Whiskey Cocktail. It comes complete with a honey sugar rimmed glass!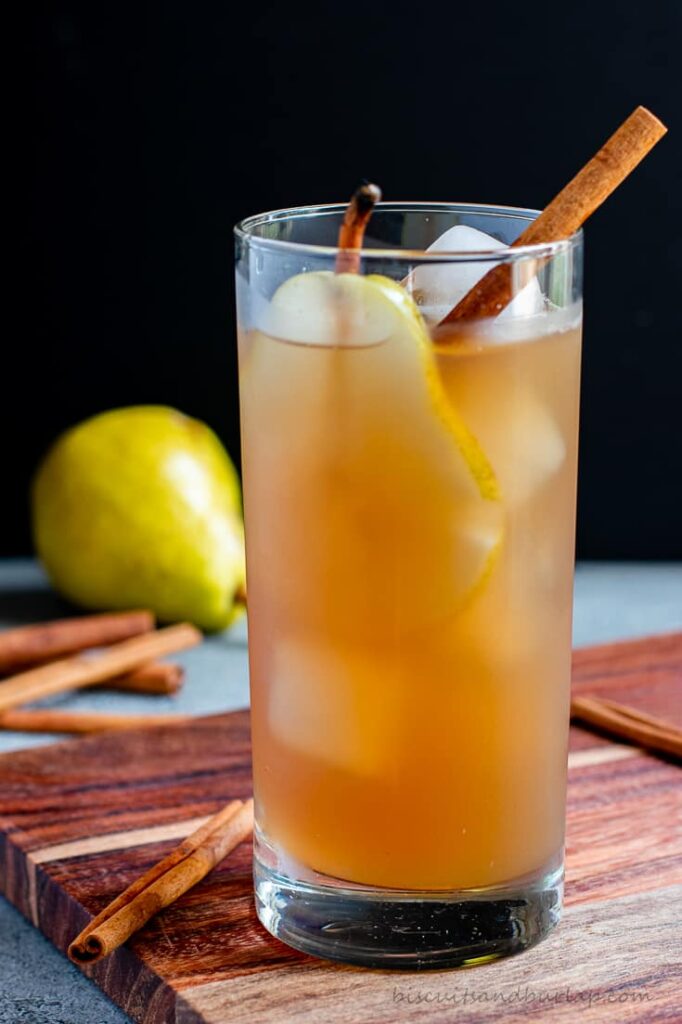 Pear Bourbon Iced Tea
Pear simple syrup and chai tea really make this Pear Bourbon Iced Tea Cocktail sing. Serve it from Thanksgiving all through the winter months.
Sweet Whiskey Christmas Drinks: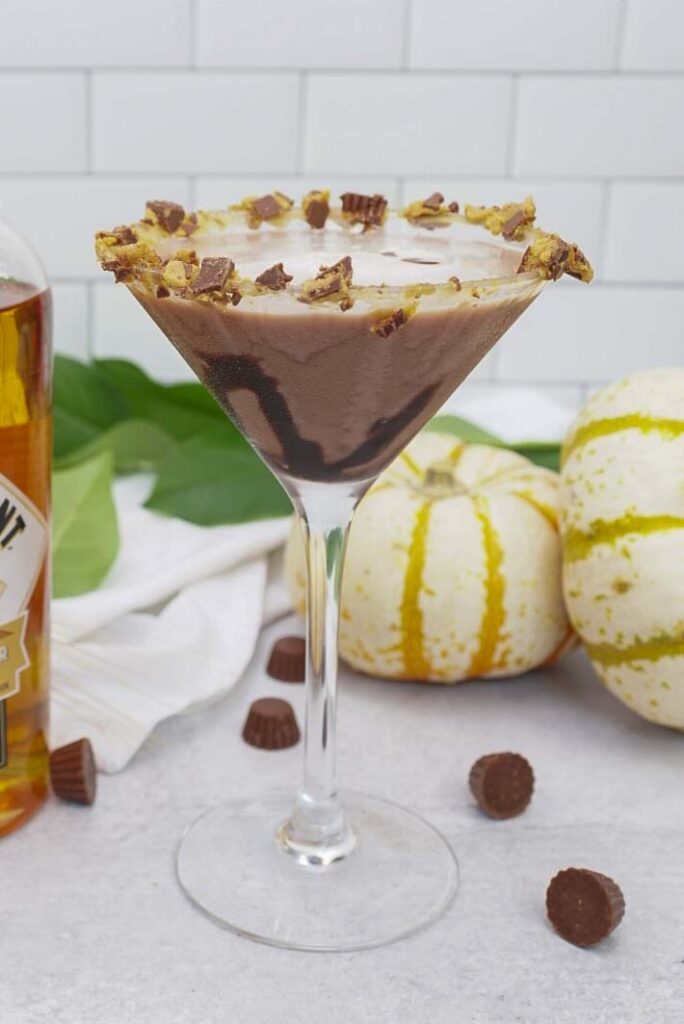 Peanut Butter Whiskey Cocktail
The taste of a peanut butter cup, in a glass! Use peanut butter whiskey to make this dessert cocktail for after your Christmas meal with this martini-style, Peanut Butter Whiskey Cocktail Recipe.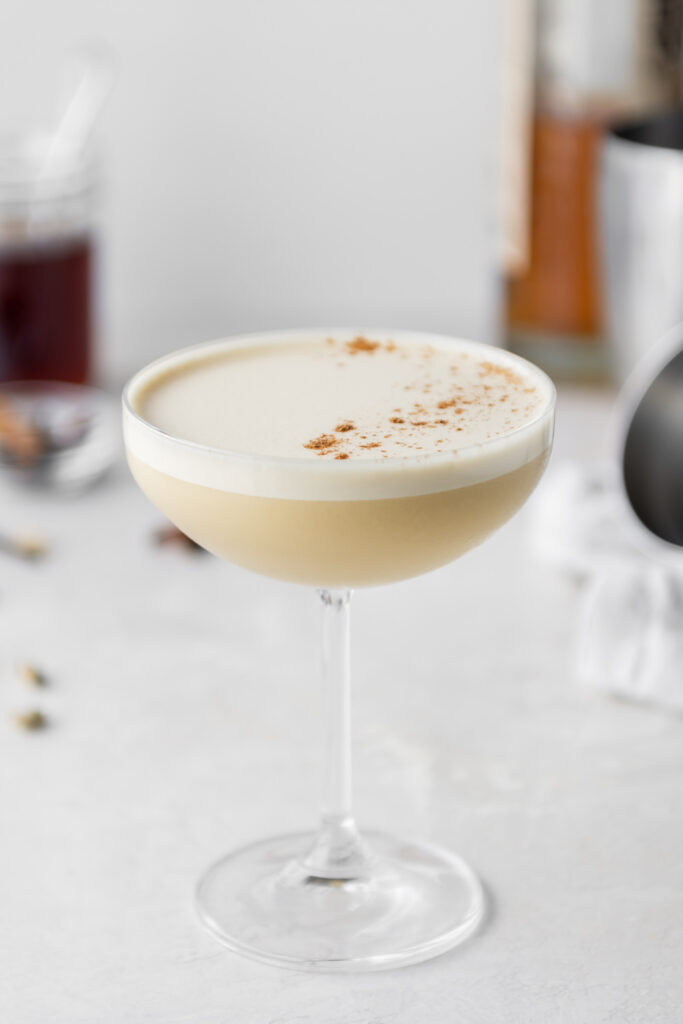 Whiskey Flip Cocktail
This Whiskey Flip is a rich, velvety winter cocktail that's filled with the warm flavors of spiced chai. Use Irish whiskey for a smooth, spicy flip cocktail.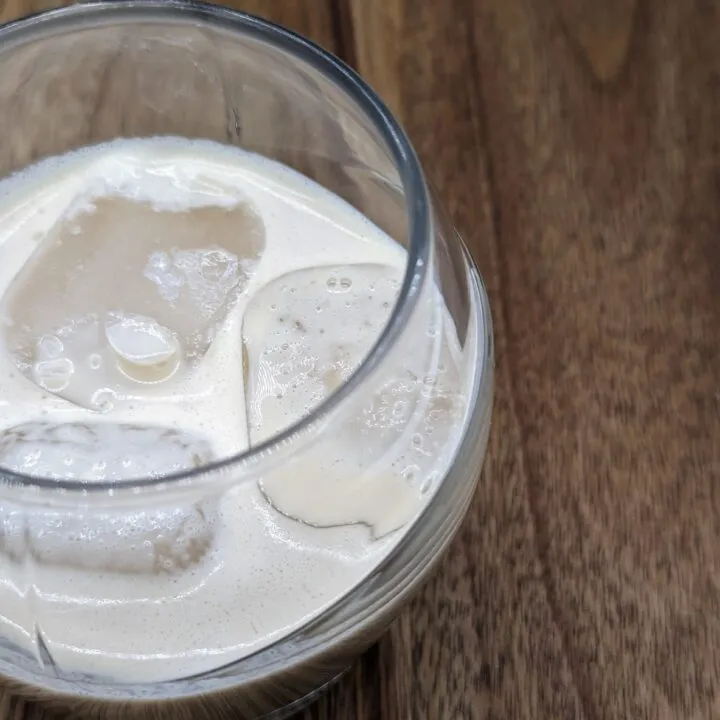 Homemade Irish Cream
This homemade Irish Cream Recipe is a great holiday recipe as you sit back and enjoy time with family and friends that can be made right in a mason jar. Great for family get togethers or to be given away as a gift.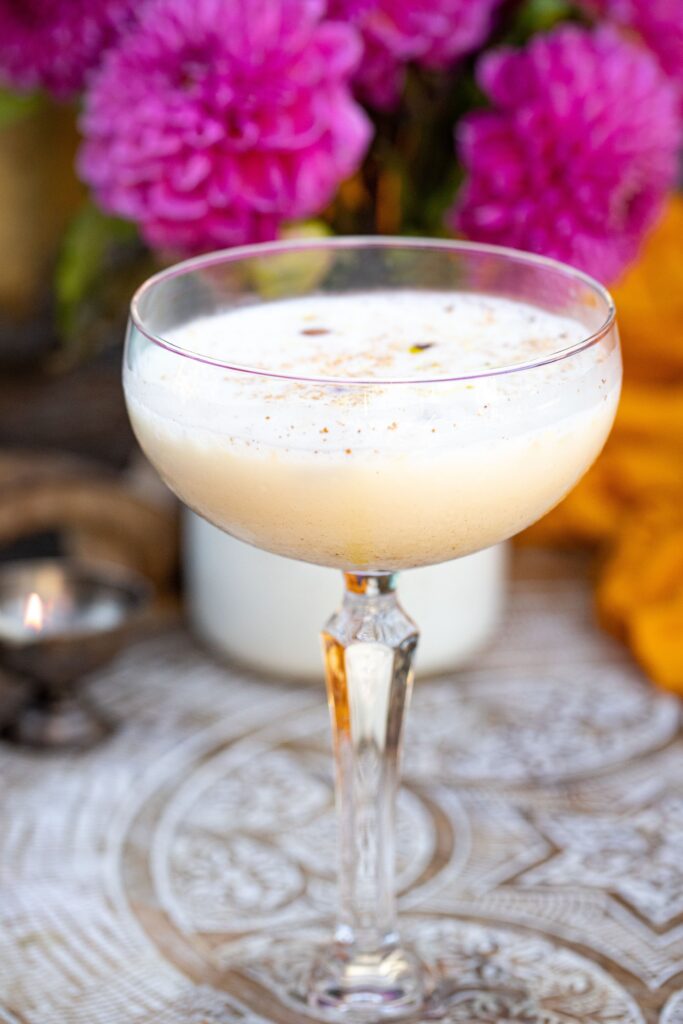 Indian Whiskey Milk Punch
This Indian Whiskey Milk Punch is made with milk, saffron, cardamom simple syrup, and whiskey. This drink is a "milk punch," which is a type of drink that has its roots in India.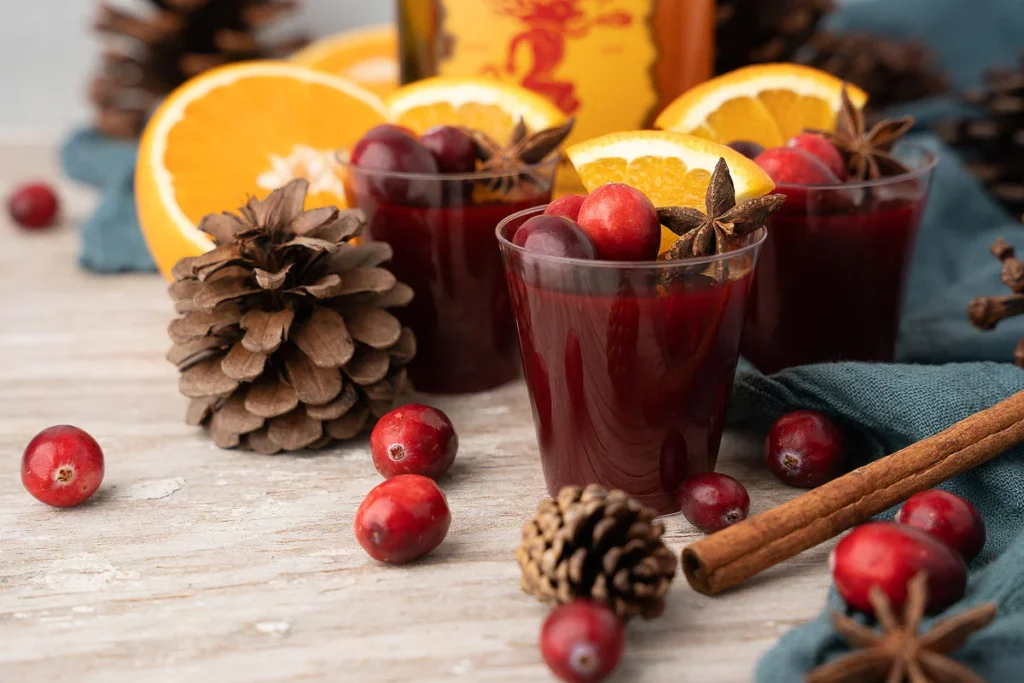 Mulled Wine Fireball Whiskey Jello Shots
Fireball cinnamon whisky with a spicy kick pairs with red wine, jello, and spices to make this holiday party drink. Mulled Wine Fireball Whiskey Jello Shots are a sweet and spicy treat for your taste buds.
Punches and Batch Cocktail Whiskey Christmas Drinks: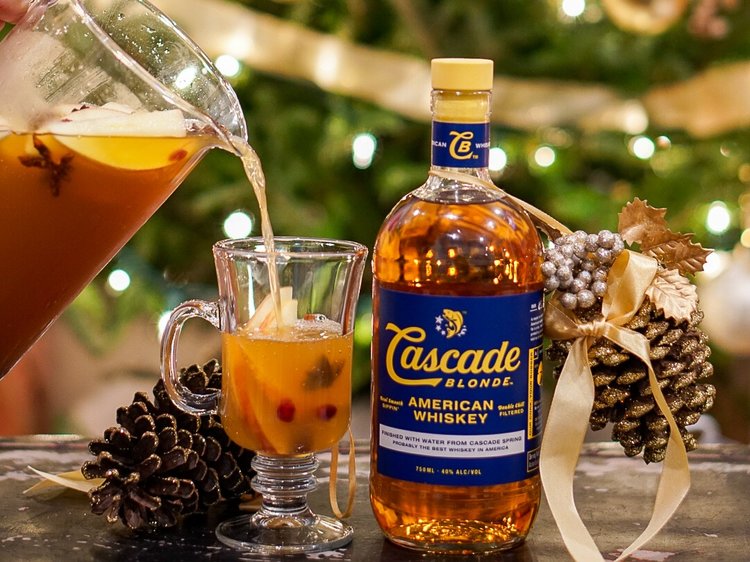 Apple Cider Sangria
Break out the apples and cinnamon sticks for our Apple Cider Sangria Recipe. We love making this batch cocktail in a large pitcher when we host friends for our holiday parties. It's made in a snap and serves a crowd, so we have more time to mingle and spend less time mixing!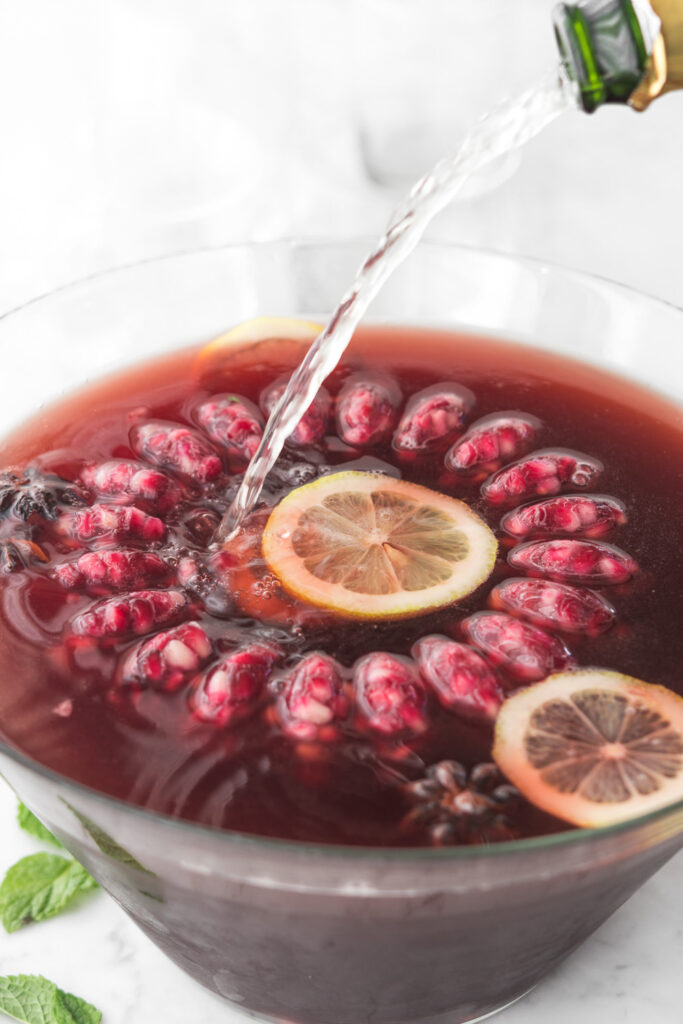 Black Cherry Whiskey Punch
This Whiskey Punch is the perfect drink for your next holiday party. The mix of sour and black cherry juices gives the punch layers of fruity flavor while the warm spices make it taste like the holidays. Whiskey gives it, well, the punch and champagne adds a festive, much needed spritz.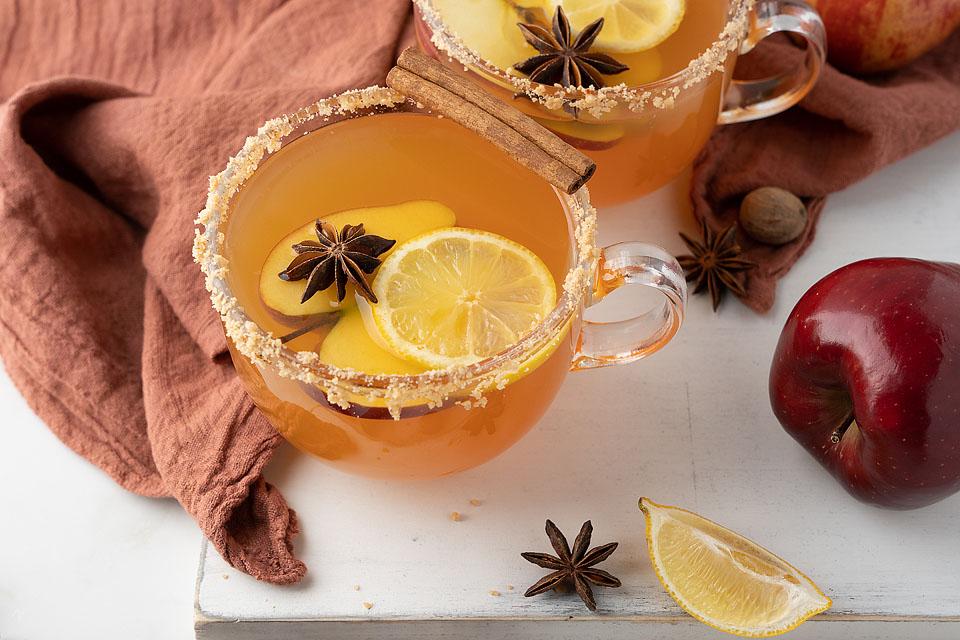 Toffee Apple Cider Fireball Hot Toddy
For a twist on a classic hot toddy, this Toffee Apple Cider Fireball Hot Toddy uses cinnamon flavored whiskey, butterscotch liquor, and apple cider. Make a big pot before hosting your guests.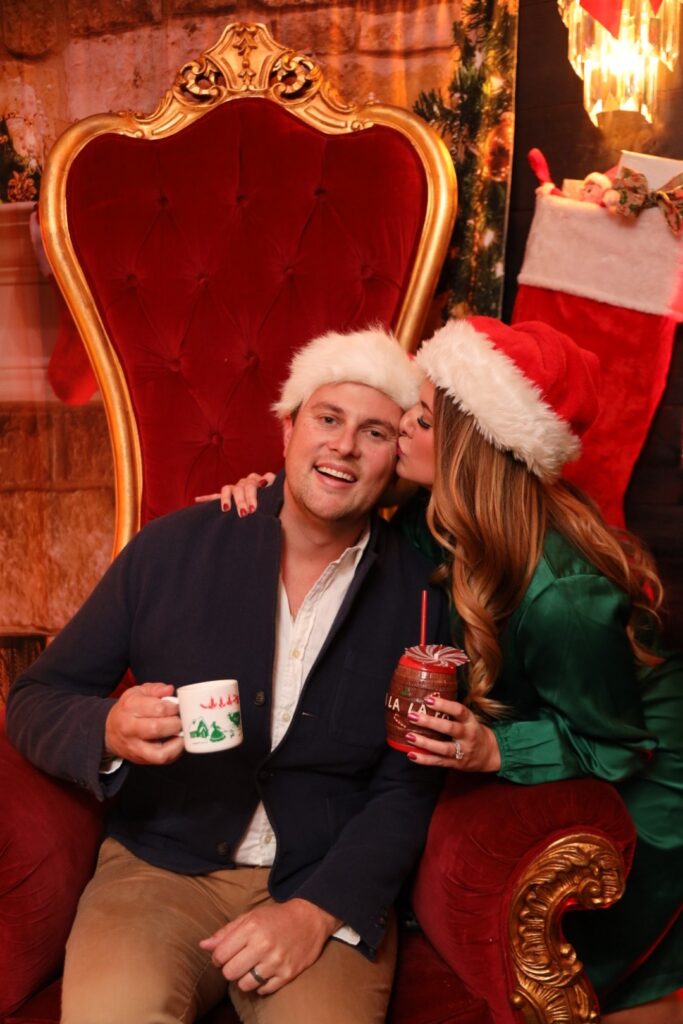 These wonderful recipes can be used to celebrate the special season to get into the holiday spirit but also save them to reference all throughout the winter season thanks to the focus on seasonal ingredients.
And don't miss our full collection of entrees great for romantic meals, special occasions, and date nights at home.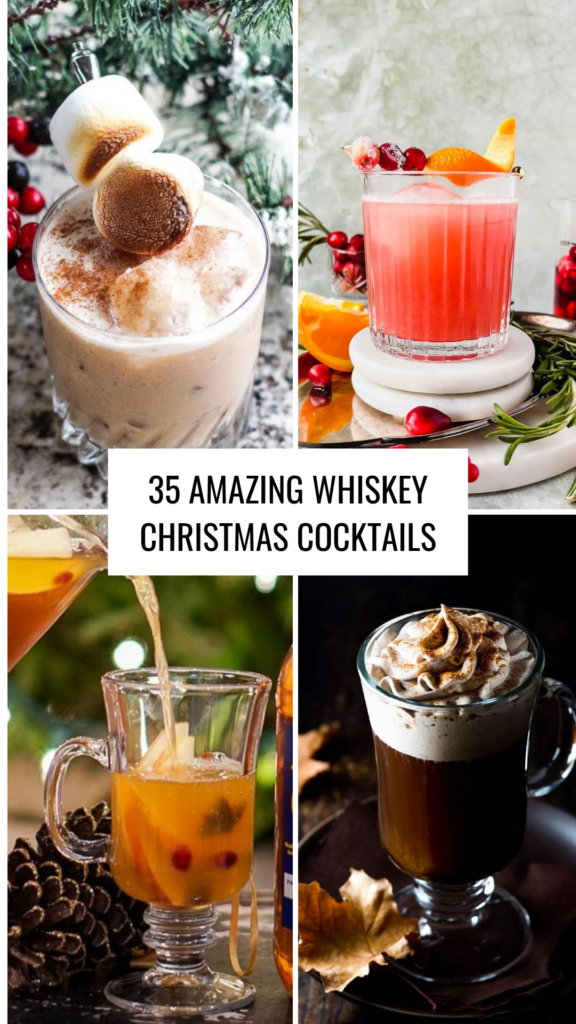 Click this link to pin this roundup of 35 Amazing Whiskey Christmas Drinks on Pinterest
Also, don't forget to follow us on Instagram and Facebook for more recipes and recommendations, we love to see when you make our recipes!
If you'd like to automatically receive our posts in your email, register here.