We encountered some fantastic foodie spots while on a long weekend to Omaha, Nebraska.
From outrageous french fry toppings, to cool cocktail bars, to some of the best sushi we've tasted (no joke), Omaha has some fantastic foodie spots.
Here are the best places to eat in Omaha: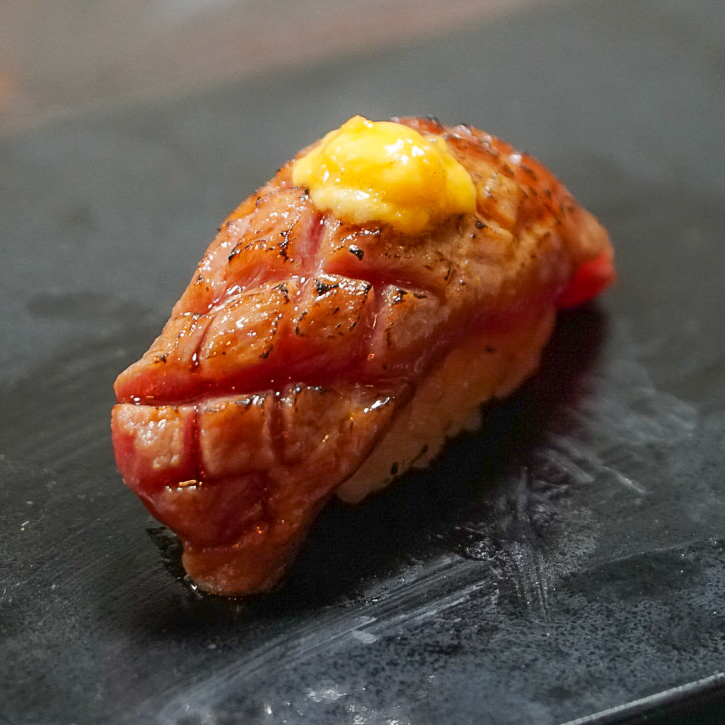 Yoshitomo
Some of the best sushi we've ever had came from… Omaha?!
You're likely as shocked as we were.
Experiencing the omikasi at Yoshitomo can't be missed.
We bellied up to the sushi bar and watched in amazement as Chef David Utterback served up some innovative dishes like foie gras rice, seared wagyu with uni butter, fresh oysters with dill and apple mignonette, as well as the most amazing sablefish with yuzo sumiso.
We were floored by how innovative and delicious this sushi experience was, it is absolutely one of the best restaurants in Omaha.
Another bonus? It was one of the most affordable for an omakase dinners we've seen anywhere. $60 bucks got us 16 mind-blowing sushi courses. 6009 Maple St, Omaha, NE 68104, https://www.sushiyoshitomo.com/
Mercury
Take in all the retro vibes from this cocktail bar in downtown Omaha.
Mercury offered kitschy touches from a full-blown comic book menu to an old bank vault converted to a wine cellar.
Come for a classic cocktail like a dirty martini or go wild with one of their unique craft concoctions, complete with a cotton candy garnish.
One of Gavin's favorite cocktails that they created on the spot for him was a whiskey cocktail with the unusual combination of apricot and lime for the perfect summer porch drink.
Locals share that this is one of the best bars in Omaha. 329 S 16th St #3, Omaha, NE 68102, http://mercury-omaha.com/
Block 16
Comfort food with a twist!
This spot is a favorite of Food Network's Alton Brown and we see why, it's one of the best places to eat in Omaha.
We couldn't get enough of the creative french fry menu items. With options like Nashville hot chicken fries and crab rangoon fries, deciding what to order was a tough life decision.
We opted for the poutine burrito and duck confit fries. Obviously you can't go wrong with a french fry burrito with a side of french fries.
Word on the street is that the burgers are amazing. A word to the wise, you better get there early, they were sold of some of the burger options when we arrived at 1:30pm! 1611 Farnam St, Omaha, NE 68106, block16omaha.com
Ted & Wallys
Head to the Old Market in downtown Omaha for a cool treat at this old school scoop shop.
Ted & Wallys pride themselves in their ultra-premium ice cream.
Made with local egg yolks, real vanilla, and real heavy cream, you'll find their ice cream has a low amount of air introduced so it's dense and super creamy.
We couldn't resist the ice cream taco filled with coconut caramel ice and vanilla malt cream and topped in warm, ooey, gooey caramel. Multiple locations, https://tedandwallys.com/
Wicked Rabbit
We're a sucker for a speakeasy, so when we stumbled upon this craft cocktail bar through a liquor store hidden bookcase, we were in love.
Wicked Rabbit features cozy lounge vibes and a vast cocktail menu disguised as a thick hardcover novel.
A perfect option for an Omaha nightcap. 1508 Harney St, Omaha, NE 68102.
Gorat's Steakhouse
Our trip to Omaha was part of our partnership and tour with Omaha Steaks, so of course we needed to get our beef fix.
The team took us to this iconic steak supper club that is a favorite of Omaha's own billionaire, Warren Buffett.
You'll definitely be transported to an old school supper club while you're at Gorat's.
We opted to share the massive T-bone steak that's aged at least 21 days and cut trimmed right in town at Omaha Steak's production facility. 4917 Center St, Omaha, NE 68106, goratsomaha.com
Crescent Moon
The reuben sandwich was invented in Omaha, so if you'd like to pay homage, check out the award winning reuben at Crescent Moon.
The corned beef was thick and meaty. Although it wasn't the very best thing we ate in Omaha, if you're looking to commemorate the reuben, here's the spot the locals swear by.
Psst… it's a Belgian beer bar with access to a German beer bar in the basement. 3578 Farnam St, Omaha, NE 68131, http://beercornerusa.com/crescentmoon/
Omaha Henry Doorly Zoo
With all this eating, you'll want to escape to the Omaha Zoo to walk off your food baby.
Omaha's top tourist activity is also renowned as one of the best zoos in the entire country. We were able to go behind-the-scenes to feed a giraffe with the crew from Omaha Steaks. (Be sure to grab one of their burgers being grilled up at the zoo, they're delish!).
The rainforest exhibit was fantastic, featuring baby monkeys! Be sure to check out the Omaha Zoo new Asian Highlands exhibit – we saw rare animals that we've never seen before. 3701 S 10th St, Omaha, NE 68107, http://www.omahazoo.com/
Steaks to Take Home
If you're looking to bring a taste of Omaha home Omaha Steaks actually has a few local stores, and a location at the Omaha airport.
When you stop by one of their shops you can talk to one of their shopping experts to help you buy for any need.
They'll make recommendations for top items like their sticky toffee pudding, which we'll totally be trying soon because everyone was raving about it! https://www.omahasteaks.com/info/Stores
Have a fantastic time in Omaha! If you head to any of these foodie spots, be sure to tag us on social media so we can see all the delicious dishes you're savoring.