We love the taste of peanut butter whiskey when fall and the holiday season rolls around, so we curated a list of some amazing Skrewball whiskey drinks.
All of these delicious peanut butter whiskey cocktail recipes feature Skrewball or a comparable peanut butter whiskey brand like Ram's Point or Sheep Dog Peanut Butter Whiskey.
From classic cocktail drinks with the added natural peanut butter flavor of Skrewball, to some unique cocktails that even mirror a peanut butter and jelly sandwich, this list has it all.
Peanut butter lovers unite, enjoy this round up of peanut butter whiskey drinks!
It's a great resource if you're wondering what to make with that bottle of Skrewball whiskey you have on your bar cart.
Click on each link for more details and each recipe card.
Skrewball White Russian Recipe
If you're looking for a creamy, nutty cocktail, this Skrewball White Russian Recipe is for you! Heavy cream and nutty flavor makes this one of the best white russians. Plus, it is so easy to make, no cocktail shaker required. It's perfect as an after-dinner drink!
Peanut Butter Cup Martini Peanut Butter Whiskey Cocktail
If you're obsessed with peanut butter cups as much as we are, you need to try our Peanut Butter Whiskey Cocktail. The sweet skrewball makes this creative cocktail taste like a Reese's peanut butter cup in a martini glass. We even used peanut butter cups to rim the glass when we enjoyed this cocktail on Halloween night. What could be better!?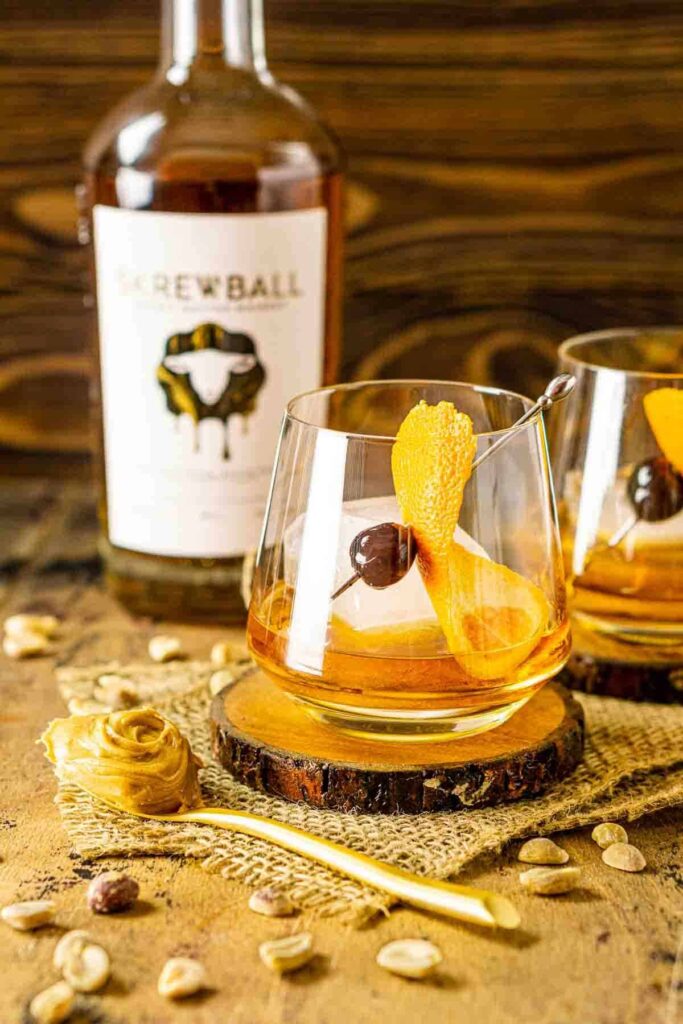 Peanut Butter Old Fashioned
Old fashioned cocktails are without a doubt our go-to drinks at home (don't miss our Smoked Old Fashioned Recipe). Put a decadent spin on a favorite whiskey cocktail. It has traditional angostura bitters, orange, and cherry, but with a creamy peanut butter twist! Grab a rocks glass and a large ice cube because this Peanut Butter Old Fashioned tastes like dessert in every sip.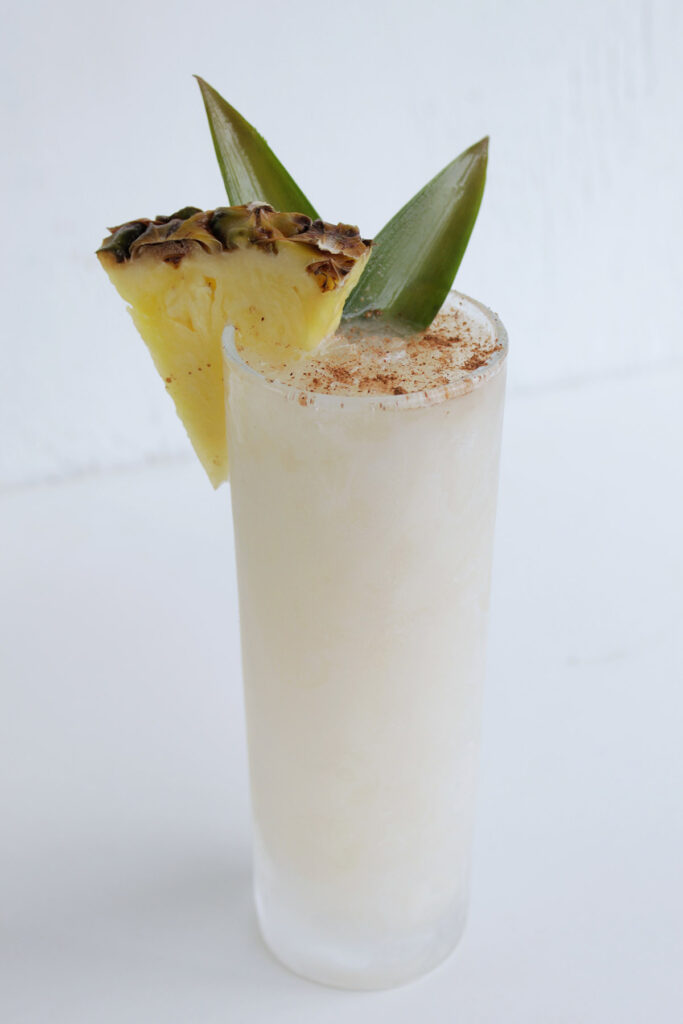 Skrewball Tiki Cocktail
Shake up a tropical tiki cocktail (in under 5 minutes) using peanut butter whiskey along with summer flavors like rum, coconut, and pineapple in this creative cocktail. At the first sip of this Tropical Peanut Butter Whiskey Cocktail, you'll experience a sweet coconut flavor with a peanut butter note at the end.
Elvis Peanut Butter Cocktail
A tasty combo of peanut butter whiskey, scotch and banana infused sherry, this peanut butter drink is dedicated to Elvis' favorite sandwich, peanut butter and banana! Hope you enjoy this boozy Elvis Peanut Butter Cocktail, and honor Elvis at the same time!
Peanut Butter and Jelly Cocktail
This simple Peanut Butter and Jelly Cocktail is made with Skrewball Peanut Butter Whiskey and Chambord raspberry liqueur to create a grownup version of a childhood favorite. The PB&J cocktail is a sweet drink that packs a punch and goes down smooth and easy!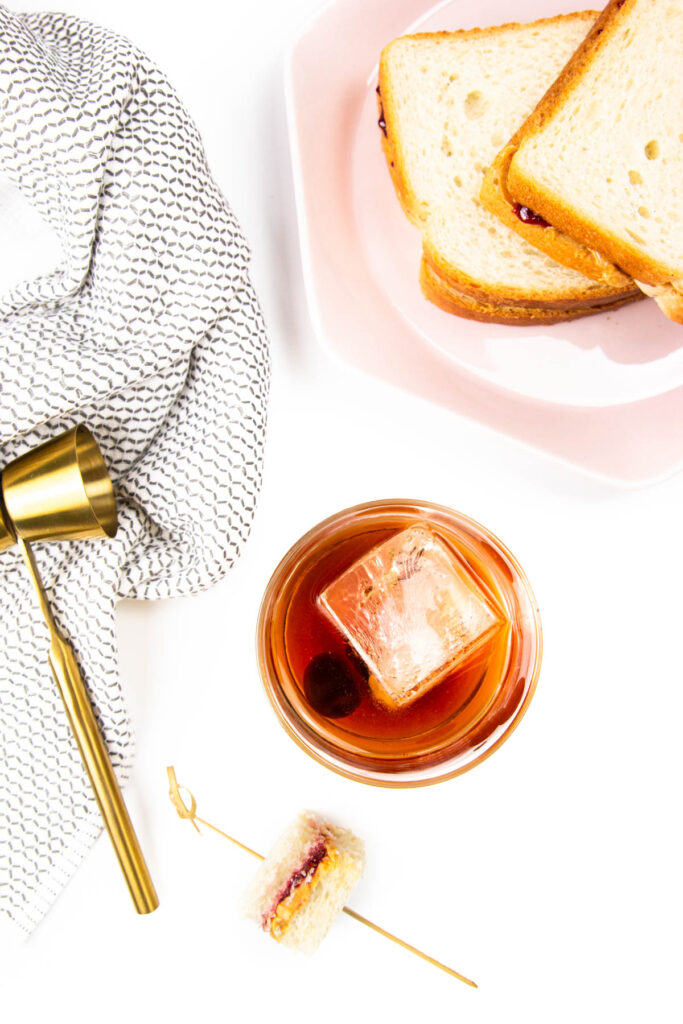 Peanut Butter and Jelly Old Fashioned
Let your bottle of peanut butter whiskey take you down memory lane with a Peanut Butter & Jelly Old-Fashioned Cocktail. This concoction pays homage to the classic sandwich and is a fantastic choice for lovers of peanut butter whiskey cocktails.
Peanut Butter and Jelly Shot
What about a shot? This Peanut Butter and Jelly Shot is sweet, easy to make, and tastes like a PB&J! It will likely invoke some nostalgia, too, since this shooter's flavor is reminiscent of the ubiquitous childhood treat.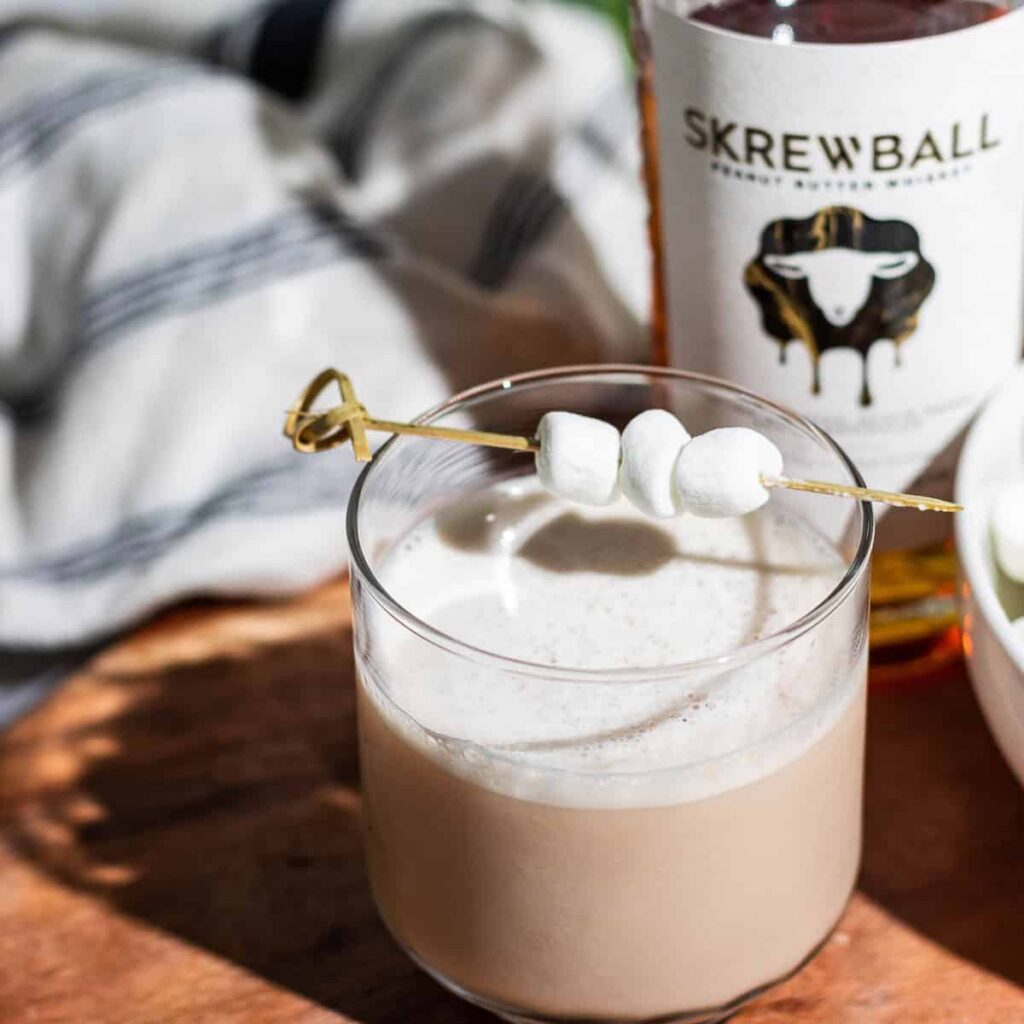 Fluffernutter Whiskey Cocktail
Another childhood classic with an adult spin. If you love marshmallows, you should make this Fluffernutter Whiskey Cocktail. To really make it special why not learn How to Make Homemade Marshmallows for an elevated garnish?
Boozy Buckeye Hot Chocolate
Get some extra warmth out of your hot cocoa by throwing a shot of peanut butter whiskey into the mix to make a Boozy Buckeye Hot Chocolate. The topping of whipped cream and a traditional buckeye cookie makes this a dessert in a glass!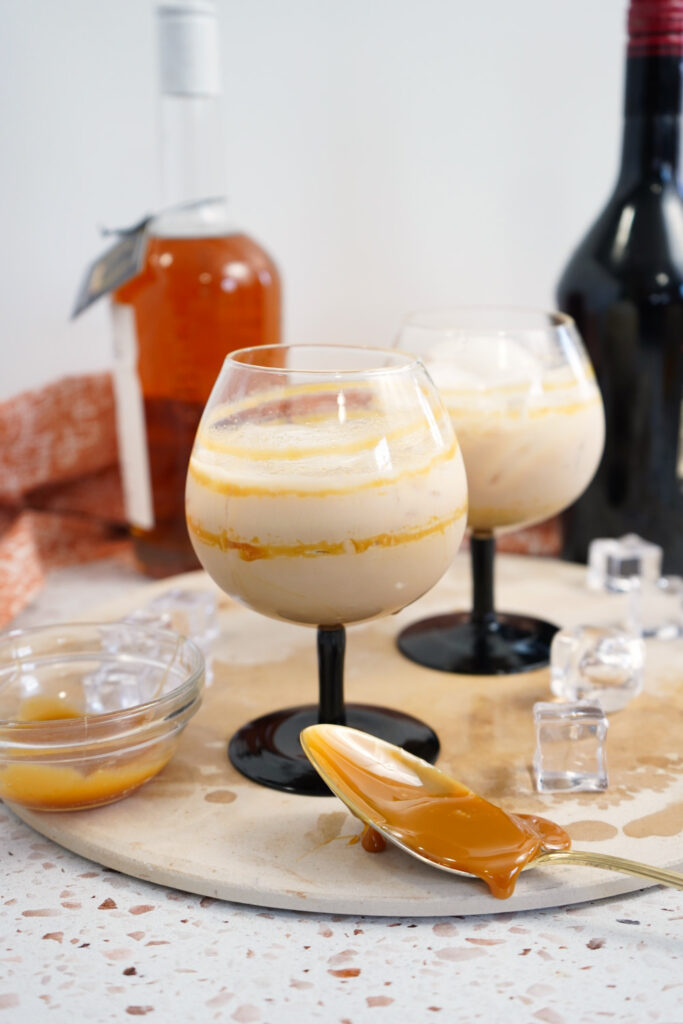 Nutty Caramel Cordial
A Nutty Caramel Cordial is smooth, warming, and the perfect cordial any time of the year, enjoy one of these peanut butter whiskey recipes with a kiss of caramel.
Peanut Butter Whiskey Cocktail with Espresso
How about a kick of caffeine with your decadent drink? This Peanut Butter Whiskey Cocktail with Espresso features a shot of espresso, but you can always substitute that for cold brew coffee.
Skrew Loose Cocktail
Pull out the orange juice because this Skrew Loose Cocktail is an interesting take on a classic screwdriver. Plus, how fun is this cocktail name!?!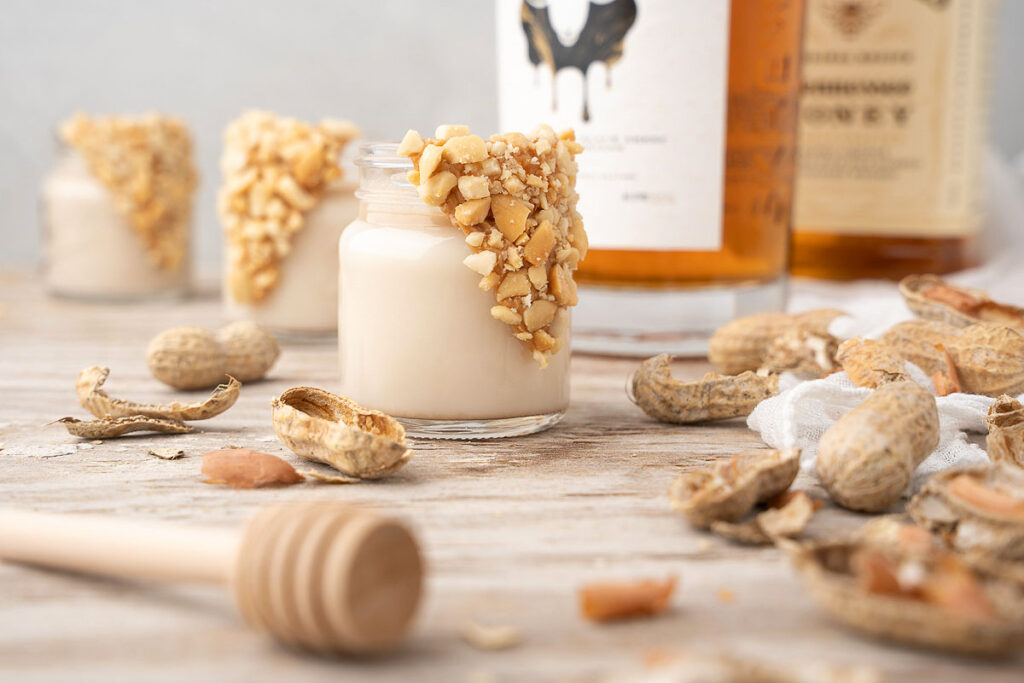 Whiskey Honeyed Peanut Butter Shots
Sometimes the best way to enjoy a delicious drink is in a shot! Honey and peanut butter flavoured whiskey are the inspiration behind these amazing Whiskey Honeyed Peanut Butter Shots. They're satisfying enough for a shot or unique enough for a boozy mini-dessert.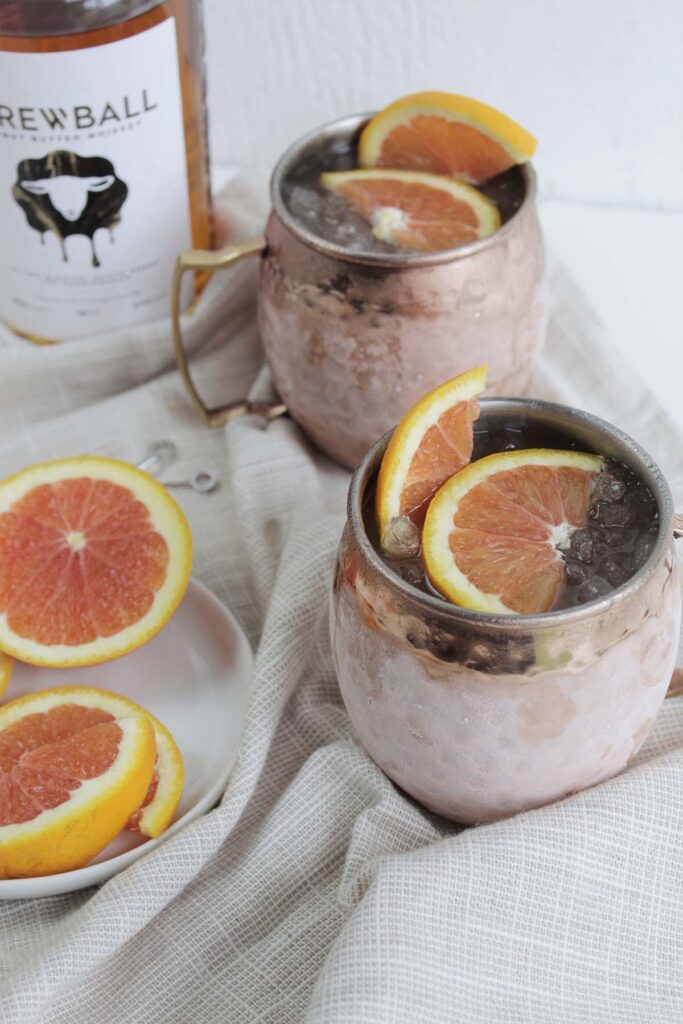 Peanut Butter Whiskey Moscow Mule
Make a riff off of the classic Moscow mule with peanut butter whiskey, ginger beer, and orange juice. This four-ingredient Skrewball drink is the perfect combination for a beautifully balanced cocktail. Try a Peanut Butter Whiskey Moscow Mule if you're looking for something more refreshing instead of a dessert cocktail.
Slow Skrew
This unique and delicious whiskey cocktail recipe features Skrewball Whiskey and is a peanut butter lover's Dream. With coconut liquor, simple syrup, and even a marshmallow garnish, The Slow Skrew dessert cocktail has a funny way of delighting you.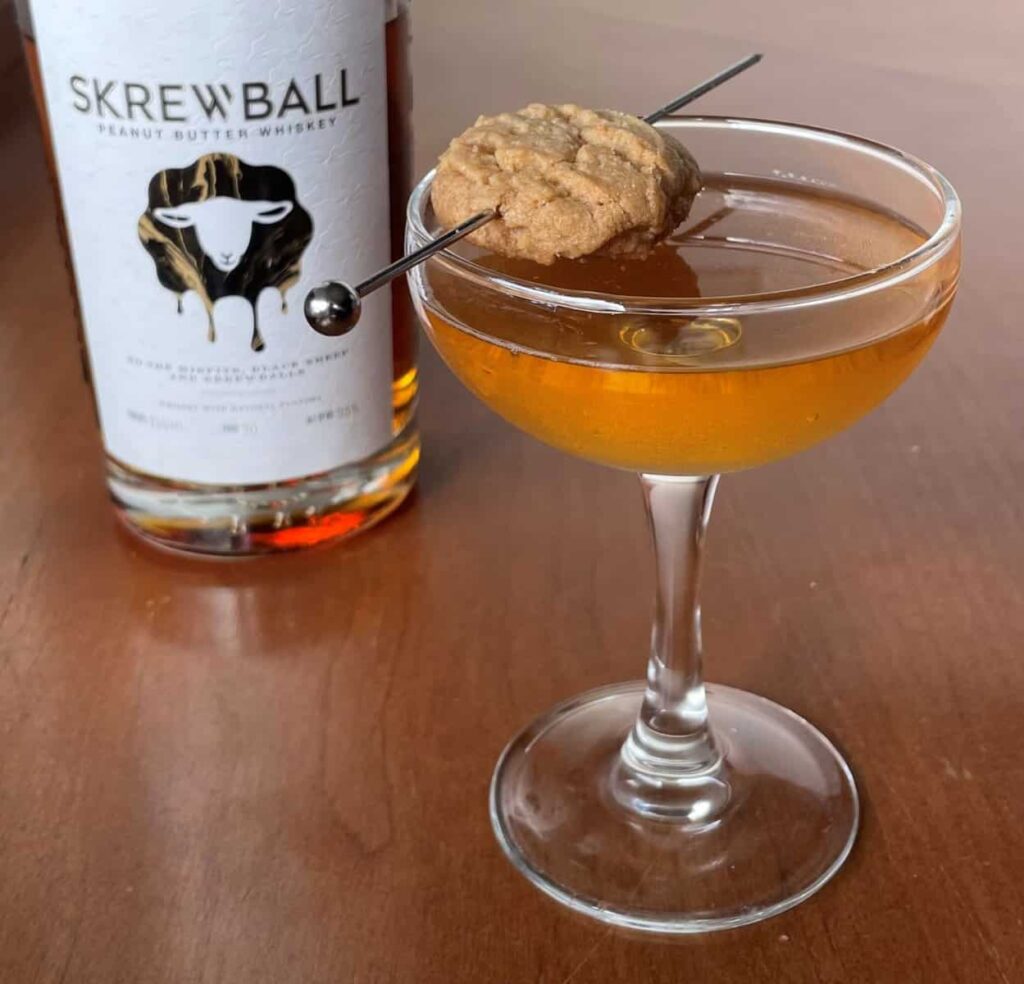 Peanut Butter Manhattan
This dry Peanut Butter Manhattan Recipe is made with peanut butter whiskey, dry vermouth, and a dash of bitters. It's a unique variation of a classic cocktail that's bursting with peanut butter flavor.
Peanut Butter Whiskey Milkshake
Bring on the ice cream and chocolate syrup! This sweet and delicious Peanut Butter Whiskey Milkshake is super easy to make. This is the ultimate boozy dessert drink made with only 5 ingredients.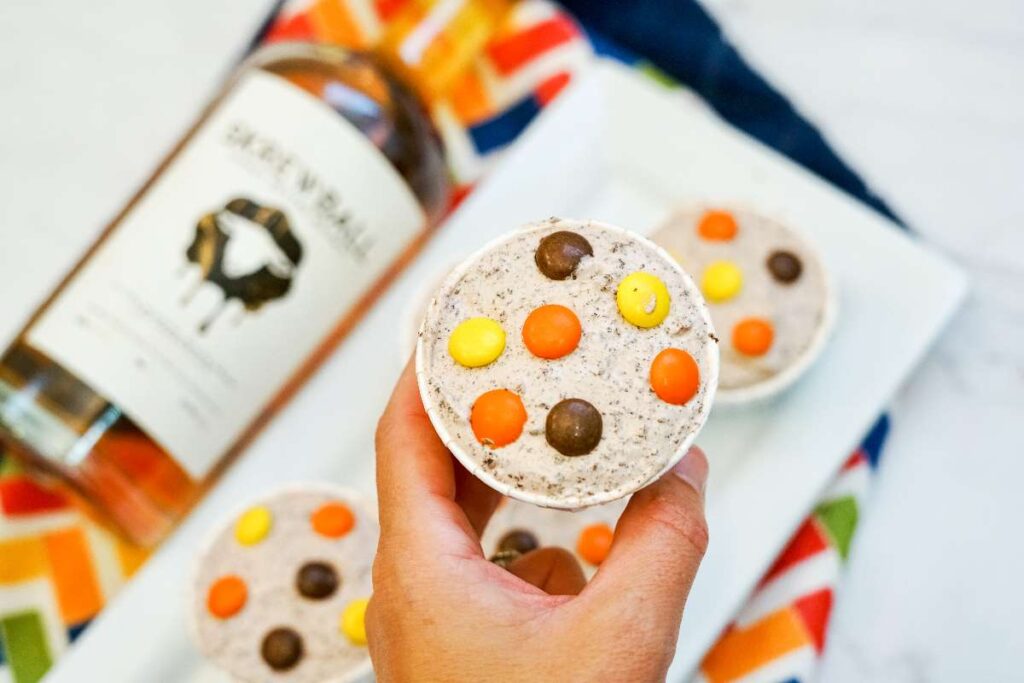 Peanut Butter Pudding Shots
Have your dessert and a drink too with these delicious Peanut Butter Chocolate Pudding Shots. They are a tasty treat to finish your meal and easier to enjoy compared to more booze-forward shots.
There you have it! Some of the best Skrewball Whiskey Recipes on the planet.We can't wait to cozy up on the couch at home, light a fire, and start drinking our way through each and every one of these delightful libations.
Let us know which one is your favorite!
Click this link to pin this roundup of the 19 Best Skrewball Whiskey Drinks on Pinterest.
Also, don't forget to follow us on instagram and facebook for more recipes and foodie recommendations.
If you'd like to automatically receive our posts in your email, register here.
Whip up this recipe or have a better way to upgrade it? Be sure to tag us on social media as @coupleinthekitchen and we'll share it with our foodie followers!