While traveling through Italy this past fall, we visited a number of markets to check out (and sample!) all the local Italian goods. While in Florence, we indulged in the flavors of Tuscany and even found the freshest sun dried tomatoes to vacuum seal to bring home. There are a number of dishes where a sun dried tomato recipe would be put to good use: sun dried tomato pesto, Italian sandwiches and pasta, pasta, pasta!
This sundried tomato pasta recipe has a very light sauce made of olive oil and white wine but is packed with flavors. The combination of the sun dried tomatoes, capers, shallots, garlic, fresh basil and pine nuts add a TON of textures and flavors to the pasta dish so that you don't need to load it up with a heavy sauce. We added shrimp to this recipe but we're sure it would be tasty with chicken or as a vegetable pasta recipe too.
Typically, there are two ways you can buy sun dried tomatoes: dried and packaged or marinating in olive oil. If yours (like ours) were dried and packaged, you'll want to rehydrate them by soaking them in water for at least 30 minutes prior to chopping them up and cooking with the sun dried tomatoes. This will help to soften them up so they can take on the flavors of your cooking.
We know you'll love this healthy, 30-minute pasta recipe!
Tuscan pasta recipe
Serves 4
Ingredients:
¼ cup of olive oil

¼ cup of pine nuts

2 shallots, minced

4 cloves garlic, minced

1 pound large shrimp, peeled and deveined

½ sun dried tomatoes, chopped

½ box of linguini pasta

¼ cup of capers

1 handful of fresh basil

½ cup white wine

Juice of one lemon

Salt and Pepper, to taste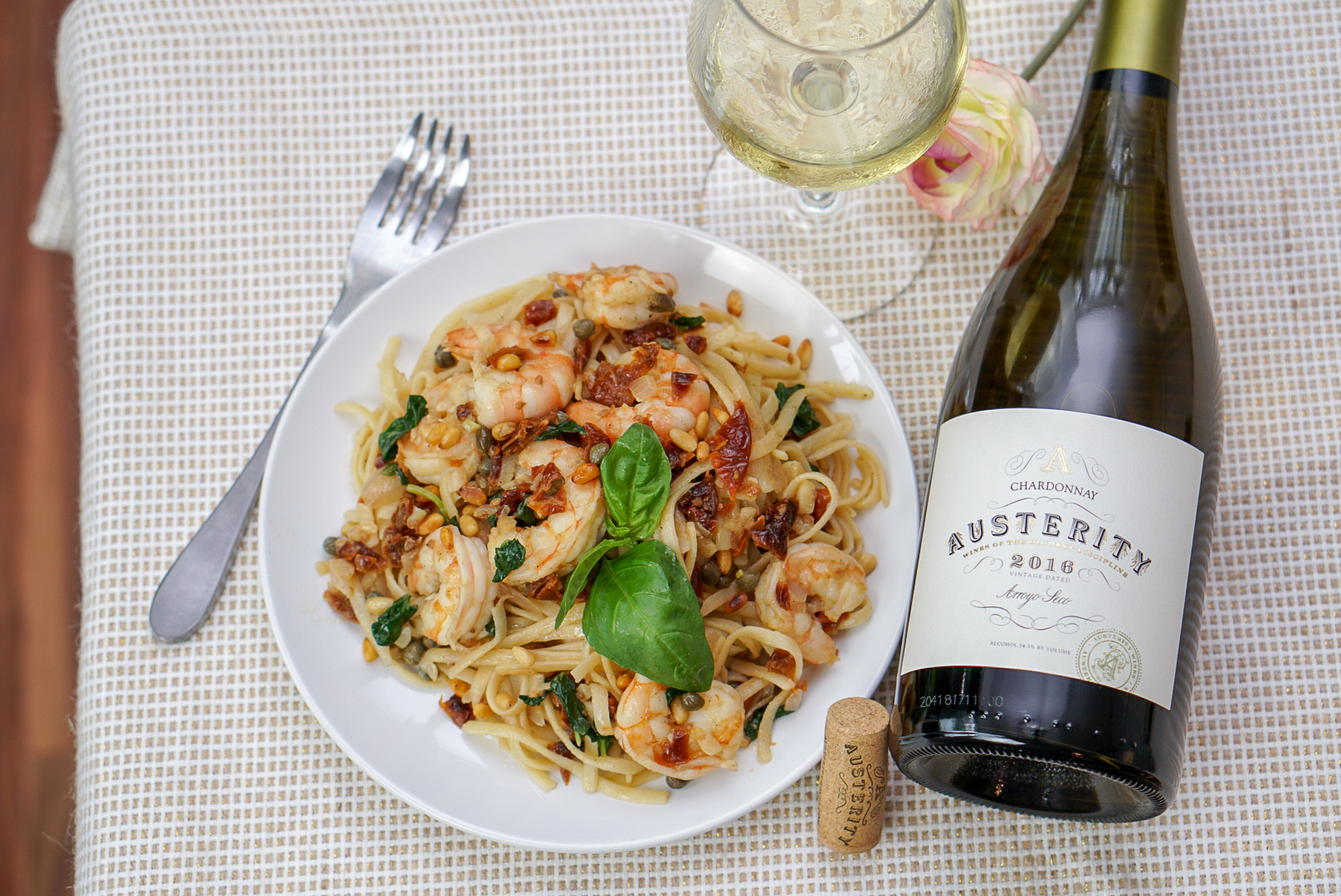 If your sun dried tomatoes came dried, soak them in a bowl of water for 30 minutes. If they came packaged in olive oil, you can skip this step.
Toast your pine nuts in a dry skillet on medium/low heat for 3 minutes, stirring frequently. Remove from heat and set aside.
Cook your linguini pasta in boiling water to al dente.
Heat up the olive oil in a skillet and add shallots and the sun dried tomatoes. Sautee for 2-3 minutes until softened. Next add the garlic, capers, and shrimp. Sautee the ingredients until the shrimp turns into a C shape and they start to turn light pink. Add your white wine and scrape the bits off the pan. Bring the pan to a simmer and add basil and the linguini. Stir to combine. Finish with a squeeze of fresh lemon juice, salt, pepper and top with the toasted pine nuts.
Love this recipe? Share or pin it! We love to see when you make our recipes so please tag us on social media when you do!
Craving pasta? Check out these other pasta recipes: