The Crossroads Arts District is the up-and-coming area in downtown Kansas City.
Breweries, coffee shops and new distilleries are popping up all across the neighborhood.
In fact, there are five breweries (soon to be six) all in walking distance in this part of town .
The neighborhood features gorgeous brick warehouses adorned with colorful art and has all the "hipster vibes".
It felt a bit like the east side of Austin, right in the middle of Kansas City, Missouri.
We ate about 7 meals a day and drank from brunch to dusk, so rest assured, these recommendations are rock solid.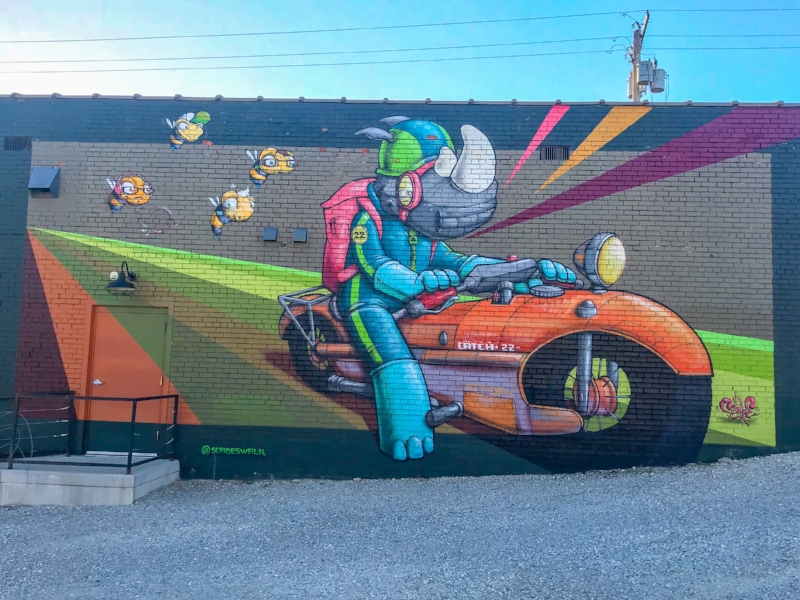 8 Can't Miss Eats (and Drinks) in the Crossroads Arts District:
For Breakfast: Messenger Café + Ibis Bakery
It's impossible not to love this three-story home to popular local roaster Messenger Coffee and craft bakery Ibis.
The space is bright and airy, even though the production area is the centerpiece of downstairs.
We loved the tile, ceramics, and green plants lining the space.
It's the best spot for a great cup of coffee and an artisan pastry.
Take in the view on the rooftop patio, which even features a fireplace, while enjoying their amazing local sweet potato cookie.
1624 Grand Blvd, Kansas City, MO 64108 https://messengercoffee.co
For Lunch/Happy Hour: Parlor
This new, two-story food hall features seven dining options, two bars and a second-floor garden patio.
The space was open, modern, bright and clean.
The food hall includes a pizza place, sandwich shop, fried chicken, Korean food, Scandinavian, Japanese cuisine and a Yucatan/Middle Eastern fusion restaurant.
The restaurant leases range from 12-36 months, so restaurants may change from time to time.
We chose to eat at Mother Clucker, the purveyors of fried chicken. We ordered the Come Back Fried Chicken Sandwich and decided to get the Mother Clucker sauce which was noted with the description "blazing inferno".
Since it wasn't the hottest option, we thought it would be tolerable. Hot damn, were we wrong! It was so spicy, we were guzzling Brewery Emperial Biscuit Beer like crazy.
The flavor of the sandwich was great and we love spicy foods, but even this one had our eyes watering.
1707 Locust St, Kansas City, MO 64108 http://www.parlorkcmo.com/
For a Fun Afternoon: Tom's Town
Head to a distillery tour and grab a cocktail inspired by Kansas City's Prohibition-era history.
We started by ordering a craft cocktail in their art-deco bar with exposed brick, stamped tin ceiling, rich leather, and velvet tufted booths.
This historic building has tons of character, you can still see charred beams from the 1908 building fire.
The Tom Pendergast cocktail was one of the tastiest craft cocktails we had all year and featured their Royal Gold Whiskey.
Their distillery tour, which is offered daily, will take you through the still room, downstairs to the barrel room, and then to a private area where you watch a video while tasting their gin, vodka, and whiskey.
The movie provides a lot of history of Kansas City, Tom Pendergast, and information on why prohibition never occured in KC and why jazz and liquor historically thrived in the city.
1701 Main St, Kansas City, MO 64108 https://www.toms-town.com/
For a Sweet Treat: Christopher Elbow
Indulge in some truffles, desserts, and drinking chocolates from this celebrated local chocolatier.
Christopher Elbow worked for celebrity chef Emeril Lagasse and in high-end Vegas restaurants prior to returning to Kansas City.
We tasted the butterscotch bourbon, pistachio bergamot, and strawberry balsamic delicacies.
We also couldn't resist the salted caramels, which were the best take-home treat for the plane ride home.
1819 McGee St, Kansas City, MO 64108 https://www.elbowchocolates.com/
For Casual Dining: Brewery Emperial
There are a number of breweries within a few block's radius.
Brewery Emperial was our first stop while visiting KCMO.
This brewery and restaurant features a huge beer garden with cozy fires blazing in barrels and vibrant graffiti art.
Probably the best beer deal in all of Missouri, Brewery Emperial offers a $14 beer flight which comes with 4 MASSIVE beers.
Their Biscuit beer was our clear favorite and it can be found on taps across many top Kansas City restaurants.
We also noshed on their fried pickles, thick-cut french fries, and baked potato dumplings which are whipped up in their open kitchen for guests to see.
Brewery Emperial also offers a full bar, if you're looking for more than beer.
1829 Oak St, Kansas City, MO 64108 https://www.breweryemperial.com/
For Upscale Dining: Extra Virgin
This is the tapas restaurant by James Beard Award-winning chef Michael Smith.
The menu offers many Spanish-style dishes. We absolutely adored the Linguine Sicilian Tuna Heart. It was the closest thing we've had to Italian pasta since returning from Italy.
Homemade pasta was complemented with an egg yolk and shaved, dried tuna heart. It very much reminded us of an anchovy pasta from the coast of Italy.
The bar offers tasty drinks with fun cocktail names like the "bone thugs and hominy", which makes Extra Virgin a great happy hour spots as well since many food items are also discounted.
Next door to Extra Virgin is their sister restaurant "Michael Smith".
While we were in the neighborhood, we ordered the rabbit gnocchi with shaved truffles, and it was unreal! Probably the best thing we ate in KC.
Sadly, Michael Smith is transitioning to a permanent event space after the New Year, but they are in the process of opening another restaurant in the building called Farina.
1900 Main St, Kansas City, MO 64108 http://www.extravirginkc.com/
For Kansas City Beer: Casual Animal Brewing Co.
This is a new, laid-back brewery that opened earlier this year.
We love Casual Animal because they offer "Shake A Day", something Karen's hasn't seen anywhere other than Wisconsin.
For $1 you get the opportunity to shake five dice. Get 4 of the same and you win a beer, roll 5 of the same dice and you win the jackpot, which was over five hundred bucks while we were there!
We enjoyed a flight of their brews while pressing our luck. Unfortunately neither of us won, but we did enjoy some delicious beers.
Our favorites were their Honey Wheat (which surprisingly wasn't too sweet), the vanilla-forward VNL Porter, and the Slacktivist Saison.
1725 McGee St, Kansas City, MO 64108 http://casualanimalbrewing.com/
For a Kansas City Speakeasy Cocktail: Swordfish Tom's
Oh how we loved Swordfish Toms!
This speakeasy was super discreet. Walking up to the building, you couldn't hear a pin drop.
Just a floor below, you approached a plain room with a lighted lantern. A green light glowing means space is available, whereas a red light means it's full and you'll need to wait.
Once you knock to get let in, you'll enter a dimly-lit basement with vintage-inspired decor nestled against old, stone walls. A huge 1905 coal heater is in the center of the lounge.
This Kansas City speakeasy offers an extensive drink menu.
We both loved our craft cocktails: The Kansas City Cocktail and Covfefe Cola.
They also feature the Little Black Book club. A membership gives you your very own leather-bound tasting journal and access to rare spirits at a fair price.
210 W 19 Terrace, Kansas City, MO 64108
You should be stuffed (and maybe even a little buzzed) just by reading our recommendations.
Fit this itinerary all into one day, or spread it out over your weekend, whichever way you plan it, you'll be experiencing some of the best bites in Kansas City!
Interested in a trip to Kansas City? Be sure to share and pin this page. Don't forget to tag us on social media!
Click this link to pin this post for future reference. If you visit one of these spots based on our recommendations, let us know by tagging @coupleinthekitchen on social media!
This guide is brought to you in sponsorship with Visit Kansas City. All opinions are our own.