Happy National Taco Day! We thought we loved tacos, and then we moved to Austin. Now we REALLY have a love affair with tacos. Austin's breakfast dish of choice is the breakfast taco, grocery stores here literally have adorable Mexican grandmothers making fresh tortillas in the middle of the store, and some Mexican restaurants in Austin even have a salsa bar that is larger than most salad bars.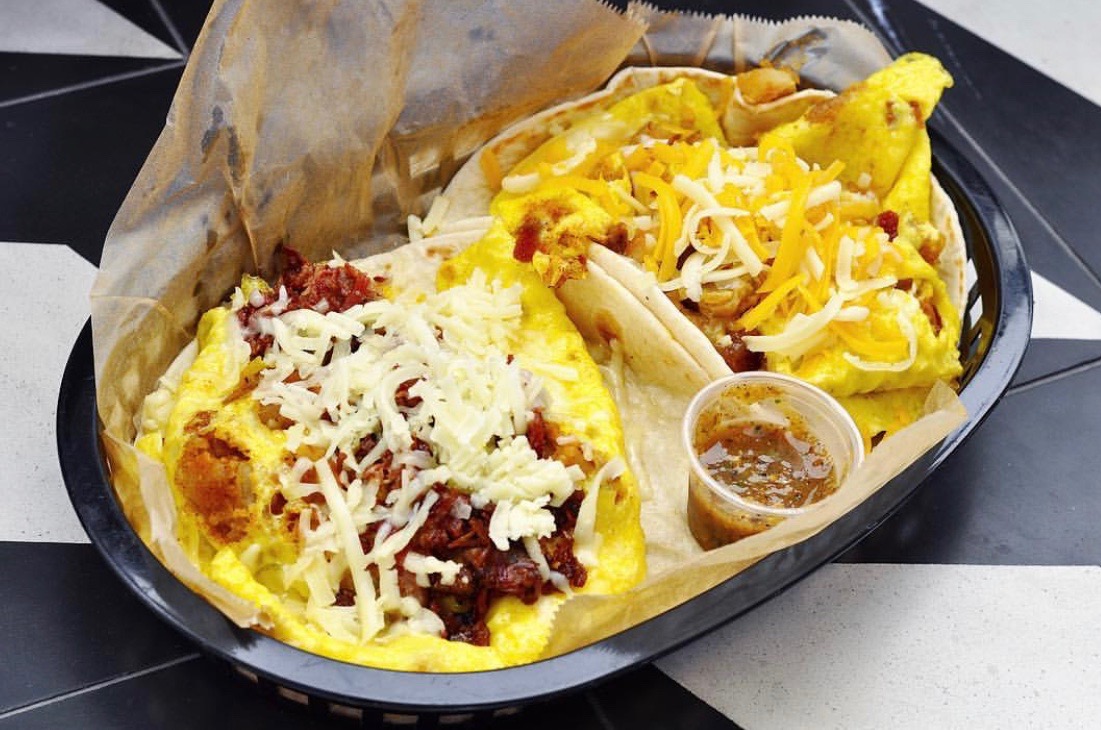 One of the most famous taco spots around town is Torchy's Tacos. They are known for their creative taco fillings, witty taco names, and delectable sauces. Even Obama ate here while visiting Austin, so it's kind of a big deal…
We recently moved from an apartment downtown to a house that is only three blocks away from Torchy's new flagship store. As you can imagine, we visit Torchy's quite frequently. Friends have even joked about how we were on a "taco diet" because we ate tacos for six days in a row by accident (or was it???).
Unknown to many, there is a Torchy's SECRET MENU! Yes, it is true. Yes, it is delicious. Yes, we don't even order off of the "regular" Torchy's Tacos menu anymore. Take a peek at the secret menu below. Our all-time favorite that we ALWAYS order is the missionary style green chile pork. The double-decker taco shell and the massive heap of guac are a total game changer, plus it is topped with their legendary QUESO.
Torchy's Secret Menu
JACK OF CLUBS – Fried egg, potatoes, black beans, crisp corn tortilla strips, shredded cheese, cilantro, sour cream and Diablo. Served on a flour tortilla.
ACE OF SPADES- Jalapeno sausage link, grilled brisket, a fried egg, green chile queso, cilantro, cotija cheese, sour cream and Diablo. Served on a flour tortilla.
TRAILER PARK HILLBILLY STYLE – Fried chicken, chorizo, chopped bacon, green chiles, green chile queso, shredded cheese, pico de gallo, poblano ranch on the side. Served on a flour tortilla.
MAD COW- Fajita beef, black beans, grilled corn, jack cheese, creamy chipotle and cilantro. Served on a flour tortilla.
THE HIPSTER- Panko fried tuna, with green chilies, chopped bacon, black bean relish, cotija cheese, avocado sauce, cilantro and a wedge of lime. Served on a flour tortilla.
THE MATADOR- Chopped brisket, grilled jalapeno, pickled onions, jack cheese, avocado, sour cream and cilantro. Served with tomatillo sauce on a crisp corn tortilla wrapped in a flour tortilla.
GREEN CHILE PORK MISSIONARY STYLE- Green chile pork, pickled onions, guacamole, jack cheese, cilantro, creamy chipotle on a crisp corn tortilla inside of a flour tortilla.
Enjoy! You are officially a Torchy's Taco expert now.
Pin this post to save it for future reference!