We've gathered up the best side dishes to create a delicious meal, no matter what type of fish is going in your fryer!
While this variety of side dishes work terrific with fried fish, you may also want to even consider them when you're making poached, grilled or pan-fried fish or even making crispy fish filets in the air fryer.
(Psst… our Air Fryer Tilapia Fish Tacos always turn out incredible).
Without further ado, here are our recommendations for the best sides to serve with fried fish.
Sauces for Fried Fish
A great dipping sauce will truly complement your fried fish and stimulate your taste buds. While store-bought tartar sauce can do the job, consider making one of these homemade sauces to serve with your fish dinner. Be sure to have plenty of fresh lemons around for your fried fish. No one likes to get lemon seeds in their meal. A simple solution is to buy a set of lemon bag nets for catching all the seeds.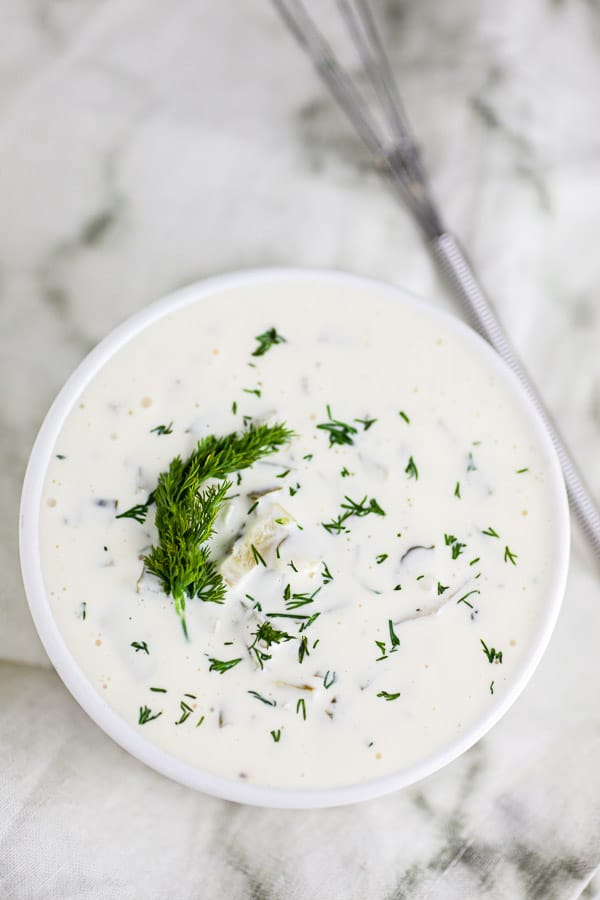 Traditional Tartar Sauce
This Tartar Sauce Recipe with Dill and Pickles is perfect served with fried fish! It's bright, flavorful, and made with creamy mayonnaise, fresh dill, crunchy pickles, and lemon juice.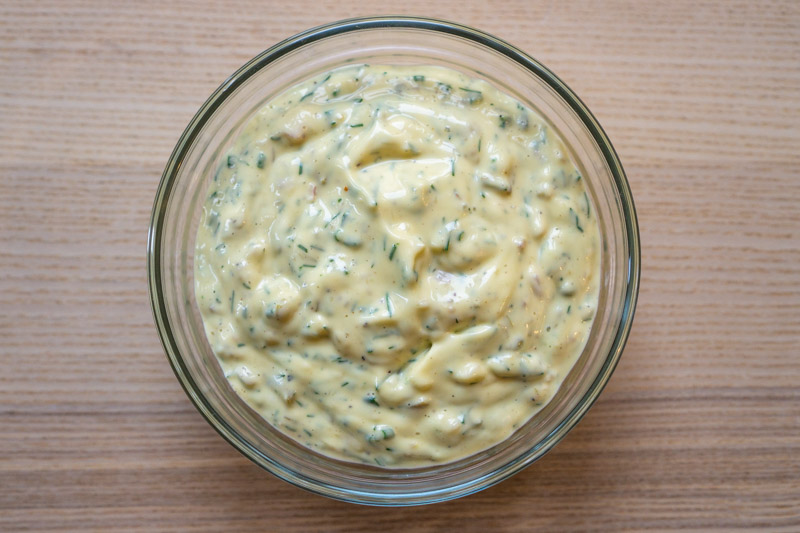 Tartar Sauce (Without Pickles)
Not a fan of pickles? Try this tartar sauce variation instead. This tangy Tartar Sauce Recipe uses capers, lemon juice and plenty of fresh herbs and makes for the perfect accompaniment for fried fish!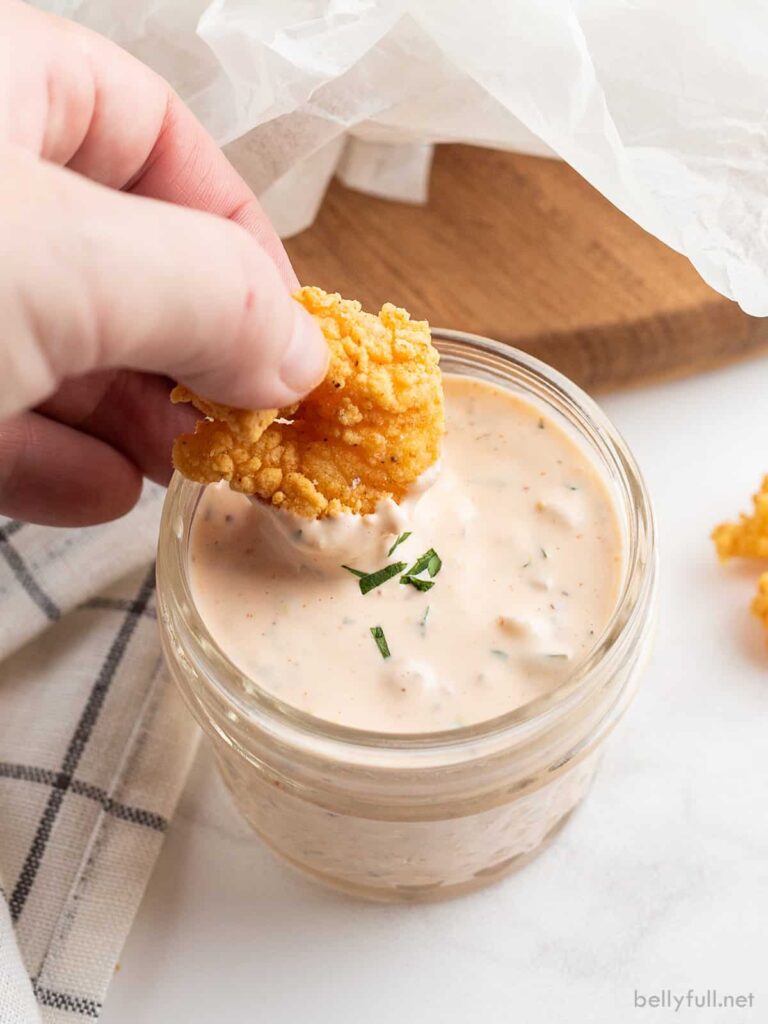 Remoulade Sauce
This Louisiana-style Remoulade Sauce Recipe is level 10 flavored mayonnaise. Perfect for po' boys, crab cakes, or a fish fry.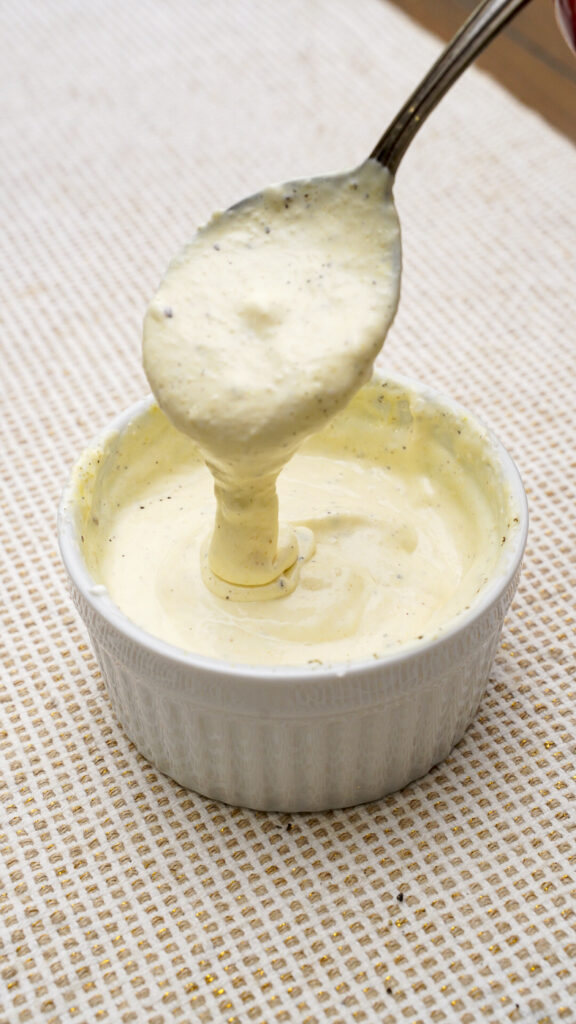 Horseradish Mayonnaise
We put our homemade tangy Horseradish Mayonnaise Recipe on just about everything. From red meat, to veggies, to potato chips, this sauce would go lovely with fried fish as well.
Potato Side Dishes for Fried Fish
There's nothing more classic than fish and chips, and there is a reason why it's such a perfect pairing.
From classic homemade french fries, to sweet potatoes, to a unique take on a potato dish, all of these delicious sides feature potatoes and are a great side dish.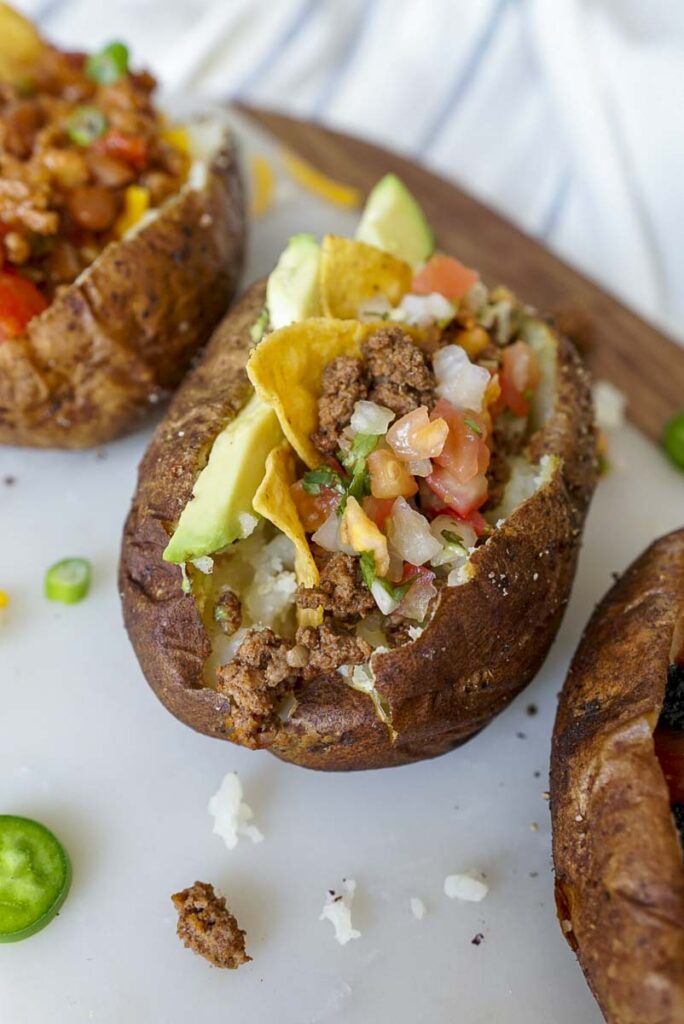 Air Fryer Baked Potatoes
This Air Fryer Baked Potato Recipe is a simple recipe that will make it easy to host your dinner party. Just follow the steps to roast the potatoes in the air fryer an hour ahead of your fish dinner. The best part is that the air fryer does all the work!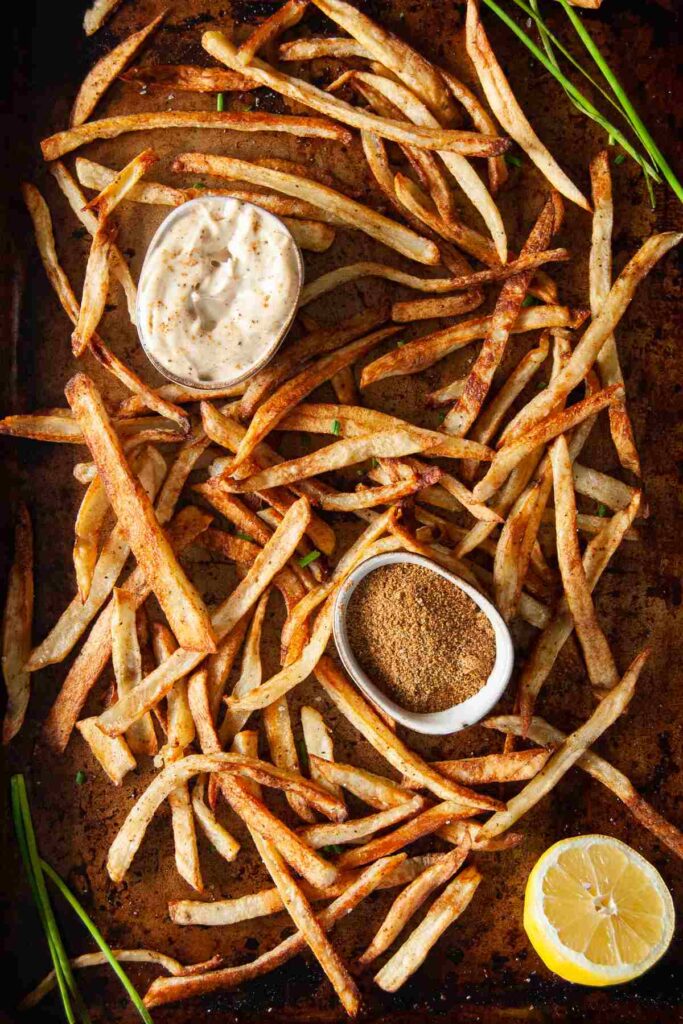 Old Bay French Fries
Old Bay seasoning and seafood are a match made in heaven. This Old Bay French Fries recipe brings the classic seasoning as a great addition to bring flavor to your homemade fries.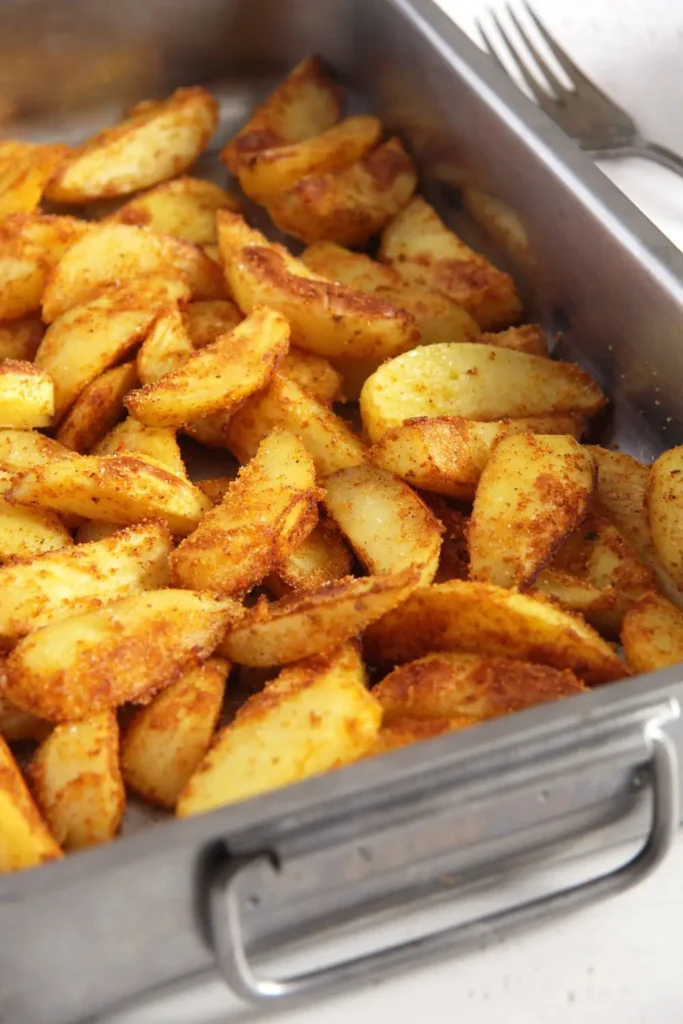 Polenta Roasted Potatoes
Polenta Roasted Potatoes are crunchy on the outside and soft on the inside, these baked crusted potatoes are a perfect side dish for any occasion.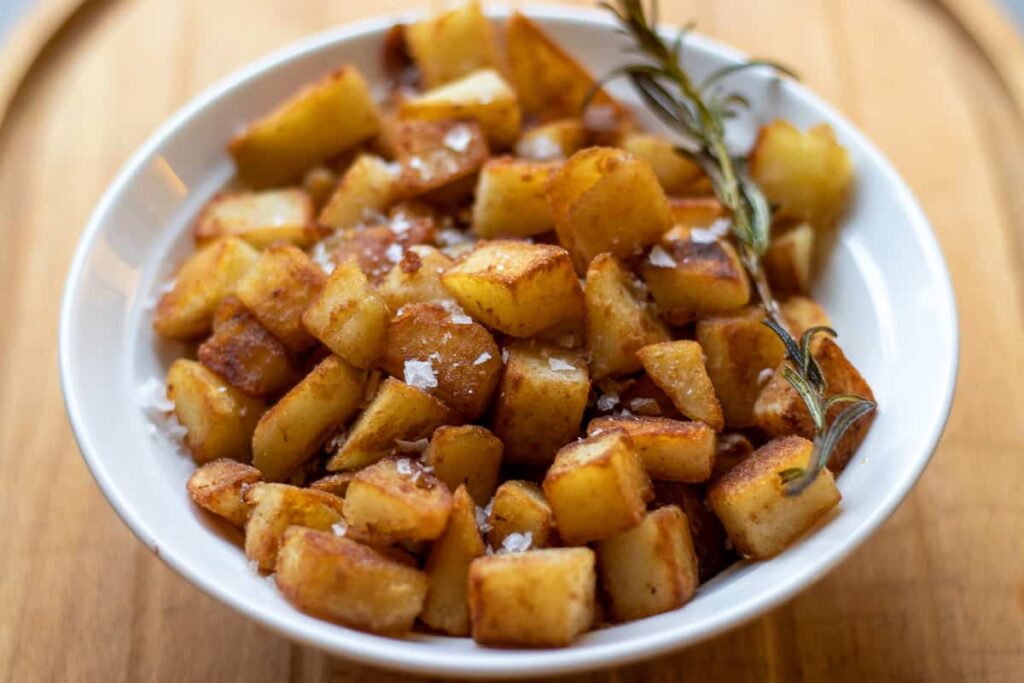 Garlic Crispy Potatoes
For homemade home fries, check out this Crispy Sauteed Potatoes with Garlic Recipe. It's a different potato option compared to traditional french fries and features tasty garlic.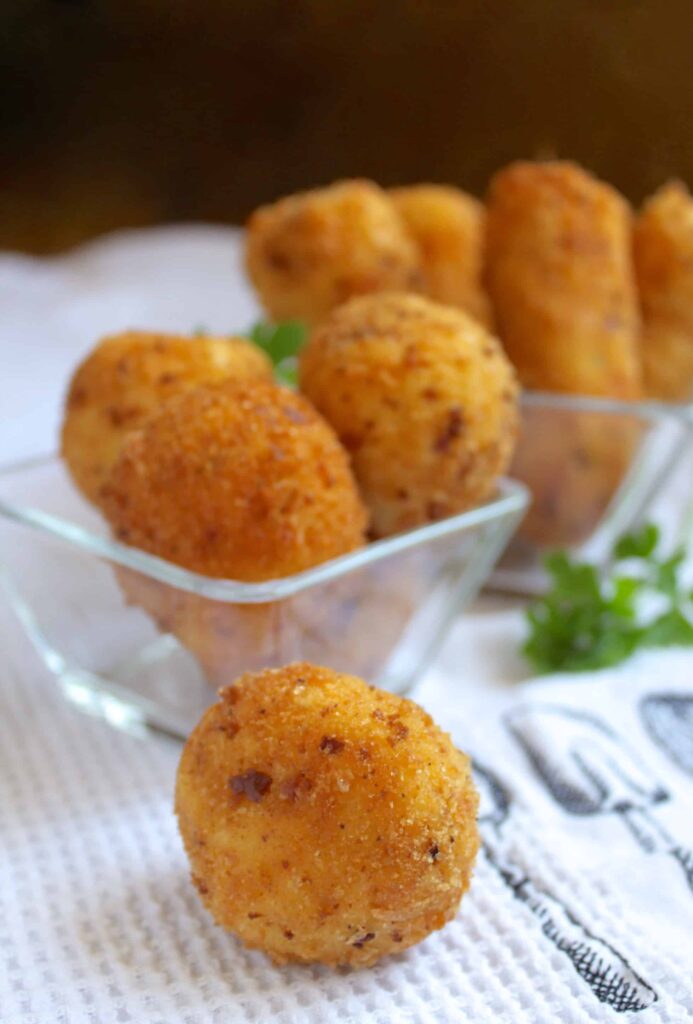 Potato Croquettes
Crispy Potato Croquettes are a lovely way to serve mashed potatoes with poultry, meat and fish! Mashed potatoes are formed, breaded and deep fried–everyone loves them!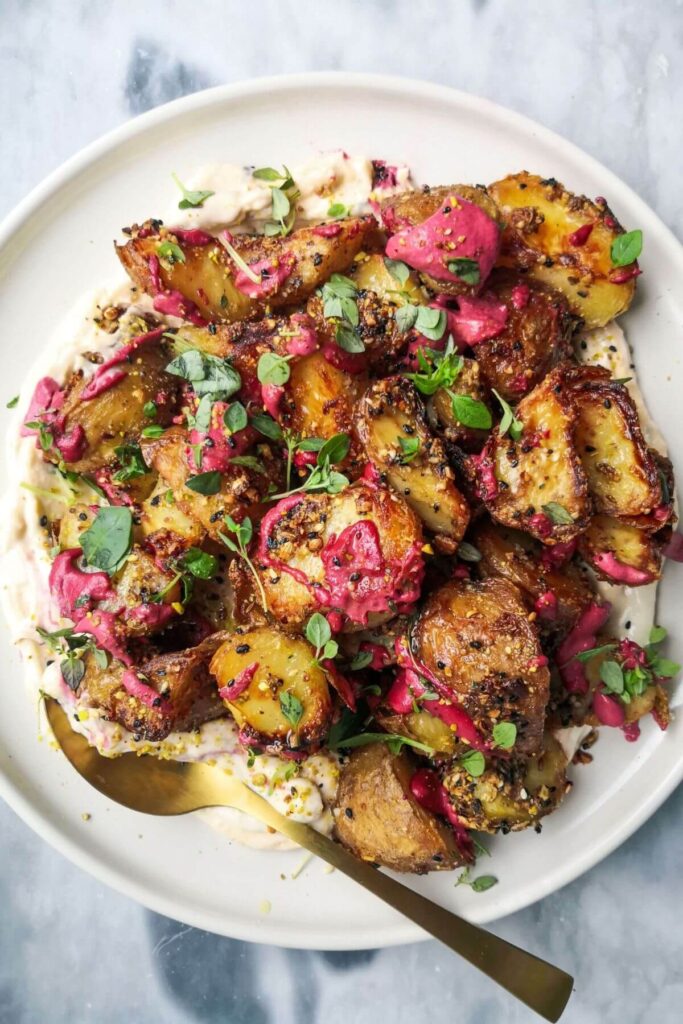 Crispy Dukkah Potatoes
If you think roast potatoes are good, you're going to LOVE these Crispy Dukkah Potatoes. Piled on top of creamy garlic aioli and drizzled with a super gorgeous pink tahini sauce, they're fragrant, delicious and bring a unique flavor.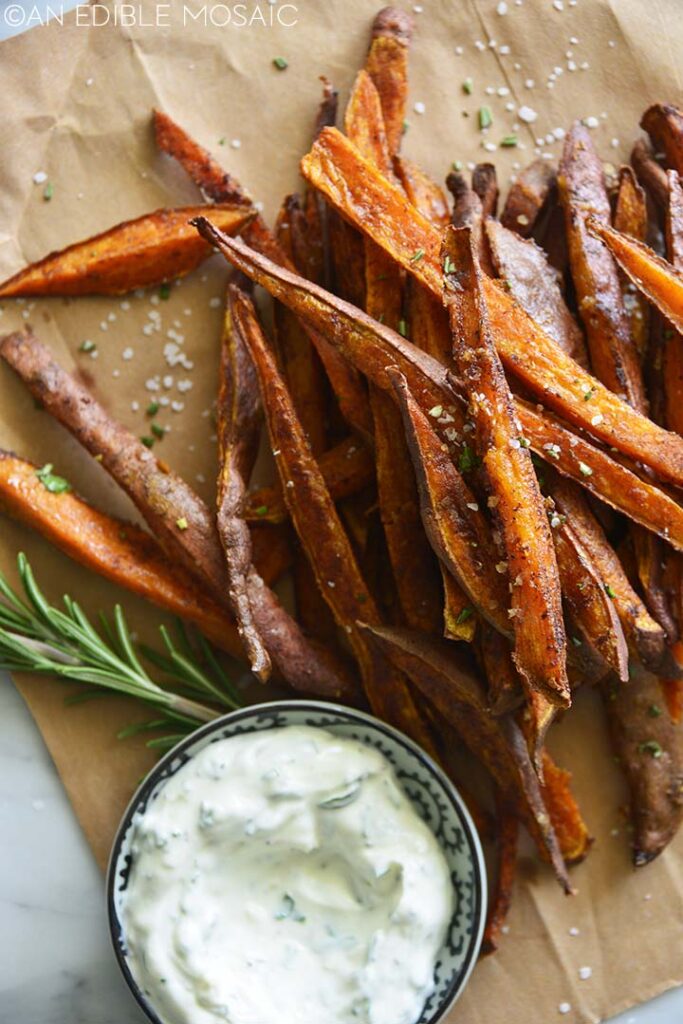 Sweet Potato Fries
Are you a fan of sweet potatoes? Crispy outside and tender inside, this baked Sweet and Smoky Sweet Potato Fries Recipe is a flavorful, delicious, and healthy side dish for just about anything.
What Salads to Serve with Fried Fish
A fresh salad is a great choice for a fried fish side dish because it brings a new texture to the plate, but don't rule out salads like coleslaws, potato salads, and pasta salads. They can all be made ahead of time to make serving your fried fish dinner fast and simple.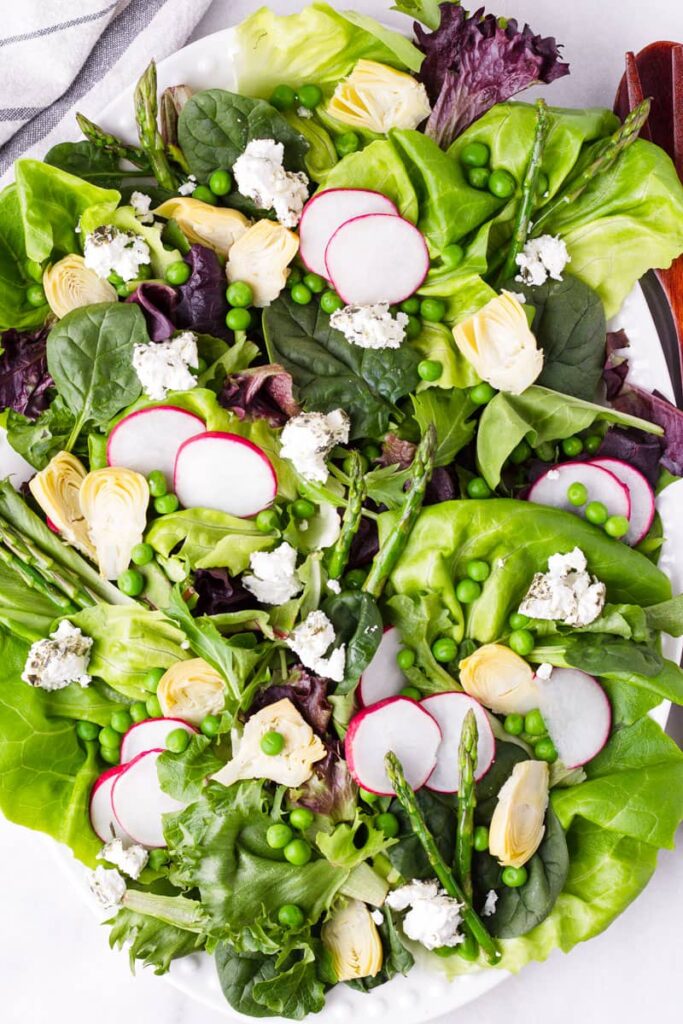 Fresh Spring Salad
You can't go wrong with greens! This beautiful Spring Salad is the perfect side salad! It's light and drizzled with a homemade lemon dressing, which pairs fantastic with fried fish.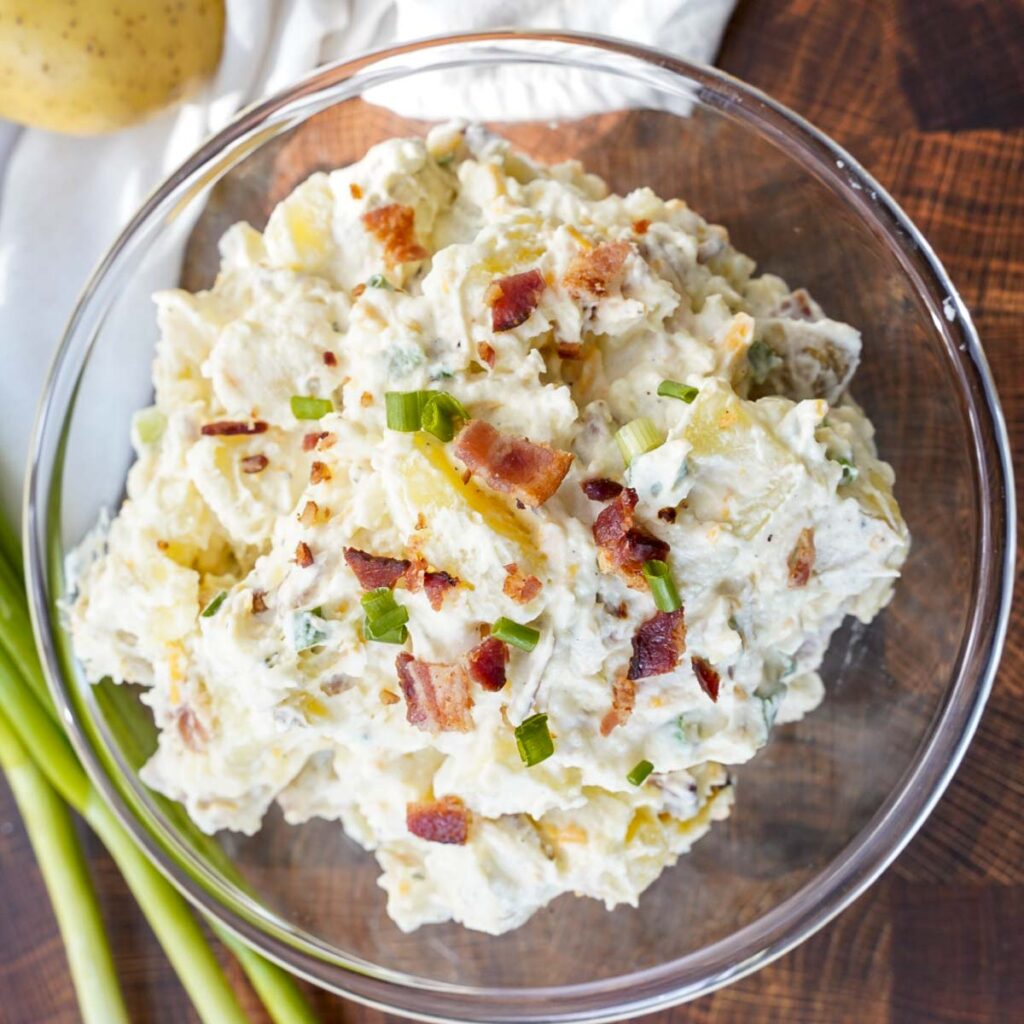 Loaded Baked Potato Salad
Our Loaded Baked Potato Salad Recipe has it all! Imagine a loaded baked potato in a salad form. It features bacon, green onion, shredded cheese, and sour cream. Talk about yum!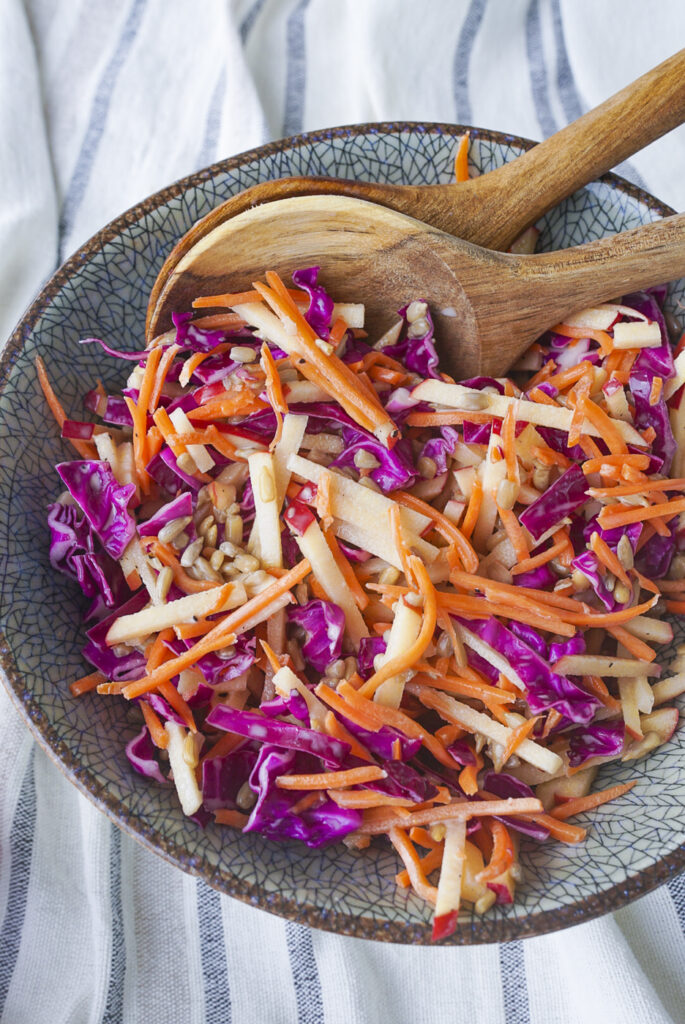 Apple Cabbage Slaw
Our Apple Cabbage Slaw Recipe is a fun twist on a traditional cole slaw. Bringing a slightly sweeter flavor, thanks to the addition of apples to the slaw, this will pair well with a lightly textured white fish. We even put in one fish tacos!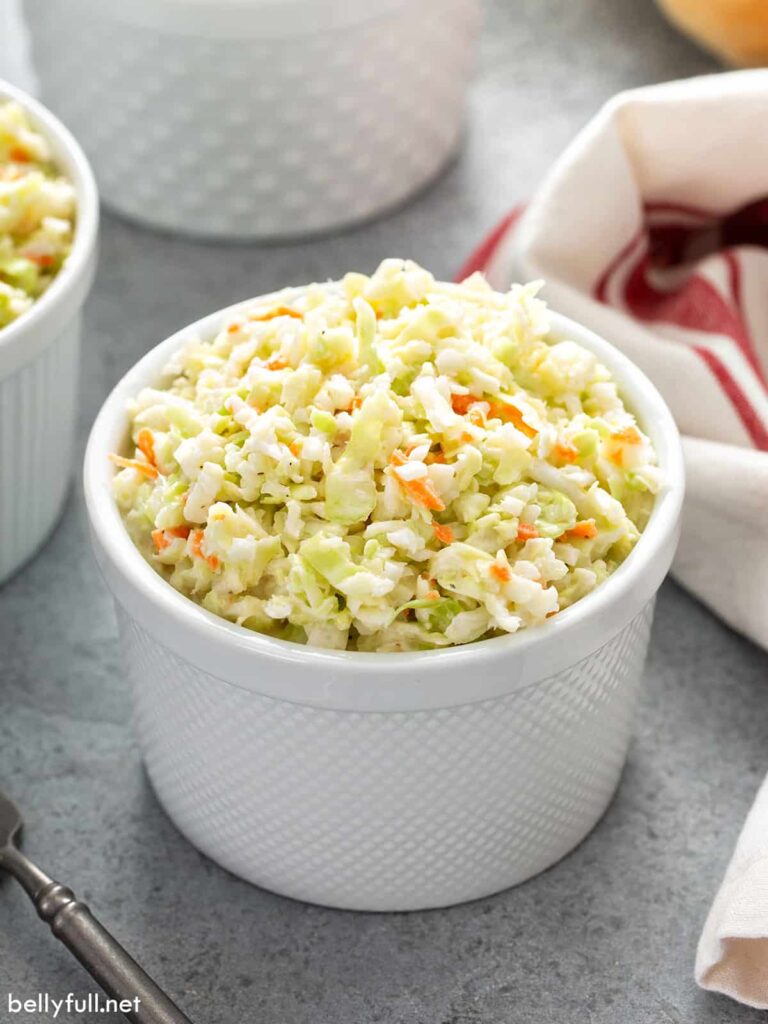 KFC Coleslaw
This KFC Copycat Coleslaw Recipe has the perfect amount of tang and crunch. It makes a great dinner side dish and pairs perfectly with a fish fry.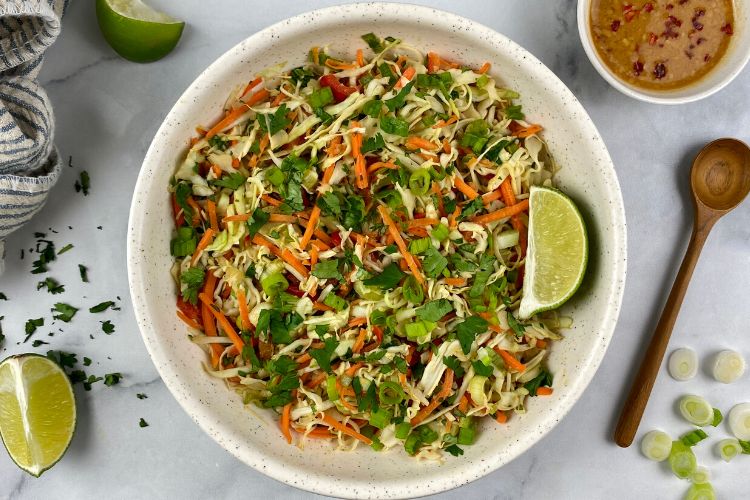 Asian Coleslaw with Peanut Dressing
For a different twist on a classic side dish, make this Asian Coleslaw with Peanut Dressing. The recipe features bold flavors that are packed with flavor.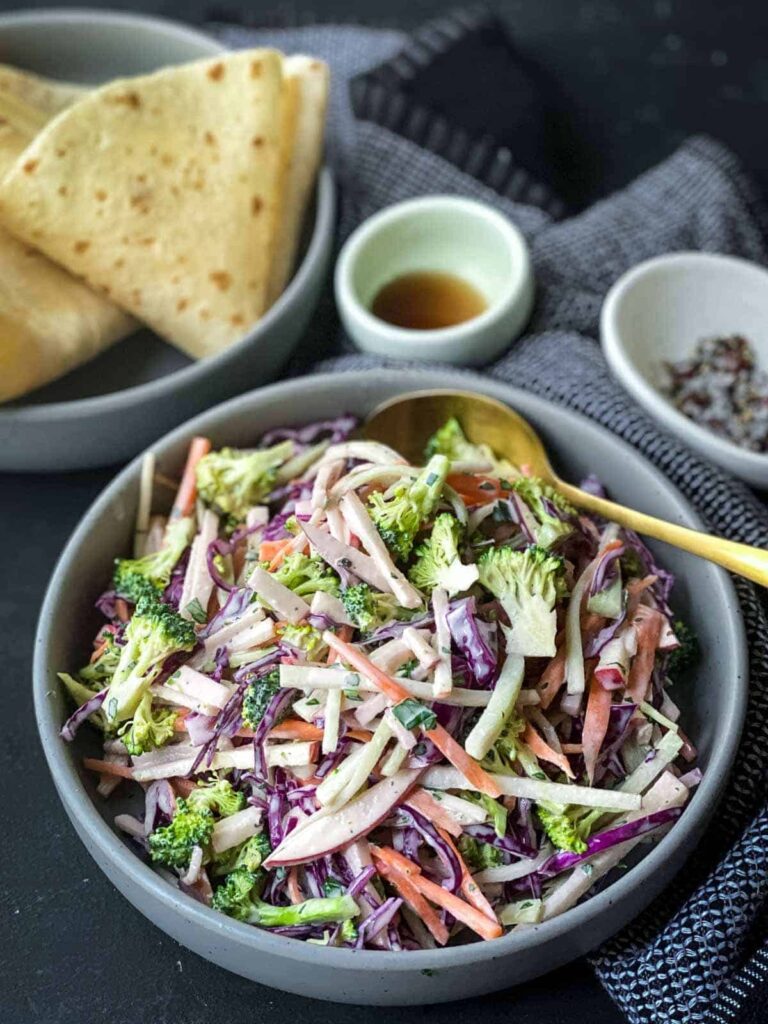 Apple Broccoli Slaw
An easy crowd-pleaser, our Apple Broccoli Slaw Recipe with homemade coleslaw dressing is fast and simple to make. We adore the crisp and creamy flavors together. Plus, it keeps well in the fridge, making it perfect for picnics and BBQs.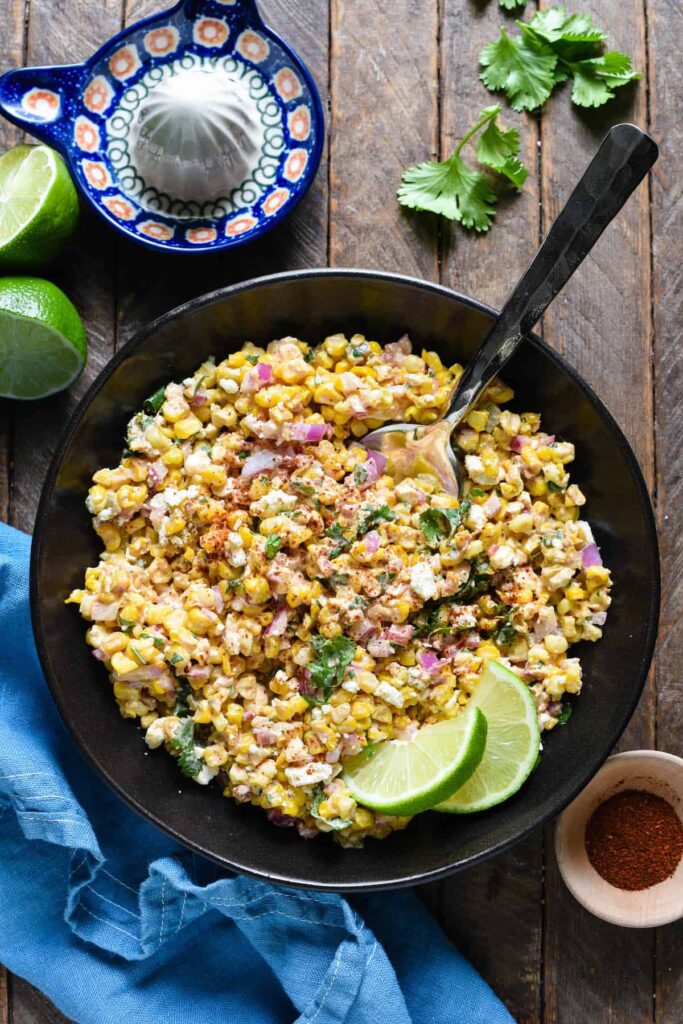 Mexican Street Corn Salad
This Roasted Mexican Street Corn Salad tastes like an elote in a bowl! Sweet corn, fresh lime, and creamy cotija cheese are all mouthwater ingredients in this creamy corn salad.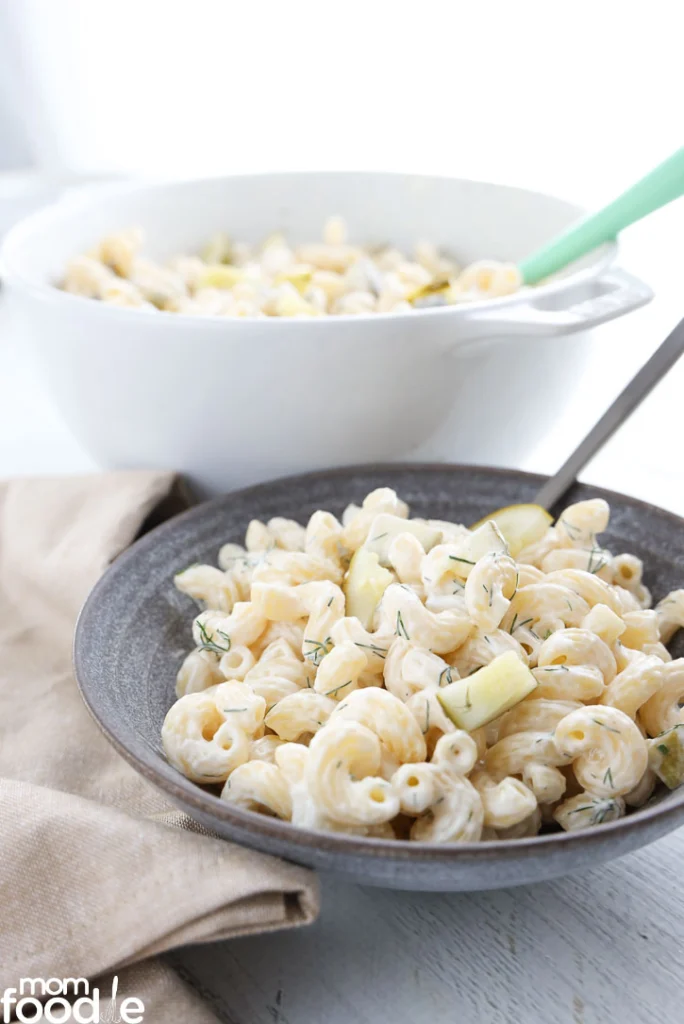 Dill Pickle Macaroni Salad
This Dill Pickle Macaroni Salad Recipe is a nice pasta salad option to make for with your fish filets. The dill pickle in the salad will mirror the flavors in a traditional tartar sauce.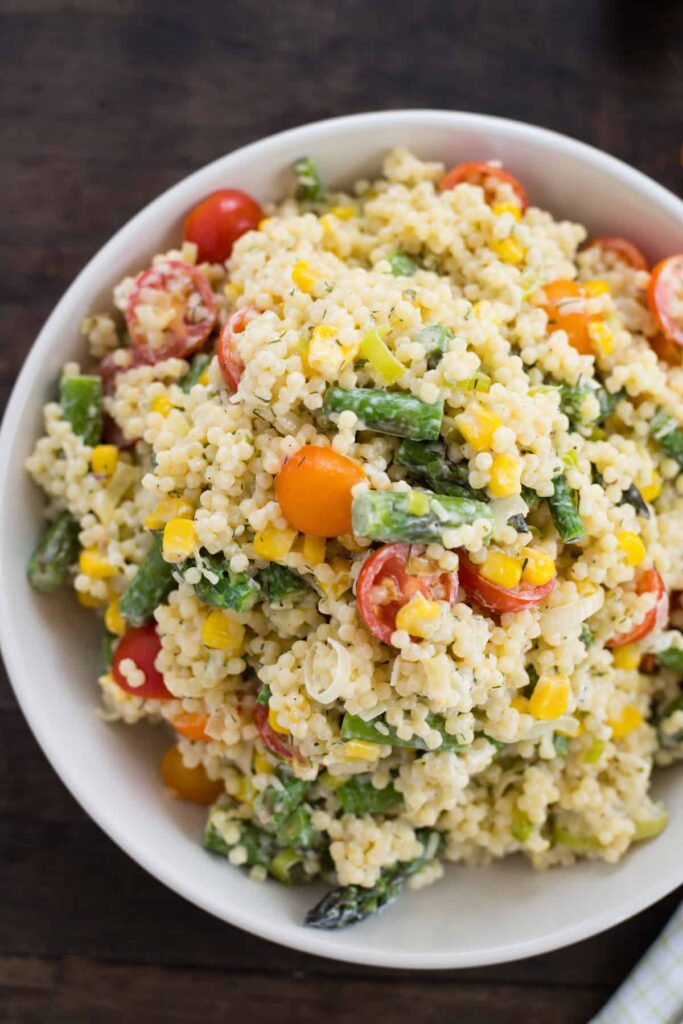 Summer Vegetable Pasta Salad
For a different take on a macaroni salad, try using a different pasta noodle. This Summer Vegetable Pepe Pasta Salad features small pasta so that the other vegetable ingredients are really highlighted.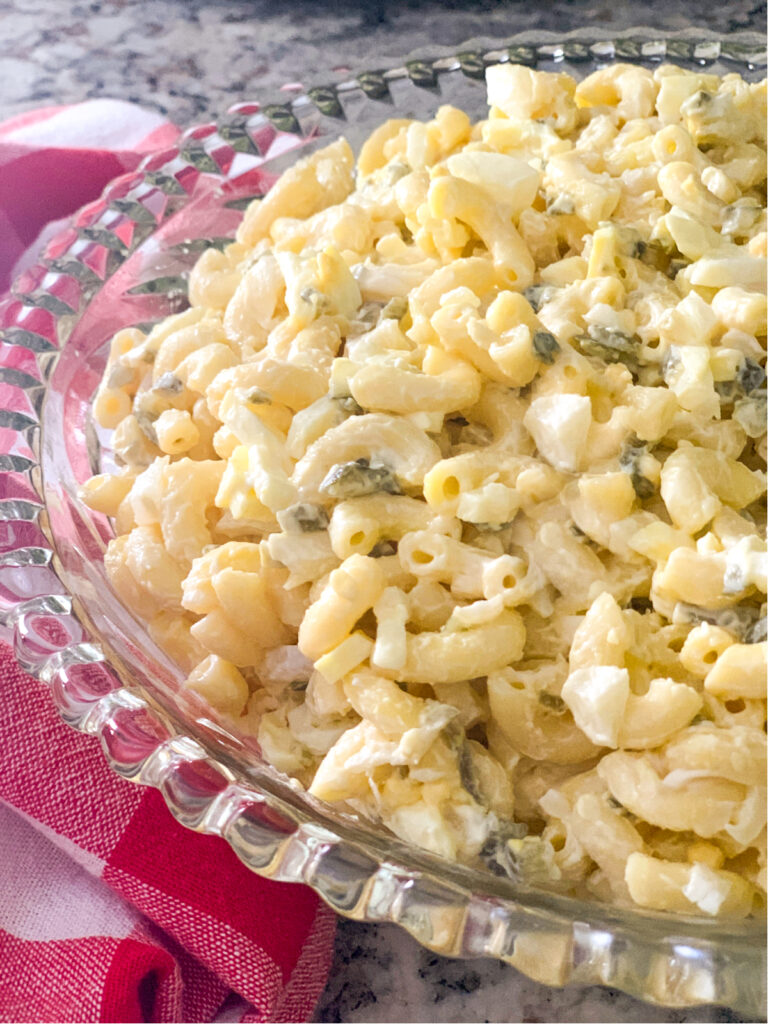 Traditional Macaroni Salad
For a picnic-style meal, consider this cold Macaroni Salad. This is a straightforward recipe with a lot of delicious taste.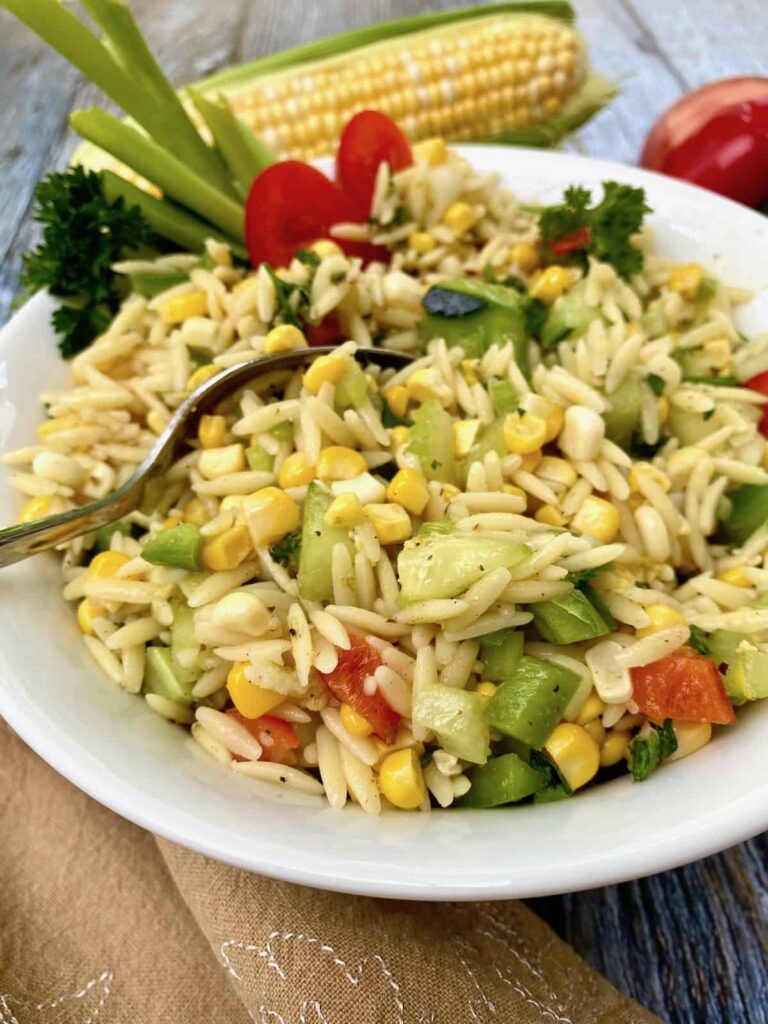 Sweet Corn Pasta Salad
If you're making a summertime fish fry with your fresh catches, why not use iconic summer sweet corn as a key ingredient in one of your side dishes?! This Sweet Corn Pasta Salad Recipe uses corn cut right off the husk!
Vegetable Side Dishes
One of the best ways to lighten up a fried fish recipe is to bring some bright vegetables to your plate.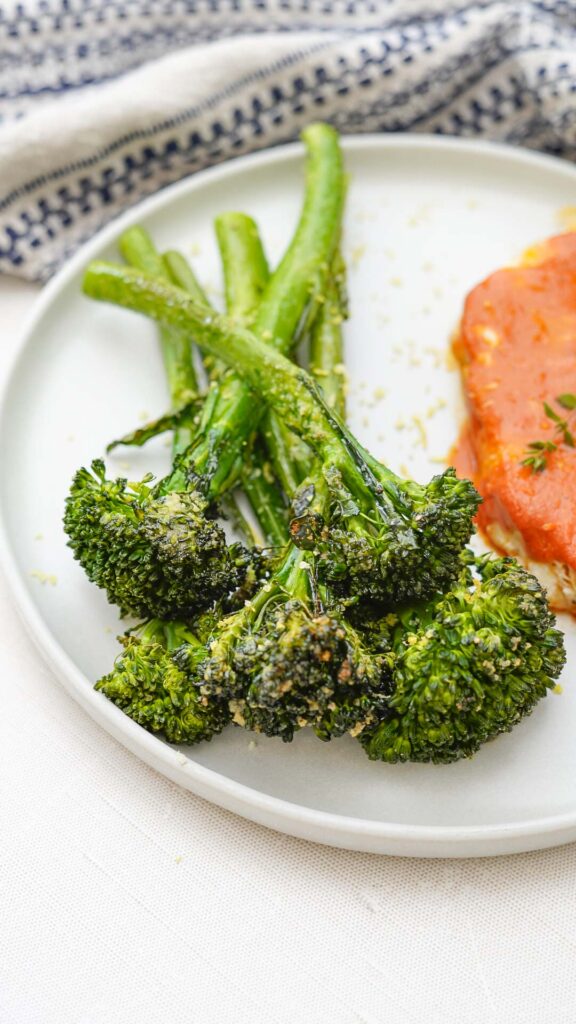 Air Fryer Broccolini
Our all-time favorite veggie recipe is our Air Fryer Broccolini Recipe. The air fryer creates the perfect char on the seasoned broccolini while keeping the vegetable still somewhat crisp. The final step of adding lemon zest helps to balance the flavor in the fried fish batter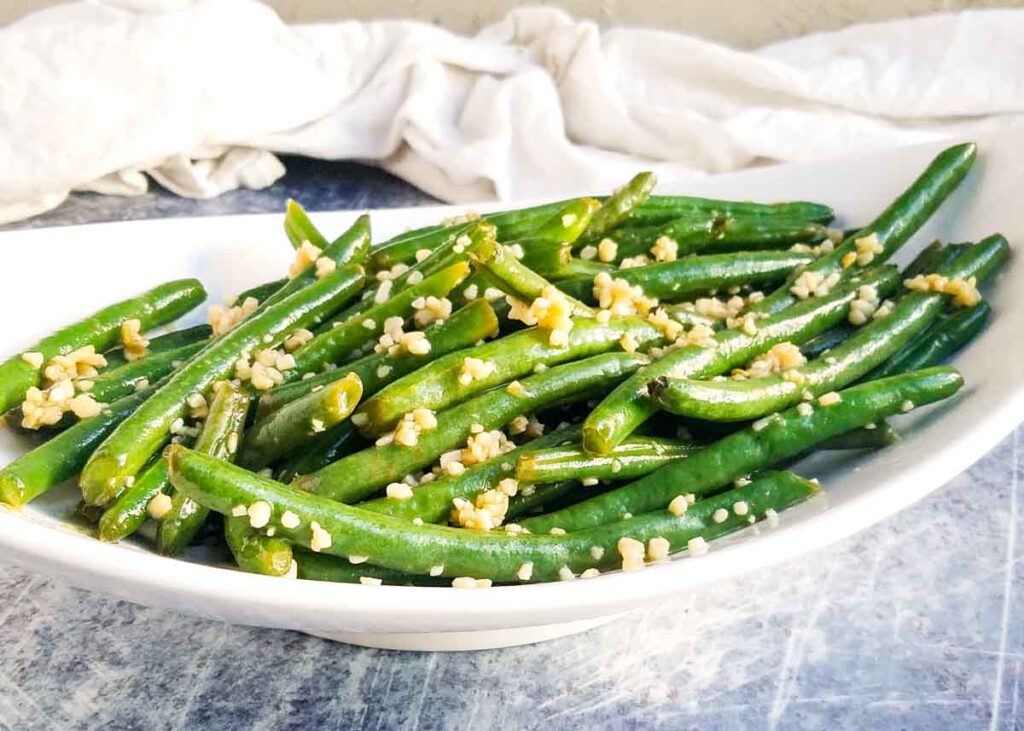 Garlic Green Beans
For a healthy, vegetable side dish, make this Garlic Green Beans Recipe. Extra garlicky fresh string beans are tender yet still crunchy.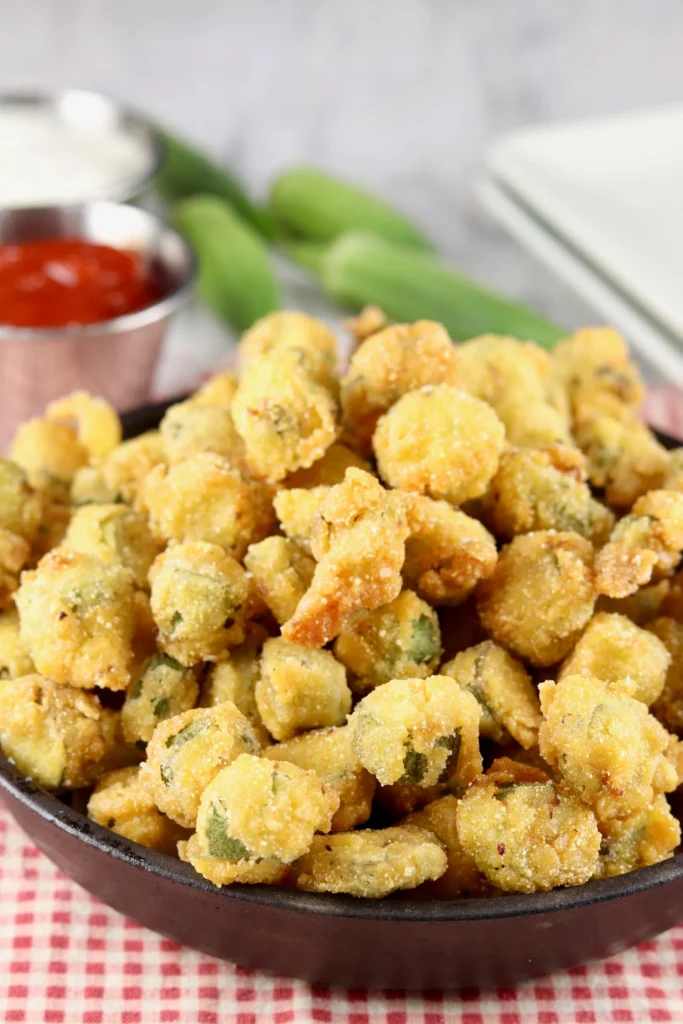 Cornmeal Fried Okra
Fried Okra is a delicious side dish to add to any dinner. Made with fresh okra in a crispy buttermilk and cornmeal batter. Try serving it with southern fried catfish for a classic taste of the south.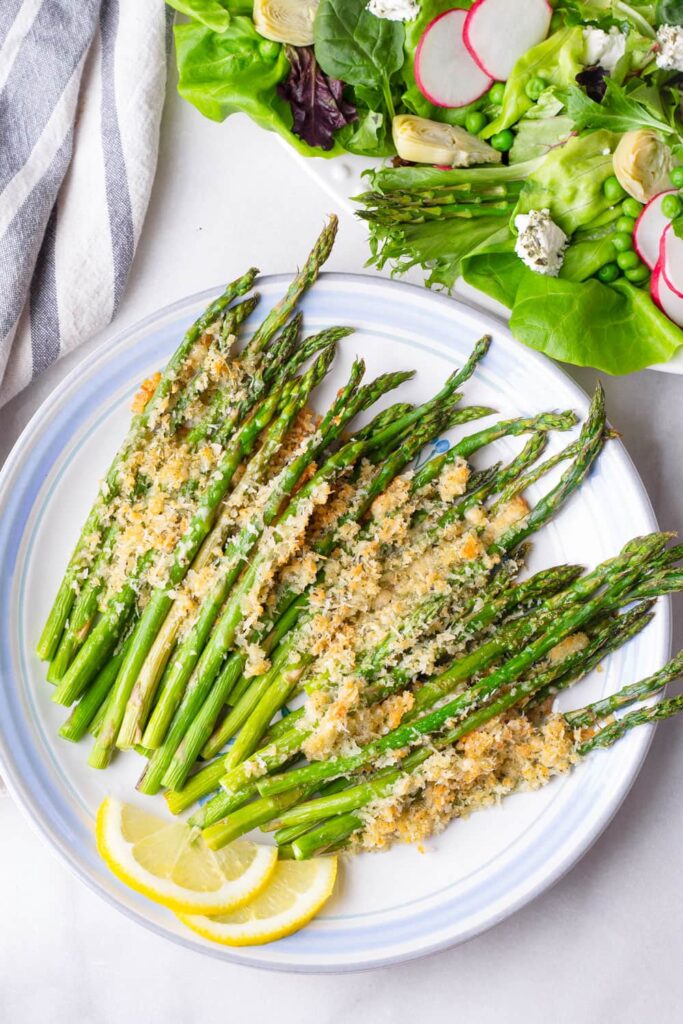 Parmesan Roasted Asparagus
This Parmesan Roasted Asparagus with Panko Breadcrumbs is so delicious and easy to make! The texture is amazing thanks to the parmesan cheese and it only takes 20 minutes.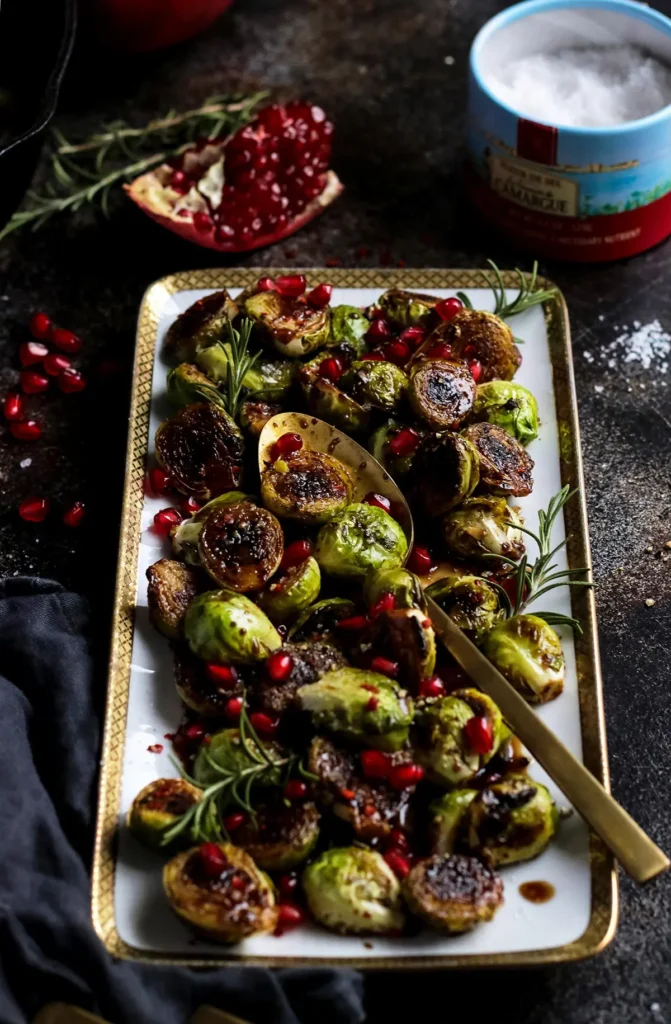 Balsamic Glazed Brussel Sprouts
These quick Balsamic Glazed Brussels Sprouts are crispy, lightly sweet and utterly delicious. Perfect healthy and easy vegan side dish for your holiday menu ready in 20 minutes!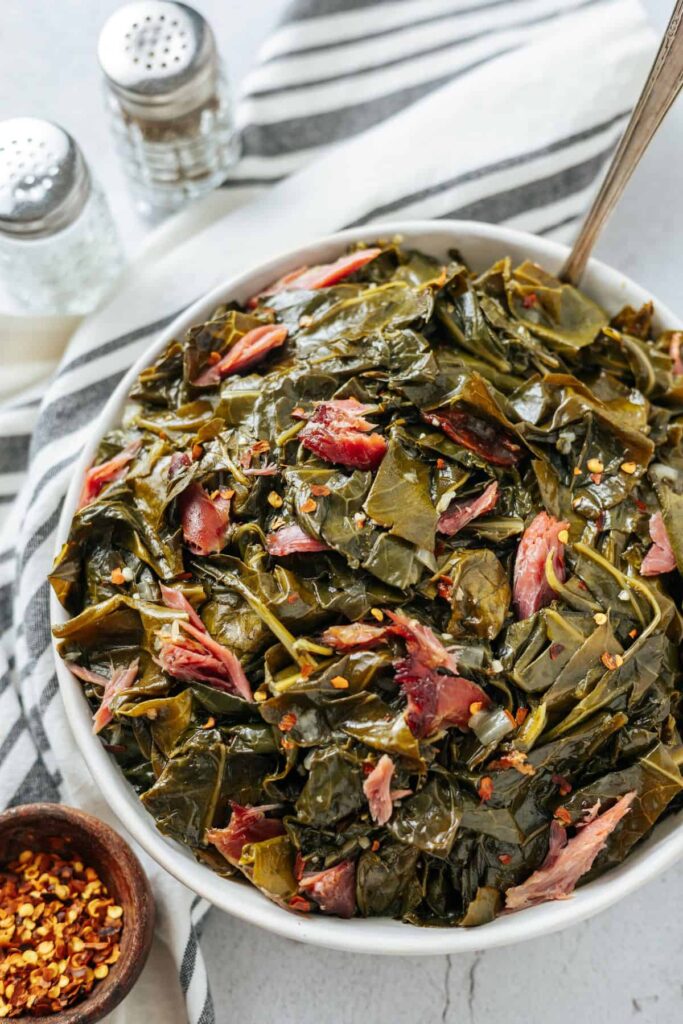 Pressure Cooker Collard Greens
If you're a lover of Southern-style collard greens, consider making this Pressure Cooker Collard Greens recipe. The greens are prepared in half the time and work well with cajun flavors like redfish or catfish.
Breads, Pasta and Rice Sides
If you're doing a fish fry for a large group, having an easy side dish that can be made ahead of time is a great way to feed a crowd all at once. Consider making these breads, pasta salads, and rice sides ahead of time as a good option for when you're hosting a group.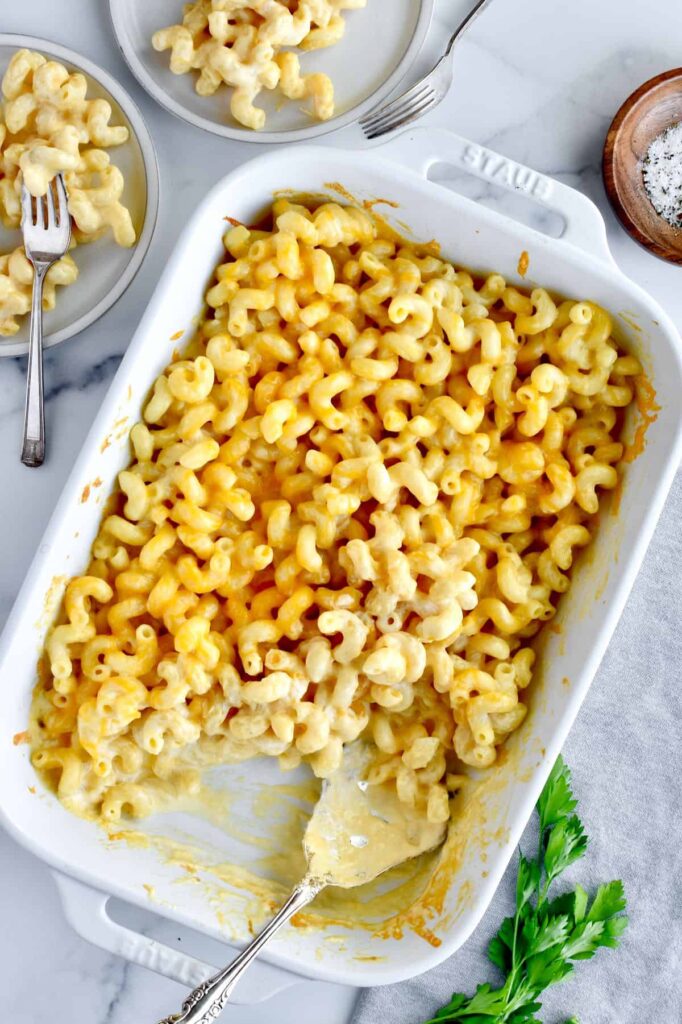 Cavatappi Mac and Cheese
Creamy, cheesy, and ooey gooey, a scoop of this Cavatappi Mac and Cheese Recipe will have everyone reaching for more!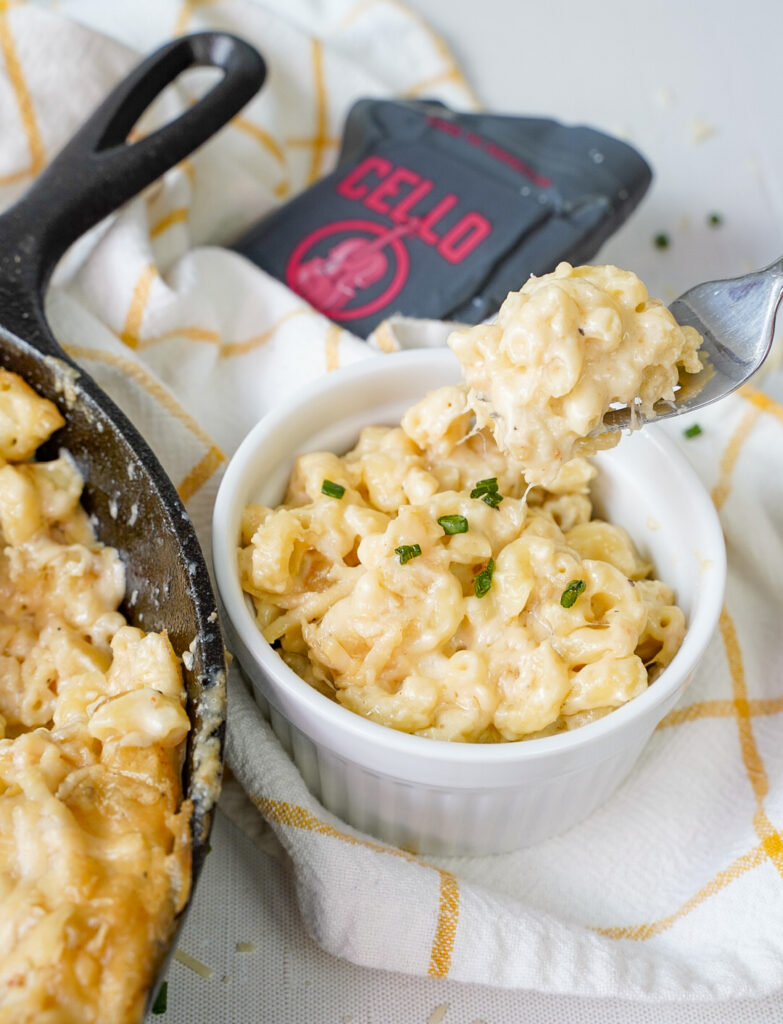 Smoked Mac and Cheese
Why settle for regular old mac and cheese when you can make our Smoked Mac and Cheese Recipe? It's creamy goodness with a kiss of smokey flavor!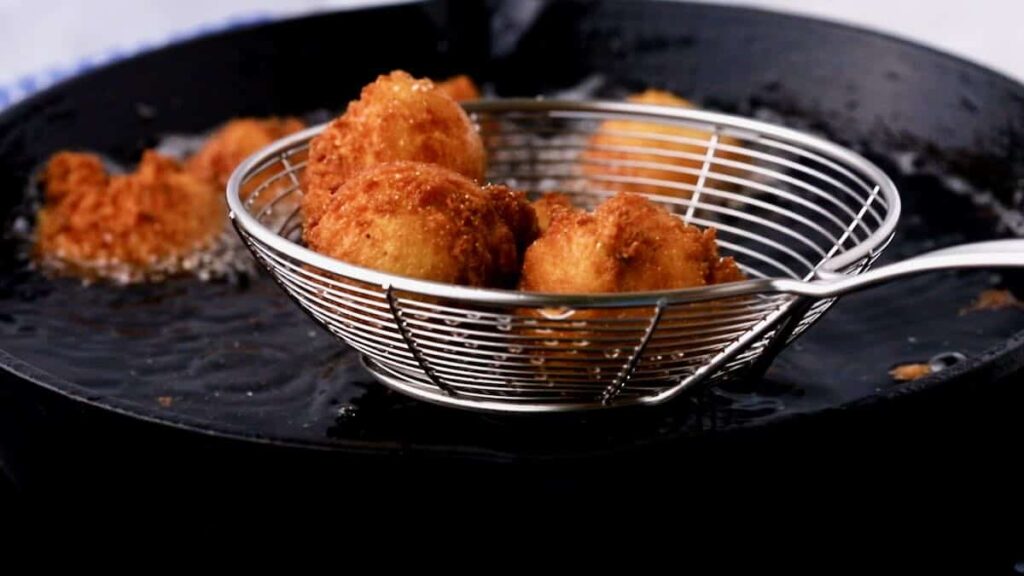 Southern Hush Puppies
With an irresistible combination of a crunchy crust and tender insides, Southern Hush Puppies are a tasty fish fry staple, made with a cornmeal and buttermilk batter and pan-fried or deep-fried to a deep golden brown.
Air Fryer Hush Puppies
Air Fryer Hush Puppies are the perfect side for fried fish! They are made with cornbread mix and are super tasty! They taste like traditional fried food, but saves you some calories, so it's a healthier alternative.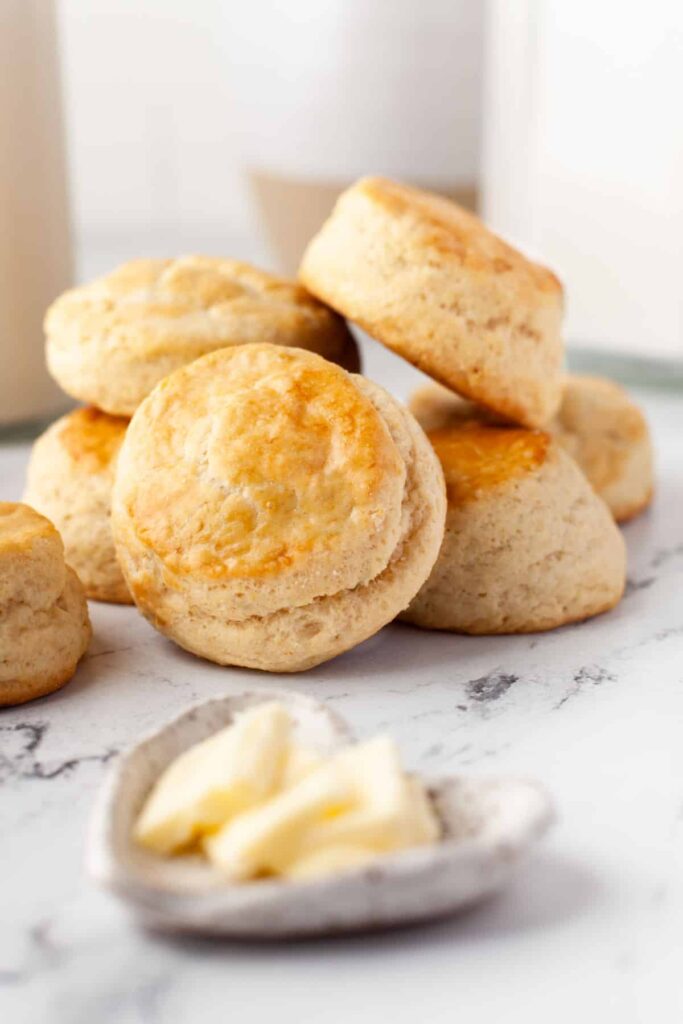 Buttermilk Biscuits
Homemade Buttermilk Biscuits are a classic side dish that can be made ahead of time. Pair them with coleslaw and fried fish for a complete meal that will remind you of wholesome Southern cooking.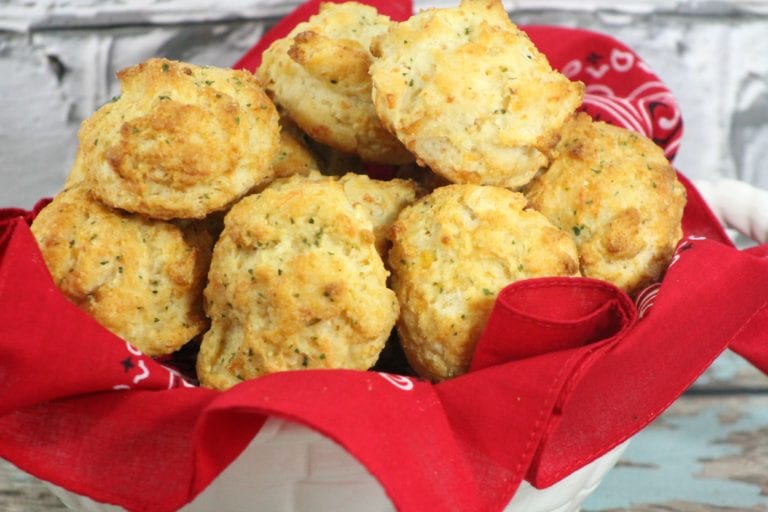 Cheddar Bay Biscuits
You can't go wrong with a copycat version of Red Lobster's Cheddar Bay Biscuits! These cheesy, buttery biscuits will make you think you're at your favorite seafood restaurant when you're cozy in your kitchen at home.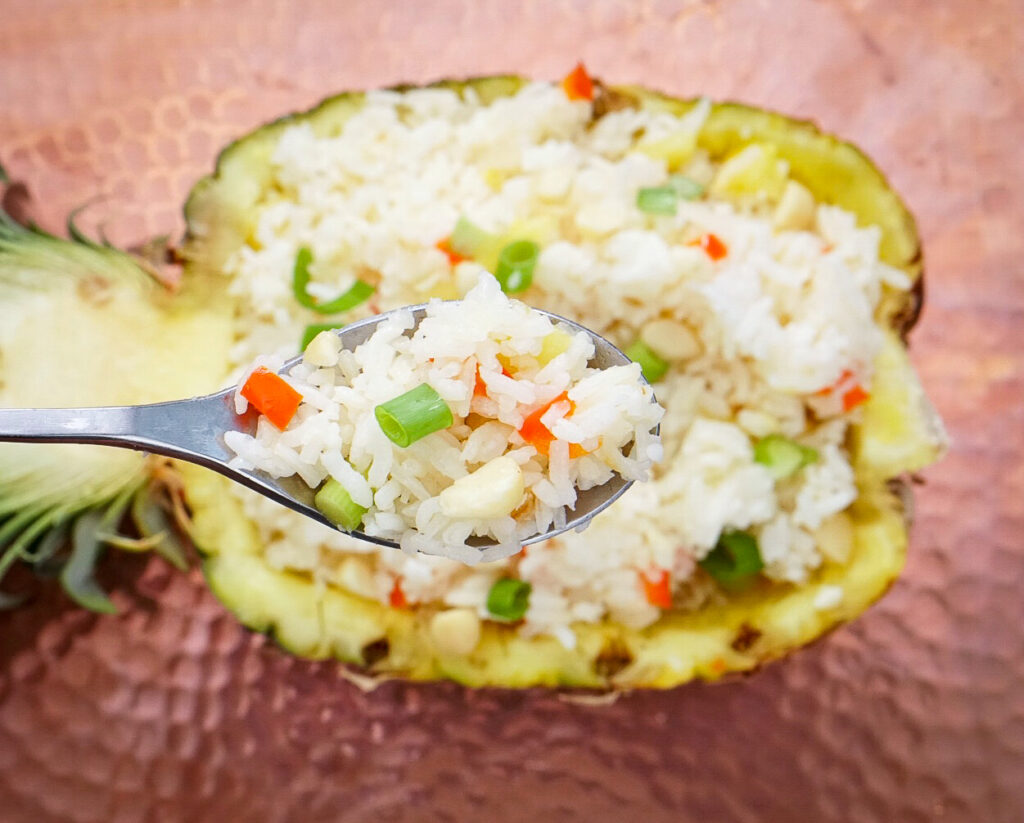 Tropical Rice Recipe
Our Tropical Rice Recipe features sweet pineapple, bell peppers, green onion, and macadamia nuts for texture. Add in some cajun flavorings to your fish batter and you've got tropical vacation on a plate!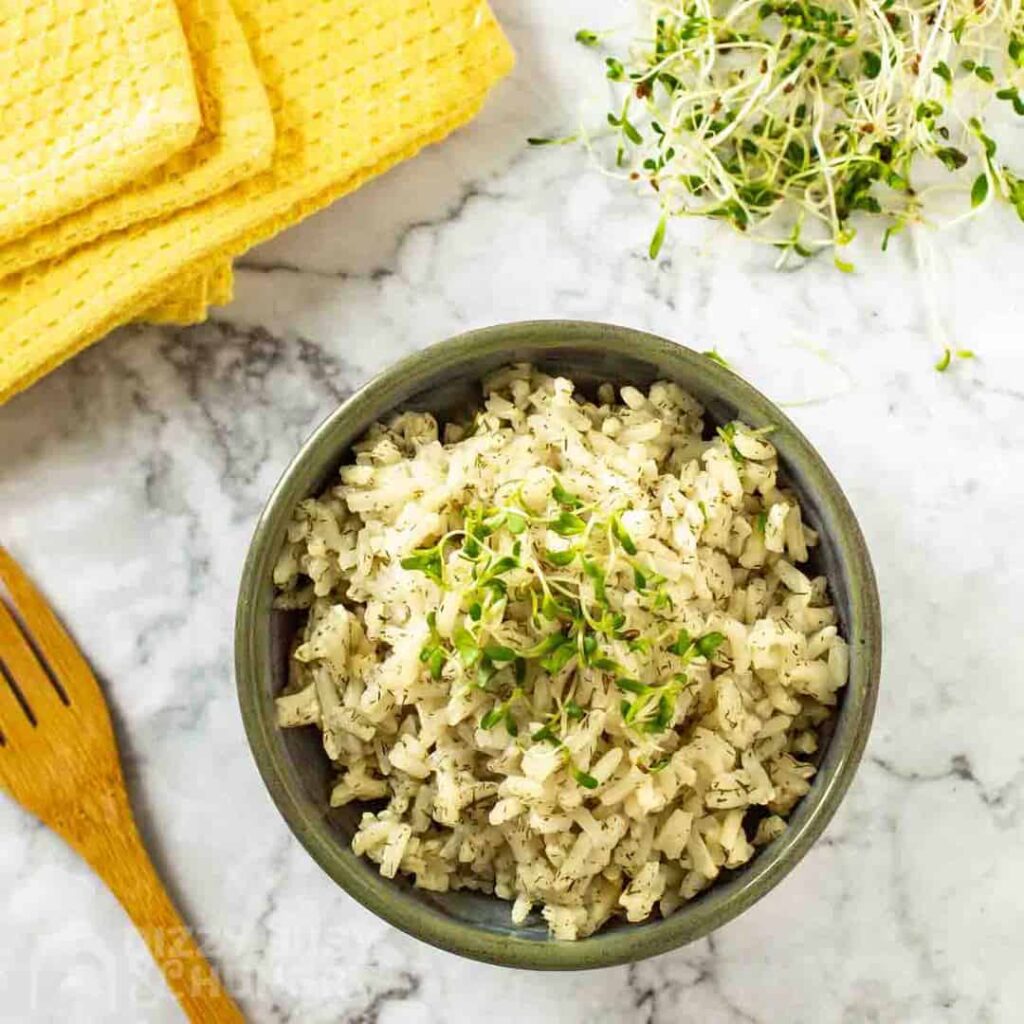 Lemon Dill Rice
For a flavorful take on traditional rice, try making this Lemon Dill Rice Recipe. It's packed with herbs and flavors that perfectly complement the fresh flaky fish.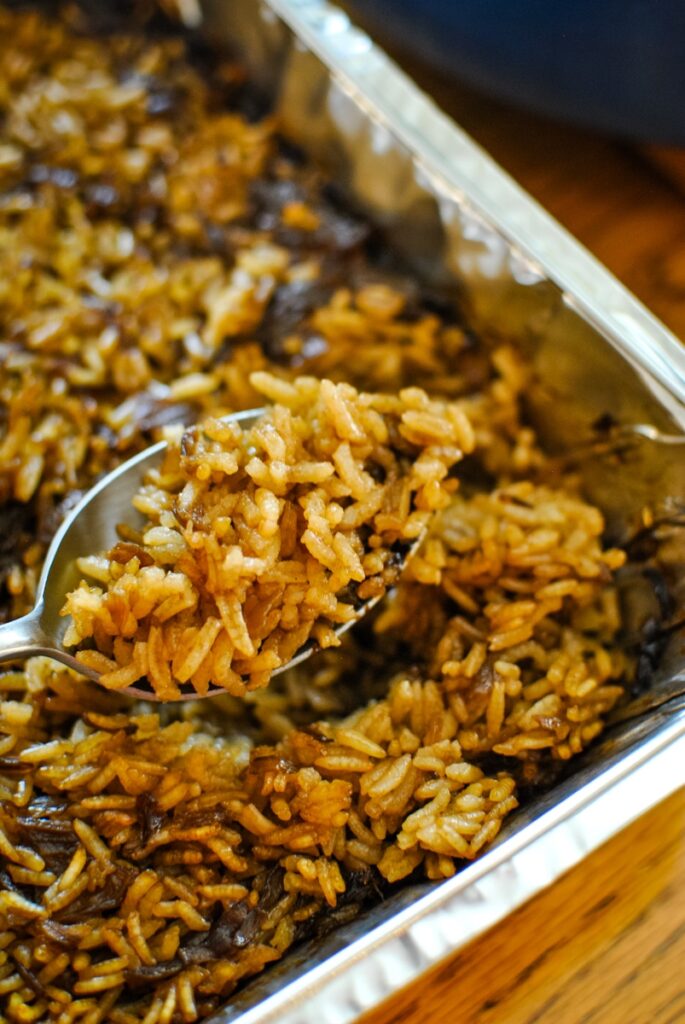 Stick of Butter Rice
This Stick of Butter Rice is a great side dish to serve with fried fish! It's easy to assemble and bakes while you're frying up the fish. Plus it's buttery and delicious!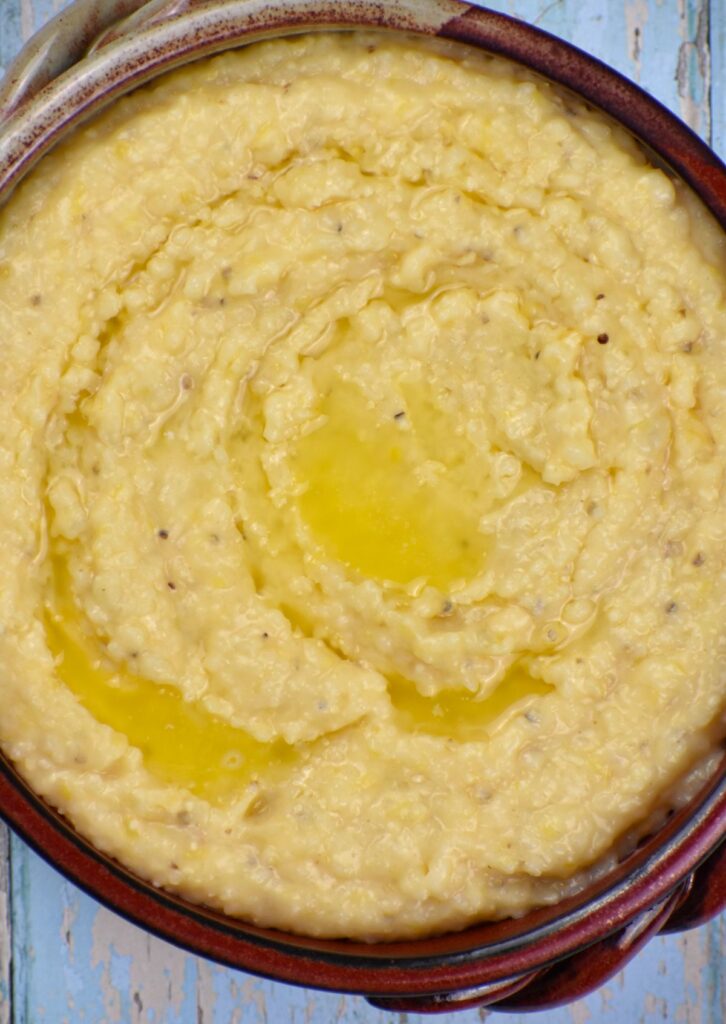 Traditional Cheesy Grits
Creamy, cheesy, and southern-inspired, this Cheese Grits Recipe is a simple yet heart side dish to serve with fish.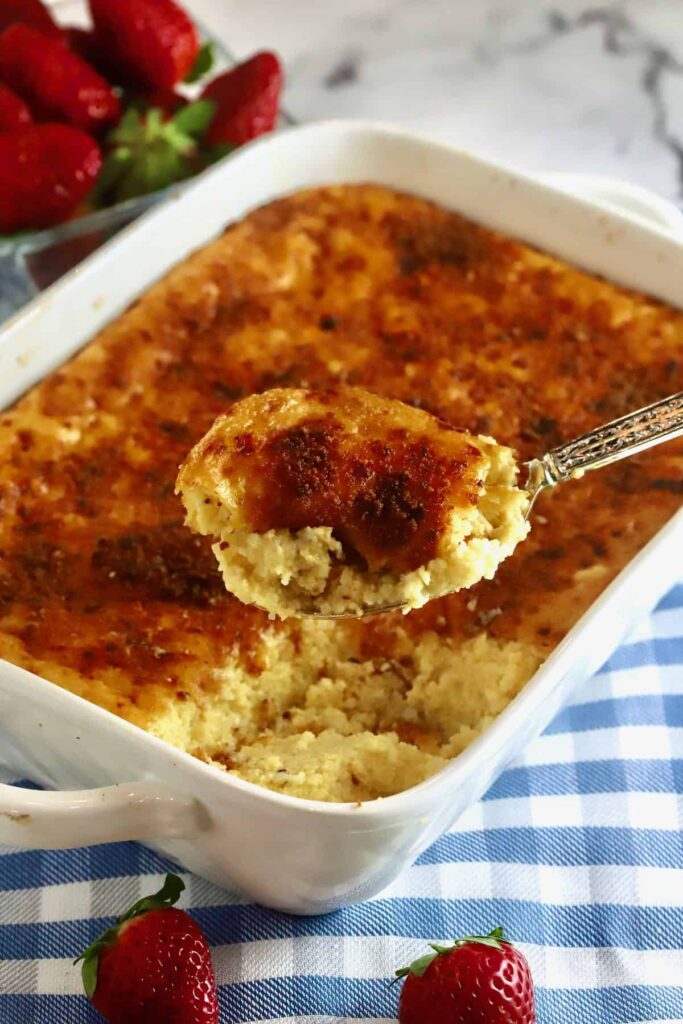 Cheese Grits Casserole
This flavor-packed Southern Cheese Grits Casserole starts with a basic recipe for cheese grits. With the addition of a few ingredients, it is transformed into an incredible company-worthy, make-ahead casserole that is perfect for serving with fried fish.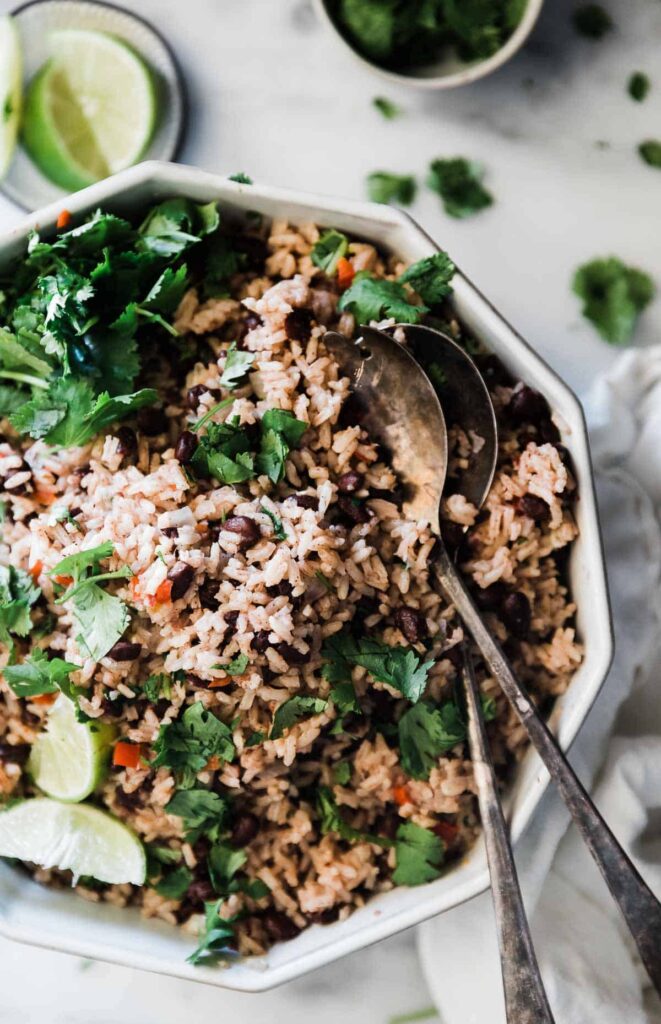 Caribbean Rice and Beans
For a taste of the tropics, consider making this Caribbean Rice and Beans Recipe. It will pair perfectly with any type of fried fish with a seasoned batter.
There you have it! 40+ amazing side dishes to serve with fried fish! Whether you're eating more fish because of the season of lent, because you're trying to reduce your red meat intake, or if you're an avid fisher-person and need to cook up the bounty of fish that you caught, this guide should be a helpful resource for you.
Need Help Planning Side Dishes? Check Out These Other Guides: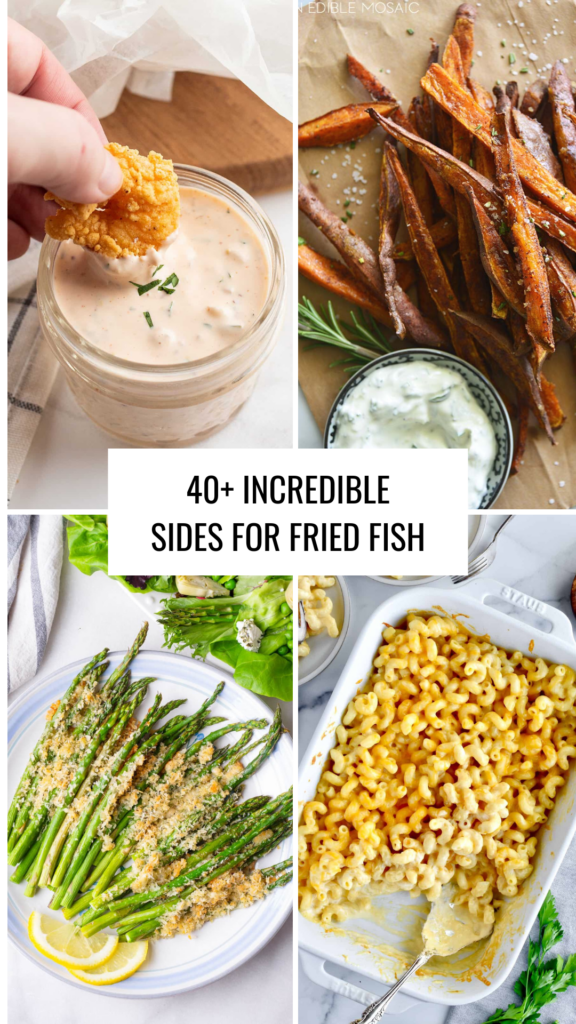 Click this link to pin this guide on the Best Sides for Fried Fish.
Also, don't forget to follow us on instagram and facebook for more recipes and foodie recommendations.
If you'd like to automatically receive our posts in your email, register here.
Whip up this recipe? Be sure to tag us on social media as @coupleinthekitchen and we'll share it with our foodie followers!