It's important for you to plan the best sides for lobster when you're investing in sure a special seafood meal!
We've gathered 40 of the best side dishes to serve with your lobster dinner.
We make lobster at home all the time. From a fancy dinner of Grilled Lobster Tail, to crispy Fried Tempura Lobster Tails, to even our Lobster Tacos with Citrus Slaw!
From casual salads for when you're serving lobster rolls, to light sides for a tropical-themed grilled lobster tail picnic menu, to indulgent dishes that will compliment special occasions and holidays where you are serving fancy, whole lobster.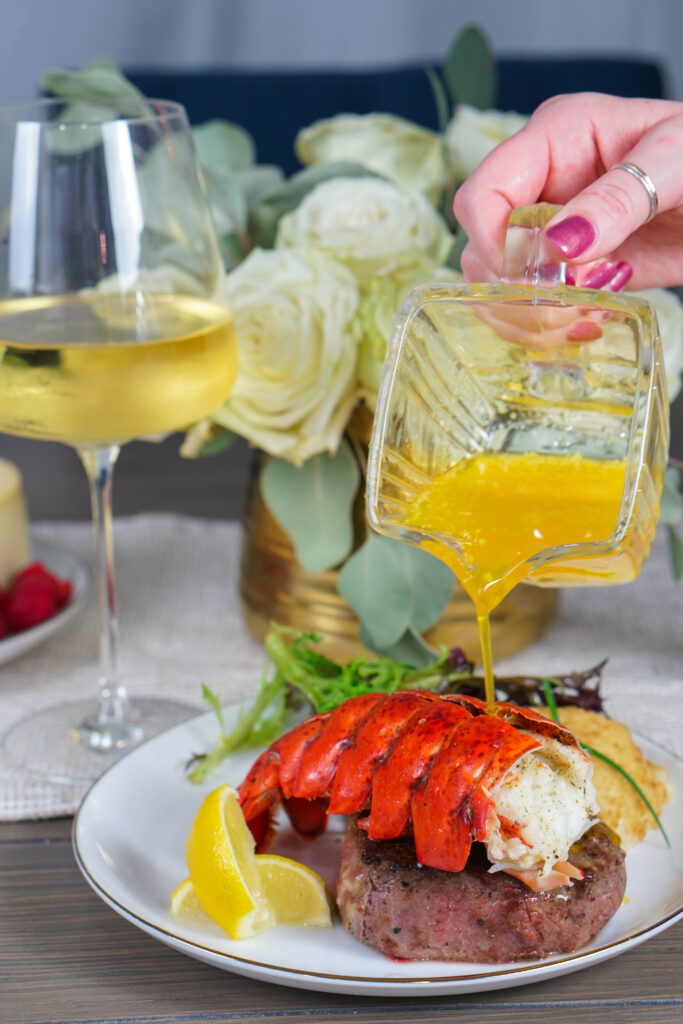 Sauces to Serve with Lobster
Before we get into side dishes, we wanted to share a few sauces and accessories that will complement the sweetness of the lobster and make your meal even more incredible.
Melted Butter
Obviously melted butter and meaty lobster tails are a match made in heaven. In order to ensure your butter dipping sauce stays perfectly melted, we recommend investing in these cute butter warmers for your dinner table as a perfect accompaniment for your next special occasion.
Lemon Juice
Be sure to have plenty of fresh lemons around when you're serving your lobster dinner. No one likes to get lemon seeds in their lobster. A simple solution is to buy a set of lemon bag nets for catching seeds. Ta da! Problem solved!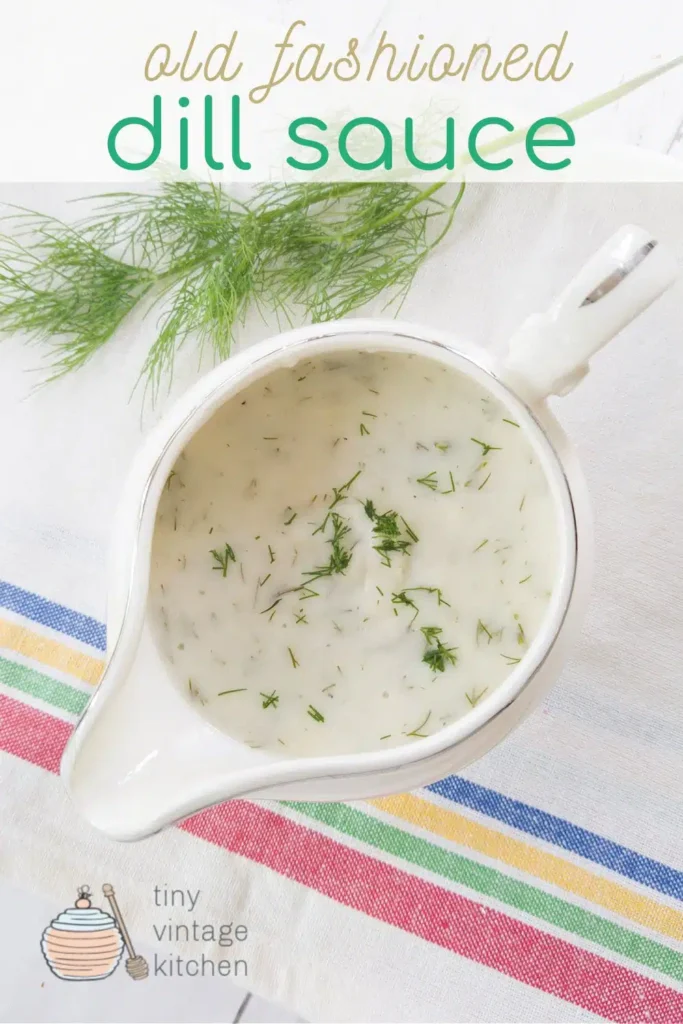 Dill Sauce
This Homemade Dill Sauce adds an herby creamy kick to your lobster. The sauce is also amazing on fish, but can also be chilled and served on salads, cold sandwiches, and more!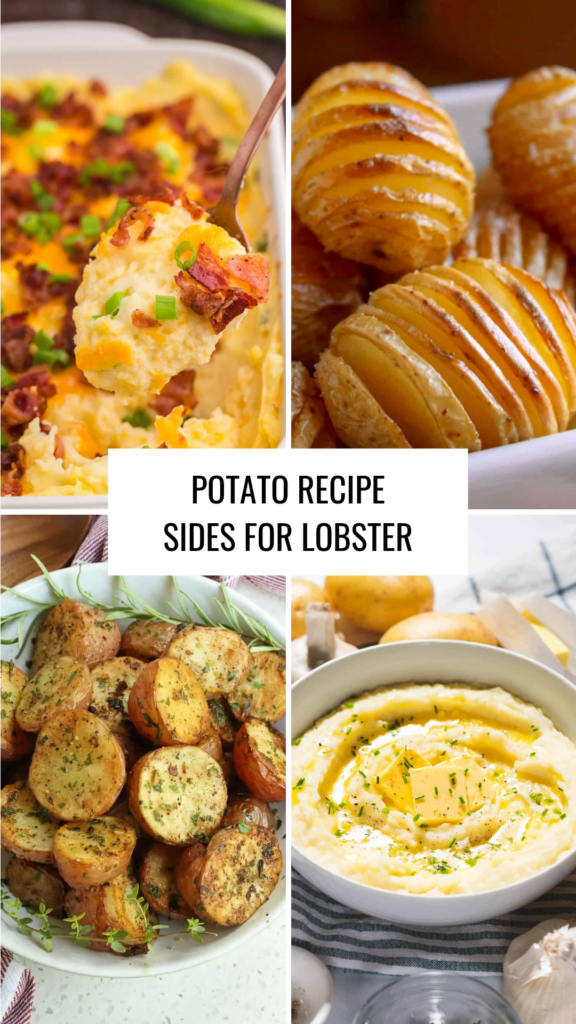 Potato Sides for Lobster
The heaviness of a potato helps to balance the light, tender meat of the lobster. All of these potato side dishes pair really well with lobster, and many are served up in really unique different ways!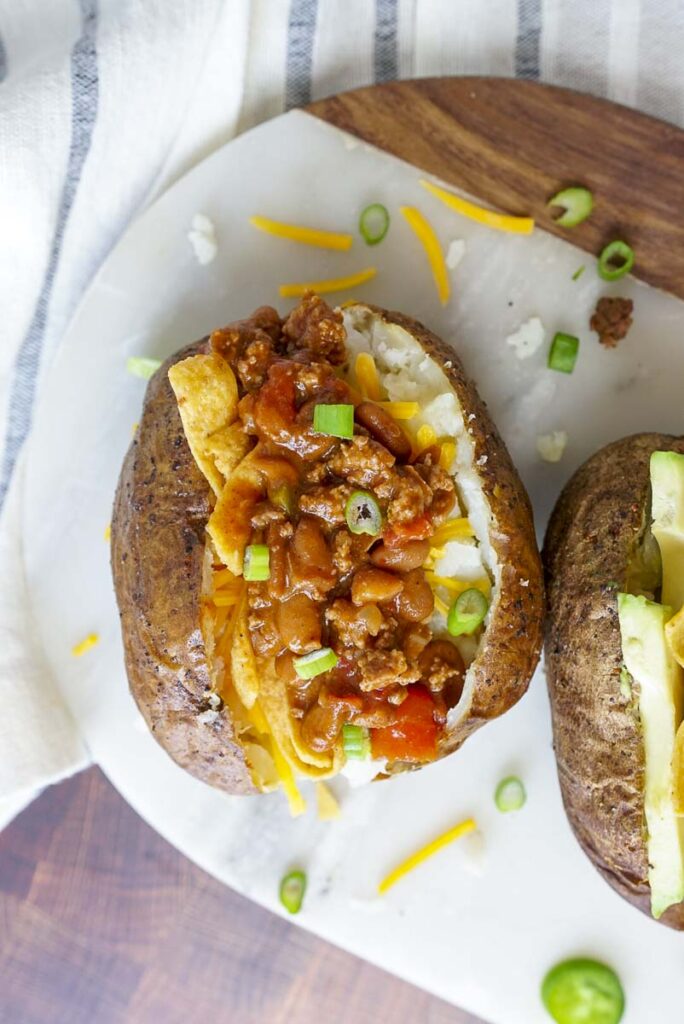 Air Fryer Baked Potato
Both of our parents love a simple baked potato when having a formal dinner. If you're in the same boat, consider making our Air Fryer Baked Potato Recipe. The insides are light and fluffy and the skin is perfectly crispy. Just add in some bacon bits, parmesan cheese, sour cream, chives, butter, or other crazy toppings and you'll have a baked potato bar that everyone will enjoy.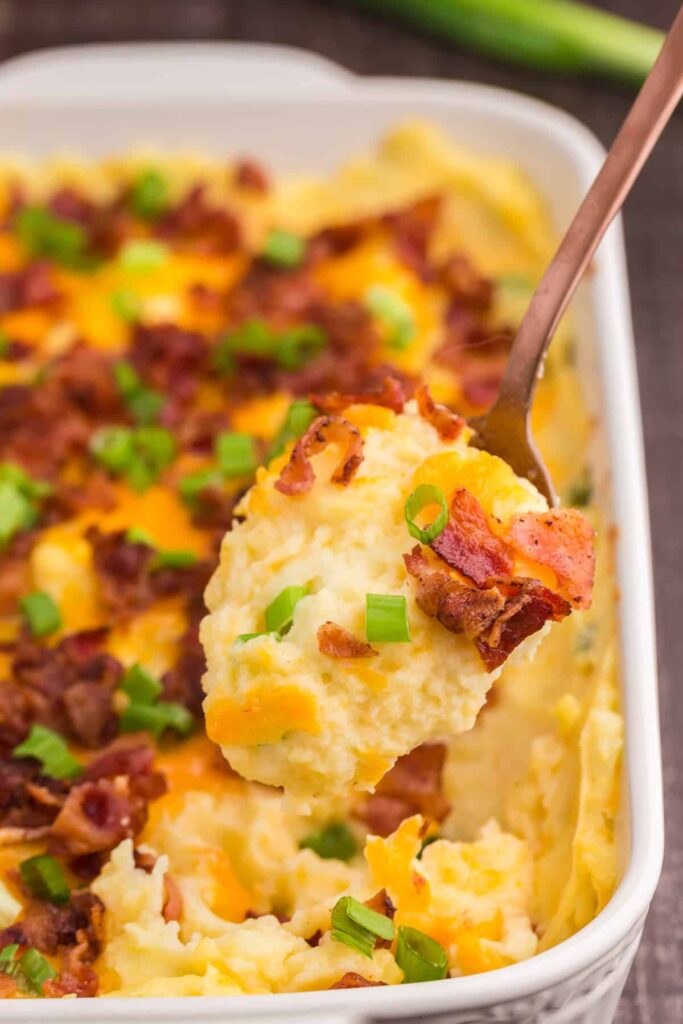 Loaded Mashed Potatoes
Mashed potatoes are the ultimate comfort food side dish recipe. This homemade casserole of loaded mashed potatoes is extra indulgent with loads of cheddar cheese, bacon and sour cream. Just scoop and enjoy!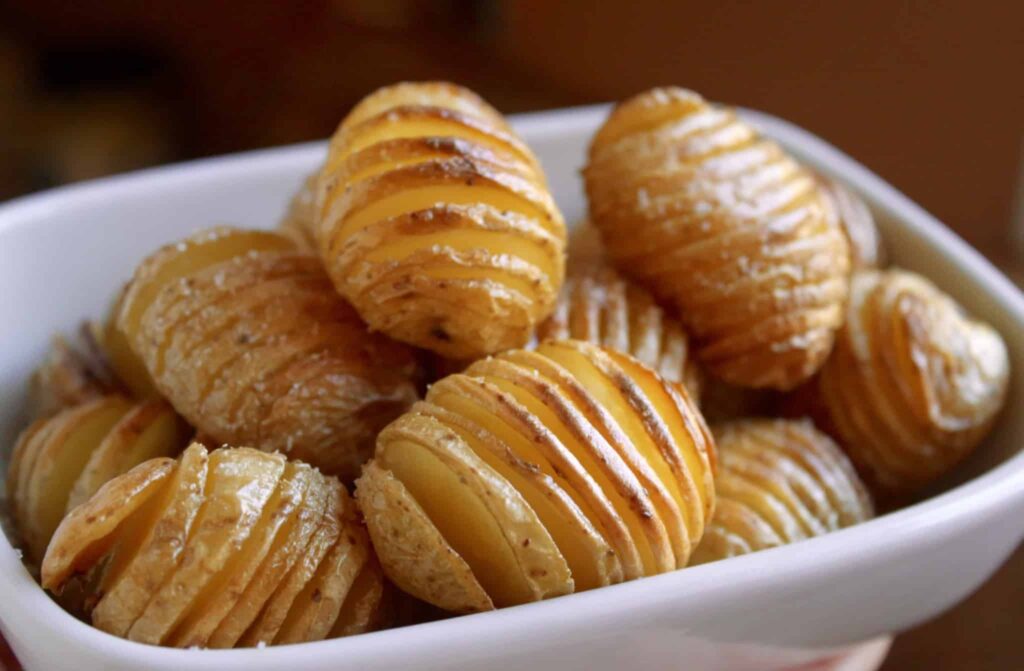 Tiny, Truffled Hasselback Potatoes
These Tiny Truffled Hasselback Potatoes are a superb side dish for so many main courses, including lobster! Meat, seafood and poultry are perfect for these bite-sized, truffle-flavored potatoes.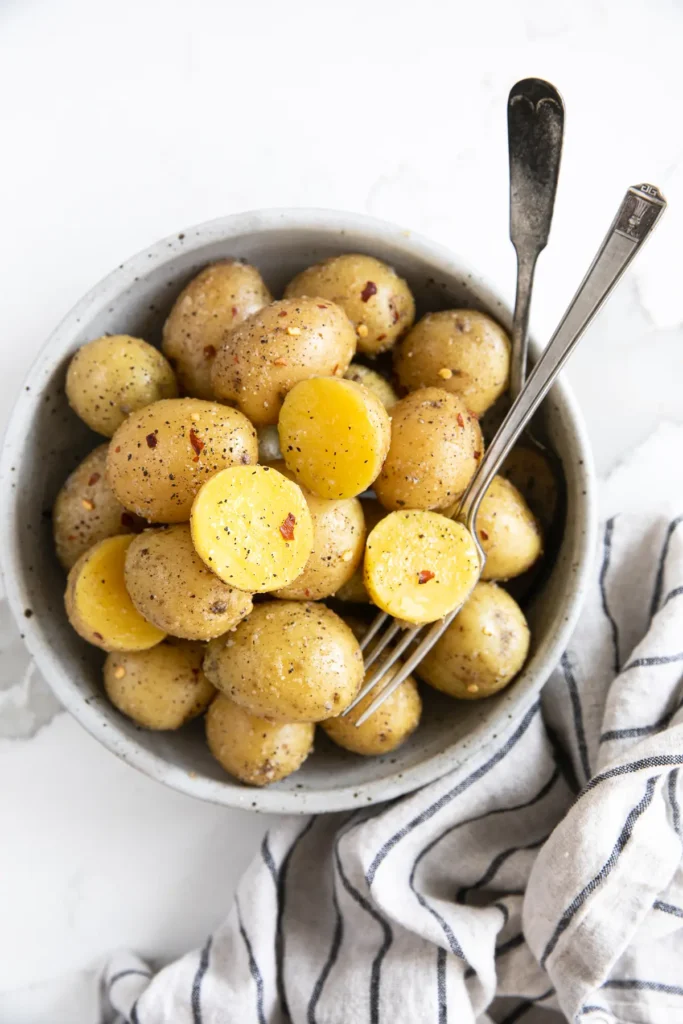 Garlic Butter Boiled Potatoes
Creamy, perfectly boiled potatoes smothered in garlic and butter. The perfect side for lobster tail, this Garlic Butter Boiled Potato recipe is ready and on the table in just 30 minutes.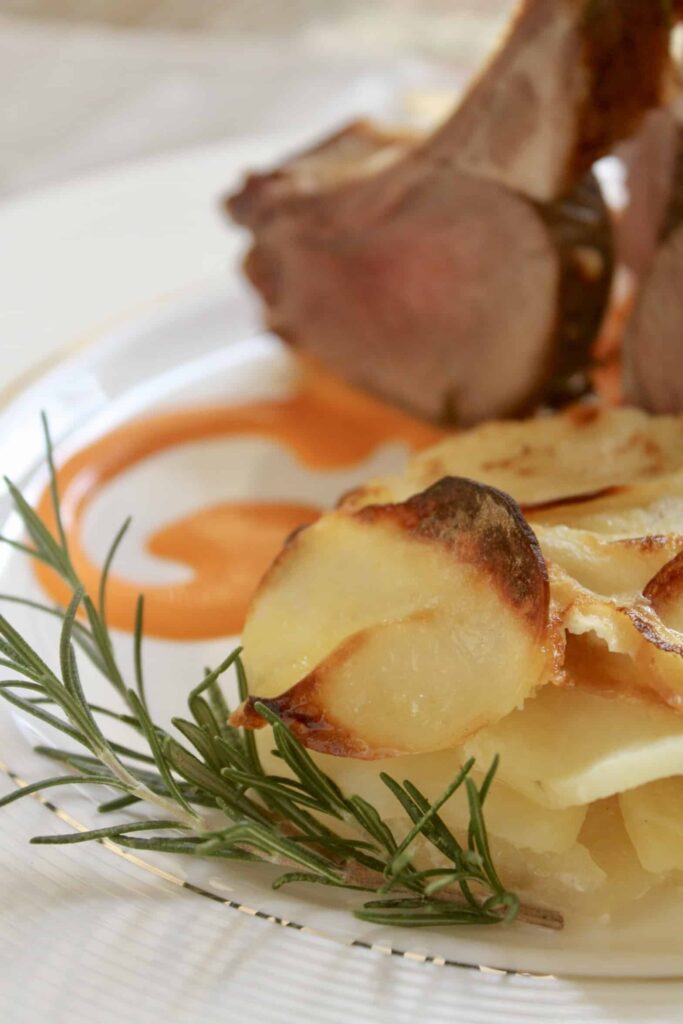 Potatoes Dauphinois
It may sound fancy, and it looks impressive, but Potatoes Dauphinois couldn't be easier to make! A few ingredients are all you need and the oven does all the work for a side dish that's fit for royalty.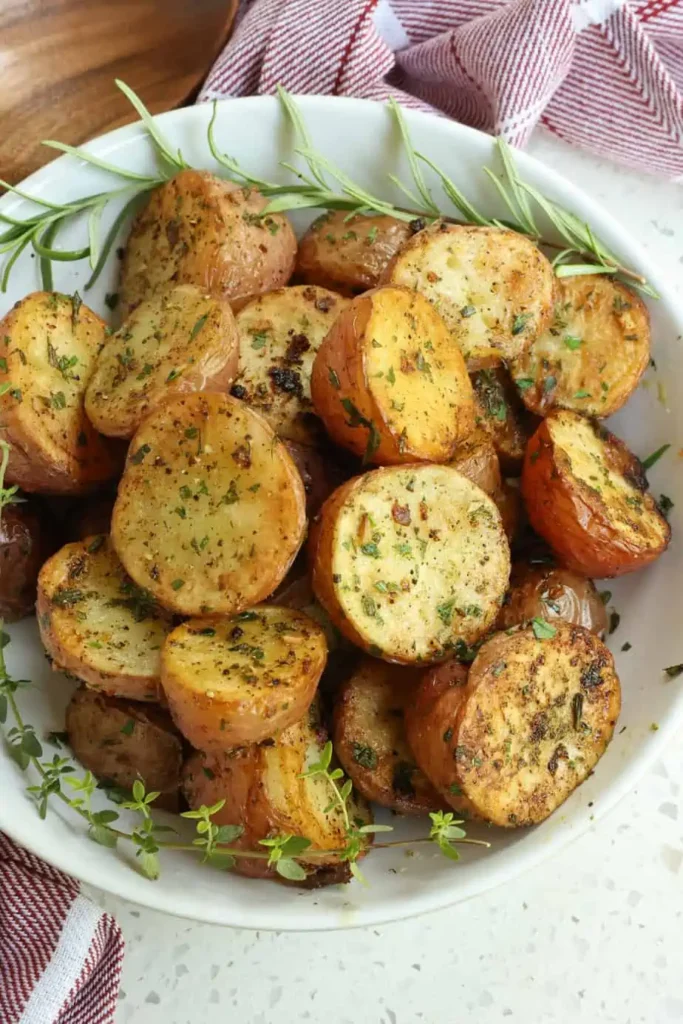 Roasted Red Potatoes
How about some classic Roasted Red Potatoes with garlic, thyme, rosemary, and parsley? These potatoes are loaded with flavor from fresh herbs, kosher salt, and fresh ground black pepper. They are the perfect side dish for seafood like lobster, as well as roasted chicken, braised beef, grilled pork, or baked fish.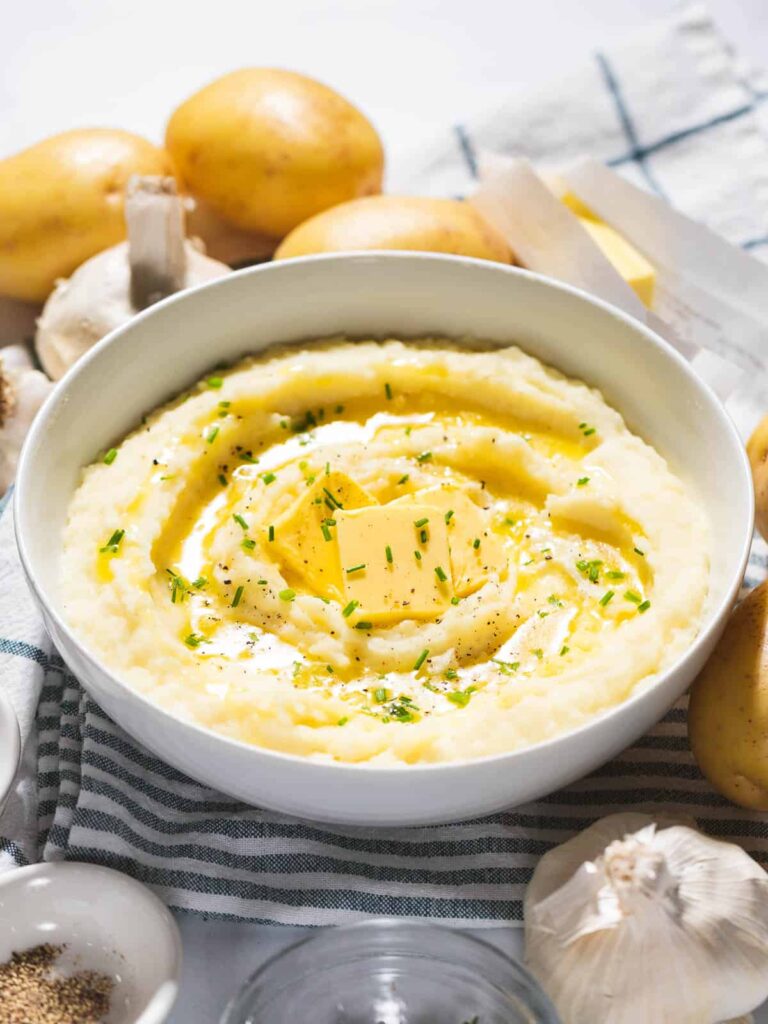 Garlic Mashed Potatoes
These Garlic Mashed Potatoes are creamy, garlicky, and the perfect side for lobster tail! It's made with soft fluffy potatoes, garlic infused heavy cream, and finished with a drizzle of garlic butter!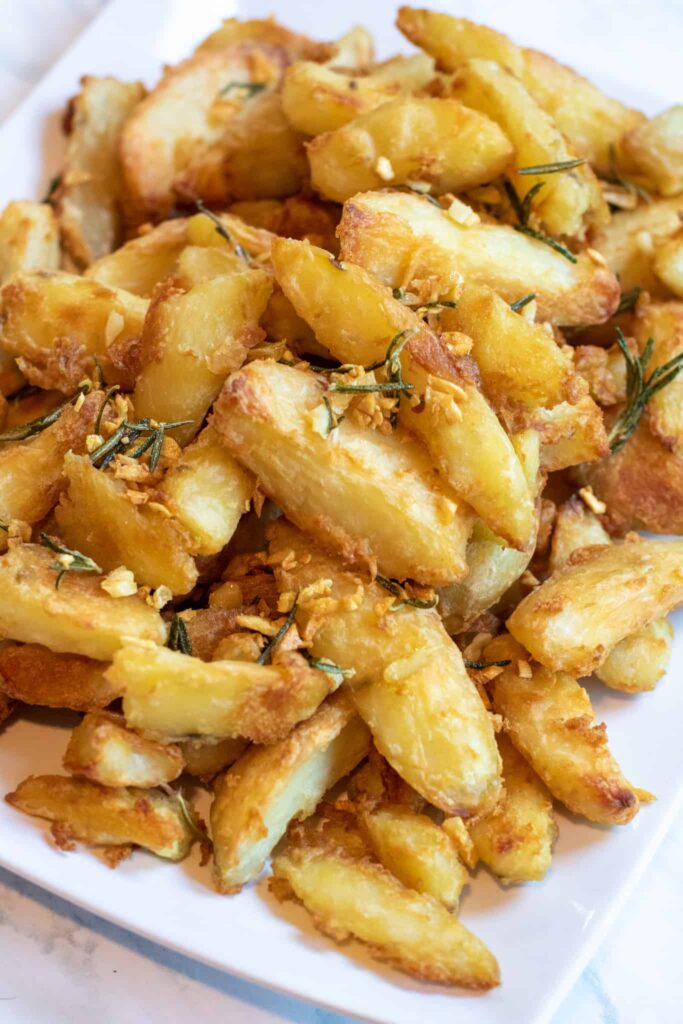 Garlic Rosemary Potato Wedges
Elevate your potato side dish! These Crispy Garlic Rosemary Potato Wedges are an incredibly flavorful and perfectly crispy way to fulfill a french fry craving but in a next level way! Try them with a lobster roll!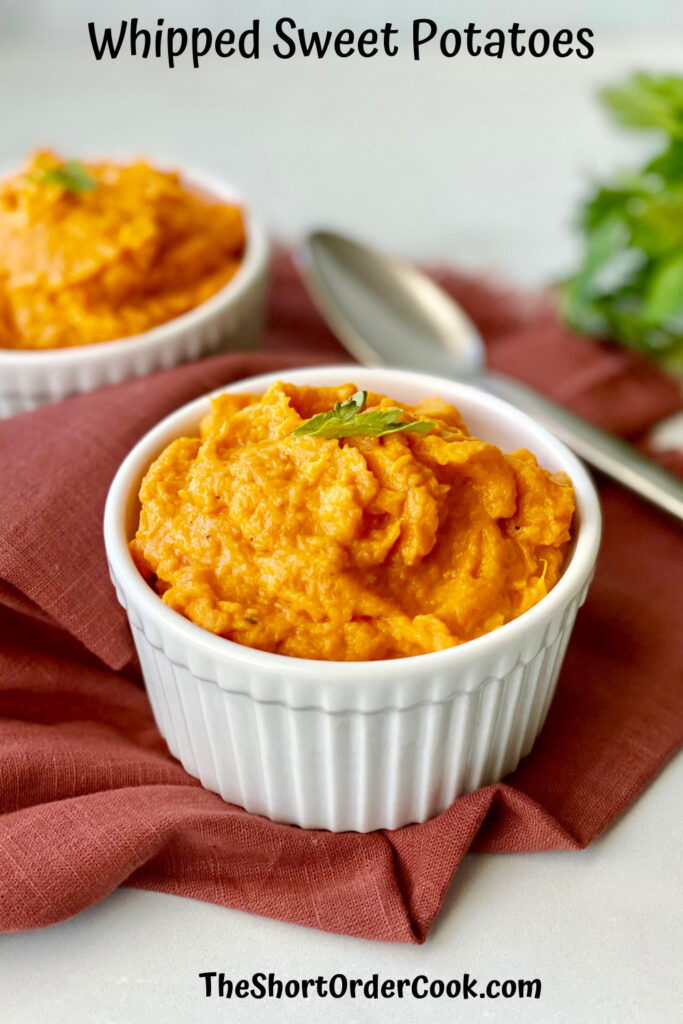 Whipped Sweet Potatoes
Rich, creamy, & fluffy Whipped Sweet Potatoes pair beautifully with lobster. These decadent potatoes are irresistible and a different, flavorful change from a classic spud.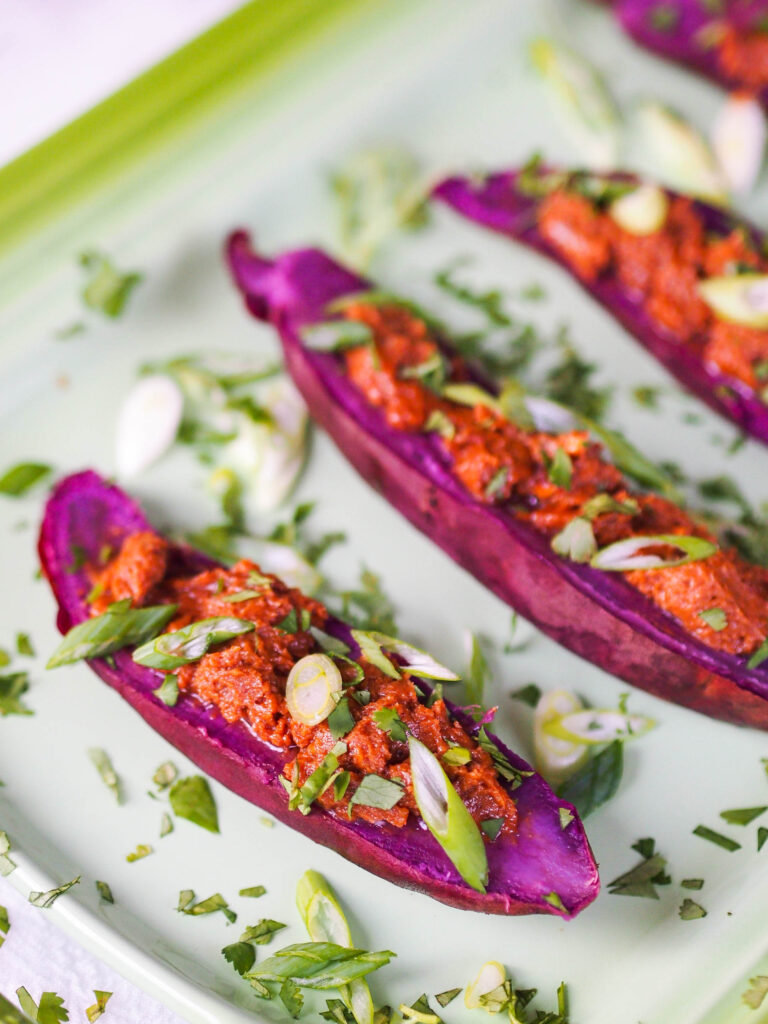 Baked Purple Sweet Potatoes with Miso Butter
Go beyond your basic baked sweet potato with this recipe for Baked Purple Sweet Potatoes with Miso Butter! The simple blend of butter and miso paste is sure to become your new favorite condiment!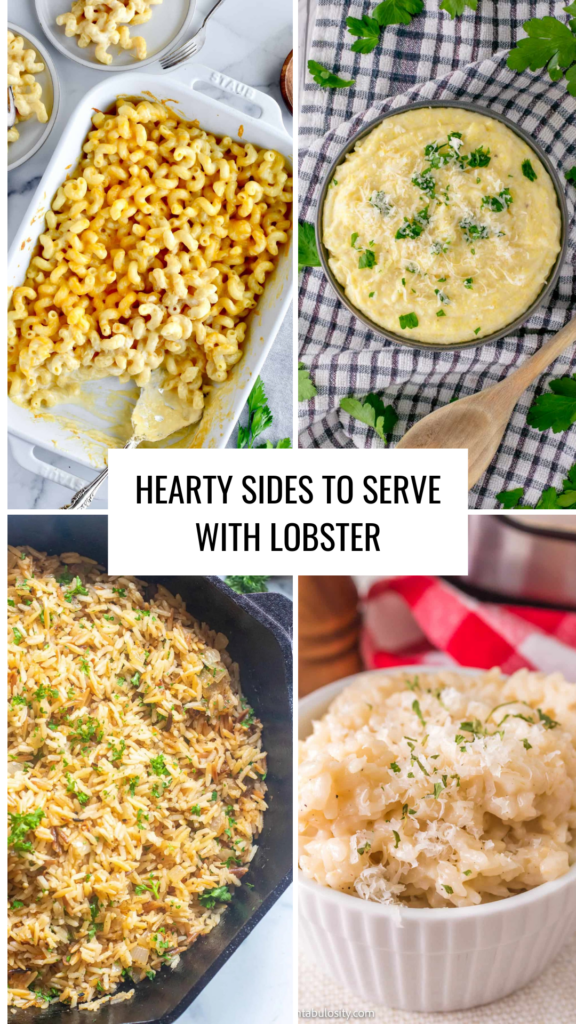 Rice, Pasta, and Starch Sides for Lobster
If you're not in the mood for potatoes, there are still a number of starch options that will help to fill up your guests. From rice, to pasta, to polenta, here are some crowd-pleasing side dish recipes that are true winners.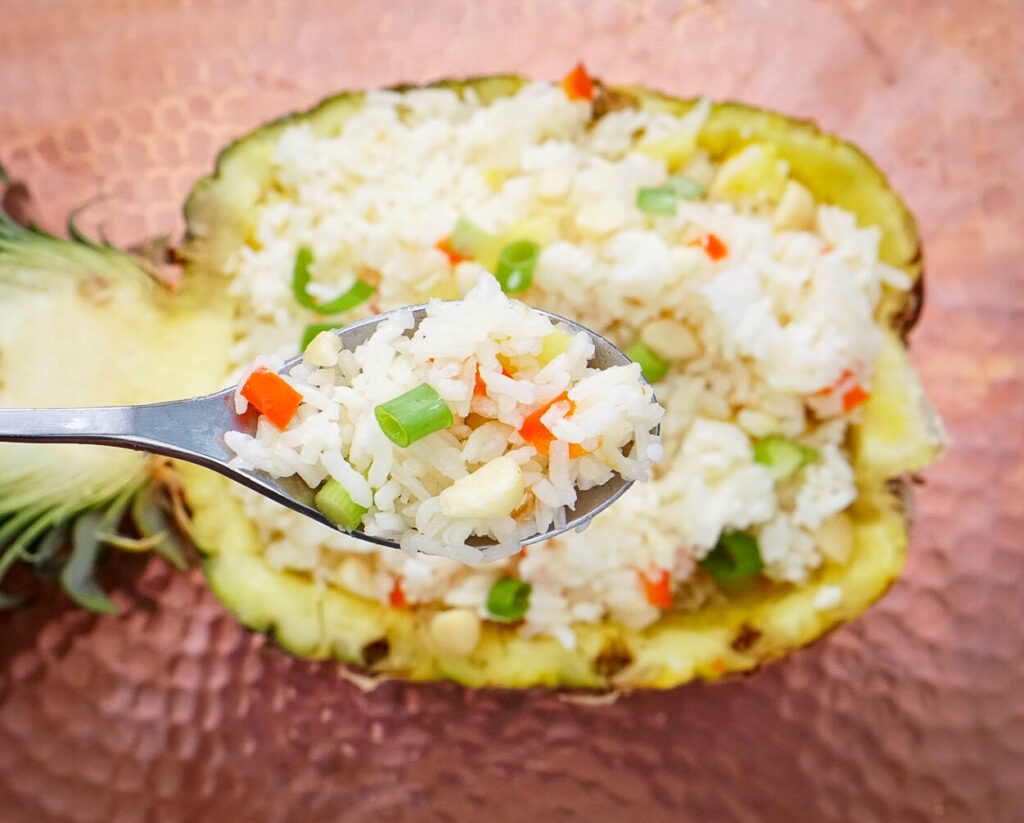 Tropical Rice
Pop some lobsters on the grill and serve them up with this Tropical Rice Recipe for a taste of the tropics. Loaded with pineapple, red pepper, macadamia nuts, and coconut milk, this white rice side dish is packed with flavor. Serve it in a pineapple bowl for a festive presentation.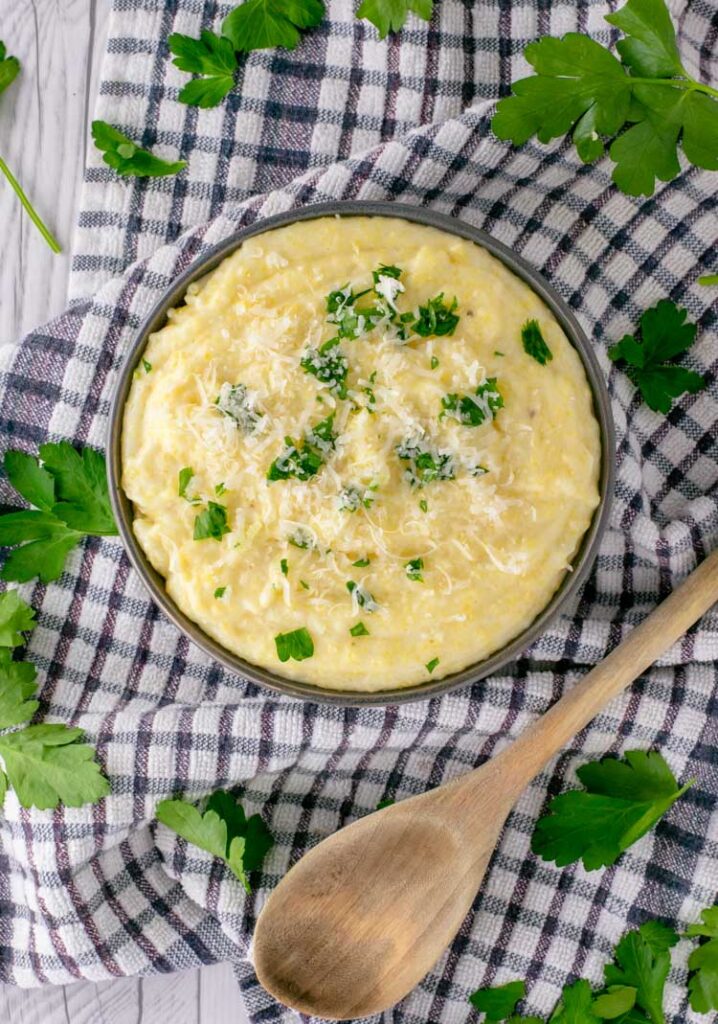 Goat Cheese Polenta
Goat Cheese Polenta is a hearty side dish option for lobster. Polenta is the Italian version of grits and this creamy goat cheese polenta is the perfect vehicle for a variety of proteins from seafood to pork to short ribs.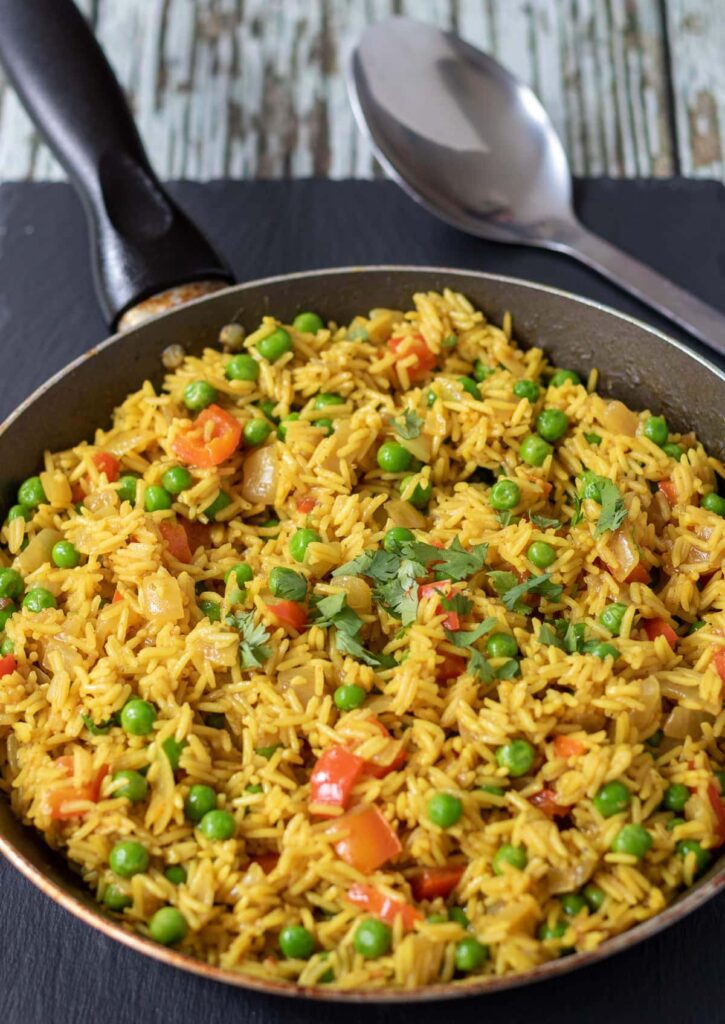 Spicy Rice with Peas
Substitute boring old white rice for a dish with a kick. Spicy Rice with Peas is a delicious easy-to-make side. Made all in one pan this 20-minute dish also goes great with chicken, fish, or halloumi!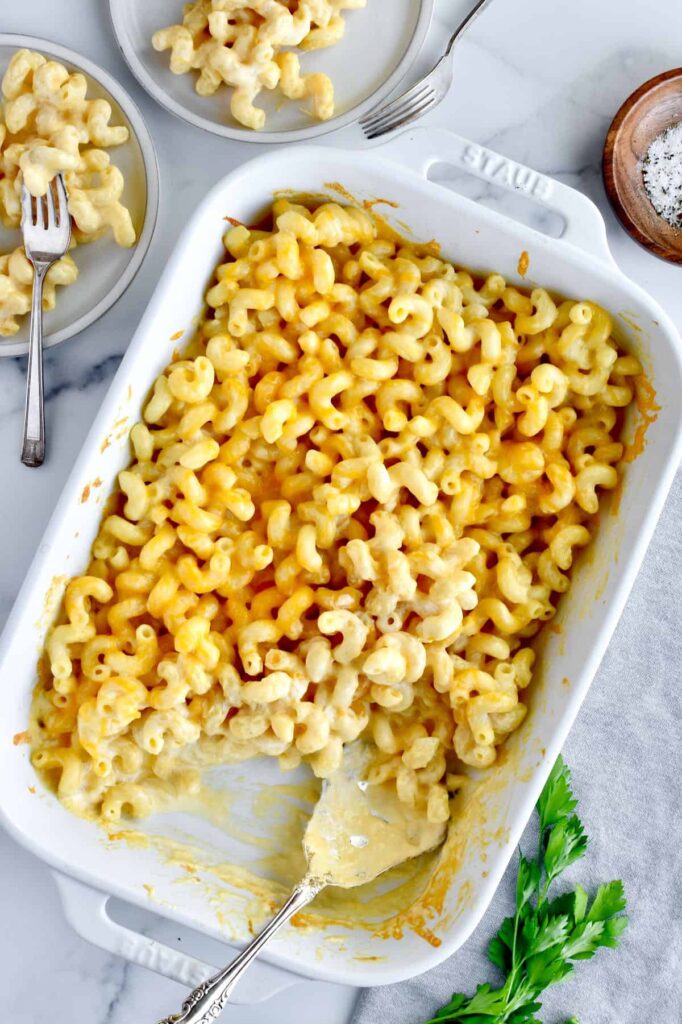 Mac and Cheese
Mac and cheese is the ultimate comfort food. This delicious Cavatappi Mac and Cheese recipe is a family favorite, loved by kids and adults alike. Take a piece of lobster, pop it on top of this side dish and viola you've got lobster mac and cheese!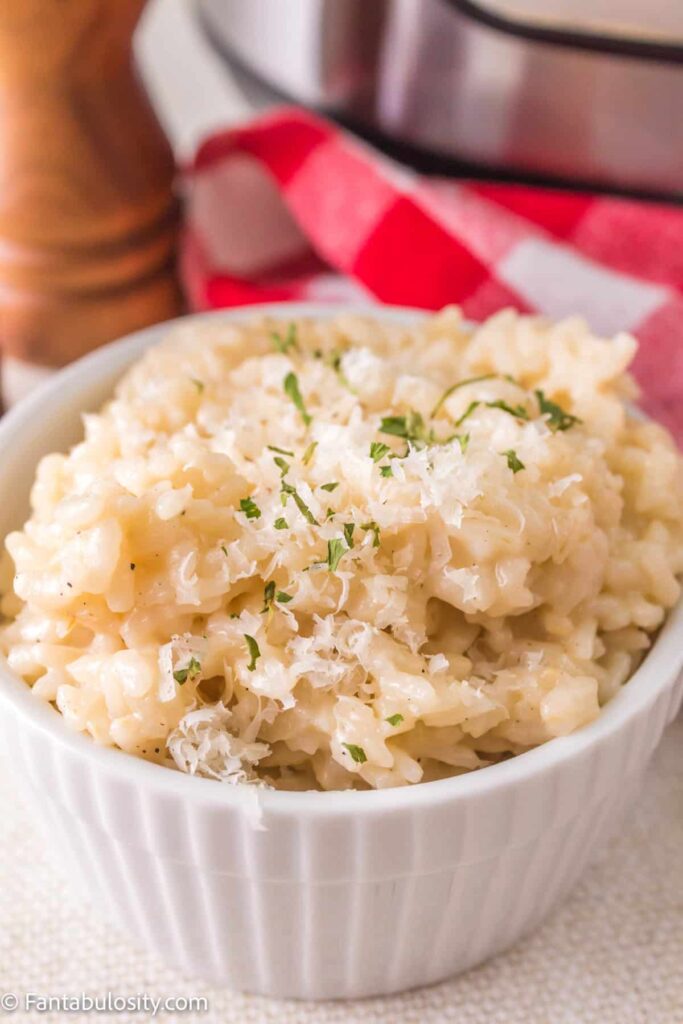 Instant Pot Parmesan Risotto
Risotto doesn't have to be difficult. This Instant Pot Parmesan Risotto is easy to make and so tasty! A scoop of flavorful risotto is a great side for your lobster tail.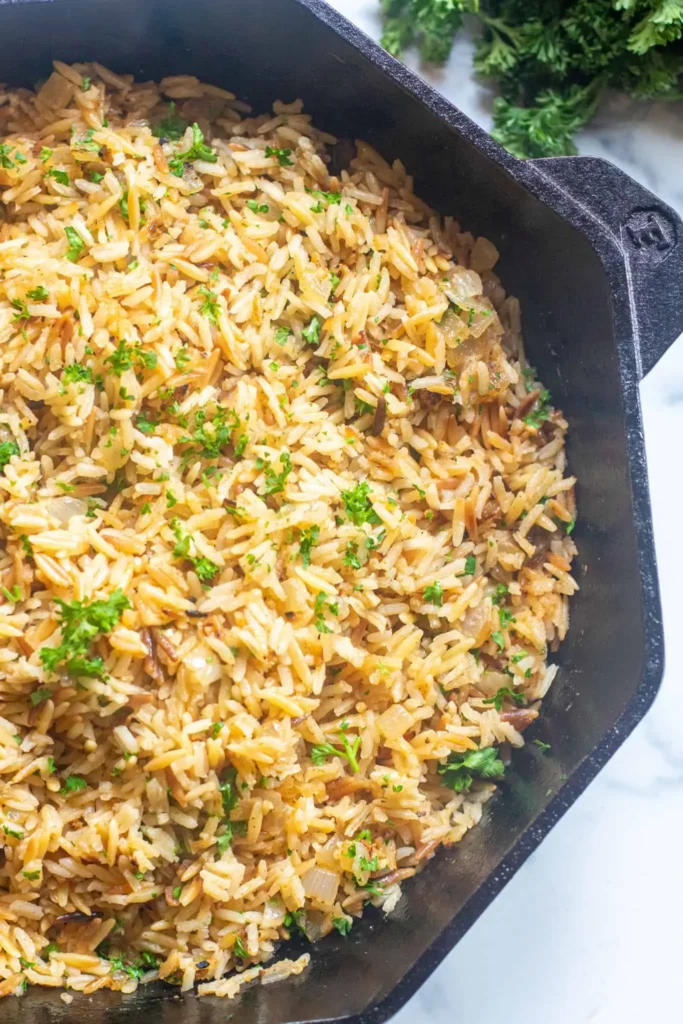 Rice Pilaf
This easy Homemade Rice Pilaf is a classic rice dish that's simple to make in one pot or skillet, is packed full of flavor, and is a favorite side dish of many!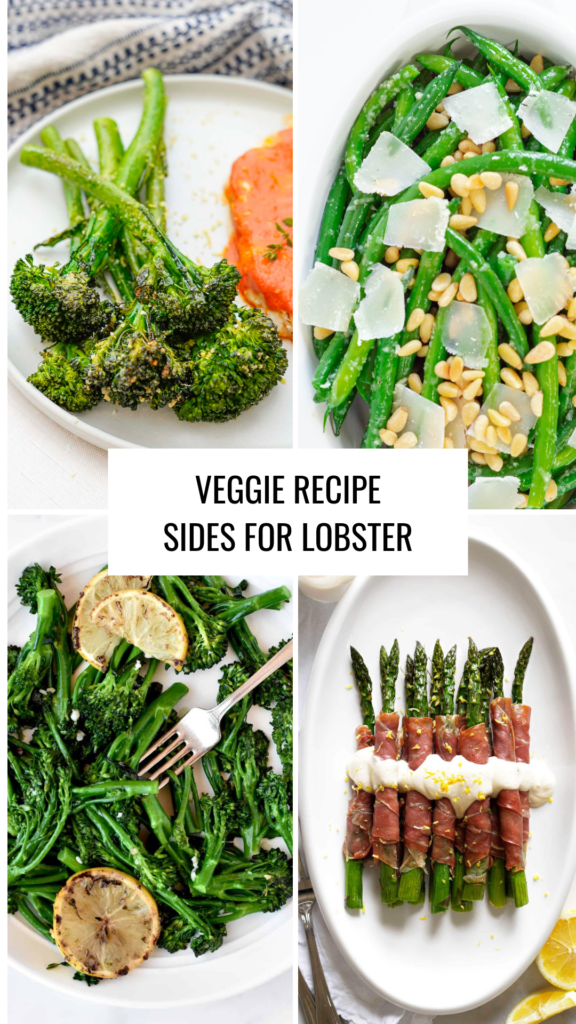 Vegetable Sides for Lobster
If you're going to be serving everyone a big bowl of melted butter, it's not a bad idea to also serve up some fresh vegetables to offset the heaviness of all the butter. These delicious side dishes will pair great with a lobster main dish without being too overpowering.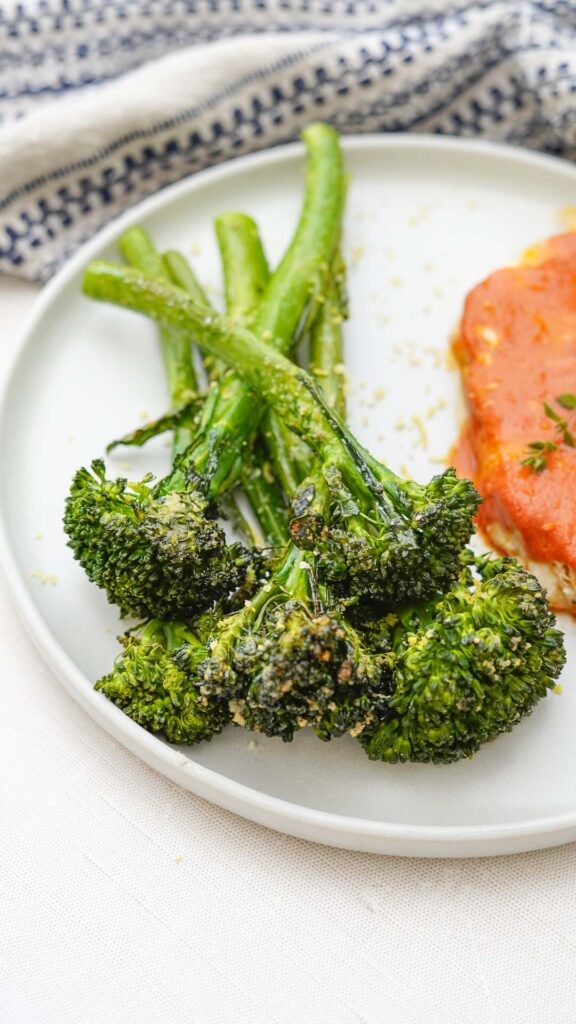 Air Fryer Broccolini
Without question, our favorite veggie side dish is our Air Fryer Broccolini! The air fryer helps to slightly char the broccolini, leaving it cooked yet still crisp. Simplicity and perfection!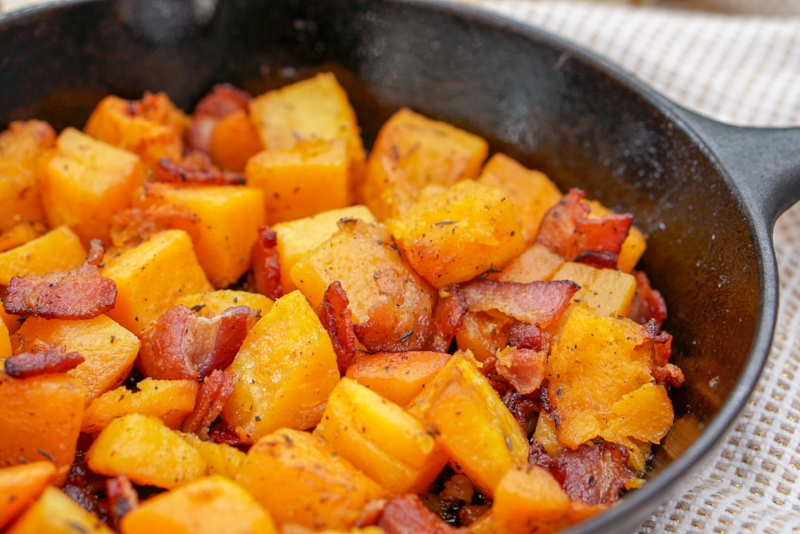 Roasted Butternut Squash with Bacon
All you need is a handful of ingredients and this easy veggie side dish is ready to be served with your lobster. The savory bacon adds a smoky flavor to the sweet squash in this Butternut Squash with Bacon Recipe.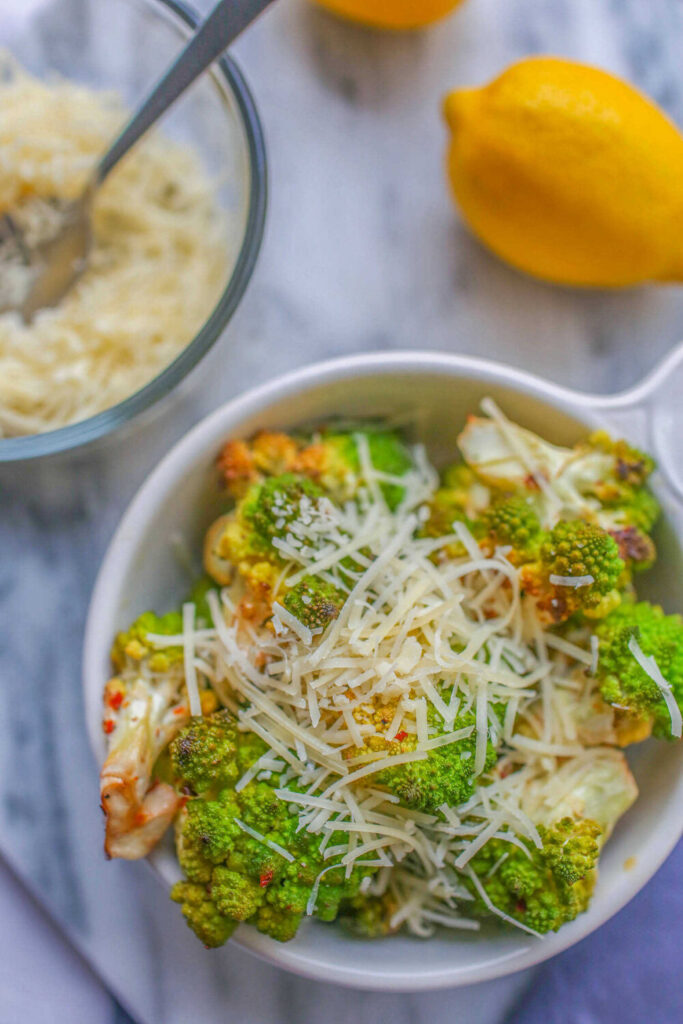 Roasted Romanesco with Parmesan and Olive Oil
For a healthy lobster side dish, make this Roasted Romanesco with Parmesan and Olive Oil. Romanesco is very easy to prepare and cook with roasting being the most preferred way to eat it. It doesn't take too many ingredients to bring out the flavor. This recipe below has a mix of nutty, tangy and acidic flavors. Once roasted those little florets are so irresistible to pop into your mouth.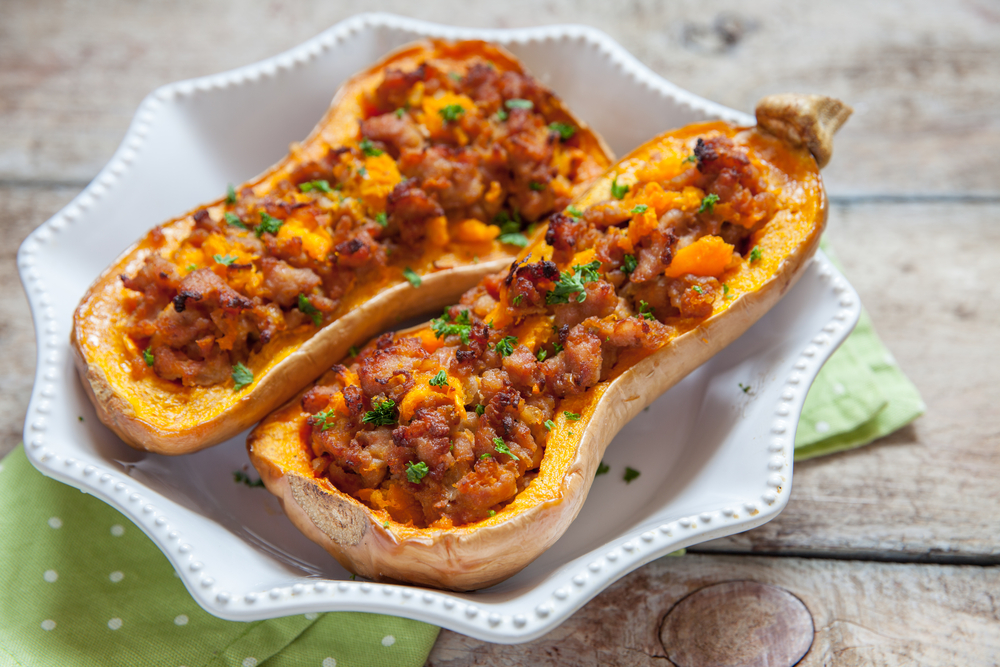 Stuffed Butternut Pumpkin
This Stuffed Butternut Pumpkin Recipe is easy to make in the air fryer! Yup, in the air fryer, there's an entire stuffed butternut pumpkin! A perfect way to bring fall flavors to the table with your lobster.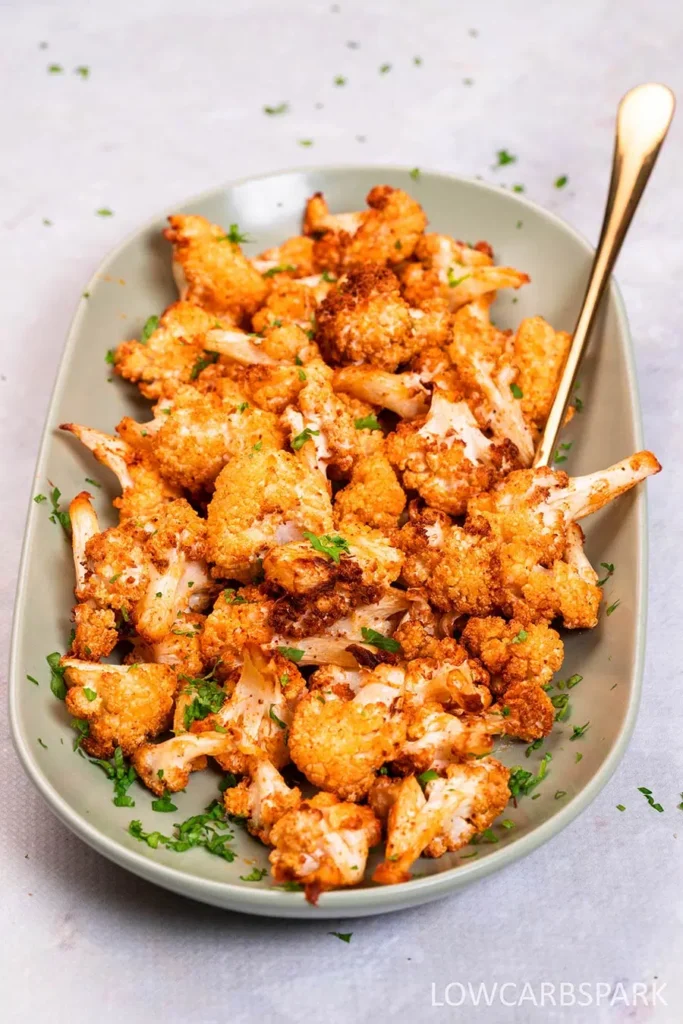 Air Fryer Cauliflower
This Air Fryer Cauliflower is a super easy side dish that no one can resist. Ready in less than 15 minutes, learn how to make the best air fried cauliflower with crisp edges that's flavorful and tender.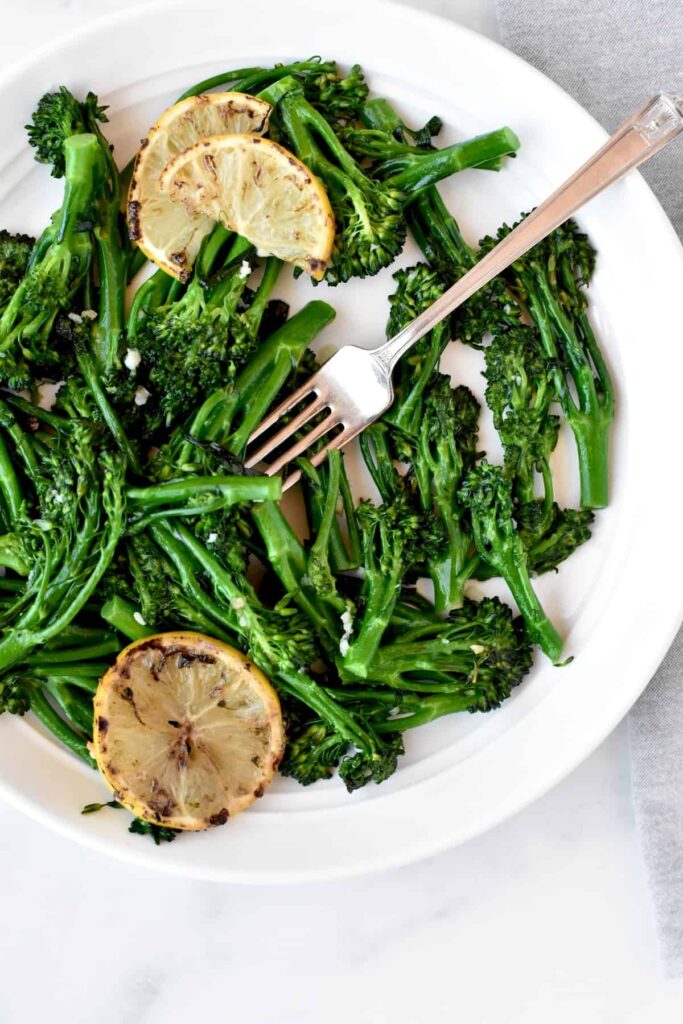 Sautéed Garlic Butter Broccoletti
Sautéed Garlic Butter Broccoletti is a bright and delicious side dish that will be on the table in ten minutes. Healthy and simple, you should definitely add this yummy vegetable to your repertoire.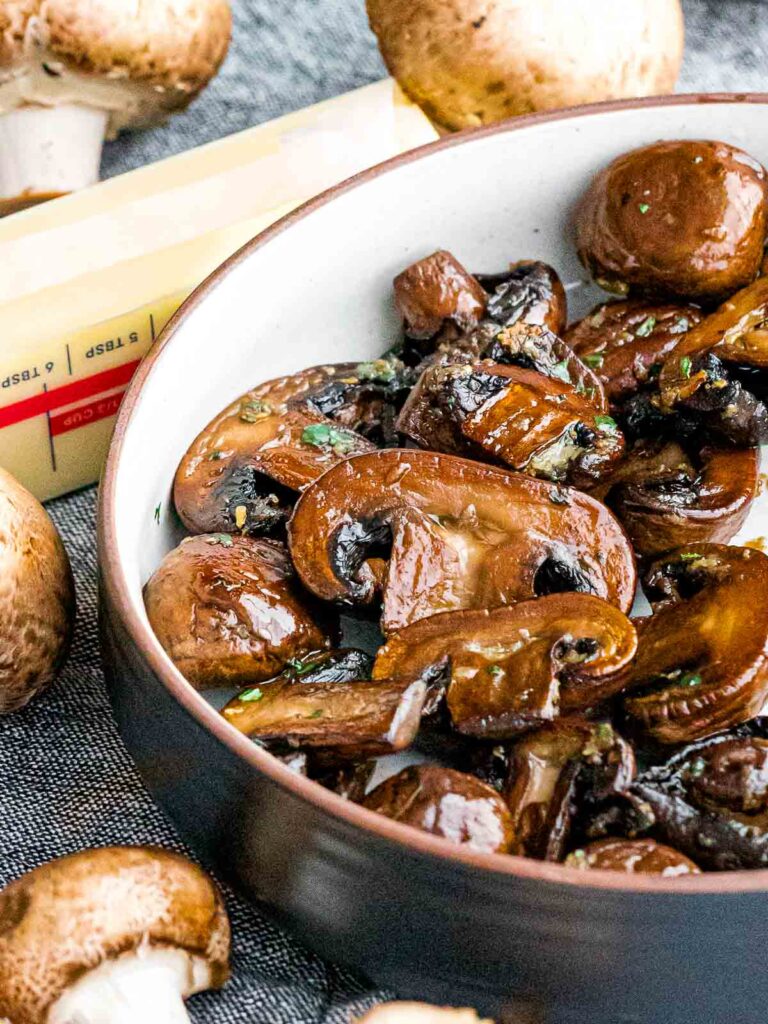 Sauteed Mushrooms with Garlic Butter
These Sautéed Mushrooms are cooked in garlic butter until golden brown and delicious! Enjoy them on a potato side dish or eat them on their own.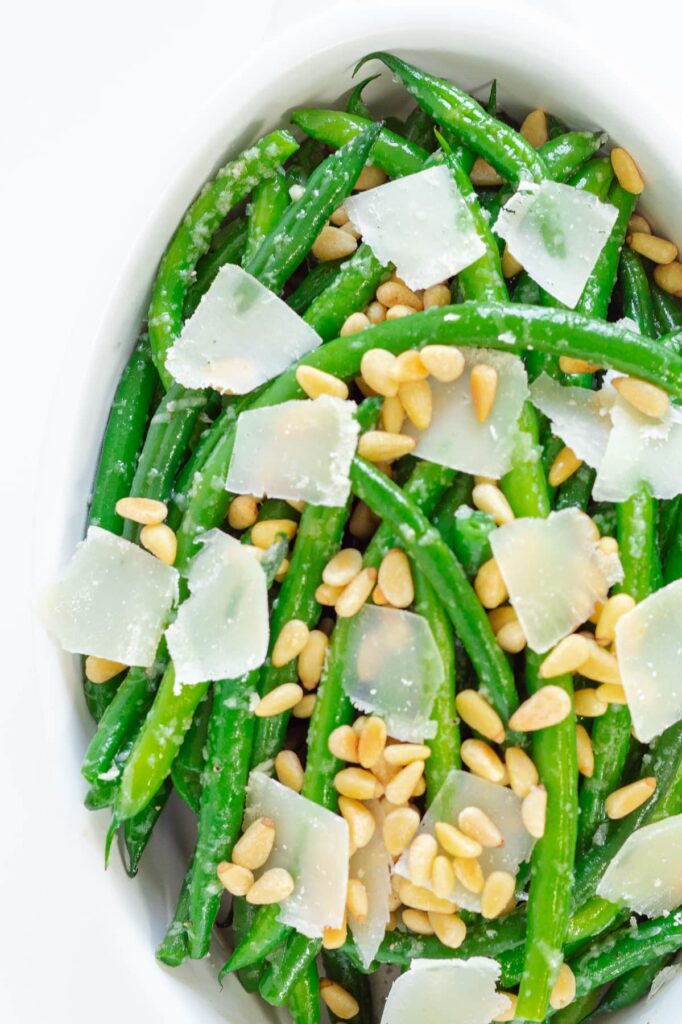 Garlic Butter Green Beans
These Garlic Butter Green Beans are a delicious and easy to make side dish that everybody will be asking for seconds of. The garlic butter will complement the lobster incredibly.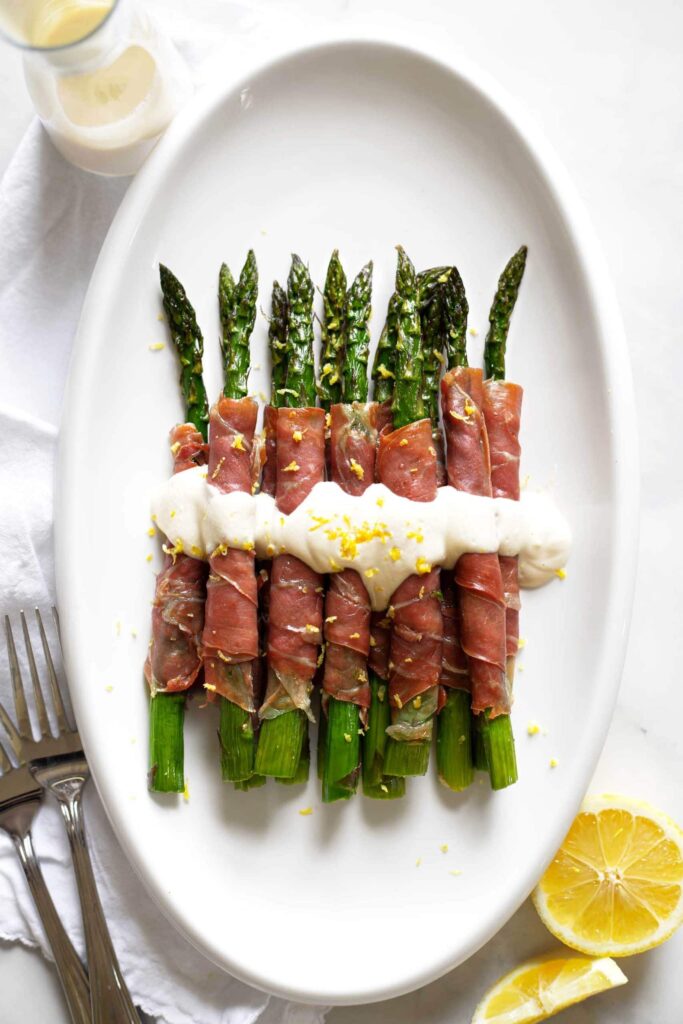 Prosciutto-Wrapped Asparagus
This recipe for Prosciutto-Wrapped Asparagus is easy to make and has a delicious lemon cream sauce reminiscent of hollandaise! So good!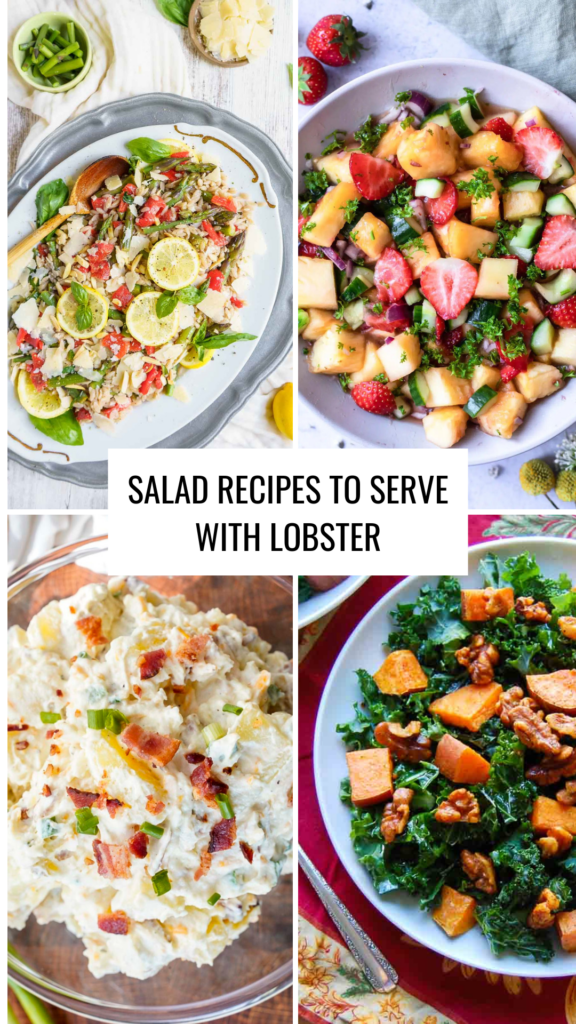 Salads to Serve with Lobster
Add in some leafy greens for a fancy dinner, or a more casual pasta or potato salad for lobster in a picnic or lunch-type setting. Here are a variety of salads to serve with lobster.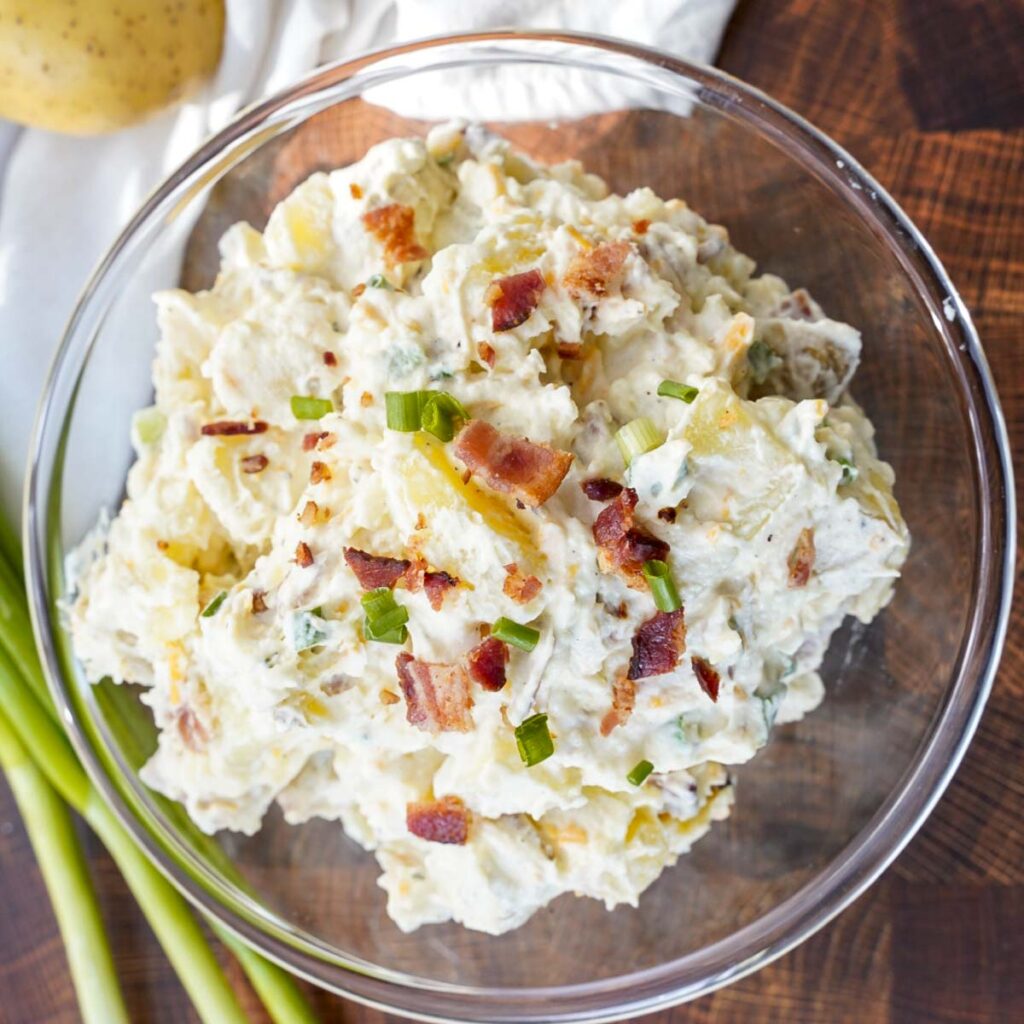 Loaded Potato Salad
If you are grilling lobster or preparing lobster roll sandwiches for a picnic, skip the potato chips and opt for an elevated potato salad. Thanks to bacon, sour cream, chives, and cheese, our Loaded Baked Potato Salad Recipe tastes just like a loaded baked potato, but in deli salad form!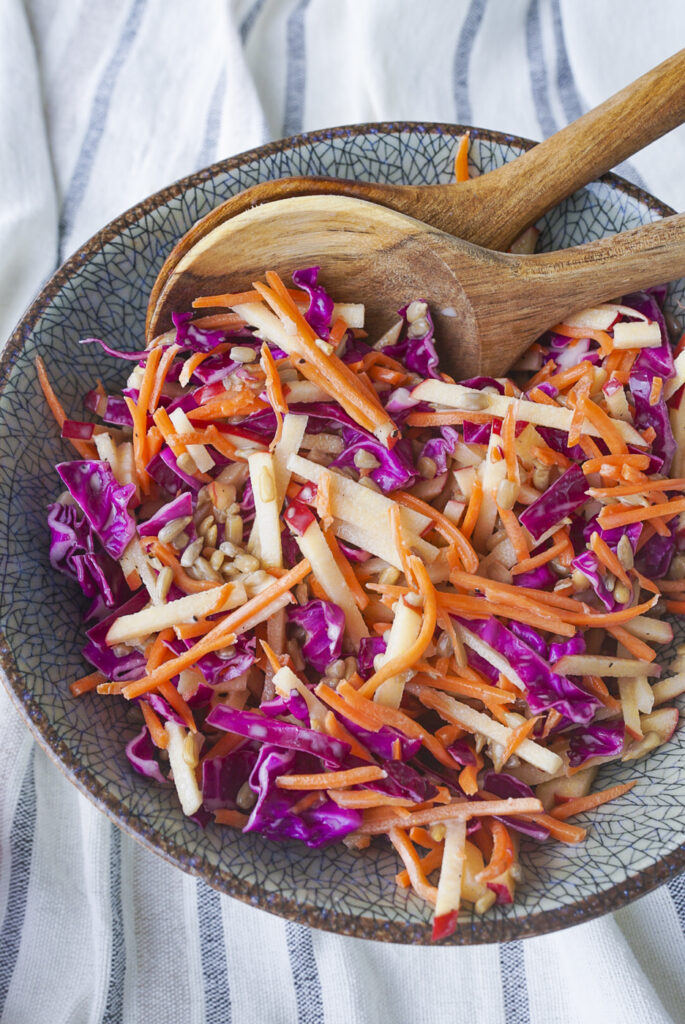 Apple Cabbage Slaw
A healthier salad option for a picnic is our bright and flavorful Apple Cabbage Slaw Recipe. A homemade vinaigrette adds tangy to crisp carrots, apple, and cabbage. Plus, the sunflower seeds add a savory texture that everyone will love.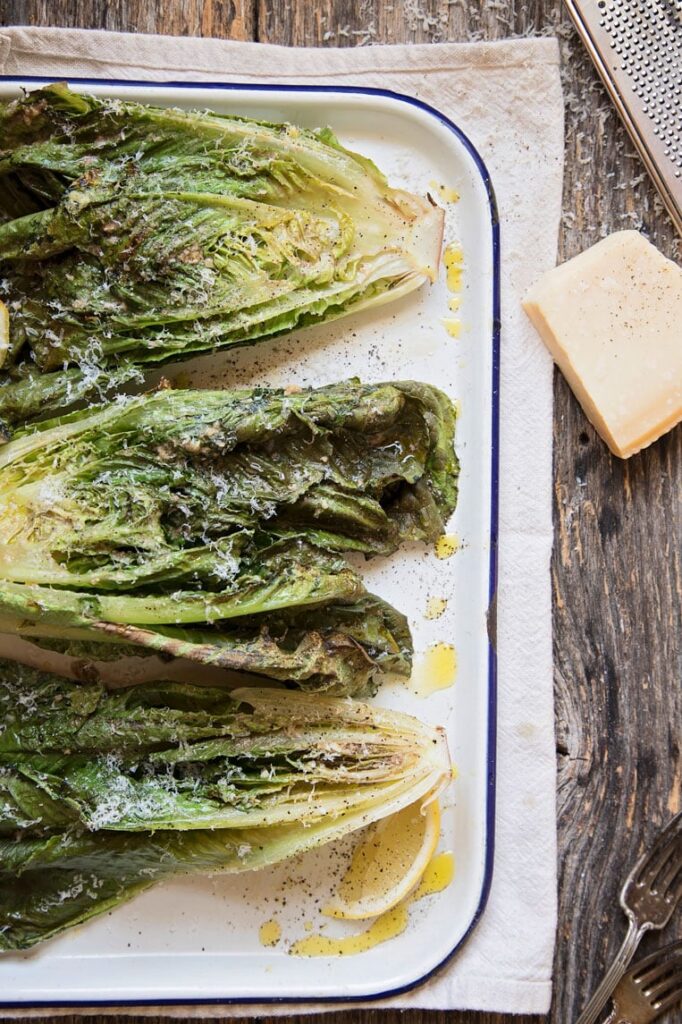 Charred Caesar Salad
Truly unique and easy to make in your oven year round, this Charred Caesar Salad will surprise everyone at the table. Still crispy but just a bit seared, it's a romaine lettuce salad that no one has had before.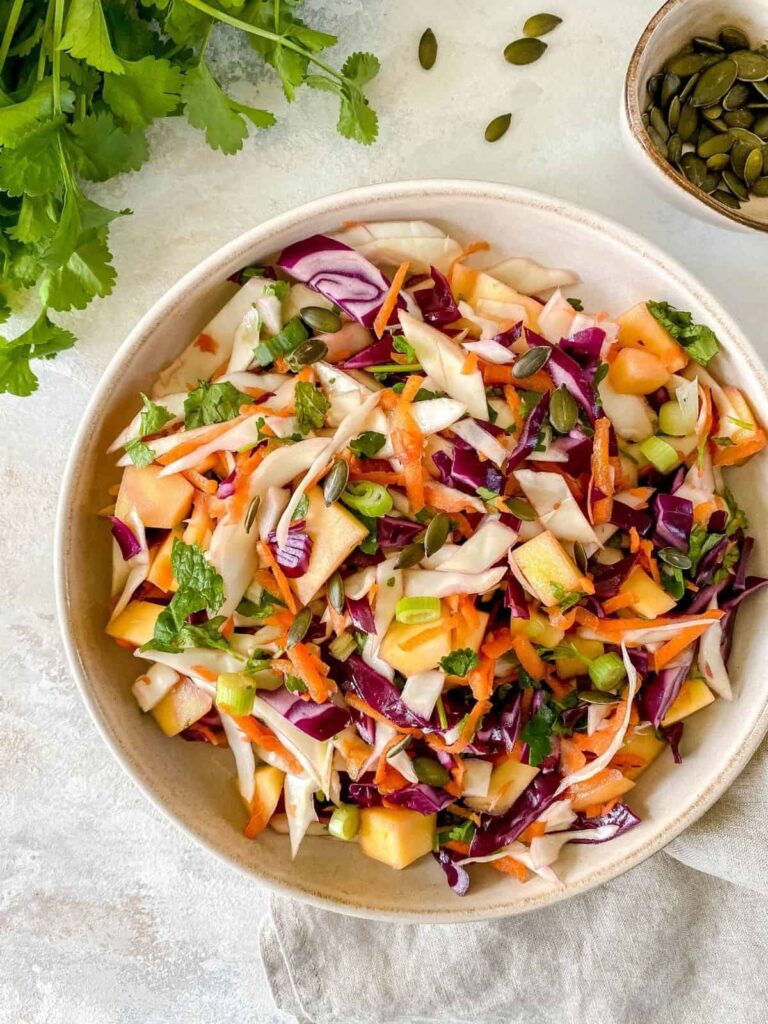 Mango Coleslaw
Fresh and light, this Mango Coleslaw combines crisp vegetables and sweet, fresh fruit for a tasty side that goes perfectly with lobster tails.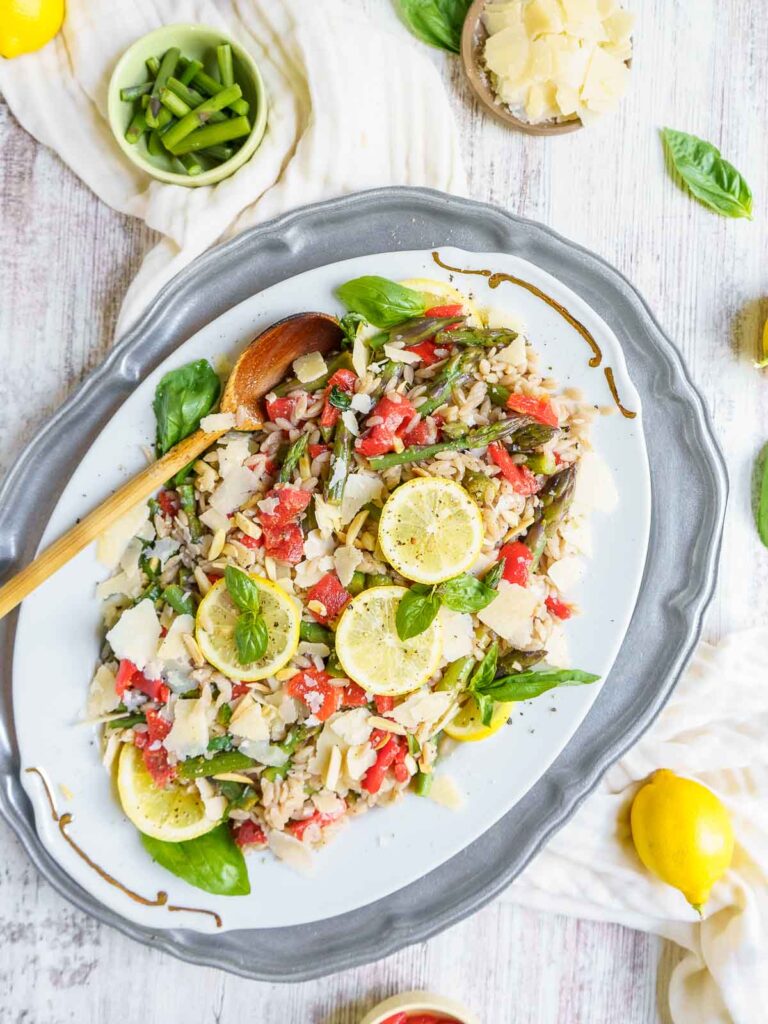 Lemon Orzo Salad
This Lemon Orzo Salad is flavorful, fresh, and healthy. It's also loaded with asparagus and herbs to make it a perfect pasta salad side dish for any meal!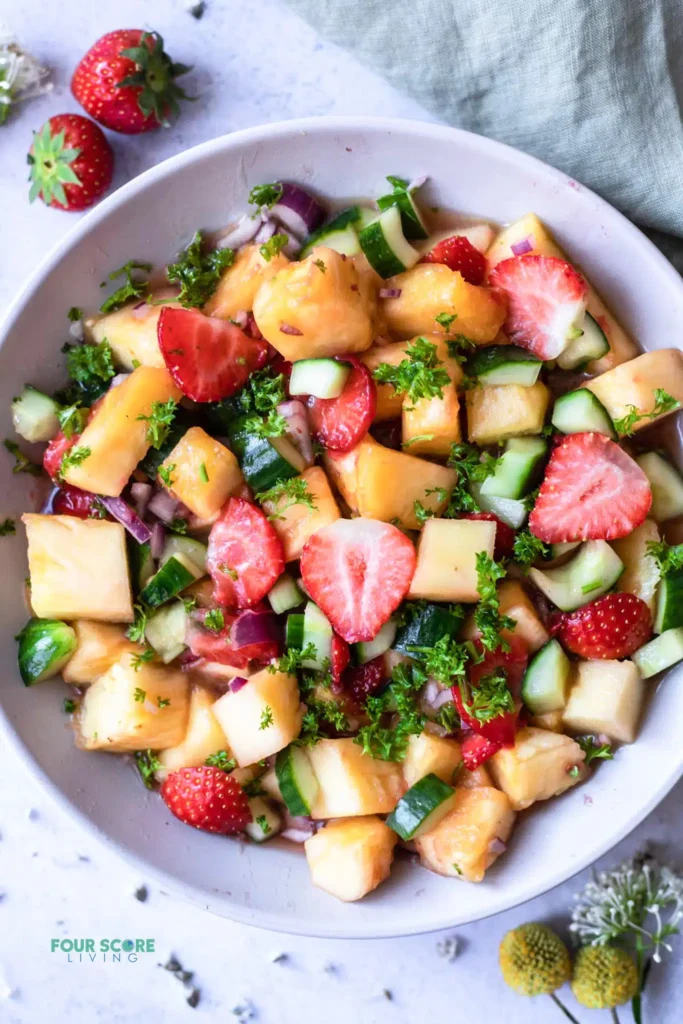 Pineapple Salad
A super simple recipe for Pineapple Salad that goes perfect with seafood, fresh fish, or chicken. It's one of the best sides for lobster when you're preparing a tropical menu.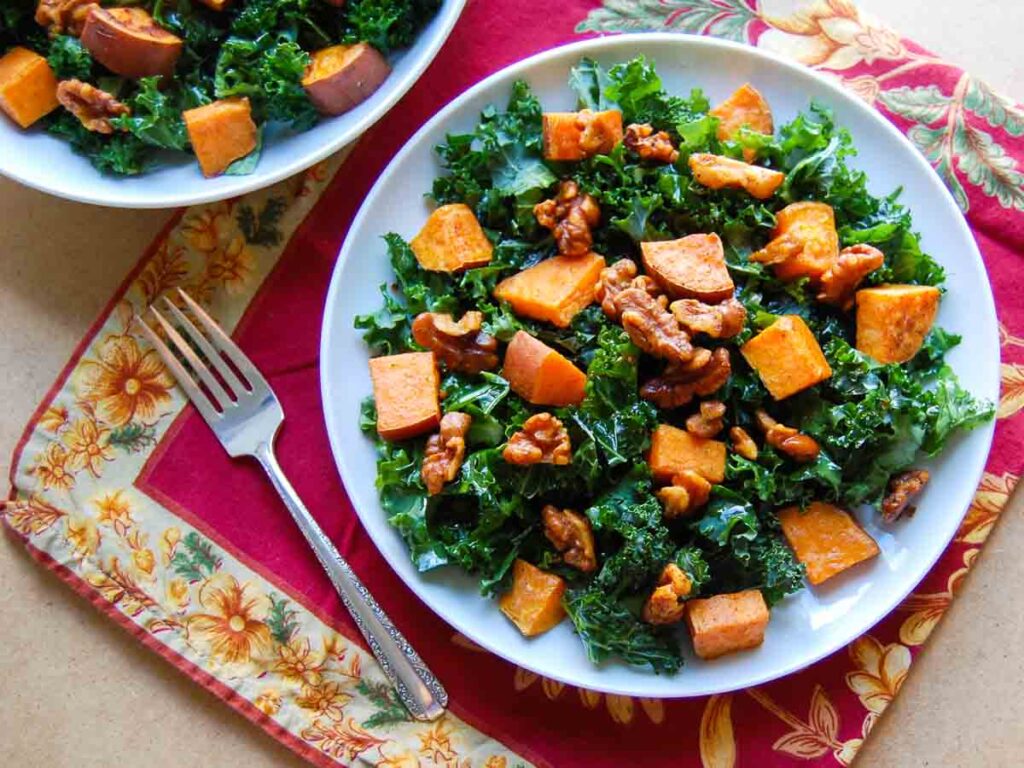 Sweet Potato and Kale Salad
Topped with crunchy walnut dressing and spicy roasted sweet potatoes, this kale salad is a perfect way to round out your weeknight meal. Serve Sweet Potato Kale Salad with your grilled lobster for a light meal.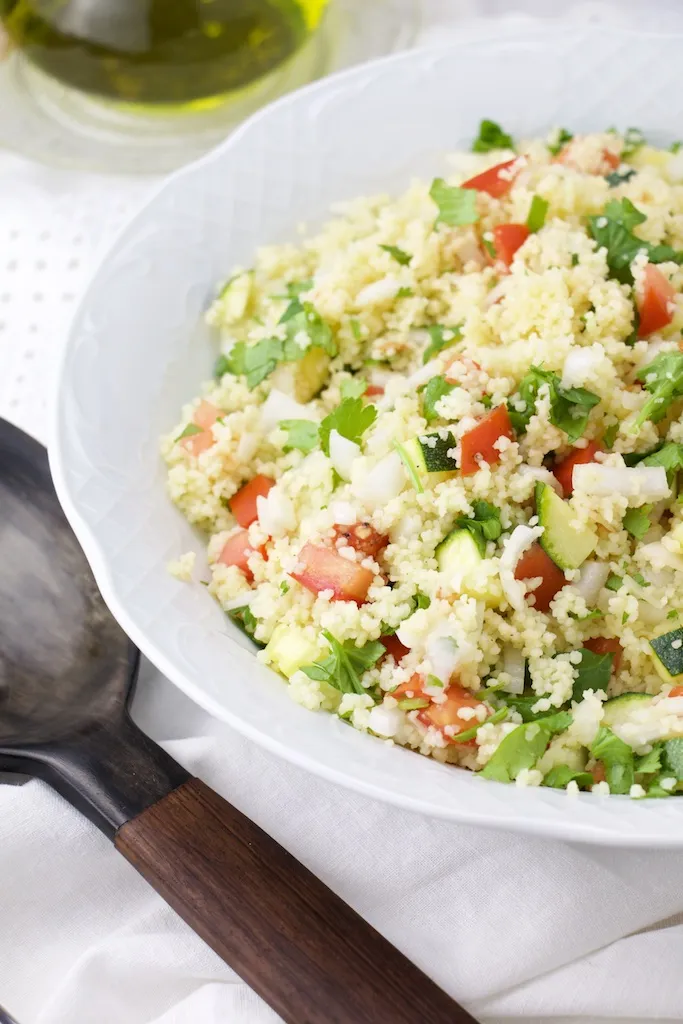 Cilantro Lime Tabbouleh
A fresh and aromatic Tabbouleh Recipe made with zucchini, tomato, white onions and cilantro with a nice fresh squeeze of lime juice and olive oil!
Types of Bread to Serve with Lobster
Don't forget the bread basket! Head to the grocery store bakery to pick up a fresh loaf, or if you're feeling ambitious, whip up one of these bread recipes.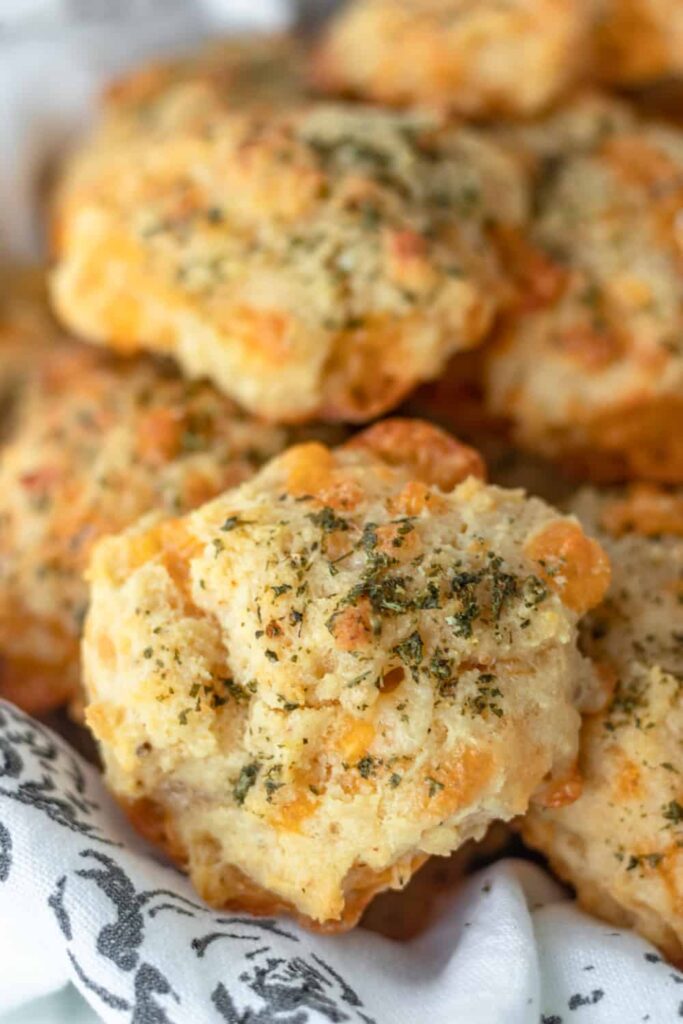 Cheddar Bay Biscuits
Let's be real, the main reason people go to Red Lobster is for the biscuits, so why not make them at home? Red Lobster Cheddar Bay Biscuits are delicious biscuits filled with a combination of cheddar and Monterey Jack cheeses. A touch of Cajun spice and a buttery herb topping give an authentic touch to this easy copycat recipe!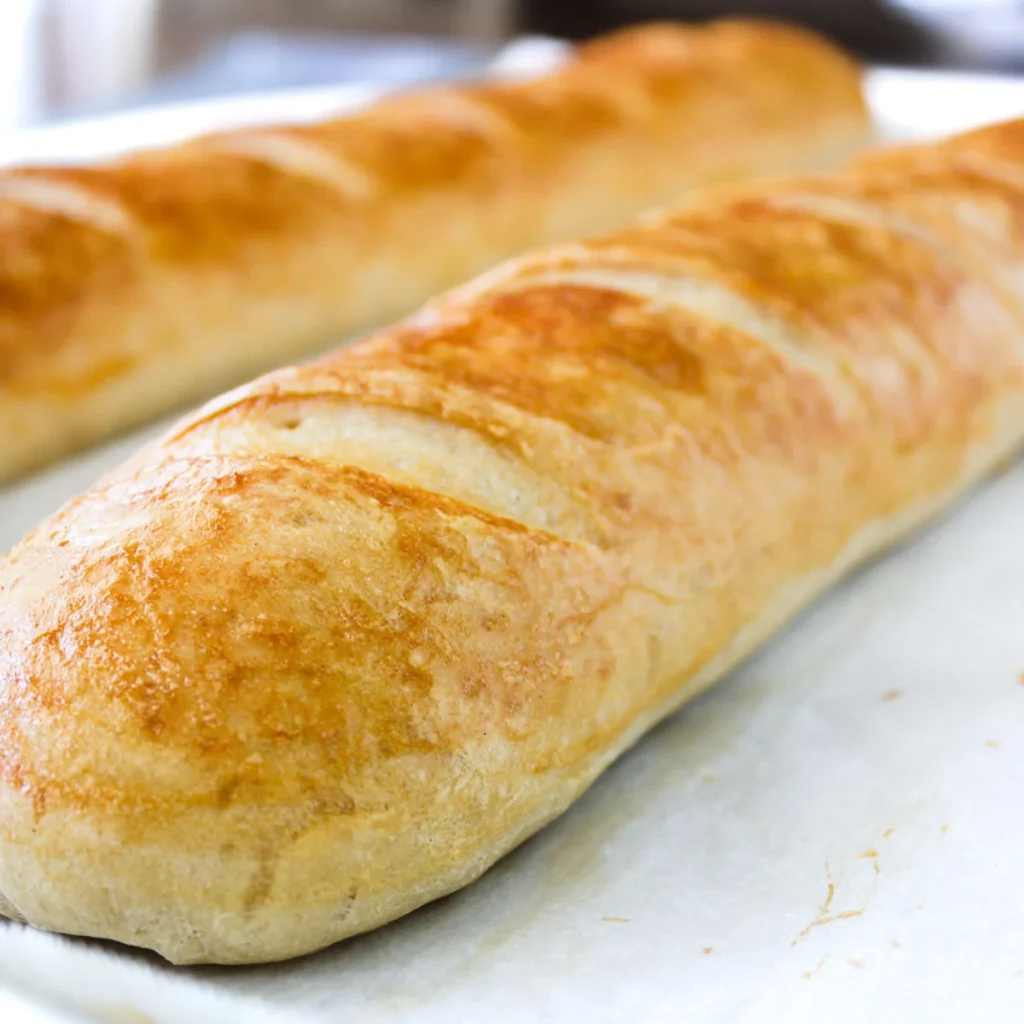 Homemade French Baguettes
This Homemade Baguette is perfectly crusty on the outside and fluffy on the inside. Quick and easy to make, it is the perfect side for lobster tail.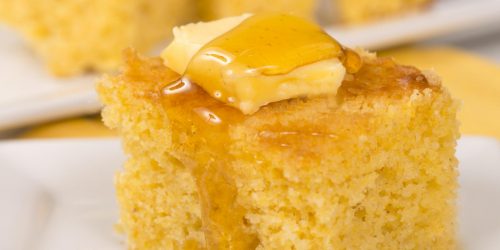 Cornbread
This easy, Sweet Cornbread Recipe calls for simple ingredients and does not require buttermilk. Pair it with grilled lobster for a perfect summer lunch.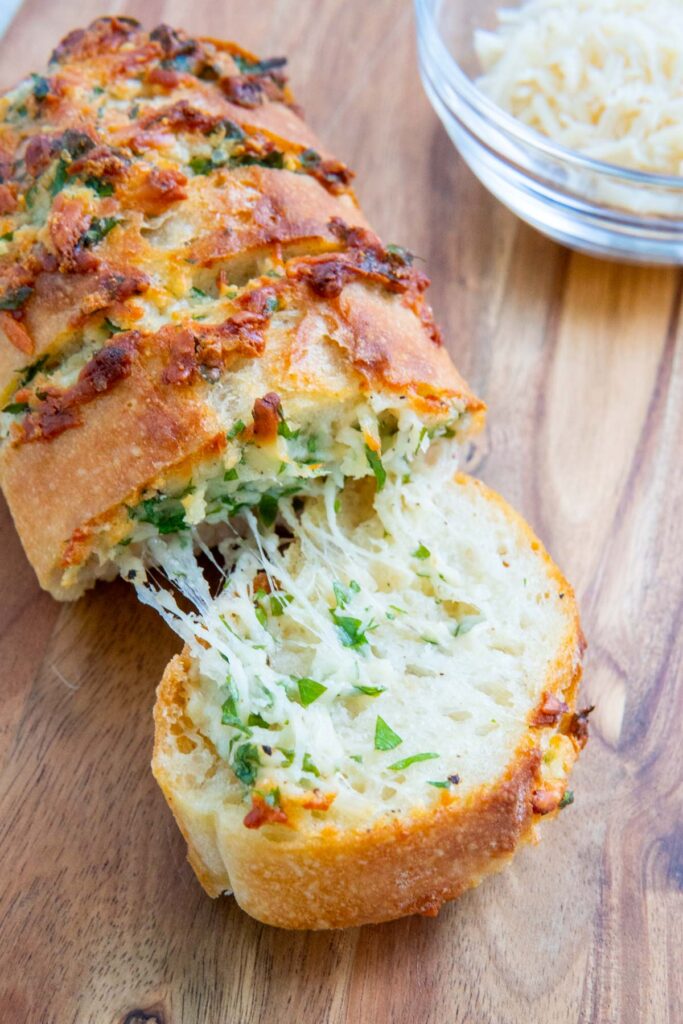 Stuffed Garlic Bread
This Stuffed Garlic Bread Recipe is the perfect combination of savory and cheesy. The bread is stuffed with a flavorful parmesan and herb mixture, then baked to perfection.
Well, there you have it! 40 delicious recipes and ideas to pair with your lobster meal. All of these lobster side dishes can meet at craving, from light and healthy to rich and indulgent.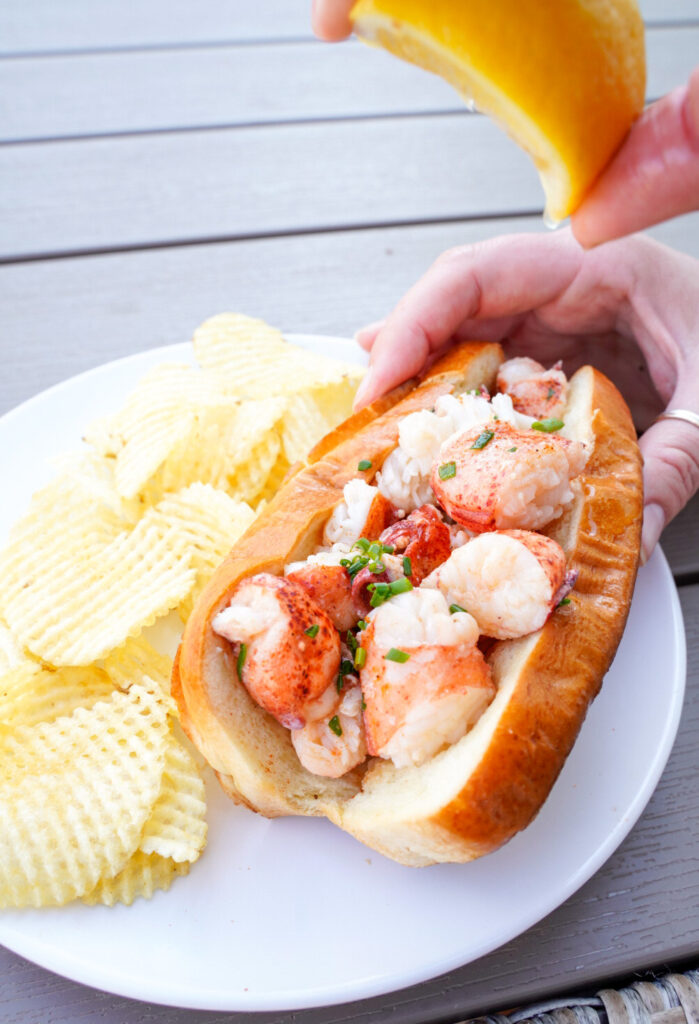 Check out some of our Amazing Recipes Featuring Lobster:
And don't miss our full collection of entrees great for romantic meals, special occasions, and date nights at home.
Click this link to pin this guide on What to Serve with Lobster on Pinterest.
Also, don't forget to follow us on Instagram and Facebook for more recipes and recommendations, we love to see when you make our recipes!
If you'd like to automatically receive our posts in your email, register here.