We're suckers for a pretty spread so why not take your holiday sweets to the next level with a hot chocolate charcuterie board?
We're going to walk through how to set up the ultimate hot chocolate bar, in the style of a charcuterie board.
Start with homemade hot chocolate, get a good charcuterie board, arrange all the fixin's and serve it all up in festive mugs!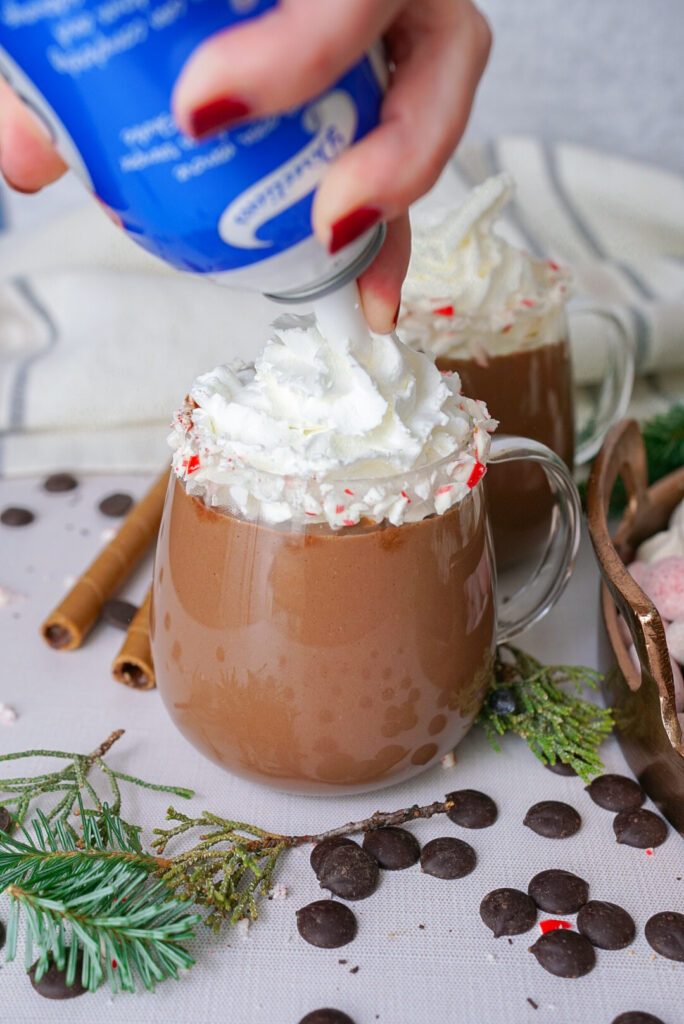 Make Homemade Hot Cocoa
If you're making a hot cocoa charcuterie board, of course you need to start with some good homemade hot cocoa!
While you could just reach for a packet of Swiss Miss, we like to make homemade cocoa using real pieces of chocolate.
How to make hot cocoa without cocoa powder? Try our crockpot hot chocolate that is so velvety and rich, it tastes just like the famous hot chocolate from Angelina in Paris, France.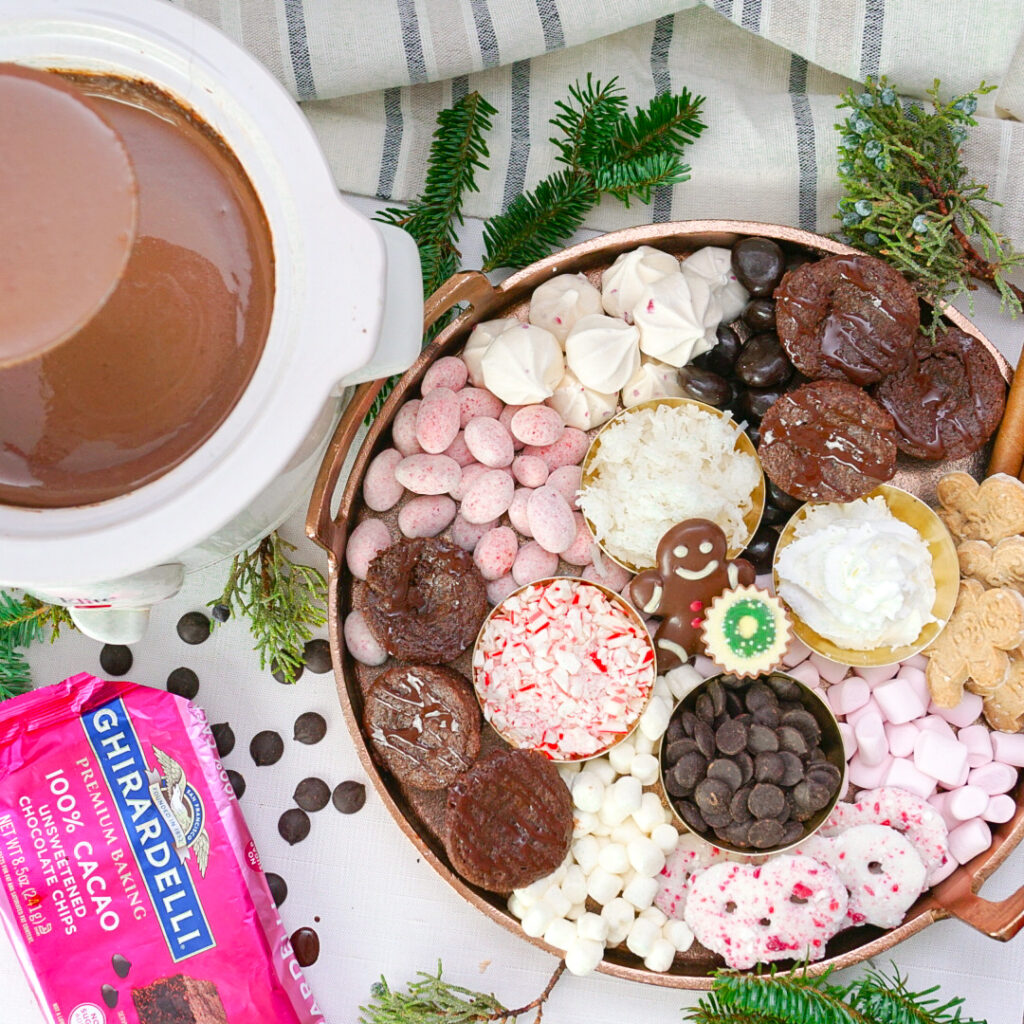 Use a Good Hot Cocoa Charcuterie Board
Start with a nice charcuterie board or a platter.
We like to use a platter with raised sides since many of the hot cocoa bar items are small compared to the larger items you'll find on a traditional charcuterie board.
Add in small cups for fine items like garnishes and sprinkles.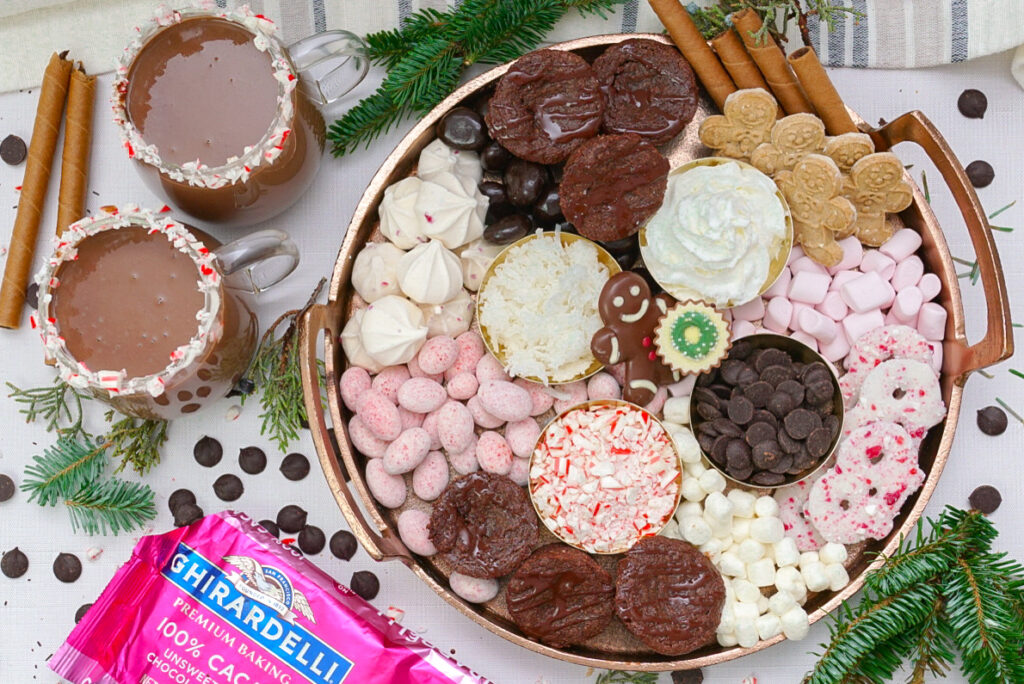 Hot Chocolate Charcuterie Board Items
A solid hot chocolate bar has more than just the traditional mini marshmallows!
When making a hot cocoa charcuterie board reach for accompaniments like:
Whipped cream
Chocolate Chips
Crushed candy canes
Shredded coconut
White chocolate covered pretzels
Chocolate Bars (Learn how to make dark chocolate)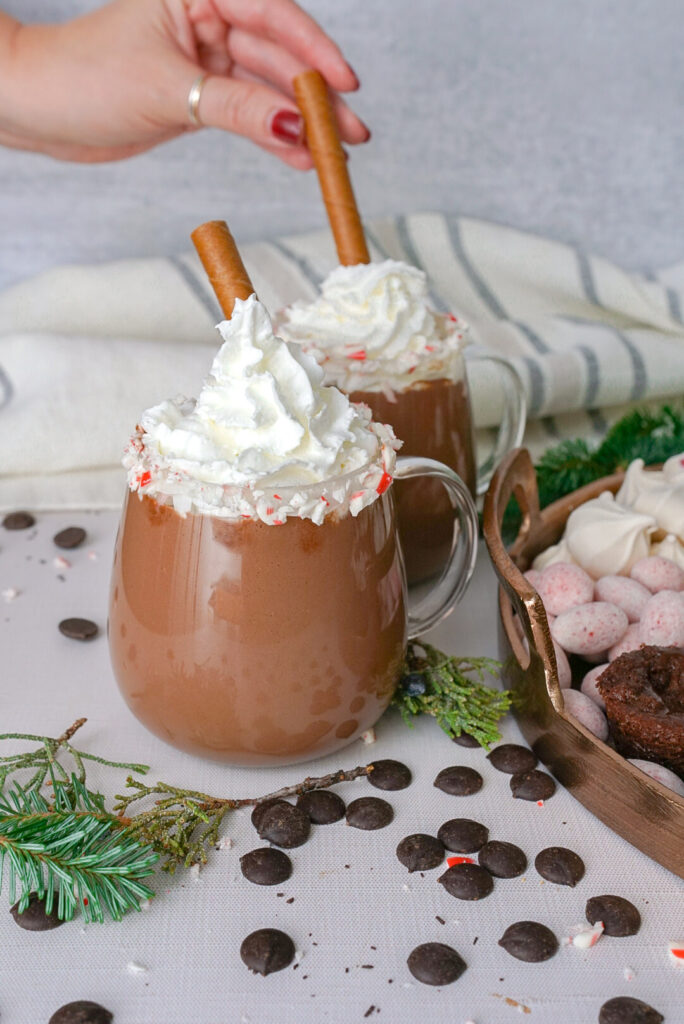 Add Adorable Hot Cocoa Mugs
Another way to make your hot chocolate bar extra festive is to provide cute mugs!
We like to have glass mugs to show off the pretty garnishes, and use both our glass coffee mugs and a traditional Irish coffee mug.
We also love a cute themed mug for the holidays.
A santa claus mug is seasonal and cute, or opt for a coordinating set of mugs like this Ho Ho Ho mug tower. You could even fill a mug or mason jar like this boozy hot chocolate gift kit.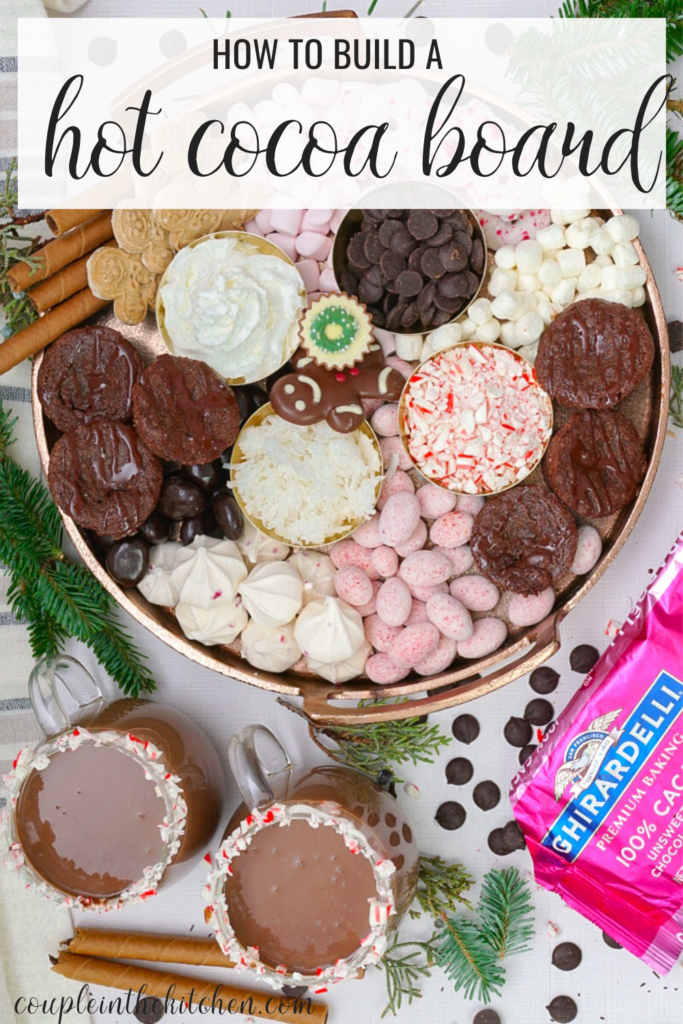 Click this link to pin this Hot Chocolate Charcuterie Board Guide on Pinterest.
Also, don't forget to follow us on Instagram and Facebook for more recipes and recommendations, we love to see when you make our recipes!
If you'd like to automatically receive our posts in your email, register here.