A summer cookout isn't complete without a hot dog bar!
Whether it's a birthday party hot dog bar, graduation hot dog bar, or just a fun BBQ with friends, this entertaining idea is fun, customizable, and minimal work once everything is prepped.
That means you can spend more time partying and less time cooking!
This fall we needed to cancel a baby shower for Karen's nephew, Henry, due to covid.
Once it was safe to gather again, we hosted this Baby Q party as a sip-and-see for our friends and family to get together to celebrate the new addition, who is now six months old.
We planned a hot dog bar for the Baby Q which was the perfect way to feed a large group of people.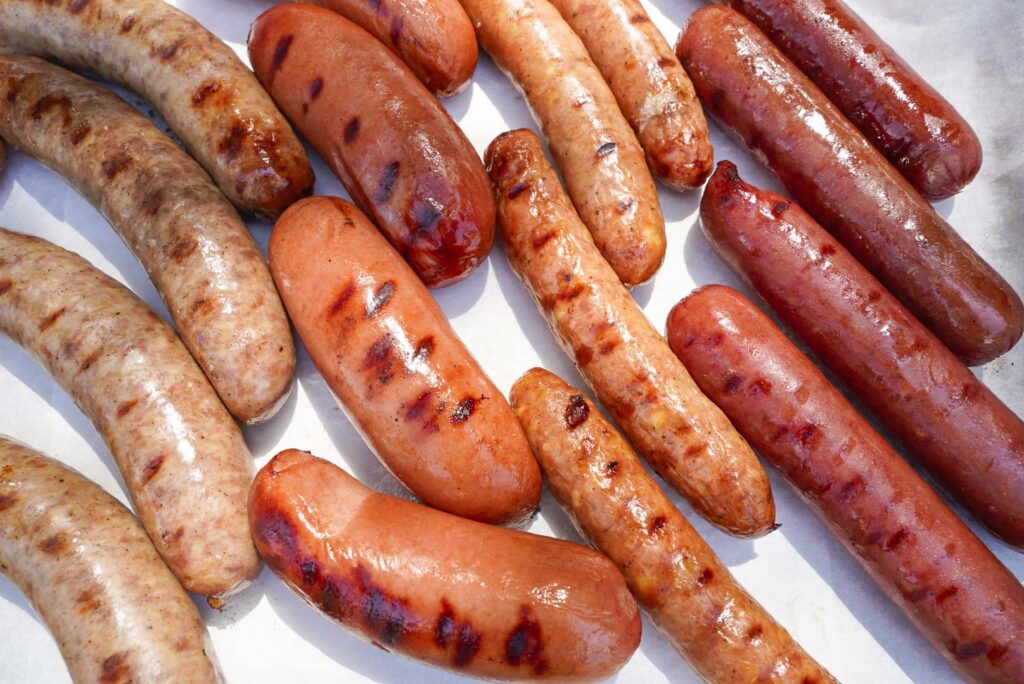 Hot Dog Party Sausages
Just because you're having a hot dog bar, doesn't mean that other sausage types can't attend. We ordered up five varieties for our hot dog sausage party from our favorite premium meat provider, Omaha Steaks: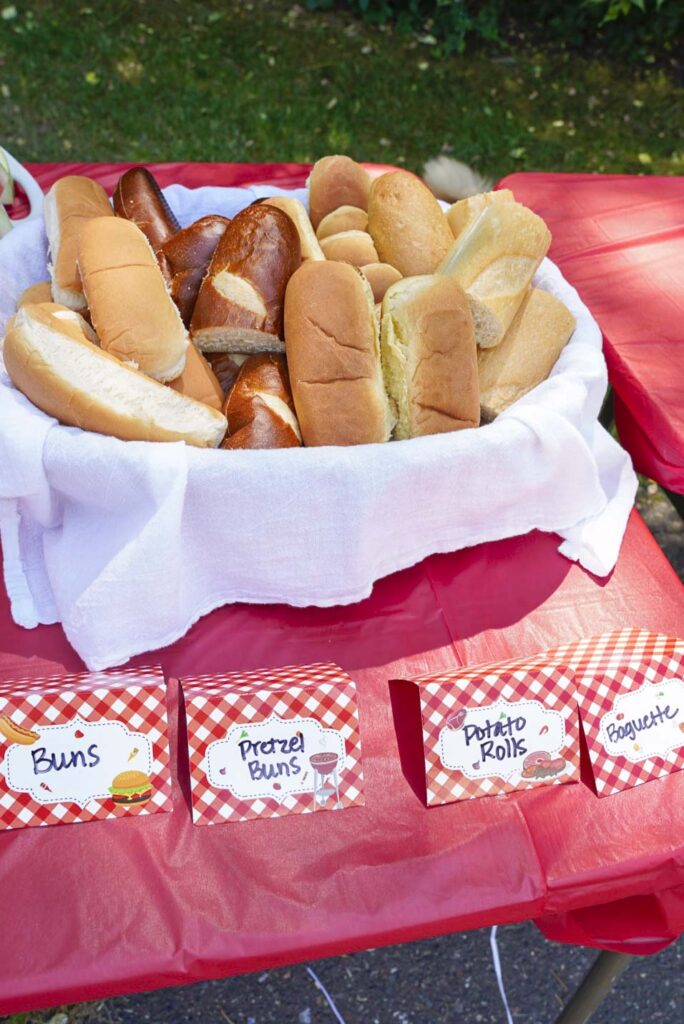 Hot dog party ideas
Don't forget to have attention to detail for the buns!
All those delicious sausage options are deserving of a proper throne!
Look to curate a platter of split top hot dog buns, pretzel buns, and even sliced baguettes for your hot dog party.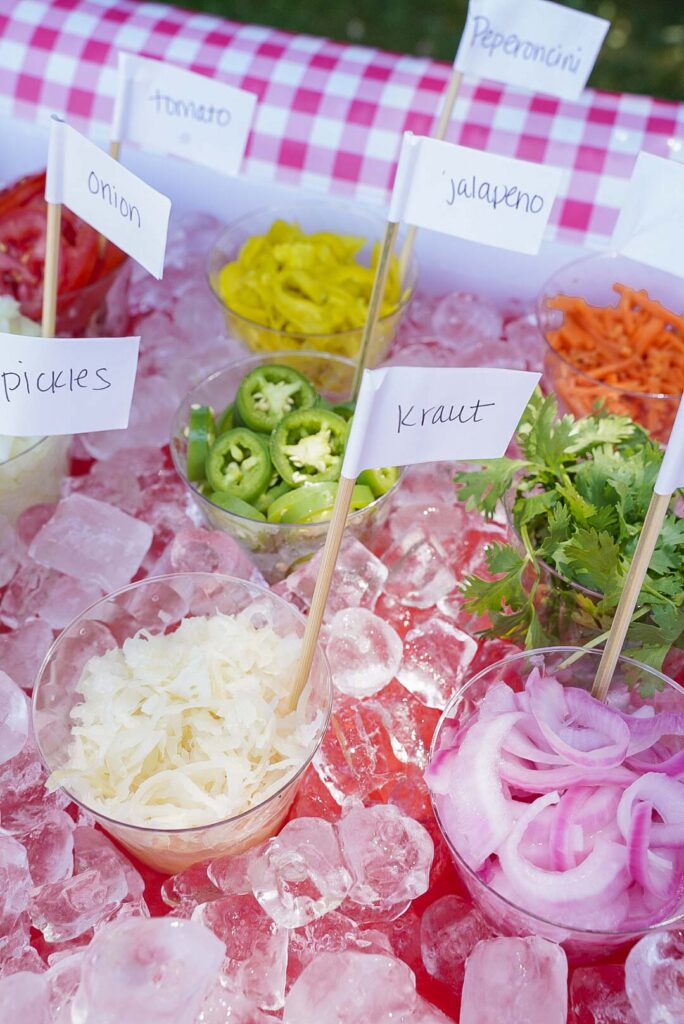 Best hot dog bar toppings
When it came to hot dog topping ideas we included classic hot dog toppings, Chicago style hot dog toppings, as well as some more creative hot dog bar topping ideas like pickled veggies and herbs for a bahn mi dog.
Here is a list of all of our hot dog bar toppings:
Ketchup
Yellow Mustard
Spicy German Mustard
Sauerkraut
Relish
Diced Onions
Pickles
Sliced Tomatoes
Celery Salt
Mayonnaise
Pickled Onions
Pickled Carrots
Cilantro
Sriracha
Cheese
Fried Onions
Bacon Bits
Chili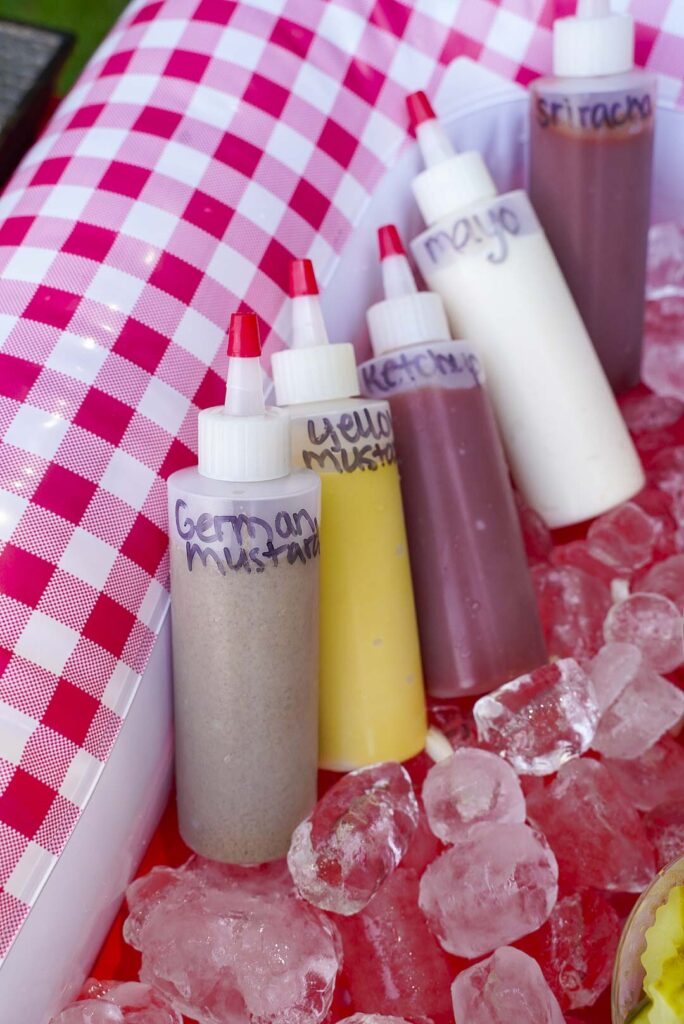 Side dishes for a hot dog bar
Our loaded baked potato salad recipe was a perfect side dish for the party!
We also served potato chips with our homemade french onion dip.
Another easy side is to serve up sliced watermelon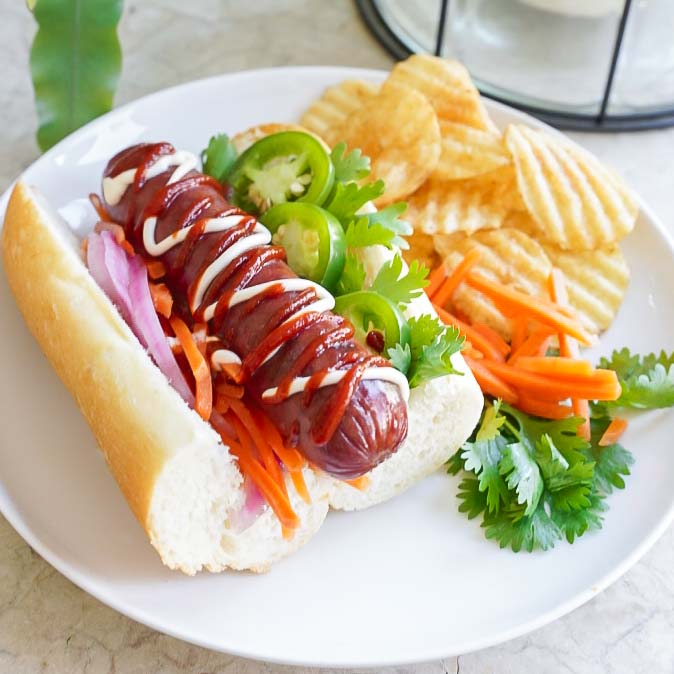 Decor
Pump it up the picnic theme with red and white checkered tablecloths.
We even found this inflatable picnic cooler that matched which kept all our condiments and salads cool in the summer heat.
This Baby Q decor pack came with place cards to help identify all the types of sausages and buns that were featured.
We also used bamboo skewers that we glued flags to in order to label all our hot dog bar toppings!
The party was a total hit! Grilling all the sausages was seriously stress free and everyone loved creating their own masterpiece.
What kind of hot dog would you dream up at our hot dog bar?!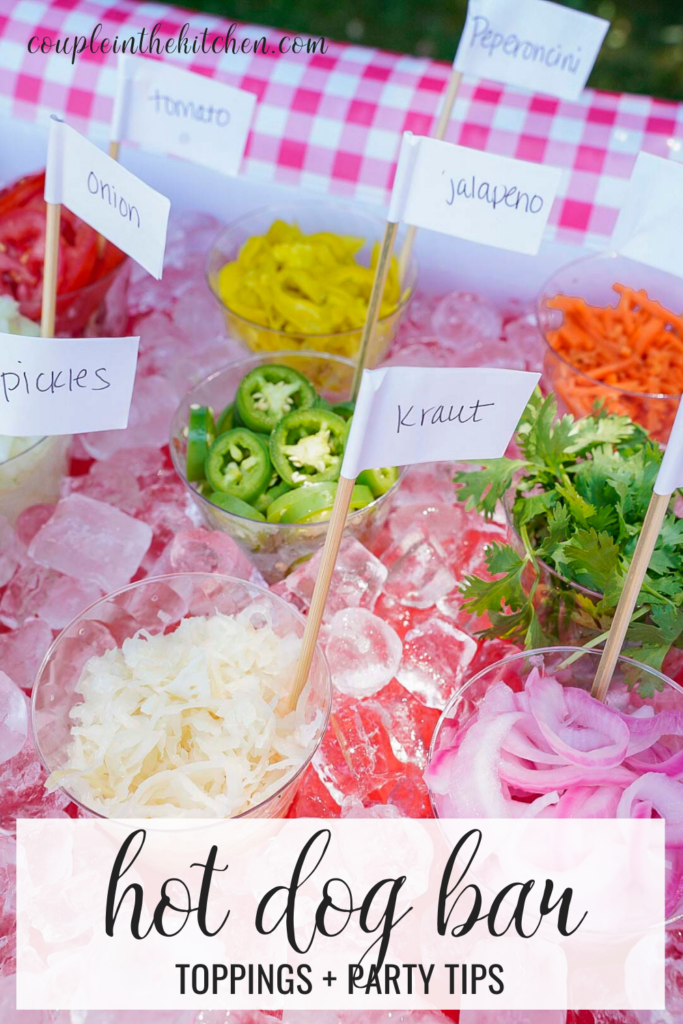 This post is sponsored by Omaha Steaks, thanks for supporting the brands that we love.
Click this link to pin this hot dog bar party idea on pinterest.
Also, don't forget to follow us on instagram and facebook for more recipes and recommendations, we love to see when you make our recipes!
If you'd like to automatically receive our posts in your email, register here.