Myrtle Beach in Fall may be the best time of year to visit! At the end of summer the crowds start to drop, the prices get even more affordable, and the fall months are beautiful.
We loved our trip to this incredible South Carolina coastal gem for the food, beach, activities, and perfect weather.
We were lucky enough to experience Myrtle Beach AKA the Grand Strand in the fall when there's less tourists, and the holiday season is kicking off.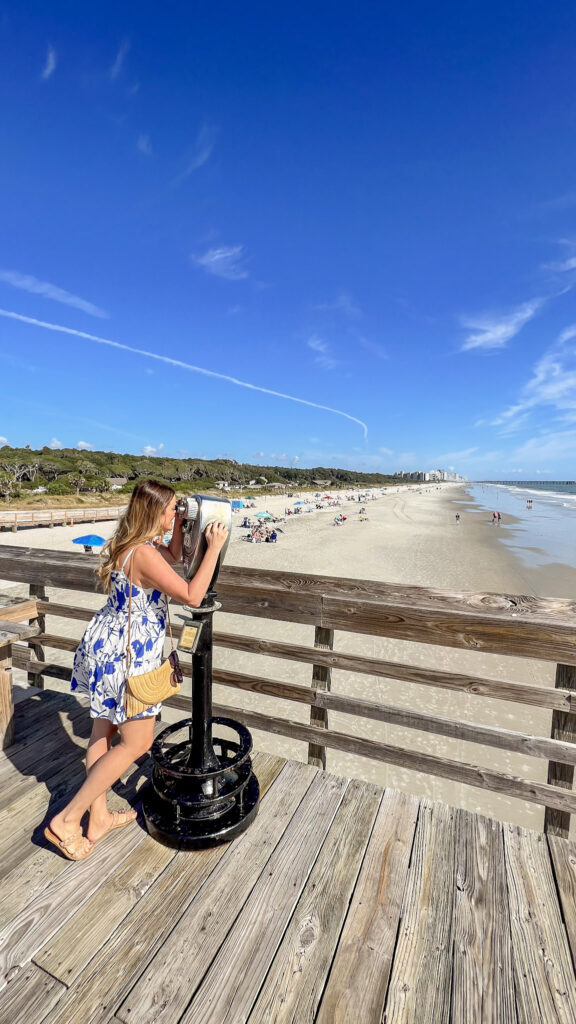 Fewer people makes for fewer crowds at the beach, and so much less traffic so getting between destinations is a short drive.
At the end of October you can experience their Halloween golf cart parade in areas that fully get in the spooky spirit, and right when it hits November they bring on their Christmas cheer.
Myrtle Beach in Fall Weather
Myrtle Beach in the fall is most likely the best time of year from a weather perspective. The weather is warm to hot, but you won't be as hot, nor surrounded by as many people like you will be in the summer.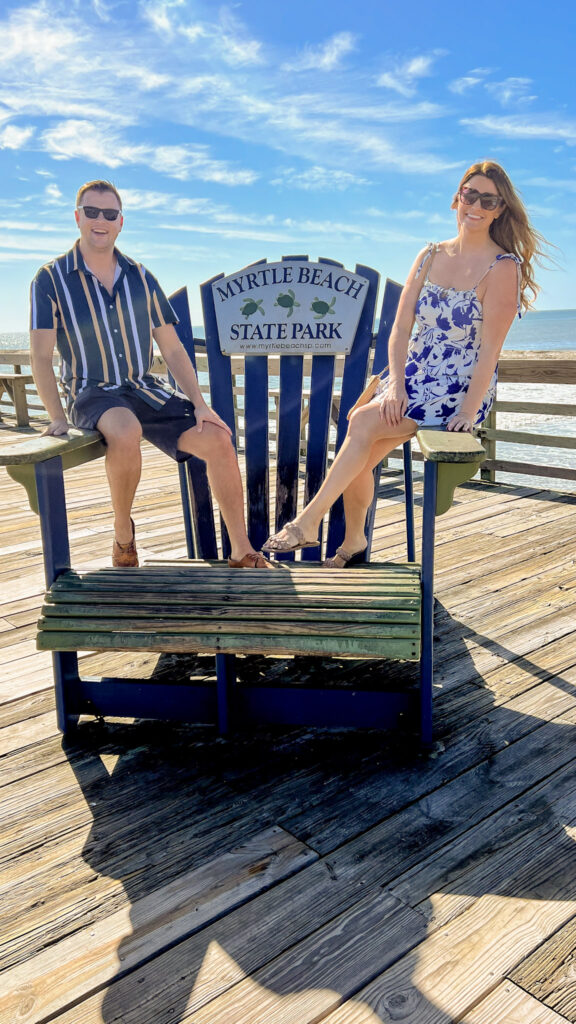 You aren't going to get the summer months daily high temperatures, but in our opinion that's a good thing. You'll experience an average high in the 80's in September, 70's in October, and typically 60's in November.
The nights are where you feel cooler weather than the summer season, with lows in the 60's as early as September at night.
The fact you'll have perfect sunny beach days in the Fall, and then after a full day of fun you're ready for cooler temperatures with that incredible ocean breeze.
Top activities when in Myrtle Beach in Fall
When visiting Myrtle Beach in fall, here are some great activities:
Brookgreen Gardens
Brookgreen Gardens is a lush paradise that cannot be missed. It's a true cultural center where you could easily spend an entire day between their botanical gardens, all of the sculptures, and their low country zoo.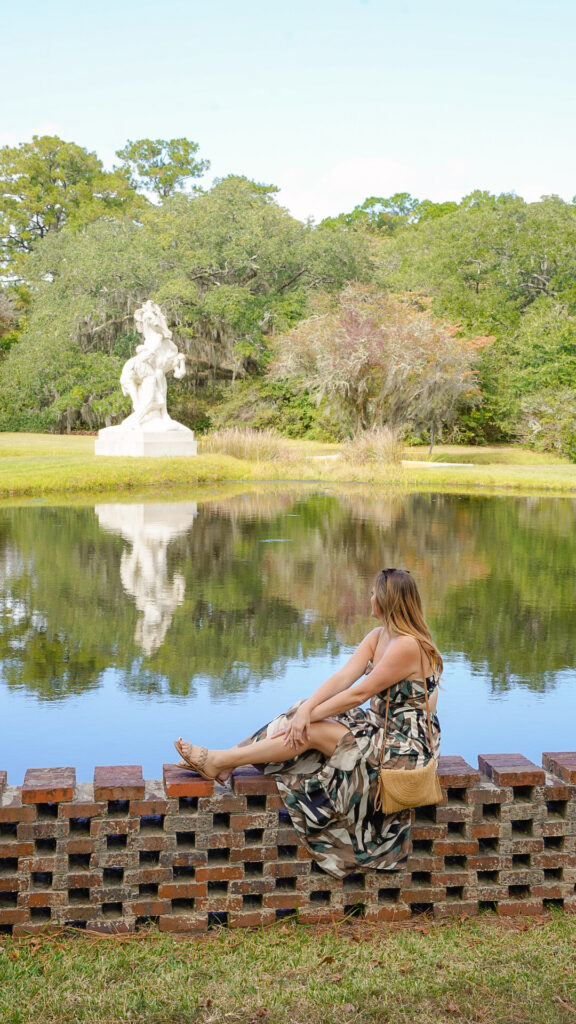 One crazy fact is that the gardens contain over 2,000 works which is the largest collection of American figurative sculptures in the country.
We started by driving around the gardens checking out some of the sculpture displays, and then headed straight to their zoo.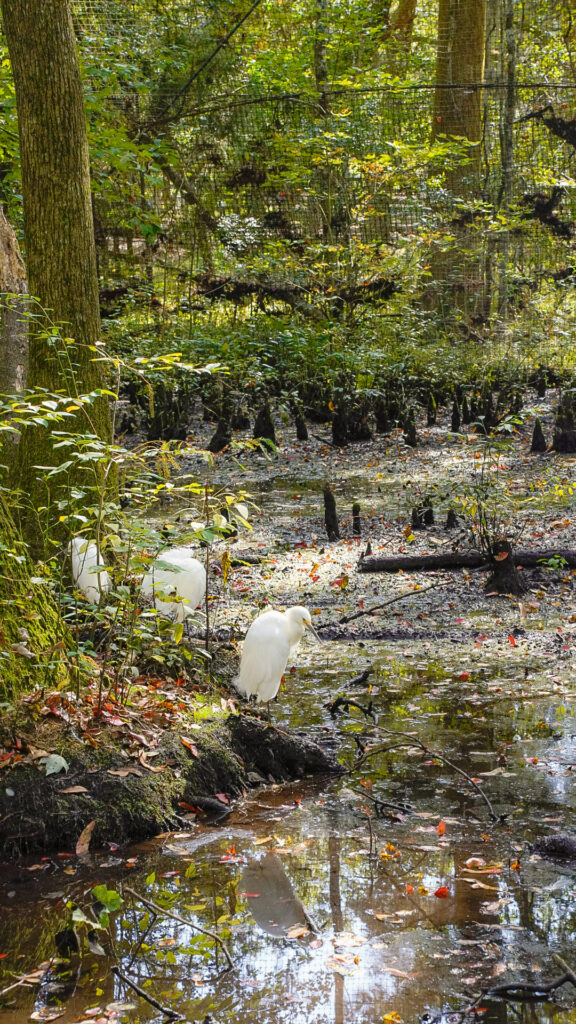 Why did we head straight to the zoo you may ask? Otters! They have a large otter exhibit where you can watch the little cuties playing with toys, swimming, and having fun.
We love otters, if you ever make it to Texas you can swim with them and they hold your hand. Read more about it in our guide to drive through zoos in Texas.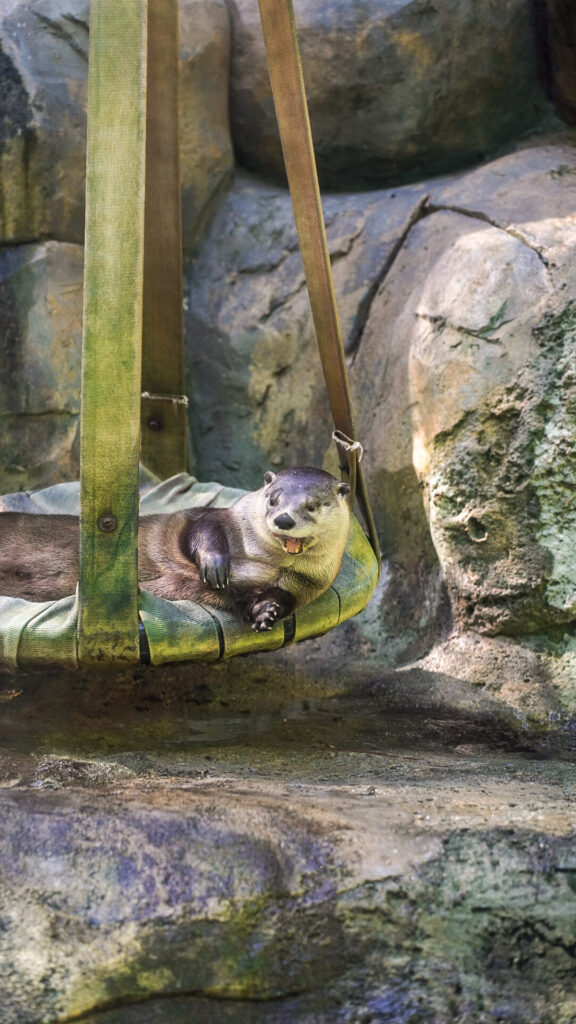 Outside of the otters they have red wolves, a butterfly house, and a ton of other local wildlife.
Brookgreen Gardens offers three dining options, with the Harvest Restaurant being their main full service dining option.
Also, if you happen to be in Myrtle Beach at the end of fall to the beginning of winter, be sure to get your tickets for Brookgreen Gardens Night of a Thousand Candles event. At this event you'll experience beautiful sparkling lights and over 2,700 hand-lit candles everywhere, for a truly magical experience.
Brookgreen Gardens is open year-round, and standard ticket prices are $12 for children and $22 for adults. What's also great is all of the exhibits are accessible via the one ticket price.
Live Theaters in Myrtle Beach
There are stages of live entertainment, live music, and theaters all over Myrtle Beach to fit every age group and music interest.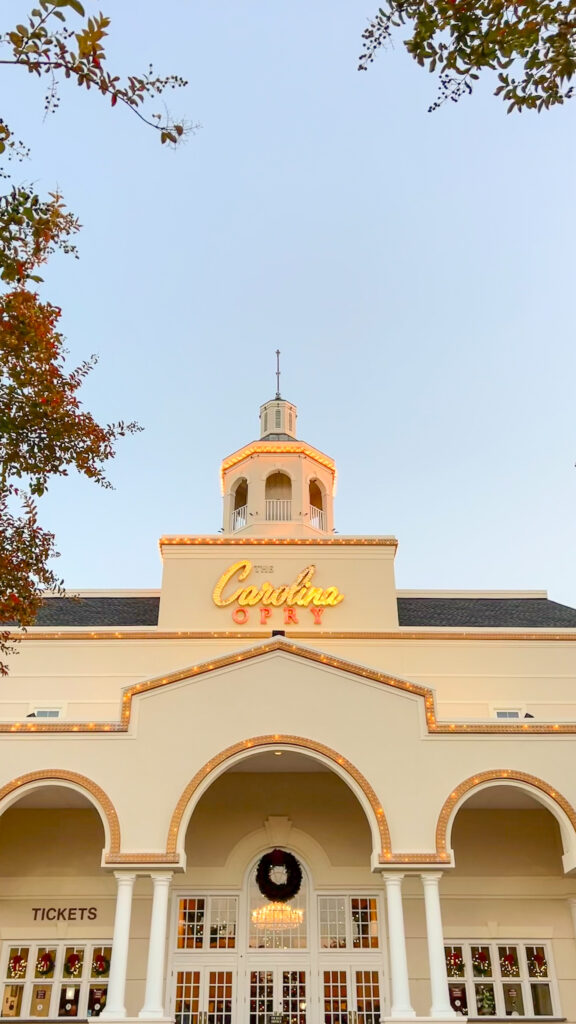 The Carolina Opry is the first live theater of Myrtle Beach. It's a music, comedy, and dance variety show that has been going strong since 1986.
We experienced their signature show that is truly part of country music history. They also have a Time Warp show with music from the 60's through 80's, and a famous Christmas show for the holiday season.
The theater is large, but there's truly no bad seat in the house. You'll laugh, dance, and sing at a Carolina Opry show.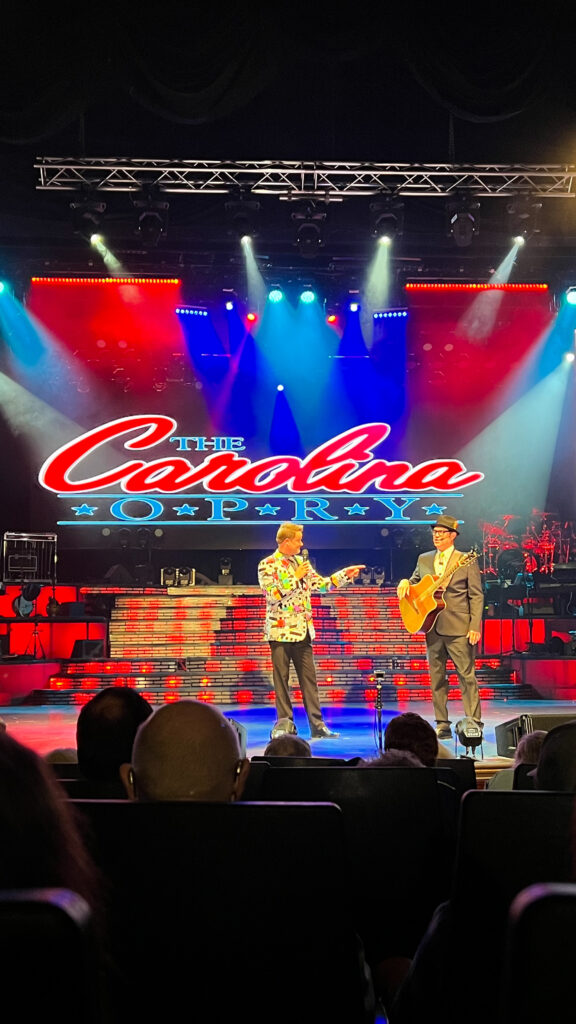 Depending where you are staying on the Grand Stand, you may venture to the area's other variety show at the Alabama Theatre.
Alabama Theatre's main show is called Iconic, and it's similar to the Carolina Opry while mixing in country, classic rock, pop, and broadway songs.
If you have kids or just want some more action and a great time we wish we had one more night in Myrtle Beach to go to the Pirates Voyage Dinner & Show.
This dinner and a show is similar to the classic Medieval Times that's all over the country, but this is even cooler because it involves high flying pirates over water.
This theater is right next door to the Carolina Opry, so you don't have to go far for two fantastic shows.
Outside of the two famous large music venues, you can find live concerts and performances practically 365 days a year, as they are part of Myrtle Beach's local culture.
Myrtle Beach Skywheel
Coming in at 187 feet tall, the Myrtle Beach Skywheel is far and away the best way to see the Myrtle Beach coastline.
The Skywheel is so tall, it's actually the tallest Ferris wheel on the east coast.
We loved the views from the top, and if you can time it right aim for sunset.
Ticket prices are $15 for children, and $20 for adults. But, be sure to see if they have any deals because when we were there they had a great deal for a pair of tickets plus credit to their connecting restaurant Landshark.
Myrtle Beach by Boat (or Tiki)
Getting out on the water in Myrtle Beach is a must, and we were so happy to discover Cruisin' Tikis Myrtle Beach.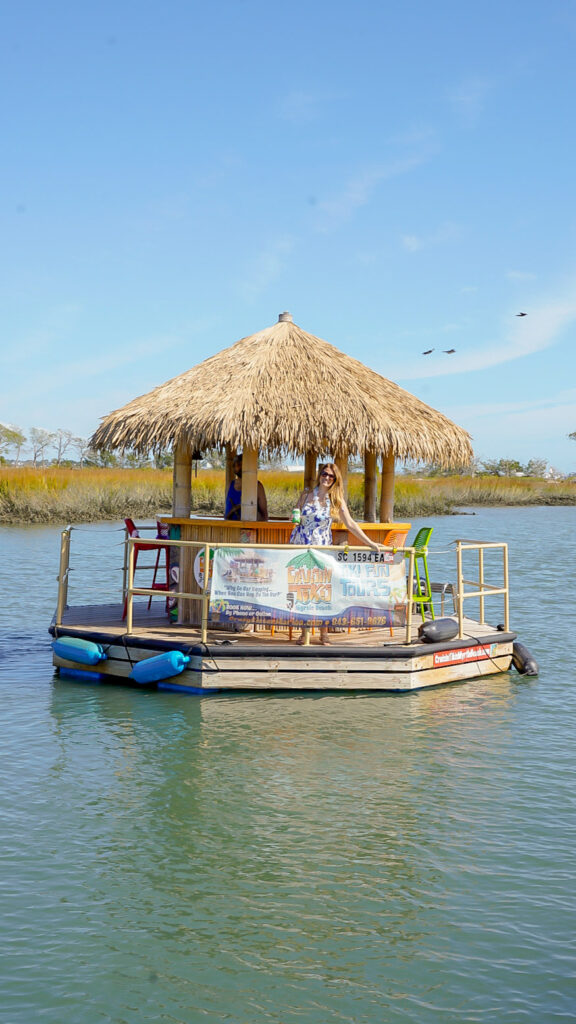 We love boat life, but we have never been on a movable tiki bar, and it was so much fun!
We hopped on their Murrells Inlet tiki boat, and explored the local fishing village sites via water.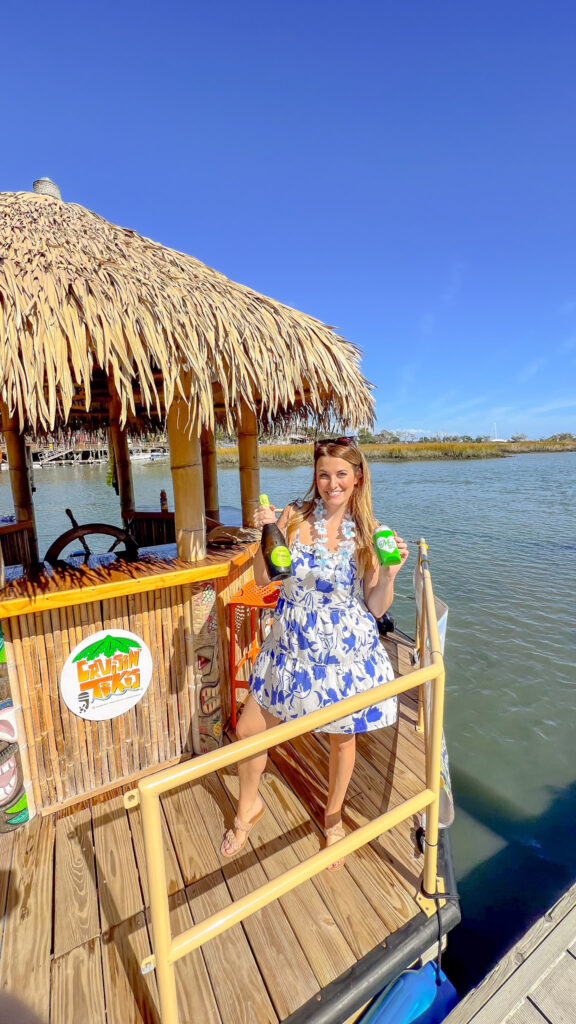 The tiki boat moves slowly, but it's honestly a water experience that's a ton of fun.
Golf at Myrtle Beach in the Fall
Myrtle Beach is also known as the "Golf Capital of the World"!
With over 90 championship quality courses, and what looked like 50+ mini golf courses you can get your golf fix in on almost every block.
There are truly courses available for any and all skill levels. Our personal skill level is suitable for mini golf and par 3 pitch and putt courses, and we had fun climbing the mini golf mountain at Mt. Atlanticus Minotaur Goff.
Shop at Pawley's Island
If you're looking for a great area to shop, you'll love the Hammock Shops Village.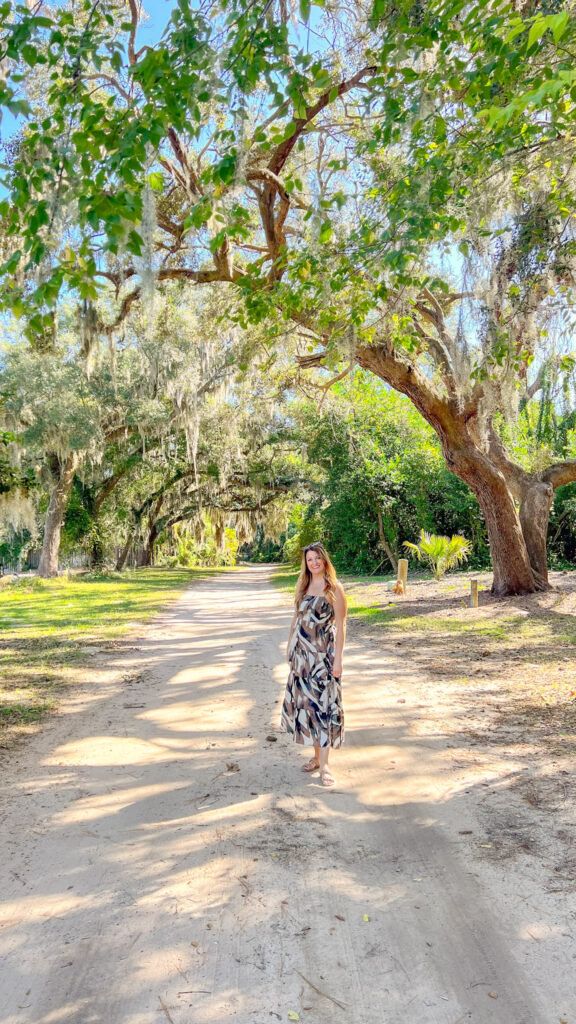 At this shopping village they have goods from local artists, wine tasting, jewelry, food, and clothing.
The most famous shop is Pawley's Island Hammocks where they've been making handcrafted rope hammocks for over 100 years.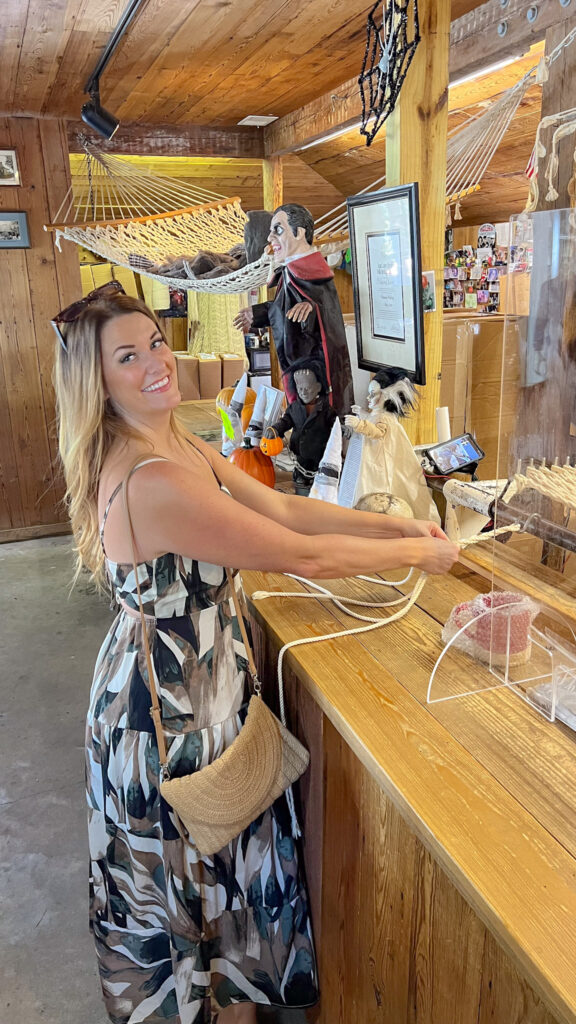 You can even go through a hammock weaving demonstration with one of their experts.
They walked us through all the steps, and we even left with a homemade keychain made like the hammocks.
Also, when leaving the village, keep your eyes peeled for pumpkin patches with corn mazes to feel fully part of the fall season, we drove by two on our way back to our hotel.
Explore Historic Conway
A short drive from the beach you'll reach Conway, a historic and cute town.
If you happen to be in Myrtle Beach around Halloween, this town fully gets in the holiday spirit around Halloween.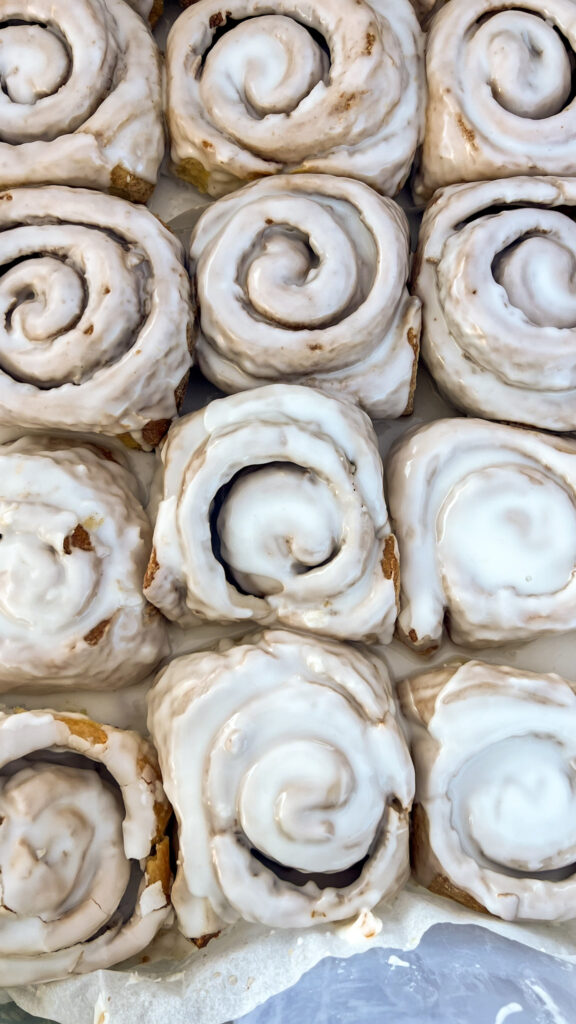 Walking the town there were pumpkins everywhere, there was a golf cart family-friendly parade event, and they even decked out their courthouse to look haunted.
We also were in Conway the day of their local farmers market, and it had baked goods, fresh produce, and unique food creations.
Alligator Adventure
We didn't have time for the local Alligator Adventure, but we've done this experience before and it's exhilarating for all ages to get close to these dangerous animals.
Located in North Myrtle Beach you can experience live alligator feedings, snake handling, and other unique wildlife like mountain lions, hyenas, kookaburras, and one of the coolest animals, the cassowary.
Get Lost in a Huge Gift Shop
One of the largest gift shops we've ever been to is located in the heart of the main tourist area of Myrtle Beach, and you'll never miss it because its name is the Gay Dolphin.
Steps away from the Myrtle Beach boardwalk you'll be able to shop for a sweet bathing suit, clothing, and an endless amount of trinkets.
Places to eat when in Myrtle Beach in Fall
With fewer visitors in the fall, that means you have less of a worry when trying to get into the top local restaurants. Myrtle Beach is home to fresh fish and local cuisine. Don't miss our full article on the Best Seafood in Myrtle Beach to learn about the types of local seafood to taste and our recommendations.
Best Brunch in Myrtle Beach
Winna's Kitchen is 100% a restaurant you should support!
Located on Main Street, Winna's is striving for a James Beard Award while also supporting locals in need through their "Number One" program.
When a local in need comes in and orders a number one, they're provided a meal because they're committed to bringing dignity to everyone in need.
Outside of the restaurant's amazing heart, their food is just as good.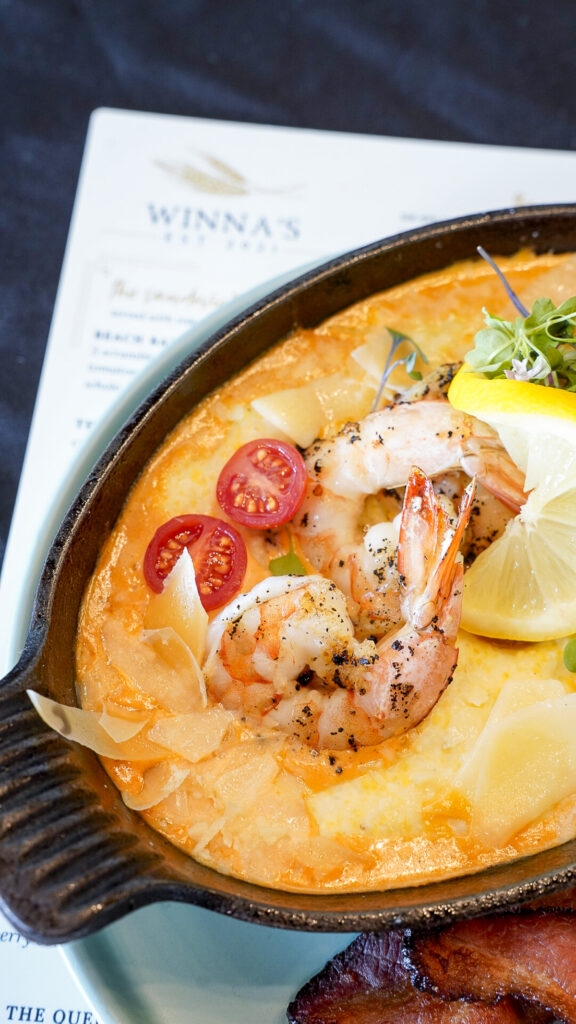 Their shrimp and grits is a true must order, and is potentially the best shrimp and grits we've ever had.
On Fridays and Saturdays they also offer a seasonal dinner menu with fresh pastas, local organic produce, and a steak feature.
Best Cafe in Myrtle Beach
Milk & Honey Coffee Cafe may be the best overall restaurant in Myrtle Beach, and without question is the best to start your day with a pastry and coffee.
Owned by chef Mason Zeglen who's managed major kitchens and won multiple cooking shows, he is a true top chef.
Working with a ton of local producers and farmers his menu is seasonal, fresh, and so different from the traditional pancake houses you'll see all over Myrtle Beach.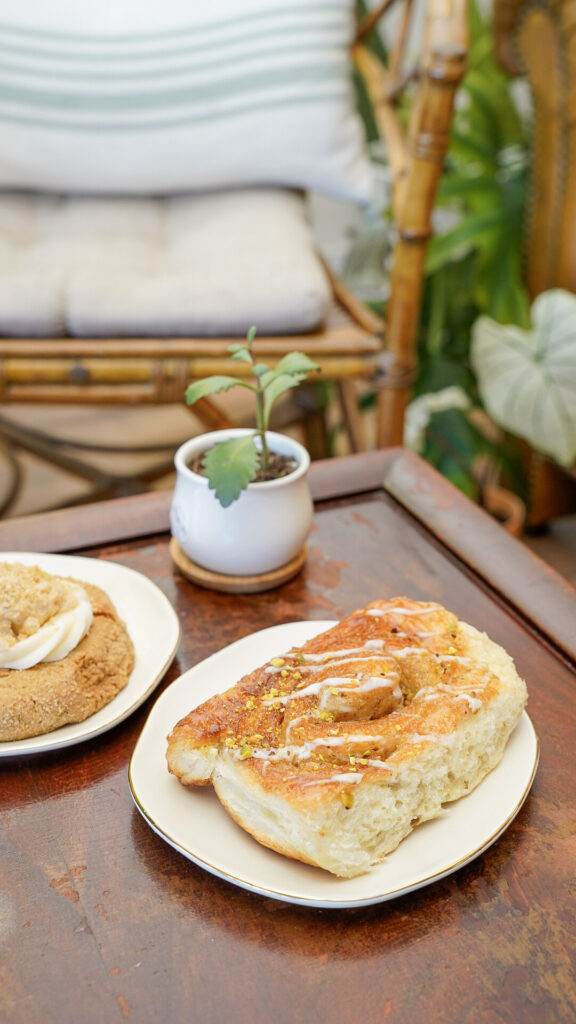 We opted for a few of his delicious pastries with his pistachio sticky bun being an easy favorite.
His toasts are also a thing of art, because they look and taste beautiful.
Best She-Crab Soup in Myrtle Beach
She crab soup is a staple on a ton of Myrtle Beach restaurant menus, and without question the best is found at Sea Captain's House.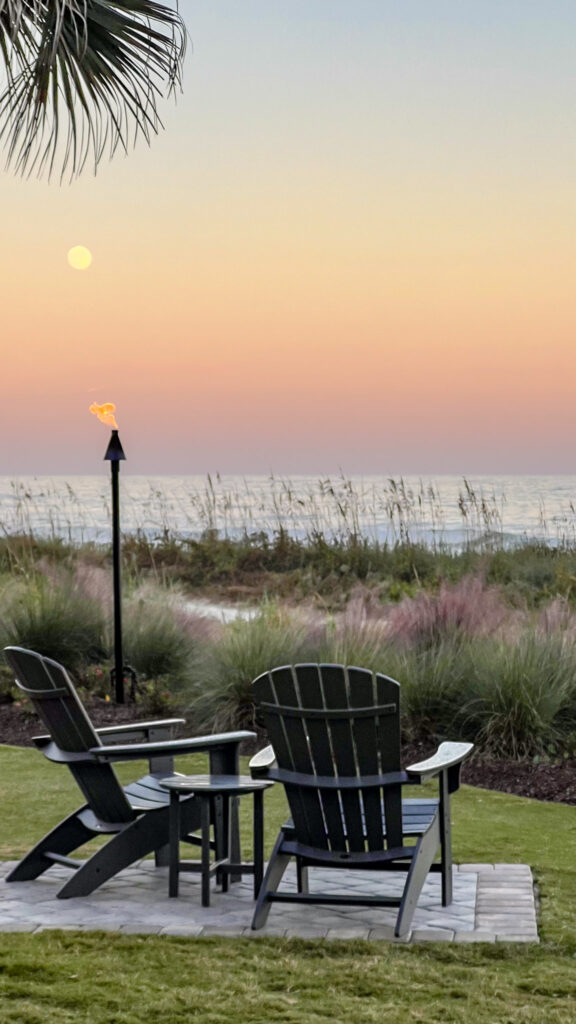 She crab soup is comparable to a lobster bisque, but special on its own with some unique spices and sweet crab meat instead of lobster. It's hard to explain how Sea Captain's House is so much better than others in town, but one of the other restaurants on this list said they specifically don't have it on their menu because they won't beat Sea Captain's.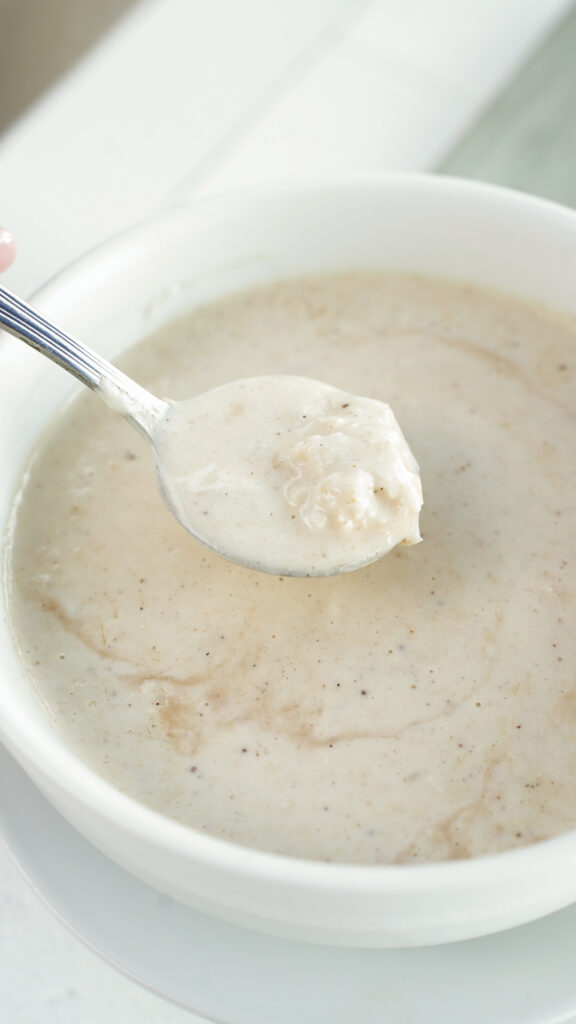 Along with the soup you'll love noshing on their homemade complimentary hush puppies and oceanside dining.
Best Beachside Bar
One of our favorite restaurants (that we actually went to twice) was Bummz Beach Cafe.
This unassuming restaurant has a back patio that if we were a local we'd order a cold one and their Groupa Fingers at least once a week while sitting on their backyard beach chairs overlooking the water.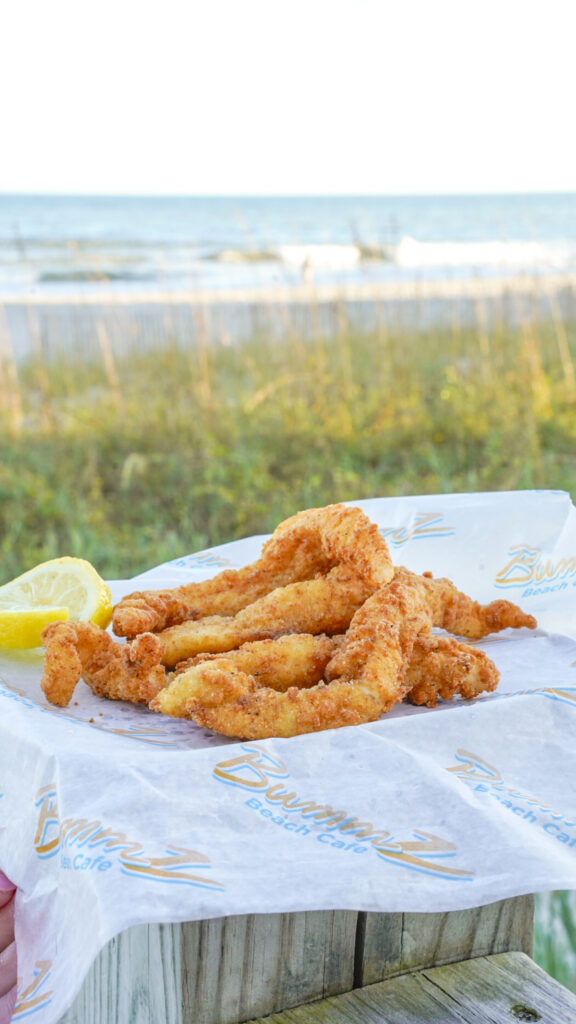 The fried groupa fingers are seasoned perfectly, and cooked fresh to order.
Top Pawleys Island Restaurant
Chive Blossom is shaded by drooping live oaks that makes their fantastic patio feel like you're in a Southern movie.
Come for the patio, but stay for their delicious seasonal Southern menu.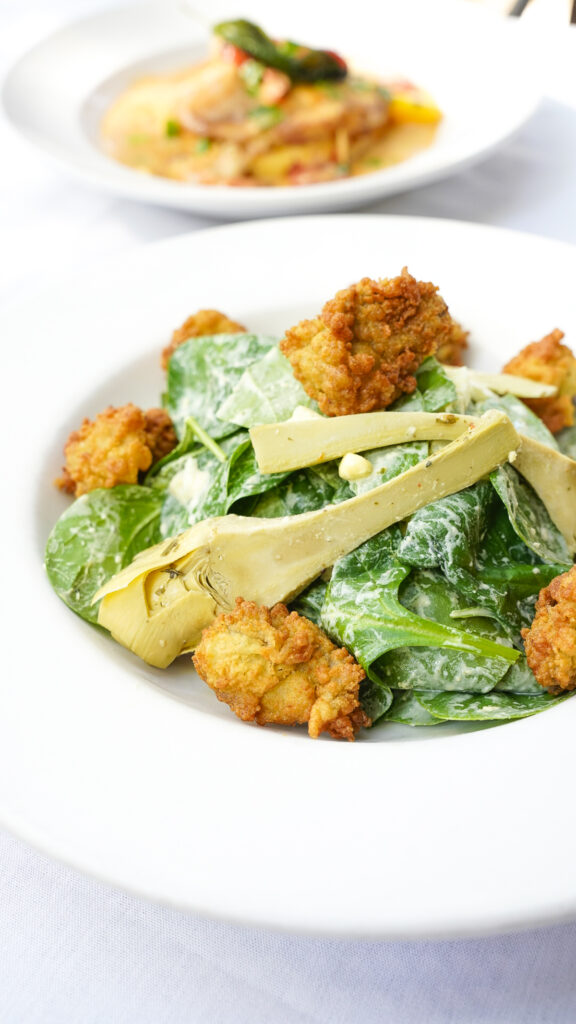 We enjoyed one of the largest freshly fried oyster salad, and a shrimp and crab tomato pie.
We had never had a southern tomato pie before, and if we ever see it on a menu we're ordering it because it was a savory tomato twist on what we'd compare to a quiche.
From breakfast to dinner, there are so many great restaurant options throughout all of Myrtle Beach to enjoy in the Fall.
Fall is the perfect time to plan your Myrtle Beach vacation. Between the lower average temperature compared to the busy season, less crowds, fall festivals, and incredible sites and bites we cannot wait to get back to Myrtle Beach.
Be sure to check out Visit Myrtle Beach for more trip planning resources.
Click this link to pin this guide on Myrtle Beach in Fall on pinterest.
Also, don't forget to follow us on instagram and facebook for more recipes and romantic travel recommendations, we love to see when you visit our favorite spots!
Looking for more travel recommendations? Read all of our travel guides.If you'd like to automatically receive our posts in your email, register here.