Rio De Janeiro, Brazil is one of our favorite places on Earth! We love the mix of a large, cultural city paired with the stunning beaches and water. Rio offers fantastic cuisine, great meat, and unique fruits and juices. Here is our overview of the best things to eat in Rio De Janeiro and some fun things to do as well!
Best foods in this region:
·       Picanha – Steak. It's everywhere, it's delish, and it's a Brazilian specialty. Make sure you get it with farofa de ovo, a powdery mixture of eggs and cassava flour (super addicting).
·       Acai – Say it with us, Ah – Sa- Hee. If you go to those expensive juice joints in America, you know what this is. Guess what? In Brazil it is 10x tastier and 5x cheaper.
·       Pao Da Queijo – We're obsessed. So obsessed that we are learning to make this cheesy, gluten free bread at home.
·       Feijoada – When it is 100 degrees out, the last thing you'd think you want is a bean stew, but wow, was this delectable. Gavin ordered a small serving for lunch and it served us both for 3 separate meals.  If you're in Brazil this is a super must order!
·       Coxinha – Fried balls of meat and cheese. No complaints here.
·       Caipirinha – The traditional Brazilian cocktail. Cachaca (think rum) + Lime juice + sugar is a perfect beach combo.
·       Globos – These incredibly light and crunchy rings are sold by vendors on the beach and are made fresh daily. Have your pick between the sweet or salty version. At first you are thinking, wow these don't really taste like anything, but by the time the bag is finished you are craving more.
·       Amazonian fruit juices – When you're at one of the popular Acai shops be sure to always pair it with an Amazonian fruit juice.  There were well over 20+ different fruits we'd never heard of and every random one we picked were fantastic and super cheap.
·       Balinho de queijo – Fried cheese balls!  Think mozzarella sticks, but wayyyy better.
·       Brigadieros – Who can say no to chocolate? These are Brazil's version of a truffle made with condensed milk.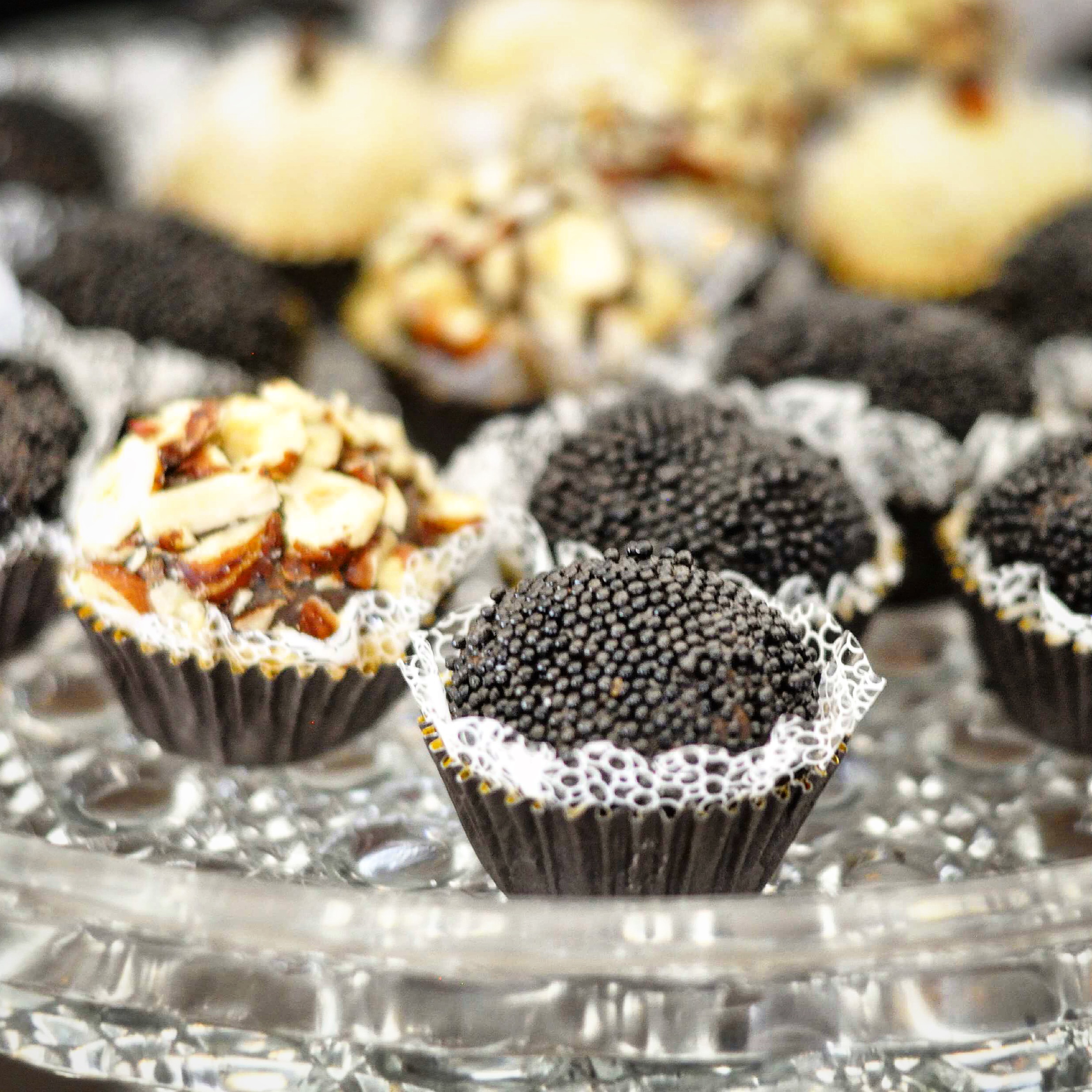 Things to Do:
Adventure up to Cristo Redeemer aka Christ the Redeemer – There are a few ways to get to the top. Bus, Train, or Hike. After eating our faces off in Rio for a few days, we thought that taking a leisurely two hour hike to the top would be good exercise. Note: this is NOT a leisurely hike. 20 minutes into the hike, we were needing to grab onto tree roots to hoist ourselves up the steep terrain. An hour in, and we were needing to hoist ourselves up a rock wall using a metal chain. This is not a "tough mudder" style race where there are a group of strangers cheering you on, there is virtually no one else on the trail with you. We probably only passed 6 people on the trail in almost 2 hours and this was during the busiest season. Now that we have set the record straight, let us tell you how cool this trek was. A number of times throughout the hike we saw monkeys. YES! Real, live monkeys that were not behind plexiglass in a zoo! We passed waterfalls and saw some of the best views of Rio from near the top. Was it worth it? Absolutely! Did we hike back down? No frickin' way! If you are adventurous enough to do this hike, you start at the base of Parque Lage. NOTE: bring LOTS of water.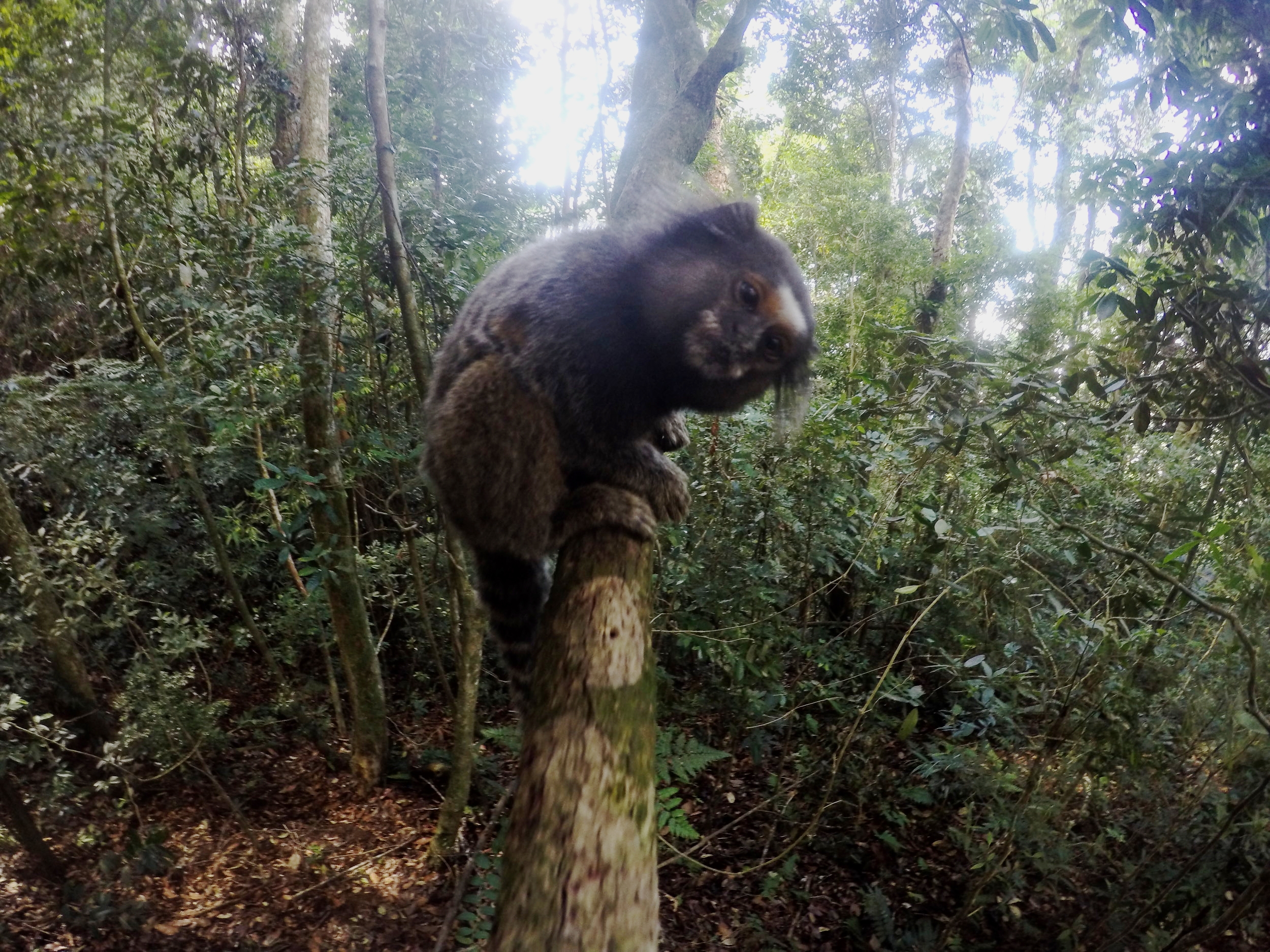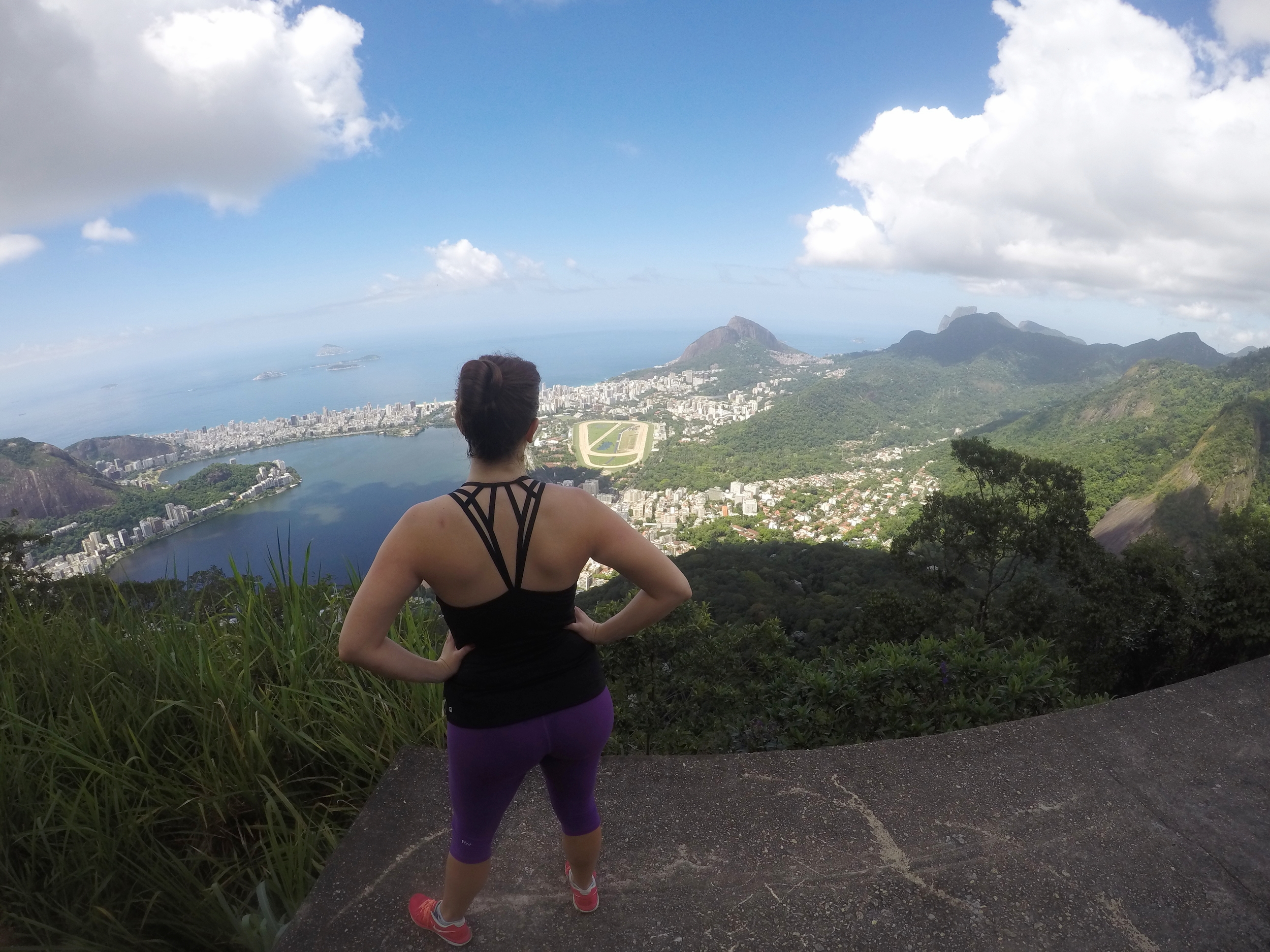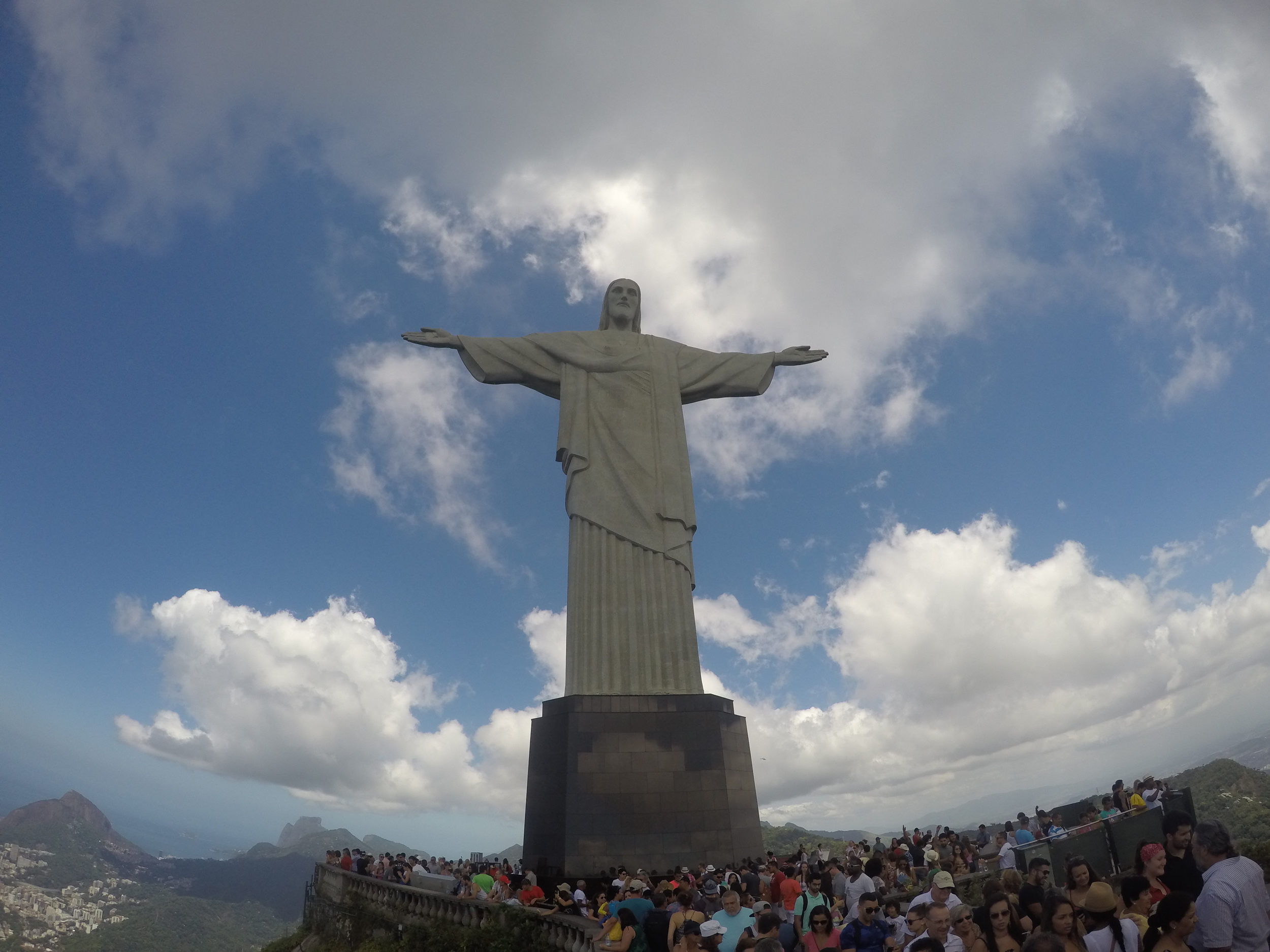 Go jump off a cliff – Seriously. Paragliding or parasailing aka walking off a cliff with a parachute. It goes from seriously frightening and then turns delightful in 5 seconds. We were floating above rainforests and one of the most beautiful beaches in the world.  If you need a reference, watch the movie Rio and you'll see how amazing it was.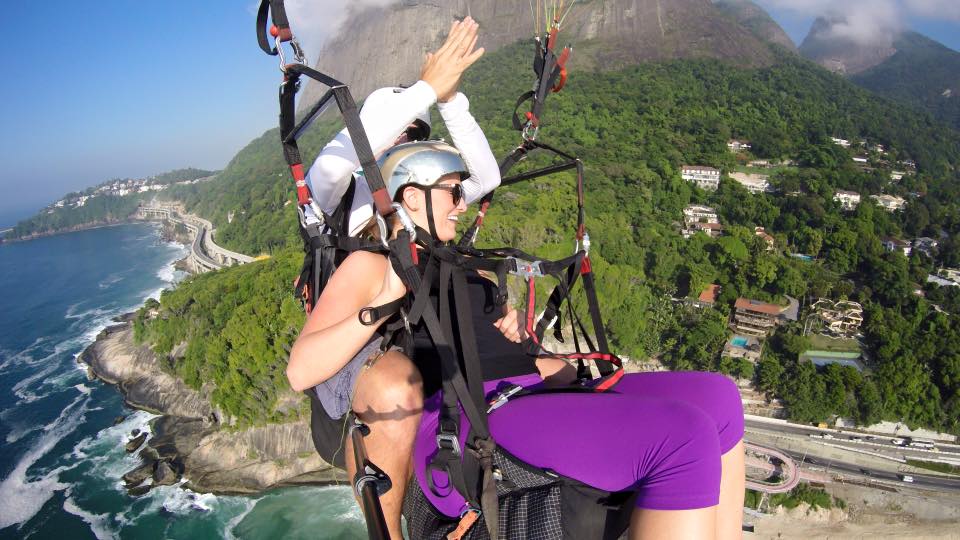 Beach it in Ipanema or Copacabana – They both have catchy songs for a reason, and they are cool AF. Don't bring a beach towel, it's not the Brazilian way, plus it is so hot you will dry quickly. Wear an itty-bitty bathing suit (this is true for both men and women…and grandmas). Watch the locals play soccer like it's hacky sack. Eat all the beach food and drink all the Caipirinha's.
Get lost in Jardin Botanique (Rio Botanical Garden) – This was a nice break from the craziness of Carnaval partying. The park is expansive and has waterfalls, the largest lillipads we've ever seen, a Japanese garden and we even ran into wild monkeys!
Relax in the beauty of Parque Lage – Snoop Dogg and Pharell filmed the music video for "Beautiful" here, and it is because this spot is truly that beautiful. It boasts gorgeous gardens, stunning architecture, and a view of Christ the Reedemer. There is a café inside the Parque Lage and we highly recommend it. The food was tasty and you sat right on the inside of this historic structure.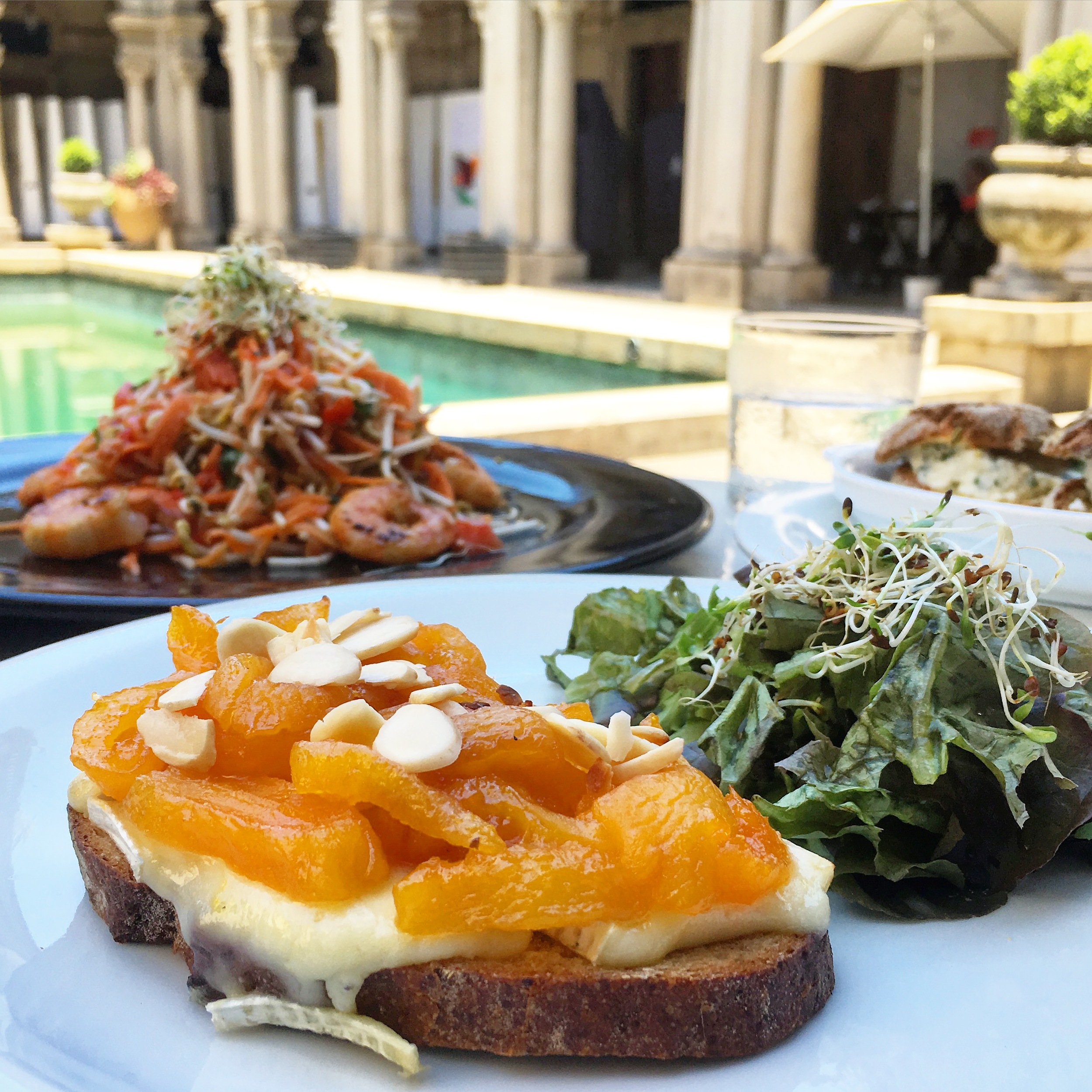 Dining Hot Spots:
Top Date Night Restaurant: Aprazivel Restaurante – This is a bit of a cab ride taking you up a steep mountain, but it is well worth it and is very well know and recommended for both local and tourists alike. You dine in the treetops, looking off a cliff onto a breathtaking Brazilian sunset. The ambiance was romantic and the food was terrific. This was the first time we had fresh hearts of palm, sliced open tableside, right before our eyes (must order).
A true taste of the Amazon: Tacaca do Norte – A spot for the adventurous ones! Try some of the most unique cuisine in the world here. One of the craziest dishes we've ever tried came from this spot. It was a soup made out of tucupi broth. This is an Amazonian root where cyanide comes from! After being rinsed and boiled for SIX days it is finally safe to eat. It also includes Jambu (which lightly numbs your mouth like a mild novocaine) and dried shrimp. It was interestingly delicious.
Where the locals go: Jobi – It is a true carioca (native of Rio) bar/restaurant in the heart of the Leblon neighborhood.  It's a great stop for beers where they check off how many you've had on your placemat and where we got both amazing balinho de queijo and traditional fejjoada.
Churrascarias: ALL YOU CAN EAT MEAT! Now that we have you attention, we'd like to tell you about how amazing it is that there are so many churrascarias to dine at! The salad bars are explosively large packed with hearts of palm, meats, salads, and cheeses. The meat gets served to you by servers walking around with machetes and massive skewers of meat. Flip your card to green and the meat keeps coming, flip it to red to take a (temporary) rest from the meat parade.
Juice Bars – Find them on the corners. They have a massive menu of fresh juiced fruits that most Americans have never even heard of. This is where you get the acai at. They also randomly sell concession stand drunk munchies like burgers and steak sandwiches. Unless it is 3am, just stick to the juice.
Eat Rio Tour – We went on a food tour with a company called Eat Rio. This was a great way to learn about traditional Brazilian foods and dishes. One highlight was going to the farmers market. It is so fun to try fruits and vegetables that you never see in America! There were also lots of fresh fish, spices being sold in old Coca-Cola bottles, and fresh tapiocas being sold. These are made in front of your eyes using ground tapioca heated in a pan, filled with your choice of filling, and then flipped over like a quesadilla. Our favorite was the cheese and oregano tapioca!
Lebanese/Arab Food – We know what you are thinking… why in tarnation would you eat this over traditional Brazilian cuisine? Well, there is a huge population in Rio and they know how to cook some damn good food. The pitas are soft and the ingredients are fresh. Another interesting thing was that Brazil has some fantastic hot sauces and those sauces were blended with Lebanese influence to create a magical cultural fusion sauce. We even sought out a bottle to bring it home.
Accommodations:
We are confident that there are some amazing hotels in Rio, but we opted to use AirBnBs instead. For half of the trip we staying in the Gavea neighborhood. Our flat was adorable and we recommend you check it out (AirBnB listing here). Also, if you have never used Airbnb before, get $$$ off by using this link! We also stayed in an artist's loft near Ipanema. The location was perfect however, you must make sure your place has AC if you are staying at the top floor of a loft. Lesson learned. It was miserable to sleep.
Our trip to Brazil was a trip of a lifetime and we are itching to go back! Good thing our passport visa is valid for 10 years!
Headed to South America? Check out these helpful guides: